Thanks to his popular MTV reality show, The Osbournes, audiences got to know Ozzy Osbourne more intimately than almost any rock star of his era, spending hours and hours inside his home. But now that the Osbournes have moved to a new mansion in suburban L.A., SPIN paid the former Black Sabbath singer a visit, and asked him to show us some of his favorite things.
Check out the photo at right to see a full view of Ozzy's room, and watch the video below where Ozzy talks about a Nazi dagger, his collection of Beatles memorabilia, a sniper rifle, his dog, Lola, and more!
Be sure to check out SPIN's Digital Edition every month for more multimedia content that's compatible with your computer, iPhone, and iPad. Click here for details.
ABOUT OUR HOST
While working on Scream (Epic), his tenth solo album, Ozzy Osbourne, 61, found himself returning to his musical beginnings. "The album is very, very heavy. It's somewhat modern, but it also has a big Black Sabbath influence." To determine which songs, like grindingly melodic first single "Let Me Hear You Scream," achieved maximum heaviosity, Osbourne relied on an old method. "If it gave me a tickle up my spine," he says, "it was in."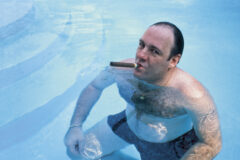 Shot for SPIN in Los Angeles. Interview by Rich Brown. Photograph by Ture Lillegraven. Filmed by Matt Jacoby. Edited by Jamie Hubbard for Cause & Effect. Grooming by Jude Alcala using Smashbox Cosmetics.