Now that Rage Against the Machine is through with last week's one-off benefit show in L.A., guitarist Tom Morello has turned his attention to the second release from Street Sweeper Social Club, his project with rapper Boots Riley of the Coup. Hear an exclusive stream below of "Scars," off SSSC's forthcoming Ghetto Blaster EP, out August 10.
On "Scars," Riley drops cheeky rhymes about living on the cheap — running out on restaurant bills, avoiding calls from collection agencies, signing checks that won't clear, wearing sneakers so worn out that their soles look like "two Muppets talking" — in between explosive bursts of Morello's trademark guitar riffs. "Broke motherfuckers be sharp as lasers," Riley quips.
"When I heard those verses come out of the speakers, I was rolling on the floor laughing," Morello tells SPIN.com. "Those verses are very honest, and they really capture Boots. He's a militant guy, but he's also a super funny guy, and for every bit of [Black Panthers co-founder] Huey P. Newton in him, there's also a good deal of Richard Pryor."
"I think that 'Scars' is the perfect example of how wickedly funny he can be while getting across a serious point," Morello adds.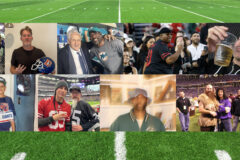 And while the new EP was recorded with a live band in the studio, Morello and Riley collaborate using an unusual procedure: As he's done throughout his career, Morello crafts his riffs on nylon-string acoustic guitar, records them to cassette tape, then mails Riley the tapes, so he can write lyrics.
"It's not out of any indie purity," Morello explains. "It's because, you know, I don't know how to work ProTools. I do know how to go to Radio Shack and buy a $20 cassette recorder, no matter how frustrating Boots may find it."
"One of the principle sources of band tension is every time I send him a cassette tape, he has to go to a pawn shop to try to find some old vintage gear to play it on," Morello adds. "[Boots] said he couldn't find a tape deck in any stores, and he was asking dope fiends if they had stolen one lately, and they were like, 'Shit, we don't steal those! You can't get anything for those anymore!'"
Ghetto Blaster also find SSSC covering LL Cool J's "Mama Said Knock You Out," and M.I.A.'s massive hit, "Paper Planes," a song they started covering while opening for Nine Inch Nails last year. "We needed a hot cover tune to lay to waste the goth hordes that were awaiting us," says Morello. "I asked Boots to give me some ideas, and he suggested 'Paper Planes' and two Justin Bieber songs, so we went with 'Paper Planes.'"
You can see for yourself whether those Bieber songs make it into the band's setlists later this summer, when they join the Rock the Bells tour, alongside Wu-Tang Clan, Snoop Dogg, Lauryn Hill, and more. Click here for all the dates.
Check out "Scars" below and let us know what you think in the comments section.
LISTEN: Street Sweeper Social Club, "Scars"