The death of heavy metal singer Ronnie James Dio on May 16 has resonated throughout the musical community, affecting artists inspired by his work with Rainbow, Black Sabbath, and his own band, Dio.
Smashing Pumpkin Billy Corgan, who posted the above photo of himself with Dio, took to his Twitter account: "R.I.P. Ronnie James Dio. I only got to meet him once and I can honestly say he was the nicest person I have ever met in music. … Ronnie was a true gentleman, and obviously one of the best rock singers there will ever be. What a sad loss."
At a Monday concert in Boston, MA, Pearl Jamclosed their performance of "Alive" by playing riffs from BlackSabbath's Dio-led track "Heaven And Hell." See a video of theperformance here.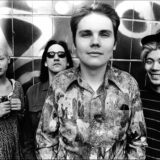 The Roots' Questlove tweeted: "Snap!!! Ronnie James Dio passed?! awwww man. So many cats put me on to him. Dude was so loved by these cats. #rip"
"Ronnie died at 7:45 a.m.," guitarist Slash tweeted. "But his music will live for eternity."
A newer generation of rockers has also been impacted by Dio's death. Blink-182's Travis Barker, Good Charlotte's Benji Madden, Decemberists' lead singer Colin Meloy, and Fall Out Boy guitarist Joe Trohman all offered their own tributes to Dio on Twitter.
Metallica's Lars Ulrich dedicated an entire letter to Dio on his band's website: "Ronnie, your voice impacted and empowered me, your music inspired and influenced me, and your kindness touched and moved me. Thank you," he wrote.
On Sirius/XM Radio show "Eddie Trunk Live," Rage Against the Machine guitarist Tom Morello and Judas Priests' Rob Halford were a few of the artists to speak about Dio's death. Hear the entire radio show here.
Queen guitarist Brian May wrote in a post on his website: "[He] was one of the creators of the genre of heavy metal. He was universally loved in the community of rock music and will be sorely missed."
Share your own thoughts about Dio's passing in the comment section below.