His DJ sets have been criss-crossing genres for years, so it's no surprise to see electronic maven/label owner Steve Aoki rope in names like Weezer, Black Star, and Kid Cudi to collaborate on his upcoming album.
Although the title and release date are still unknown, Aoki gave MTV a few hints about the album: "I'm doing a couple of different tracks with some familiar voices. Just mixing it up with some hip-hop vocals, rock vocals, house vocals. So yeah, it should be interesting."
The first taste of what's to come emerged in February, when Aoki teamed up with Zuper Blahq — who most folks in the know believe to be an alter ego of Black Eyed Peas' Will.i.Am — for the dance track "I'm in the House." Watch the video below, and download a remix of the single here.
Aoki, who splits his time between DJing, producing, and running Los Angeles-based indie label Dim Mak, isn't only rocking the dancefloor. Just last month, Aoki teamed with fellow punk rocker-turned-electronic producer Sir Bob Cornelius Rifo to form a hardcore band called Rifoki. Download a free MP3 of their track "Sperm Donor" here.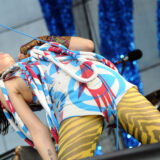 WATCH: Steve Aoki featuring Zuper Blahq, "I'm in the House"
https://www.youtube.com/embed/fcT5tgf3Blg