While they've already been announced as a headliner at August's Lollapalooza festival in Chicago, grunge-rock godfathers Soundgarden will reportedly make their return to the stage Friday, April 16, in their hometown of Seattle — their first gig since breaking up in 1997.
According to Billboard, the hometown show is set for the 1,500-capacity Showbox. The venue's website does not list the event, and no information has surfaced regarding tickets.
This reunion began to take shape a year ago, when three-quarters of the band shared the stage at Seattle's Crocodile Café. As SPIN.com reported, guitarist Kim Thayil, bassist Ben Shepherd, and drummer Matt Cameron (who's now a full-time member of Pearl Jam) played a three-song set fronted by Tad Doyle, frontman of fellow '90s Sub Pop act Tad.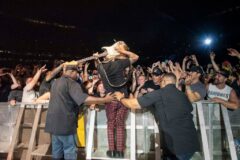 But the long-awaited reunion with frontman Chris Cornell — who released his third solo record last year, and was performing Soundgarden songs on his solo tour — may finally happen at Showbox tonight.
On Saturday, in honor of National Record Store Day, the band will also reissue their first 7-inch single, "Hunted Down" b/w "Nothing To Say," first released on 1987 in Sub Pop. Read more about Record Store Day here.
Are you stoked for a Soundgarden reunion? Or would you rather leave "Black Hole Sun," "Spoonman," and "Outshined" in the '90s? Sound off below.
Also, check out two Soundgarden cover stories in SPIN's Google Archives — here's their 1994 cover, and here's one from 1992.