March 1, 2010: It was the night the coolest band ever officially became rock stars. Not because the drummer snorted his weight in Peruvian lady or because the guitarist named the first daughter from his third marriage after his second yacht. Those are things a rock star does, but they aren't what make someone a rock star. You become a rock star when you can get onstage without adding anything new to your artistic legacy and still make thousands of people lose their minds. It's adulation as ritual, expectations met as a matter of course.
It wasn't that Pavement came off like cynical Mötley Crüe/Eagles clock-punchers when they played the Auckland Town Hall in New Zealand for the first show of the year's reunion binge. Far from it. "I've been having anxiety dreams for six months," guitarist Scott Kannberg told the crowd.
Yet, despite singer-guitarist Stephen Malkmus' semi-pooched voice (he'd been fighting off a cold), Pavement were the same pretty-decent live band they were 15 years ago — sorta distant, kinda ramshackle — plowing through a catalog that feels as obliquely poignant as ever. The high point came during a shimmering "Gold Soundz," a song about memory as a shared secret: Malkmus strained out the first verses in quasi-falsetto, the band stayed quiet and let the crowd sing along in we-know-these-words rapture, finally lowering the velvet hammer of indie bliss at the chorus. A perfect moment of reunion-rock congress.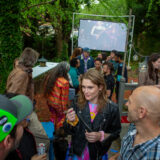 Eleven years after Malkmus stood on a London stage and famously hoisted aloft a pair of handcuffs, declaring, "This is what being in a band is like," Pavement have returned for what he promises will be a "one-time" recapitulation of Clinton-era brilliance. "Music is about nostalgia," Malkmus told me when the band hit Sydney a couple days later. "From the minute you hear a song for the second time, you're reliving it."
What was first pitched to fans as four September shows in New York City's Central Park is now a seven-month world tour, including headlining spots at (so far) Sasquatch, Pitchfork, and Coachella, dwarfing the biggest gigs of their past. "We played some European festivals back then, so it's no big deal," says Malkmus. "We're not really playing to the last guy in the back of the fest. We're playing to the people on our side."
In 1999, for one of their final American shows, Pavement stumbled through an afternoon slot at Coachella to maybe a few hundred deflated fans. How does Malkmus explain the rise in their retro-stock? "It's unique," he says. "What else can you do to give people something different? People seeing Vampire Weekend or TV on the Radio, they're watching them climb the moun­tain of their career. We climbed the mountain and we went back down."
Still, fans who purchased tickets for the New York shows when they went on sale over a year in advance engaged in some online kvetching when more and more dates were added. Though expected, such hand-wringing seems sort of naive at this point. The economics of what Malkmus calls "these nostalgia things" has long been formalized, as every­one from the Pixies to Polvo comes back to cash in on legends that have ballooned in the band's absence, as oldsters entreat youngsters to do their history homework. Provided a band can go through the paces without dredging up any old grudges or hurting themselves, the offers get pretty hard to refuse. At this point, it's a short trip to Storytellers: The Jesus Lizard.
"If the band likes hearing people cheer, and getting a check, as is the case with us," says Malkmus, "then it usually ends up working out, even if they're just ham-and-egging out the same old chords."
Others have been more full-throated in their demystifications. After five years on the reunion circuit, the Pixies' Black Francis recently came out with the maxim for the moment: "Forget the fucking goddamn art. Now it's time to talk about the money." (Let's: A New York–based booking agent estimates that indie bands that were lucky to pocket $7,000 a night in the mid-'90s can now command mid-six figures for a single festival date and low-six figures for one show at a large theater.)
The 43-year-old Malkmus is acutely aware of what he calls the "dialectical materialism" of these events, but for him, grandstanding like Francis' seems redundant: "If you're 40, and you leave your family and fly to Australia to do shows, and you're doing it for the art, that seems kind of weird. If you're doing it for the art, stay home with your family."
In life, as in afterlife, Pavement always made a certain realism a centerpiece of their appeal. "Songs mean a lot when songs are bought and so are you," Malkmus sang on the band's best known song, "Cut Your Hair," sounding at once like a Marxist theorist and a father figure. Like the Pixies of "U-Mass" or the Nirvana of "Radio Friendly Unit Shifter," Pavement were part of the first and last generation of vaguely popular, great American rock bands that made the cultural contradictions of capitalism a central theme in their music. But where the Pixies were surreal and Nirvana were apocalyptic, Pavement were often elegiac.
"We were responsible for creating the whole suburban Williamsburg thing," Malkmus says. "You know, the Strokes to Arcade Fire." Translation: Pavement taught the indie-rock underground to love itself without sacrificing the ambivalence and irony and smarts that made it what it was. "We were skeptical of record company guys with ponytails," he adds. "The great '80s bands, the Replacements and Hüsker Dü, tried to change their sound to be on major labels; the records they made weren't terrible, but they'd lost something. We didn't want to do that."
In response, Pavement set about proving that artistic greatness and limited expectations could go hand in hand. Their debut album, 1992's Slanted and Enchanted, was a too-perfect marriage of brains and beauty — straight-up sex in the library. It was record-collector rock, stealing bits from the Fall, the Swell Maps, Echo & the Bunnymen, etc., but filtering that rarified blurt through a casually tuneful elegance Malkmus claims he culled from his dad's Jim Croce and Fleetwood Mac records. It proved that secret under­ground hipster music didn't need to shame potential listeners into submission. When Malkmus sang, "Can you treat it like an oil well when it's underground, out of sight?" the riddle didn't need an answer.
Each subsequent record had its attempt at a radio track — "Cut Your Hair," on 1994's Crooked Rain, Crooked Rain; "Rattled by the Rush," on 1995's other­wise loopy Wowee Zowee; "Stereo" and "Shady Lane," on 1997's Brighten the Corners; and "Spit on a Stranger," on 1999's swan song Terror Twilight.
But there was always a tentative quality to these gestures; none of their albums reached the 500,000 mark. "We tried to tighten it up," Malkmus observes. "Not that it really worked." The closest they got was the margins. To wit, this recent message-board exchange regarding, ahem, A Very Brady Sequel:
Q: What is the song heard while Mrs. Brady is getting her hair cut by David Spade? I love that song. Is it Weezer?
A: That song is "Cut Your Hair" by Pavement!
Well, that's dialectical materialism for you. But it's key in understanding an obvious, if overlooked, difference between indie-rock reunions and their classic-rock counterparts. A band whose only "big" song gets mistaken for Weezer isn't trying to put a down payment on a place in San Tropez. They actually need the money.
Pavement bassist Mark Ibold was recently brought on as Sonic Youth's touring bassist, but he still day-jobs as a food stylist. Percussionist Bob Nastanovich works as a horse-racing chart caller. These are regularish middle-aged guys. And unless they all have oil wells in their backyards no one knows about (underground, out of sight), this year's cash-in could be a lifesaver. "Perhaps it's conceptually better not to get back together," Malkmus says. "Maybe the Smiths will always have something on us. But everyone knows the real reason they won't do it is because they hate each other."
There's a deeper realism at work here, too. With the global economy in the toilet, the ambivalence toward capitalism that Pavement exemplified seems like an outmoded luxury. In 2010, indie-rock fans should take some solace that there are still paychecks for nostalgia acts that only had theoretical hits. Or, for that matter, rock stars who begin sentences with the word perhaps.