I'm not ashamed to admit that I learned about him from Paul Westerberg when I was 16. I imagine a lot of people did. That's what it's all about — discovering your heroes' heroes, connecting those dots and following the trails ever backwards and sideways, falling in love with things you didn't even know existed. But rarely has a signpost been as direct as the Replacements' 1987 love letter. It was called "Alex Chilton."
What I learned then is what wiser people before me held like a secret and what many others may just be learning this morning — that Alex Chilton, who passed away yesterday in New Orleans of an apparent heart attack at age 59, was the brilliant, immeasurably influential leader of Memphis power-pop giants Big Star. That he sang the Box Tops' 1967 hit "The Letter" when he was only 16. That Big Star recorded two absolutely essential albums, 1972's #1 Record and 1974's Radio City, (later reissued together as a double album) and the troubled, storied Third/Sister Lovers, which didn't see release until 1978, four years after the band's typically clumsy demise. And that the music I connected with most was covered with his fingerprints, regardless of how much the universe conspired to wipe them clean.
This was quintessential pop in every sense of the word except the "popular" part — even the band's name was a cruel joke. The legend only grew after these records were name-checked repeatedly by acolytes including R.E.M., the dB's, the Replacements, the Bangles, and the Posies (whose Ken Stringfellow and Jon Auer subbed in for the late singer-guitarist Chris Bell and the otherwise engaged bassist Andy Hummel live, and on one better-than-it-needed-to-be studio album over the past two decades). These records were hard to come by for years, only adding to the legend. Chilton embodying the role of boozy, resolutely grumpy, underappreciated genius was the cherry on top.
The cool ambivalence that can only come from knowing you're the smartest person in the room is a familiar pose now; it's not a stretch to say that Alex Chilton invented it. We may now take for granted that rock'n'roll is less about a catsuited maniac onstage than the guy in the back row going home alone, but in 1972, that concept must have felt more alien than Ziggy Stardust. Chilton is the shaggy underdog in the story of how modern rock came to embody the shaggy underdog. No one can put it any better than he did: "I've been built up and trusted / Broke down and busted / But they'll get theirs / And we'll get ours if we can."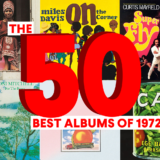 Weirdly, the Big Star song that has been heard most widely is "In the Street," covered by Cheap Trick as a sitcom opening theme and re-titled, absurdly, "That '70s Song." The cynical take would be that Cheap Trick wanted the glory, and the residuals, duly owed to Chilton (Rick Nielsen does help himself to a songwriting credit); it's probably closer to the mark to reason that Chilton wanted nothing to do with any part of theenterprise, paycheck or not: Big Star had spent their entire existence in the shadows — why shine a bright, tawdry light now?
Bob Mehr, the reporter for the Memphis Commercial Appeal who broke the news of Chilton's death Wednesday night, was scheduled to moderate a Big Star panel Saturday night at South by Southwest, with Chilton, Hummel, and Stephens slated to perform. Rumor is that this may now become an ad hoc tribute. How perversely fitting, then, that in a town overrun by every heartsick aspiring indie darling with access to an amp and a van, the one truly must-see draw will be Big Star. And that Alex Chilton will be missing that, too.
A SPIN story from 1986 about Chilton's 1986 solo re-emergence
Read more from this issue >>