REALITY: It was already dead. Blame Queensrÿche.
The legend of Nirvana has always demanded that the band be viewed as a sea change in popular taste — the meaningless but oft-rehashed factoid that Nevermind knocked Michael Jackson's Dangerous off the top spot on the album chart, as if sales turnover didn't exist until Kurt Cobain came along.
But the most enduring fable has always been the one about how Nirvana, and grunge in general, rid the world of foofy coiffures and pink guitars and power ballads overnight.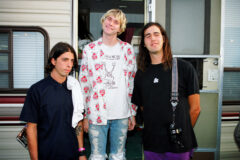 By the time Nevermind charted in October 1991, hair metal was already long on the way out.
Glam poodles had wiped off their mascara and were trying to get serious — Cinderella's 1990 Heartbreak Station was a purist blues-rock record; Skid Row's Slave to the Grind, out in June 1991, was pop-shunning arena turbulence that went to No. 1 without a hit single.
A certain kind of boogie-based hard rock had also been on the way back ever since Guns N' Roses and the Cult broke through circa '88; Black Crowes' debut album reached No. 4 in 1990.
By the turn of the decade, even the breakthrough metal-leaning acts had a pronounced boho bent: Living Colour, black Manhattanites led by their slumming avant-jazz guitarist; St. Augustine–quoting Houston eggheadbangers King's X, led by their black gay Christian bassist; proggish San Francisco reformed rap-punks Faith No More. And maybe most significantly, given the emerging Lollapalooza Decade, new-age L.A. sideshow beatniks Jane's Addiction, whose Ritual de lo Habitual went Top 20 in 1990.
One of the biggest rock hits the year before "Smells Like Teen Spirit" even came from Seattle-namely, Queensryche's "Silent Lucidity," a Pink Floyd pastiche by thinkers-of-big-thoughts more given to high-flown concept albums about technological conspiracy than lowbrow groupie gropes.
So what changed after Nirvana, exactly? Well, the haircuts, maybe. And within a couple years, radio and MTV were overrun by such innovative new bands as Collective Soul, Candlebox, Live, and Silverchair. The more things change…
Agree? Disagree? Tell us what you think below!