When "Mastodon" and "Megan Fox" are used in the same sentence, it's usually because a chemically-enhanced dude is describing the imaginary bounties of metalhead heaven. Well, the gates have opened: Meet Jonah Hex, the upcoming film adaptation of the comic book series starring the sexpot actress and featuring an all-new soundtrack from the Atlanta quartet!
In an interview with Paste, bassist Troy Sanders discusses the new music — which is their most experimental yet!
"Some of it was heavy, some of it was very moody," Sanders said. "A lot of it was spacey, Melvins B-sides, Pink Floyd-like, surreal outer space, like Neil Young's Dead Man. Swirling, nausea music."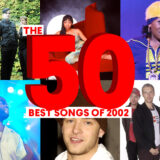 Sanders added that the collaboration felt natural: "Since day one, we've always written albums thinking the music was the score of a movie. Then we'll create the lyrics or story line on top of that, as if we're writing the dialogue to match the movie's cinematography."
The soundtrack is an hour-long instrumental, including five full songs and numerous smaller musical themes. Selections were added to scenes in the film by composer John Powell (Shrek, The Bourne Identity), and others will be adapted for the London Orchestra for exceptionally epic moments. "We wrote variations on themes for each character, different variables for a bunch of riffs: faster, slower, heavier, lighter," Sanders explained. "It's the Darth Vader approach."
Jonah Hex — also starring Josh Brolin and John Malkovich — is slated to hit theaters in June 2010. No details regarding the soundtrack's release have been announced.