What do Santigold, Yoko Ono, and Kelis (of "Milkshake" fame) have in common?All appear on Scars, the new album by pioneering dance duo Basement Jaxx, out October 6.
The disc's thirteen tracks also feature vocal contributions from Lightspeed Champion, Eli "Paperboy" Reed, Yo! Majesty, and more.Basement Jaxx recruited the who's-who of singers to help return to a more classic club sound after coming away from their last album, 2006's Crazy Itch Radio, disillusioned. "It felt like we'd strayed too far into pop territory," Simon Ratcliffe explained.
So the DJ duo laid low for a few years, concentrating on making the new album instantly recognizable to Jaxx fans."Scars is very much back to the kind of thing we used to do," said Felix Buxton.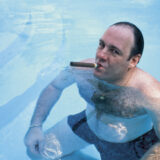 A first taste of their return-to-roots efforts comes in lead single "Raindrops" — watch its video below. Warning: Totally not safe for work!