Three-fourths of Seattle's Soundgarden reunited Tuesday night in their hometown, but without singer Chris Cornell, who is about to begin touring for his Timbaland-produced solo album, Scream. Taking Cornell's place was Tad Doyle, frontman of late, great '90s grungers TAD.
The performance — which happened during a stop on Tom Morello's Justice Tour, featuring his own band, the Nightwatchman — marked the first time the three Soundgarden members have shared a stage since the band's breakup in 1997.
With guitarist Kim Thayil, bassist Ben Shepherd, and drummer Matt Cameron behind him at the just-reopened Crocodile Cafe, Doyle screamed through a three-song Soundgarden (or, as many are calling it, "Tadgarden") set, featuring 1994 radio staple "Spoonman," as well as "Hunted Down," off the band's 1987 debut, the Screaming Life EP, and rarity "Nothing to Say," from 1997's greatest-hits collection, A-Sides [Via Seattle Post-Intelligencer].
The massive Doyle even quipped about Cornell's absence, according to Seattle Weekly's Jonathan Cunningham: "Tad lifted his shirt up a few times, jiggled his belly, and said, 'That's half a Cornell right there' with attitude."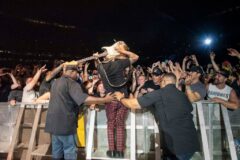 The show — which also featured Mudhoney's Mark Arm singing "Kick Out the Jams" with Morello and MC5's Wayne Kramer, and Morello singing "The Ghost of Tom Joad" with Steve Earle — marks the second time this month that a '90s alt-rock band reunited with a new frontman; the remaining members of Sublime recently performed with a new singer in Nevada, much to the dismay of their fans.
But how did "Tadgarden" sound?Watch video of the boys rocking through "Spoonman" below. Then let us know what you think of the reunion in the comments section below.
For audio recordings of all three songs in the band's set click here. And for photos visit SeattleWeekly.com.
WATCH: Soundgarden, "Spoonman"
"Nothing To Say" "Hunted Down"