Green Day's eighth studio album, 21st Century Breakdown, has a release date, and its first single has been revealed!
Warner Bros. Records just confirmed to SPIN.com that the album, the band's first since 2004's American Idiot, will drop May 15 — a Friday, which is a bit unusual since albums usually come out on Tuesdays — and that its first single will be "Know Your Enemy." The single will be available via digital retailers in mid-April, and will impact at radio around the same time.
When SPIN heard six songs from 21st Century Breakdown in February, we said "Know Your Enemy" sounded "like an outtake from the Dookie sessions."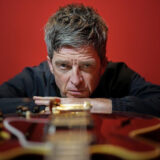 As previously reported, Billie Joe Armstrong, Mike Dirnt, and Tre Cool have been working on the album since early 2006 with producer Butch Vig, and it's divided into three "acts": "Heroes and Cons," "Charlatans and Saints," and "Horseshoes and Handgrenades." In fact, they're still "making finishing touches" on the record, even with its release just weeks away, the label said.