The Watchmen is without a doubt the most highly anticipated superhero film since, uh, last summer's The Dark Knight. But even if Zack Snyder's film adaptation of Alan Moore's influential graphic novel will be hard-pressed to match the Bat in terms of either box office or cultural clout, it has already proven to be a more substantive event for nerds who like their muscled heroes accompanied by a little music — Bob Dylan's "The Times They are a-Changin'" plays over a scene-setting montage and the Smashing Pumpkins' "The Beginning Is the End Is the Beginning" is featured in the trailer.
So in honor of that film's nod to music, I've compiled a list of my nine favorite songs that mention comic book characters. What are yours?
1. "Sgt. Fury," The Sensational Alex Harvey Band
From one of the glam rock era's most underrapreciated bands, this music hall-influenced number is basically a lark, but there's a slight edge of perversity to Harvey's raspy delivery and proto-DLR scatting that makes the shout-out to the title character (aka Nick Fury) feel appropriately trashy. Remember kiddies: Comics, like rock'n'roll, are bad for your brain.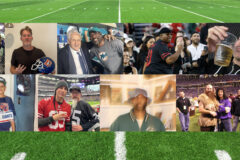 https://open.spotify.com/embed/track/1tbqydKSlERPcfgnPzysUw
2. "Spider-Man Theme," Ramones
Like everything the band ever recorded, this cover of the theme to the '60s cartoon, is short, catchy, and fast. And like almost everything the band did, it's a ton of fun. Worth it just to hear Joey sing "Spider-Myaaan" in that adorable Noo Yawk voice of his.
3. "Superman's Song," Crash Test Dummies
Look, I know this 1991 song is hunk of cheese drizzled with maudlin sauce, and that lead singer Brad Roberts baritone is sort of gimmicky, but I am from Canada, and thus have an abiding affection for these Winnipeg folk-poppers. Plus, rather than make the easy Lex Luthor reference, the villain in the song is little-known zombie baddie Solomon Grundy.
4. "Mambo Sun," T. Rex
Even more than most glam rockers, T. Rex mainman Marc Bolan seemed like he dropped in from some other, cooler, freakier world. And when, accompanied by a strip club beat and greasy guitars, he purrs, "I'm Dr. Strange" for you… well, you believe him.
https://open.spotify.com/embed/track/0qswEhSnr3YB4LQ08i3n5N
5. "Johnny Thunder," the Kinks
Named after a second rank DC Comics character, this song from the Britpop legends' 1968 classic mixes a typically pretty Ray Davies melody with some tough acoustic guitars.
6. "I Am the Law," Anthrax
"They call him Judge / Last name Dredd / So break the law / You wind up dead." Not that different from a typical Anthrax lyric, really. The New York City thrashmasters based this song on the tales of futuristic badass Judge Dredd. Just do yourself a favor and never, ever, see the Stallone film based on the comic.
https://open.spotify.com/embed/track/1dWs9fKUnDbW1vkkM5Votu
7. "Batdance," Prince
Taken from his soundtrack to the 1989 Tim Burton-helmed Batman, "Batdance" is one of the Purple One's most forward-thinking tracks — a wild collage of samples of dialogue from the film, hard funk rhythms, and wailing guitar solos.
https://open.spotify.com/embed/track/4DbUk1qwcz9KKcUY4t8f8u
8. "Ghost Rider," Suicide
Alan Vega's evil rockabilly sneer, Martin Rev's burbling, sinister keyboards, lyrics about a black clad motorcycle demon "a-blazin' away." The more I think about it, the more the idea of a flaming skeleton riding a motorcycle and whipping people with a chain creeps me the fuck out.
9. "Sgt. Rock (Is Going to Help Me)," XTC
Andy Partridge and Colin Moulding's herky-jerky melodic pop outfit were about as awkward and unsuperherolike as pop musicians could be. Which means it's no surprise that this ultra-melodic song is about wishful thinking: "If I could only be tough like him / Then I could win."
More on SPIN.com: >> 5 Bands Kurt Cobain Would Love >> The New New York Cool >> Is Chris Brown's Career Over?