SPIN Rating:
Release Date:
January 26, 2016
Label:
Domino
A waterlogged sample of a voice croaking, "You can dance" opens Animal Collective's ninth album, and it's a sign of what's to come, even if the trio take their time before dropping a beat. Two-plus minutes of woozy ambience waft by as singer Avey Tare wishes, "If I could just leave my body for a night." Then, suddenly, the dam bursts and "In the Flowers" floods the senses with rib-rattling bass and a giant 4/4 thump that could be transmitting from a Berlin superclub.
From that point forward, these stalwart innovators — David "Avey Tare" Portner (guitar, samples), Noah "Panda Bear" Lennox (drums, vocals, samples), and Brian "Geologist" Weitz (electronics, samples), now scattered among New York, Portugal, and Washington, D.C., respectively — elude all experimental-noise, freak-folk, and indie-rock tags, and create a startling, pounding, effulgent sonic template. Somewhat incongruently, the album's title name-checks the Maryland venue where the Grateful Dead and others of their ilk often played during these high-school friends' tween years. But while jamming is certainly not Animal Collective's forte, their sound now recalls the Dead's quest for ecstatic release.
Call it searching for the perfect peak. Merriweather plays like the summation of a long, strange trip, combining the group's career touchstones: harmonic Beach Boys pop, African tribal chants, minimalism, minimal techno, psychedelia, and dub. Which is a bit of a jolt, since in 2007, it seemed as though the band members were heading down different paths. Critics split over Avey Tare's and Panda Bear's solo albums (disdain for the former's inscrutable Pullhair Rubeye with wife Kria Brekkan; universal praise for the latter's heartfelt Person Pitch). Then last year's Animal Collective album, the uneven Strawberry Jam, reaffirmed that divide — Panda played the winsome boy next door, and Avey his screechy, cantankerous foil.
Here, on songs such as "Bluish" and "Lion in a Coma," Avey smooths out that spikiness, revealing his sweeter side. On the delirious "Summertime Clothes," he details the pleasures of strolling the hot, garbage-filled New York City streets at night with his beloved, while Geologist piles on the incessant pulses and sonic squishes. Panda is similarly smitten on "My Girls," a beatific husband and father singing that he only wants "a proper house" for his "girls."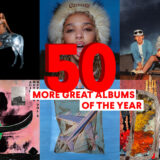 In years past, Animal Collective have been cast as perpetual Peter Pans, forever stuck in childhood fantasias. But beneath the body-moving throbs and coruscating noises of Merriweather Post Pavilion, themes of domestic duty and devotion abound. On the resplendent closer, "Brother Sport," Panda consoles his older brother after their father's death, advising him to follow his own voice. As the beat grows increasingly joyous, the song sends a message to family and fans alike: "Open up your throat," sings Panda, and rave on.