With a damp, chilly mist settling onto the shoulders of some 60,000 patrons in San Francisco's Golden Gate Park, the ebullient grin on bassist Colin Greenwood's face summed it up: This Radiohead performance would be difficult to forget. For a band that's played to many massive crowds over the years, there was clearly still something special about being pioneers, in this case as the first band to ever play past dark in this historic park.
Of course, it's not always easy to be first, something Radiohead discovered in the midst of OK Computer's "Airbag," when the sound system stuttered to a sudden halt, while an oblivious band — engrossed in their set, plugged into in-ear monitors — played on. It was a short interruption, perhaps 30 seconds or so, and a completely forgiving crowd showered the stage was praise when whatever misfiring wiring was restored. "Who put their beer next to the plugs?" quipped frontman Thom Yorke. Apparently someone who didn't learn their lesson: It happened again later in the set, this time coaxing a shocked groan from the crowd.
These interruptions, though, were quickly forgotten amidst a classic night of Radiohead catalog surfing, catering to both ecstatic fans, like the grateful San Diego couple with whom I shared an impossible-to-find cab to the festival, and proud San Franciscans, amazed that an event on the scale of Lollapalooza and Bonnaroo had emerged right in their communal backyard, and that they too, like the British luminaries before them, were also pioneers.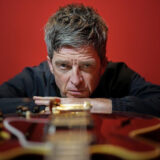 The show was so loose, in fact, that we captured Thom Yorke in a series of blissful dance moves. Enjoy our Dancin' Thom flipbook by browsing the next pages of this story.