What? Expect the unexpected from former Blake Babies bandleader and fiercely independent solo artist Juliana Hatfield. As an artist, she's made a career of acting on her own accord — regardless of who's watching — and as a '90s indie figure, she was one of the most outspoken female figures in rock.
No surprise, then, that Hatfield's seventh solo album, How to Walk Away, out Aug. 19 on her own Ye Olde Records, is yet another sonic left turn, sharply diverting from the noisy punk-tinged nature of 2005's Made in China. Featuring guest turns by Nada Surf's Matthew Caws and the Psychedelic Furs' Richard Butler, How to Walk Away sonically resembles a cross between the spiky, pop-tinged nature of her 1992 debut Hey Babe and the gentler sounds of 2000's Beautiful Creature, while retaining Hatfield's unmistakably trailblazing nature. You can download album cut "Now I'm Gone" below.
Who? Juliana Hatfield formed the Blake Babies in 1986 while attending the Berklee College of Music; the group would go on to release four full-lengths and an EP before calling it a day in '91. Hatfield would strike out on her own with 1992's full-length debut Hey Babe, which was critically and commercially well-received, while her underrated bass-playing talents and backing vocals were also showcased that same year on the Lemonheads' high-water mark, It's a Shame About Ray. After experiencing many frustrations throughout the '90s with major-label pressures and bouts of depression, Hatfield began releasing records through her own label, Ye Olde Records, beginning with the barbed-wire rock of 2005's Made in China. How to Walk Away is her second studio full-length put out on the label.
Fun Fact: In high school, Juliana was (fittingly) voted the "Most Individualistic" amongst her graduating class.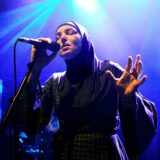 Now Hear This: Juliana Hatfield, "Now I'm Gone"(DOWNLOAD MP3)