SPIN.com has confirmed the release of These Arms Are Snakes' Tail Swallower & Dove, the band's ambitious follow-up to 2006's Easter. The record is scheduled to slither out Oct. 7 on Suicide Squeeze, and while music has yet to be leaked, you can check out the album sleeve for the first time anywhere here (just scroll below to "Related Images").
Over the last three years, the Seattle quartet have carved a niche as a fixture on stages across the country, touring with like-minded acts such as Hot Water Music, Pelican, and Mastodon, as well as occasional collaborators/fellow Washingtonians Minus the Bear and the now-defunct Blood Brothers.
So don't sleep on Tail and brace yourself for impact, because the disc will surely be packed full of the hard-hitting hooks, somber tones, and brooding subject matter (as indicated by track titles like "Lucifer" and "Long and Lonely Step") that These Arms Are Snakes fans have become accustomed to banking on.
Tail Swallower & Dove tracklist: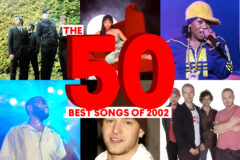 1. "Woolen Heirs"
2. "Prince Squid"
3. "Red Line Season"
4. "Lucifer"
5. "Ethric Double"
6. "Seven Curtains"
7. "Long and Lonely Step"
8. "Lead Beater"
9. "Cavity Carousel"
10. "Briggs"