Your home should be your temple Which is why, when Dave Grohl greets you at the front door to his Southern California hilltop mansion on this September afternoon, his initial gesture is not the party-on devil horns one might expect from a rock star who's been famous for 15 years, but an index finger pressed to his lips. "Sorry, dude," he whispers. "Nap time."
Rest assured, the person who calls the shots in Grohlville these days is Violet Maye, age 16 months. Grohl tiptoes through the kitchen and offers his wife, Jordyn, a hug. The loudest noise in the entire house is the hum of the AC.
There are no nannies nor servants about, no gold records nor vintage Strats. Not even a crumpled cigarette box on the marble countertop. The only visible sign that the man of the house isn't, say, a software magnate is tucked on a bookshelf: a photo of Grohl and Jordyn with Bruce Springsteen and Patti Scialfa. Both Springsteen and Grohl wear the dumb, lucky grins of men who know the women on their arms are far more beautiful than they deserve.
It wasn't always this way. A decade ago, Grohl lived in a bachelor pad off Sunset. That life got old fast. "I finally understood how people move here and disappear and die," he notes dryly. He does owe the strip something, though: It was at the Sunset Marquis Whiskey Bar that he met Jordyn, then an MTV producer. When the pair got engaged and started looking for a home, the chief criterion was tranquility. They settled on this secluded 2.5-acre spread in Encino, which has all the rock-star amenities—Harley in the driveway, pool, tennis court, hot tub—but none of the rock-star vibe.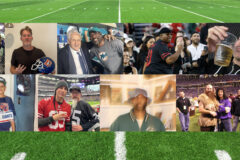 This is not to suggest that the famously frenetic Grohl has mellowed, exacdy. With the Foos having just released their sixth studio album, Echoes, Silence, Patience & Grace—a collection of 12 arena-ready screamers and acoustic curveballs that should only further cement the band's status as one of mainstream rock's last remaining sure things—Grohl has been prepping for a major tour and doing the sort of breakneck promo work required to keep Foo, Inc. thriving at a moment when even sure things are mired in uncertainty.
But all of this takes place, for the most part, at the office—606, his studio/rehearsal space down below in the San Fernando Valley. (He can see the building from his driveway.) It's there you'll find the gold records and cigarette packs, along with an ever-expanding coterie of bandmates, roadies, techies, and managers.
"The key to longevity is balance," explains the 38-year-old drummer turned frontman. "And I love the band like a family. But I've realized that the most important thing is my life outside the band." He casts a glance around his quiet home and smiles. "Without this, everything else would fall apart."
All That Glitters Is Not Platinum
The band's last studio record, 2005's In Your Honor, featured one rock and one acoustic disc. Echoes essentially distills the two approaches and is front-loaded with anthems designed to please the base, such as propulsive lead single "The Pretender." But further in, the songs reflect Grohl's growing sophistication as a songwriter. "Stranger Things Have Happened" is a minor-key lament whose most prominent rhythmic signature is the fuzzy tock of a metronome. That's to say nothing of the acoustic instrumental "Ballad of the Beaconsfield Miners" Grohl recorded with guitar goddess Kaki King.
"For the longest time I was afraid to do anything but make loud distortion-melodic rock'n'roll," Grohl says. "But after a while, those parameters dissolve and you lose those insecurities, and you think, 'Man, I only have a short time here, and I wanna do as much as I can.'" If that means an end to the Foos' streak of five consecutive million-selling albums, so be it. But don't bet against them.
Don't Be Afraid To Talk Shit
"I think maybe her greatest dump," Grohl says proudly, "was the one on the way up to Napa Valley. It was up the shirt, dude! It was in her armpits, all the way up to the neck, and it was in the car on a road trip that was five hours long. We had to pull over and basically throw her clothes away."
Bassist Nate Mendel, your turn: "Noah was constipated, and we gave him some prune juice in a sippy cup and then went out to eat. In the middle of the restaurant, the prune juice did its magic. And it just went everywhere. He had crap seeping out of his diaper as we carried him out of the restaurant."
Guitarist Chris Shiflett: "I changed one yesterday morning that was just fucking brutal. I mean, the kind where you change the diaper and he still smells like poo and you smell like poo and you can't get it off; it just sort of permeates."
The only Foo without a decent scat story is drummer Taylor Hawkins, known among his bandmates as the Hawk, who wants it noted for the record that his first child is only a month old and has already peed on him several times.
Ghosts May Haunt You In Manners Unexpected
Dave Grohl still thinks about Kurt Cobain. Of course he does. You try playing drums for the most revered musician of our generation, knowing that half the people you meet are more interested in hearing about Saint Kurt than your new album. Grohl was all of 25 when Cobain killed himself, and he's spent the 13 years since working feverishly to establish his own artistic identity. But that doesn't mean he can erase Cobain's memory.
"This morning I watched this thing on YouTube of Kurt's home movies. He's hanging out with his family in a park, sitting by this stream as these little girls run around, and it broke my heart, because I knew when that was, and I knew that he wasn't necessarily happy at the time." Grohl tells this story out on his deck, the burnt haze of another L.A. sunset ready to flare beneath him. A few feet away, Violet Maye is tottering around a barbecue grill, murmuring to herself, "Hot, hot."
Given that the new album boasts lyrics such as "Beautiful veins and blood shot eyes / Why'd you have to go and let it die?" I ask him if he's addressing anybody in particular.
Grohl sighs. "Most people just assume that any song I've written about loss or death or anger is about Kurt or Courtney. But I've been surrounded by musicians for 20 fucking years; there's a lot of people that have gone that direction." Still, he can't seem to shake that YouTube image. "He couldn't fully experience the joy of life," he says softly. "And I'm at that point now where I can."
He appears dour for a moment. But then he looks over at Violet, busts out one of his famously toothy grins, and scoops her up. And it's at this point—with Grohl and his daughter giggling madly, off to pursue some new adventure—that it becomes clear why the ghost of Kurt Cobain has been skulking around of late. It has nothing to do with the burden of living up to his creative genius or even his loss as a friend. It's the simple and horrifying fact that Cobain was, at the time of his death, the father of a young girl almost exactly Violet's age.