For our May cover feature, six stars of this year's festivals give the skinny on ginormous outdoor shows to (sun-)baked crowds. SPIN.com was on hand for the historic cover shoot in Hollywood, and we filmed our own quick interviews with the cover subjects. Watch our on-site video interview with Nightwatchman/Rage guitarist Tom Morello, and keep checking this space for interviews and behind-the-scenes footage of Jeff, Satellite Party's Perry Farrell, AFI's Davey Havok, Wilco's Jeff Tweedy, Wu-Tang's RZA, and Spoon's Britt Daniel.
Rage Against the Machine are re-forming to headline Coachella and Rock the Bells. How strange is it that after so many years of performing protest music, you guys haven't been around for the George W. Bush era?
I know what you're getting at, but bands don't exist to address historical events. It doesn't work that way. During those years, I formed the Axis of Justice organization with Serj [Tankian of System of a Down] to do concrete political activism. But clearly, Rage was the most outspoken voice of political music during the '90s, and all I can say is, I'm glad that voice is going to be heard again.
What's the craziest festival experience you've ever had?
I first met RZA and the Wu-Tang Clan at a Swedish festival above the Arctic Circle with about 60,000 kids. Wu-Tang just commandeered the entire backstage area, and ODB was king of the court, God rest his soul. It was Rage Against the Machine, Biohazard, Prodigy, and Wu-Tang; and Rage, Biohazard, and Prodigy are very aggressive, in-your-face bands, but we were like small children in the presence of the Wu-Tang Clan. We were all sitting at these picnic tables hunkered down, dodging the beer bottles and Swedish women that were flying all over the place.
Do you enjoy playing these bigger shows?
I've been involved with groups whose music tends to move large groups of people, and I've never subscribed to the notion, "Man, we've gotta get back to the clubs." I enjoy trying to make a festival field of 100,000 feel intimate.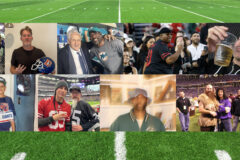 Do you remember a particular moment when that happened?
There was an early Rage show at Pinkpop in Holland, and during "Killing in the Name," the crowd literally registered 1.1 on the Richter scale — they reported it in the paper the next day. And you know how sound travels slower than light? When the snare drum would hit, people heard it at different times as the sound moved back, so the crowd was jumping up in these rolling waves, and from the stage it just looked like an ocean of humanity.
What's the greatest festival performance you've ever seen?
Billy Bragg. I saw him at a festival sometime in the '90s and was just awed by how one dude with a guitar completely commanded this huge crowd — it was funny, it was rocking, it was moving, and that particular performance inspired me to do the Nightwatchman. He absolutely held his own and more, with all these big rock bands. And that gave me a fearlessness, a sense that there's no audience that you need to be afraid of.
Your solo acoustic Nightwatchman album, One Man Revolution, positions you as this righteous crusader in an apocalyptic world. But there's one line — "On the streets of Havana I got hugged and kissed / At the Playboy Mansion I wasn't on the list" — that's a little odd. Audioslave was the first American band to play in Cuba since the embargo, and that was important to you, but the Playboy Mansion?
I don't know, it seemed like a perfectly logical juxtaposition, as far as forging the person and artist that I am. Those are two of the touchstones. There's a soulless vacuum to getting into the Playboy Mansion that is put forward as the American dream. And it's funny that even with my rock credentials, having been this hero on the streets of Havana, I was invited to this party and then denied at the door; it's ironic. But it's strange that you chose that line. I was expecting the one about me in the bushes with a baseball bat.
What do you make of Chris Cornell saying Audioslave's breakup was due to "irresolvable personality conflicts"?
Well, those are his feelings. But for me, it was just time to reorganize my priorities. I'd been doing the Nightwatchman stuff for about four years, whether it was in coffeehouses or at shows with Steve Earle or for 50,000 union workers on the streets of New York at the Republican convention protests. Finally, this thing that had just been a balance to my arena rock was now something that felt as important as anything I'd been involved in. So I decided I was going to make a record; I was going to make a lot of records. And at the same time, Tim [Commerford] and Zack [de la Rocha] had reestablished a friendship and were surfing together regularly, and the Rage thing started to organically happen.
How did it feel to be in Audioslave, this more conventional band that basically existed only to rock, and have your activism be completely separate from that?
Honestly, that balance of the arena-rock band on one hand and the political-organizing, philanthropic work on the other hand just wasn't enough. That's why I did the Nightwatchman, because you can organize and educate, but music can inspire like nothing else. I'm a guitar player, and for my whole adult life I've encouraged people to find their voice and make their voice heard; and finally I had the courage to step up and let my voice be heard.
Do you think the country's starting to change politically?
I think people make fun of Bush giving that speech on the aircraft carrier in front of the mission accomplished banner, but I believe at that point that the mission was accomplished — the mission being that a few very wealthy corporations were going to get a lot wealthier off this war. The corporations are the only winners: Afghanistan has lost, Iraq has lost, the United States has lost, and Halliburton has won. I don't think the results of these recent elections were about a great new vision for the future. It was just, "Oh, we're fed up." But it was too late, because the mission had been accomplished with the blood of a bunch of good American kids and innocent Iraqi and Afghan people, and that's just sad.
Does it matter whether Democrats or Republicans are elected?
Well, the choice is between Tweedledumb and Tweedledumber, and in the short term, you can say, "Let's take Tweedledumb because the other option is more carnage," and that's absolutely true. But for me, it's not enough to live my life and say, "Oh well, every four years, I'm going to vote for the greater of two lessers."
Is Barack Obama a candidate whom people should be excited about?
He's certainly a different type of candidate. With his Kenyan father and white American mother, his Illinois roots, Harvard education, and handsome milk-chocolate good looks — five things we've got in common — maybe there's hope. He's certainly someone who, in a very populist, charismatic way, expresses opinions of the left in a way that is acceptable to people all across the political spectrum.
Could you ever see Rage playing a show in support of Obama?
First, I don't think we would ever be asked. But I've been asked many times to perform for different candidates, and there's never been one I thought I could support. I don't think we've heard enough from Obama to make that determination yet. But you know, if he wants to try George W. Bush as a war criminal, then I'll fire up the amps!