Secret Machines' multi-talented lead singer, bassist, and keyboardist Brandon Curtis might be hanging out on a brief tour stop in his adopted hometown of New York, but lately he's been traversing a mountain of change. The mission: to elevate himself, his band, and their fans to a plateau of revolutionary thinking, an apex reached via his band's bewitching soundscape of thunderous reverberations. Out on the road with Kings of Leon during these scorching late-summer days, Secret Machines play out to those willing to see things in a new light and those who are waiting for the right catalyst. But time is precious to Curtis, his brother Benjamin (lead guitar/vocals), and Josh Garza (drums), and they aren't wasting any of it. For several months, they've been alternating between a grueling global tour schedule and sporadic stints in the studio to record their sophomore full-length (due in early 2006). SPIN.com reeled in Brandon for a few words about the forthcoming record, a photo shoot, and a live show that is, as usual, the antithesis of stagnant.
Click the link under 'Photos' in the right column of this page for an exclusive SPIN.com Secret Machines photo shoot and live shots from their NY show.
SPIN.com: Since the release of your first album in early 2004, you've virtually been on tour for almost two years straight with only fragmented breaks. How's the journey been?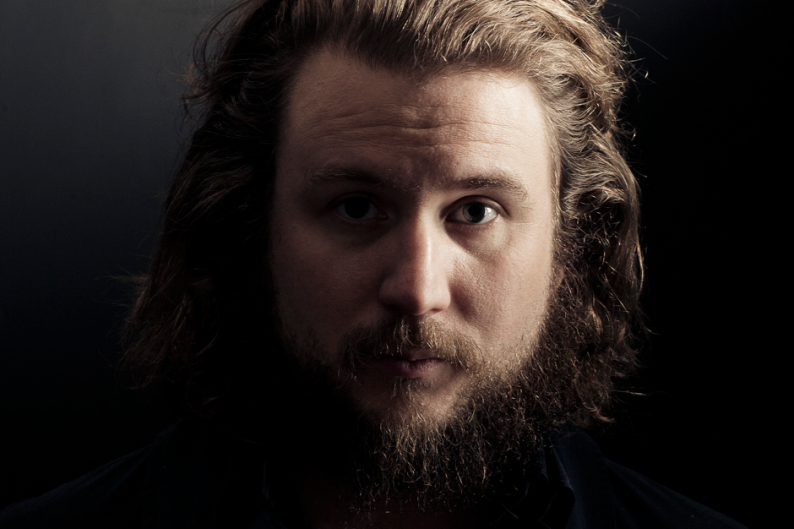 Brandon Curtis: Being busy is a blessing and a curse. We've improved a lot as a band and developed musically because you perform every night. You're developing new songs. In these last six months, we've done all of our pre-production of new material on stage in front of people, and actually fleshed our songs night after night. We're taking advantage of that trial by fire. I think it's made us get to the point quicker. It's a weird editing process or a refinement, a distillation of ideas. When you are performing something in front of people, there is a certain level of precision. You can't let it ramble.
As far as being away from home — just in last few months we've played in Scandinavia and Greece. Last year we went to Japan. Just to be able to go to those places and then play a show in those places, it's been really thrilling. It would be nice to go home a little more, and I think we'll be home for most of the fall until the new record comes out next year.
You've been in and out of the studio right now for several months, while continuously touring. The band hasn't taken a true break to record your new album. Has it been challenging?
It's different, but it's not unprecedented. That's how Led Zeppelin II was recorded. It's not that far of a stretch. When you go into a venue and you bring your show and you bring your performance, it's the same mind set when you go into the studio. When you go into that venue, you have to own it, you take it over, you make the place your place. In the studio that's what we did. We produce ourselves…
Like Led Zeppelin as well: Jimmy Page produced Led Zeppelin II.
Yeah, exactly. You just come in and you own it, that inertia of that confidence. That habit of going in with that attitude is something, I felt, was really beneficial. I think it allowed us to make this record with a lot of confidence, because the music and material are quite a bit different than our first record. The level of confidence and the level of intensity made it work. If you take a lot of time off and you're disassociated and distant from the live thing, then it makes you very cerebral and very analytical about performing the stuff.
Would you say there's a grand difference between your first album and what you're recording right now? Is there a huge gap?
It's us. It's just different. It's definitely us. The process of how we recorded it is identical. We don't do a lot of over dubs. It's minimal. Drums, guitar — just Josh, Ben, and me. There are not a lot of things we can't reproduce live. Most of the takes are that way. The end result is that the material is just different, there's a different flavor. There are different things on our minds this time. There's a lot of pressure to make a second record. Our first record, to me, meant something. It was a statement from us to people. It was like we had something to prove. There is a lot of pressure to continue to have something worthwhile to say.
How much is recorded so far?
It's all recorded. We're actually doin' five more days [in the studio] for a little editing in New York. Then we mix, starting in September, in London with Alan Moulder. He's really great and I'm big fan of what he does and he's a really cool dude. It's intimidating for us because he's done so many landmark records, important records to me. There's a bar we have to set… I don't want to go in there and say, "Can you just fix this?" I want it to get to him and for him to be inspired and take it to the next level, because he has been on so many great projects and has worked with so many great musicians.
Going back to your first album and how it was released online — before the actual physical album hit stores — it was big news within the music industry. You were pioneers in doing so, especially in the age of downloading and stealing music. You basically said, "Fuck it, here's our album!"
There's something to that still, and I don't think, even after doing that, the record companies [are] still bound, and they're still within this aging paradigm, this antiquated system of releasing music. They have to release it on this hard thing, and it has to be set up six months before it comes out. It's this broken machine to sell music. It works for some things and it doesn't work for some things. You feed in the record, it comes out the other end, and gets shipped out six months later. Record companies aren't in the business of manufacturing CDs, they are in the business of creating music. It's the music business, not the record business!