Two heads tend to be better than one, especially when it's 105 degrees outside and dozens of bands are on hand to rock socks off. Come along for the ride as two writers forage through two days of bands, beer, and blistering heat at Coachella 2004. Will sanity be maintained? Will they make it through to Sunday night and the Cure? Find out below.
SATURDAY
Sahara Hotnights
Natalie: Not long ago, the word "Sweden" meant little else to me than bikini teams and political neutrality. The vixens of Sahara Hotnights did a fantastic job of forever changing my definition of Sweden for the better. Has anyone else noticed that Scandinavia is really churning out the rock stars lately? Way to go! And did I mention that they have about the hottest drummer in the world? Well, they do, and she makes it look so easy, I think I'll start a band of my own.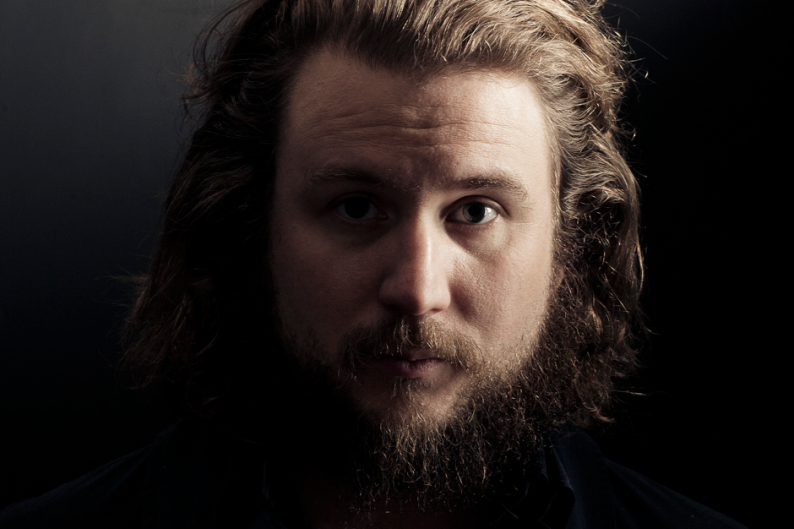 Peter: The Hotnights were merely an hors d'oevre for me before stellastarr*, and for most of the set I was simply baffled by the stifling heat in the Mojave Tent and wondered (perhaps aloud) whether we might be able to survive such conditions for an entire weekend.
stellastarr*
Natalie: stellastarr* brilliantly mastered the art of tent rock by blasting through the very best of their self-titled album including flawless versions of "My Coco," "Somewhere Across Forever," and "Jenny." I have been officially convinced that Michael Jurin is a modern guitar god (not to mention a nice guy). The four-piece had the entire sweaty audience, including Peter and myself, dancing, head bobbing, and occasionally fist pumping — only when warranted, I swear!
Peter: This was so special for me, watching buddies of mine get up there and stand so tall. Frontman Shawn Christensen, normally stoic and emotionally composed onstage, couldn't help but crack a heartfelt smile as the crowd unleashed a sustained roar following "My Coco." Was that sweat trickling down our cheeks or something more substantial?
Death Cab for Cutie
Peter: One of my friends leaned over to me during Death Cab's set and said, "Why couldn't they have just booked The Postal Service?" Even though I too obsessed over that Ben Gibbard side project, Death Cab still satisfied by churning out faves from Transatlanticism like "The Sound of Settling" and "We Looked Like Giants." After awhile, though, I kept hoping the next song would be "Such Great Heights" and that the crowd would start dancing like it was a Human League concert in 1984.
LCD Soundsystem
Peter: Pleasant surprise of the weekend, part one. While chilling outside one of the tents while a friend was recouping from a little dehydration, I heard fierce electro post-post-whatever the hell we're calling it these days, and my legs started pumping to the beat from my seated position. Turns out it was LCD Soundsystem, a band I'd kind of shrugged off after seeing them open for the Rapture last year. Will definitely look them up again back in the NYC.
Moving Units
Natalie: The contagious energy of LA's own Moving Units spilled out into the masses of dancing bodies in the Mojave Tent; everyone was getting down, regardless of the 105 degree heat. I have had their self-titled EP in my Discman for the past month. Yeah, you heard me. I am not cool/rich enough to have an iPod. When they played "X and Y" and "Between Us & Them" from that EP, I danced myself silly.
The Pixies
Natalie: I ventured to Coachella with one thing on my mind. OK, two things, but one of them was definitely seeing the Pixies. I expected the show to be great if only for nostalgic purposes, and I was completely ready to accept rusty guitar work and strained vocals. Instead, they were literally flawless, tearing through hit after hit, and by the time I heard "Gigantic," a goofy grin had found a permanent home on my sunburned face. To me, it was nothing less than rock euphoria.
Peter: I got a rush out of watching fervent Pixies fans like Natalie enjoy the set. With 21 career-spanning songs, everyone got something to remember, and the sound was simply impeccable, the best outdoor sound I've ever heard.
The Rapture
Peter: Upwelling Josh, with whom we'd rendezvoused miraculously and accidentally while squeezing through the crowd to watch the Pixies, really wanted to check out the Rapture before Radiohead, and we obliged. I'd been sour on the Rapture lately, but within moments of arriving at the Outdoor Stage I found myself vigorously kicking up dust and shaking my rump-ah. The revelers were positively supercharged and the grooves on "I Need Your Love," "Echoes," and "Out of the Races" were expectedly infectious, keeping those shit-eating Pixies-induced grins squarely positioned on our sunburned faces.
Natalie: I have long thought that the Rapture is much better live then recorded, and the band's Coachella set supported my theory once again. They always have a great audience and after the Pixies set I was ready to dance it up. In a way, the Rapture served as a palate cleanser between courses, a fruity sorbet.
Radiohead
Peter: One thing I discovered in the days leading up to Coachella is that lots of people have pretty awesome Radiohead memories. Mine's pretty hard to beat: One month before 9/11, watching them take thousands to higher levels while performing in Liberty State Park with the Twin Towers, the Statue of Liberty, and the rest of Lower Manhattan as a backdrop. Maybe it was exhaustion or perhaps a reluctance to let this memory be eclipsed, but by the end of their set I found myself laying in the grass, staring up at the stars and the festival's pyramid-like arrangement of spotlights while a gorgeous rendition of "Street Spirit (Fade Out)" soothingly washed through my brain.
Natalie: Amazingly, this was my first Radiohead sighting and it was pretty perfect. There was a bit of a scare that they wouldn't play because Thom Yorke had injured his voice. I assure you, his voice sounded perfect. As I lay on the grass, exausted and exultant, I was instantly whisked back to teenage-dom as they launched into a perfect version of "Creep."
Phantom Planet
Peter: As we prepared to head to the SPIN party, we stopped to gather the troops near the Gobi Tent where Phantom Planet was on. I heard lead singer Alex Greenwald say, "Well, Radiohead played 'Creep' so we should play our song, right?" Of course, they launched into "California," but a part of me wondered if they were turning into this decade's version of the Rembrandts. "I'll be there for youuuuu…"
Natalie: At this point I was immersed in the complete deliciousness of sweet potato fries so all I caught was "California" which was lovely and quite fitting as O.C. star Mischa Barton was probably within earshot and, well, we were in California. But I have to say I really miss Jason Schwartzman.
Behind the scenes at the SPIN Party
Peter: Speaking of Mischa, she seemed to be having one roller coaster of an evening at the SPIN party. One minute she's making out, next minute she's freaking out, right in front of me, actually. I felt weird about turning into paparazzi at my own party, so I kept the camera holstered. The party offered the perfect end to a long hard day at the office. 2manydjs rocked the decks and got the booty moving, plus the Polo Club provided ample lawn space to sprawl and swoon.
Other noteworthy celeb sightings at the party: Neve Campbell (begging to be seen as she picnicked right next to the bar line); Fred Schneider of the B-52s (who had played cowbell with Junior Senior earlier in the day); Oliver Hudson (brother of Kate); Matt Bellamy of Muse; the Killers; and surely many others that I didn't recognize because I don't watch network television.
SUNDAY
Pretty Girls Make Graves
Natalie: When a band takes its name from a Smiths tune, I usually expect sappy contrived love songs sung by a few sickly looking guys in black clothing. Luckily for me, Pretty Girls are, in fact, led by a pretty girl. We literally pried our sleepy selves out of the hotel with the expressed purpose of catching their set because Peter insisted that they put on a great live show. Well, the kid knows his stuff, and Pretty Girls' special brand of punkish indie rock has now secured a place in my heart and my stereo.
Peter: Even though we missed the first three or four songs, it was obvious that Pretty Girls — like a handful of other up-and-coming Coachella performers we managed to catch — were having quite a special moment in the hot desert sun. Aforementioned pretty girl Andrea Zollo and company seemed completely chuffed to open Sunday's festivities in front of a raucous, conscious, and plentiful crowd, and Natalie surely wasn't the only new fan won over by songs like "The New Romance," "This Is Our Emergency," and "All Medicate Geniuses."
!!!
Natalie: Bop! Bop! Bop! Zoom! Zoom! Zoom! Chik! Chik! Chik! I don't really know how to pronounce three consecutive exclamation points but I do now know that !!! are invincible. An extremely charismatic Nic Offer had the entire audience dancing in unison under the midday blaze of desert sun while screaming that everyone should move to Brooklyn, war is stupid, and that he is a pretty happy guy. I've never participated in anything so blissful and fun. Peter got some excellent photos as Offer disco danced across the stage and struck a few rock star poses. In my humble opinion, !!! was the "it" band of Coachella.
Peter: Pleasant surprise of the weekend, part two. I would fry like bacon to watch these guys play anytime. They gave me the supercharging I needed to plow aggressively through Sunday's packed agenda. So much fun.
Elefant
Natalie: Elefant was the hottest performance of the festival, and not just because of frontman Diego Garcia's movie star-like presence. I mean the tent was scorching. I have seen these fellows before in various cities but the Coachella tent performance was by far their best effort. Finally, thousands of indie girls (in Indio, no less) could swoon over Garcia in unison. Hey, if he offered me chocolates and some beer, I certainly wouldn't say no. Even Ms. Kathleen Hanna of Le Tigre appeared stage-side to take in the eye candy and the sultry sounds of Elefant.
Peter: Sweat was pouring out of me in ways I've never felt sweat pour before. The tent was utterly disgusting, but I supremely appreciated Elefant having its own moment at Coachella for despite the swelter, the crowd embraced Diego and company with open arms, and the ebullient frontman responded by pulling a half dozen ladies onstage to sing the "bah-bah-bahs" of "Bokkie."
Muse
Peter: As we headed to the press area for a snack and some hydration, Muse had just taken the main stage. Natalie asked what they were like, and I said that they reminded me of Radiohead circa the first two records: Thick riffs, heavy rhythms, edgy vocals. For a three-piece, Muse seemed absolutely monstrous and awe-inspiring, i.e. umpteen times better than their set in April at the Bowery Ballroom back home. As I scurried back across the lawn to catch a few other bands, the growling bassline of "Time Is Running Out" lurched out into my system, forcing me to incorporate some completely uncalculated and nerdy dance moves into my gait.
Natalie: I can attest to your nerdy dance moves. It's understandable, though, when the band on stage is so good that you were literally moved to dance. Still, very nerdy.
Atmosphere, The Thrills, The Killers
Peter: I decided to make a quick sweep of the smaller tents, snag some photos, then hightail it back to the press area to relax before the onslaught of headliners. First stop was Atmosphere's set on the Outdoor Stage, and the crowd was hyped from the first moment. Sporting a "Misogyny Is A Bitch" t-shirt, Slug pranced out and launched into "Trying To Find A Balance," pumping up the hip hop heads. This is the second time I've seen Atmosphere do their thing, and I love how Slug manages to transfer his energy and fury out into the crowd in a way few rappers seem willing to do these days.
On my way to catch a bit of the Killers, I passed by the Mojave and heard the simplistic sound of the Thrills' "Big Sur" emanating. I kept walking, thinking I could probably catch a Beach Boys cover band at some lounge in Palm Springs if I so desired. Just then a blur zipped by me heading at breakneck speed in the direction of the Gobi Tent and the Killers. It's a bird! It's a plane! No, it's Ultragrrrl! She was probably cursing the Coachella gods for scheduling two of her favorite bands (Muse, the Killers) in overlapping sets, so I dared not get in her way. I was jealous, though, that when we arrived in the photo pit she got a wink from Killers singer Brandon Flowers and I did not. The Killers were their usual decent selves, letting their rhythm-infused garage songs do the talking. Too bad I missed their finale, which featured a full gospel choir.
Thursday
Peter: I headed back to the VIP area to meet Natalie after enduring some greenhouse-like conditions in the Gobi Tent during the Killers, and Thursday happens to be next up on the main stage. While they were on, we decided to do some schmoozing in the press area. Wayne from the Flaming Lips walked by, dreaming of giant beach balls, no doubt. Natalie, how many times did we say "screamo" while they were on? Somehow I kept thinking of Strong Bad from Homestar Runner singing "Trogdor."
Natalie: "Screamo!" We did say it a lot. I am still saying it. I reluctantly watched Thursday from the safety of the VIP area. They are a bit too, well, emotional for me I guess. Not a bad performance and once again the sound was impeccable, but they are just not a band I can get into.
Bright Eyes
Peter: Bright Eyes' fans disturbed me slightly. OK, they disturbed me a lot. I was standing in the photo pit when Conor Oberst and company sauntered out, and over the next few minutes, I heard things like this shouted towards the stage: "I will have your baby, Conor!" "Take off your pants, Conor!" "I want your BALLS Conor!" Then, a smart ass said, "Hey, rest of the band! You're cool too. Sorry if we're only talking about Conor." The band laughed. Yeah Yeah Yeahs guitarist Nick Zinner — who played on Bright Eyes entire tour — didn't laugh, but he was certainly busy looking damn cool. Oberst opened with the overly righteous "Don't Know When But A Day Is Gonna Come," evoking cheers from the crowd as he Bush-bashed like a shrunken, Teen Vogue-worthy Michael Moore.
Air
Peter: While waiting for Air to take the main stage, I made my first visit to the main stage's photo pit and had some fun moments chatting up cute Cure fans who'd been smushed down in front all day while waiting for the headliners to emerge. Many asked if I'd take a picture of them, and I happily obliged. They said I was the nicest photographer they'd met all day. Warmed my heart.
Anyhow, Air's set was simply sublime and gorgeous. Clad all in black, the French duo began at sunset with "Venus" and "Cherry Blossom Girl" from their latest album, Talkie Walkie, then unleashed some of the stunning charmers from Moon Safari like "Kelly Watch The Stars," "Sexy Boy," and "L'Femme d'Argent," the set closer. The only downside was losing Natalie in the crowd on my way back from the photo pit.
Natalie: I think Air is great. We need it to breathe. This show was for me (and the new friends I made while being lost in the crowd) soothing, stylish, sexy, and just what I needed. "Sexy Boy" was immaculate and I loved hearing those sweet electronic sounds as the sun went down and the stars came out. Absolutely beautiful.
Peter: So you're saying I'm not soothing, stylish, sexy, and just what you needed?! Oy.
The Flaming Lips
Peter: With so much serious rock and roll going on all over the place, thank God the Flaming Lips came on just after sunset to take the piss out of the entire Coachella Valley. The performances on the tips of tongues included the Pixies, the Cure, and Radiohead, but no one will soon forget the spectacle of Wayne Coyne rolling about atop the crowd in a giant plastic bubble, or Coyne pushing a scary and garish nun puppet right up to the camera to lip sync the chorus of "Yoshimi Battles the Pink Robots," or Coyne leading thousands in a "Happy Birthday" sing-along to Beck's unborn child while dousing himself in fake blood. Yeah, so what if they only played four songs? If I could have peed, I would have done so in my pants.
The Cure
Natalie: Robert Smith is such a good sport. After the Flaming Lips' balls-out rock show, the Cure took the stage in front of just about the entire population of Coachella. Smith was, of course, decked out with red lips and signature hairdo, arming himself with a guitar and the lyrics we all know by heart. I have never seen so many people holding up their cell phones in a desperate attempt to "share the magic" with their jealous friends back home while the band performed "Just Like Heaven."
After ending the set, the new wavers came back to the stage for a hit-filled five-song encore featuring "Boys Don't Cry" and the rarely performed "The Lovecats." The Cure alone was worth making the cross-country trip, and though by the time they actually began to play I had grown very weary from the intense heat and long periods of standing, I wouldn't have missed their show for the world.
Peter: For me, watching the Cure was like watching a really good movie that's being broadcast on a major network with commercials. You want to stick around because you know you'll go nuts for the good parts, but you'd really like to check out what else is on. I won't lie. I kept looking away at the Outdoor Stage to see what Basement Jaxx and Le Tigre might be up to while we watched the Cure from deep within the sea of people. Sure, hearing "Pictures of You," "Close to Me," and "Inbetween Days" live for the first time had some surrealistic appeal, but it was difficult to resist the urge to sprint around the field one last time and explore. Good thing I didn't, though. When I tried to move again after the Cure's set, my leg muscles were at near-failure levels, and it was tough not to fall asleep at the wheel while waiting motionless in the dusty parking lot as traffic slowly cleared out.
In many ways, Coachella 2004 had its way with me, leaving me sunburned, sweat-soaked, blistered, and exhausted for a subsequent week, but I feel like we battled back honorably, collecting innumerable rock and roll memories that won't soon be forgotten.