10 Famous Musicians That Like or Liked Gambling
Whether it's about spinning the slots, beating the blackjack tables or sitting down at a game of poker, it's not hard to believe that many famous musicians like to gamble. After all, they are just people and people in general seem to love the thrill of gambling. According to the American Gaming Association, four out of ten adults visited a casino in 2019.
Some of our most famous musicians do, however, like to gamble a bit too much and some are only into playing the lottery which isn't what you would expect out of a successful multi-millionaire. Lotteries aren't that thrilling and surely a rich musician wouldn't need the money?
Well, let's dig deeper as we present 10 famous musicians that are either in or were into some kind of gambling.
1.    Madonna
The iconic queen of pop was reported to have won the second prize in the SuperEnaLotto in 2012. During her world tour of that year, she purchased 100 tickets into the draw and managed to scoop a prize of €120,000 (approximately $130,000). All of her winnings were used to build a school in Malawi, an African country which she has adopted four children from.
It is said that Madonna regularly plays the SuperEnaLotto which is an Italian lottery, Italy being a country she has roots from with her grandparents on her father's side. As tickets are not sold in the US, she has to play the lottery online using a messenger service that buys tickets on her behalf and sends them to her.
Madonna seen with children in Malawi
2.    Motörhead's Ian 'Lemmy' Kilmister
With the 'Ace of Spades' being a hit song by the English rock band Motörhead, the group's connection to gambling has always been in the front of our eyes. The lead singer and bassist – Lemmy Kilmister has explained how writing the song was a word exercise on gambling with all the clichés you would expect.
While Lemmy, unfortunately, passed away in 2015, his 'live fast and die young' lifestyle included a passion for slot machines. It is rumored that his nickname 'Lemmy' comes from the phrase 'lend me some money', with 'lend me' being pronounced 'lemmy'. The singer himself never confirmed this though.
In 2016, with the approval of the group, NetEnt released an exclusive Motörhead slot, further solidifying the connection the rock group has with gambling.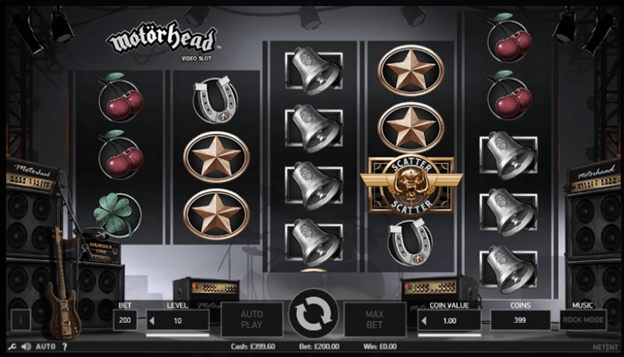 Motörhead's own slot machine
3.    Gladys Knight
Known as the 'Empress of Soul', Gladys Knight has been an active musician since the late 1940s when she would sing in church choirs. She has been nominated 22 times and won seven Grammy Awards for hits released together with the group 'The Pips' as well as for her own solo achievements.
In the early 1980s, living in Las Vegas, her addiction to gambling started to come to light. In an interview with the Los Angeles Times, Gladys said that she got into casino games as she had nothing else to do in-between her shows.
A friend of hers introduced her to Blackjack and that's where it all started. Stakes were small at first but gradually got bigger as her addiction grew. Along with a nasty divorce and kidnap that cost her a lot of money, Gladys ended up in a bad economic state. When her kids needed something, such as school books, she would gamble to win the money for it.
One day she realized the ugliness of her addiction and came to her senses after winning $60,000 at a table just to lose it all the moment after. She went to the phone and called Gamblers Anonymous who picked her up. After just one meeting, being addicted to gambling for a decade, she allegedly stopped playing.
In Gladys' autobiography, Between Each Line of Pain and Glory, she writes how pit bosses and dealers became her friends and how the casino protected her from paparazzi and scammers.
4.    Frank Sinatra
Although dead in 1998, Frank Sinatra is a name most of us have heard of thanks to his huge world-wide success, including 150 million records sold and acting in over 50 movies. Unknown to a lot of people is, however, that Sinatra had bonds with the mafia and reportedly loved to gamble.
Like many before him, his love started in Las Vegas which Sinatra moved to in the 1950s. The man was somewhat of a hothead and according to some sources, this was well-reflected at the Sands Hotel and Casino in 1967. After losing $500,000, he allegedly stole a golf car and drove it through the glass doors of the casino, and also tried to set curtains on fire.
Not only did Sinatra gamble, but in 1960 he bought his own casino known as the Cal Neva Lodge & Casino.
5.    Sean 'Puff Daddy' or 'P Diddy' Combs
P Diddy may primarily be known for his rapping career but has also been a producer for top artists such as Notorious B.I.G and Usher. When it comes gambling, Blackjack is his game of choice. Not only does he pay the tables a visit whenever he's in Las Vegas, but rumors have it that he's requested to have blackjack tables set up backstage whenever he's on tour.
In 2002, he was invited to the Harrah's Casino in Atlantic City to inaugurate its improvements that included new, opulent blackjack tables. Of course, Mr. Diddy did not only do his magic on stage but was also the first to challenge the dealer on the new tables.
6.    Nelly
Another rapper who likes to gamble is no other than the Grammy-winning Cornell Iral Haynes Jr, more commonly known by his stage name Nelly. He's not as much into luck-based games though but prefers playing Texas Hold'em poker.
He has participated in many big tournaments, including the World Series of Poker, PokerStars Caribbean Adventure and PokerStars European Poker Tour. Along with land-based tournaments, reports state that Nelly likes to play poker online as well.
In 2020, he got into a poker fight at the Mohegan Sun Casino in Connecticut where Nelly snapped after his opponent told him to "get under my nuts". The incident was recorded and can be found on Youtube.
7.    Jay Z
Regarded as one of the most influential hip-hop artists of all time, Jay Z needs little introduction. With 125 million records sold, he's on the list of the best-selling music artists. An achievement that goes well with his 24 Grammy awards.
When it comes to gambling, Jay Z has allegedly described himself as a professional, with poker and blackjack being his favorite games to play. He usually plays in private settings, but has also been spotted on high-stakes tables at casinos. Reports state that he lost half a million dollars on a single hand playing poker in Las Vegas.
8.    Lady Gaga
If there's one song we all think about when we hear Lady Gaga, it's 'Poker Face' which ran wild on the radio in 2008 and 2009. While the song isn't about poker per se, it does speak in reference to it and part of the reason is probably Gaga's fondness of poker.
Several sources state her being spotted throughout casinos in Las Vegas and allegedly, she has claimed that she likes playing poker to have fun and relax with her friend. It's not about winning or losing, but the enjoyment of the game.
Lady Gaga at the blackjack tables
9.    50 Cent
Curtis James Jackson, also known as 50 Cent has been in the spotlight many times, not only for his rapping career and entrepreneurship but also for filing for bankruptcy in 2015.
The rapper is also known for his huge sports bets that include $500,000 put down on the New York Giants against San Fransico 49ers in 2012 during the NFC Championship. Not to mention his $1.6 million bet in the UFC in 2015. He bet on Floyd Mayweather beating Manny Pacquiao.
In addition to betting, reports state that 50 Cent has a thing for blackjack, which might be part of the reason he launched his own social blackjack game on Facebook in 2015. This is known as '50 Cent's Blackjack'.
In early 2016, the rapper joked about almost winning the jackpot in the US Powerball when he matched 3 out of 5 numbers. While we don't know if he plays the lottery regularly, he did share his ticket on Instagram confirming that he at least played this one time.
50 Cent's 'almost winning the Powerball jackpot ticket'
10. Sully Erna
Most famously known for being the vocalist in the rock band Godsmack, Sully Erna is also a poker player with pretty decent results. Placements in tournaments include a 713th position in the 2006 World Series of Poker. With a starting field of 8,773 players, this earned him $17,730.
Sully also played in the next year's World Series of Poker where he finished 237th out of 6,358 participants, earning him $45,422. His biggest win to date though is a second-place finish in the Five-Diamond World Poker Classic where he scooped $307,325.
After his big win, he competed in a few more tournaments and then decided to call it quits. In an interview, he stated that he was losing patience when he was playing, which led him to play bad hands. However, in 2013, he was back once again competing in the World Series of Poker.