Artist of the Year: Death Grips
The outrageous story of how a couple of mysterious punk-hop noise-bringers bumrushed the majors, infiltrated the Hollywood elite, made your iTunes NSFW, and then vanished completely. In a year of Kickstarter millionaires and Tumblr-rap riff-raff, Death Grips were the first band to use the power of the Internet to delete themselves.
"It wasn't the way I wanted to start my weekend," says Robby Fraser of the William Morris Agency, who booked the canceled tour. "I found out about it by getting e-mails, one right after the other. My phone started blowing up from promoters saying, 'I heard they just canceled, that doesn't affect my date, right?' They hadn't talked to me. They just literally pulled this thing down, unilaterally, across the world, on their own. It was bizarre. [Promoters] were almost concerned, 'Are they okay? Did they get in a car crash? Maybe I won't get pissed right now 'cause maybe there's something more serious than I know.'"
But even if promoters were left confused or angry, that wasn't exactly weighing on Death Grips' minds. "Not to sound arrogant, but that's their choice," says Hill. "I'll go play at a house down the street, right where I started."
The band was even set to do a potential cover story for stylish web magazine self-titled, who had booked a flight to California for a freelance writer. Weinstein couldn't find his clients. "This is what I wrote to him," says Weinstein, dictating an e-mail from May 5. "So I'm writing this with my head hung low and scratching it at the same time…. I can't get an answer from management. I'm embarrassed on one hand, on the other hand I've tried everything I can do…. I'm not getting an answer from anyone…. I don't know if the band is gonna be around. No one seems to know where they are."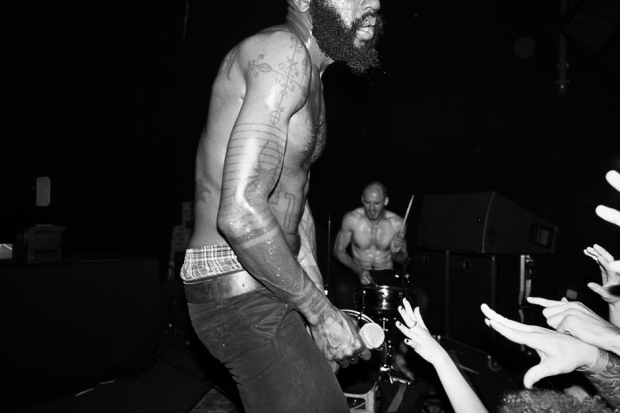 In reality, the band wasn't too hard to find. They were back where they started, in Burnett and Hill's apartment in midtown Sacramento, a featureless cube of a building on a tree-lined street next to the train tracks. Hill, the mouthpiece of a band who built their name on the web, deleted his personal Facebook, hardly futzed with their shitty Internet connection, and ignored the great majority of his e-mails — though he does remember Björk sent a very kind artist-to-artist note of support. For four months of self-imposed solitude, they spent every day working on NO LOVE DEEP WEB. The sessions were immediately plagued by a spiral of alienation and isolation: The first show of their canceled tour, the Sacramento Electronic Music Festival, was happening nine-and-a-half blocks away from their front door. "There's the feel of the whole town not feeling that decision and not getting behind that," says Hill, "and, obviously, rightfully so." They lived above Sacramento Bike Kitchen, which, after hours, Hill claims is a popular meeting place for sticky-fingered ne'er-do-wells in a city where more than 1,150 bikes were reported stolen last year alone. The band worked around the hours of the Bike Kitchen and suffered a handful of noise complaints. At one point, the porch caught on fire for reasons unknown.
"You could tell people were trying to break in," says Hill. "In the middle of the night, I'd see someone fucking with the door, so I'd throw a bottle out the window in the alley so it would shatter and they would run. It was tiring in that sense, a very exhausting space mentally. And mixed with our internal struggles, it was not a pleasant time making that album at all. It was actually very dark."
The band finished NO LOVE on August 31 and flew to Los Angeles that night under a blue moon. They weren't going to set up some meeting or "do lunch": They were going say, "We're here." However, in the time it took to finish the record, Cob-Baehler, their most devoted advocate at Epic, and their project manager, Arjun Pulijal, had been let go from the label. "The small team that we had, who had their own problems with trying to represent what we were trying to do, those people disappeared," says Hill. "So we ended up being basically straight-up ghosts in the building…if we weren't already. We went down to Los Angeles to try to basically force entry and get answers or solutions as to what was going on with the band."
They didn't get that meeting immediately, and had enough time to fly back to Sacramento, put all their stuff in storage, say goodbye to the meth heads on I Street forever, and return to L.A. with no home, but an industrial-strength new album stored on their iPhones. Once they got into the Epic offices to play NO LOVE for chief operating officer Mark Shimmel, the meeting was inauspicious, to say the least. "There is a lot of psychological warfare in the music industry," says Hill. "When we got there, he brings us into [Cob-Baehler's] old office. The place was stripped out. That's where he chose to have this meeting. They don't listen to any of our album or any of our music. We hadn't seen them all summer, we hadn't seen them since we canceled our tour, since any of this shit. We talked about plans and touring, and there wasn't a lot of enthusiasm towards the music. L.A. Reid did show up for a second. He wanted to tell us he was still down for us. Which he is: L.A. Reid is down for this band."
Hill and Burnett stayed in Los Angeles and tried to get meetings to play Epic their promised second album of 2012. They started texting Epic A&R head Tricky Stewart. There was no release date to speak of and, since they blew off their promotional tour and their whole team was gone, who knew if there was going to be a release date at all. The band tried to stay optimistic. They figured they could be dropped any day. But, Burnett says, "we had no plans on disappointing our fans again. That was not an option." Adds Hill, "At a certain extent, there is a game involved in where they're coming from. And there is an aspect of, 'How on earth are we going to get control back?'"