In compiling a list of our favorite alternative drummers, we know that what makes someone "alternative" is admittedly subjective — though we remain wowed by their skills, the arena-rocking misty-mountain marauding of John Bonham or the artfully destructive chaos of Keith Moon or the ridiculoid festival freakouts of Dave Matthews Band's Carter Beauford are too anchored to commercial bedrock. Once-alternative dudes like Lars Ulrich and Larry Mullen, Jr. were even more contentious points of debate. Tie-breaking was left to the completely arbitrary whims of various SPIN editors. We included stomping '60s and '70s funkateers because their ricocheting rhythms cut so hard against the pop grain — both originally and via hip-hop samples — but we mostly left out jazz greats because, well, we can't be here all day.
To create this roll call, we enlisted the help of music writers who have been known to play some drums (Michael Azerrad, Hank Shteamer, Matt LeMay), so we can assure that the word "flam" will be used correctly. We also included some drummers who have a way with words — including Portlandia's Fred Armisen, Superchunk's Jon Wurster, and Matthew Shipp skinsman Guillermo E. Brown, a.k.a., Pegasus Warning. We probably forgot someone great and you're probably going to tell us about it in the comments. Just make us the new punch line to your best drummer joke. CHRISTOPHER R. WEINGARTEN
1. Stanley Demeski (The Feelies)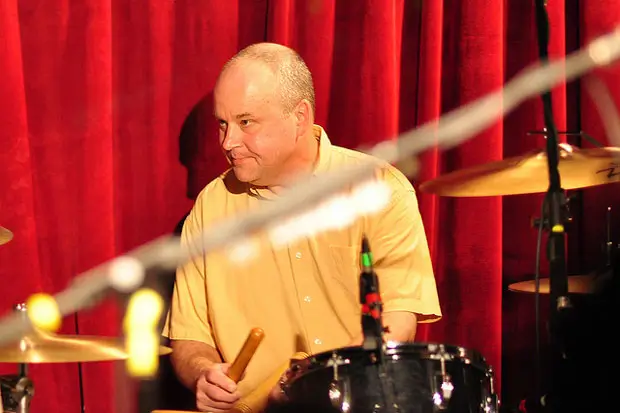 Being a working-class drummer is something to aspire to. Although he wasn't around for the Feelies' influential 1980 debut, Crazy Rhythms, Stanley Demeski (alongside percussionist Dave Weckerman) refined the New Jersey quintet's hypnotically repetitive post-Velvet Underground pop even further on four pre- and post-breakup albums. During the early '90s he also played in Luna alongside Dean Wareham, who described Demeski's style as that of "a judicious metronome." Demeski has admitted to a mechanical influence ("drum machines don't overplay"), making his day job as a machine-tool-parts manager all the more poetic.
Most Booming Moment: Demeski propelled "The Good Earth," the title track from the Feelies' country-rockin' 1985 album, fiercely into the sunset. RICHARD GEHR
2. Abe Cunningham (Deftones)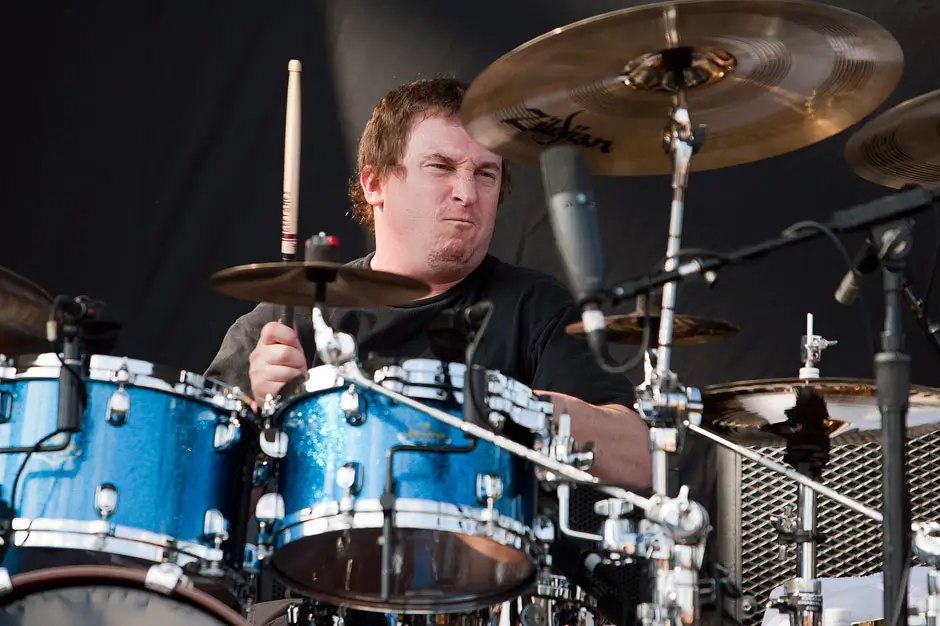 Without question, Deftones' greatest asset is the seductively moody whines and screams of frontman Chino Moreno. So, as the band's sound has evolved to play up the emotionally heavy as much as the headbangingly heavy, Moreno has greatly benefitted from drummer Abe Cunningham's ability to adapt along with him. On Deftones' early, more nü-metal releases, Cunningham played straight-ahead, propulsive rock that gave way to the occasional jazzy textures. But on 2000's alt-metal watershed White Pony, he expressed himself with sophisticated little fills and accents — the tiny hi-hat rolls on "Digital Bath," the subtle tom pokes on "Knife Prty," the Matt Cameron-style bustle at the climax of "Change (in the House of Flies)."
Most Booming Moment: Cunningham's heavily hit snares and splashy cymbal work heightened the emotional impact of "Knife Prty." KORY GROW
3. Steve Shelley (Sonic Youth)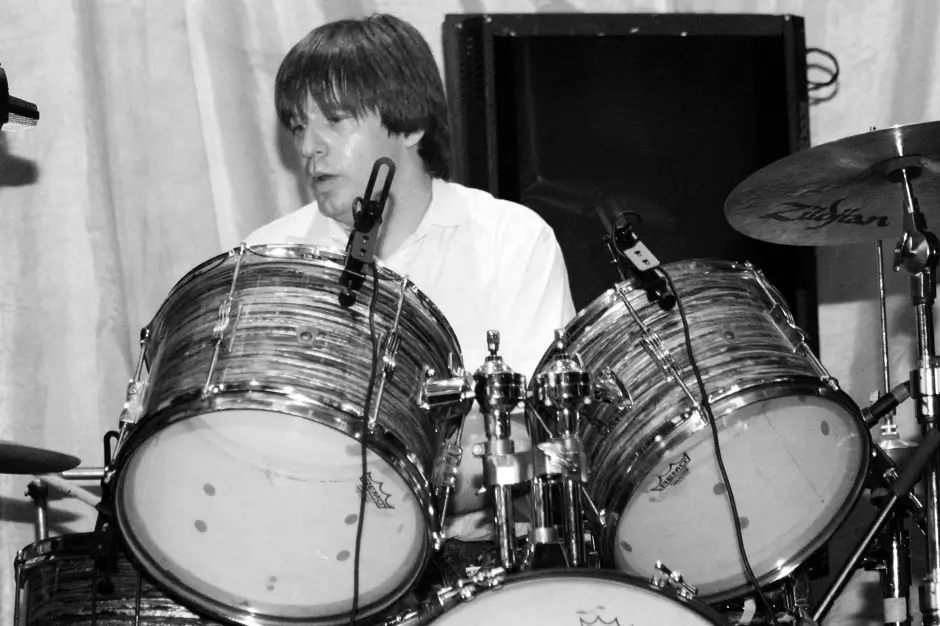 When Steve Shelley joined Sonic Youth in 1985, he definitely didn't look the part: he was a geeky, spectacles-sporting kid from the Michigan burbs. But in his nearly 30 years with the Kings and Queen of the Alternative Nation, Shelley established himself as one of the most unconventional drummers of the '90s and beyond — not to mention one of the most modest. As Thurston Moore once explained, "[Steve] had a certain physicality about him and he wasn't a too-cool-for-school no-waver." The band's unprecedented, boundary-pushing wall of noise wasn't just a result of Moore and Lee Ranaldo stabbing their guitars with screwdrivers; behind his five-piece Brady kit, Shelley was exploring new textures and grooves with maracas ("Dirty Boots"), mallets ("Antenna"), and more. And though his training as a hardcore drummer with the Crucifucks brought much-needed momentum and meter to the Youth's key albums Sister and Daydream Nation, Shelley tempered his sound throughout the band's more quiet, experimental phases, particularly with their free-form SYR series of albums and 1998's A Thousand Leaves.
Most Booming Moment: On 1992's "Sugar Kane," Shelley's dynamism is in full bloom: he pummels the kit with enough force to fuel a mosh pit, but during the song's reflective, instrumental interlude, his hands dance across the cymbals with the grace of a ballerina. KEVIN O'DONNELL
4. Dave Barbarossa (Bow Wow Wow)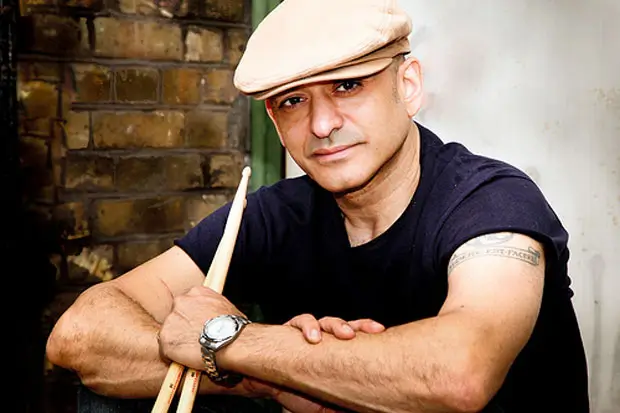 A British punk who started out with Adam and the Ants and played primarily in the African Burundi "tribal" style, Barbarossa's beats were a constant, busy pattern on two timbales, which were mounted on a stand in front of him, where two rack toms would usually sit. Timbales make a metallic, almost shrill sound, but seem to carry their own melody. It's a beautiful instrument that you hear prominently in salsa music, and often, reggae. Barbarossa accented their impact by rarely finishing a fill with a cymbal crash, creating a kind of rolling hypnotic/exotic sound behind Bow Wow Wow singer Annabella Lwin. By also keeping a steady beat on the kick, he created a fresh kind of dance music, with the help of some fantastically complex bass lines by Leigh Gorman. I was told by Gorman (yes, I am name-dropping) that it was Malcom McLaren's idea to take away the hi-hat altogether. Like, he physically pulled it out of the drum kit. So, thank you too, Malcolm.
Most Booming Moment: The tom-tom/timbale call-and-response that echoes Lwin's joyful shriek on the chorus of "Go Wild in the Country" or the roiling tom-tom clatter that fuels the opening of "C30, C60, C90, Go." FRED ARMISEN
5. David Lovering (Pixies)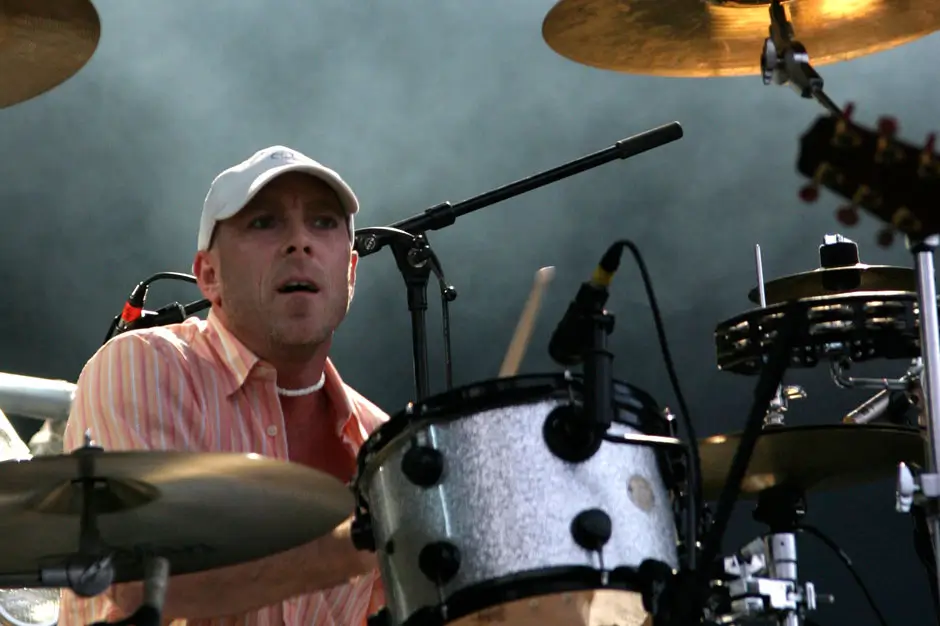 Nobody in Pixies is a flashy player, but the band's more muted public figures — guitarist Joey Santiago and drummer David Lovering — could star in a Louvre exhibit on "Quiet Skillfulness." Lovering is the group's lovable goofball (see his Ringo-esque turn on the mic for "La La Love You" and his side hustle as an accomplished magician), but his peppy, restrained playing artfully ties together Frank Black's throat-shredding yelps, Santiago's wavy-gravy riffs, and Kim Deal's spunky bass lines. He grew up a Rush fan, but knows Pixies' surfy punk sound doesn't require extravagance: smart hi-hat work and well-chosen fills are what pump up the volume of the group's groundbreaking loud-quiet-loud brilliance.
Most Booming Moment: Pixies' debut full-length Surfer Rosa launches with Lovering's cymbals crashing into "Bone Machine," then he ramps up and pulls back in all the right spots, highlighting the track's oddball syncopation. CARYN GANZ
6. Chris Corsano (Rangda)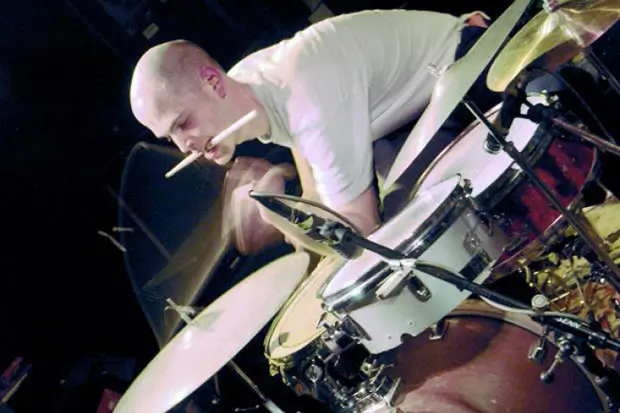 Thurston Moore has worked tirelessly to turn open-minded avant-rock heads onto experimental improv, but thirtysomething drummer Chris Corsano was one of the first of his generation to demonstrate the essential punk-ness of free jazz — and vice versa. The babyfaced percussionist rose to prominence in a fearsome duo with Paul Flaherty, a white-bearded sax renegade who issued his debut recording when Corsano was three years old. That project coincided with the dawn of a new sub-movement in the American underground, a swirling soup of noise, psychedelic folk, and woolly jammage, and Corsano became the house percussionist for the loosely knit scene. From the early aughts forward, he gigged with a Wire issue's worth of avant heavy hitters, including Moore, Jim O'Rourke, Nels Cline, Matt Valentine, Joe McPhee, Bill Nace, Six Organs of Admittance, Jandek, and even Björk. Hearing him approach death-metal density while maintaining a nimble touch reminiscent of a tabla master, it was easy to grasp why he was in such high demand.
Most Booming Moment: Corsano rarely sounded better than in his native element, the Flaherty duo. "What Do You Mean This Is a Dry County?" (from 2006's The Beloved Music), summed up his trademark juxtaposition of battering and caressing. HANK SHTEAMER
7. Greg Saunier (Deerhoof)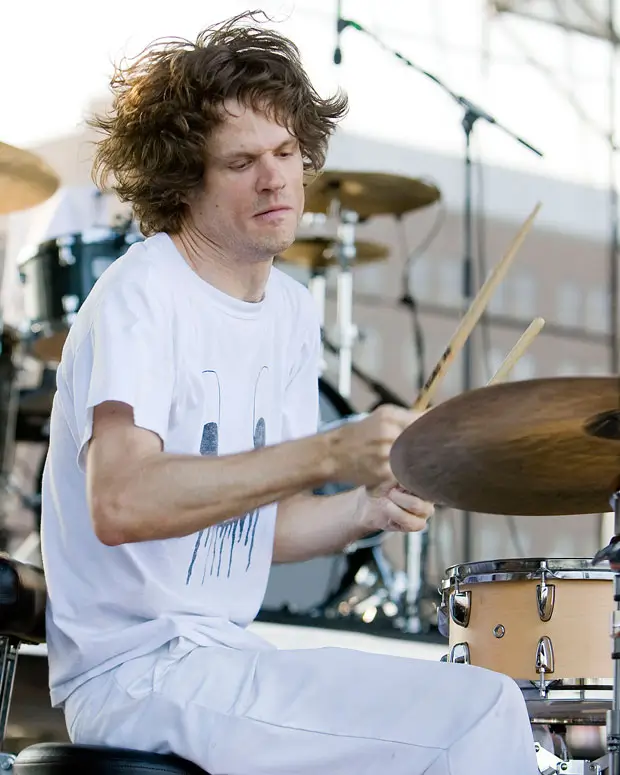 He's both one of indie rock's wildest instrumentalists and one of its most sensitive — a master of both the disorienting hiccup and the unshakable groove. Saunier's style is inseparable from Deerhoof, the weird and wondrous art-pop band he's powered for close to 20 years. Encountering him onstage, with his moplike hair, lanky frame, comically spastic movements, and minimalist set-up (often limited to snare drum, bass drum, and ride cymbal), you might mistake him for a primitivist, but then you realize how attuned he is to frontwoman Satomi Matsuzaki and the dynamic needs of each song. It's not hard to see why he counts ?uestlove among his ardent fans.
Most Booming Moment: On "The Tears and the Music of Love," off 2008's Offend Maggie, Saunier combined a bearish, Bonham-worthy stomp with tasty little slurs and stutters. HANK SHTEAMER
8. Lynn Truell (The Dicks, Sister Double Happiness, Imperial Teen)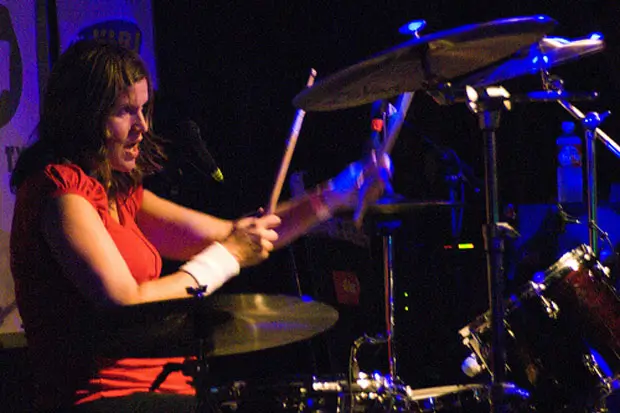 A solid, reliable, and adaptable drummer is always in demand, and Lynn Truell (née Perko) hasn't been without a band since the dawn of the '80s. A fixture in the San Francisco underground, notably with the second iteration of hardcore punks the Dicks and then the blues-heavy Sister Double Happiness, she demonstrated a killer combination of timing and texture. But Truell's most impressive work was in '90s indie-punks Imperial Teen, where she flaunted her ability to switch from tight pop beats to brittle, combustible throwdowns.
Most Booming Moment: Six seconds into 1996's "Water Boy," Truell lays down a simple pick-up that opens the gates for a rush of manic, pent-up energy. JEANNE FURY
9. Sean Kinney (Alice in Chains)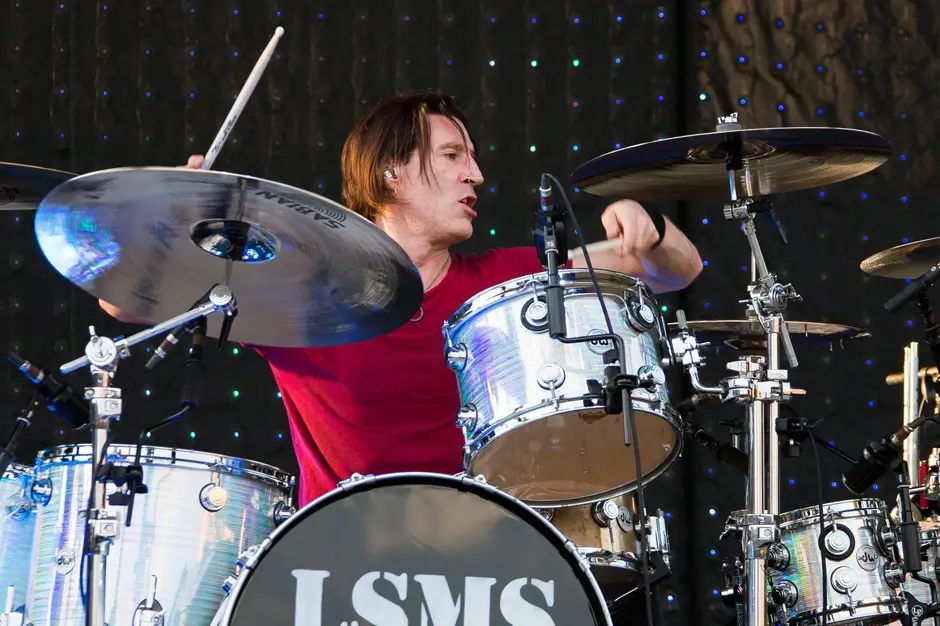 Driving one of the most broodingly dark bands of the 1990s, Kinney didn't trample over or fully succumb to Alice In Chains' plodding melodies; instead, he laid back with a strong dynamic sense, bustling with inventive fills but never getting too busy for Layne Staley's narrative of decay and despair. Maybe because his metal background gave him a little more flourish, Kinney was responsible for some of the most inventive patterns of the grunge era — the pounding 7/8 groove of 1992's "Them Bones" makes a fleet-footed, single-pedal eighth-note pattern sound effortless; and the poking, popping tom-and-splash work on 1994's "No Excuses" is a carnival of textures.
Most Booming Moment: From start to finish, "Would?" feels like a voodoo ritual, and the triplet fill just after the three-minute mark is the sound of heads rolling. JEANNE FURY
10. Chris Bear (Grizzly Bear)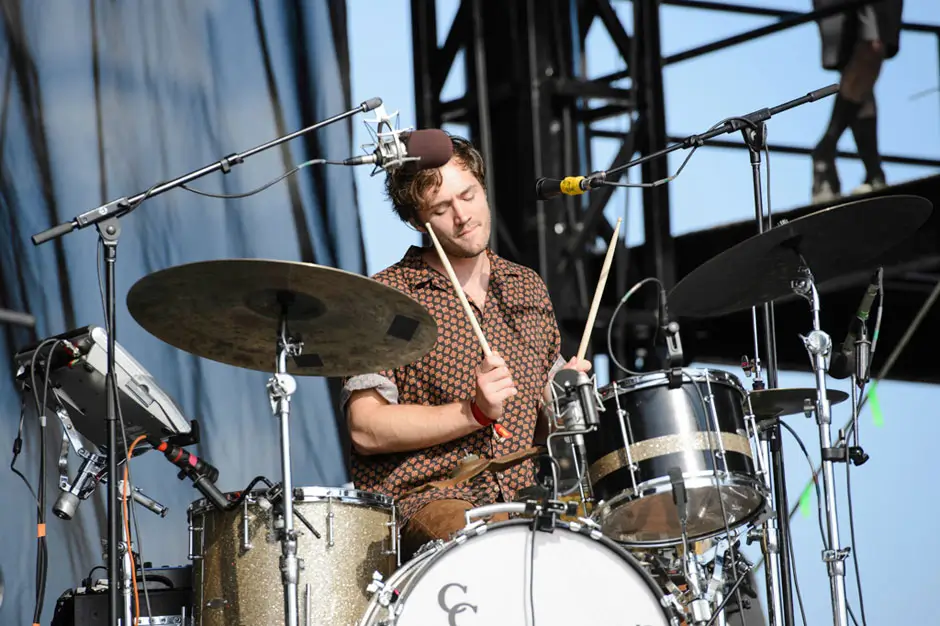 Grizzly Bear are a group that might be too pristine — too proper, too Starbucks — if not for one man. Chris Bear isn't the driving creative force behind one of modern indie's most rewarding bands, but he does provide the muscle for songs that are more powerful and complicated than they seem at first glance. With a background in both jazz and no-wave bands, Bear plays with an almost quietly loud economy — you can hear him hit his kit with intensity and ferocity (even busyness), but he's never disruptive. No easy feat for a drummer in a band whose music can have a hushed stillness.
Most Booming Moment: Bear got to shine on 2012's tom-heavy "Sleeping Ute," where it sounded like he was throwing boulders into a junkyard. JORDAN SARGENT
11. Jack Irons (Red Hot Chili Peppers, Pearl Jam)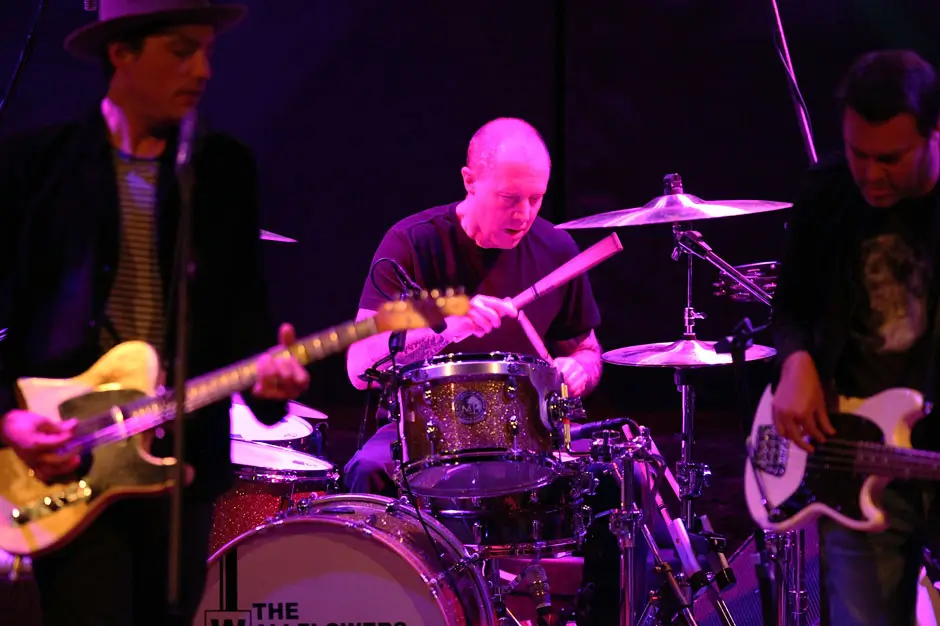 Though he was the Chili Peppers' drummer when they started gigging around L.A. in 1983, Irons wouldn't appear on one of their records until 1987's The Uplift Mofo Party Plan, the only time the band's original lineup (including guitarist Hillel Slovak) can be heard playing together in the studio. A wildly expressive drummer who favored texture over power, Irons later bounced around from Joe Strummer's Latin Rockabilly War outfit to Eleven to longtime friends Pearl Jam — in 1991, he passed along an early instrumental demo tape from ex-Mother Love Bone members Stone Gossard and Jeff Ament to a mostly unknown singer in San Diego named Eddie Vedder, and the rest is history. With Pearl Jam, Irons played on the most experimental records in their discography, including a collaborative stint behind Neil Young on 1995's Mirror Ball and the eight-minute freeform meltdown "Stupid Mop" on 1994's Vitalogy.
Most Booming Moment: The ripples of "In My Tree," from Pearl Jam's 1995 album No Code have never been successfully replicated by his formidable counterpart, Matt Cameron. DAVID BEVAN
12. Prince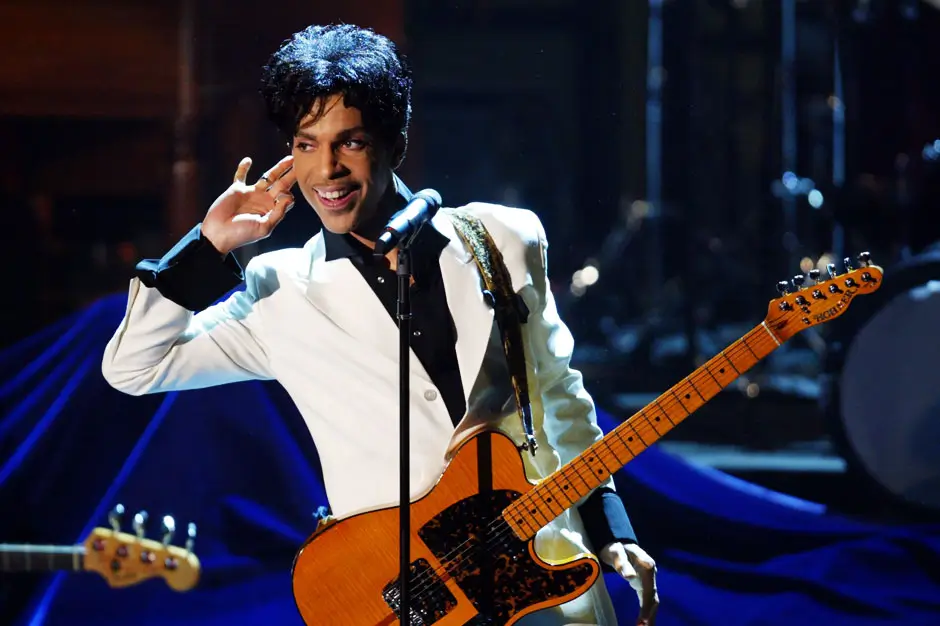 Is that Prince, the drummer? Prince, the percussionist? Prince, the user of drum machines? Nope, it's Prince, the multi-instrumentalist whose vast catalog of productions, side projects, live tours, and special collaborations exposes the mysterious wiring and rhythms of modern music. The Purple One's always-evolving percussive vision as a bandleader-songwriter-performer has boggled minds and inspired fans the world over — 1980's new-wave funk of "When You Were Mine" looks forward to OutKast's "Hey Ya," the off-beat shimmy of 1984's "Tambourine" looks forward to the Neptunes, the chattering robot-funk of 1987's "The Ballad of Dorothy Parker" looks forward to Timbaland, and don't even get us started on "Alt R&B."
Most Booming Moment: The clackity, dubbed-out, steel-pan, godfather-of-soul-on-a-cardboard-box beat of "New Position" off 1986's Parade. PEGASUS WARNING
13. Brendan Canty (Fugazi)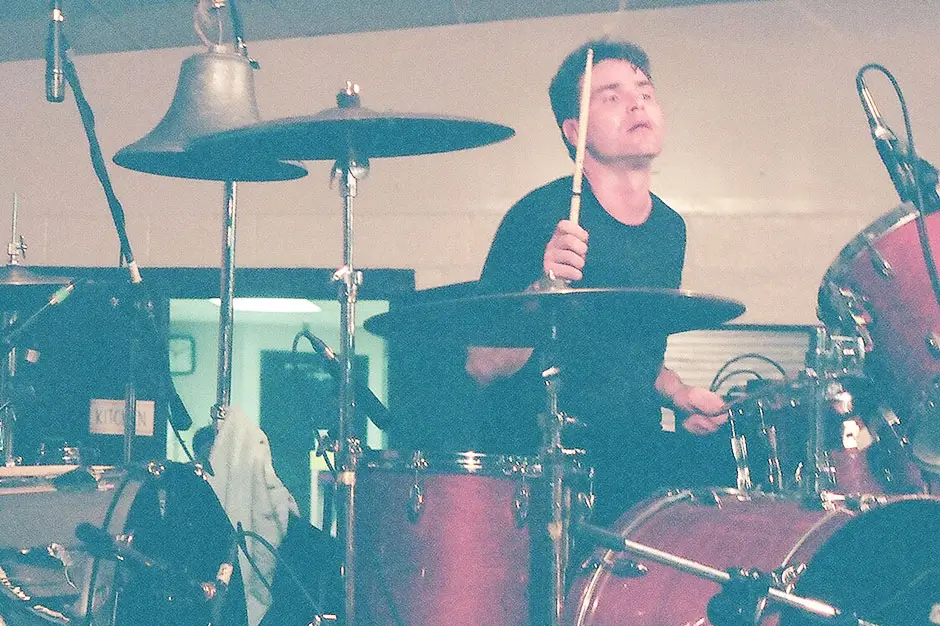 A key element of the innovative, deeply rhythmic guitar dialogue between Fugazi's Ian MacKaye and Guy Picciotto, Canty's skittering drum work found much of its inspirations in dub music, sounds that had not yet been incorporated so definitively by any of their post-hardcore peers. And while he had been a force of nature alongside Picciotto in their earlier band Rites of Spring, Canty was something of a surgeon as Fugazi's drummer, his every snare crack as sharp, clean, incisive, and disciplined as that band's ethos. The negative space he created was as charged as any scream of feedback.
Most Booming Moment: The hiss and crackle of Canty's performance in "Waiting Room," the lead-off track on Fugazi's 1988 self-titled EP. DAVID BEVAN
14. Gina Schock (The Go-Go's)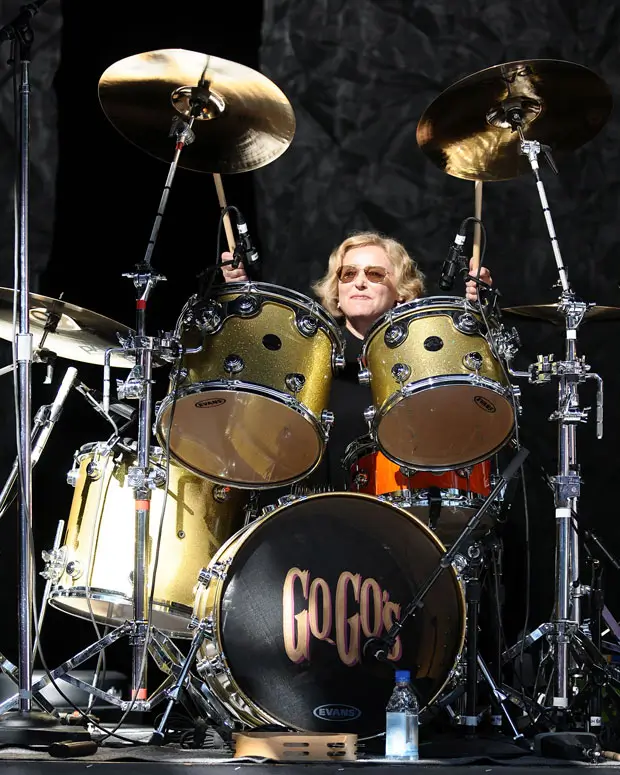 While the Go-Go's are best remembered for taut new-wave melodies, girl-group harmonies, and quippy attitude, drummer Gina Schock was reaching for the rafters. She gave songs like "We Got the Beat," "Can't Stop the World," and "Vacation" a weighty, John Bonham-esque kick. Her brawny playing helped transform the Go-Go's from punky upstarts to a punchy pop group to world-class MTV stars to the most successful all-female rock band of all time.
Most Booming Moment: On 1982's surfy "Get Up and Go," Schock struck the perfect balance between thundering, Bo Diddley-beat tom-tom action (she sounds like two drummers on the instrumental sections) and driving rock'n'roll. JON WURSTER
15. Chris Sharrock (World Party)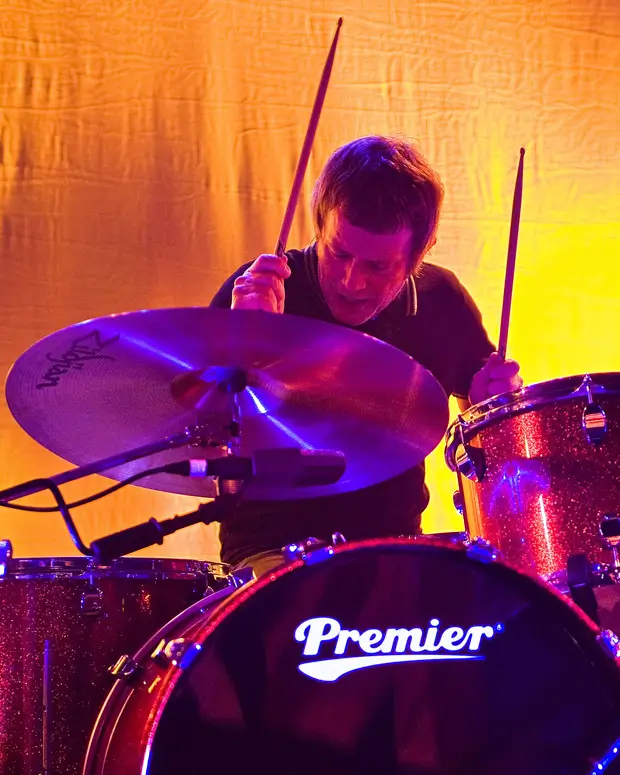 A U.K rock journeyman, Sharrock put in his time with momentary MTV starlets Icicle Works (1984's "Whisper to a Scream [Birds Fly]") before really making a mark with World Party, where his Ringoesque tastefulness and punchy power helped make 1993's Bang! the band's commercial breakthrough. Onstage, Sharrock exemplified the art of drummerly showmanship, twirling and tossing his sticks with balletic grace. A much sought-after player, he went on to drum with Lightning Seeds, the La's (for their hit single "There She Goes"), and Robbie Williams, before serving as Oasis' final drummer.
Most Booming Moment: A booming, Keith Moon-inspired eight-bar star turn which he'd uncork on live versions of Oasis' "Shock of the Lightning." MICHAEL AZERRAD
16. Joey Waronker (Beck)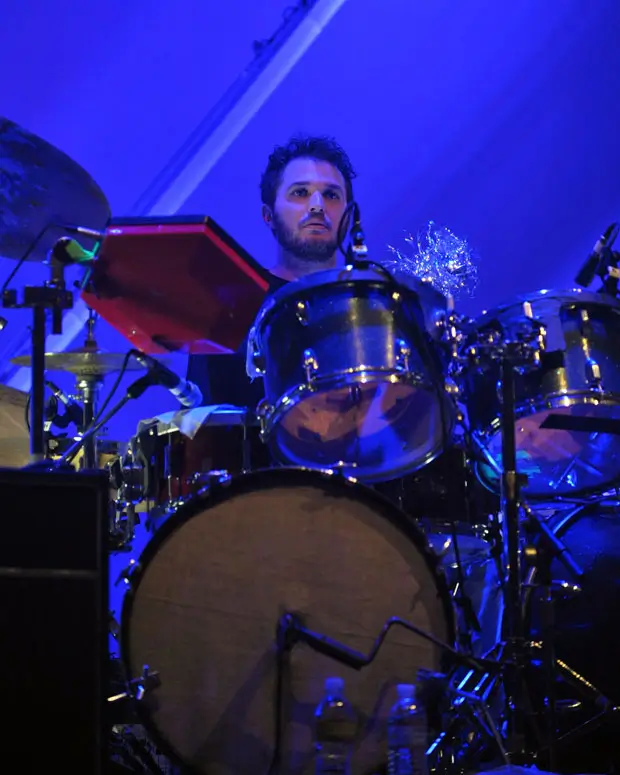 Steady, propulsive, and considerate of his bandmates, Joey Waronker is the definition of the drummer with whom every musician loves to work. Perhaps that's why virtually every musician has chosen to work with him, from Beck to R.E.M. to Norah Jones to Smashing Pumpkins to Thom Yorke to Paul McCartney to Thurston Moore to the Doobie Brothers to Lisa Marie Presley. Now one of the most in-demand L.A. session drummers, Waronker got his start with the still-beloved '90s Minneapolis alternative rockers Walt Mink.
Most Booming Moment: Waronker's nimble pulse helped make "Bled White" a standout track on Elliott Smith's 1998 opus XO. MATT LeMAY
17. Chris Adler (Lamb of God)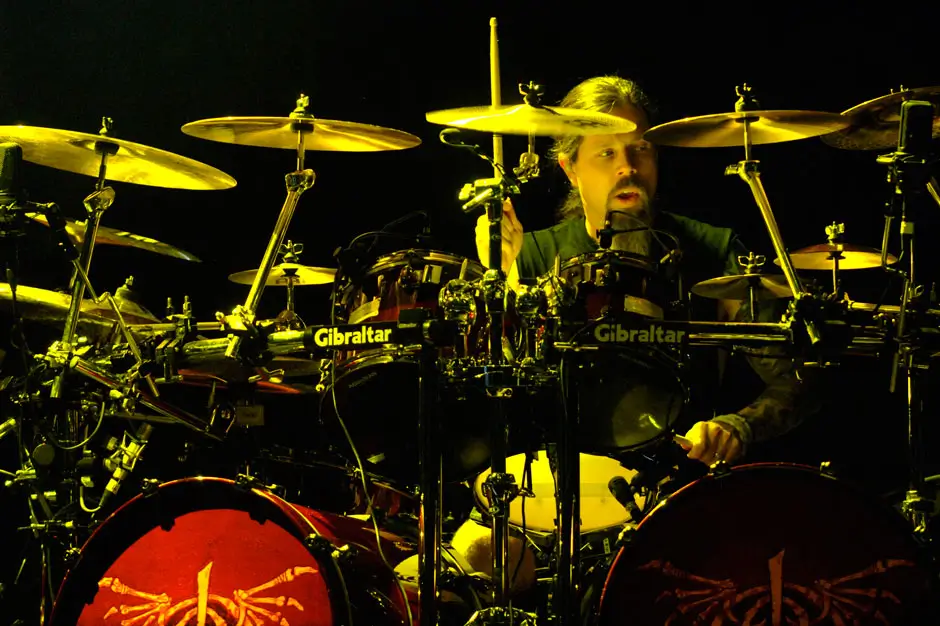 In the middle of any number of Lamb of God's groove-metal wakeup calls, drummer Chris Adler tends to provide his own alarms. Whether it's the rattle, akin to a tree branch trashing a washboard, in 2004's "Now You've Got Something to Die For" or the gun-shot double-bass drum in 2006's "Redneck," he puts his own unique fingerprint on each song. And his inventiveness has helped him out of many a jam over the years. When he first got serious about playing the double bass, he found that his feet kept slipping off the pedals. So he taught himself a technique he's described as a "whipping motion" where he tap-dances between his heel and toe to give Lamb of God ragers like 2003's "Ruin" a machine-gun clatter like he's metal's Fred Astaire.
Most Booming Moment: When Adler plays the stop-on-a-dime jackhammer pulses and snare cracks of "Laid to Rest," off 2004's Ashes of the Wake, his grooves have a military precision that would appease General Patton at his grumpiest. KORY GROW
18. Alan Myers (Devo)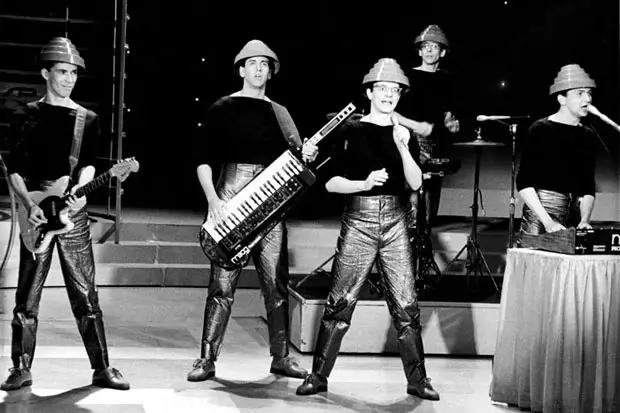 Devo had a very clear message about humanity and evolution, and Alan Myers' tribal drumming emphasized the urgency of everything they did. His beats utilized repeating patterns on low-tuned rack toms, while still maintaining the rock rule of the snare on the two and four — unless, of course, a song was in an odd time signature, like the inventive, mechanical patterns in 1978's "Jocko Homo" or 1979's "Blockhead." On stage, his kit was set up alongside the band, as opposed to behind and center, creating a kind of socialist-democratic-communist-futuristic-uniform aesthetic. An impactful drummer who added intensity and depth to a band that was already intense.
Most Booming Moment: The beat for Devo's 1978 cover of "(I Can't Get No) Satisfaction" deconstructed the iconic Stones pulse, splaying it out in every direction — cowbell, ride cymbal, and a bass drum hit on a not-at-all-instinctual offbeat. FRED ARMISEN
19. Patty Schemel (Hole)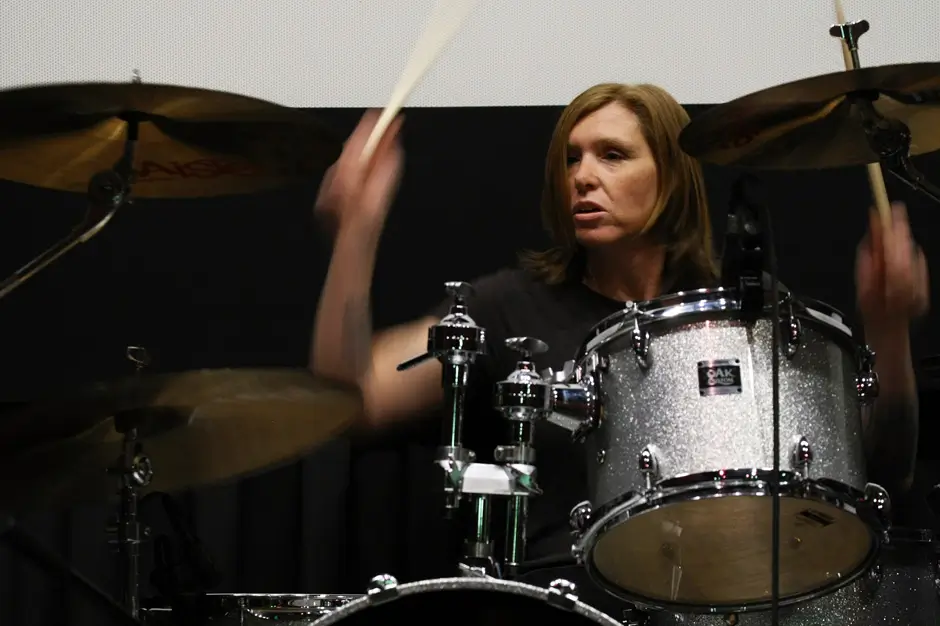 She was so feisty, reliable, and tough, Kurt Cobain tried to recruit her to join Nirvana after Chad Channing got canned. But his wife Courtney Love landed Patty Schemel, a sensitive soul who beat out her demons on the drums. Schemel's task in Hole, from 1992 to 1998, wasn't an easy one: Live, she had to provide the backbone for an erratic frontwoman with a loose sense of rhythm on stages as varied as Saturday Night Live and Lollapalooza; in the studio, she was tormented by distrustful producer Michael Beinhorn during the Celebrity Skin sessions until she left the band. But Schemel's legacy is that she hit hard and true — on "Gutless" she's a whirling dervish of quick fills; on "She Walks on Me," she showed off hardcore endurance. Hole's landmark Live Through This traced Love's anguish via her hoarse hollers, but the album's pathos is amplified by Schemel's heavy-hearted drumming.
Most Booming Moment: "Violet" exploded out of the gate, riding Schemel's galloping snare, revving up and dying down in wildly emotional waves. CARYN GANZ
20. Topper Headon (The Clash)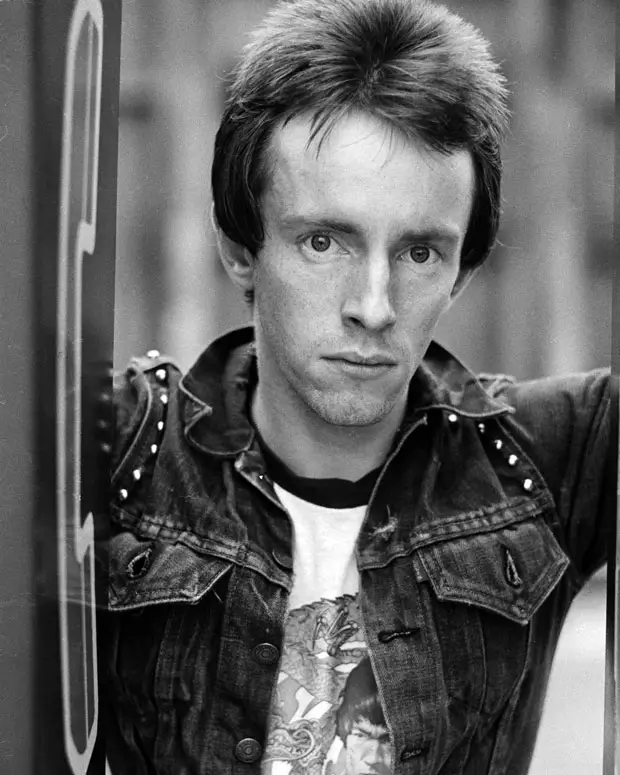 Joe Strummer once said that a band is only as good as its drummer — something he could say with confidence, since his drummer was one of the most solid and inventive ever. The Clash were a prolific, constantly evolving band, and Topper — coming from a jazz background — held the foundation, playing different styles with strength and sensitivity. The way Headon plays reggae is moving — authentic, heavy, heavy, heavy, on the kick drum, and full of expression. Over their discography, the Clash got into disco, funk, and gospel, but in a way that was absolutely still the Clash, and Topper Headon was the reason. He's a punk drummer because he's not a punk drummer.
Most Booming Moment: Though more subtle and subdued than, say "White Riot," 1979's "Lost in the Supermarket" turns a disco rhythm into something more introspective — totally in the pocket until one flurrious fill at the 3:27 mark. FRED ARMISEN
21. James "Diamond" Williams (Ohio Players)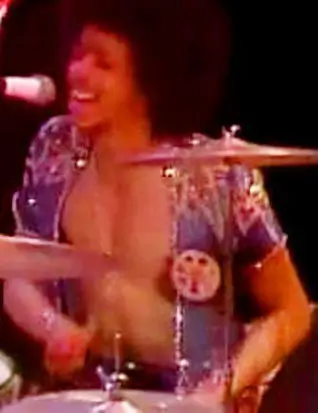 Diamond Williams joined the Ohio Players right before they went stratospheric with a string of virtually flawless platinum records — 1974's Skin Tight and Fire, and 1975's Honey. A former jazz drummer, the ambidextrous Williams could lock into any groove the band needed, whether their hardest, funkiest dance hits or their grinding, seductive slow jams.
Most Booming Moment: Williams became the main drummer for the Ohio Players on Skin Tight, and while he rattles off all kinds of fills and rolls on the title cut, it's on "Jive Turkey" where Williams gets heaviest into the groove with a lumbering beast of a beat. OLIVER WANG
22. Einstürzende Neubauten
Industrial vérité subversives Einstürzende Neubauten explored the freedoms West Berlin offered them in the early '80s by making the sort of unholy racket that two-year-olds are known to inflict: banging metal on metal. After drummer Endruh Unruh sold his drum kit for food in the group's salad days, he and his bandmates pillaged construction sites for scrap to punish. Then the group went full Hostel, using hammers, power tools, and saws to create their signature sturm und klang, which they debuted, fittingly, on April Fool's Day, 1980. Since then, they've used everything available for the proper percussive effect; famously, in 1986, they lit two tins of charcoal lighter for their finale at a New York show, nearly burning down the Palladium. While "detuned guitar" and frontman Blixa Bargeld's Deutsch invective round out their sound, the primal battery of defenseless car hoods and barrels will always be Neubauten's moneymaker.
Most Booming Moment: While the entirety of their compilation Strategies Against Architecture '80-'83 presents the band at its most terrifyingly vital, the title cut of 1989's Haus der Lüge is their creative peak, blending a pounding Sprockets-like dance beat with breaking glass. KORY GROW
23. Han Bennink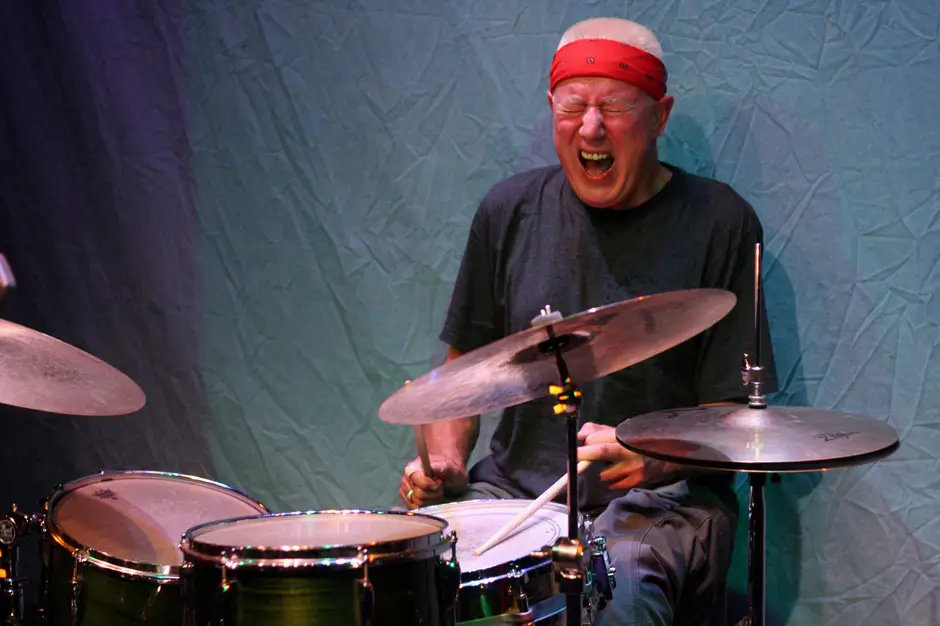 Bennink is the original wild man of European free-jazz percussion, the drummer who aided and abetted early Peter Brötzmann romps such as 1968's Machine Gun and 1970's Balls with his bull-in-a-sheet-metal-factory racket. But the towering Dutchman was never just a noisemaker; he was always a consummately swinging nostalgist and an ardent musical absurdist. In his collaborations with American masters such as Steve Lacy and George Lewis, and with his longtime Instant Composers Pool partner Misha Mengelberg, he'd play on the floor, the wall, a crumpled-up piece of newsprint, even his own knee, summoning the same powerhouse locomotion as he did on the kit. Just about every chaos-embracing underground-rock drummer of our time — Brian Chippendale, Greg Saunier, Zach Hill — owes a debt to Bennink. He made that connection explicit in his ongoing collaborations with members of Dutch political punks the Ex, not to mention sessions with English electronica duo Spring Heel Jack and Texan boogie-woogie pianist Little Willie Littlefield. Whoever steps onstage with him is in for a ride.
Most Booming Moment: About four minutes and 20 seconds into Machine Gun's "Music for Han Bennink," the drummer unleashed a cacophonous proto-blastbeat. HANK SHTEAMER
24. Palmolive (Slits, Raincoats)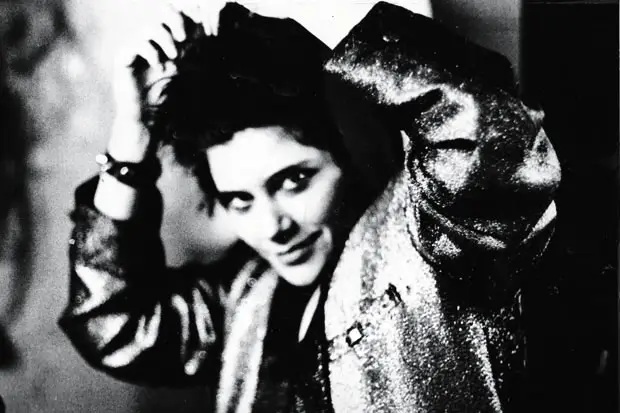 The original drummer of pioneering all-female British punk band the Slits, Palmolive helped the foursome translate their wacky, free-spirited nature into more grounded reggae-punk rhythms. Then she joined the Raincoats, another pioneering all-female British punk band, and embraced a more atonal, experimental ethos. By discarding convention and simply playing what she felt, Palmolive exemplified the possibilities that emerge when artists get defiant.
Most Booming Moment: There were at least five different tempos and grooves throughout the Raincoats' 1979 song "The Void," but they're each inexplicably linked to one another. JEANNE FURY
25. Britt Walford (Slint)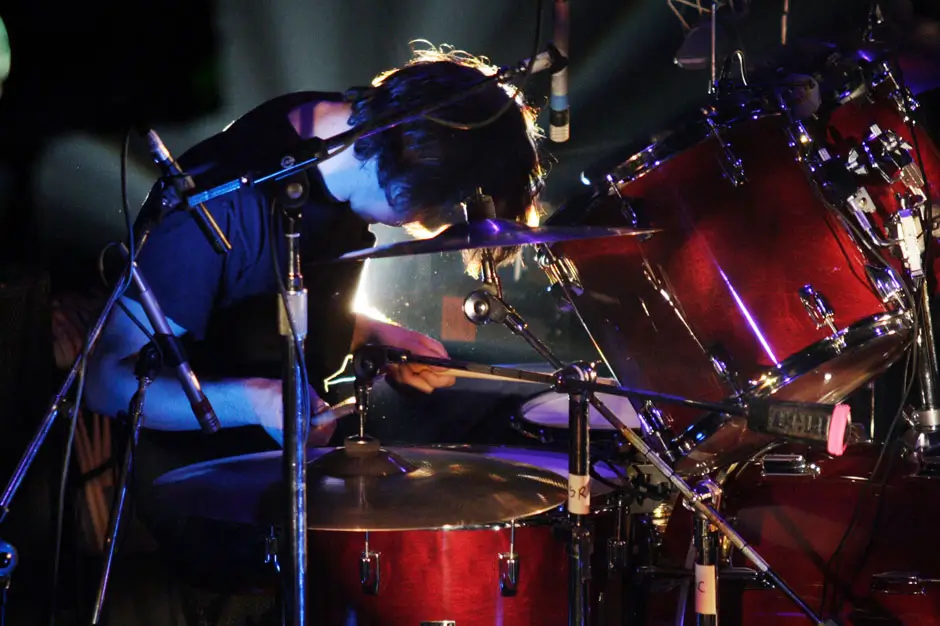 By all rights, rock drums should be antithetical to all things mysterious and atmospheric. Not so with legendary Louisville band Slint, whose groundbreaking 1991 epic Spiderland was host to some of the most thoughtful, deliberate drumming of the 1990s. That same careful approach added dynamic range to the Breeders' 1990 debut album Pod, where Walford drummed under the pseudonym Shannon Doughton. And to further augment his legacy, Walford was also said to be the inspiration for one of the very best Jesus Lizard songs, 1991's "Mouth Breather."
Most Booming Moment: The slow-burn build-up of Spiderland's "For Dinner…" made the space around the drums feel heavier than the drums themselves. MATT LeMAY
26. Dave Witte (Discordance Axis, Municipal Waste)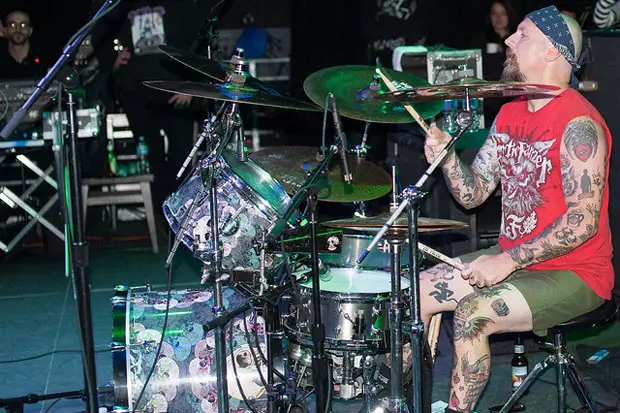 Dave Witte's current gig with good-time retro-thrash purveyors Municipal Waste is no picnic, but it might as well be a cocktail-lounge job compared to what he's undertaken in the past. His first band, New Jersey's Human Remains, played funhouse-mirror death metal, savagely complex and deliriously experimental, with Witte juggling strobelike blasts and mosh-fueling breakdowns. The mania only continued from there, as Witte moved on to some of the underground's most feared/revered acts, including Discordance Axis, Burnt by the Sun, and East West Blast Test. Eventually, Witte became a kind of Funk Brother to the international metal underground, a human jackhammer for hire, lending his world-class grind chops to Japanese spazzcore legends Melt-Banana, future Khanate man James Plotkin's proggish cyborg-grind concern Phantomsmasher, and tons of other forward-thinking projects. In 2004, he put the nonstop freelancing on hold and signed up as Municipal Waste's full-time kit man. Can you blame the guy for settling down?
Most Booming Moment: Witte's absurdly intense but surprisingly hard-grooving blastbeats on "Castration Rite," which opened the 2000 Discordance Axis set The Inalienable Dreamless, was a blur of controlled chaos. HANK SHTEAMER
27. Jon Wurster (Superchunk, Bob Mould, Mountain Goats, Robert Pollard)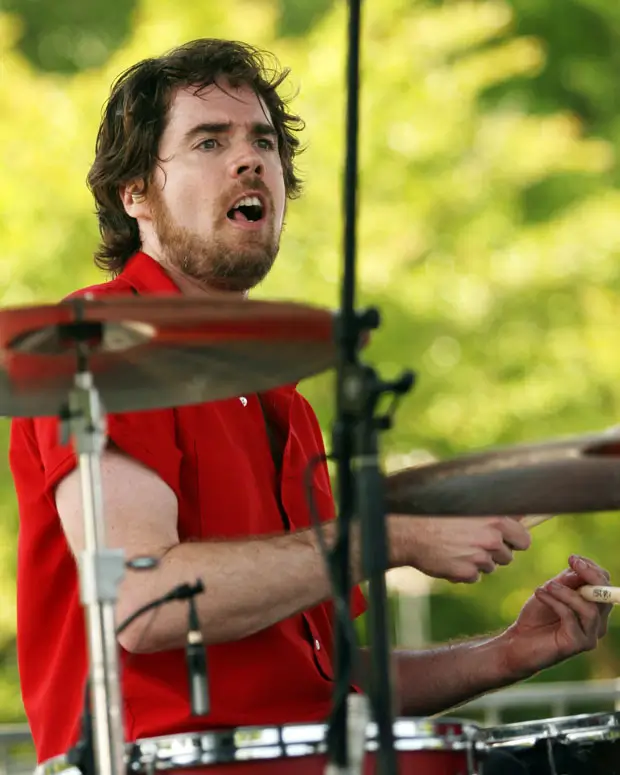 Jon Wurster's ongoing career with indie-punk heroes Superchunk is officially old enough to buy its own beer, but his drumming, now heard in a variety of contexts, has only gotten more vital and energetic over the years. Giving newfound urgency, nuance, and punch to recent records by the Mountain Goats and Bob Mould, Wurster drums like a true fan, enthusiastically anticipating and playing to the strengths of the artists who are lucky enough to work with him.
Most Booming Moment: No drum could boom louder than the "luscious liquid gold" voice of barbershop singer Zachary Brimstead, one of the most memorable characters Wurster has voiced on The Best Show on WFMU. MATT LeMAY
28. Igor Cavalera (Sepultura)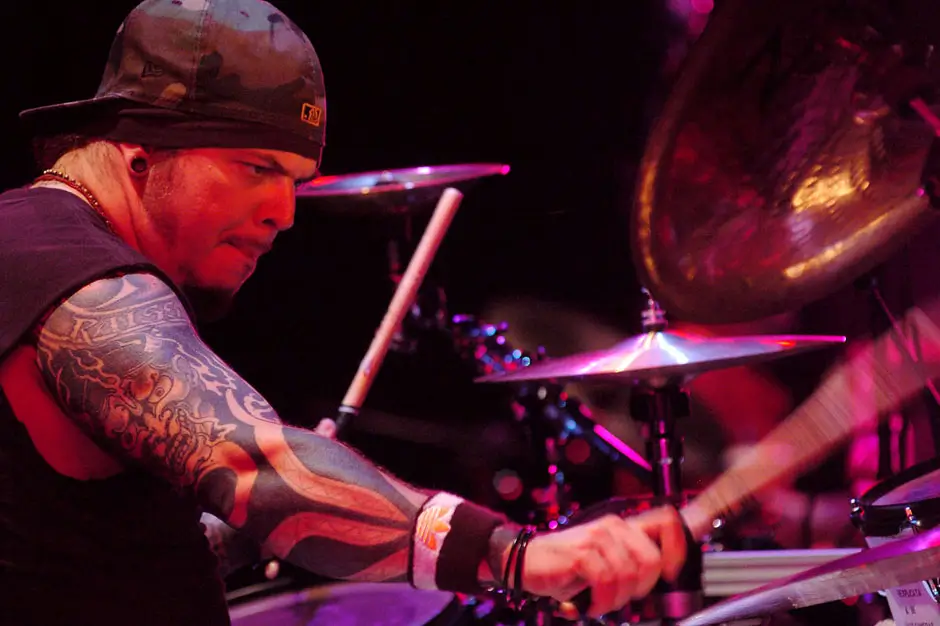 Whether playing the breakneck thrash and death metal fury of Sepultura's early records, the heavy grooves of the band's 1993 masterpiece Chaos A.D., or the hard-grooving nü-metal of its follow-up, Roots, Cavalera has always made it funky. While his brother, Sepultura vocalist-guitarist Max, approached his instrument minimally — playing on only four strings — Igor gave the band the complexity that made it famous. By embracing the rhythms of the group's native Brazil, he instinctively incorporated intricate rhythms on his own kit and with elaborate percussive accoutrements not available at the average music shop. It all came together on Roots, the album where the band found inspiration from a local native tribe, leading Igor to wield exotic instruments like the timbau and djembe in the midst of the group's crushing metal assaults. Both Caveleras eventually left Sepultura, and Igor can now be found bringing his sense of groove to DJ sets as well as the backbeat of M.I.A.'s "Born Free."
Most Booming Moment: From its dizzying polyrhythmic intro to its deep grooves, Sepultura's 1993 single "Territory" was a metal thunderstorm. KORY GROW
29. Blake Fleming (Dazzling Killmen, Laddio Bolocko, the Mars Volta)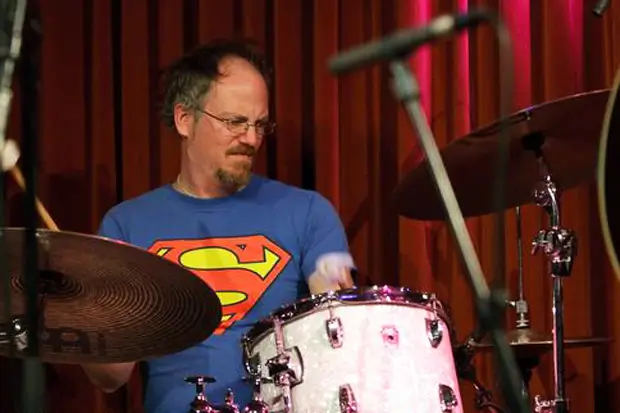 Jon Theodore was the first drummer to appear on a Mars Volta record, but the band's percussive blueprint came courtesy of another player: Blake Fleming, who cofounded the band in 2001. Fleming came to that project with substantial, if not terribly high-profile, credentials. He started out with St. Louis' Dazzling Killmen, whose 1994 full-length, Face of Collapse, represented the fearsome pinnacle of the era's aggressive prog-core movement, thanks in part to the ultra-precise and hellaciously intense rhythm section of drum-corps alum Fleming and bassist Darin Gray. Fleming's fiendishly syncopated pummel would later power Japanese noise-rock crew Zeni Geva and heavy-duty post-prog instrumental unit Laddio Bolocko. His current obsession is a homegrown solo-percussion orchestra: The recent self-released LP Time's Up, realized via skillful overdubbing, is as danceable as it is mind-boggling.
Most Booming Moment: The writhing, math-surf shimmy Fleming kicked into at 2:30 of Dazzling Killmen's "Blown (Face Down)" epitomized his marriage of prog technique and post-hardcore fury. HANK SHTEAMER
30. Brian Chase (Yeah Yeah Yeahs)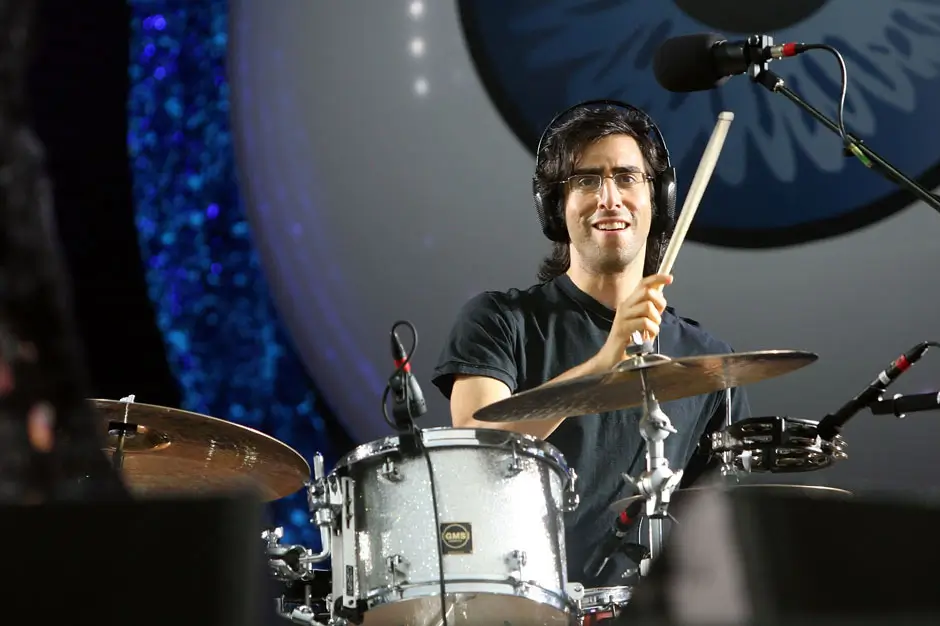 If you're in a three-person band and the other two members are Karen O and Nick Zinner, you're inevitably going to be the least discussed member of the group. But the Yeah Yeah Yeahs' Brian Chase has long been the hand steadying this gang of shape-shifters. The most famous traditional-grip drummer since Stewart Copeland, Chase mixes liquid flow with hard-rock muscle — he studied jazz at Oberlin but bashed out punk basement shows at night. This eclectic style has transformed with his band — he kept up with Fever to Tell's ratty art-punk, then shined on Show Your Bones, where his drums were given room to breathe, thunder, and crash; and on the electro-pop of It's Blitz, he deftly adapted.
Most Booming Moment: "Maps" turned Karen O into a sensation and Nick Zinner's guitar riff got nicked by Dr. Luke for Kelly Clarkson's "Since U Been Gone." But it was Chase's chugging tom-toms and snare cracks that provided the beating heart of the Yeah Yeah Yeahs' most emotionally resonant song. JORDAN SARGENT
31. Joey Baron (Naked City)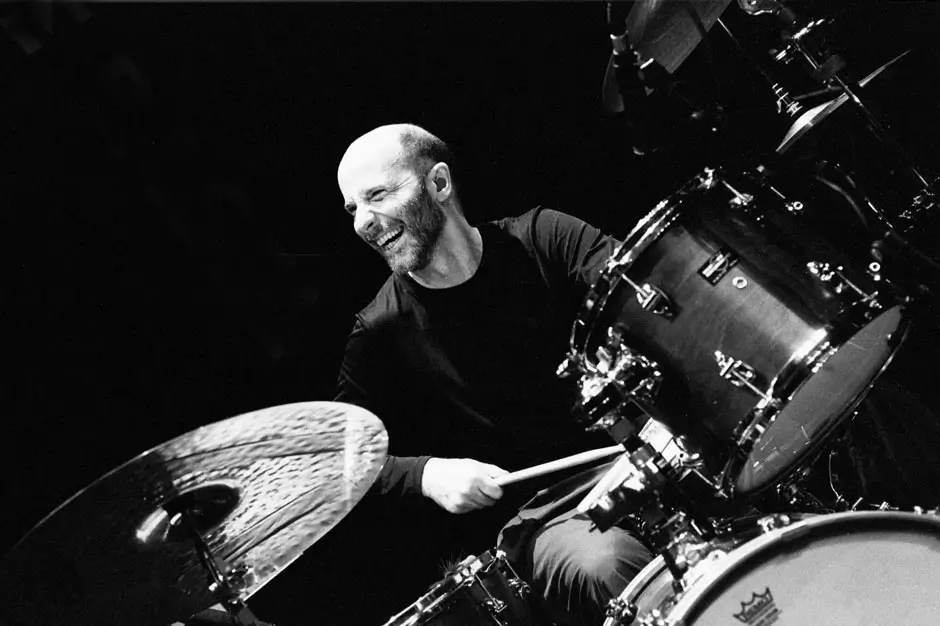 In the jazz world, Joey Baron is known as a consummately tasteful sideman to giants like saxophonist Lee Konitz and guitarist Bill Frisell. But in the rock realm, he's pegged as the drummer who helped John Zorn realize the demented grindcore-gone-exotica montages of Naked City in the late '80s and early '90s, serving up blood-curdling blastbeats, hepcat swing, thudding dirge-doom and post-Ventures shimmy — all while employing traditional-style left-hand grip and flashing his patented boyish grin. Over the past two decades, Baron has mostly focused on jazz — Tim Berne's piquant inventions; Masada's klezmerfied turbo bop; Jim Hall's hushed reveries — but he still drags out the sledgehammer for select projects, including Zorn's harrowing gothic-prog ensemble Moonchild.
Most Booming Moment: On Naked City's half-hour sludge epic Leng Tch'e, Baron's agonized pulse slips in and out of tempo, providing a blueprint for later avant-metal mavericks such as Khanate's Tim Wyskida. HANK SHTEAMER
32. Klaus Dinger (Neu!)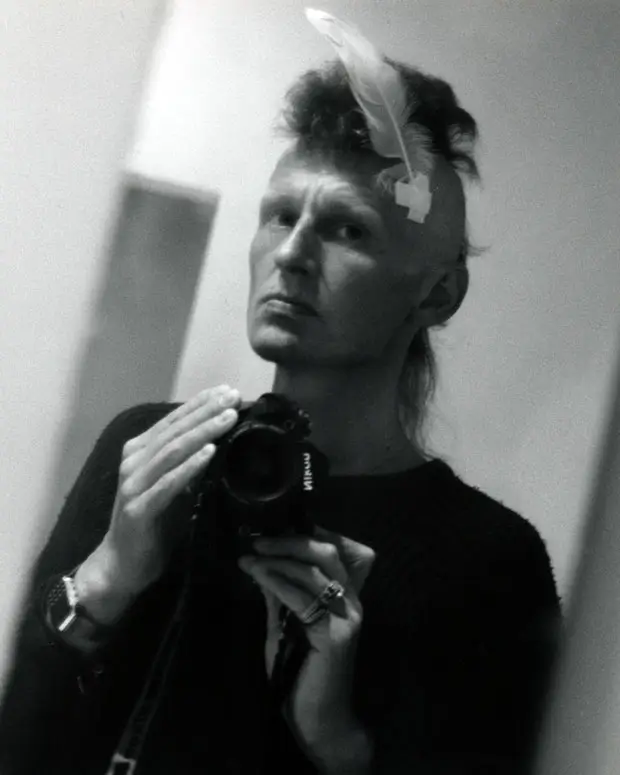 Where are the fills? The early Kraftwerk drummer (and unrepentant hardcore acidhead) pioneered the stripped-down four-four "motorik" rhythm method associated with the era's krautrock pioneers, deeming it the "Apache beat." Where some hear trains and factories, however, Neu!'s co-founding guitarist, Michael Rother, says the groove was inspired by the bandmembers' love of running on the soccer field. The reserved guitarist and ecstatic drummer fell out after their third album together, but not before inspiring a thousand drone-y bands, including Hawkwind, Sonic Youth, and Boredoms.
Most Booming Moment: "Hallogallo," the opening track on Neu!'s 1972 debut, set the unwavering pace for what would follow. RICHARD GEHR
33. Gabe Serbian (The Locust)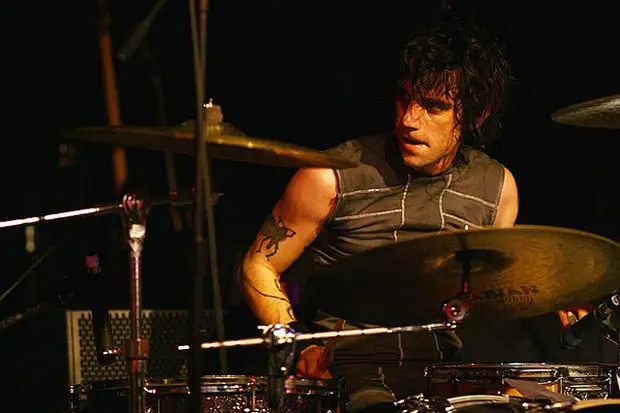 As the percussive engine of noise-grind band the Locust, Gabe Serbian has built a repertoire of bizarre meters, toothy blasts, and unpredictable tempos that not only makes heads bang but minds boggle. Growing up listening to both Slayer's barrage and the Melvins' headfake stumble-rock, he cultivated a calculated prog-blur approach to conveying chaos and disorder — it's what gives the San Diego band's gloriously scathing attacks such a high musical I.Q.
Most Booming Moment: On 2003's 44-second "How to Become a Virgin," Serbian pounded, sliced, and carved through the choppy arrangement like a master butcher. JEANNE FURY
34. Pat Mahoney (LCD Soundsystem)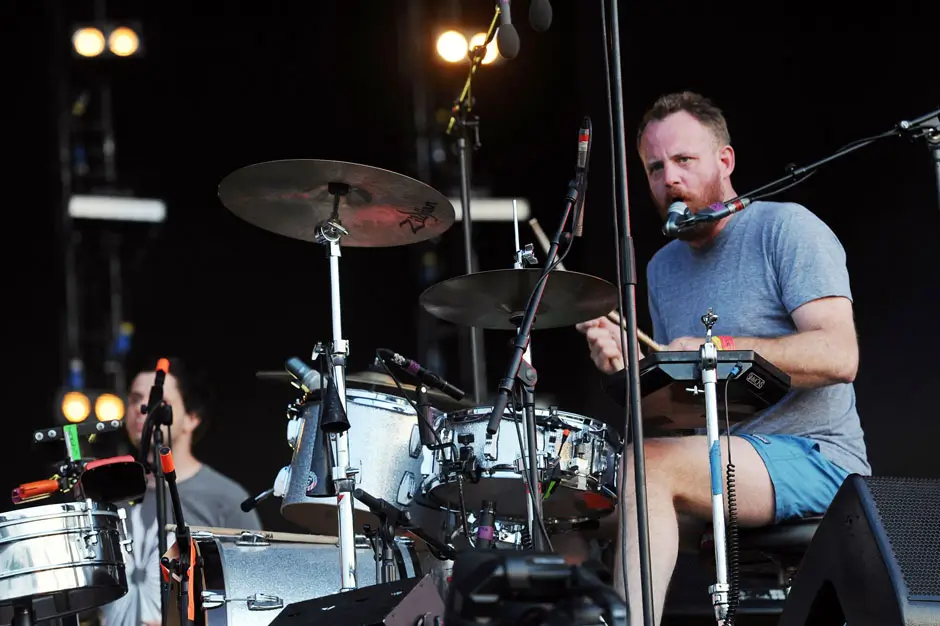 If James Murphy could've created Pat Mahoney in a lab, he would have turned out exactly the same. The onetime Les Savy Fav drummer had punk bona fides and grew to adore disco as a musically curious adult — he's tireless as a toddler, reliable as a metronome, and self-aware as a yogi: "I don't necessarily think of repetitive, simple drumming as being dumb — I think of it as being hypnotic," he's said, perfectly capturing the essence of his considerable skill. Shut Up and Play the Hits, the film documenting LCD's final show, shows Mahoney at his finest: calmly stamping out sweaty, dancey beats with unbreakable concentration, working his hi-hat with a surgeon's steadiness. "Movement" demonstrates he can bash with the best of them, but Mahoney's superpower is beautiful, incredible, deeply groovy consistency.
Most Booming Moment: The relentless eight-and-a-half-minute "Us V Them" is a total Mahoney spotlight, and he finds subtle ways to cram dozens of micro-fills into the marathon without messing with its twitchy momentum. CARYN GANZ
35. Bill Ward (Black Sabbath)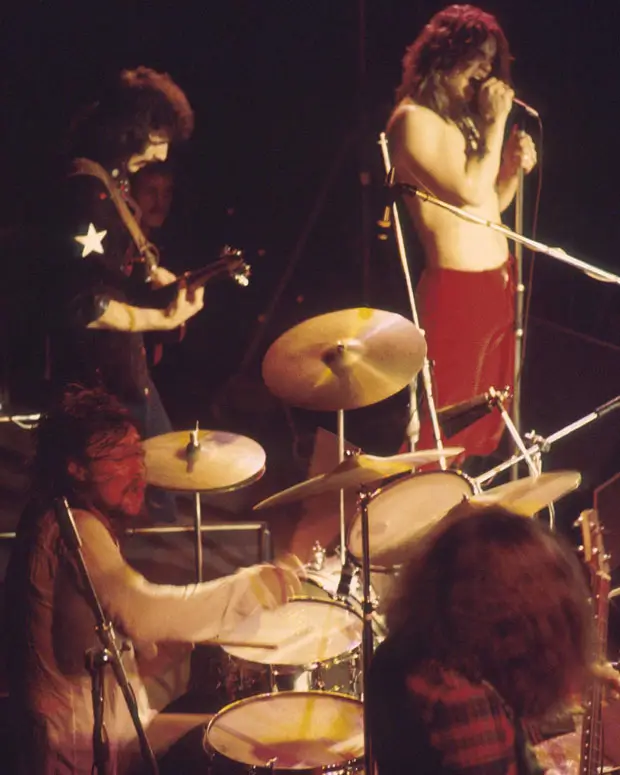 Bill Ward has never been a world-beating colossus like friend and contemporary John Bonham, but in terms of showing the rock world a new way to feel time, he's been nearly as influential. Ward is the original sludgemeister, a drummer who demonstrated that a strategic leaden-ness could be a deadly asset when combined with high-order gloom-blues riffage. He's more versatile than he gets credit for, too; during Sabbath's immortal '70–'78 run, he experimented with jangly swing (the midsection of "Electric Funeral"), loping R&B (the dubby spots in "Hand of Doom"), hip-shakin' boogie ("Looking for Today"), loosey-goosey bar rock ("Never Say Die"), and countless other feels (the "Behind the Wall of Sleep" breaks have been sampled by Jungle Brothers and OutKast, among others). Alcoholism grounded the drummer in the early '80s, but a series of Sabbath reunions found a newly sober Ward in outstanding form — yet another reason that his fallout with the band in the lead-up to this year's Sabbath comeback is one of the great rock bum-outs in recent memory.
Most Booming Moment: It's hard to beat the ghostly tom-tom breaks and torrential kick-ins on 1970's immortal "Black Sabbath," but no track captures Ward's patented slogging-through-molasses feel better than 1972's "Snowblind." HANK SHTEAMER
36. Tony Thompson (Chic)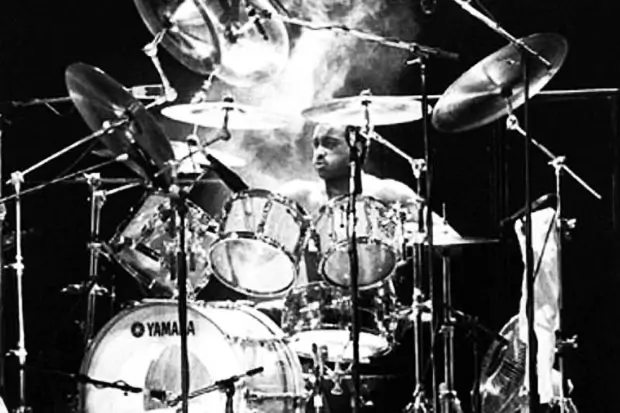 36. Known for his role as a progenitor of disco's much reviled four-on-the-floor stereotype, the contributions of Chic's Tony Thompson actually place him smack dab in the middle of some of contemporary music's driving obsessions: hip-hop's brittle syncopations, house music's unstoppable buoyancy, pop's undying metronome, and R&B's hushed, mezzo-piano drum sounds. He was a stunning studio craftsman, as well — check the funky kick-drum fills peppering Madonna's "Like a Virgin," the rock-solid groove of David Bowie's "Let's Dance," and the cascading toms of Power Station's "Some Like it Hot."
Most Booming Moment: Thompson's fancy footwork on the oft-sampled, off-kilter moments in the intro of Diana Ross' iconic 1980 smash "I'm Coming Out." PEGASUS WARNING
37. Kid Millions (Oneida)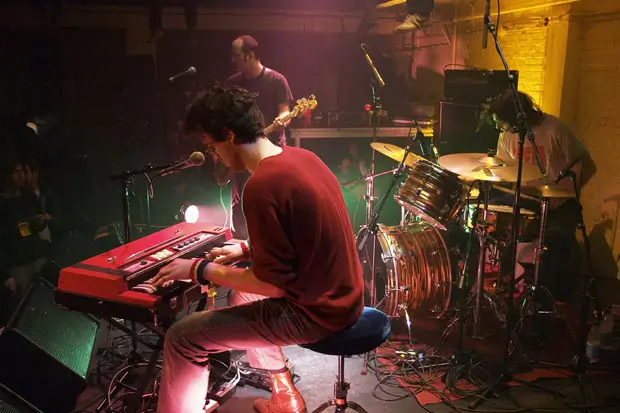 New York City psych-kraut art-rockers Oneida have been making wildly diverse, consistently interesting records for more than a decade, giving drummer Kid Millions ample time to display both his power and versatility. He rarely dips below Muppet Babies-levels of kinetic energy, and often finds his way to an almost trance-like state of sustained, strategic bashing — something he surely did during his marathon jams at various ATP festivals, where his band set up and played for hours at a time. It is not surprising that he was tapped to fill Zach Hill's formidable shoes on Marnie Stern's latest and best album, The Chronicles of Marnia.
Most Booming Moment: If drumming were an endurance sport, the 12-minute, roughly 122-BPM "Double Lock Your Mind," from 2001's Anthem of the Moon, would be its Ironman. MATT LeMAY
38. Boredoms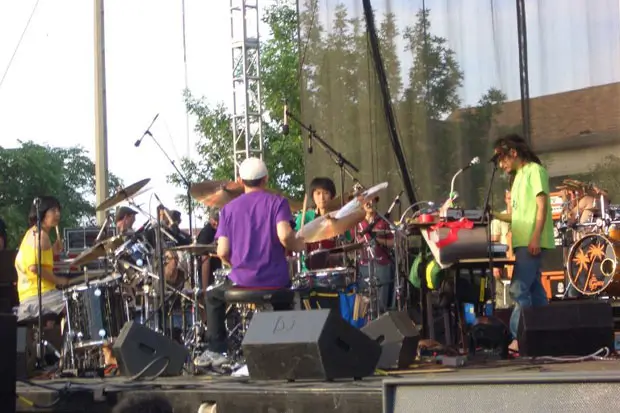 The evolution of this Japanese tribal art-noise experience has moved through hardcore slapstick, violent no-wave mayhem, psychedelic jams, Coletrane-y sound walls, rave-sparked electronics, to conceptual drum events inspired equally by happenings, pop art, and land art. Yoshimi P-We, who has drummed in the group for more than 20 years, has seen many a fellow percussionist come and go in that time. But bigger has always meant better to founder-vocalist Yamantaka Eye, who in 2004 cemented a multi-drum approach on the album Seadrum/House of Sun before organizing increasingly elaborate numerologically inspired drumming spectacles.
Most Booming Moment: 77 Boadrum took place in Brooklyn Bridge Park on 7/7/07, with 77 drum sets arranged in a roaring spiral. RICHARD GEHR
39. Charles Hayward (This Heat, Massacre)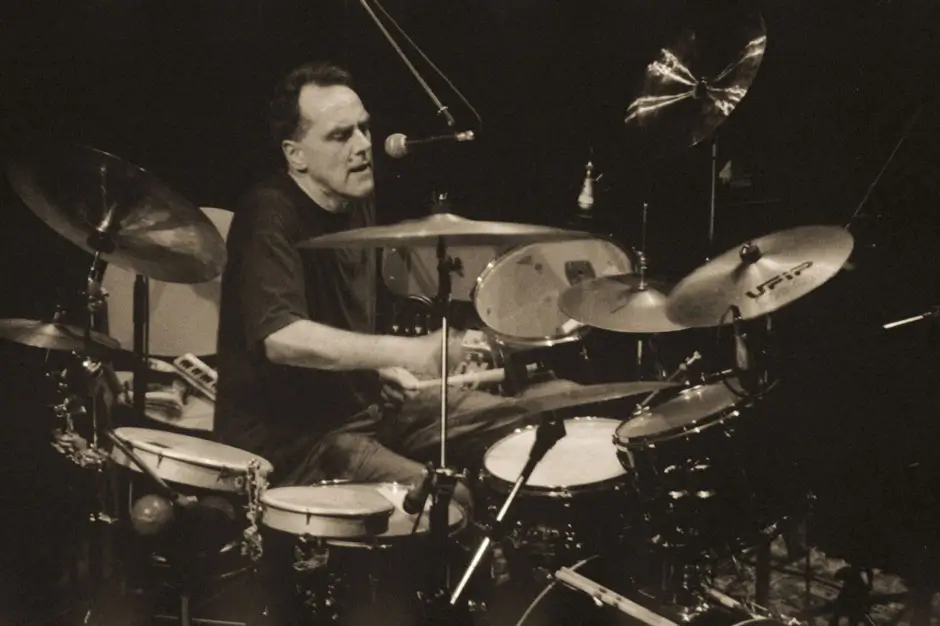 The brainy dexterity of prog, the grooves of funk, and the cold menace of early industrial came together in the drumming of London's Charles Hayward. In 1970, he began playing groovy psych-fusion in Quiet Sun, but when that band's guitarist, Phil Manzanera, split two years later to join Roxy Music, Hayward moved in a decidedly weirder direction with This Heat. The latter band's swirl of proto-noise-rock, dub, musique concrète and spooky vocal chants, will probably never not sound avant-garde. Hayward's lean, hypnotic beats were a major facet of This Heat's appeal; he found a way to bring a wiry sense of funk to the band's outré experimentalism, a feat he'd pull off again in Massacre, a trio with guitarist Fred Frith and bassist Bill Laswell. When he joined Hot Chip's Alexis Taylor to form About Group a couple of years back, Hayward's sense of rhythm still felt cutting-edge.
Most Booming Moment: Check out the brutally curt backbeat that Hayward busted out on wordless This Heat anthem "Horizontal Hold" — recently sampled by rapper Danny Brown. For maximum abrasiveness, seek out the version on Made Available: The John Peel Sessions. HANK SHTEAMER
40. Susie Ibarra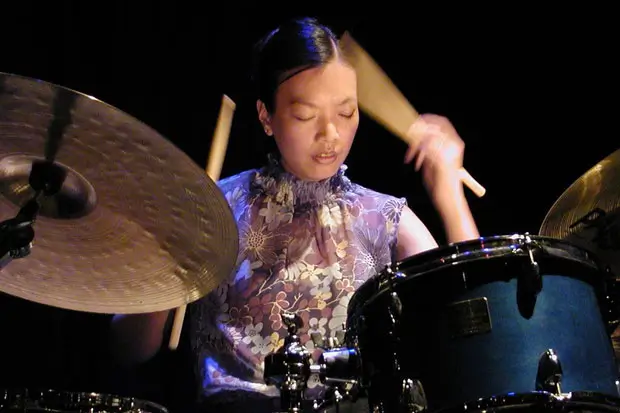 Less a drummer than a rhythmic force of nature, Ibarra got her start as a free jazzer amid New York's 1990s downtown scene, playing with the likes of John Zorn, David S. Ware, and Matthew Shipp. Then she went global, exploring the indigenous music of the Philippines in her "eco-electronic" duo, Electric Kulintang, with Cuban composer and percussionist Roberto Rodriguez, and leading the world-kid combo Mundo Niños. A hybrid of fire and finesse, Ibarra often blends field recordings and electronics with tuned and untuned percussives.
Most Booming Moment: Electric Kulintang's idea-packed Dialects offered a rare and enchanting example of what trance music should be. RICHARD GEHR
41. Roland (Big Black)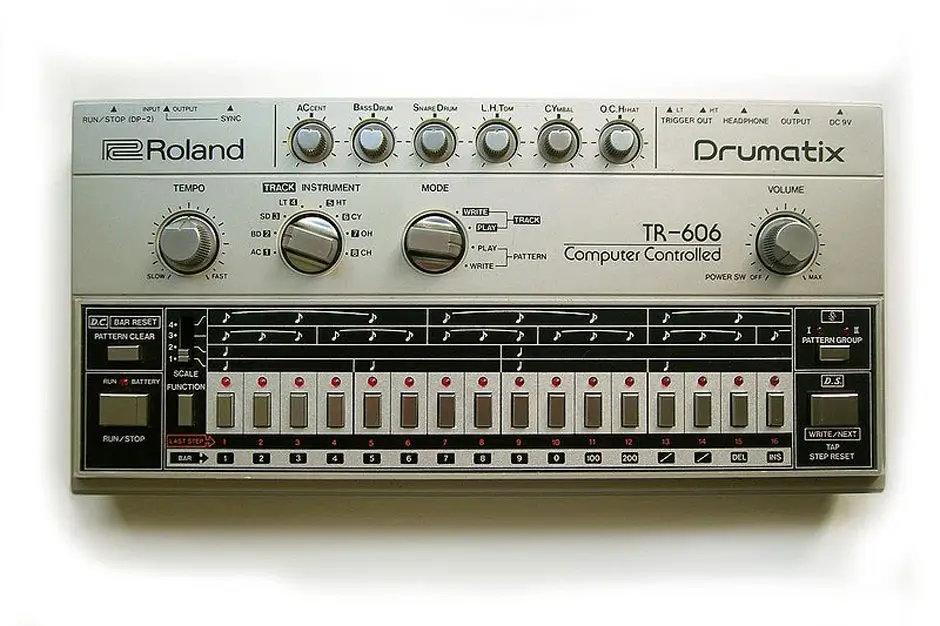 Fierce, precise, reliable amiable, pleasant to tour with — Roland was everything that bands look for in a drummer. Yet he went above and beyond in Big Black, effortlessly playing everything from the group's industro-scuzz songs like "Cables" to rugged covers of Kraftwerk's "The Model." "Roland" was actually a TR-606 drum machine, and while it's been a go-to instrument for Autechre and Aphex Twin, its '80s underground-rock claim to fame was being one of the active ingredients in Steve Albini's pigfuck power trio Big Black. Going part and parcel with Albini's proclivity for abrasive-sounding metal guitar picks, Roland's garbage-compactor racket gave Albini's hate-the-world screeds like "Bad Penny" and "Colombian Necktie" a chilly, unfeeling Hannibal Lecter quality.
Most Booming Moment: As Albini sings, "This will stay with you until you die" in Big Black's haunting commentary on child abuse, "Jordan, Minnesota," Roland's thrashing, crashing coldness makes it all the more chilling. KORY GROW
42. Sheila E. (Prince)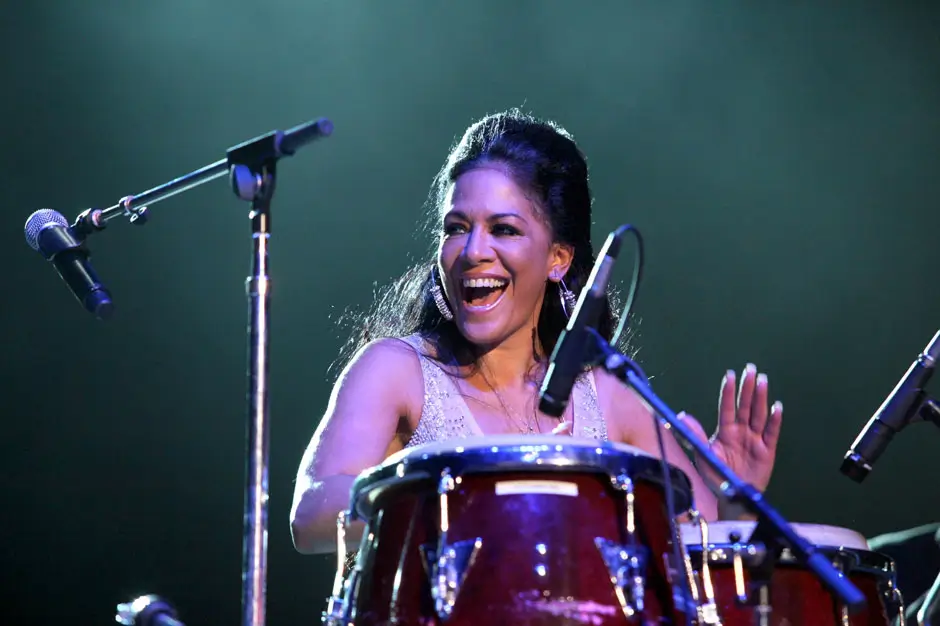 Emerging from what only can be described as a legendary musical family — her dad is Santana drummer Pete Escovedo, her uncles are Alejandro and Javier, and her godfather is Tito Puente — Sheila E., the singer, burst onto the scene via Prince on 1984 B-side "Erotic City" (in the late '80s, she was Prince's drummer and musical director). But when she combined her voice with her quick-fire drumming on '84's "Glamorous Life," she became the Latin-tinged pop takeover a full year before Gloria Estefan and Miami Sound Machine hit it big. Besides her tremendous talent, her dedication to bringing percussion to the foreground of a show is something that pop music hasn't seen before or since. And the baroque sensuality of her second album, 1985's Romance 1600, was a trans-cultural explosion of spiky '80s percussion, synth-laden production, and tropical-infused dance-rock currently re-emerging through acts like Brooklyn's Empress Of and the Dominican Republic's Rita Indiana.
Most Booming Moment: The show-stopping, glow-in-the-dark timbales solo from her 1986 "The Glamorous Life" tour. PEGASUS WARNING
43. Russell Simins (The Jon Spencer Blues Explosion)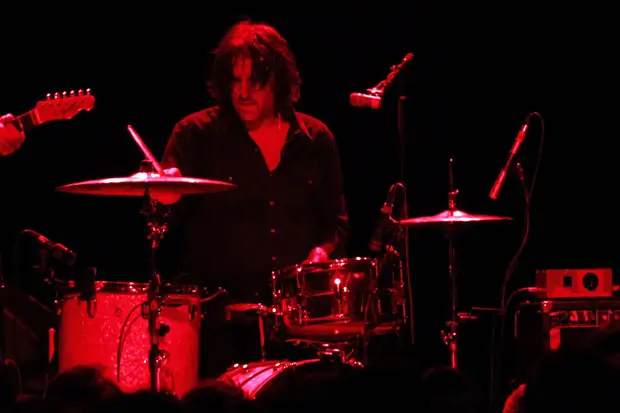 With the Blues Explosion, Russell Simins' groove was like an unbalanced wheel on a musclebound Camaro — a powerful thing of lopsided beauty. A hulking bruiser mercilessly bashing a minimalistic kit, Simins had a Bonhamesque slam, a funky swing, and most crucially, a hip-hoppy bounce that helped bring JSBX's raw blues-rock into the present. Live, his fast-twitch kick-drum foot provided much of the low end in a bassless band, and his flopping mop of hair provided numerous comparisons to Animal.
Most Booming Moment: The breakdown on "Ditch" when Simins unleashed syncopated kick-drum beats that could induce cardiac arrhythmia. MICHAEL AZERRAD
44. Todd Trainer (Shellac)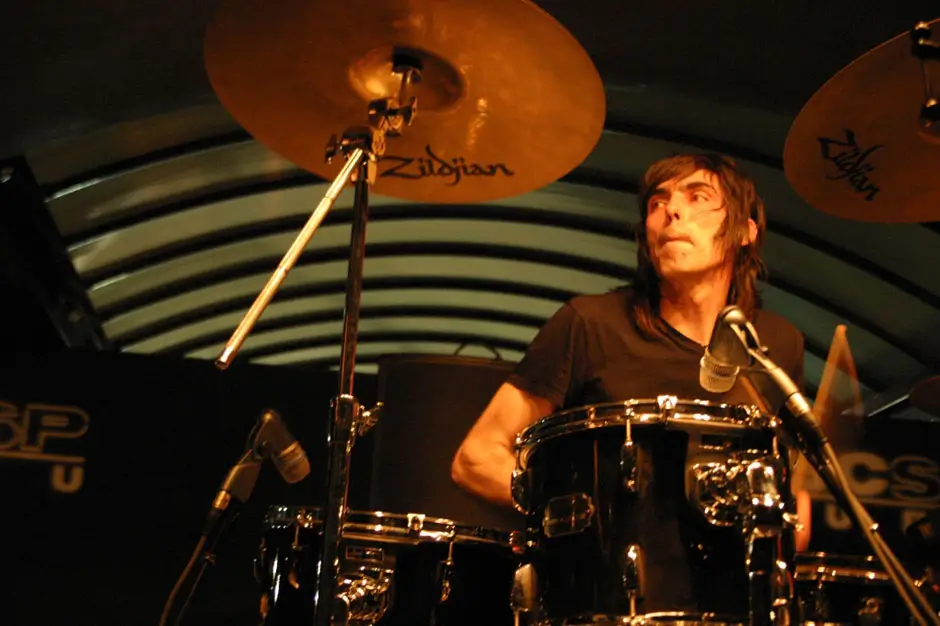 Todd Trainer is one of few drummers to be given truly equal billing in a power trio, his drums occupying space at the very front of the stage directly between guitarist Steve Albini and bassist Bob Weston. There, Trainer wages gruesome, sweaty war with his kit, and it's not always clear who will prevail. If you never want to sleep again, track down his appearance on Animal Planet's Dogs 101.
Most Booming Moment: At Shellac's epic, deservedly revered live shows, Trainer has a habit of intentionally breaking sticks during the pummeling 1993 7-inch B-side "Wingwalker." MATT LeMAY
45. John McEntire and John Herndon (Tortoise)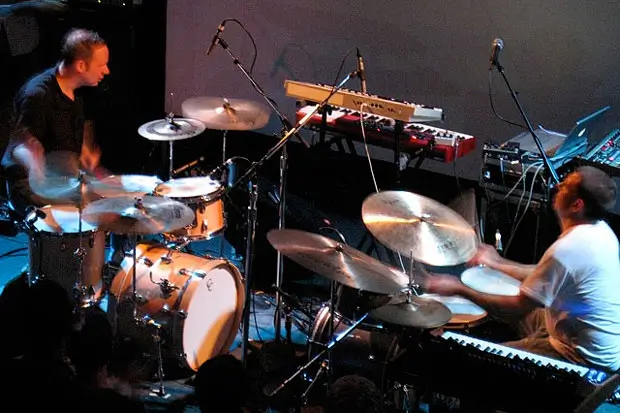 Emerging from a time and place that skewed heavily towards off-the-cuff emoting, Chicago's Tortoise became champions of disciplined, cross-genre, instrumental noodling — krautrock, dub, math-rock, jungle, techno, Steve Reich, Afrobeat, Dilla, any beat was up for grabs in their capable hands. The best possible scenario for such a group was to have two accomplished yet completely distinctive drummers: McEntire put the "rock" in "post-rock," Herndon put the "jazz" in "fake jazz," and together they made all of indie rock look like they had no idea what they were doing.
Most Booming Moment: The tornado intro and distorto-funk break of "Seneca," from 2000's Standards, was a concisely powerful statement of rhythmic purpose. MATT LeMAY
46. Jerry Fuchs (Turing Machine, !!!, Maserati, the Juan MacLean)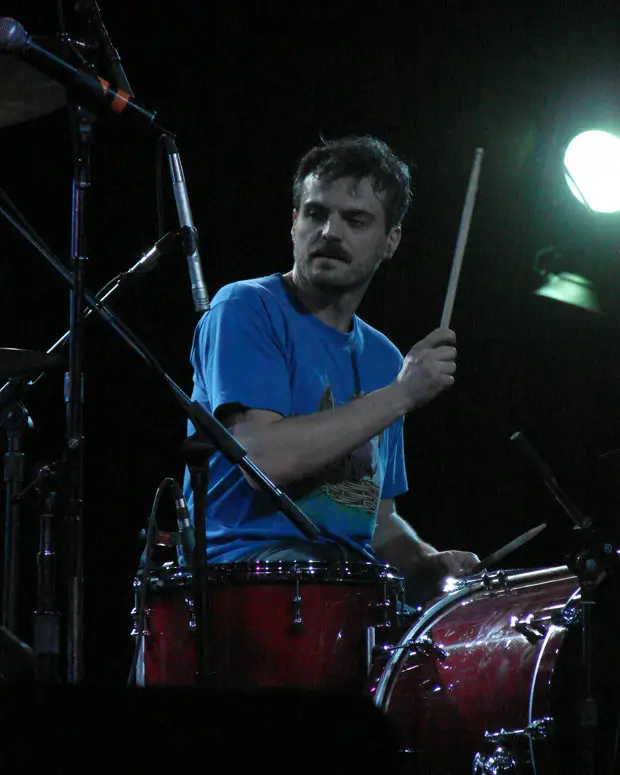 No single musician deserves more credit for the sudden rhythmic extroversion of early-2000s independent music than Jerry Fuchs. With !!!, the Juan MacLean, Maserati, and many, many more, Fuchs found common ground between the head-nodders and the booty-shakers. His tragic death in 2009 created an absence that literally will be felt by music fans for decades to come.
Most Booming Moment: All nine minutes of Turing Machine's searing 2004 buzzbomb "Bleach It Black" were a master class in dance-punk drumming, at twice the length of "House of Jealous Lovers." MATT LeMAY
47. Rey Washam (Scratch Acid)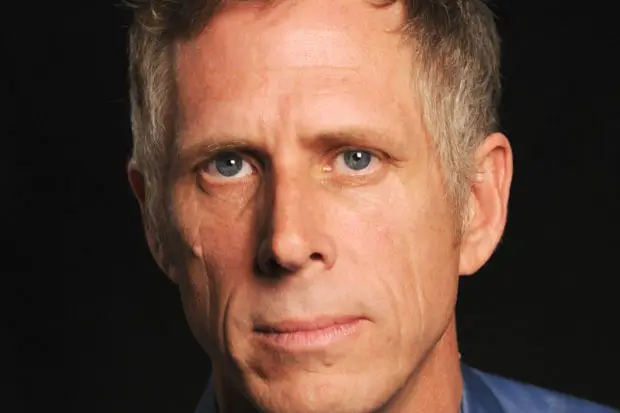 A key player in Austin, Texas' influential hardcore scene and a late-era member of the Big Boys, Washam was one of the most intensely flailing, rhythmically fearsome bashers in American underground rock of the 1980s, primarily for his work in Scratch Acid, a band that expanded on hardcore's fury in new, electrifying directions. Though he wouldn't go on to play with his bandmates David Yow and David Sims in the Jesus Lizard years later, Washam would bring his kinetic, piledriving style to Steve Albini's short-lived Rapeman, fill in briefly for Seattle grunge nuts Tad, and then join forces with industrial-rock titans Ministry for the latter half of the 1990s.
Most Booming Moment: The seismic subtleties and vicious pounding on "Owner's Lament," a standout from Scratch Acid's 1984 self-titled debut EP. DAVID BEVAN
48. Janet Weiss (Sleater-Kinney, Quasi, Wild Flag)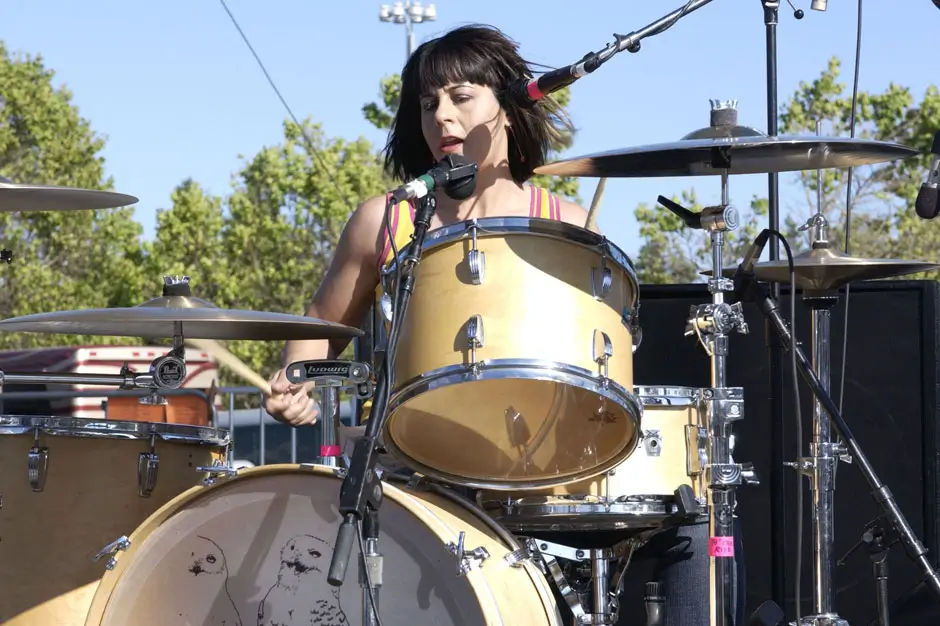 Janet Weiss' drum parts in Sleater-Kinney and Quasi songs are creative and colorful, never settling in on just being the backbeat. I really like this move she does once in a while, where, during a steady beat, she'll replace a hit on the snare with one on the floor tom, over and over, as a drum part — like something that disco drummers did in the '70s. Some of her fills are wonderfully bombastic, sitting just ahead of the tempo, giving the music an insistent feel. The fact that she sings when she plays (and has a beautiful voice) is an added distinction.
Most Booming Moment: The careening tom rhythm of 2002's "One Beat" is an amazing mix of Devo and the Who. FRED ARMISEN
49. John Maher (The Buzzcocks)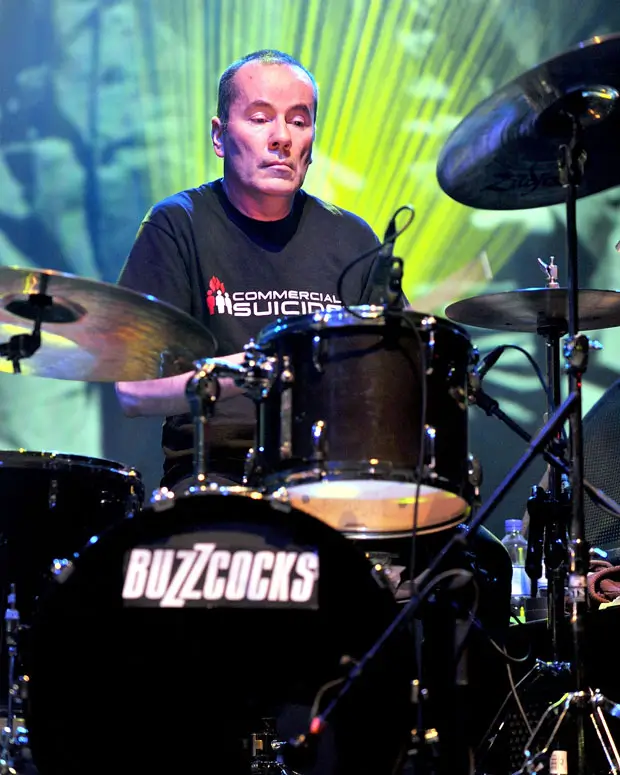 A lad of but 16 years old when he joined up with the twentysomething lonely-hearts in the Buzzcocks, Maher was the teenage prodigy who gave friend-zone anthems like "What Do I Get?" and "Everybody's Happy Nowadays" a properly caffeinated motor of actual adolescence. Though first-wave punk is often revered for its proud sloppiness — see the antics of Sid Vicious, the Dead Boys, or the one-chord wonderment of the Adverts — the manic 16th-note snare and tom fills all over songs like "Orgasm Addict" and "What Do I Get" are precise, heavy-hitting, and ultimately anticipated the punk-pop battery of bands like Green Day. Maher subtly sneaks tricks into songs that should be too high-velocity to allow much wiggle room — peep the hi-hat work in "Oh Shit!" or the absurd kick-bounce at 2:03 of "Ever Fallen in Love (With Someone You Shouldn't've)."
Most Booming Moment: The elastic John Bonham-esque, kick-drum double dribble on 1979's funky B-side "Why Can't I Touch It?" CHRISTOPHER R. WEINGARTEN
50. Chuck Biscuits (D.O.A., Black Flag, Circle Jerks)
During the early and mid-'80s Biscuits was the most respected drummer in hardcore, starting with Vancouver's D.O.A., and then moving to California to play with Black Flag and the Circle Jerks. A formidable sight to behold live with his dyed-blonde hair and snaggle-tooth grin, Biscuits wailed away on his oversized drums with tree trunk-sized sticks like a crazed caveman bludgeoning everything and everybody in his path. Even in later years, when he joined comparatively restrained bands like Danzig and Social Distortion, Biscuits retained his signature brutal thwack.
Most Booming Moment: Sadly, none of Biscuits crucial work with Black Flag or the Circle Jerks was ever officially released. Luckily live videos are easy to find if you want to witness the monster in its natural habitat. JON WURSTER
51. Orestes Morfin (Bitch Magnet, Walt Mink)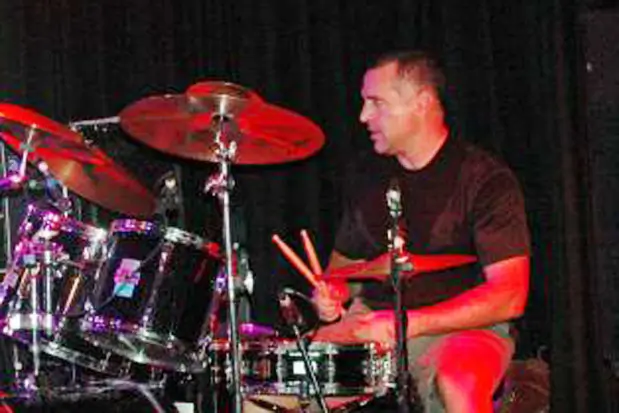 A full set of reissues and a handful of reunion shows have saved Bitch Magnet from an unjust fate as post-hardcore footnotes, and introduced a new generation to the intricate kick patterns and impossibly dense, space-time-fabric-distorting drum fills of Orestes Morfin. Morfin also can be heard on Minneapolis band Walt Mink's 1996 major-label masterpiece El Producto, having joined the band after Joey Waronker left to play with Beck.
Most Booming Moment: Perhaps via time-travelling illuminati conspiracy, the jaw-dropping fill that opened "Big Pining" had a very similar feel to Jay-Z's "Big Pimpin," which was released 11 years later. MATT LeMAY
52. Hugo Burnham (Gang of Four)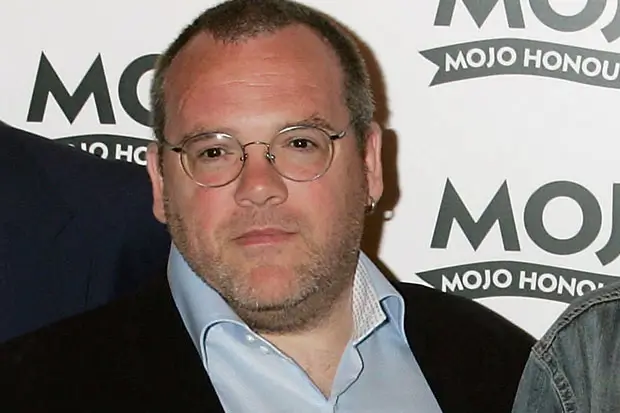 A lot of post-punk was about re-imagining how rock could be. Which was a metaphor for re-imagining how things could be. To both those ends, Burnham turned rock drumming inside out, inventing uncanny beats that propelled Gang of Four like a neo-Marxist shot out of a cannon. Some of those beats were Charlie Watts licks displaced all over the kit, some came from James Brown via Captain Beefheart, and some just sprang from a fevered imagination, all of them as burly, tough, and ingenious as the man himself.
Most Booming Moment: Burnham's brainy, brawny reinvention of the Bo Diddley beat on Entertainment!'s "Guns Before Butter." MICHAEL AZERRAD
53. John Stanier (Helmet, Battles)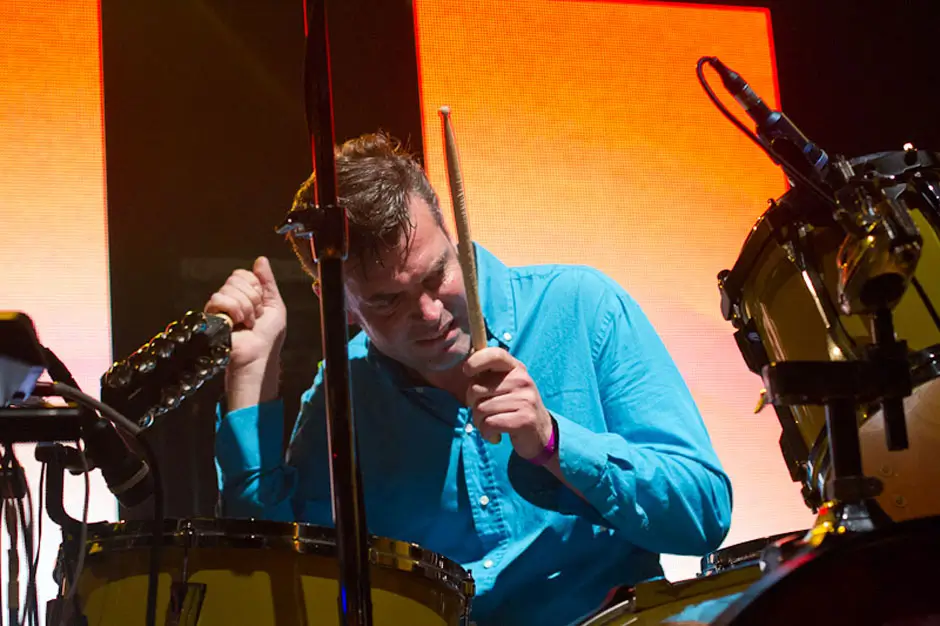 Few drummers from alt-rock's first wave smacked harder or grooved more thunderously than Helmet's drum-corps-trained beast John Stanier. The beats on 1994's Betty rattled the skull, thanks in part to Stanier's staunchly idiosyncratic tuning, including a snare head stretched so tight it rings like a bell. After Helmet broke up, Stanier cofounded Tomahawk with like-minded dudes from Faith No More and the Jesus Lizard, but it was his next project, Battles, that catapulted him into the ranks of the all-time-great, left-of-center rock beatsmiths. Over the course of two challenging full-lengths, Stanier has given his playing a sleek contemporary makeover, retaining his signature forcefulness, but stripping his beatcraft down to a robotic essence inspired by his love of German techno. He can still bring the pain; it's just that these days, he's communing with the dance floor rather than the mosh pit.
Most Booming Moment: The gut-walloping, half-time backbeat Stanier laid down on the intro to Betty's "I Know." HANK SHTEAMER
54. Earl Hudson (Bad Brains)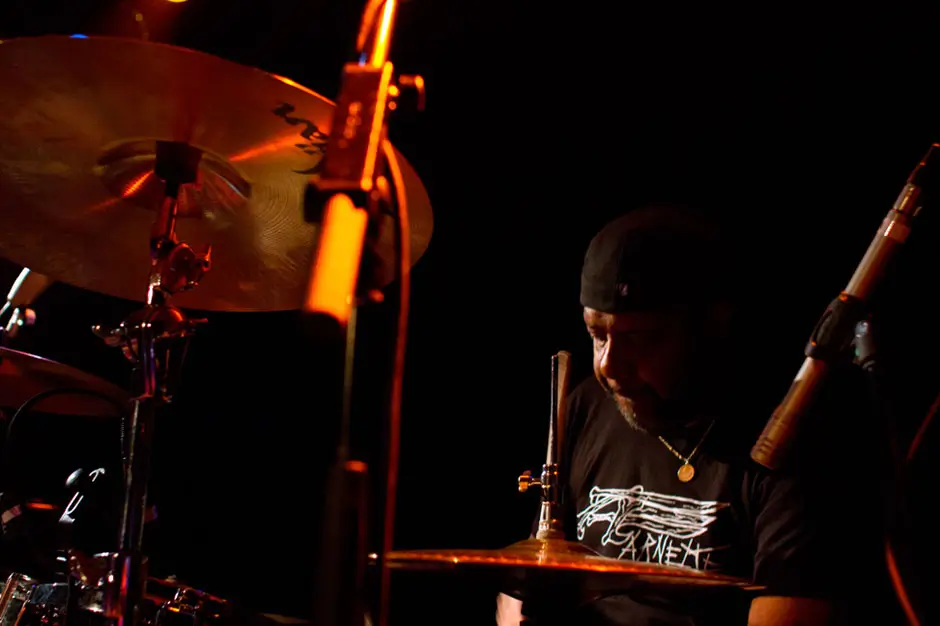 With a positive mental attitude and background in jazz fusion, Earl Hudson helped invent hardcore punk by encouraging his Bad Brains bandmates to break speed limits as they kept up with his outbursts of hyper-charged perpetual motion. "I remember telling Earl he should try to make 'Pay to Cum' as groovy as possible," Bad Brains frontman and Hudson's brother, H.R., told SPIN last year of the group's 1980 debut single. "Instead, he ended up making it as fast as possible." A testament to his versatility, the drummer could calm his nerves enough to provide some thoughtful, percussive textures to the group's dub-reggae journeys, like 1982's shuffling "I Luv I Jah."
Most Booming Moment: With stuttering, syncopated cowbell breaks and a bullet-fast tempo, "Pay to Cum" is one of punk drumming's defining moments. KORY GROW
55. Josh Freese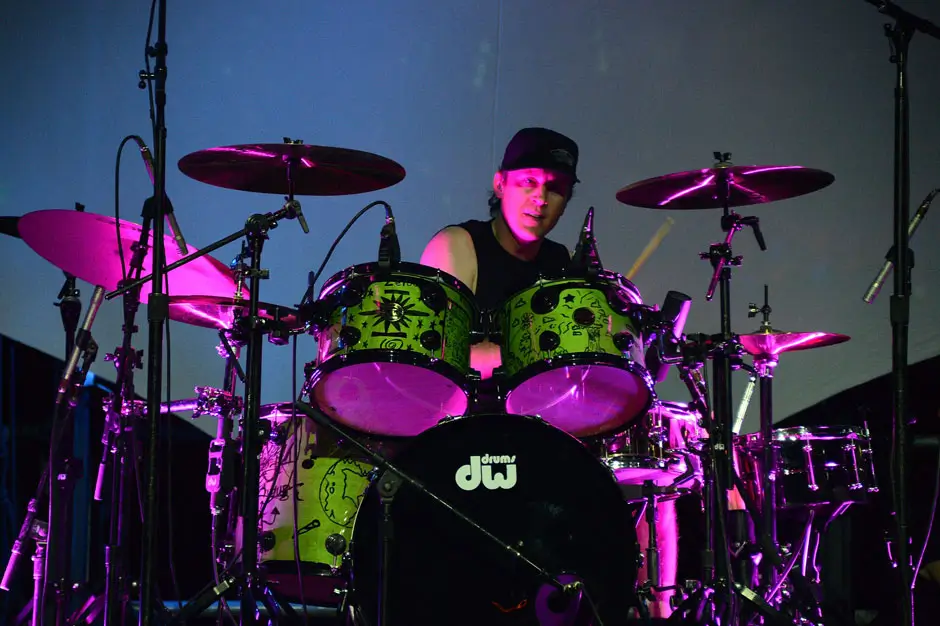 It takes a multi-talented virtuoso to please intimidating hardcore punk O.G. Lee Ving, crotchety '80s-underground hero Paul Westerberg, and also appear in some of Katy Perry's Teenage Dreams. But that's been Josh Freese's life for more than three decades. He earned the bulk of his alternative stripes in the '90s, as the backbone of sardonic L.A. pop-punks the Vandals, and later with melancholy rockers A Perfect Circle, but has gone on to have alternative rock drumming's deepest and most storied résumé — Nine Inch Nails, Guns N' Roses, Chris Cornell, the Offspring, Queens of the Stone Age, Weezer, Kelly Clarkson, Miley Cyrus, and the list just gets longer and weirder. Perhaps his most famous gig came when spazz-punk legends Devo needed a new drummer in 1996 and enlisted Freese as a permanent member — dude can whip it good.
Most Booming Moment: Amid ludicrous fills and the crazy pace of the Vandals' 1998 "Euro-Barge," Freese never lost his shit-sharp timing. JEANNE FURY
56. Robo (Black Flag)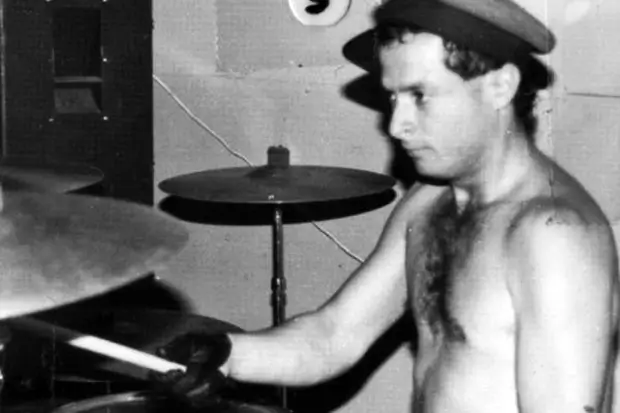 Born Roberto Valverde, Robo defined the blitzkrieg pace of American hardcore on Black Flag's landmark 1981 album Damaged. His frenetic playing was the soundtrack to a pissed-off youth uprising; possibly spawned from real anger since, in their early days, singer Keith Morris would spit on him get to him pissed and play louder. Between 1979 and 1981, he doled out churlish beatings at a rapid pace, menacingly crashing on the ride cymbal for more oomph. In Henry Rollins' bio Turned On, his replacement, future Descendent Bill Stevenson, broke it down: "I would be the first person to say Robo was the best and most important Black Flag drummer… I'll tell you what it is; it's like punk rock but with this Latin percussive feel to it; a lot of the cymbals work in little groups of threes, and it was totally original."
Most Booming Moment: On the consumerism smackdown "Gimme Gimme Gimme," Robo's jittery, impatient tapping lead to snare snaps that leave welts. JEANNE FURY
57. Cindy Blackman (Lenny Kravitz)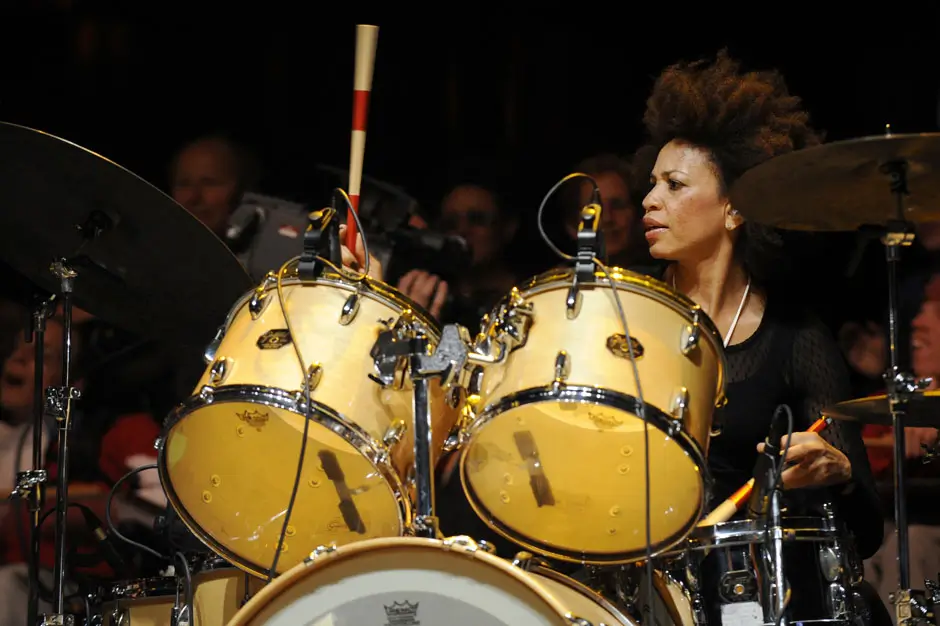 Though her roots are firmly planted in the jazz world, where she's highly regarded, Cindy Blackman became widely known to rock fans as the phenomenal drummer who stole the spotlight in the video for Lenny Kravitz's "Are You Gonna Go My Way." It's ironic, because one of Blackman's greatest skills lies in her ability to get out of the way of the music: She has an exceptional understanding of how to generate and mold a groove so deftly that it melts and disappears into a song, the definition of a supremely confident drummer.
Most Booming Moment: Blackman's steady snare beat, simple fill, and wash of cymbals during the first 20 seconds of "Are You Gonna Go My Way" were as iconic as Kravitz's riff. JEANNE FURY
58. Jim White (Dirty Three)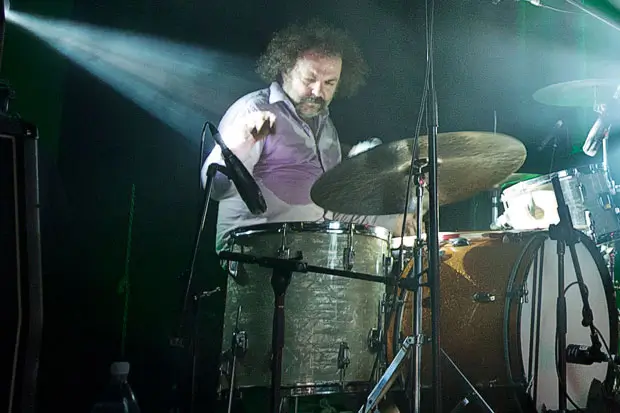 Jim White's drumming is the abstract-expressionist masterpiece to modern rock's paint-by-numbers mediocrity. Always threatening to skitter out of control, always taking you somewhere you didn't expect, White's drumming has added nuance to records by Cat Power, Will Oldham, Smog, and PJ Harvey. But White's perhaps best experienced through his substantial body of work with the instrumental trio Dirty Three, where each of his rhythmic gestures is given ample room to flourish — flickering ride cymbals, snare rolls that dramatically run out of steam, brushes that bustle and burst.
Most Booming Moment: On You Follow Me, White's 2007 collaboration with singer-songwriter Nina Nastasia, his gentle, decelerating-and-accelerating drumming was every bit as emotionally riveting as Nastasia's vocals. MATT LeMAY
59. Chris Pennie (Dillinger Escape Plan, Coheed and Cambria)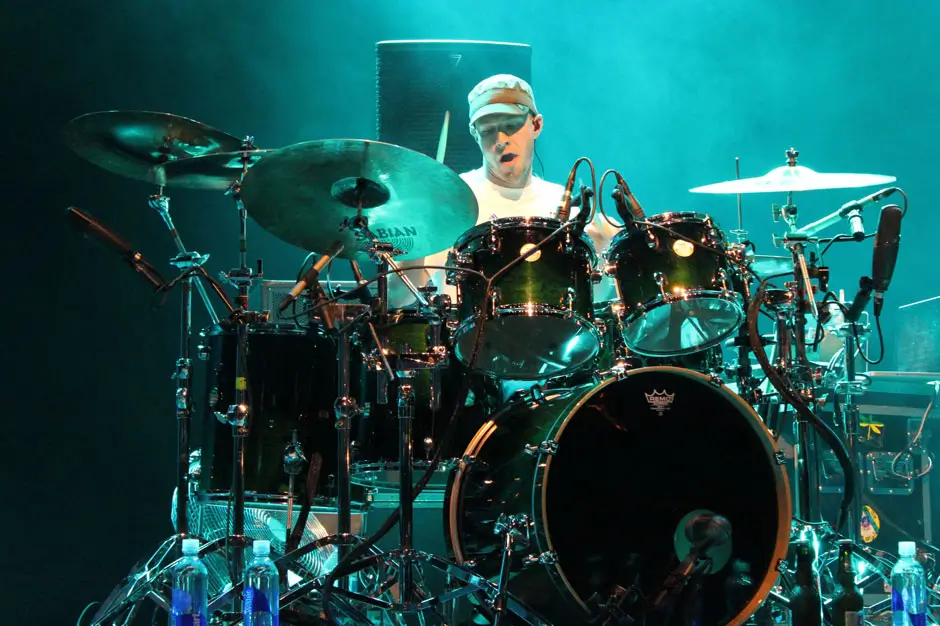 Dillinger Escape Plan erupted in 1998 as a spastic machine, improbably programmed for prog-and-jazz time signatures blasted out at Bad Brains tempos. Controlling the chaos was Berklee graduate Chris Pennie, a fan of Meshuggah and Mahivishnu and DJ Shadow, whose eclectic tastes drove his band's schizophrenic shred, which changed shades by the second. On songs like 1999's "43% Burnt," he flitted effortlessly between Neanderthal thrash, rapid-fire hardcore smacks, blastbeat jazz, and liquid, single-rolled, Steve Gadd-style fills. When Pennie got into serious time-signature vivisection mode, his left hand stuttered on the snare like he was trapped in an Aphex Twin song, which makes sense since…
Most Booming Moment: Dillinger and Mike Patton covered Aphex Twin's "Come to Daddy" in 2002. Pennie masterfully navigated its many twists, turns, pinballing skitters, and even that completely bonkers bridge. CHRISTOPHER R. WEINGARTEN
60. Prairie Prince (The Tubes, XTC)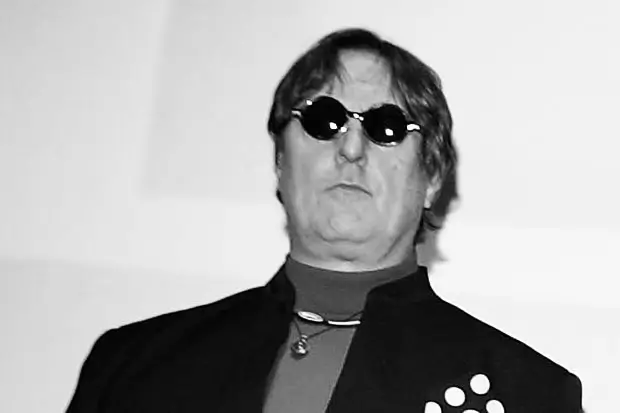 Prince was the superdrummer in the Tubes, the legendarily outrageous '70s Bay Area glam-art-rock band cum performance-art troupe responsible for the classic "White Punks on Dope." Over-the-top music called for over-the-top drumming, which Prince provided in spectacular fashion: flamboyant but stone immaculate. In 1986, erstwhile Tubes producer Todd Rundgren called Prince into the notoriously fraught sessions for XTC's sublime Skylarking. Prince played with impeccable taste and well-deployed flash, proving not only his chops but his staggering versatility.
Most Booming Moment: The Tubes' "Haloes," in which Prince erupts in a series of daredevil fusillades around the drums, then an impeccable flurry of double bass-drum 16th-notes, a tour de force of percussive fireworks. MICHAEL AZERRAD
61. Brann Dailor (Mastodon)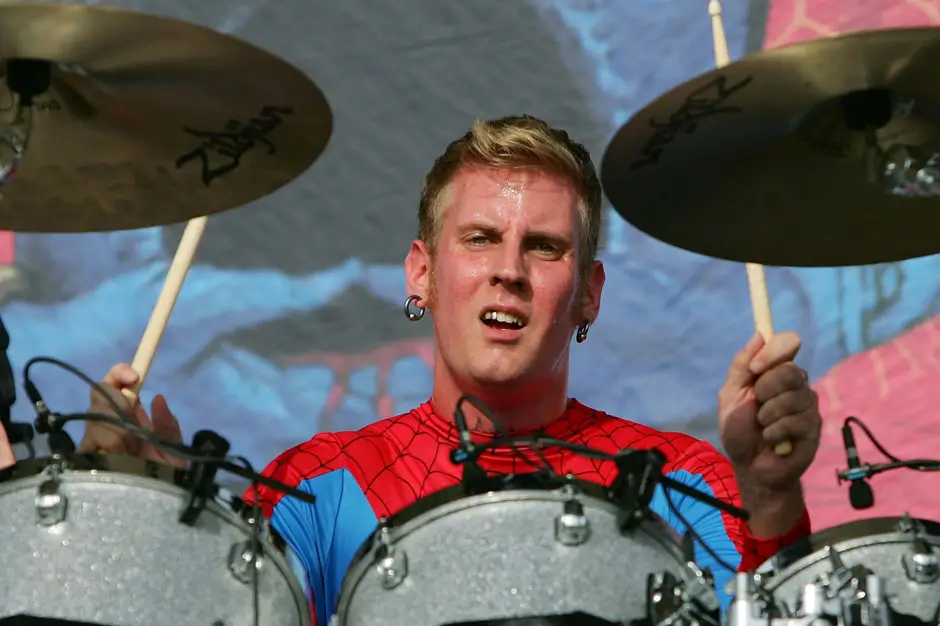 Raised as a self -professed "Zappa hippie," Mastodon's Brann Dailor skitters around his kit with a driving, math-y, almost reluctant accuracy. One of the busiest and most bravely human drummers in a genre that praises piston-like precision, Brann completely breaks the mold, performing like an inquisitive, tragically joyful child who's trapped inside a lucid dream. Dailor's percussive multiplications confuse, confound, and somehow organize his band's fantastic scenarios. With 2009's "Crack the Skye," Dailor immortalized his sister Skye, a victim of brutal school bullying and a debilitating health condition who committed suicide at age 14. Using his drums' relentless fortissimo impact, he creates a mythological dream world that induces healing instead of pain.
Most Booming Moment: The fluttering, mind-melting, ghost-note onslaught of 2009's kinetic-wormhole "Oblivion." PEGASUS WARNING
62. Gilson Lavis (Squeeze)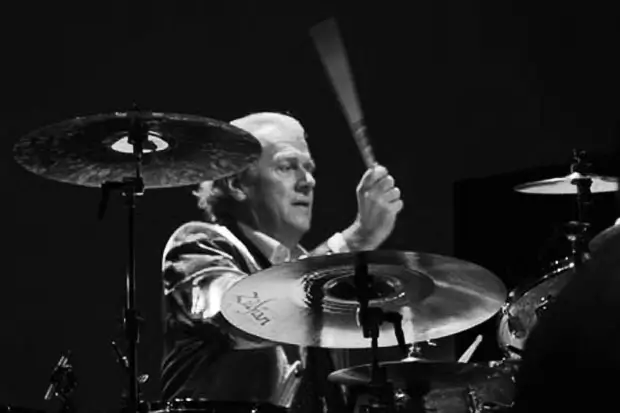 When Lavis joined Squeeze in 1976, he was already a rock'n'roll veteran, having backed up both Jerry Lee Lewis and Chuck Berry (and served as tour manager for the latter). But he'd also been laying brick for a living when he answered the legendary U.K. outfit's ad in a copy of Melody Maker. For the next 16 years, it was Lavis' deceptively muscular and diverse drum work — just as much as songwriting team Chris Difford and Glen Tilbrook's wry lyricism and haunting melodies — that helped further distinguish Squeeze from their nervy new-wave contemporaries.
Most Booming Moment: The puckered pitter-patter throughout "Cool for Cats," the title track from Squeeze's 1979 breakout LP. DAVID BEVAN
63. Pete Thomas (Elvis Costello & The Attractions, Imposters)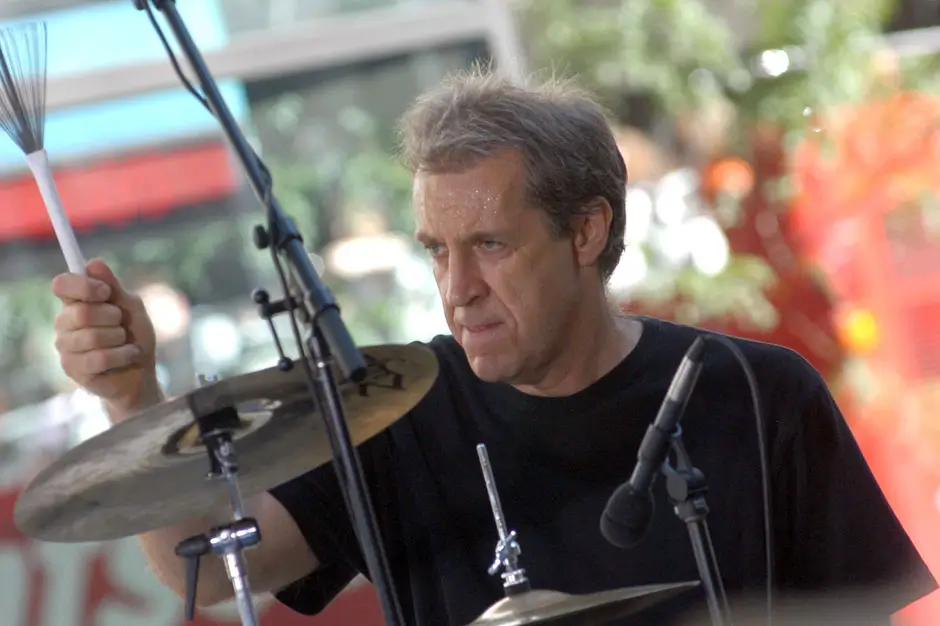 Already a veteran of the early-'70s U.K. pub-rock scene when he joined the newly assembled Attractions in late 1977, Thomas brought a host of influences that made him the perfect drummer for an ever-evolving, always-experimenting songwriter like Costello. While he could bash with the best of them ("Lipstick Vogue"), Thomas was just as comfortable playing traditional country ("Sweet Dreams"), Stax-style R&B ("B-Movie") or herky-jerky new wave ("I Don't Want to Go to Chelsea"). Thomas' supportive and inventive playing with both the Attractions and the Imposters is crucial listening for anyone interested in what a drummer's role should be in a rock band.
Most Booming Moment: The tricky hi-hat work and rock-solid groove of 1981's "New Lace Sleeves" showed that Thomas was a master of crafting memorable drum parts that never got in the way of the song. JON WURSTER
64. Mick Harris (Napalm Death)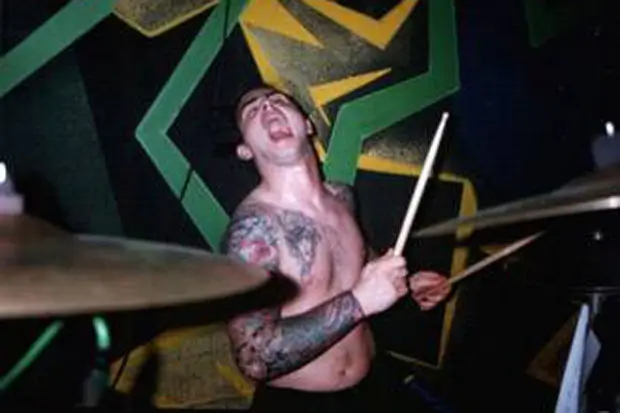 Although it's questionable exactly who invented the blastbeat — extreme metal's signature rivet-like rhythm — there's no questioning who perfected it: Mick Harris, the drummer for Napalm Death from 1985 to 1991. In an early incarnation of the group's endlessly varying lineups, this scrawny firebrand encouraged his bandmates to play their gritty anarcho-punk songs and "grinding" Swans-like riffs faster and faster until they sounded like a delirious blur. Their 1.316-second 1987 jam "You Suffer" remains the unchallenged world's fastest song (according to the fine folks at Guinness) and skull-rattling ragers like 1988's "It's a M.A.N.S. World!" defined what "extreme" really meant.
Most Booming Moment: The savagely bashed cymbals, unpredictable bass drums, punky breakdowns, and free-form blasts of 1988's "Mentally Murdered" is death metal at its most primal. KORY GROW
65. Moe Tucker (The Velvet Underground)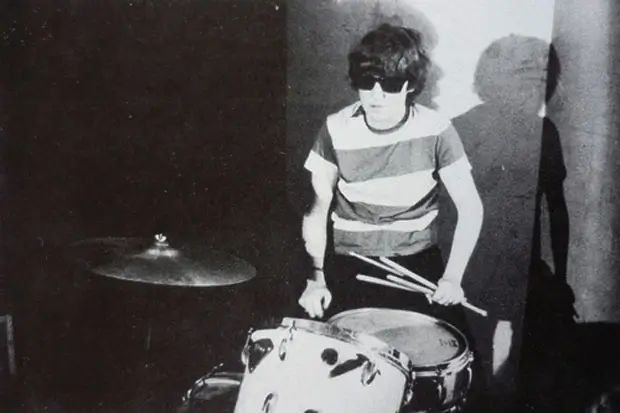 After staying relatively out of sight since the Velvet Underground's early-'90s reunion tour, Moe Tucker popped up in the news in 2010, distressingly, as a fanatical Tea Party supporter. But, if anything, it was just another example of a life staked on bucking convention. As the drummer on the Velvets' legendary first-four-albums run, Tucker famously stood up while she played — bass drum at her side — and discarded ride cymbals from her kit because she thought they were distracting. Conceptually, Tucker was to-the-point and so was her drumming; in turn, the tempo of "Sister Ray" would help set the tone for punk, but the repetition would set the tone for krautrock. It would all seem so simple if it wasn't, in fact, revelatory.
Most Booming Moment: By this point, 1967's "Heroin" has almost become a cliché, but Tucker's drumming — in which she followed the roller coaster that was Lou Reed's racing heart — remains remarkable. JORDAN SARGENT
66. Clem Burke (Blondie)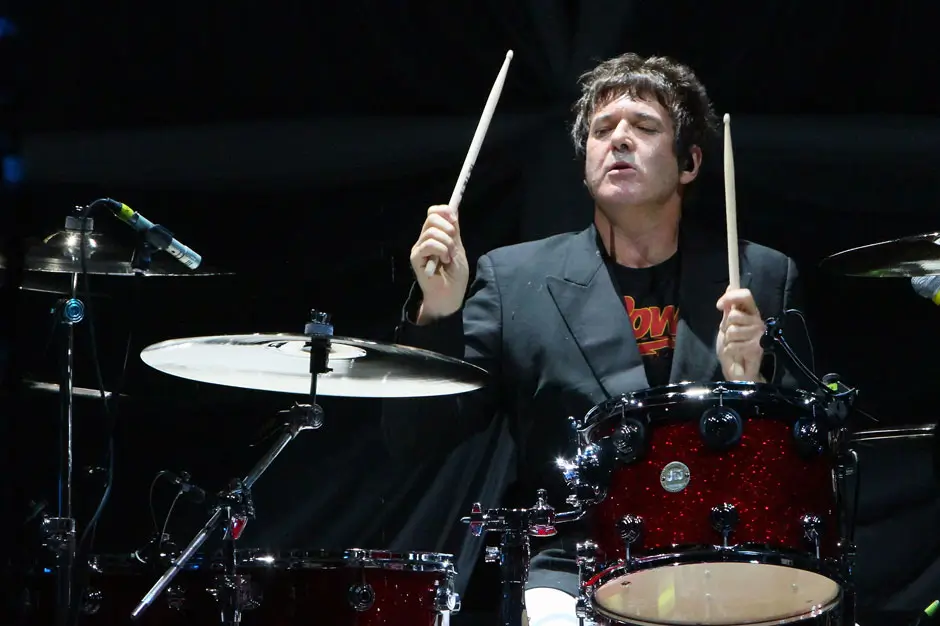 While Blondie were a punky rewrite of Spector-ian girl-group pop, drummer Clem Burke was nobody's Hal Blaine (the "Be My Baby" guy). Although he was playing the farthest back on the stage in a band fronted by a certified 1980s sex symbol, Burke compulsively tried to steal the spotlight — his streamlined new-wave pummel was counterbalanced by an addiction to flashy fills and spastic tom-tom outbreaks. He calmed down when the band went to Giorgio Moroder's disco dreamland ("Heart of Glass") or the NYC block party ("Rapture"), but he was no less driving and jittery, smacking his band out of a bar of 7/8 or leading them into a funky daze.
Most Booming Moment: Burke's relentless barrage of 16th notes on 1979's "Dreaming" is like a hot car speeding over a rocky road. CHRISTOPHER R. WEINGARTEN
67. Brian Chippendale (Lightning Bolt)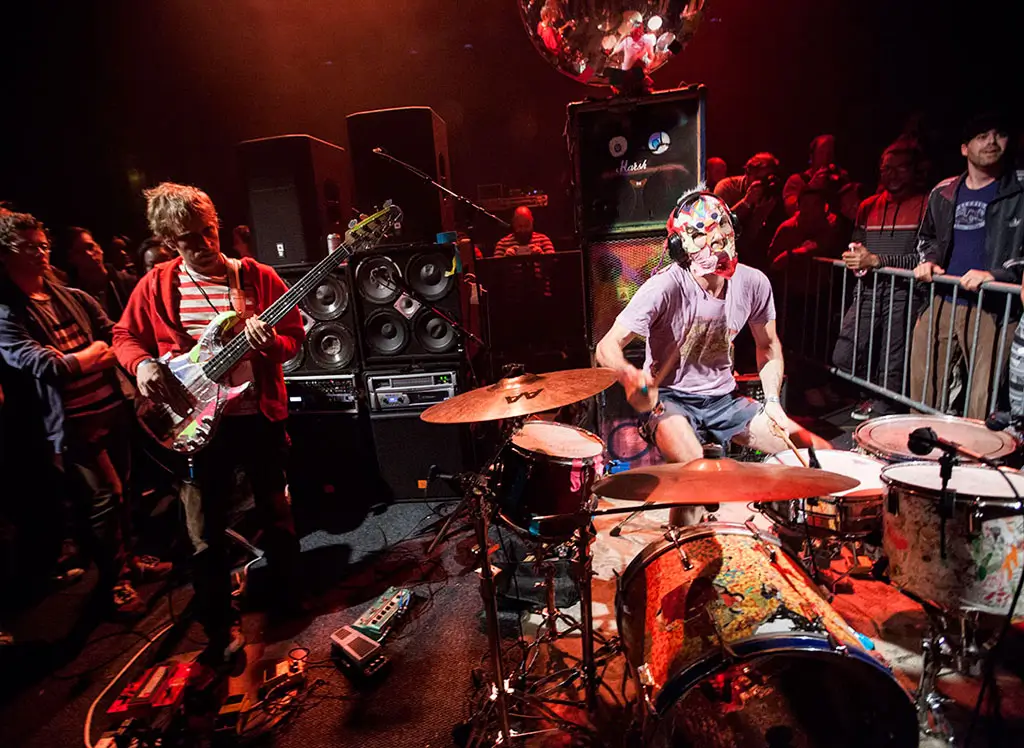 To borrow a metaphor that he's used to describe one of his favorite drummers — the Unsane's late, great Charlie Ondras — Brian Chippendale is the Energizer Bunny of noise rock, a player who combines relentless intensity with a lovably cartoonish persona. His performances with Lightning Bolt over the past two decades have made him a DIY legend: Along with bassist and fellow Providence art-schooler Brian Gibson (or, more recently, in his solo Black Pus guise), he turns up in your club, loft, gallery, or even kitchen, sets up on the floor, dons his patented lucha libre-gone-anime mask/mic and unleashes the loudest, most frenetic dance music imaginable — equal parts Clyde Stubblefield and Dave Lombardo, but with an element of squirrelly chaos all his own. There's no more fearsome spaz in the modern-rock underground — just ask high-profile backers Björk and Wayne Coyne.
Most Booming Moment: "Assassins," from Lightning Bolt's signature LP, 2003's Wonderful Rainbow, perfectly illustrated Chippendale's turbocharged pummel-then-scamper. HANK SHTEAMER
68. Philip "Fish" Fisher (Fishbone)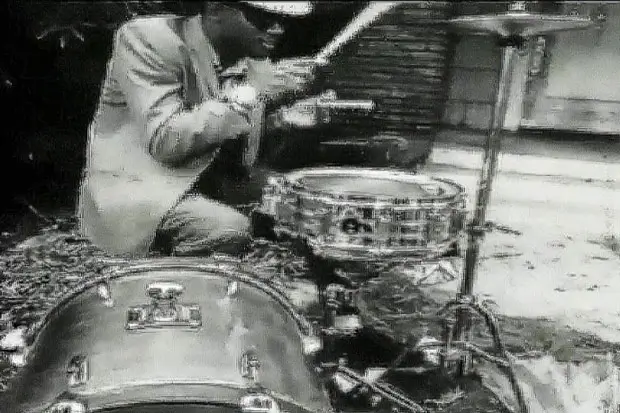 As a founding member of Fishbone, "Fish" Fisher and his brother John Norwood laid the musical framework for Los Angeles' hyperactive, socially conscious motley crew. Fish's unhinged, machine-gunning, party-starting combination of funk, ska, metal, and California hardcore influenced some of the West Coast's most revered genre-benders — including the Red Hot Chili Peppers, No Doubt, and Jane's Addiction. With the kind of energy that presaged wacky California hip-hop crews like the Pharcyde and Odd Future, Fish and his bandmates contorted their way around the globe, transcending the wasteland of L.A.'s brutal racial violence while conquering Soul Train: In a lip-synced 1989 performance on the show, Fish and his bandmates imploded the backing-track trope, careening around the stage and making it their own. Fish has continued to dominate behind the kit as a session and touring musician, backing up the likes of Justin Timberlake.
Most Booming Moment: The bashed ride-cymbal workout of 1991's "Fight the Youth" is the type of unprecedented, go-go inflected, metallurgical stomp for which Fish is revered. PEGASUS WARNING
69. Tomas Haake (Meshuggah)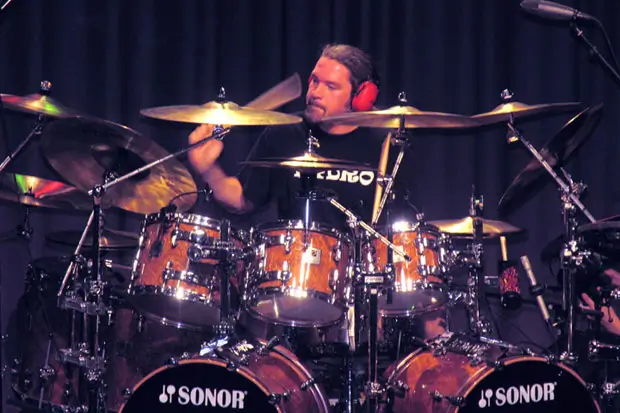 Slayer's Dave Lombardo perfected the tank-like onslaught of double-bass extreme-metal drumming in the mid-1980s. What Meshuggah's Tomas Haake has done, from the early '90s on, is to turn that onslaught into a ballet mécanique, equal parts pummel and poise. The hulking Swede's rhythmic signature combines a rock-steady snare and hi-hat pulse with irregularly clustered double-bass accents, which give the effect of the beat constantly tripping over itself, lurching and stumbling ahead like a film that's missing frames. The sound of Haake aligning with the hyper-intense, maniacally precise strumming of the Meshuggah guitar team is a sci-fi-metal fever dream — the best kind of information overload. The Haake aesthetic is monolithic, but he's always adding new wrinkles; on 2012's Koloss, he found new ways to make his airtight constructions breathe and swing.
Most Booming Moment: Thanks to Haake's incessantly trilling double-bass pattern, the intro to "Bleed," from 2008's ObZen, feels like the cold, merciless slice-and-dice of a gigantic thresher. HANK SHTEAMER
70. Damon Che (Don Caballero)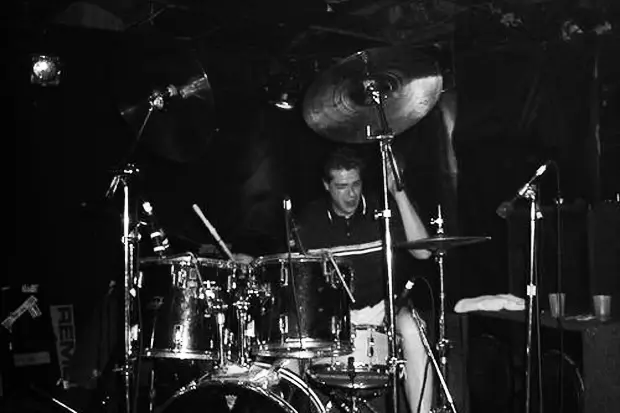 In love with both Rush and Scratch Acid, Pittsburgh's Damon Che has become a central figure in pseudo-genre dismissively termed "math rock." But, as a drummer, Che is more Panzer tank than pocket calculator. Credited as "octopus" on many of Don Cab's records, Che played drum parts so furiously complex that it was impossible to visualize another mere biped performing them. In the ultimate reversal of a very good drummer joke, Che was able to disband and then reform Don Caballero in 2003 as its only original member.
Most Booming Moment: The same stupid-awesome, foot-bounced 10/4 pattern was the last thing you heard on Don Cab's second album, 1995's Two, and the first thing you heard on their third album, 1998's What Burns Never Returns. MATT LeMAY
71. Glenn Kotche (Wilco)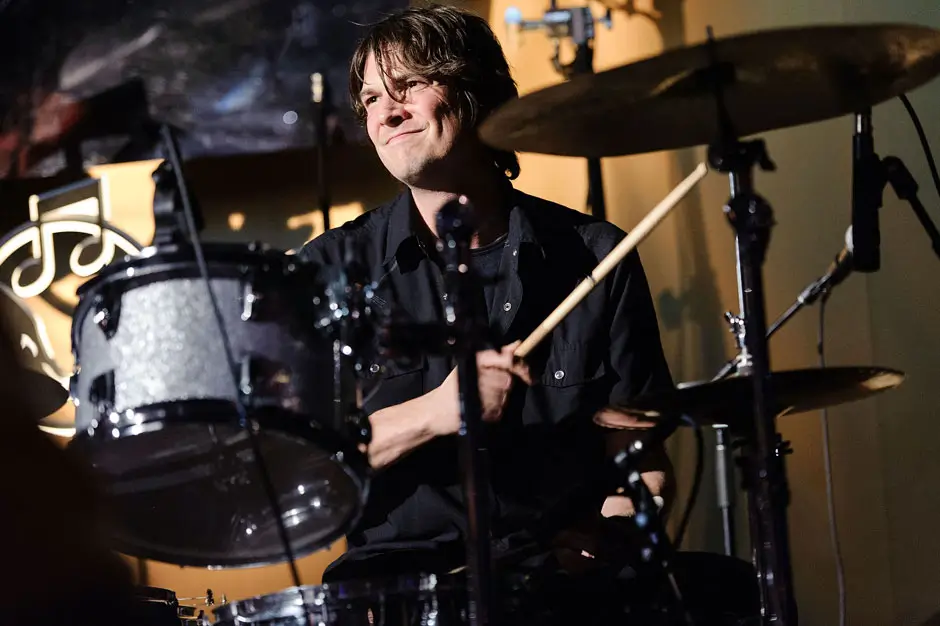 When Glenn Kotche replaced original Wilco drummer Ken Coomer in 2001, he brought an experimental composer's sensibility and sense of rhythmic freedom to Jeff Tweedy's not-so-merry band. Known for employing otherwise nonmusical objects — back massagers, hand fans, hubcaps, and chains — the former drum and bugle corps member took a "total percussion" approach to playing while still crushing hard-rock grooves like butter (cf. Nels Cline).
Most Booming Moment: Kotche's 11-minute live version of the Hindu Ramayana legend "Monkey Chant," from his 2006 solo album Mobile. RICHARD GEHR
72. Danny Carey (Tool)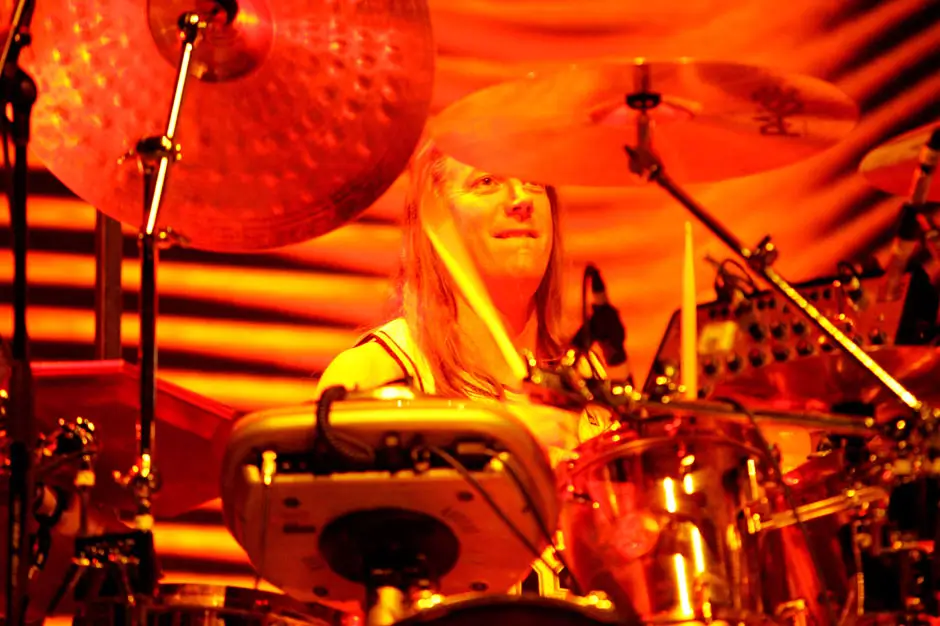 Unlike Neil Peart and his similar chops-monster predecessors, Tool drum hero Danny Carey is a surprisingly restrained player. The six-foot-five Kansan approaches Tool's epic tracks with a shrewd pop sensibility — this is the same player who worked in the studio with Carole King in the early '90s — letting the band's odd-metered alt-metal grooves breathe rather than piling on percussive data. A certain grunge-era cheese clung to Undertow, Tool's 1993 debut album, but Carey's pummeling, tom-heavy beats still maintained a sinuous charm. Over the years, Carey's instantly recognizable sound, marked by sampled hand drums and a signature "deactivated" snare, has become as integral to Tool as Maynard James Keenan's eerie, theatrical whine.
Most Booming Moment: The final minute of "Schism," from 2001's Lateralus, featured a relatively rare taste of Carey in full-on prog-fusion attack mode. HANK SHTEAMER
73. Budgie (Siouxsie and the Banshees)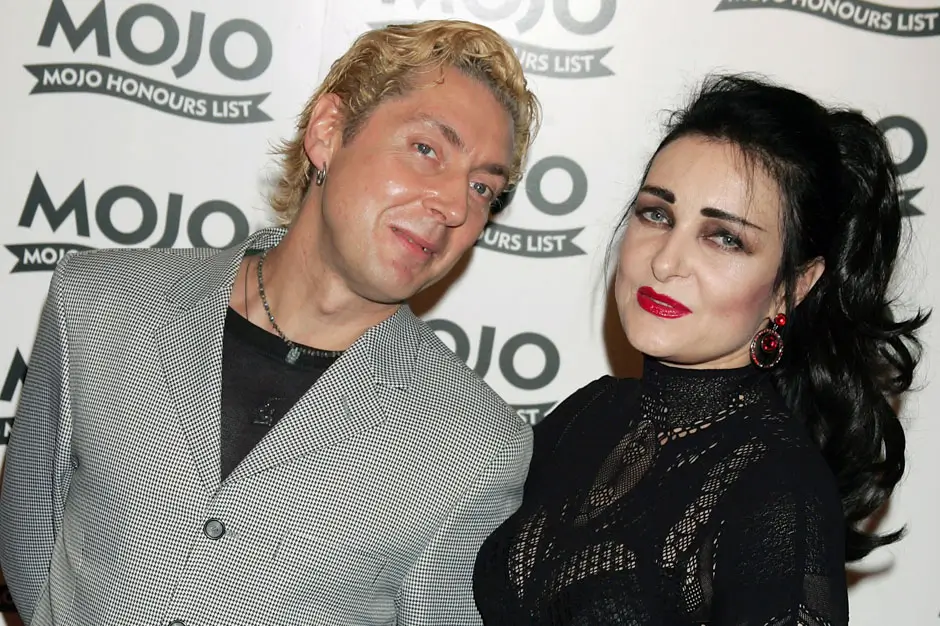 Post-punk introduced a lot of amazing drummers, but none more influential than Budgie. With the Banshees, Budgie didn't just play rhythms — he played hooks and leads, brilliant parts that set the songs on fire. His tom-tom-intensive approach, enlightened by his awareness of world music, set the stage for everyone from Stephen Perkins to Interpol's Sam Fogarino. Onstage, his sunny, joyous vibe counterpointed his then-wife Siouxsie's riveting but dour goth presence, galvanizing one of the great live bands of the era.
Most Booming Moment: On "Into the Light," from 1981's Juju, Budgie drums up a marvel of kinetic syncopation and invention. MICHAEL AZERRAD
74. Mike Bordin (Faith No More)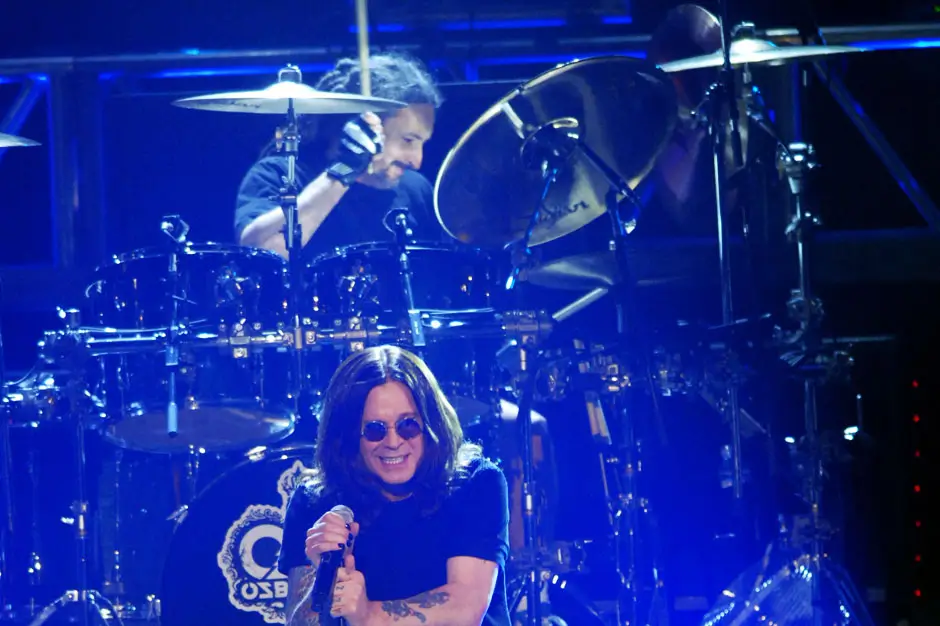 While he certainly hit like a metal drummer, Mike "Puffy" Bordin took Faith No More from the San Francisco underground to MTV because he sounded like one of Rick Rubin's drum machines vibrating the concrete. Though weaned on the big drums of John Bonham, Bordin had a uniquely minimal, hard-hitting, and primordially funky style that echoed hip-hop's 1983-1987 period (which, coincidentally, also was inspired by John Bonham), a perfect lead-up to the band's 1989 breakthrough (and appearance on Yo! MTV Raps). A lefty playing on a right-handed drummer's kit, you could hear his unique thundercracks as early as 1985's "We Care a Lot" or 1989's "Epic" — often keeping time with his left foot instead of his hand, leaving both arms free to whack flams on his toms and snare with sledgehammer abandon. His skeletal style was versatile, too: When FNM toned down the metal for a streamlined alterna-groove in 1995, they made the transition perfectly.
Most Booming Moment: The rapid-fire, aggro-funky single-foot kick work on 1992's "Jizzlobber" bridged the gap between Led Zepplin's "Good Times, Bad Times" and Nirvana's "Scentless Apprentice." CHRISTOPHER R. WEINGARTEN
75. Ramon "Tiki" Fulwood (Parliament/Funkadelic)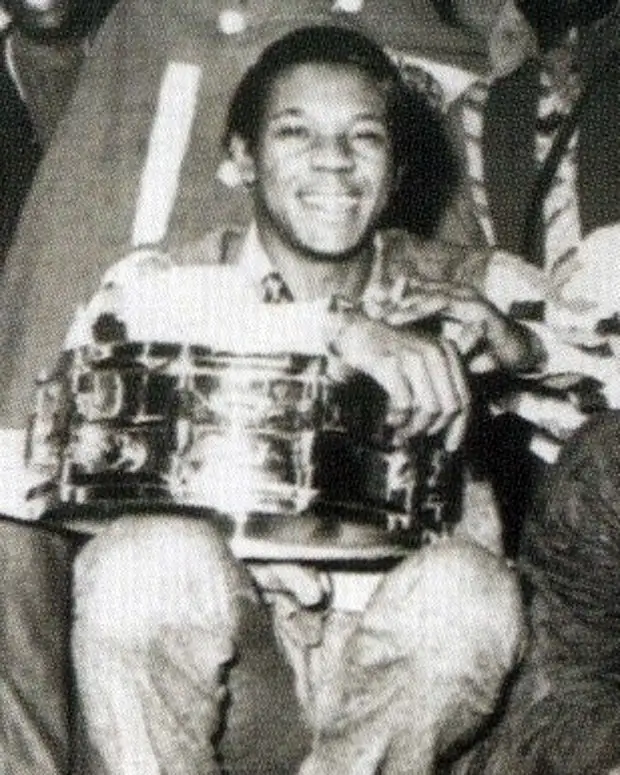 As part of the original Funkadelic along with Eddie Hazel and Billy "Bass" Nelson, a 17-year-old Tiki Fulwood stormed on to the scene and helped launch George Clinton's rocket into outer space. Hazel and Nelson had to sneak the teenaged Tiki into the band, and when the P-Funk don finally paid attention to his unearthly stomp, he begged Fulwood's mother to let him tour. The band shared a bill with Vanilla Fudge in 1970 and a certain important discovery was made: The see-through drum shells of Vanilla Fudge's Fibes drum kit packed a wallop that '60s-era, jazz-style kits couldn't. Like Louis Armstrong's happy accident that bent his horn, this unexpected discovery helped give Fulwood's youthful, loud, brash style its indelible voice.
Most Booming Moment(s): The peg-legged stomp and bashed hi-hat offbeats of Funkadelic's "Hit It and Quit It" from 1971. PEGASUS WARNING
76. Bill Stevenson (Descendents, Black Flag)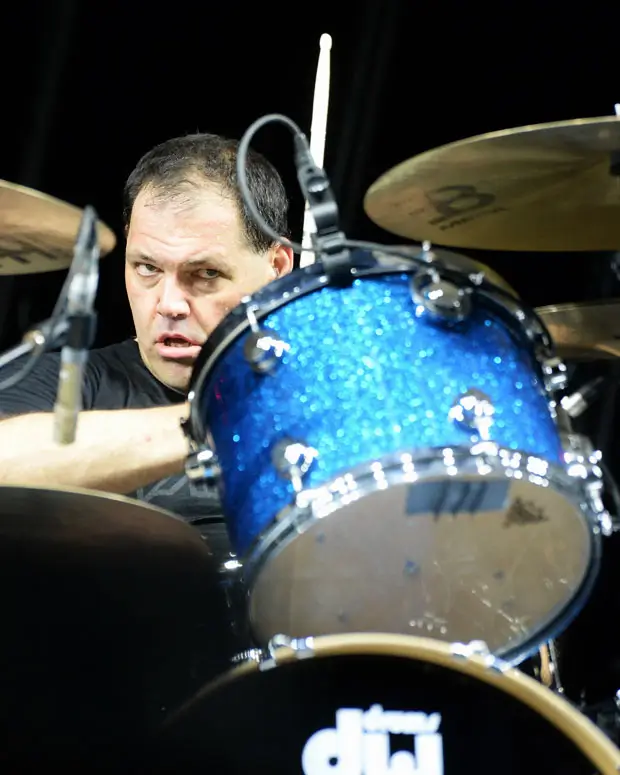 Bill Stevenson is the Thomas Edison of modern pop-punk drumming, his speedy, jovial bounce influencing the gait of Green Day, Blink-182, and Foo Fighters, among many others. But a careful listen to his 30-plus years of recordings shows Stevenson to be much more. Sure, he's the master of the super-fast 16th-note buzz roll that he made famous in the Descendents, but other sides of this versatile battering ram can be heard during Black Flag's sludgier My War years as well as in All's quirkier prog rock diversions.
Most Booming Moment: Stevenson's self-penned "Myage" was the perfect example of a drummer making great creative choices. Instead of sticking with a traditional kick/snare/hi-hat approach, he mixed it up with driving floor tom/snare rhythm and his trademark rolls to create a sound uniquely his own. JON WURSTER
77. Zach Hill (Death Grips)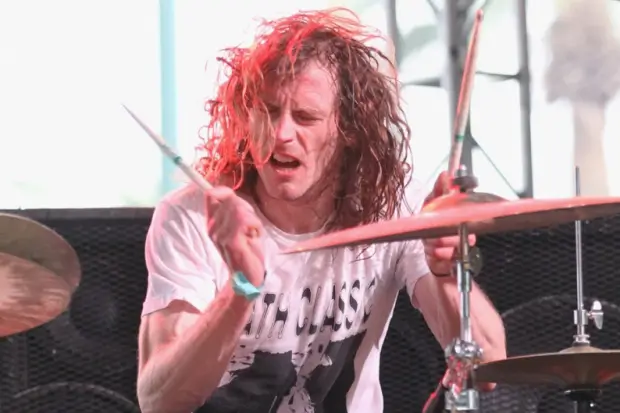 A superhero of drumming. Present-day mythical. There's always this assumption — and I probably mean to say, I assume — that all music has arrived and there is nothing further to play. Zach Hill's playing is a reminder that I don't know anything at all. With prog-punkers Hella, my brain and eyes couldn't compute what was happening. A constant flurry of activity. I wonder if his limbs and hands have the same muscle structure as a hummingbird. The way he plays his kick, at full volume, all the way through, sounds like a police officer pounding angrily on your door at 4 a.m. His attack on the snare is a sharp metallic crack, but also somehow sensitive. With Marnie Stern, her guitar playing is the meter, and his drumming is just an extension of that. In that conflagration, she's the drummer. A great one too.
Most Booming Moment: Though his beats in Death Grips currently rock Rubin-esque bells, the clattering foot-bounces, metal-clanking confusion, and pachinko-machine chaos of Hella's 2002 "Biblical Violence" was purely bonkers. FRED ARMISEN
78. Jon Theodore (The Mars Volta)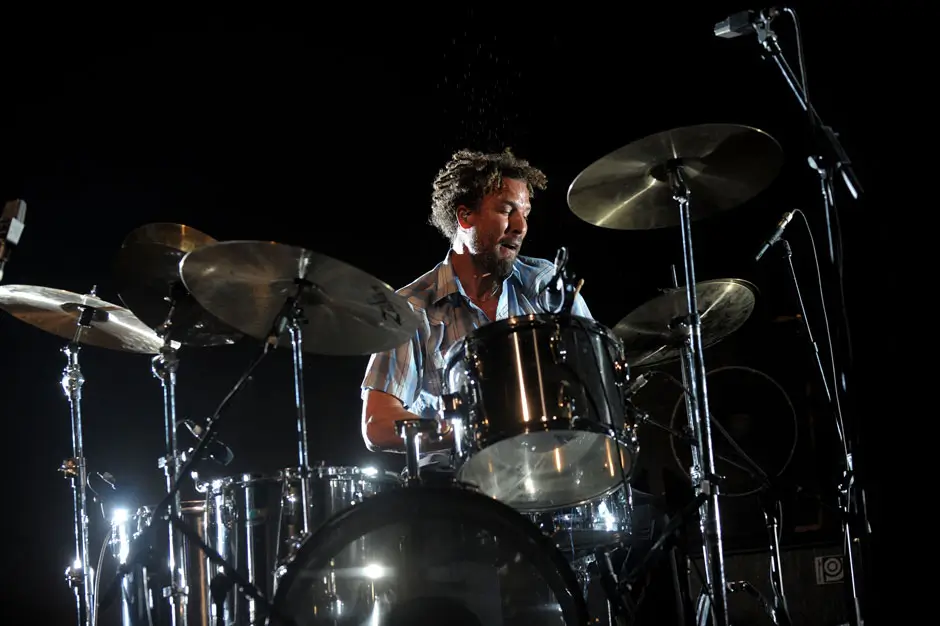 Baltimore-born basher Jon Theodore has been a live-wire asset to every project on which he's worked — the Mars Volta, Queens of the Stone Age, Rage Against the Machine's Zack de la Rocha, Bonnie "Prince" Billy, and his underappreciated first band, Golden, which embraced everything from fuzzed-out math rock to strange world-psych hybrids. Descending upon the alt-metal world with a connoisseur's trifecta of influences — John Bonham, Billy Cobham, and Elvin Jones — made him uniquely equipped to power the frenzied Latin-prog of the Mars Volta, the band that's earned Theodore his widest exposure so far. But he's never sounded more ripping than in One Day as a Lion, where he laid down filthy-funky Zep-hop cadences to fuel de la Rocha's fiery verses.
Most Booming Moment: One Day as a Lion's "If You Fear Dying" featured a brontosaurus of a backbeat, funked up by Theodore's wicked 16th-note hi-hat pulse. HANK SHTEAMER
79. George Hurley (Minutemen, fIREHOSE)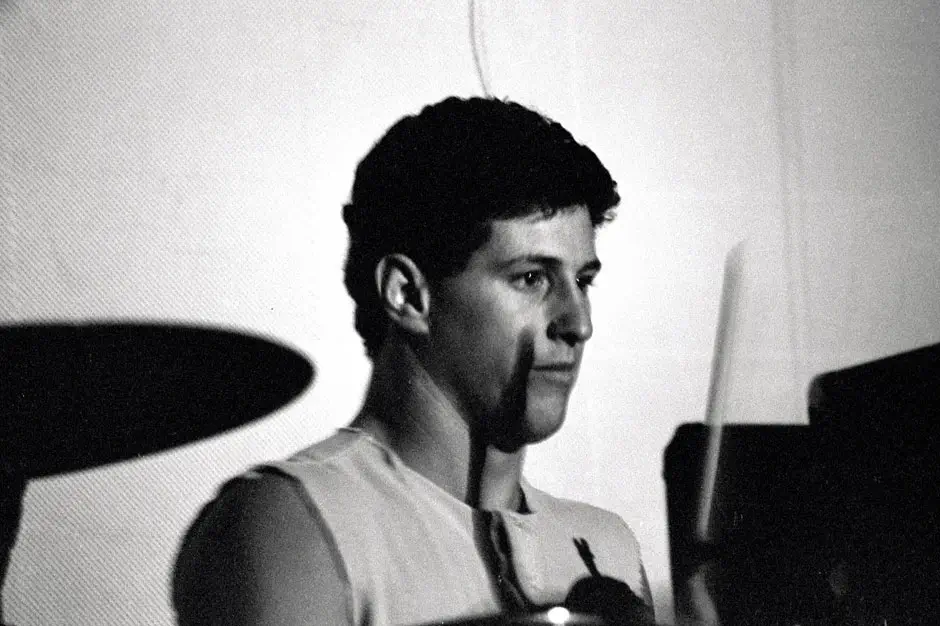 George Hurley's five-year run in the Minutemen is the ultimate bucking of '80s hardcore expectations: He had chops (punk's greatest left hand can be heard bouncing giddily along like he was backing James Brown); he wasn't afraid of rock'n'roll ("You Need the Glory" and "East Wind Faith" both featured drum solos, though the songs were about two minutes long); and he wasn't about to shave his head (dig the crazy, peroxide-blonde Flock-of-Seagulls-meets-Skrillex poodle cut). Throwing hardcore bursts into funk grooves and jazz freakouts into noisy intros, Hurley was the ultimate step away from punk rock's aggro-polka. As he told DRUM! magazine, "To me, jazz was really punk rock. There was all this wild, crazy, off-the-hook stuff — guys going nuts, playing real hard, and going off free-form."
Most Booming Moment: The infectious, unique rhythm of 1984's "Nature Without Man," which mixes a Keith Moon tom workout with two well-placed open hi-hat smacks at the end of the measure. CHRISTOPHER R. WEINGARTEN
80. "Bigfoot" Brailey (Parliament/Funkadelic)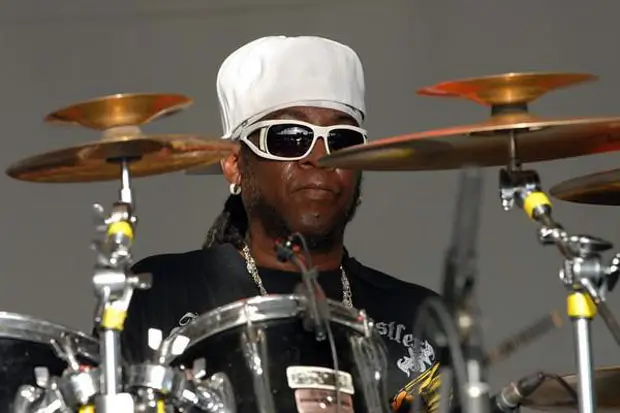 Despite his monstrous nickname, "Bigfoot" Brailey was actually a jazzy master of double-stroked fills and crafty grooves, as tracks like 1976's "Do That Stuff" demonstrate. Brailey didn't just add the crazy hi-hat offbeats and lead-foot bottom boom to Parliament's first million-selling single, "Give Up the Funk (Tear the Roof off the Sucker)," he co-wrote it. Leaving P-Funk shortly after due to a dispute with George Clinton over the band's finances, he still made his mark on Parliament albums like Mothership Connection and Clones of Dr. Funkenstein. When he was inducted by Prince into the Rock and Roll Hall of Fame in 1997, Brailey appeared at peace with P-Funk, fully embracing his time with the band and praising the effect that its network of offshoots and experiences had on his life. Still kicking, Bigfoot can be heard on records by Bill Laswell, James "Blood" Ulmer, and Snoop Dogg.
Most Booming Moment: The marching band cadence-style drum fanfare and heavy womp of Brides of Funkenstein's 1978 single "Disco To Go." PEGASUS WARNING
81. Tommy Ramone (Ramones)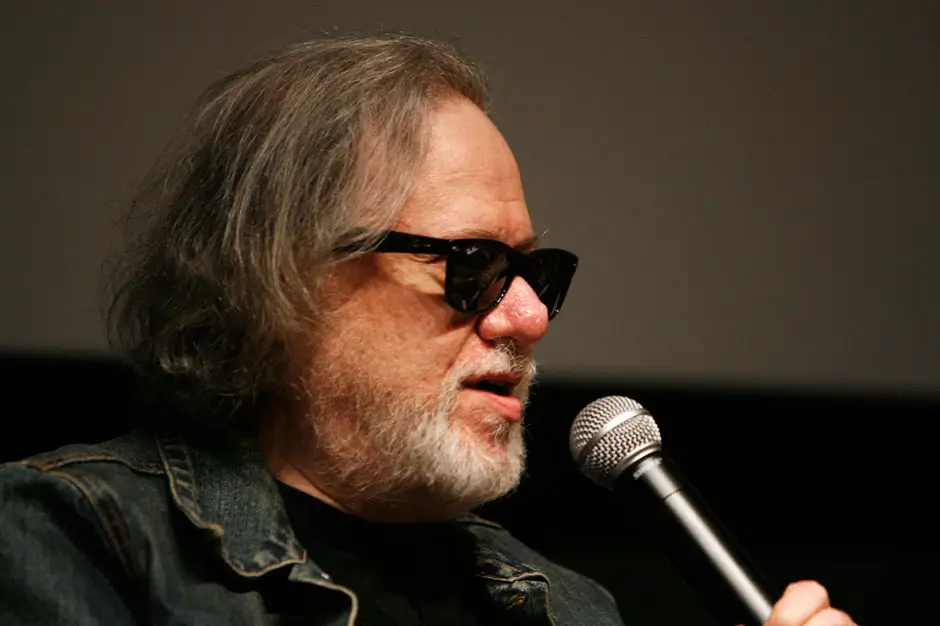 Desperate times require desperate measures. When the nascent Ramones were unable to find a drummer who could hang with their minimalist roar, it fell to Tommy, the band's mentor and manager, to get behind the kit. A guitarist by trade, Tommy had never really played the drums before, but his lack of training blended perfectly with the still-learning Dee Dee (bass) and Johnny (guitar), and forced him to come up with a stripped-down style that would be the blueprint for the next 35-plus years of punk and new-wave bashing.
Most Booming Moment: On the surface, early Ramones tracks may have appeared overly simplistic, but Tommy had a certain swing that set him apart, especially on Leave Home's bubblegum burner "Oh, Oh, I Love Her So." JON WURSTER
82. Martin Chambers (The Pretenders)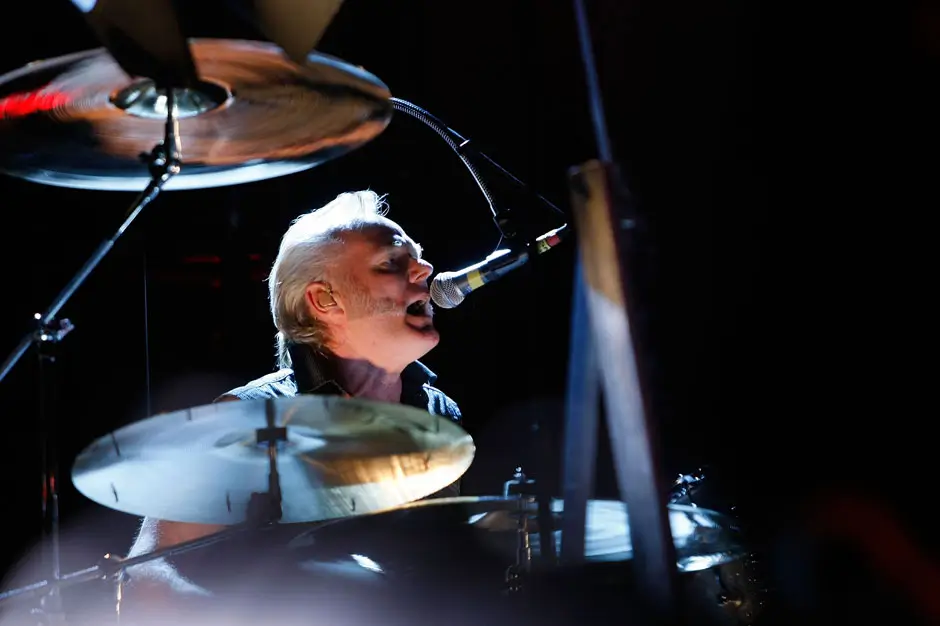 As a shit-hot drummer, Martin Chambers drove the Pretenders until they were a shit-hot band: He played hard and behind the beat, complementing Chrissie Hynde's forward attack, creating the band's urgent rhythmic tug. One of Chambers greatest contributions was to rock out in odd meters, something he did with a brutal, assertive flair on songs like "Tattooed Love Boys." He was also a joy to watch, clobbering a little crash cymbal hanging somewhere up around Pluto, each performance somewhere between a ballet and a bar fight.
Most Booming Moment: That sweet little offbeat two-bar fill on the second verse of "Message of Love" is good, good, good like Brigitte Bardot. MICHAEL AZERRAD
83. Jimmy Chamberlin (Smashing Pumpkins)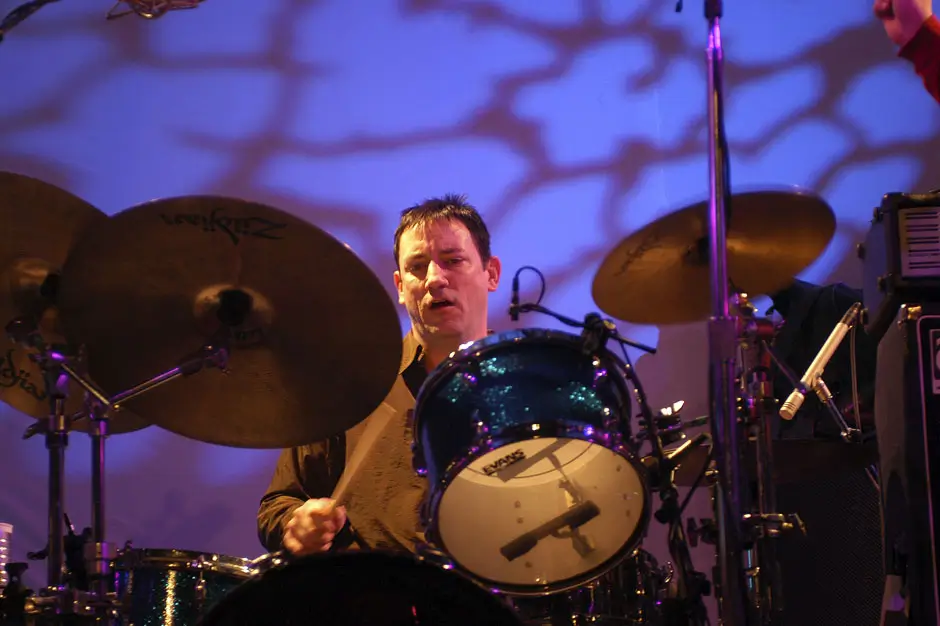 So much of Smashing Pumpkins' classic sound is defined by Jimmy Chamberlin's titanium snare slaps and gargantuan fills, it's nearly impossible to imagine that when the now-48-year-old musician first saw Billy Corgan's then-trio in Chicago, it was accompanied by a drum machine. Corgan gets credit for writing (and, let's face it, playing) nearly all of the Pumpkins' songs, but their depth and drive are all rooted in Chamberlin's forceful redefinition of psychedelic hard rock. He trained as a jazz drummer, which helps explain how he can turn on a dime from militaristic rolls to swinging cymbals to tight rim shots on a track like "Tonight, Tonight." But his taut, thunderous playing on Gish opener "I Am One" and "Tristessa" and Siamese Dream's "Cherub Rock" and "Quiet" are the rudders that kept Corgan's turbulent ship on course.
Most Booming Moment: Siamese Dream standout "Geek U.S.A." marches to the beat of Chamberlin's smart, syncopated monsoon. CARYN GANZ
84. Matt Cameron (Pearl Jam, Soundgarden)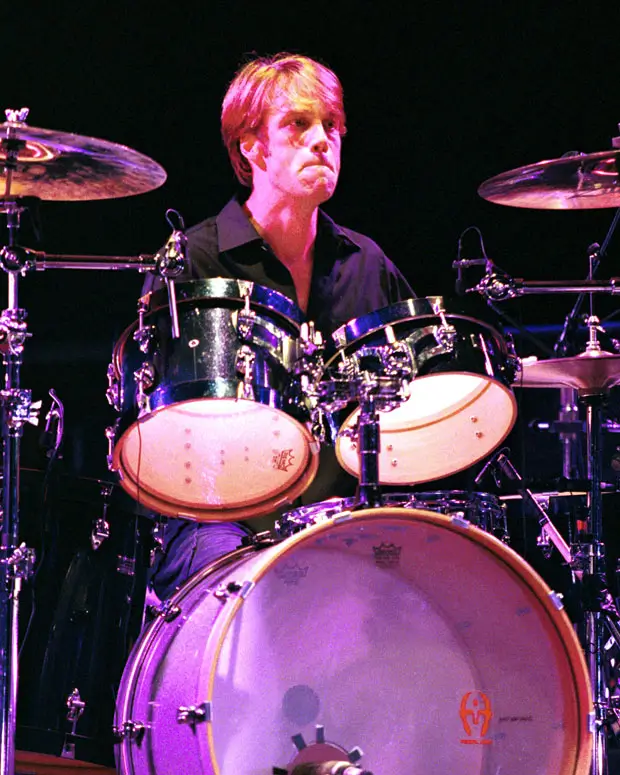 Former Skin Yard drummer Matt Cameron was already a Seattle landmark by the time he joined Soundgarden in 1986 — capable of thundering through jagged time signatures, gifted with ghost notes, and ready to employ more stately (some might say tasteful) rhythms when a song called for them. Perhaps more than any other drummer of his generation, Cameron has been a galvanizing force for every lineup he's joined, most recently as an anchor for Pearl Jam, grunge survivors who have become — 15 years after he stepped in to rescue a doomed tour and never left — a steady model for rock'n'roll workmanship.
Most Booming Moment: The terrifyingly precise entirety of "Jesus Christ Pose," from 1991's Badmotorfinger, where a 4/4 bulldozer groove is given enough twists and turns it's standing on the verge of prog. DAVID BEVAN
85. Stephen Perkins (Jane's Addiction, Porno for Pyros)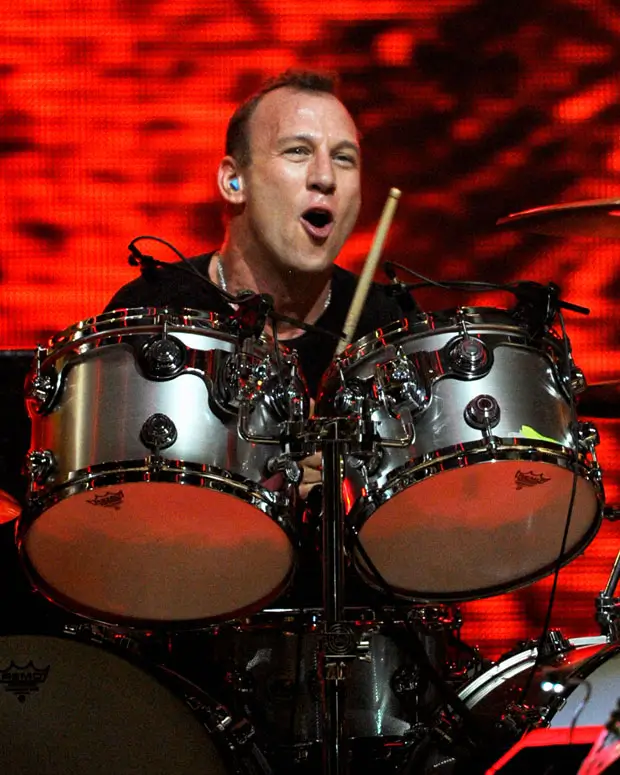 Jane's Addiction gave Los Angeles punk the majesty of arena rock, and the tumbling toms of Stephen Perkins were their steady engine. He mixed the brawn of his teenaged John Bonham fandom, the complex mastery of his jazz heroes like Gene Krupa, the swing of Hendrix's Mitch Mitchell, and the high-powered funk groove of a band trailing Fishbone's spotlight into the L.A. underground. The result was a frothing tom-tom bombardment — songs like "Ted, Just Admit It…" and "Mountain Song" from the band's 1988 breakthrough Nothing's Shocking feature Perkins' sticks bounding to all corners of his kit. While his busy batter made him a cult hero to drummers, Perkins could be a great pocket player, too — as MTV hits like Jane's Addiction's "Been Caught Stealing" and Porno For Pyros' subdued "Pets" attest.
Most Booming Moment: "Ted," from its dubby intro to its hard-swung, slow-motion funk groove to its convulsive breakdown. CHRISTOPHER R. WEINGARTEN
86. Drumbo (Captain Beefheart)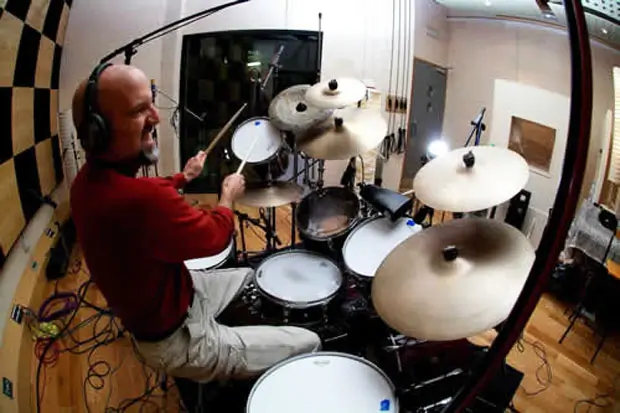 The man known as Drumbo formed half of one of the more volatile yet fruitful partnerships in rock history. His relationship with Don Van Vliet was by all accounts deeply troubled, governed by the Captain's surrealistic brand of mind control. But the friction between the two personalities — Beefheart the lunatic genius and Drumbo his trusty scribe, translating his ideas into a playable form for the rest of the Magic Band — made a landmark like Trout Mask Replica possible. Dismantling the concept of timekeeping, Drumbo created strange re-assemblages — clanking, limping contraptions built from rustling hi-hat, deadened tom-toms, and dinky-sounding woodblocks — that achieved a powerful inner logic. Later in his career, working with Frith French Kaiser Thompson and other non–Magic Band projects, he ironed out some of his idiosyncrasies, but even on 2008 solo album City of Refuge, his counterintuitive genius was still very much intact.
Most Booming Moment: During the opening seconds of 1970's "Lick My Decals Off, Baby," Drumbo sounded like an entire Latin percussion section, with each member sight-reading off a different score. HANK SHTEAMER
87. Will Calhoun (Living Colour)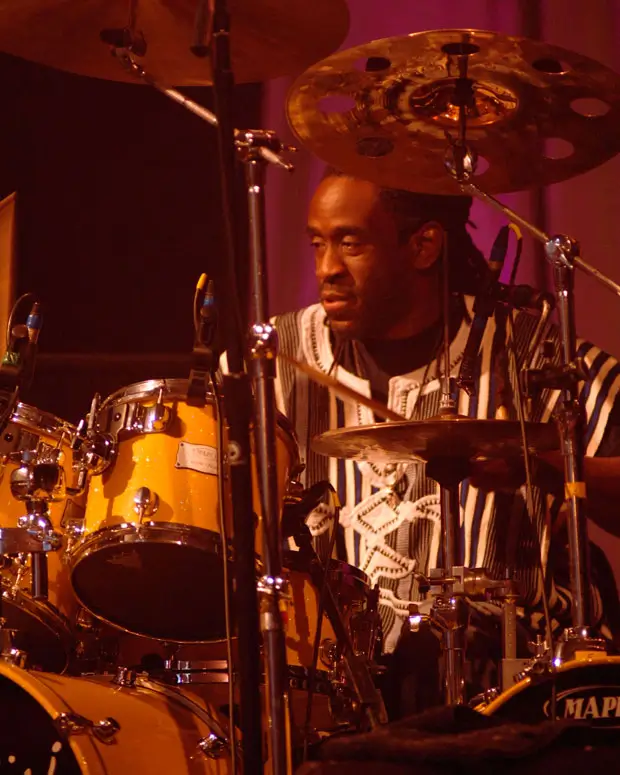 Somewhere between thrash, funk, and the occasional effortless prog flourish was the crushing Godzilla stomp of Will Calhoun, anchoring Living Colour's original three-record run through the '80s and '90s. His genre-blending was natural — growing up in the Bronx, he saw the rise of hip-hop producer Pumpkin, watched salsa bands at Orchard Beach, and left to be a Berklee-trained jazz student — ultimately bringing a love of Elvin Jones and rap to Headbanger's Ball and Lollapalooza. Never shy about showcasing his ridiculous chops, he sneaked them into rock-solid grooves — check the dizzying ride/hat interplay of 1988's "Middle Man"; the funky off-beats and dancehall breakdown in 1989's Bad Brains-style workout "Time's Up"; or the outrageously funky shuffle rhythms that counterbalance the quasi-industrial churn of 1993's "Leave it Alone."
Most Booming Moment: 1988's "Funny Vibe," where manic, bell-rocking, Stewart Copeland-gone-Tool ride-cymbal work collapses into a busy hi-hat groove. CHRISTOPHER R. WEINGARTEN
88. Tim "Herb" Alexander (Primus)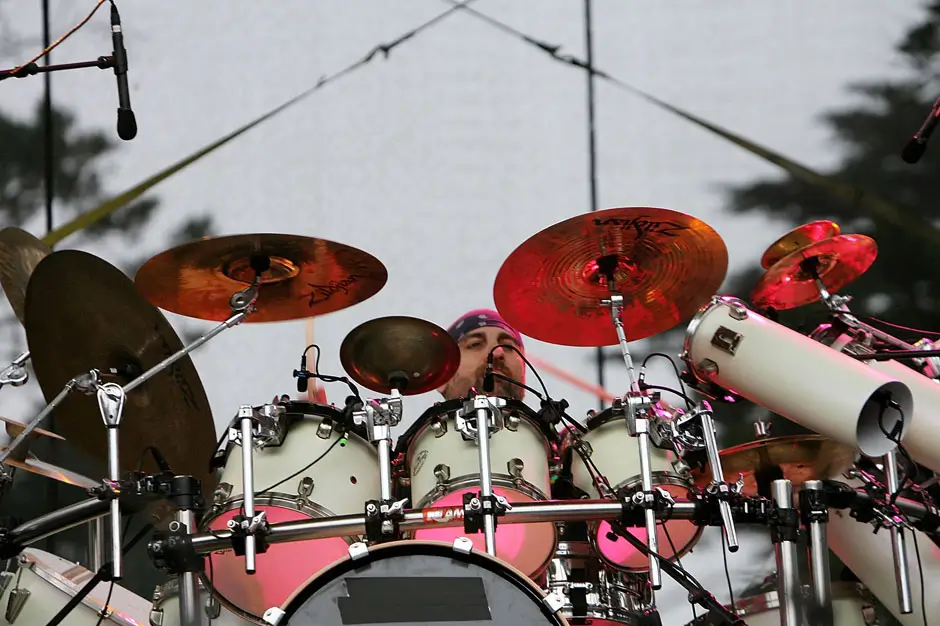 Months after Mudhoney's "Touch Me I'm Sick" dissolved alternative rock down to a sloppy, punky, caveman puke-and-beer puddle, Tim "Herb" Alexander was laying down a ping-ponging, kick-spluttering, somersaulting actual drum solo on Primus' 1989 debut Suck on This, beginning the Neal Peart fanatic's seven-year rebrand campaign with Rush-sized drumkits, Rush-sized ambitions, and Rush-sized chops. Holding down a rubbery cartoon-core band with focus and discipline, Alexander unleashed fills that were often like an orchestra pit come to life: cymbal bells, octoban runs, exclamation points of splash cymbal, and most notably, the tasteful double-kick flutters that turned hits like "Jerry Was a Racecar Driver," "My Name is Mud," and "DMV" into bottom-heavy syncopated wallops.
Most Booming Moment: The percolating tom-toms that pepper the intro to Primus' 1991 jam "Eleven," probably the funkiest song in 11/4 since the Allmans' "Whipping Post." CHRISTOPHER R. WEINGARTEN
89. Dale Crover (Melvins)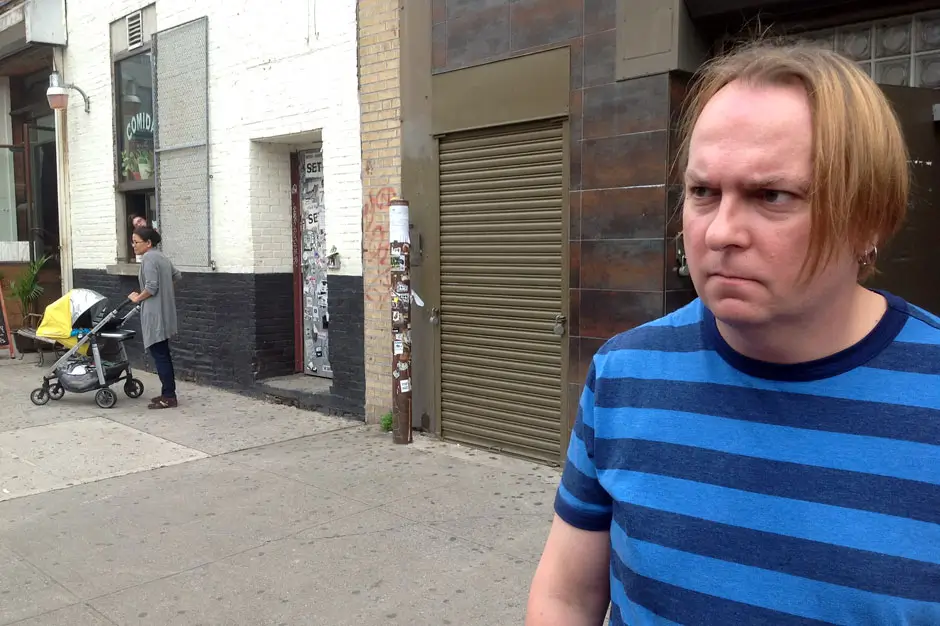 Mixing idiosyncrasy with elephant trample (he came up on KISS and Led Zep, naturally), Dale Crover's been the galumphing, crashing garbage-truck powerhouse of the Melvins since 1984. In that time, he's developed enough quirks to fill a stickbag — his massive toms, his affinity for clanging on metal "ribbon crashers" and chiming bells, his predilection for playing in a Speedo and gardening gloves. But all that undercuts his ability to drive the unlikely push-and-pull rhythms of a band that frontman King Buzzo describes as "Captain Beefheart playing heavy metal." To that end, Crover has developed a unique mix of Bonham freak-out, bubbling-lava kick blurble, zombie limps, and crashing unpredictability.
Most Booming Moment: While he can be remarkably musical — like the sing-songy marching cadence outro to 1996's "Captain Pungent" — it's hard not to marvel at Crover in full battery mode on the dizzying, fireworksy intro to 1993's "Honey Bucket." CHRISTOPHER R. WEINGARTEN
90. Dave Lombardo (Slayer)
At its apex, Slayer's classic "Angel of Death" whirs by at a head-spinning 232 beats per minute; then, after two drumming false starts, Dave Lombardo begins their 1986 cut "Necrophobic" at 248. While renowned as the speed champion of 1980s thrash, drawing inspiration from the Dead Kennedys and Black Flag LPs that his bandmate Jeff Hanneman lobbed at him, Lombardo was also one of the genre's most daring musicians, pulling off complicated hurricanes on a right-handed kit (even though he's a lefty). Thanks to these feats, he became the go-to drummer for experimentalists looking for an edge: Mike Patton drafted him to play Fantômas' heavy-metal soundtrack party, John Zorn tested his improvisational mettle on 2000's Xu Feng, DJ Spooky paired with him for 2005's Drums of Death, and artist Matthew Barney hired him to go crazy in one of the Cremaster films. Continuing to work with his own projects like hardcore group Philm, it's clear that Lombardo isn't planning on slowing down anytime soon. "I can see myself as Charlie Watts," Lombardo told Decibel in 2009. "An old man with gray hair. And blastbeats."
Most Booming Moment: While the three thunderous, dramatic tom pulses that signaled the intro to "Raining Blood" are Lombardo's most recognizable moment, the double-kick solo at 4:25 in "Angel of Death" is what all metal drummers aspire to. KORY GROW
91. Chad Smith (Red Hot Chili Peppers)
When bombastic beatbat Chad Smith joined the Chili Peppers in 1988, he brought the rhino-level heavy-hitting of heroes like John Bonham and Keith Moon with a nuanced groove that no drummer playing at that volume should reasonably manage. "The one thing that he has that no one else has is this brutal power," RHCP bassist Flea told DRUM! Magazine in 2011. "I mean, he's just a big guy with these long arms and he hits 'em so hard." But Smith is more than just a bulldozer: His funky use of Stubblefield-style ghost notes is unparalleled in the Lollapalooza set, and his tender-yet-propulsive double-bounced snare groove on 1999's "Calfornication" helped turn his band from a platinum band to a legacy act.
Most Booming Moment: Although 1995's Navarro-assisted amble "Walkabout" isn't exactly a canonical Peppers song, its highlight is Smith playing a confounding, turned-around groove on the bridge. CHRISTOPHER R. WEINGARTEN
92. ?uestlove (The Roots)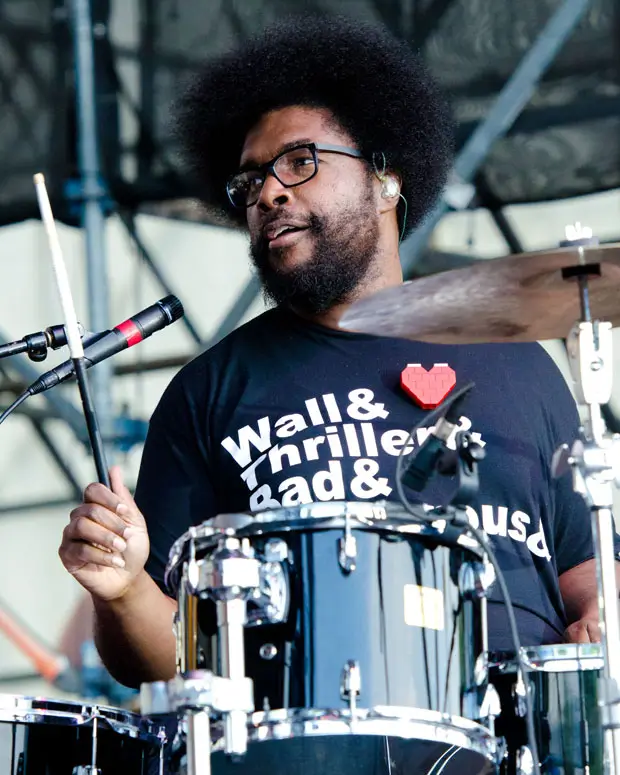 Sometimes a drummer is more than just a drummer — such is the case with the Roots' ambassador ?uestlove. He is, arguably, the connective tissue of contemporary music, bridging eras vertically, genres horizontally, and generations at 12:35 every weeknight on Late Night With Jimmy Fallon. He has played with Fiona Apple and Prince, helmed Jay-Z's two most acclaimed concerts (permanently altering how live hip-hop is supposed to sound) and laid down backbeats for the modern soul canon (D'Angelo, Erykah Badu, Jill Scott, etc.). And none of this is to minimize his scholarly mastery of the art of drumming itself — built off the same record-nerdery that makes great hip-hop producers, and sounding uncannily like a real-life approximation of great hip-hop production.
Most Booming Moment: The skittery back end of 1999's "You Got Me," where ?uest performed an analog version of percolating drum-and-bass popcorn snares and hiccuping hi-hats. JORDAN SARGENT
93. Steve Reid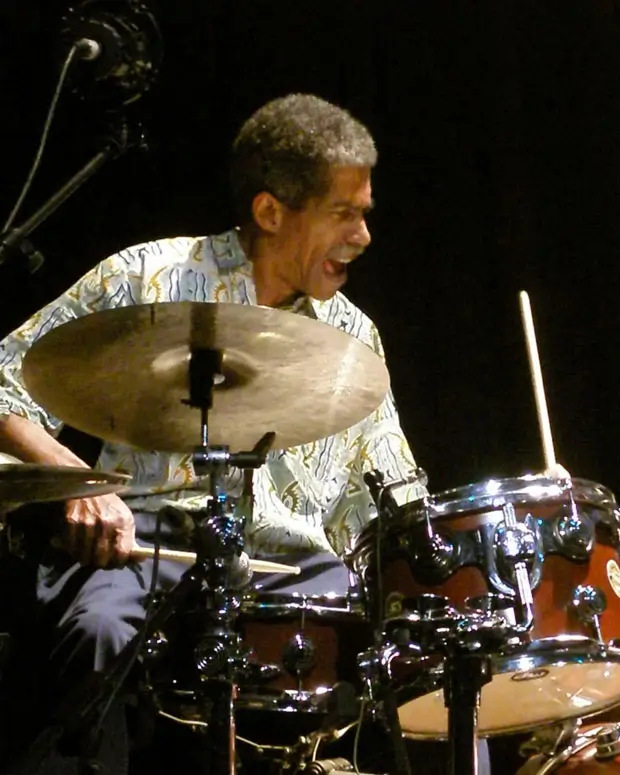 The résumé of New York jazz-and-beyond drummer Steve Reid is fairly insane. That's him smacking out the "brand new beat" on Martha and the Vandellas' immortal "Dancing in the Streets," as well as the heavenly midtempo groove on James Brown's "Popcorn." He's worked with Miles Davis, Sun Ra, and Fela Kuti, and brought a crackling momentum to unjustly obscure free-jazz classics such as Charles Tyler's Saga of the Outlaws. But Reid didn't come fully into his own eminence until the last four years of his life, when he linked up with ace Four Tet beatscapist Kieran Hebden. Together, the pair embarked on a quietly groundbreaking collaboration, yielding uncommonly earthy electronica, super-chill and melody-forward free improv, or abstracted psych-soul, depending on your perspective. The drummer's washy, protean grooves, which drew equally on all the idioms he'd surveyed throughout his career, never sounded more vivid or visionary — the capper to a truly blessed career.
Most Booming Moment: On "Lyman Place," from 2011's Live at the South Bank, Reid pounded out a quasi-motorik backbeat underneath Hebden's busy, bubbly textures, while guest saxophonist Mats Gustafsson added gruff, fire-music ornamentation on top. HANK SHTEAMER
94. Zigaboo Modeliste (The Meters)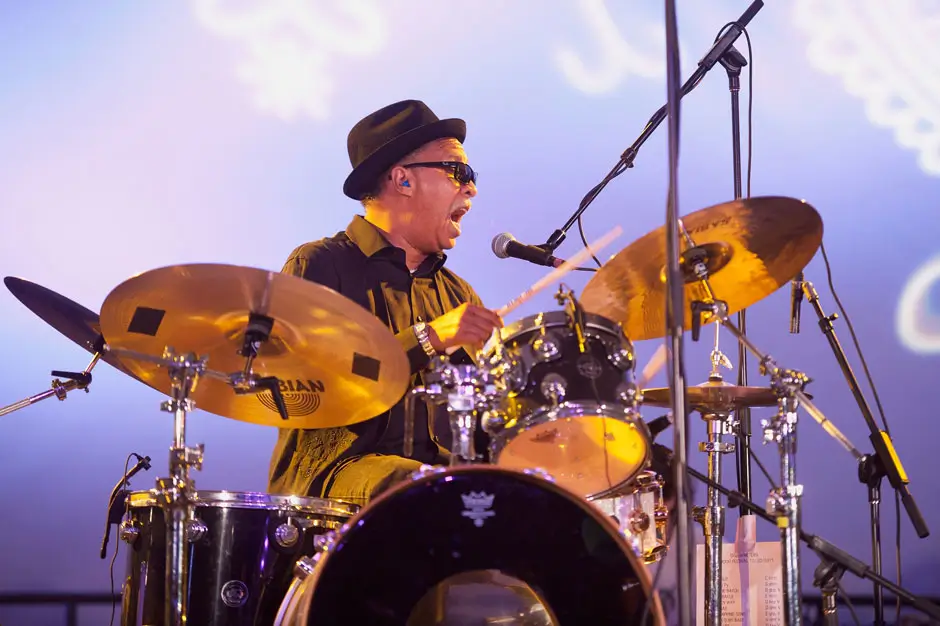 Pound for pound, no rhythm section packed as much wallop as New Orleans' Meters in the late 1960s. Absolutely key to the quartet's sparse but booming sound was Modeliste, whose deceptively complex hi-hat/snare patterns helped bring the Crescent City's second line rhythm tradition into pop music at large. Unlike drummers known for quick flurries and fills, Modeliste's style didn't need much ornamentation to stay bayou deep in the pocket.
Most Booming Moment: As one of the Meters' first big hits, "Cissy Strut" (1969) introduced Modeliste's ridiculously heavy stickwork to the world. OLIVER WANG
95. Jaki Liebezeit (Can)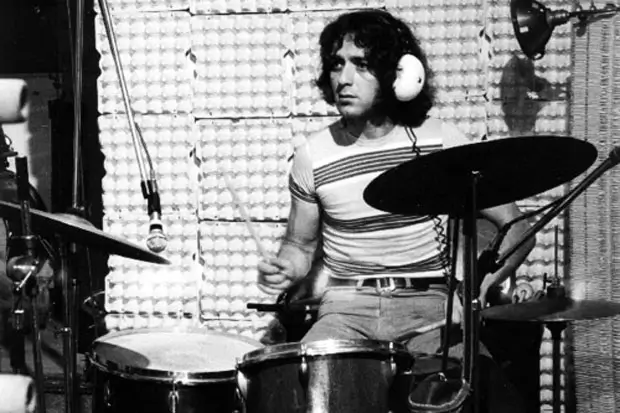 After playing jazz both cool and free, Jaki Liebezeit co-founded German art-improv-trance ensemble Can in 1968. The Buster Keaton of drummers, he perfected a deeply funky yet mechanically precise drumming style, laying the rhythmic asphalt for his bandmates' wild excursions into the musical hinterlands. Where other rock drummers of the era exploited their place on the throne to indulgently advertise their own primal prowess, Liebezeit (whose name translates as "love time") developed an unwavering entrainment that his bandmates, as well as audiences, into heady synchronized states.
Most Booming Moment: Liebzeit locked it all down during Tago Mago's 18-minute, side-long "Halleluhwah." RICHARD GEHR
96. Terry Bozzio (Frank Zappa, Missing Persons)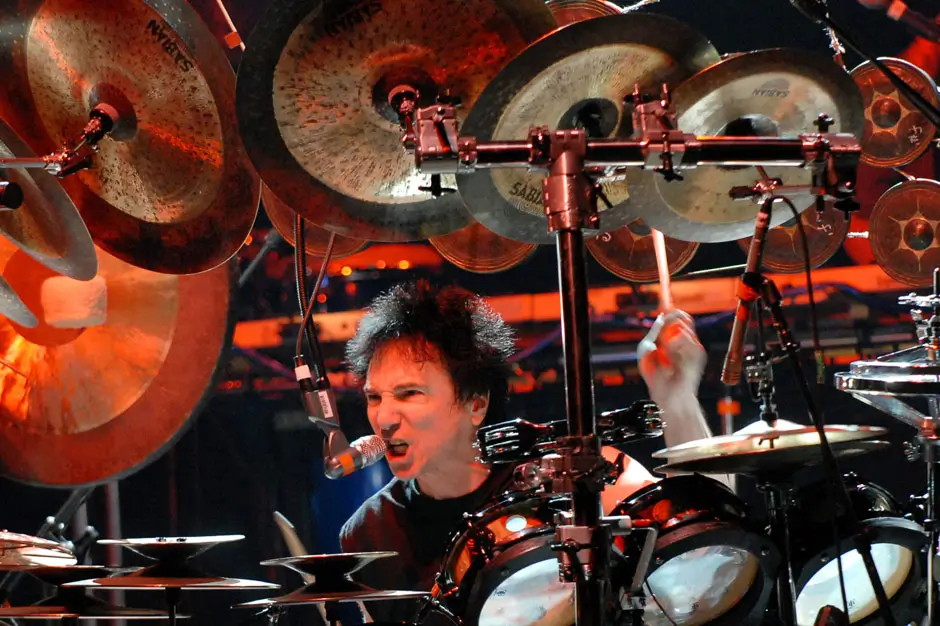 Bozzio represented the exact midpoint between the prog '70s and the new-wave '80s. In 1975, after studying classical percussion and playing in rock musicals like Godspell, he joined up with Frank Zappa, mastering the mad-genius composer's absurdly complex "The Black Page" drum solo in just weeks. From that point on, Bozzio was the guy you called when you wanted to combine muscle with gonzo technicality. He later transitioned from King Crimson spin-off U.K. to Missing Persons, a spunky synth-pop outfit — featuring lead vocals from his Playboy bunny ex-wife, Dale — that allowed him to show off the sleeker side of his talent. In recent years, he's freelanced with everyone from Korn to Fantômas, turning up for gigs with a kit the size of the Millennium Falcon.
Most Booming Moment: The double-bass-and-cowbell-fueled intro to "The Only Thing She Needs," from the 1979 U.K. album Danger Money, still sounds like it was played by several maxed-out drum machines at once. HANK SHTEAMER
97. Tony Allen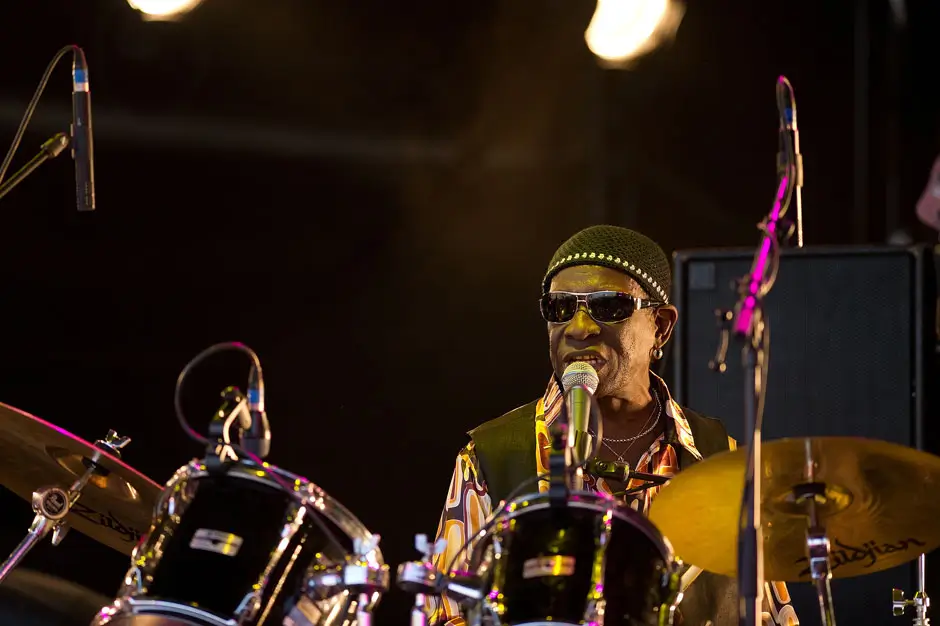 Afrobeat was the collaborative love child of Nigerian bandleader Fela Kuti and Tony Allen, the one drummer in late-'60s Lagos able to effectively combine jazz and highlife. The only member of Fela's Afrika 70 band to write his own music, Allen created smoothly flowing polyrhythmic puzzles, propelling his bandmates from slightly behind the beat, as though he were four drummers playing at once. Allen's drumming is cool and cross-tribal, funky and fluid, an endless river of rhythm in which Fela splashed.
Most Booming Moment: While Allen's more than 30 Fela-helmed albums could be heard as a single Afro-maximalist symphony, 1974's single-track Confusion opened with a revelatory keyboard-drum duet before achieving liftoff. RICHARD GEHR
98. Stewart Copeland (The Police)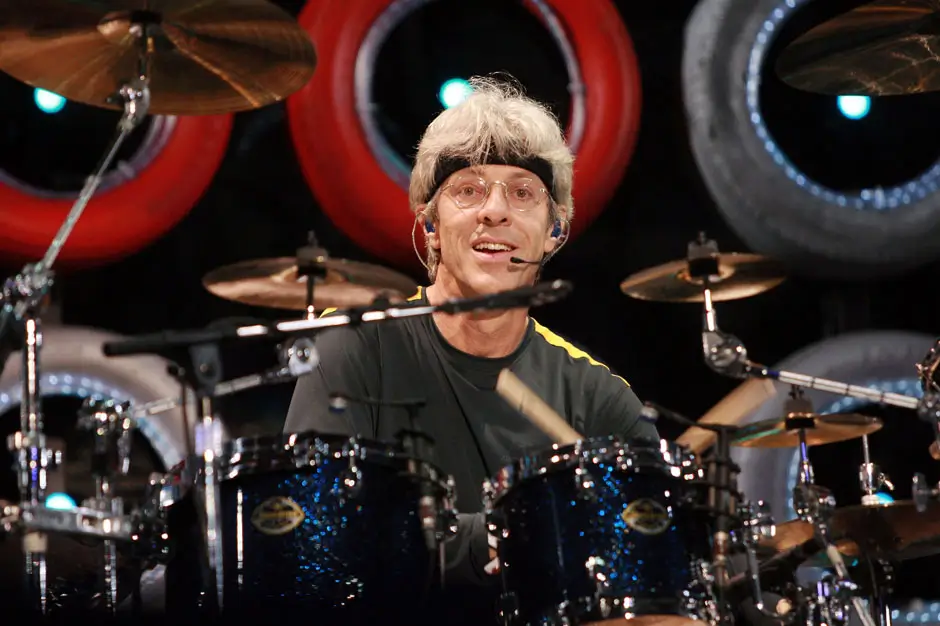 It's easy to forget just how revolutionary Stewart Copeland's drumming sounded when "Roxanne" first hit U.S. airwaves in 1978. His tightly tuned snare and reggae-tinged, emphatic thumping resulted in a style so thrilling that it demanded respect and attention. In an early interview he boasted, "I've never heard anything that was beyond me, it's the imagination that counts." That unwavering confidence and creativity flowed over some of the most inventive, influential drumming to ever invade mainstream pop radio — like the slamming regatta de blanc of "Can't Stand Losing You," the masterfully accented ride and rattling hats on "Every Little Thing She Does Is Magic," or the cracking flams and splashes accenting the power ballad "Wrapped Around Your Finger."
Most Booming Moment: The near-constant barrage of micro-fills and syncopated cymbal splashes in 1979's "Message in a Bottle" would be overkill in the hands of anyone else, but in Copeland's, it becomes a percussive masterpiece. JON WURSTER
99. Clyde Stubblefield and John "Jabo" Starks (James Brown)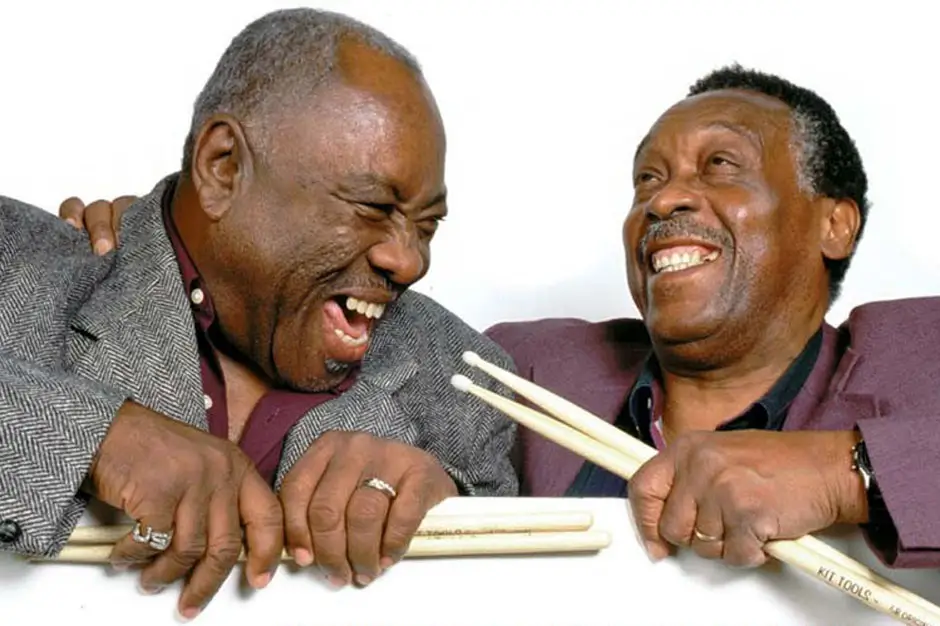 Hired by James Brown in 1965, his two most influential drummers were known to play together — the solid bedrock of session veteran John "Jabo" Starks rubbing against the impulsive clatter of Clyde Stubblefield like two samples meeting on an SP-1200 — but they made history apart, too. The one and only "funky drummer," Stubblefield eventually became the most storied of Brown's stickmen. His swinging, highly syncopated style was a key part of his boss' most influential hits, including "Cold Sweat," "Mother Popcorn," and of course, "Funky Drummer," where Stubblefield's break became one of the most popular samples in hip-hop history. Though overshadowed by his longtime bandmate, Jabo Starks anchored the James Brown band on more songs than any of Brown's other drummers. Originally trained as a jazz player, Starks had a sophisticated sense of timing and groove that created a proto-funk template in R&B. Countless Brown singles attest to Starks' mastery of the trap set, including "Super Bad," "Soul Power," and "The Payback."
Most Booming Moments: The 1986 Brown compilation In the Jungle Groove includes a remix of the 1970 live version of "Give It Up or Turnit a Loose" that strips down the bridge so we can clearly hear Brown yell out "Clyde!" which triggers Stubblefield to thunder in with a crushing four-bar break. And James Brown's 1970 single "Get Up (I Feel Like Being a) Sex Machine" wouldn't be the same without Starks laying down a nasty backbeat to get your sweat (and other) glands working. OLIVER WANG
100. Dave Grohl (Nirvana)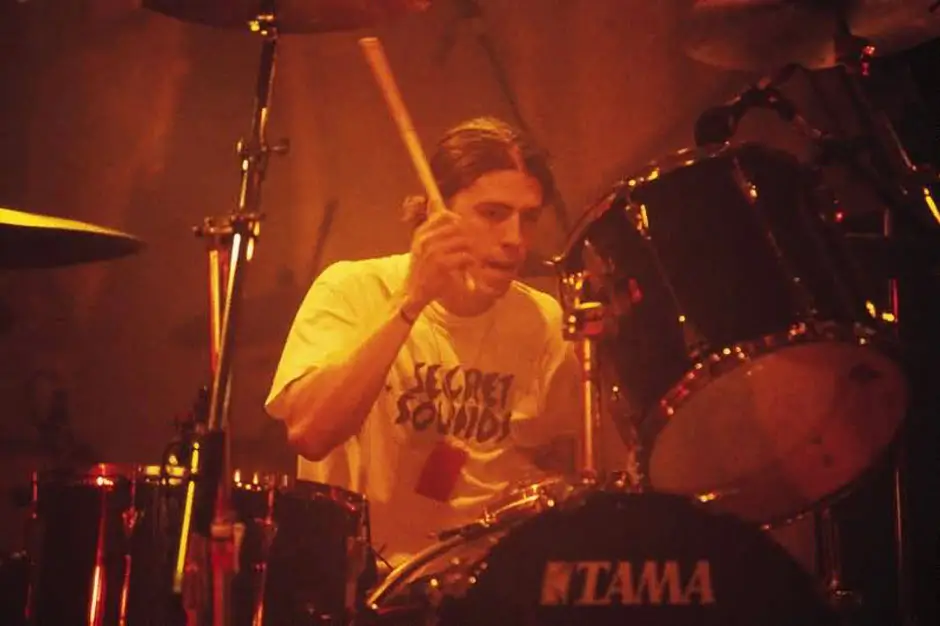 Yes, this guy plays drums, too! Dave Grohl didn't always have the most accurate timing (the tempo to "Smells Like Teen Spirit" slips around) or the most nuance (he still totally slams on power ballads) ? but that's precisely the point. Just as Nirvana's unexpected Billboard triumph was a victory for the unpolished, Grohl's arms-overhead bashing was a sign that emotion, feeling, and sweat took priority over pulling off that paradiddle. A self-educated punk-rock drummer — as a teenager, he would use a chair as a hi-hat, a book as a snare, and play along to Minor Threat — his aggressive style had wowed Nirvana's Kurt Cobain and Krist Novoselic when they saw Grohl's hardcore band Scream. "We knew in two minutes he was the right drummer," Novoselic said in the Nirvana bio Come As You Are. "He was so bright, so hot, so vital. He rocked." As seven-hit Foo Fighters albums can attest, Grohl has always had an ear for melody, and even his drum parts have a sing-songy quality to them, often as iconic as Cobain's riffs — it's hard to sing 1991's "In Bloom" without adding those bloop-bloop tom fills, and the fleet-footed stomp of 1993's "Scentless Apprentice" is like one of Grohl's drumming heroes, John Bonham, wearing heavy Doc Martens. Shout out to Taylor Hawkins, the jackhammering drummer of Foo Fighters, for carving out a sound of his own in the wake of Grohl's loud colours and influential shapes.
Most Booming Moment: While any number of Nirvana songs have memorable drum parts, its hard to ignore Grohl's tom-clobbering Keith Moon turn in Queens of the Stone Age's 2002 single "No One Knows." CHRISTOPHER R. WEINGARTEN