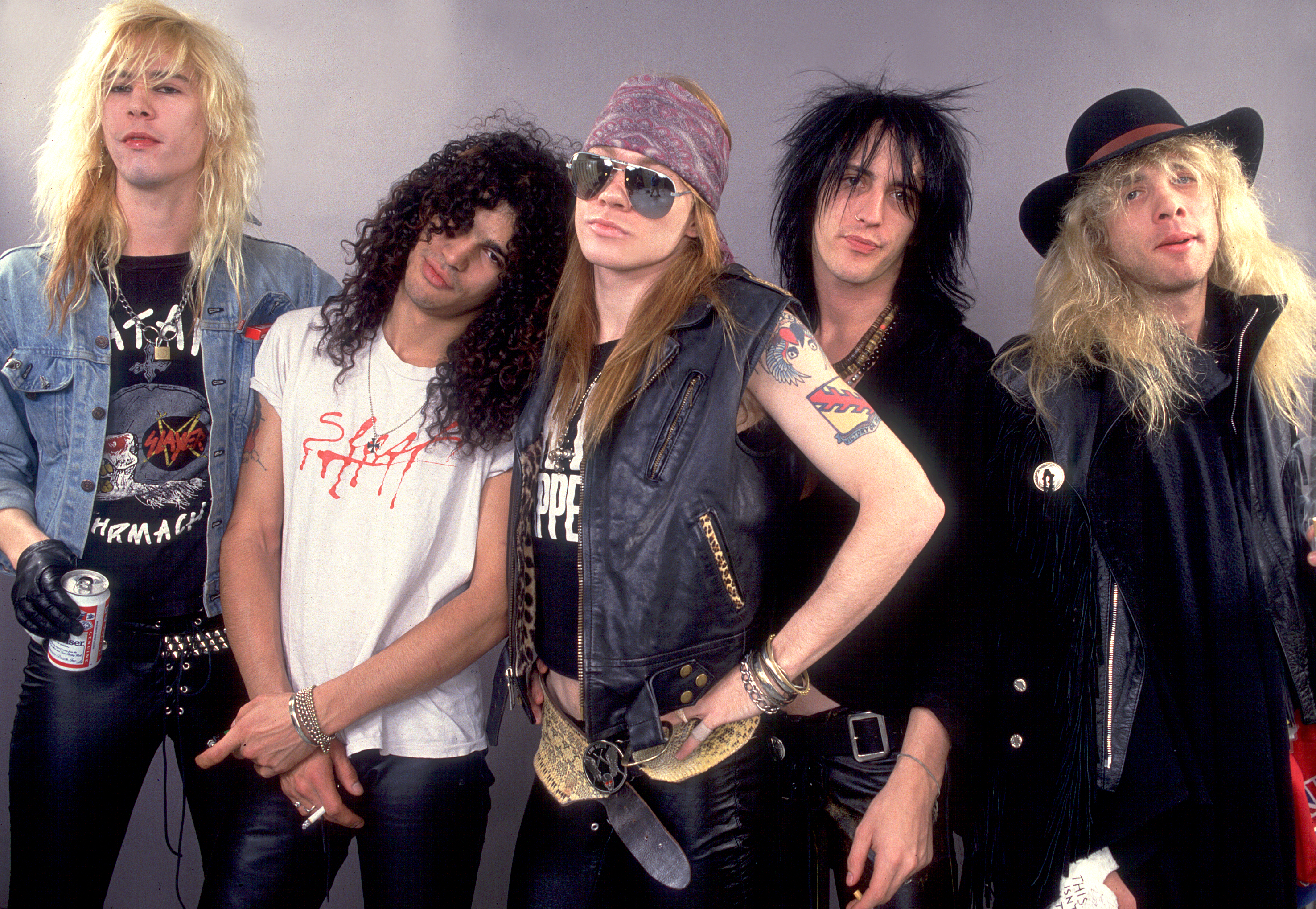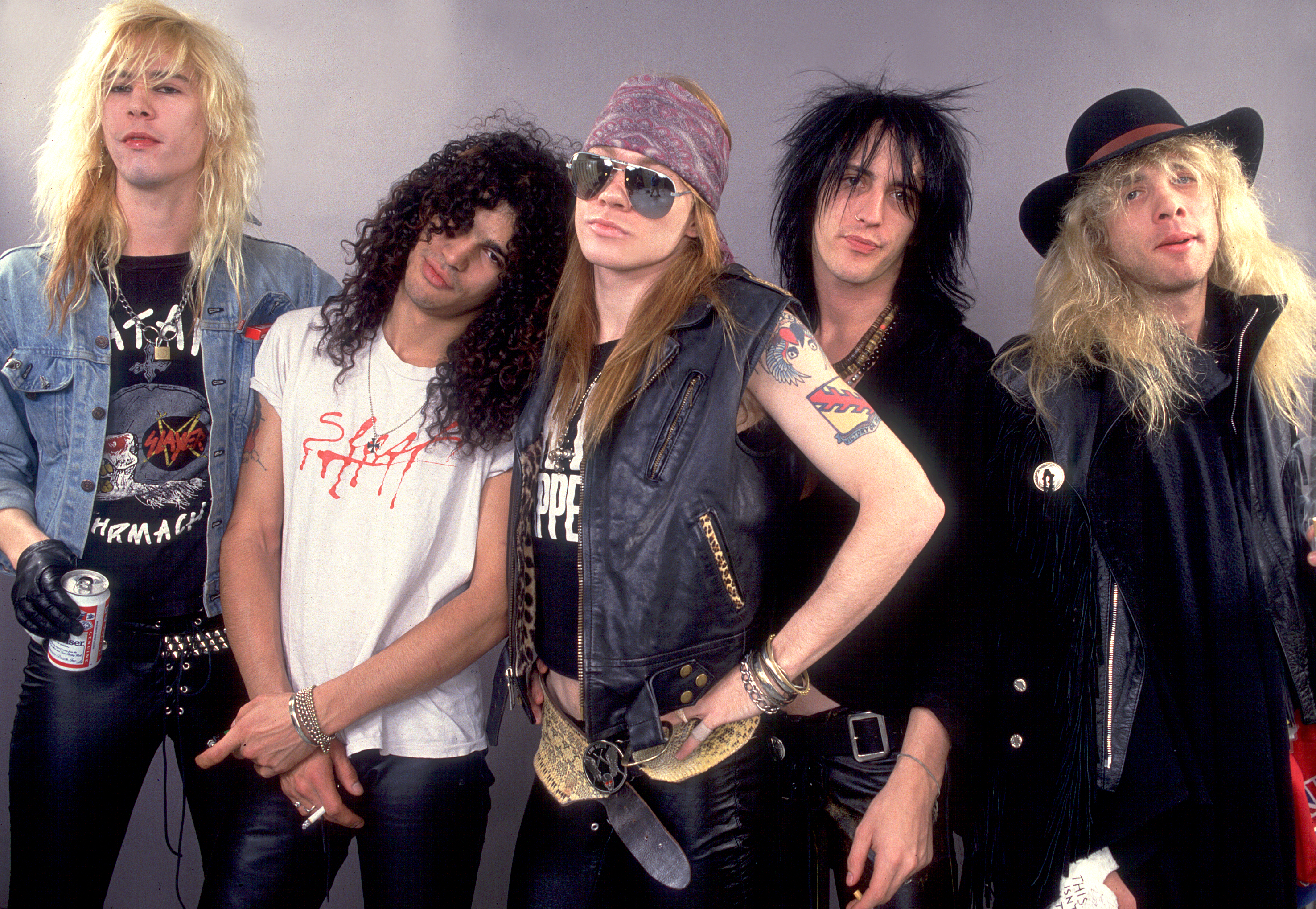 Sandwiched between glam metal and the Seattle grunge scene, Guns N' Roses looked less like a band and more like a bunch of slightly effeminate bikers. Their mean mugs, inked arms, and leather jackets contributed heavily to the quintet's otherness. While Tommy Lee was teasing his hair, Steven Adler was shattering his hand in a bar fight.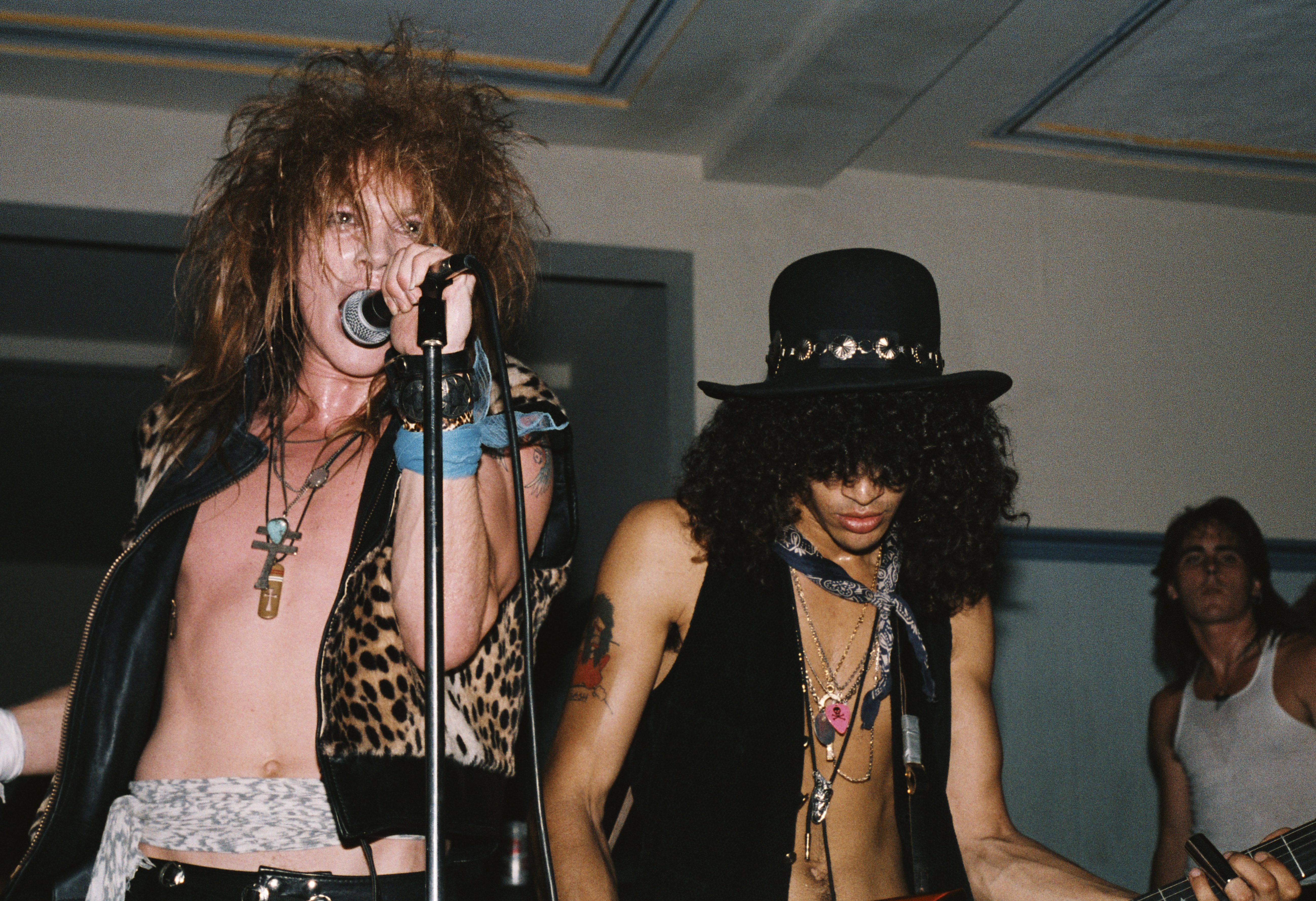 Unlike their cohort, GnR wasn't preoccupied with costume-driven popularity or the existential angst trickling down from Washington. Instead, the band (the classic lineup, anyway) officially formed in 1985 with the intent to produce punk-inspired hard rock, with an aesthetic that said, "We're nothing like you," while borrowing from everyone.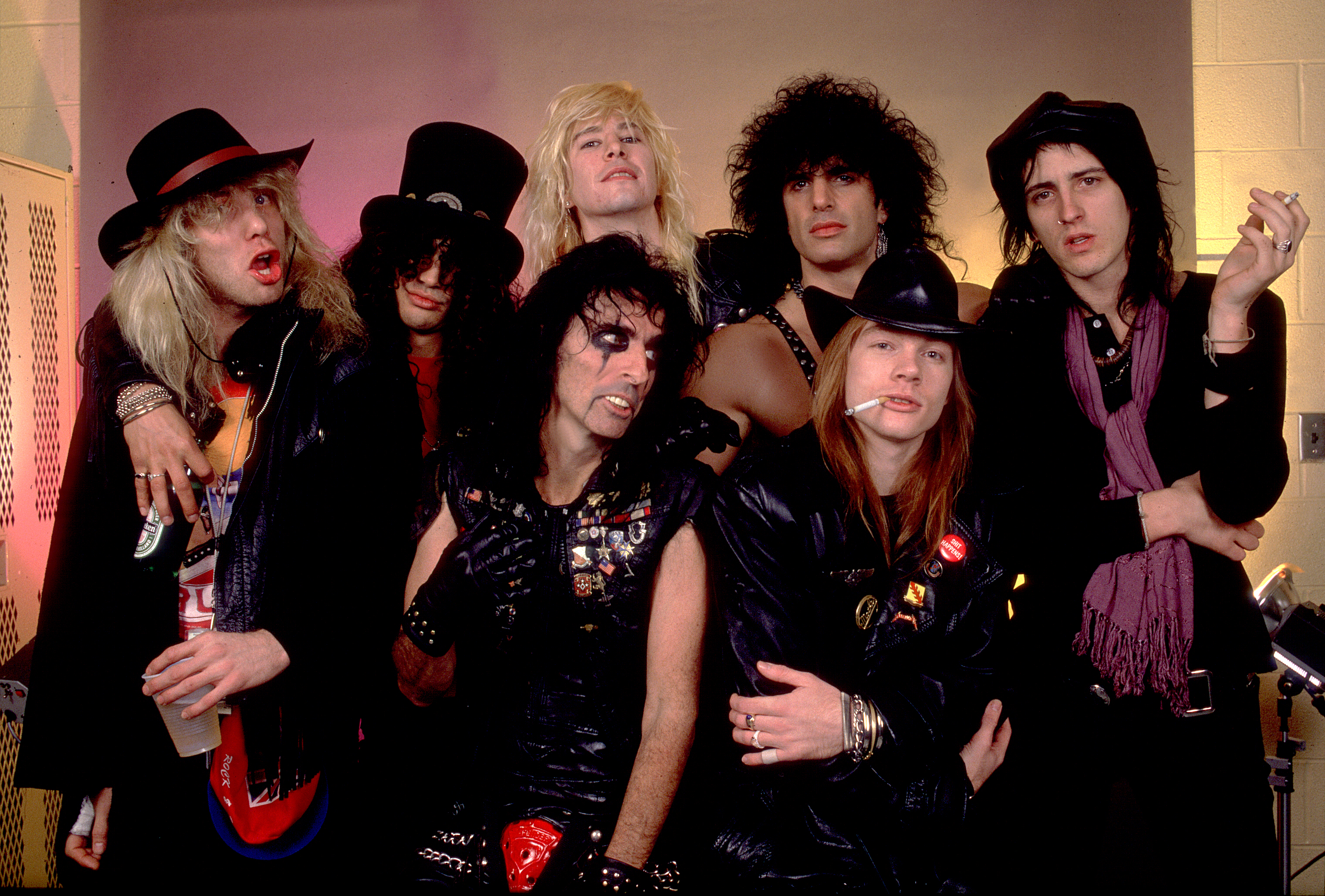 Axl Rose, who was raised William Bruce Bailey, learned of his biological father's surname when he was 17. Soon after, he adopted the last name "Rose" and moved to Los Angeles where he formed the band AXL.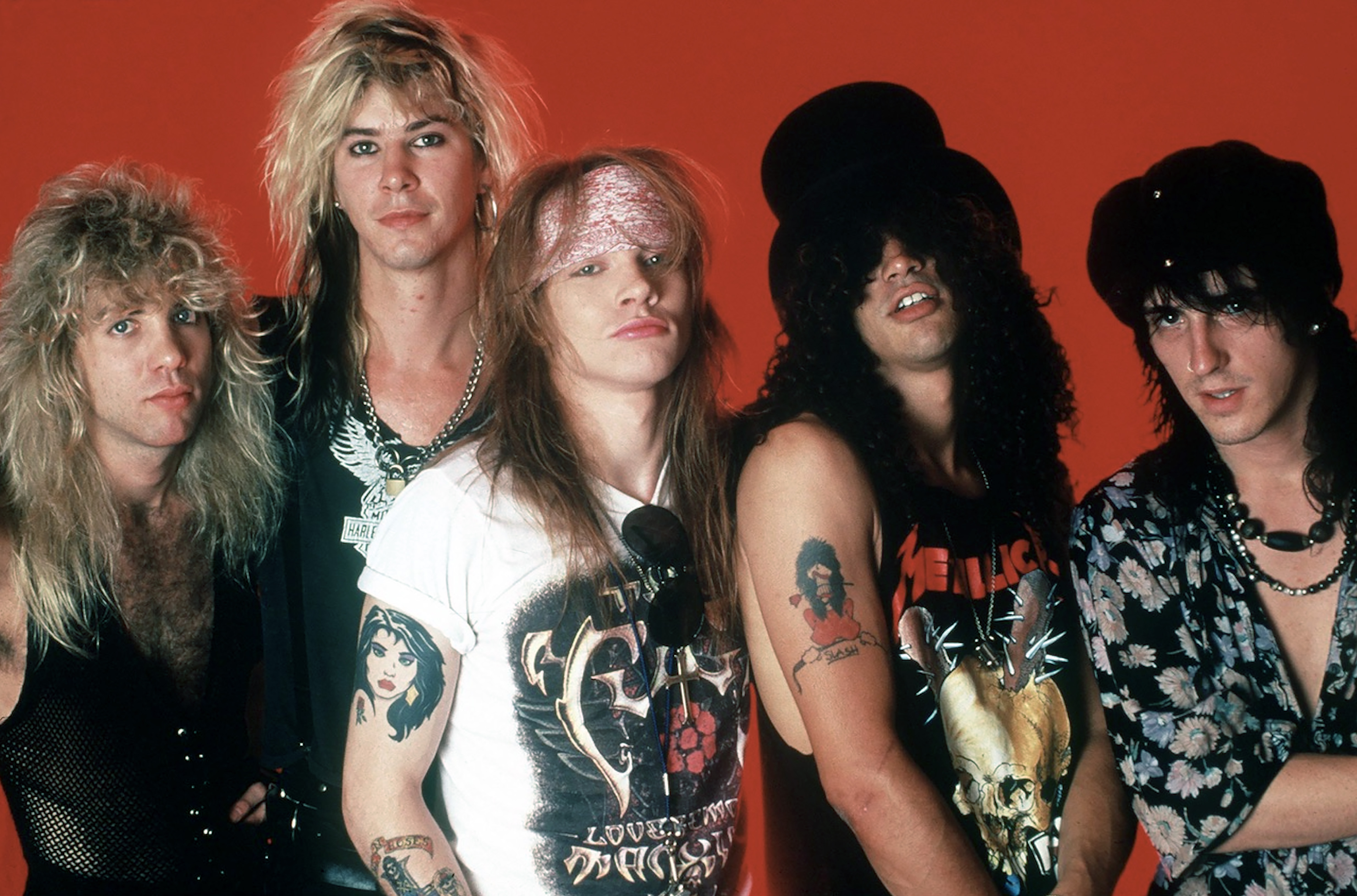 A few years later, in 1983, Axl and Izzy Stradlin (guitar) created the band Hollywood Rose. They then teamed with L.A. Guns member Tracii Guns to form what would become Guns N' Roses. Oddly enough, the name wasn't their first choice. They also considered "Heads of Amazon" and "AIDS."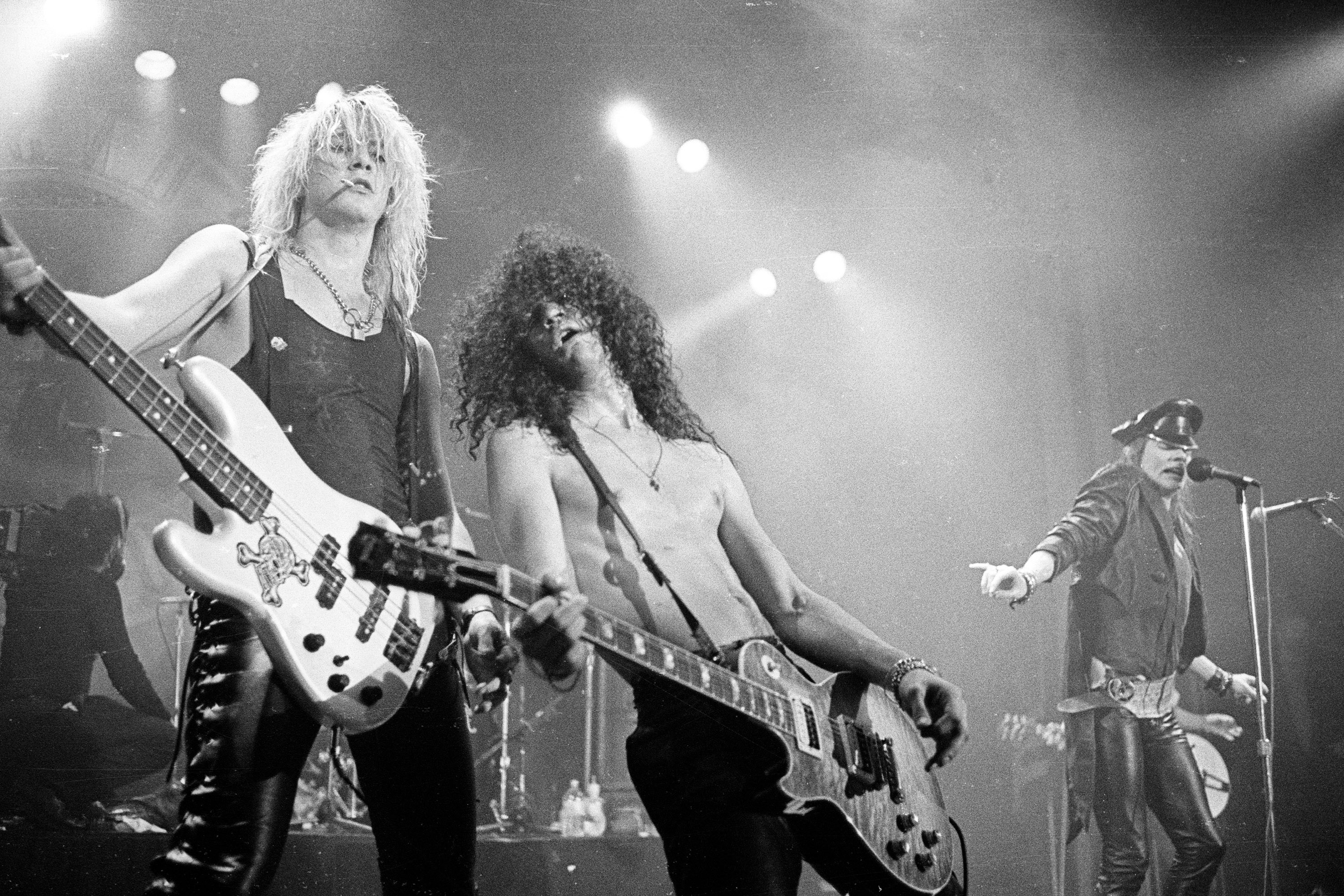 After a slew of arguments involving Axl Rose, Tracii Guns (lead guitar), Rob Gardner (drums), and Ole Beich (bass) were replaced in GnR by Slash – a former member of Hollywood Rose – Steven Adler, and Duff McKagen, respectively. This combination of musicians would eventually acquire the moniker "the most dangerous band in the world." Two years later, they would release Appetite for Destruction, one of the best-selling debut albums of all time. The trajectory of their lives and the industry changed forever.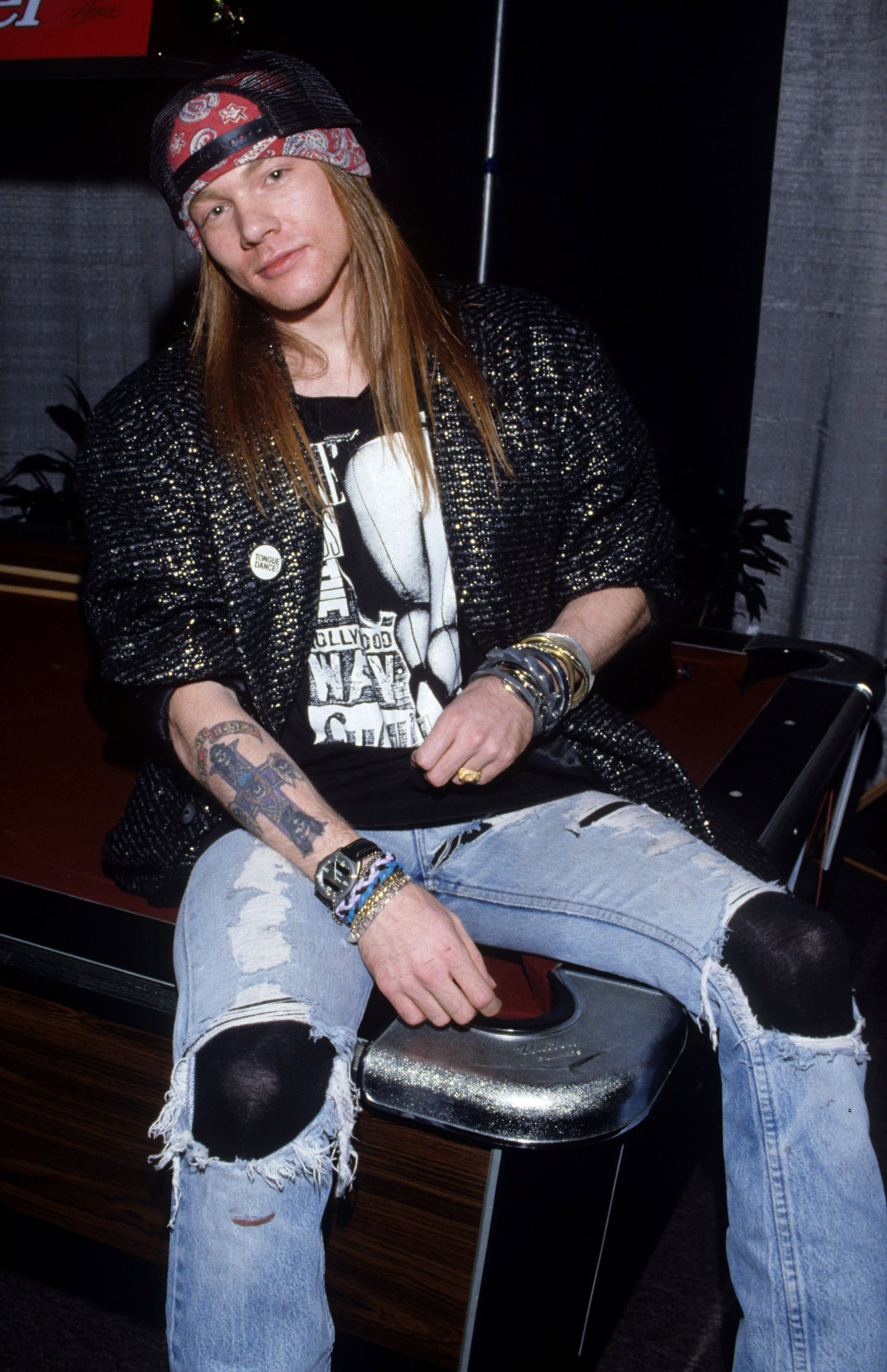 After discovering his biological father's identity, Axl Rose learned some darker details about the man from whom he'd long been estranged. Allegedly, when Axl was two years old, his father kidnapped and molested him for a short time before fleeing their hometown of Lafayette, Indiana.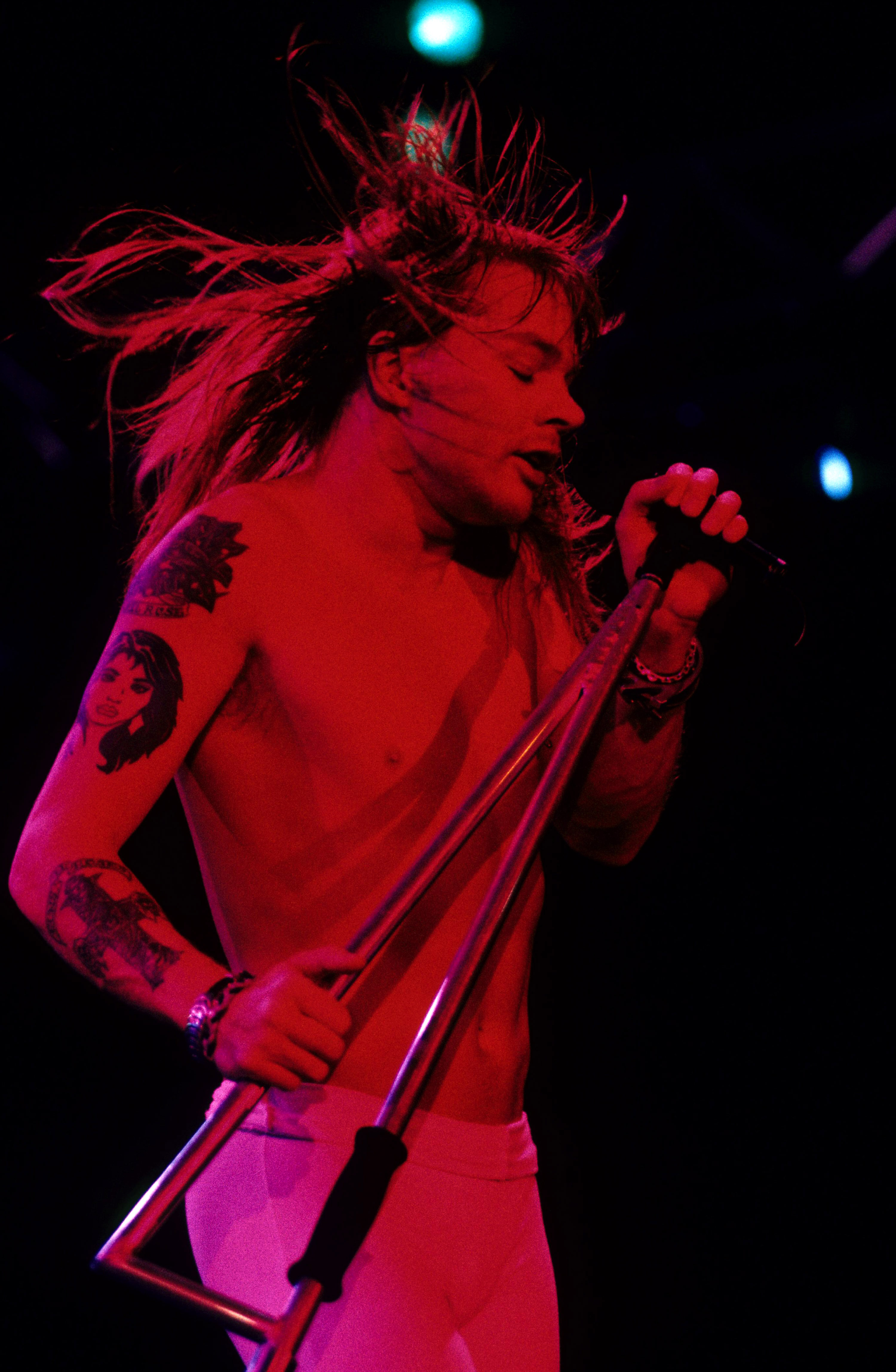 Upon learning this information, Axl began acting out, drinking, and consistently breaking the law. He was arrested over 20 times before his departure to Los Angeles. His struggle with trauma, however, had only just begun manifesting.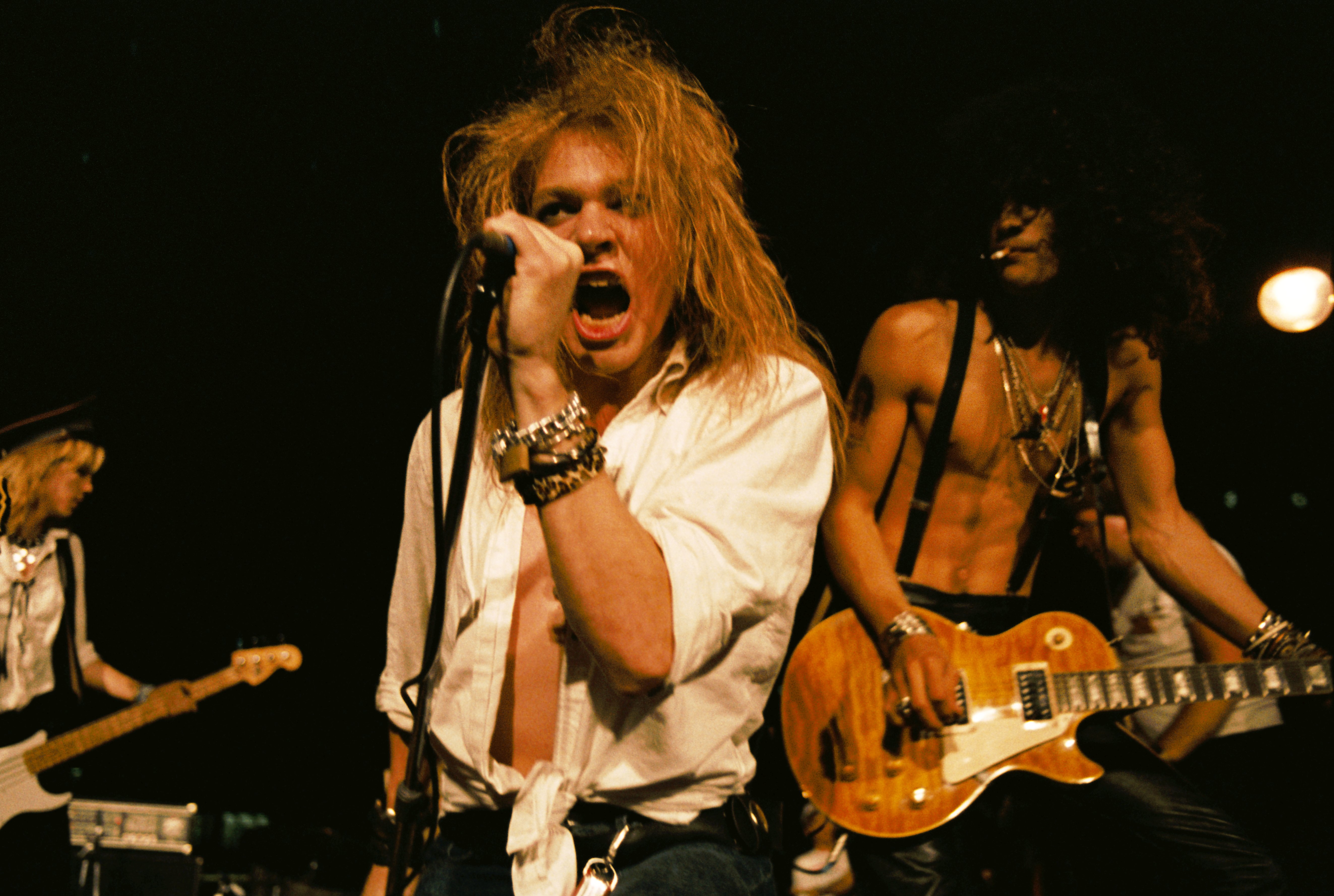 When Axl arrived in LA, he still went by his first initial, "W." It wasn't until his intense, borderline obsessive interest in his first band, AXL, that his bandmate suggested he adopt the sobriquet himself.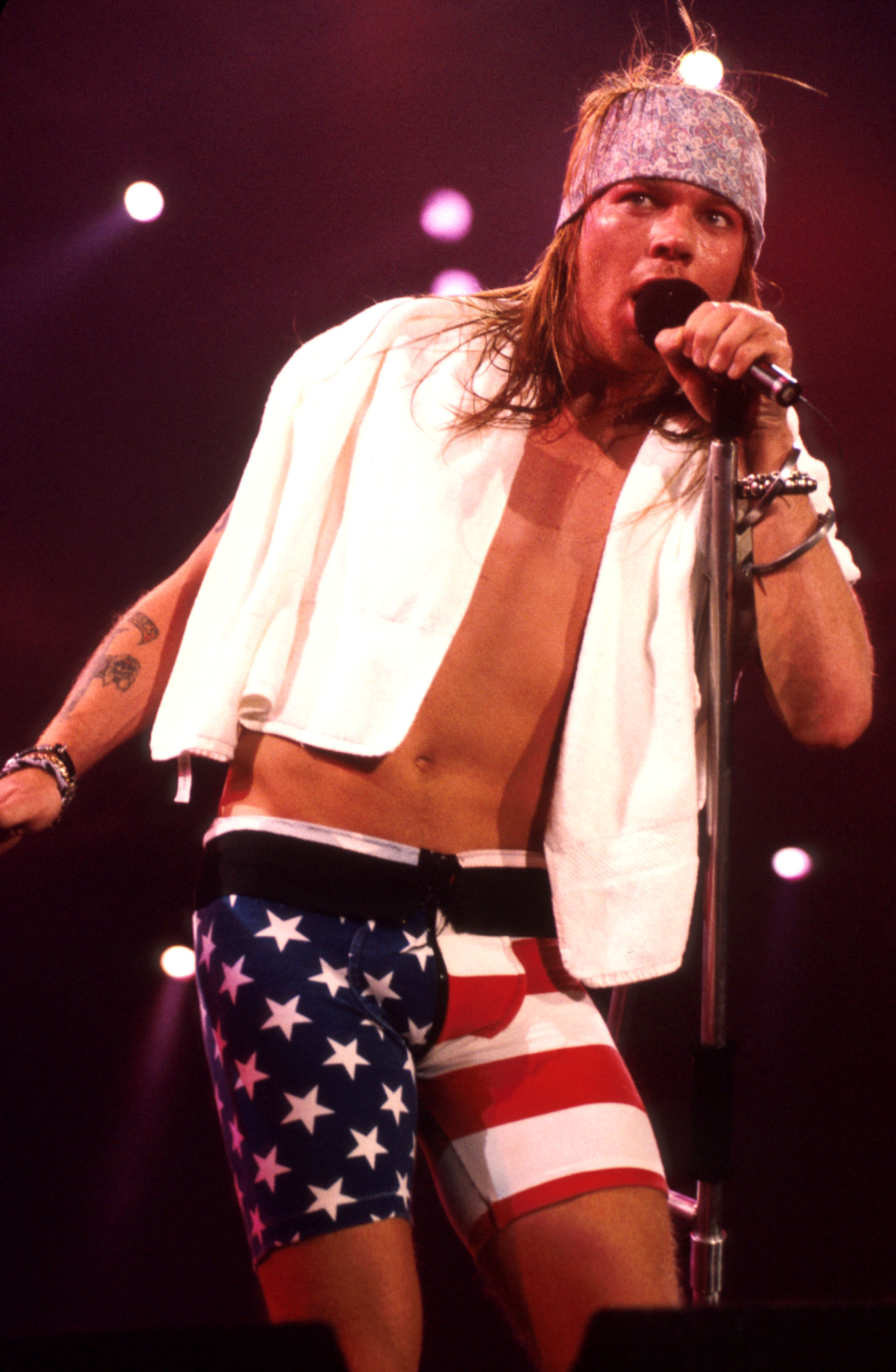 Then, when Axl was invited to become the lead vocalist of L.A. Guns, his disagreeable disposition and deep-seated issues with authority really surfaced. Tracii Guns recalls, "Axl got into an argument with our manager and our manager fired Axl but we all lived together so it was all really weird. So, that same night he got fired we started Guns N' Roses and I called Izzy the next day and said, 'Hey, we are gonna start this new band called Guns N' Roses, do you want in?' It was as simple as that, no paint or cocaine involved."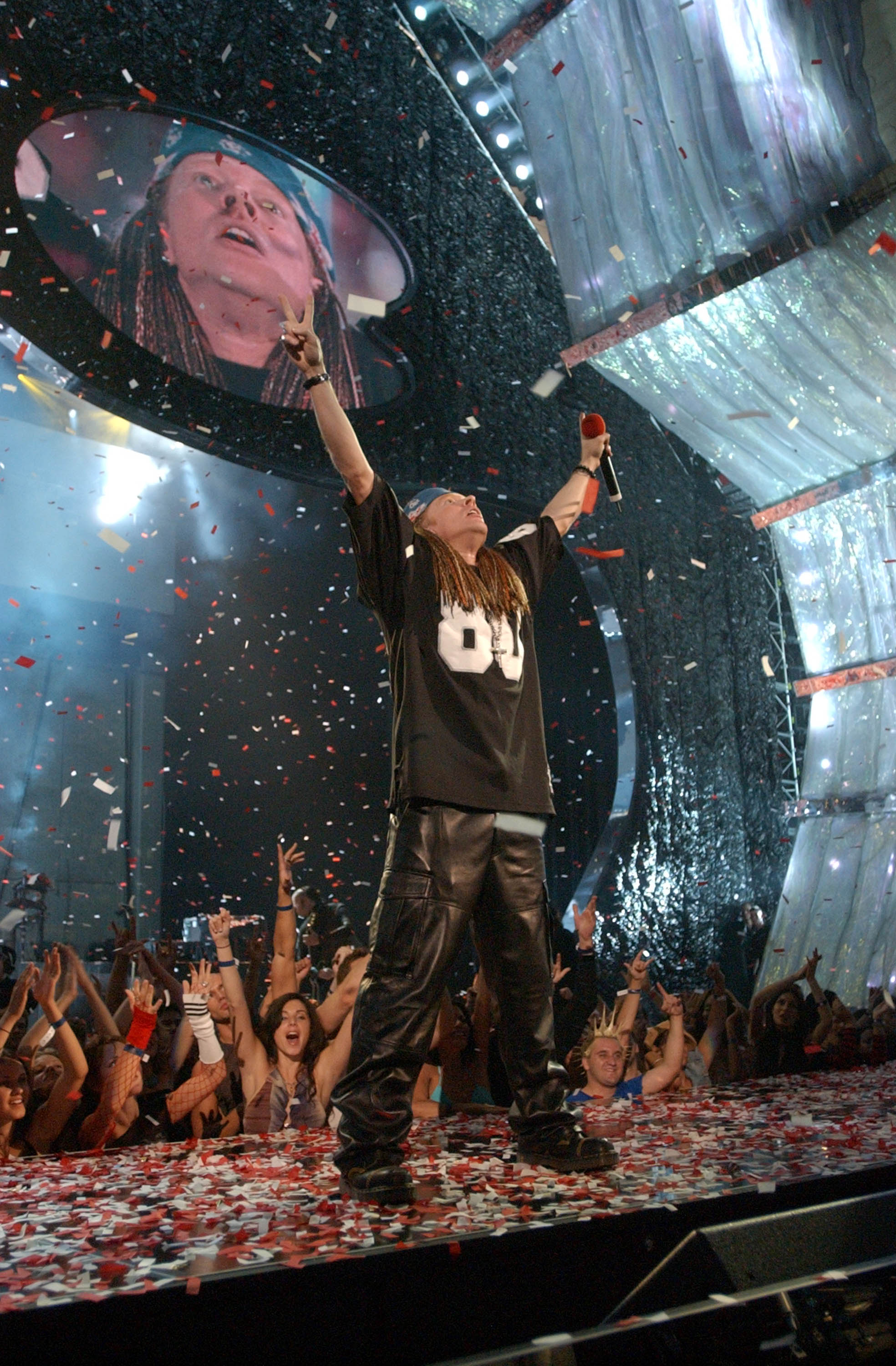 Rose exhibited similar behavior throughout GnR's zenith: fits of rage, refusal to perform (resulting in more than one riot), arrests, late arrivals to sold-out shows. But it was Axl's propensity for executive decision-making that really rubbed the band the wrong way. The band's bassist Duff McKagen recalls, "…There was no democracy there. And that's when Slash really started going, 'Fuck this. What, this is his band now or something?' ... It was ridiculous. I'd go down there to start rehearsal at 10, and Axl would show up at four or five in the morning. That sort of thing was going on for a couple of years."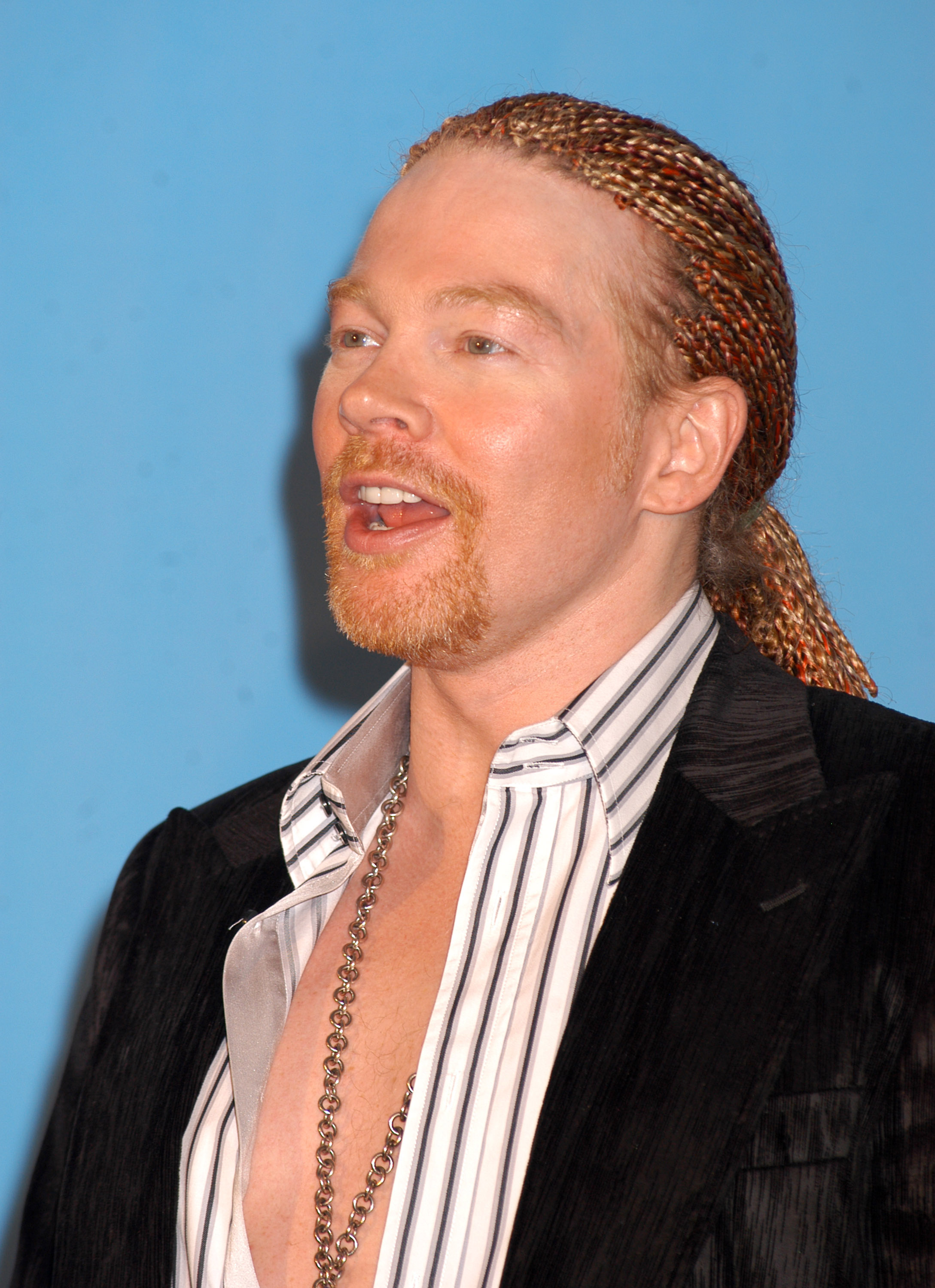 It's alleged that Axl once told Geffen Records – the band's label – that he didn't "want input from anybody at all." Eventually, Axl obtained full rights to Guns N' Roses through a discreet and manipulatory legal process. None of the members knew it happened until it already had. In an interview, Slash told MTV, "I was blindsided by it, more or less a legal faux pas. I don't know what he's gonna do, as far as that goes. But I'd be lying to say I wasn't a little bit peeved at that. It'd be one thing if I quit altogether. But I haven't, and the fact that he can actually go and do that without the consent of the other members of the band…".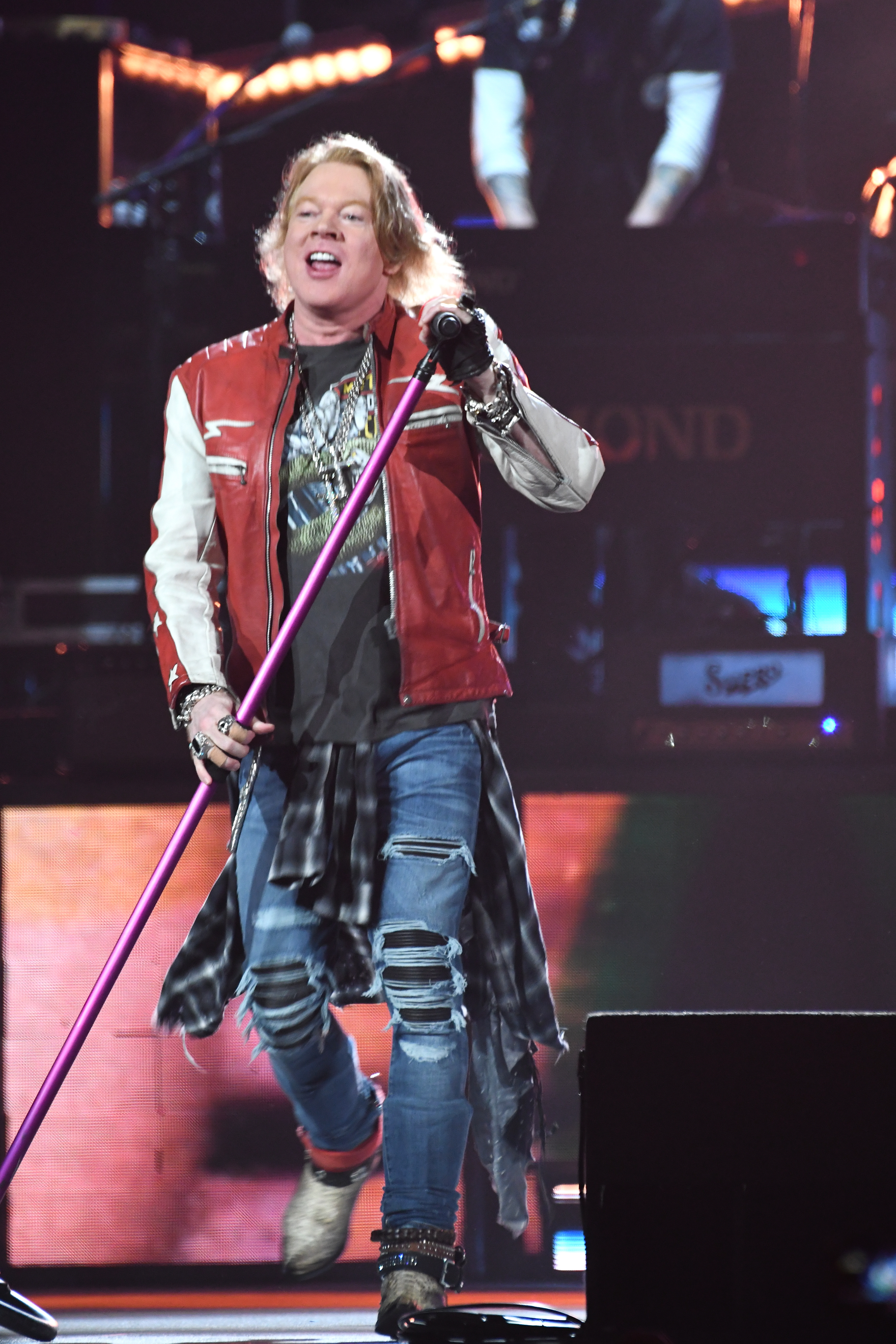 Axl Rose has also been accused of homophobia, racism, and the public glorification of serial killer Charles Manson. When asked about his homophobic and racist tendencies, Rose explained that he wasn't necessarily homophobic, but rather "pro heterosexual;" he said he felt comfortable using the N-word because "it's a word to describe somebody that is basically a pain in your life, a problem."
Drugs & Alcohol - Part 1
13/25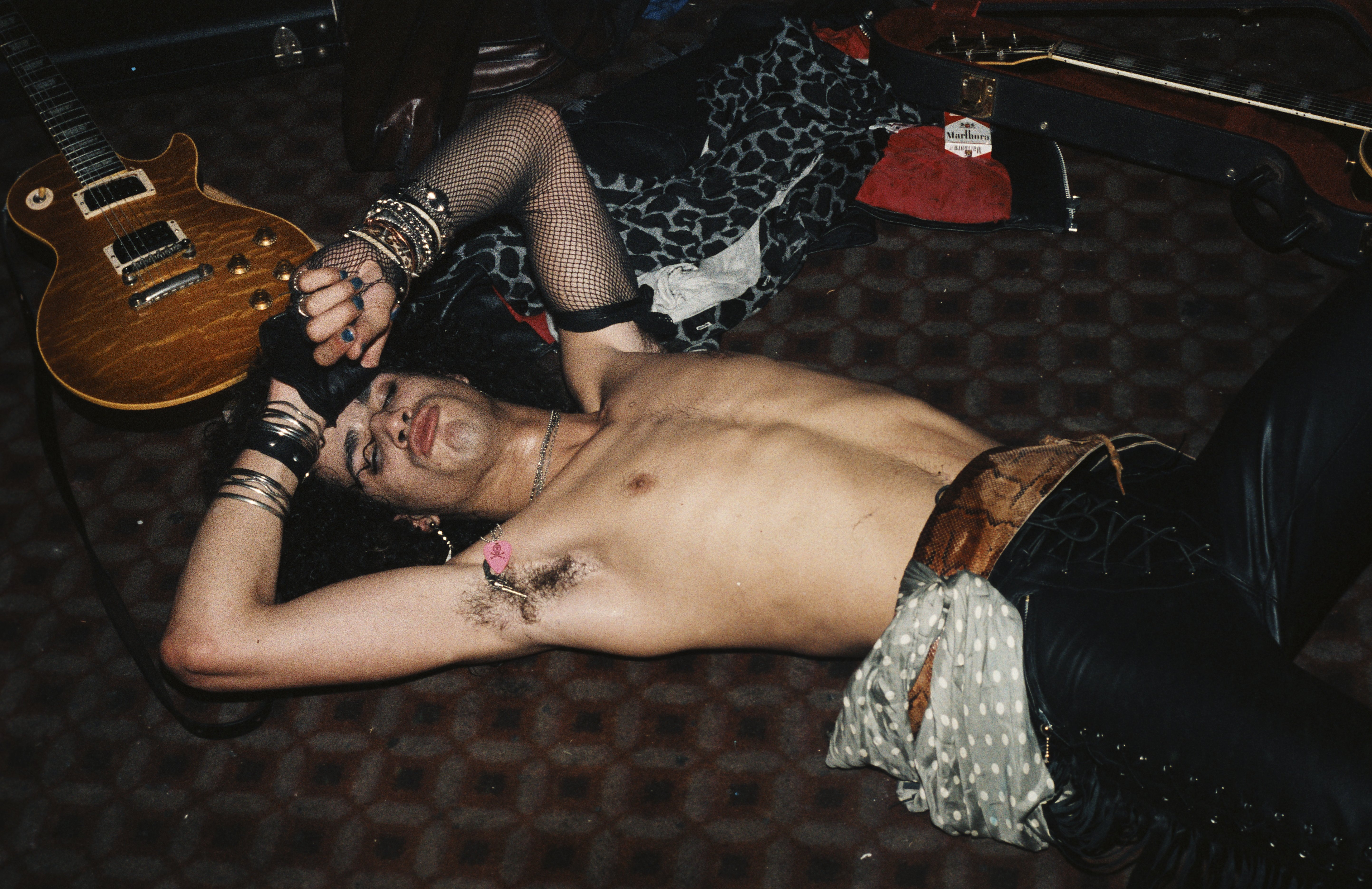 Despite popular belief, Axl Rose wasn't the only wrench in the works. Like so many other bands at the time, Guns N' Roses was plagued with dependency and addiction issues.
Drugs & Alcohol - Part 2
14/25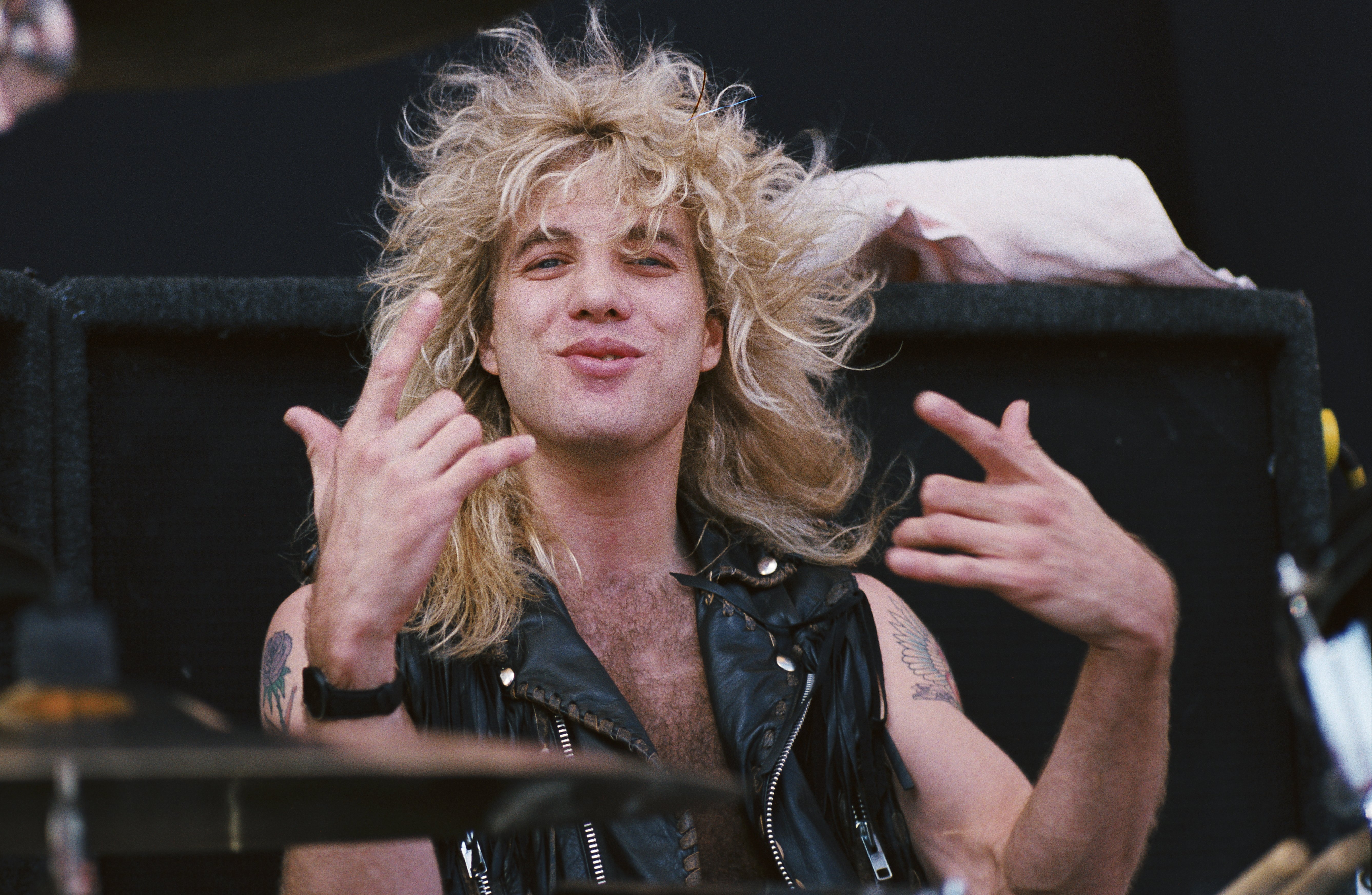 In 1990, Steven Adler was temporarily kicked out of the band due to his excessive cocaine and heroin use. After a recording session gone terribly wrong – the band was subject to over 30 takes as Adler proved unable to perform – the drummer was forced to sign a contract vowing to get clean. Unfortunately, Adler was unable to honor the contract and was fired that June. Matt Sorum was hired to fill his position.
Drugs & Alcohol - Part 3
15/25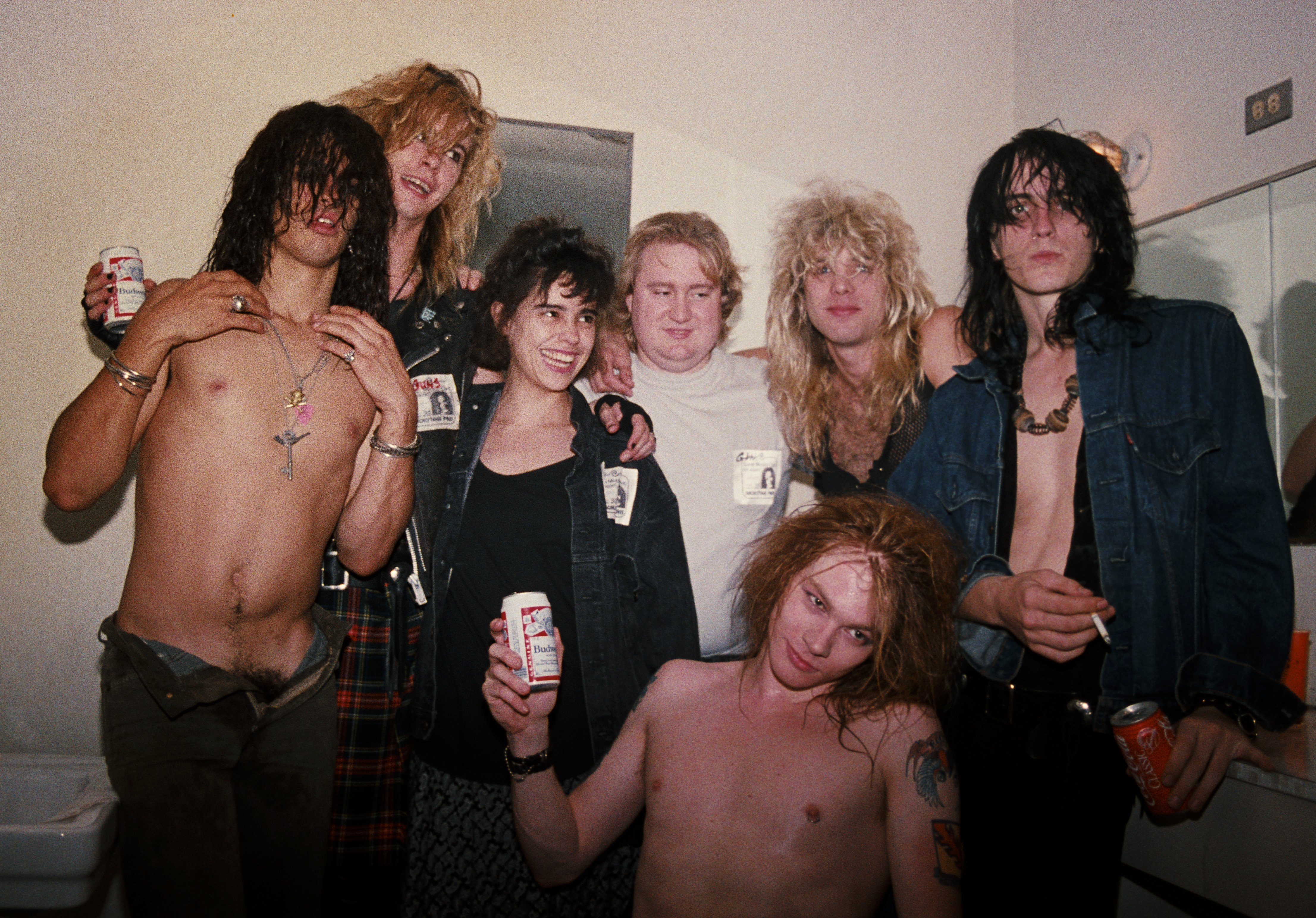 Adler recalls, "The drugs got really bad when we didn't even have to ask for them. Drugs would just be there. It got to be too much. I wasn't a big drinker at first – I was into cocaine. But when you do coke, you like to drink. It got worse and worse. I had so much coke in the '80s, I would just throw it away, just give it away. It was everywhere. And then heroin came in, and it all went downhill."
Drugs & Alcohol - Part 4
16/25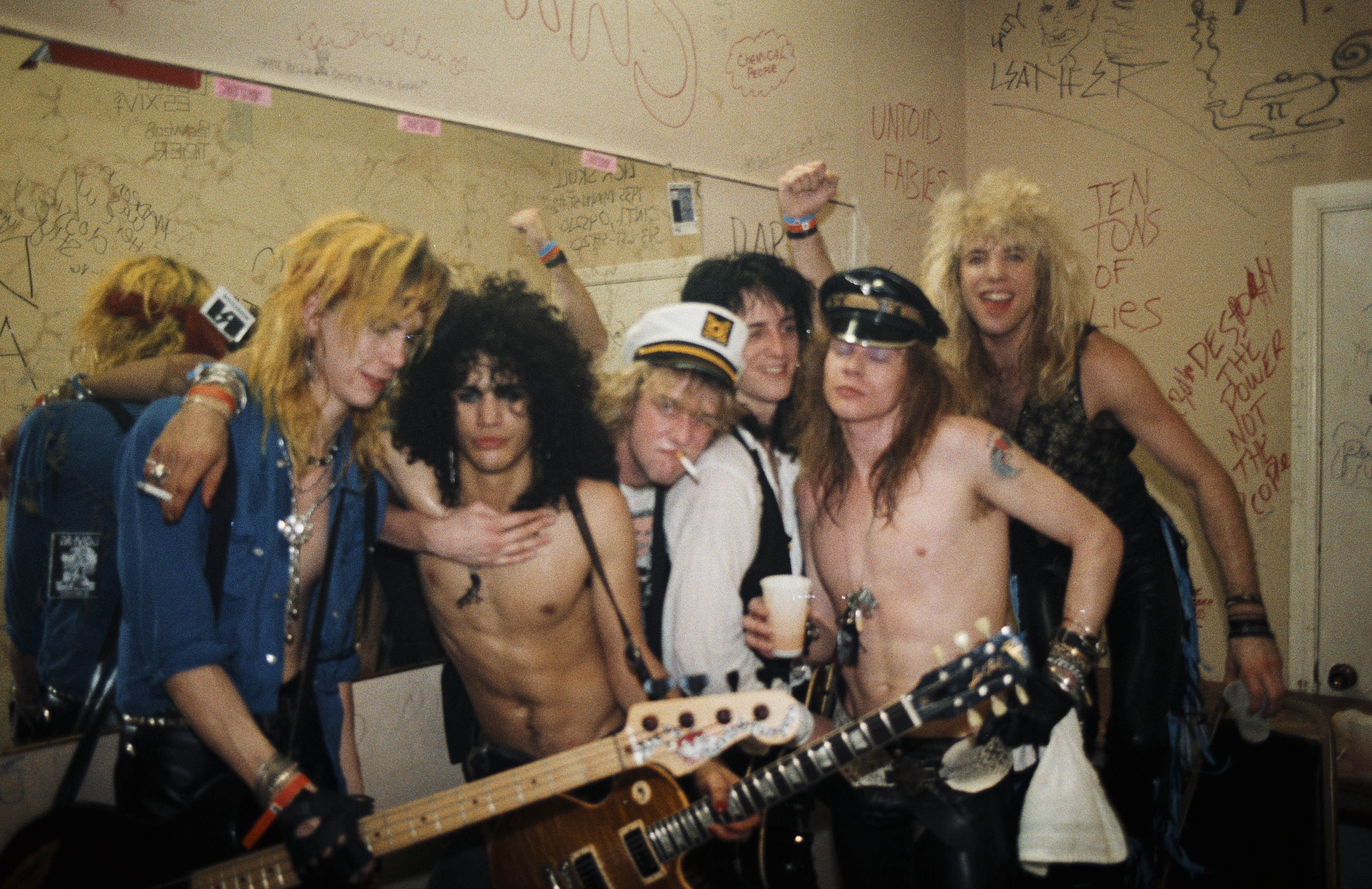 Drugs & Alcohol - Part 5
17/25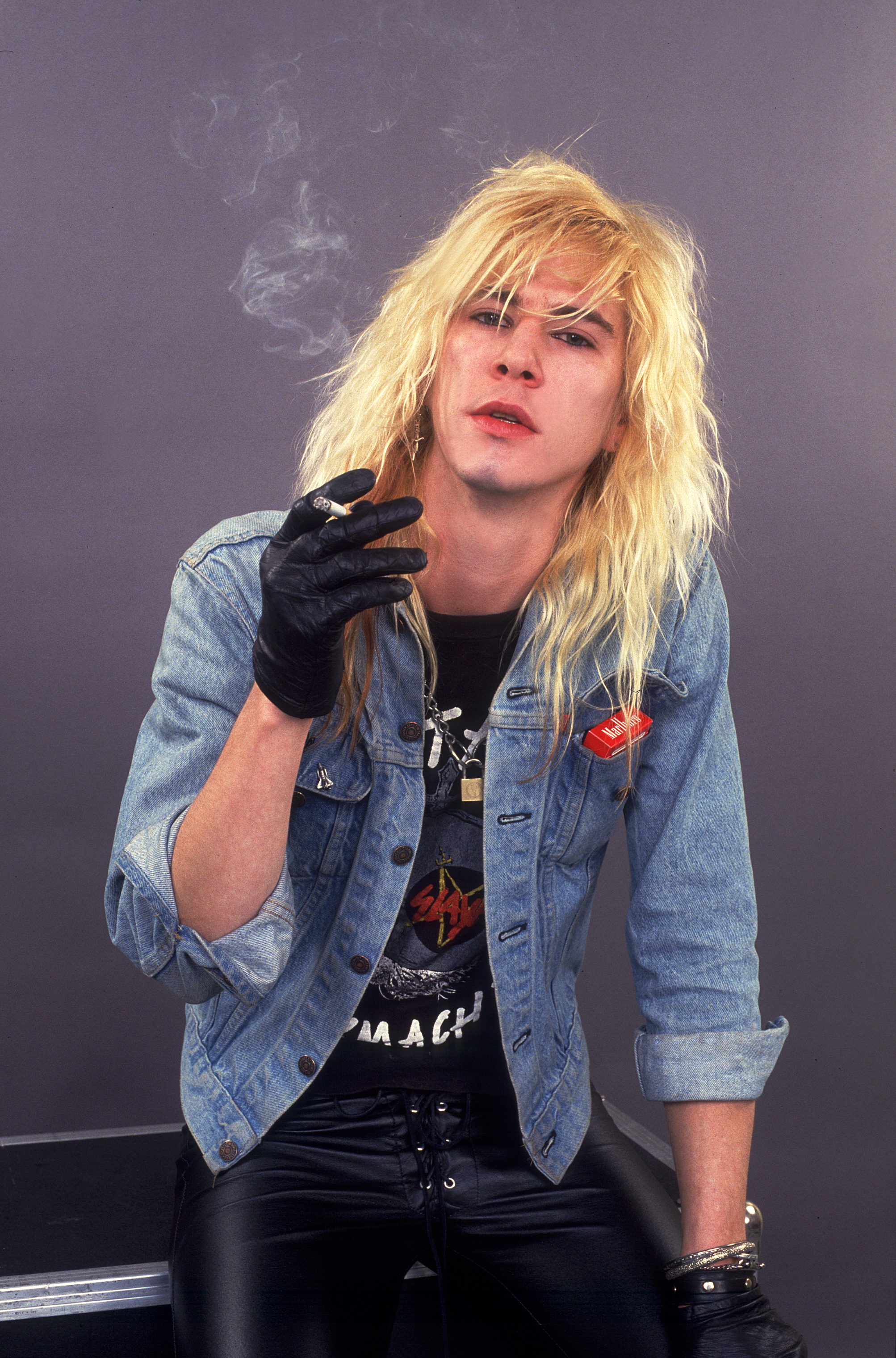 In fact, every member aside from Axl Rose suffered from severe substance abuse: Izzy Stradlin found himself in a drug-induced coma for 96 hours, and Duff McKagen experienced early-onset pancreatitis resulting in a football-sized pancreas (doctors gave him four months to live should he continue drinking). Seemingly, "the most dangerous band in the world" was dead set on solidifying their legacy one opiate-filled party at a time.
Money & Legal Issues - Part 1
18/25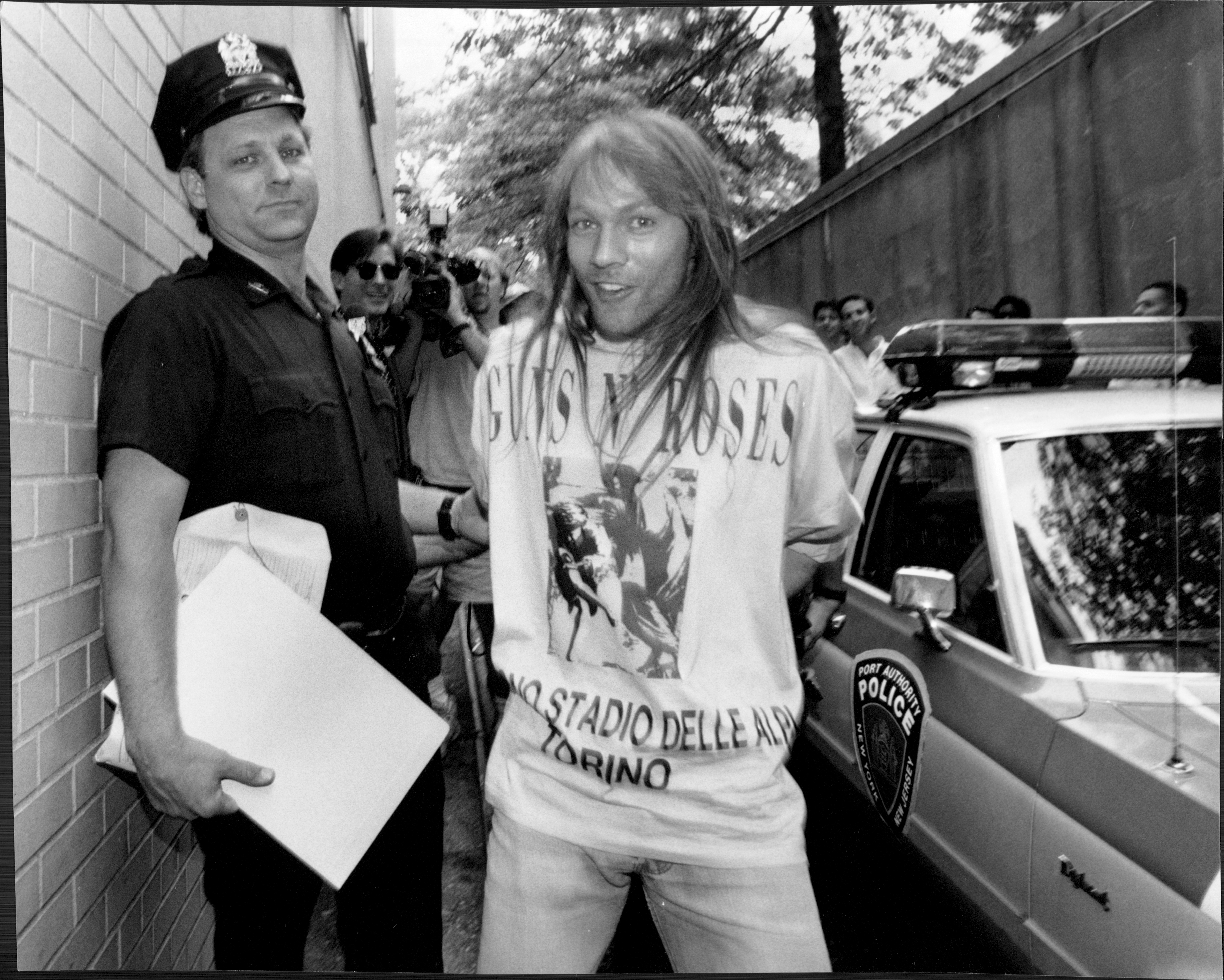 Guns N' Roses chronically produced multi-million-dollar music videos. In fact, their video for the 1993 song "Estranged" cost around $5 million. The video was part of a trilogy, which included "November Rain" and "Don't Cry," and was nearly 10 minutes long. According to Axl, it was his crowning achievement, aimed both at the press and his ex-girlfriend Stephanie Seymour. "I don't necessarily know of anyone who's made a video like it," he touted in a 1994 interview. For the band, however, being dragged along on Axl's wild ride of self-destruction was exhausting. The music video acted as a visible representation of the band's excess and poorly placed efforts.
Money & Legal Issues - Part 2
19/25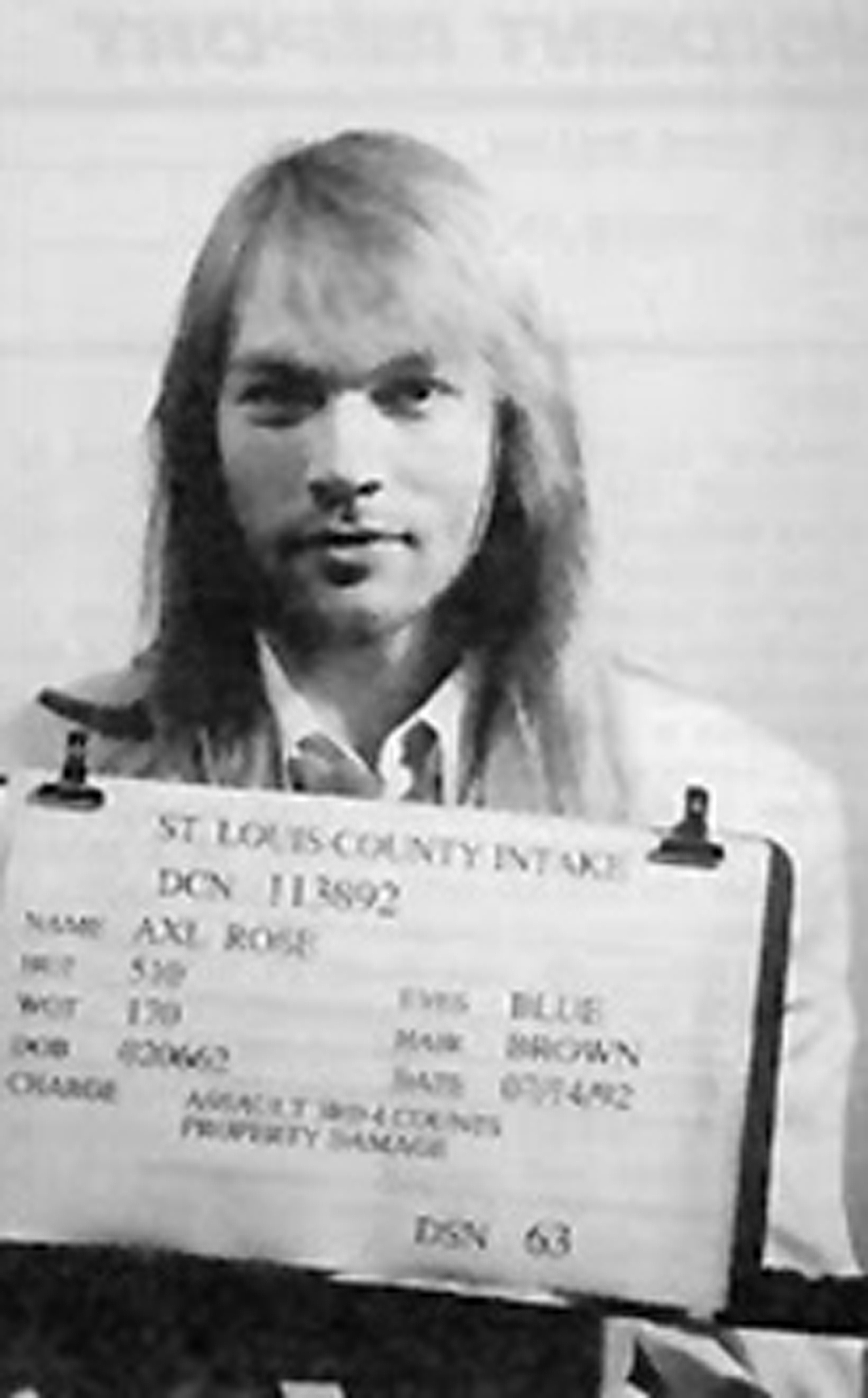 What's more, the group often found themselves on the wrong side of the law. The members of Guns N' Roses were known for getting into physical altercations with fans, security, and even others in the industry. During what's now known as the Rocket Queen Riots, Axl Rose jumped into the crowd to confiscate a fan's camera. He was later arrested and tried on four counts of assault. Izzy Stradlin was once arrested for urinating on the floor of an airborne plane; in '99, Slash was arrested for assaulting his estranged girlfriend; and even well into 2008, Steven Adler was arrested for possession of narcotics. The group's continual brushes with the law, coupled with handfuls of other hindrances, distanced them from their music and the potential for increased success.
Constant Lineup Changes - Part 1
20/25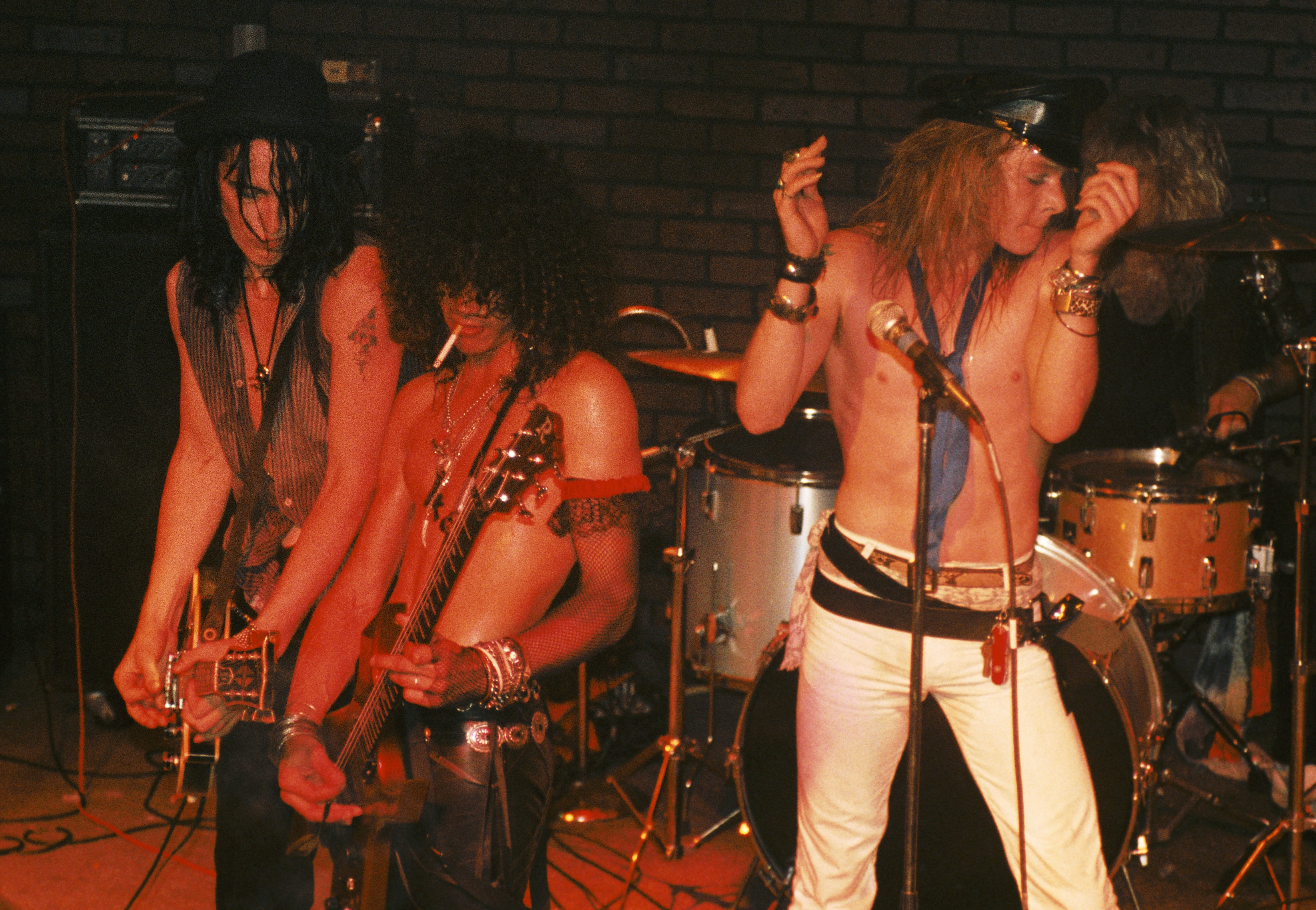 To this day, one of GnR's defining qualities remains its ever-changing lineup. While the classic crew consisted of five core members – Axl, Slash, Izzy, Duff, and Adler – the band's constituents have fluctuated since its 1985 inception. In fact, the very first member to leave the group was Tracii Guns, moniker-donor and founding member.
Constant Lineup Changes - Part 2
21/25