How Kayne West Made My Beautiful Dark Twisted Fantasy His Greatest Album Ever
Kayne West's debut 2004 album The College Dropout earned him critical and commercial success. His subsequent releases Late Registration (2005), Graduation (2007), and 808s & Heartbreak (2008) increased his reputation as a musician. However, his previous successes couldn't save him from a huge public backlash when he interrupted America's sweetheart Taylor Swift at the 2009 VMAs. Embarrassing the beloved singer-songwriter on national television by saying "Taylor, I'mma let you finish, but Beyone had one of the best videos of all time!" brought a huge negative reaction. It spawned a million memes and did irreparable damage to his reputation. Even ex-president Barack Obama didn't hesitate to call him a "jackass".
However, his response to this setback was praiseworthy. The famous American rapper went into exile in Hawaii after the incident and there he worked day and night to produce My Beautiful Dark Twisted Fantasy, his self-described "apology record."
It was released on November 22, 2010, and instantly became a hit among the general public. It debuted at number one on the Billboard 200 and sold an unbelievable 496,000 copies in the United States. This was all the more incredible because West's public approval rating was very low when the album was released. Everyone was mesmerized by the brilliance of the work. It was so good that even the hatters of Kayne acknowledged his genius.
MBDTF became a big commercial success and earned the admiration of all its listeners. However, its critical reception is what made it truly distinctive. Almost all the critics were profuse in their praise for the great album. It received a score of 94 out of 100 from the review aggregator website Metacritic, which is the 4th highest score of all time for any hip-hop album.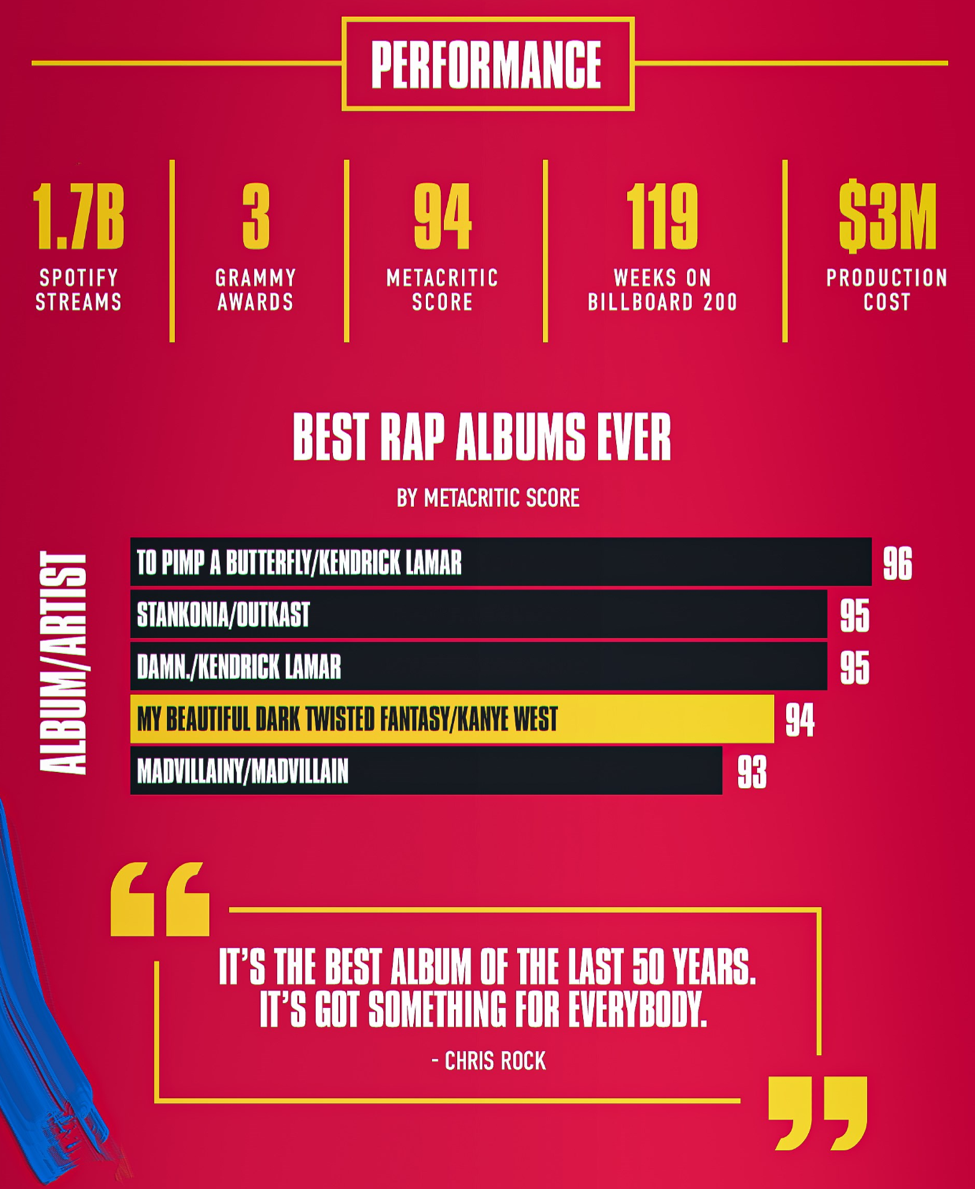 –
(Graphic: Betway Casino)
One reviewer called it "Picasso-like", while another hailed him thus: "The first album in which he's truly lived up to his potential in every way – as a rapper, as a lyricist, as a songwriter." It also received perfect scores from many reputed publications like Pitchfork and Slant Magazine etc. His contemporaries also lavished praise on the album. Pusha T called it "GOAT-level rap" while Elton John described it as "a genius record."
West's hard-work and commitment
To make a great piece of music requires extraordinary levels of commitment and dedication. And during his exile in Hawaii, Kayne West expended all his energy in perfecting his album My Beautiful Dark Twisted Fantasy. He carefully planned everything and made efforts day and night in the studio.
Since he was working so hard, he expected the same commitment from his team. He strictly followed all the rules and demanded that his collaborators also showed the same discipline. The famous rapper asked everyone to wear black suits during the studio sessions and banned all the activities that could cause distraction like tweeting, blogging, and pictures, etc. Because that often happens in a lot of situations where the important work gets interrupted due to some online distraction. Even scrolling through betgrandnationalhorses.com for your favorite sport articles can take your focus away from the work at hand.
The Wu-Tang Clan legend RZA praised him in these words: "The way everything happened was focused energy. I've never seen that from a rapper before."
Other collaborators and vocalists 
Undoubtedly, the main credit for the success of MBDTF goes to West himself, however, it wouldn't have become such a huge success without the contributions of a number of his collaborators. Among these featured artists, some of the most famous names were John Legend, Jay-Z, Nicki Minaj, and Justin Vernon. While other musicians like Rihanna, Alicia Keys, and Charlie Wilson also appeared as vocalists.
MBDTF vs 808s & Heartbreak
My Beautiful Dark Twisted Fantasy is widely regarded as the best album of Kayne West, However, the famous American rapper himself doesn't share the same viewpoint. Instead, he rates 808s & Heartbreak and Yeezus as "much stronger" because they were more progressive.
Although his fifth album didn't completely alter the landscape of hip hop as 808s & Heartbreak did, it still accomplished so much for the genre.
My Beautiful Dark Twisted Fantasy was named Pitchfork Album of the Year, thus becoming the first in the history of hip hop to receive such a big honour. This greatly helped in changing the perception of the music genre. Now it is very normal for hip hop albums to be named among Pitchfork's top-10 album of the year.