"Who is that?"
"I don't know. But it's a nice day — why not wait and see?"
"Is it a TikTok star?"
"I'll look it up."
"What's the guys' name?"
"The young ones?"
Those not in the know do their best to figure out what's about to happen. A young girl, no older than 8, pulls on my leather jacket. "Excuse me, miss, but who is that?" she asks, like a paid extra in a Marvel film minutes before Spider-Man descends. Others look up to hear a response.
"Yungblud," I tell her. She nods, the way you do when you don't totally know what someone said but want to articulate understanding. Curiosity, it seems, has kept her there — and her father hoists her atop his shoulders, eager to watch.
Dominic Richard Harrison, the Gen Z alt-hero who records under the musical moniker Yungblud, appears from a black SUV, yesterday's mascara smeared under his brow like a high-fashion smokey eye. He's buoyant — red and black dyed hair, a wide Hot Topic Joker mouth and even bigger smile — bouncing through songs to fans wielding "Spit in my mouth!" signs. He hands out tickets to his sold-out show, undoubtedly to the dismay of some audience members expecting a stunt from a digital influencer.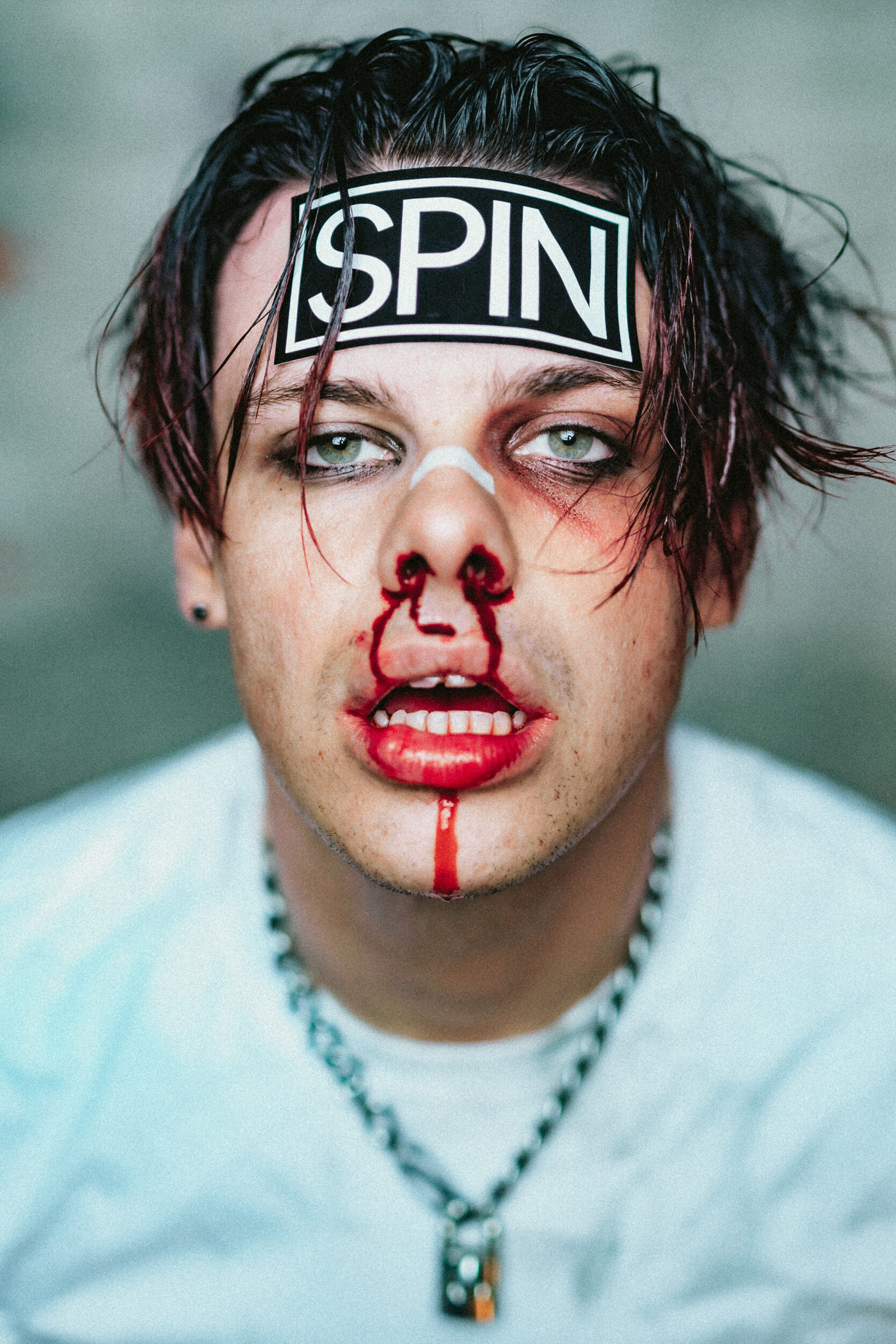 In another timeline, Yungblud would be an inescapable alt icon for the precocious suburban cohort — a child of Gerard Way as much as Robert Smith, with a cheeky sense of humor and romantic relationship with his fans. For those same reasons, he's considered deeply irritating to a broad population who view him as derivative or phony — a provocateur for provocation's sake.
"I thought it was going to be a rapper," one woman who appears to be in her early 30s says to her partner, shaking her head disapprovingly. A group of spikey jacket punks, the kind to frequent the nearby Generation Records or legendary squat ABC No Rio, pay him no mind. They don't even look his way. Yungblud's used to that kind of divisiveness. As he should be. Every generation deserves its eccentric anarchists, the kind who make the rest of us feel old, out of touch and dismissive.
"I'm more of a fucking preacher than I am a musician."
Yungblud
Under the arch, Yungblud blasts through a few spirited, acoustic pop-rock singles — a nasty love song ("Strawberry Lipstick"), an anti-authoritarian anthem ("Parents"), the "Smells Like Teen Spirit"-inspired alienation paean ("Fleabag"), an exorcism in angst ("Kill Somebody") — and disappears 20 minutes later, leaving lingering impressions on both the newly informed crowd and his loyal supporters (mostly women and rainbow flag-waving LGBTQIA+ youth, in this instance). It's atypical magic. Here is a wildly popular internet phenomenon who has found a way to grow his fan base through old school word-of-mouth, live performance and spectacles without relying on flash-in-the-pan viral hits.
Of course, he'd never call them fans.
"I fucking hate that word — they ain't me fans," he tells SPIN in his thick Yorkshire accent at a nearby office, one hour before his Washington Square set. "They're my blood and guts. This is not about me. I'd fucking shake me hips and fucking be a pop star [if it was.] It's about a movement, a culture, a way of being. Those kids are my fucking religion. Those kids are my energy, my heartbeat, my blood, my war, my coffee, my fucking sex. They're everything to me."
"No one would understand me. Everyone would judge me. Everyone was like 'He's a bit wrong, that kid. Don't go near him, honey, he's a bit tapped…'"
The question is: Do you believe him? Do you even care? Or do you walk away?
According to folklore, shortly after Harrison was born in Doncaster (a large minister town in South Yorkshire), England, a photo was taken of him outside the hospital holding a ukulele with the Beatles painted on the body, as if to signify his future artistic aspirations. He learned to play guitar in childhood — easy enough, since his grandfather, Rick Harrison, once performed with T. Rex and his dad owned a guitar shop he didn't want to inherit.
"They were grim reapers," he says of those guitars. "Every failed band would work in my dad's shop."
It's there where he developed an insatiable curiosity for music. As a teen, he listened to The Smiths and Arctic Monkeys while reading NME. He educated himself on Steely Dan, Queen, David Bowie, and others for the older, classic rock obsessed cohort who'd test him in the shop.
He wrote his first song at 11. He wore makeup and flat-ironed his hair before school, which led to ceaseless bullying and dodging fists at the bus stop. At 15, he ran away to London to study theater at the famed Arts Educational School.
There, Harrison began to develop Yungblud — not long after a short stint acting and performing on Disney's British musical drama The Lodge in 2016, the show that made Gossip Girl actor Thomas Doherty a star. He put on a pair of pink socks (now a go-to symbol of Yungblud fanaticism) and got to writing.
His first release, 2018's Yungblud EP on Geffen/Interscope/Locomotion, was refreshingly and candidly political. It featured "I Love You, Will You Marry Me," an indie pop-rock anthem referencing a graffiti artist's proposal — and how it was immediately exploited by big brands as the artist himself fell into homelessness, "Tin Pan Boy," an anti-gentrification record and "Polygraph Eyes," a pop song wracking with the everyday realities of sexual assault.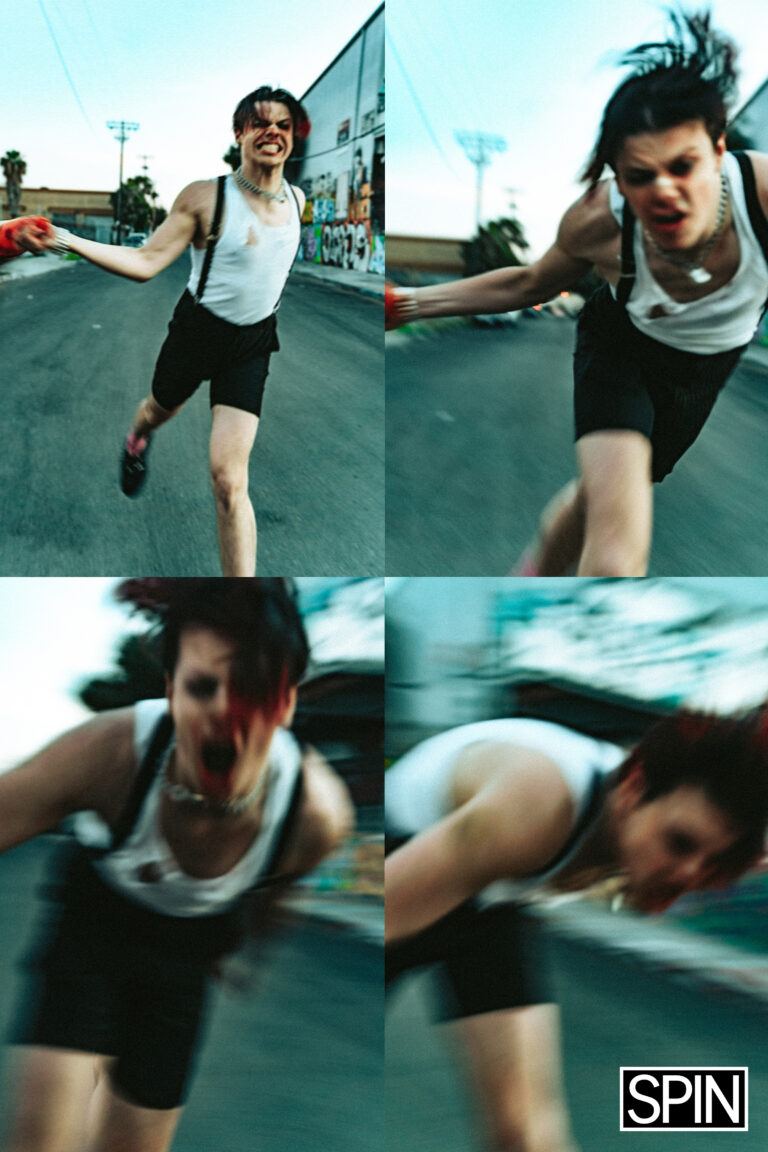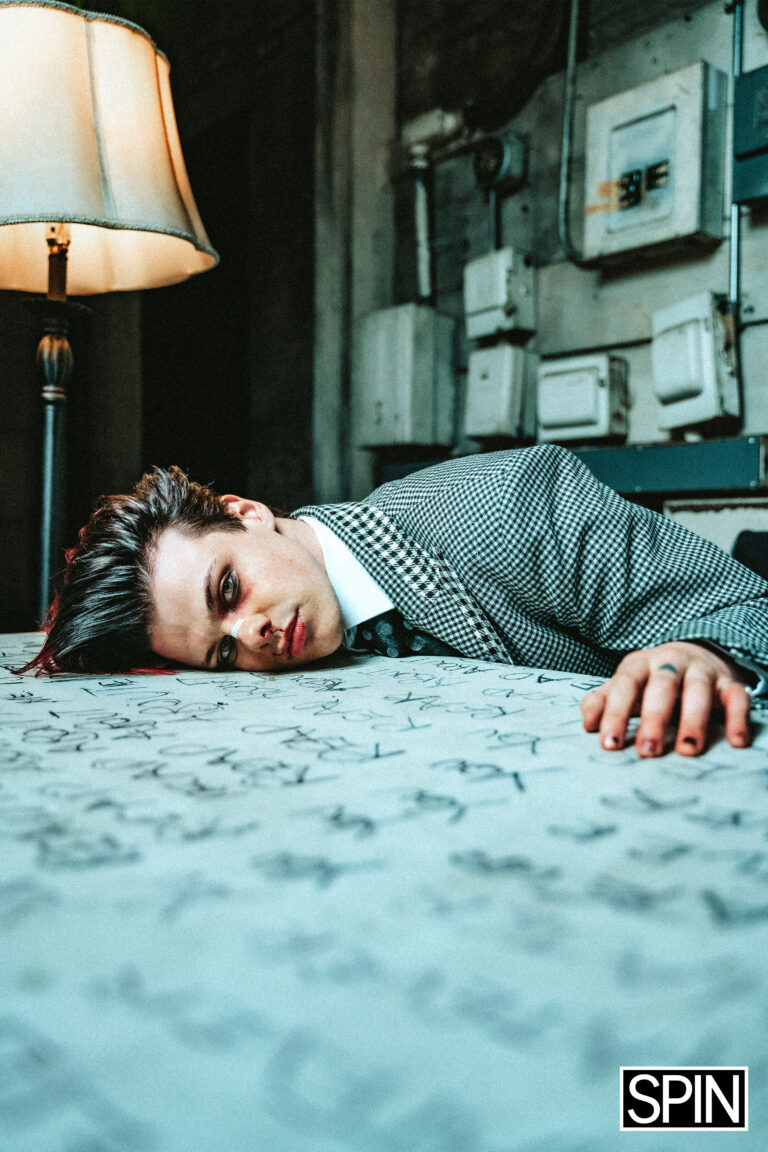 "[Then] I found Yungblud. I found a community just like me — not in terms of gender or whatever, but their spirit. Their spirit is exactly mine… and there's a lot of soulless music [out there]."
Two full-length records followed. Both 2018's 21st Century Liability and 2020's Weird! are odes to the legions of self-described outsiders who see themselves in his eclectic approach to pop-punk. Consider his music well-studied in the world of Twenty One Pilots, where trap production can lay the foundation of a song primed for Warped Tour — or at least it would if Warped Tour still existed.
Plus, Weird! featured collaborations with Imagine Dragons' Dan Reynolds ("Original Me") as well as Machine Gun Kelly and Travis Barker ("Acting Like That"). He became hard to ignore.
Around the same time, Harrison dated pop star Halsey and released a collaboration with her and Barker titled "11 Minutes." Suddenly, he became a tabloid darling whose sexuality was attacked and questioned — a Daily Mail character despite not being nearly as famous as his colleagues.
All the while, Yungblud was growing in popularity in a particular rock 'n' roll niche. He won a few profile-raising awards at the NME Awards and the MTV Europe Music Awards, as well as a BRIT Award nomination. He wrote gut-wrenching songs that spoke to his misunderstood listenership, like "Mars," which is about a trans fan who struggled to educate her parents on her gender identity (now he's making a short film based on her story). His dedication to narratives surrounding acceptance and tolerance secured him a unique place in music as a beloved star with a fervent and loyal audience — but without a big Billboard Hot 100 hit under his belt.
His fans, who call themselves the Black Hearts Club (BHC), are responsible. They love his hybridic Britpop-punk, but they're also here for his amiability. He's formed an undeniable kinship with them, often centered around his infectious enthusiasm for music, culture and art. It's found in everything from the severity with which he makes eye contact and emphasizes vowels to calling his fans on the phone at the height of the COVID-19 pandemic. He's doing whatever he can to connect, reminding them that he is just like them, hungry for acceptance and clarity.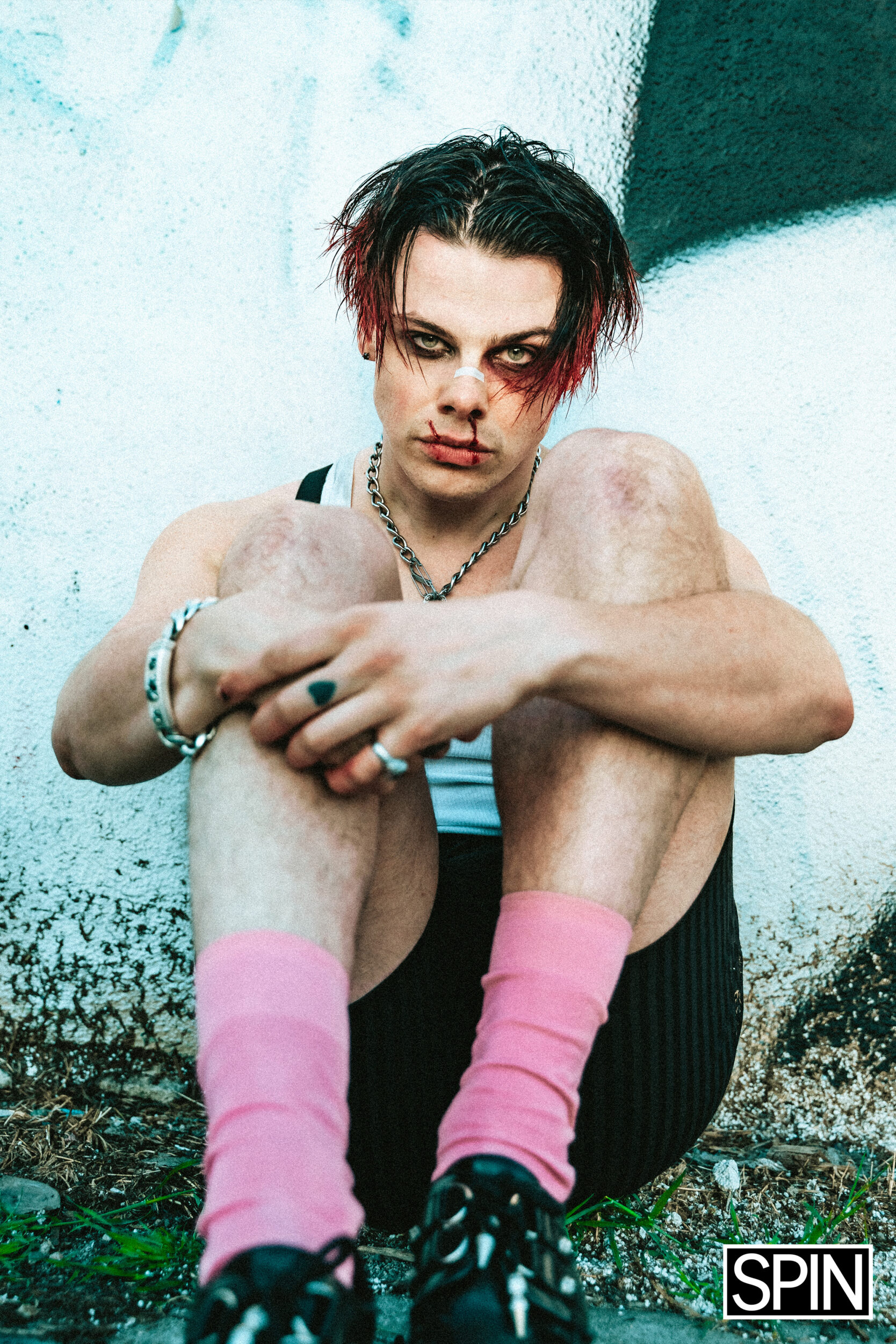 "This album is my story. This is who I am. All my albums have been about society and other people. This album's about me."
"I'm more of a fucking preacher than I am a musician," he says through a deep singer's rasp, sitting up to underscore how greviously he believes those words in a rare muted moment for the firecracker performer. "I ain't the best guitar player. I ain't going to get up on stage, play guitar, and blow your mind. But what will blow your mind is my energy, how I run and communicate."
In conversation, on social media and on the stage, Yungblud is essentially the same. He's energetic, magnetic and ineffably gifted at articulating ideas of freedom and self-acceptance in such a way that they feel like they're being said for the first time. His crowds span genders, ages, races, demographics —- and everyone looks at him with the same intensity, desire and appreciation, like they want to take a bite out of what he's selling.
"I am free," he assures. "I wear my heart on my sleeve. And it's not easy. This is just who I am."
If he wasn't the most alive person in a given room, a quote like that could come across as ingratiating. But he believes it — and in himself — and in Yungblud (as both an entity outside of himself and his truest form.) Most of all, Harrison believes his success is because he has something to say. And whatever that is, it will take him where he wants to go, despite the animosity some might have for him.
"Every artist that's around now that's big is there because they say something or perform like a God," he continues. "I've known Billie [Eilish] since she was in fucking dungarees. Billie's known me since I broke my leg and I was driving around America in a wheelchair on my first tour [in 2018] in a fucking van, staying in Motel 6's, getting ringworm. I got ringworm now. It comes back because of the fucking Motel 6's.
"Don't you fucking dare question my authenticity," he continues to no one in particular. "'Cause I got to fucking put cream on. You know what I mean? My mission is to make those people slagging me off wearing a Yungblud t-shirt next year, because it's not about telling them to fuck off. It's about going, 'Stop hating, get on the dance floor.'"
"Can I tell you something?"
Yungblud's genuinely asking as we sit in the lower Manhattan office of his label, Locomotion. There are two large black leather couches facing each other, but we opt to share one. The alternative was too cold, too therapizing.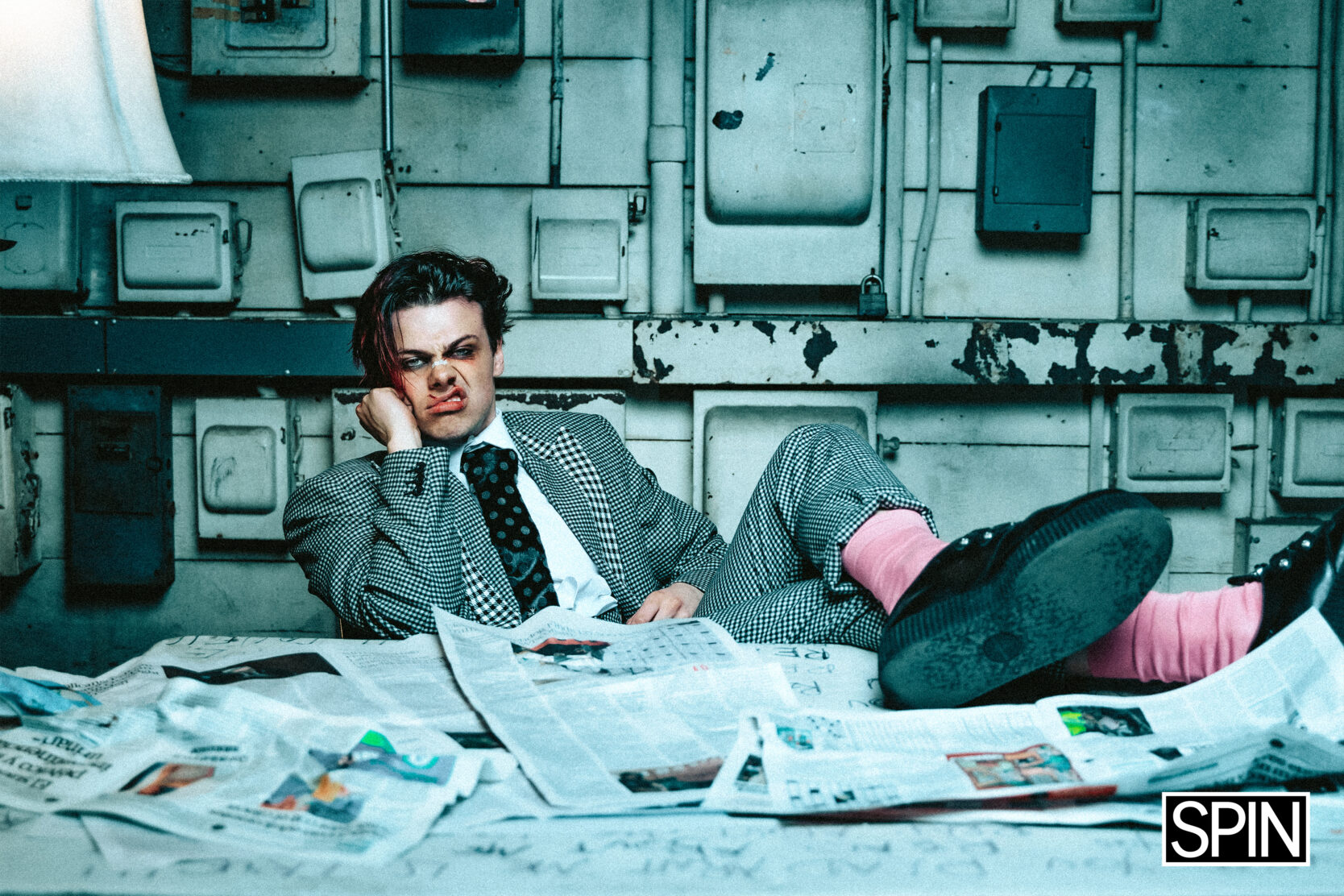 "Me and my sisters had to go through a lot. There were fucking police at my house. It's why I get pissed off when people are like, 'You had it easy.' I wish you could have had my life. I wish I could have had your life. My hands were cut open. Mental shit."
The room is stylish in the manner of most label headquarters, filled with musical equipment, massive glass walls, and a collection of gold and platinum records organized above desks of the most powerful employees. Last night, Yungblud sermonized pop-rock to 3,000 people in a sold out crowd at New York City's Terminal 5. Tonight, he'll do the same. His voice is hoarse — from his performance, but also from celebrating — and he hasn't slept much because of the weight of the milestone.
"There's a point in an artist's career in New York where it's like, OK, they're going to stay here, or they're going to go on to do Madison Square Garden," he smiles. "I always talk to security. No one is going to give you a better gauge than venue security. They were like, '[Your show felt like] the 1970s, it felt like The Stooges.' That's what I'm trying to achieve on this next record. I want to bring back CBGB's. It's very much [about] TikTok pop-punk right now. I want to use that formula to [bring back] the classic rock and roll of a fucking show, like last night. It was mental."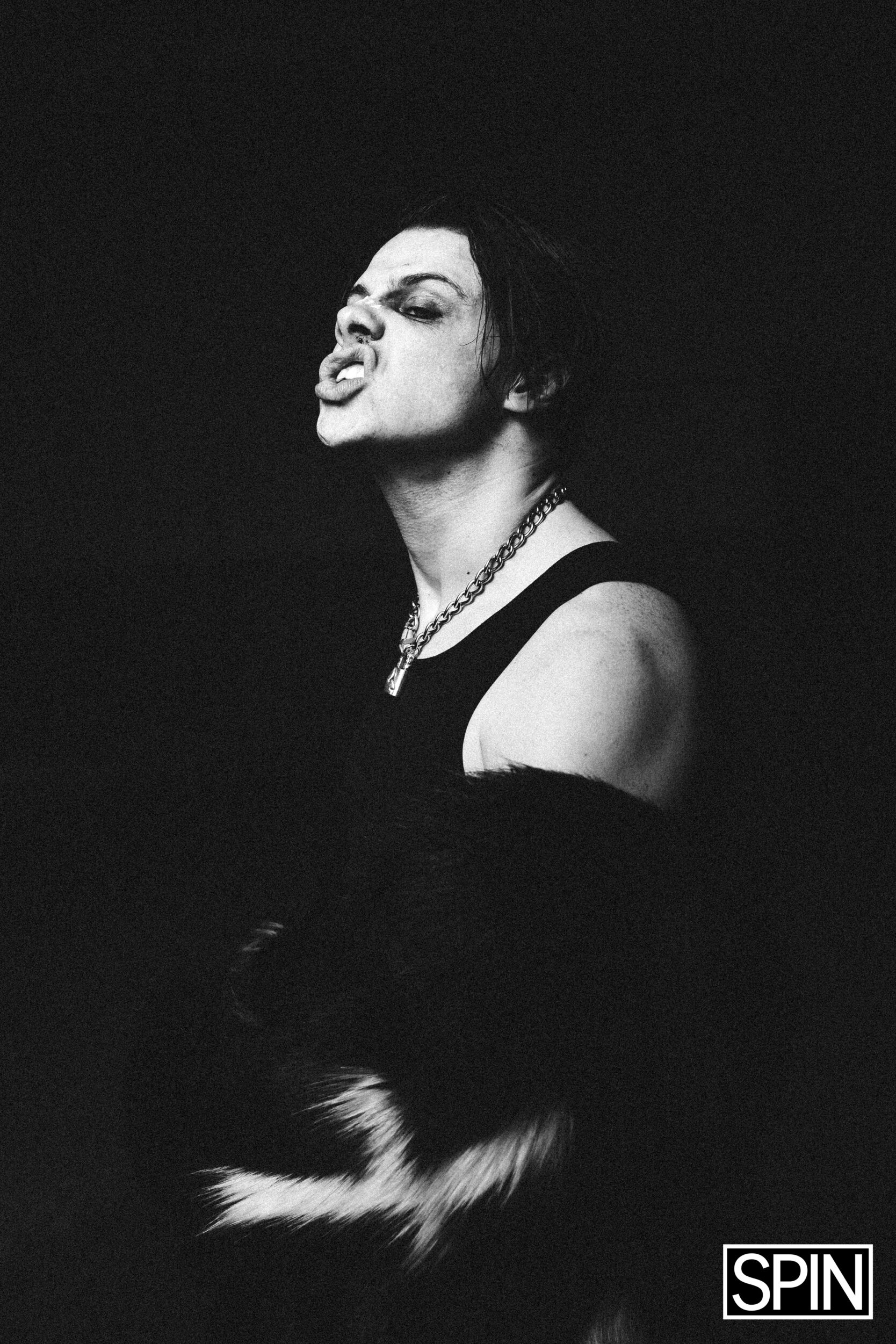 When Harrison talks about "classic rock and roll," he means the live experience — taking what's championed URL and bringing it IRL, an ethos more than a genre. And that means accepting being misunderstood, He knows he's seen as little more than a Gen Z alt-rockstar engineered to make money or a fake punk selling punk to a mainstream too suburban for the real stuff. (All that despite the fact that Mick Jagger has said his "post-punk vibe" assures The Rolling Stones frontman that "there is still a bit of life in rock and roll").
"To Exploited fans, I'm a fucking poser," he says. "To fucking Ariana Grande fans, I'm scary. Ask any great, true, rock and roll artist. They've been ridiculed. But this is real. You saw it last night. Everyone's dressed like each other, but there's a thousand cultures in a room. It's fucking liberating."
There's truth to that. Before seeing Yungblud live, I bought into what has been written about him online. I thought his audience was made up exclusively of young people (in particular, women), as if his sonic pleasures don't compute to those of a certain gender or age — like how certain animals hear pitches humans will never be able to comprehend. Of course, young women are the most ardent music listeners and art appreciators (the kind of loyal fans you absolutely need if you want career longevity), but there's even more to the story.
"One of the biggest misconceptions about Yungblud is that it's fucking 15-year-old emo kids at the gig," he stops me. "It's this beautiful array of diverse people."
Here's where it gets tricky. It's long been established (by cognitive scientists and researchers) that the pop culture people consume in adolescence informs their preferences in adulthood. It's likely the reason many of the non-obsessive music fans in your life tend to love what they listened to in high school more intensely than anything current, among other environmental factors. It's also why when an artist inspires deep-seated fanfare, we assume their audience to be distinctly young, and more often than not, female. It's unclear if the fans Yungblud has are there because they learned to love rock and roll in adolescence or if he's the exemplar of alt-rock for a generation living their teenage years now. Based on the diversity of age at his shows, it's probably both — and something else entirely.
"I [created] Yungblud because I was a 15-year-old kid in Doncaster wearing makeup," he explains. "No one would understand me. Everyone would judge me. Everyone was like 'He's a bit wrong, that kid. Don't go near him, honey, he's a bit tapped,'" "[Then] I found Yungblud. I found a community just like me — not in terms of gender or whatever, but their spirit. Their spirit is exactly mine… and there's a lot of soulless music [out there]."
Harrison has a theory.
"Let's fucking talk about something people actually want to hear," he says. "People spend an hour with me, and it kind of clicks."
That's not a luxury new musicians typically have. When a single can make or break a career, endurance feels as vintage as buying a record at the mall. But Harrison has well over an hour hnow, so he's going to use it to set the record straight. He's ready to discuss head-on the complaints he hears about from the haters and non-believers.
First up, the allegations of classism.
"In the middle of a pandemic, people questioned where I grew up. I'm a middle class kid. People said, 'You appropriate the working class because you talk with a Northern accent.' The first lyric I ever put out, [in 2017's "King Charles,"] was 'I've never been broke, but I have been broken.' The person who got me into writing lyrics was Joe Strummer. Joe Strummer's father was a diplomat in the government of a fucking party ruining the country. I was reading [his] book and he's like, 'Who better to sing about politics than me? I was in the fucking parliament building as a kid.'"
Next, his sexuality.
"People said I was queerbaiting. How dare you question my sexuality? I'm pansexual."
Finally his performances — and by extension, his legitimacy. Specifically, people accused him of not playing guitar in concert because it's not plugged in (he uses a wireless pack).
"People were saying I was mining on stage. People were coming after me on TikTok for spitting water in my crowd. [Hence the "spit in my mouth" signs from Washington Square Park.] People called me an industry plant. All of this is just noise. But it is, fundamentally, what built my balls up again. Every time I get kicked down and fucking spat in the face of, people think it's going to bury me alive. But it doesn't."
Most artists would choose to ignore these allegations — likely after a great deal of creative PR damage control — but that simply doesn't interest Harrison.
"I ain't ever going to be Harry Styles," he acknowledges. "I ain't ever going to be Lizzo. I ain't ever going to be Ariana Grande. They're brilliant artists, but they say enough and not enough at the same time. I adore them. I think what they stand for is amazing, but they never go off the edge. I go off the edge, and that's a bit dangerous. I am not here to be a fucking cup of tea. I'd be a shot of whiskey. You're either going to love it or you're not. But that's the point. I want to be real."
He also wants to be a source of hope for his listeners — especially at a time where many of his own heroes are being outed for heinous crimes.
"When the stuff about [Marilyn] Manson came out, it really broke my heart. I burnt my Manson shirts," he says of the multiple allegations of abuse, sexual assault, human trafficking, battery and harassment that have been leveled against the shock-rocker. "It fucks me up. It's like J.K. Rowling with Harry Potter. They build this world of inclusivity and liberation in terms of sexuality. My favorite thing Manson ever said, an interviewer asked him, 'What would you say to the kids outside the venues?' 'I wouldn't say anything. I'd listen.' And that blew my mind. Then you find out that he's basically a rapist.
"The thing about it is, what he did artistically helped me," Yungblud continues. "And it's fucking horrible, but it's almost like I gained that knowledge so I can kill him. He was a fucking bastard, and I can't forgive that. But I ain't going to sit here and be like, 'Fuck everything he ever said, ever,' because I would lie to you if I said it didn't inform who I was. 'I'm going to take from your art what I took from it, but I think you're a fucking piece of shit and I will never listen to you again. And I will never support you.'"
He pauses. "That statement right there might get me in trouble."
Yungblud's self-titled third album, tentatively scheduled to be released this fall, seeks to shift the artist's focus to a more introspective viewpoint. The first two albums were their own beasts, but he knows this may be his defining work..
"A third album is an honor," he says. "Every great artist I've loved: [The Clash's] London Calling, Queen's third album, fucking Bowie. It's where you become who you're going to be for the rest of your life. The first album, I was angry. I had so many ideas vomiting out of me. I was a 19-year-old kid running around New York, trying to get a record deal. I put pink socks on in a council flat in London, and it was the best time of my life. We were just writing and smoking too many drugs.
"Second album: pandemic happened," he continues. "We blew up so fast. I got confused. 'Who the fuck am I?' Weird! was every part of my personality. 'I'm going to show that I can do rap. I'm going to show that I can do a pop song, I'm going to show that I can do a Beastie Boys jumper [banger]. I'm going to show everything.' That album touched so many people, but it also made people a bit confused about me. It was a lot of information.
"This album is my story. This is who I am. All my albums have been about society and other people. This album's about me."
The first taste of Yungblud was "The Funeral," a Billy Idol-meets-My Chemical Romance circa "Teenagers" rowdy time with lyrics that stack hypocrisies atop one another, a pulled-straight-from-the-minds-of-the-Gallaghers chorus, and a music video starring Ozzy and Sharon Osbourne. (Spoiler: they kill him at the end.) If that combination sounds at odds with one another, remember that much of American pop-punk is founded in Britpop, and that Harrison's musical background is in a rebellious combination of guitar rock. ("Gerard Way is made up of Freddie Mercury, Damon Albarn from Blur, Lush, The Verve," he agrees.)
"That song has been driving me fucking nuts," Ozzy Osbourne says of "The Funeral." "I can't get it out of my head… I feel that Yungblud is a voice for everyone — I find him to be very charismatic and bright."
Despite the infectiousness of "The Funeral," and undoubtedly the rest of the album, there's a darkness that runs across it, too. It has a depth his fans have always sensed in his interviews, but haven't heard on record.
"People are going to find out stories about my life, about my parents, about my family, about abuse that happened to me, about so many things," he says. "And I think it's time for you all to really get to know me."
For two years, Yungblud has been working on a song called "Memories." It started as "this trap bounce thing" with a melody line that recalls Post Malone. Over time, through many iterations, the song became a heavy personal meditation.
"I grew up in an abusive home," he says. "My dad's alright now, but he would be quite physical with my mum, and apparently that came from my granddad before. I don't know. Me and my sisters had to go through a lot. There were fucking police at my house. It's why I get pissed off when people are like, 'You had it easy.' I wish you could have had my life. I wish I could have had your life. My hands were cut open. Mental shit."
He shakes his head. "Just because we had a business and we had a bit of cash does not make it fucking easy at all. My granddad's dad ran a petrol station after World War ll and was depressed, was suicidal. And he came out of that. My granddad was playing music and they built this [guitar] shop from nothing.
"I grew up in a war zone my whole life — that's what my therapist says," Harrison continues. "I think it's the way I can handle this career, because when I ain't in a battle, I'm frightened. When I'm not fighting, I'm scared. When I'm at peace, I'm frightened to death. Because I know my parents are smashing up the kitchen downstairs. I know my dad nearly going to fucking prison. That's all I know. And I haven't really spoken about this. That's why people questioned it. Because I've never said this shit. My grandma died of alcoholism. It was the fucking Sopranos.
"We went bankrupt twice, the way we earned that money was fucking cash in hand, work 30 hours a day, fucking beg, steal, borrow," he inches closer. "That was the mentality I grew up in. It was full on, picked up from school, taken to the fucking shop, work all night. And I adored it. I loved it. It was fast, but it wasn't easy. Sometimes I wish I could've lived in a cottage and my dad was a librarian or something."
And that's the place where "Memories" was written.
"The lyric 'Every time I fall asleep, I know I'll wake up alone. I wake up alone.' It's not about love. 'Dreams of you were wrapped around my throat. I think I'm going to choke.' It sounds like it's about love, it's not. I spent a lot of time in my imagination growing up, because I needed to get out of fucking bullshit. I'd be playing with [toy] soldiers at 15, I was strange."
His voice breaks as he speaks about his childhood. "That's the thing. I wasn't on the fucking dole. I've never sung about being on the dole. But I've felt misjudged. I've had an abusive upbringing. And that's why I believe I've connected to so many people, because the message — ever since the beginning with Yungblud — is no matter how you are brought up, no matter what color you are, what gender, what sexuality, whatever you are, you have a right to be loved. You have a right to be yourself."
The intensity of the message is matched by Willow Smith, who features on the song. "Willow understands better than anybody," he says. "She grew up in the fucking spotlight, that was not easy for her. She's a true artist."
"He's a force to be reckoned with, and I don't say that lightly," Smith says of Yungblud. "Dom's music makes his fans feel heard, seen and unafraid to be the most compassionate, unapologetic versions of themselves. In my opinion, that's the reason to be an artist in the first place."
"He has one of the most dynamic male voices in the rock world right now," she continues. "Not only from the perspective of his message, but his vocal dexterity is absolutely appalling. It's very rare that I can connect vocally on such a level with a male musician. He is such a talented artist that it's very easy to let the ideas flow and to let the melodies and the lyrics kind of come, because there's really no stress when it comes to structure. We just figure it out and it's always fun."
If Yungblud led a cult, many would join — even those who fancy themselves hard to persuade. He has an orbit, an aura, an affability that is borderline intoxicating. You could call it an "it" factor, but it's scarcer than that. Halfway through our conversation, I begin to wonder if his mouth has become more pronounced from spending so much time smiling, even with those miserable lyrics.
"If I wasn't a musician, I'd be an archeologist," he says. "I love the Romans. I love the Greeks. I became absolutely obsessed with World War II, because how propaganda and sheer noise can turn a generation to kill each other. It makes you understand how much hate can be within human nature. But I believe there's so much more good in this world than there is hate. Look at the biggest, most horrible acts of history — people suffered and once you're dead, you're dead — but the human race rallies to heal after the fact."
Don't worry. He hears himself. "To a lot of people, I'm naively optimistic," he says. "A lot of people call me a 'punk,' but I ain't a punk. I'm a fucking fairy, who's running around doing his thing. I'm more of a fucking hippie than a punk. I'm a hippy with a safety pin in me nose. I fight for love."
And yet — all of his work is preoccupied with death and dying.
"I'm exhausted and I'm tired all the time because I'm fighting with the world, and I'm never going to win, but I'll fight anyway," he continues. When you fight with the world, you'll always lose, because the world is so much bigger than you. The hope that I might just get a fucking punch in here and there, keeps me going. I give a fuck."
Therein lies the appeals – and the disdain. Caring doesn't come cheap, but Harrison takes it on with his signature smile.
"I just care."
"To a lot of people, I'm naively optimistic," he says. "A lot of people call me a 'punk,' but I ain't a punk. I'm a fucking fairy, who's running around doing his thing. I'm more of a fucking hippie than a punk. I'm a hippy with a safety pin in me nose. I fight for love."