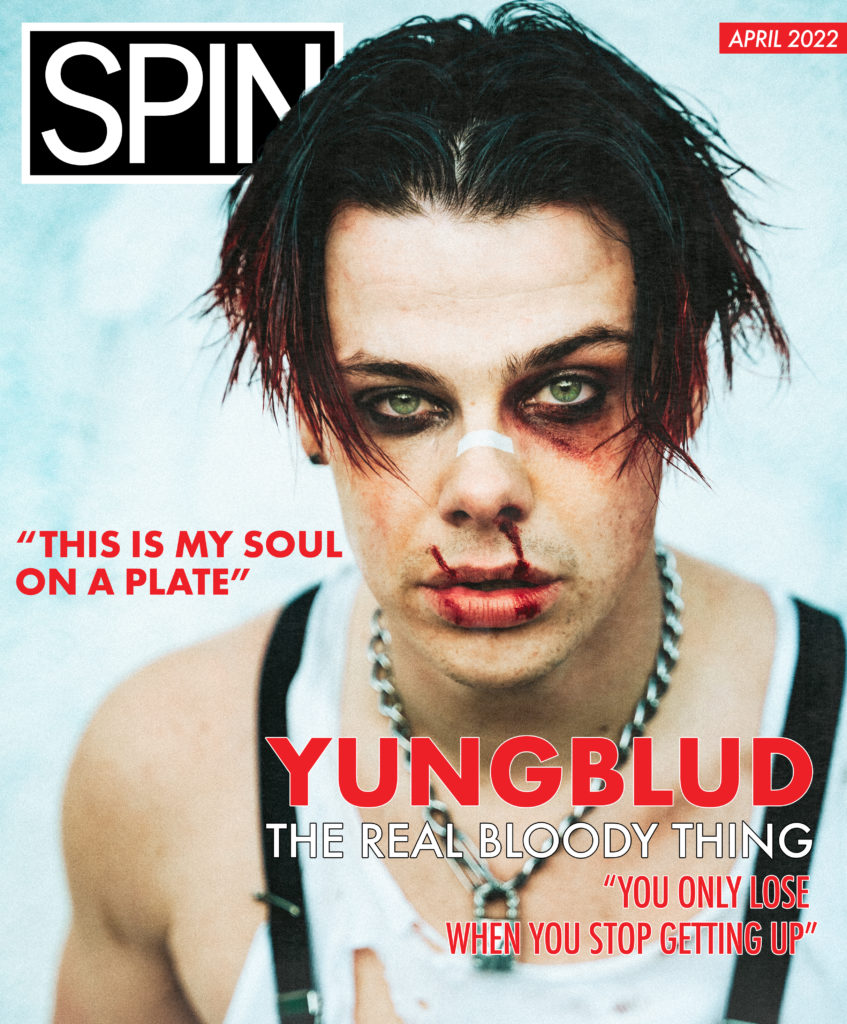 On an unseasonably warm day in the middle of February — the kind where the sun shines and the wind sighs and boring observations about pleasant weather feel revelatory — hundreds of spectators descend upon New York City's Washington Square Park. Police barricades and uniformed bodies block anyone from standing directly underneath the park's famed arch. A far cry from the optimistic bohemia of Greenwich Village's hippie past, this is organized chaos. And yet, a sense of urgency fills the air, the unmistakable optimism of delinquent, youthful exuberance — courtesy of a crowd of mall punks in Manic Panic hair dye and confused onlookers.
"Who is that?"
"I don't know. But it's a nice day — why not wait and see?"
"Is it a TikTok star?"
"I'll look it up."
"What's the guys' name?"
"The young ones?"
Those not in the know do their best to figure out what's about to happen. A young girl, no older than 8, pulls on my leather jacket. "Excuse me, miss, but who is that?" she asks, like a paid extra in a Marvel film minutes before Spider-Man descends. Others look up to hear a response.
"Yungblud," I tell her. She nods, the way you do when you don't totally know what someone said but want to articulate understanding. Curiosity, it seems, has kept her there — and her father hoists her atop his shoulders, eager to watch.
Dominic Richard Harrison, the Gen Z alt-hero who records under the musical moniker Yungblud, appears from a black SUV, yesterday's mascara smeared under his brow like a high-fashion smokey eye. He's buoyant — red and black dyed hair, a wide Hot Topic Joker mouth and even bigger smile — bouncing through songs to fans wielding "Spit in my mouth!" signs. He hands out tickets to his sold-out show, undoubtedly to the dismay of some audience members expecting a stunt from a digital influencer.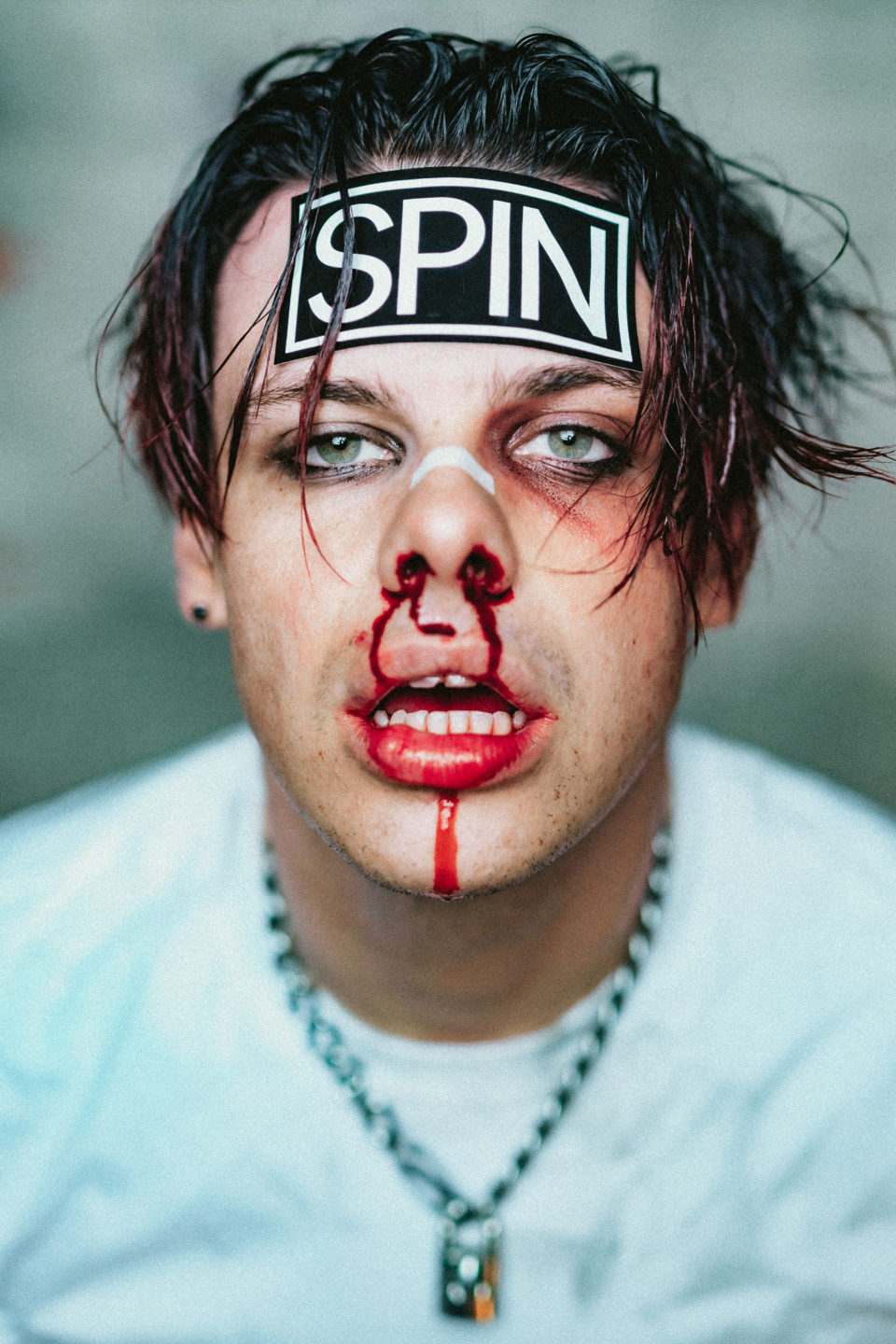 In another timeline, Yungblud would be an inescapable alt icon for the precocious suburban cohort — a child of Gerard Way as much as Robert Smith, with a cheeky sense of humor and romantic relationship with his fans. For those same reasons, he's considered deeply irritating to a broad population who view him as derivative or phony — a provocateur for provocation's sake.
"I thought it was going to be a rapper," one woman who appears to be in her early 30s says to her partner, shaking her head disapprovingly. A group of spikey jacket punks, the kind to frequent the nearby Generation Records or legendary squat ABC No Rio, pay him no mind. They don't even look his way. Yungblud's used to that kind of divisiveness. As he should be. Every generation deserves its eccentric anarchists, the kind who make the rest of us feel old, out of touch and dismissive.
"I'm more of a fucking preacher than I am a musician."
Under the arch, Yungblud blasts through a few spirited, acoustic pop-rock singles — a nasty love song ("Strawberry Lipstick"), an anti-authoritarian anthem ("Parents"), the "Smells Like Teen Spirit"-inspired alienation paean ("Fleabag"), an exorcism in angst ("Kill Somebody") — and disappears 20 minutes later, leaving lingering impressions on both the newly informed crowd and his loyal supporters (mostly women and rainbow flag-waving LGBTQIA+ youth, in this instance). It's atypical magic. Here is a wildly popular internet phenomenon who has found a way to grow his fan base through old school word-of-mouth, live performance and spectacles without relying on flash-in-the-pan viral hits.
Of course, he'd never call them fans.
"I fucking hate that word — they ain't me fans," he tells SPIN in his thick Yorkshire accent at a nearby office, one hour before his Washington Square set. "They're my blood and guts. This is not about me. I'd fucking shake me hips and fucking be a pop star [if it was.] It's about a movement, a culture, a way of being. Those kids are my fucking religion. Those kids are my energy, my heartbeat, my blood, my war, my coffee, my fucking sex. They're everything to me."
"No one would understand me. Everyone would judge me. Everyone was like 'He's a bit wrong, that kid. Don't go near him, honey, he's a bit tapped…'"
The question is: Do you believe him? Do you even care? Or do you walk away?
According to folklore, shortly after Harrison was born in Doncaster (a large minister town in South Yorkshire), England, a photo was taken of him outside the hospital holding a ukulele with the Beatles painted on the body, as if to signify his future artistic aspirations. He learned to play guitar in childhood — easy enough, since his grandfather, Rick Harrison, once performed with T. Rex and his dad owned a guitar shop he didn't want to inherit.
"They were grim reapers," he says of those guitars. "Every failed band would work in my dad's shop."
It's there where he developed an insatiable curiosity for music. As a teen, he listened to The Smiths and Arctic Monkeys while reading NME. He educated himself on Steely Dan, Queen, David Bowie, and others for the older, classic rock obsessed cohort who'd test him in the shop.
He wrote his first song at 11. He wore makeup and flat-ironed his hair before school, which led to ceaseless bullying and dodging fists at the bus stop. At 15, he ran away to London to study theater at the famed Arts Educational School.
There, Harrison began to develop Yungblud — not long after a short stint acting and performing on Disney's British musical drama The Lodge in 2016, the show that made Gossip Girl actor Thomas Doherty a star. He put on a pair of pink socks (now a go-to symbol of Yungblud fanaticism) and got to writing.
His first release, 2018's Yungblud EP on Geffen/Interscope/Locomotion, was refreshingly and candidly political. It featured "I Love You, Will You Marry Me," an indie pop-rock anthem referencing a graffiti artist's proposal — and how it was immediately exploited by big brands as the artist himself fell into homelessness, "Tin Pan Boy," an anti-gentrification record and "Polygraph Eyes," a pop song wracking with the everyday realities of sexual assault.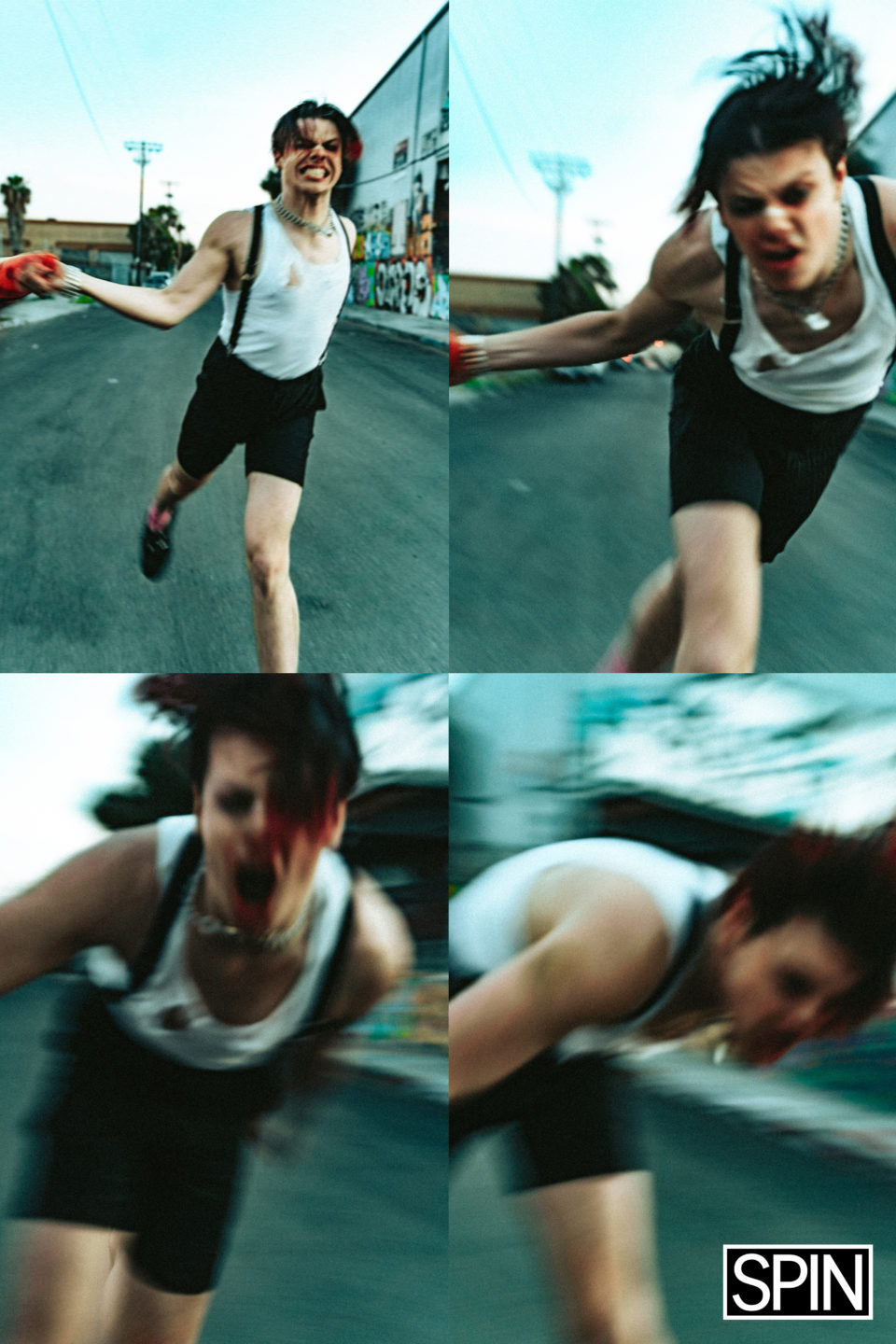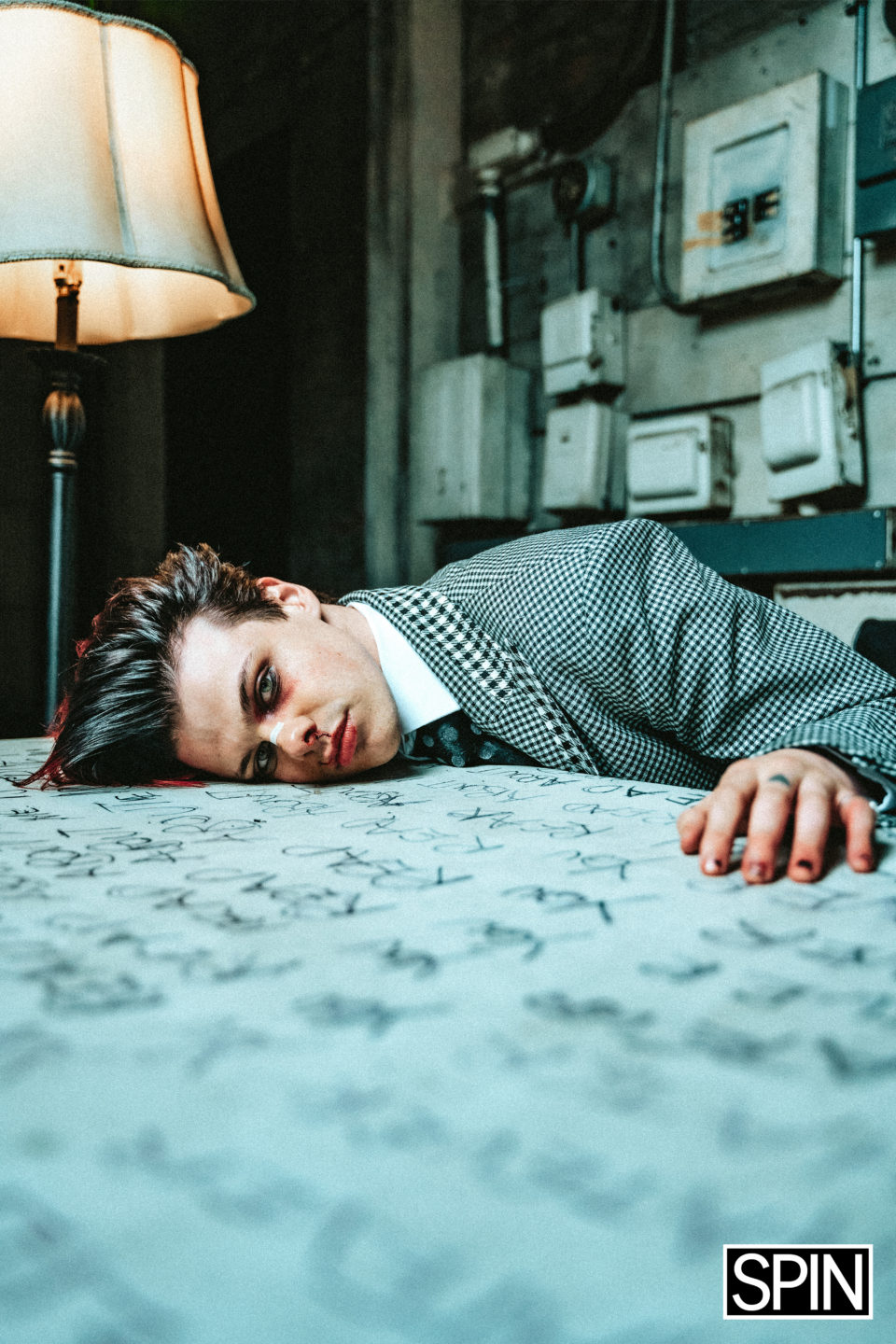 "[Then] I found Yungblud. I found a community just like me — not in terms of gender or whatever, but their spirit. Their spirit is exactly mine… and there's a lot of soulless music [out there]."
Two full-length records followed. Both 2018's 21st Century Liability and 2020's Weird! are odes to the legions of self-described outsiders who see themselves in his eclectic approach to pop-punk. Consider his music well-studied in the world of Twenty One Pilots, where trap production can lay the foundation of a song primed for Warped Tour — or at least it would if Warped Tour still existed.
Plus, Weird! featured collaborations with Imagine Dragons' Dan Reynolds ("Original Me") as well as Machine Gun Kelly and Travis Barker ("Acting Like That"). He became hard to ignore.
Around the same time, Harrison dated pop star Halsey and released a collaboration with her and Barker titled "11 Minutes." Suddenly, he became a tabloid darling whose sexuality was attacked and questioned — a Daily Mail character despite not being nearly as famous as his colleagues.
All the while, Yungblud was growing in popularity in a particular rock 'n' roll niche. He won a few profile-raising awards at the NME Awards and the MTV Europe Music Awards, as well as a BRIT Award nomination. He wrote gut-wrenching songs that spoke to his misunderstood listenership, like "Mars," which is about a trans fan who struggled to educate her parents on her gender identity (now he's making a short film based on her story). His dedication to narratives surrounding acceptance and tolerance secured him a unique place in music as a beloved star with a fervent and loyal audience — but without a big Billboard Hot 100 hit under his belt.
His fans, who call themselves the Black Hearts Club (BHC), are responsible. They love his hybridic Britpop-punk, but they're also here for his amiability. He's formed an undeniable kinship with them, often centered around his infectious enthusiasm for music, culture and art. It's found in everything from the severity with which he makes eye contact and emphasizes vowels to calling his fans on the phone at the height of the COVID-19 pandemic. He's doing whatever he can to connect, reminding them that he is just like them, hungry for acceptance and clarity.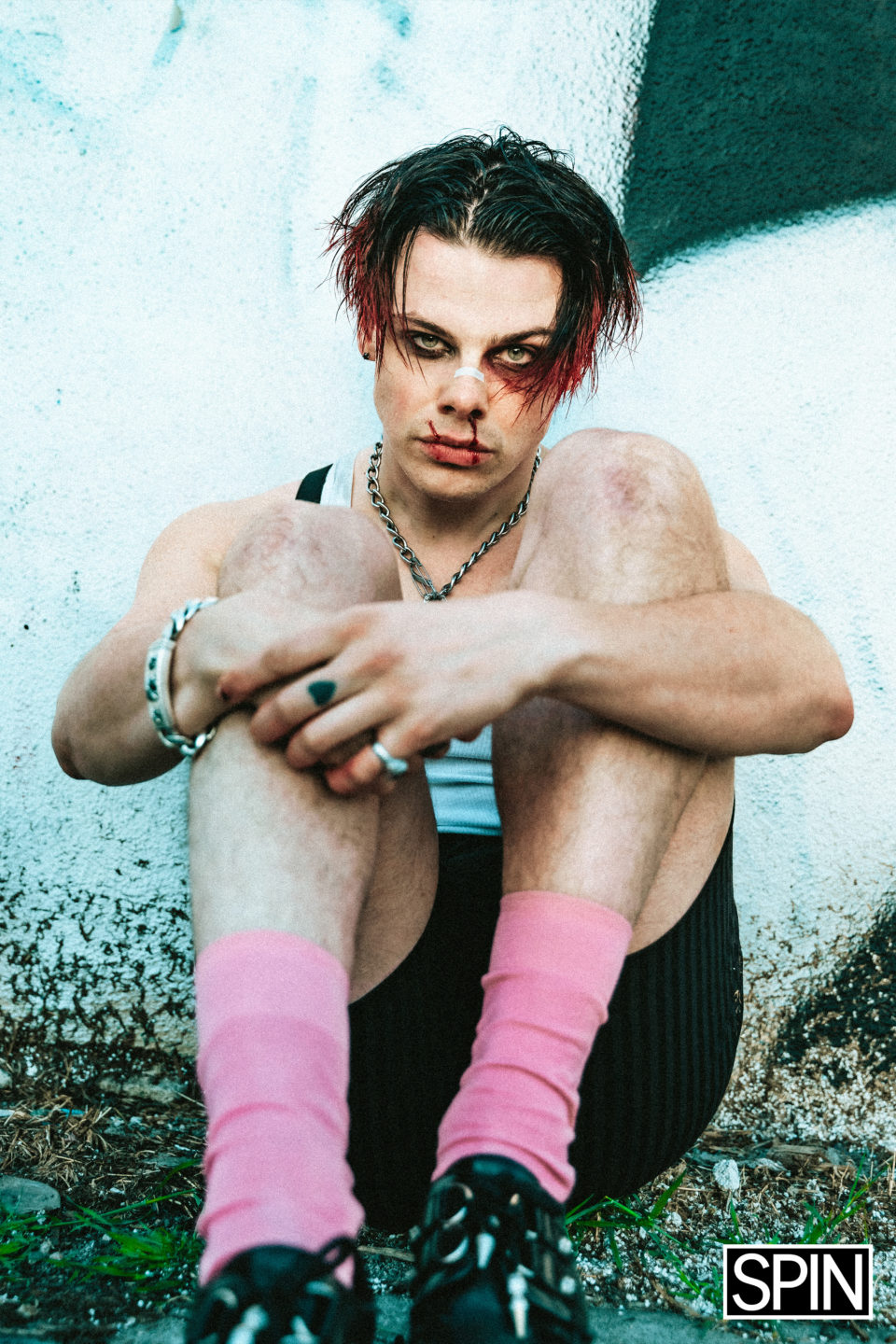 "This album is my story. This is who I am. All my albums have been about society and other people. This album's about me."
"I'm more of a fucking preacher than I am a musician," he says through a deep singer's rasp, sitting up to underscore how greviously he believes those words in a rare muted moment for the firecracker performer. "I ain't the best guitar player. I ain't going to get up on stage, play guitar, and blow your mind. But what will blow your mind is my energy, how I run and communicate."
In conversation, on social media and on the stage, Yungblud is essentially the same. He's energetic, magnetic and ineffably gifted at articulating ideas of freedom and self-acceptance in such a way that t