In January, a reporter asked Seattle Seahawks cornerback Richard Sherman if being called a "thug" by various media outlets bothered him, after he criticized San Francisco 49ers wide receiver Michael Crabtree's "sorry" playing abilities.
"What's the definition of a thug, really?" the Stanford graduate lobbed back. "Can a guy on a football field just talking to people — maybe I'm talking loudly and doing something I'm not supposed to — but there's a hockey game and [those guys] didn't even play hockey! They're just fighting! I saw that and said, 'I'm the thug?'" Sherman then famously added, "The only reason it bothers me is because it seems like it's the accepted way of calling someone the N-word nowadays, you know what I mean?"
On November 24, a grand jury's decision supported what many bigots believed: that Ferguson, Missouri resident Michael Brown was being a "thug" when officer Darren Wilson shot the unarmed teenager from 150 feet away. A month before, Florida resident Michael Dunn was sentenced to life without parole for killing 17-year-old Jordan Davis, a passenger in a parked, rap-blaring car in Jacksonville. Just before the murder, Dunn had turned to his girlfriend and said, "I hate that thug music."
Jeffrey Williams — a.k.a. 23-year-old Atlanta rapper Young Thug — doesn't need to comment on politics. As a young black man in America, he already is politics. And the decadent content of Young Thug's music would be enough for too many courts to justify letting Wilson or Dunn off the hook. He raps (and sings) freely about his Bloods association on the 2014 mixtape Black Portland, his finest and waviest collection, co-authored with the incarcerated Bloody Jay. A typical lyric from its opening cut "Suck Me Up": "I just want to keep fuckin' fuckin' fuckin'." Another from "No Fucks": "I don't give no fuh," foreshortened because he gives no fuh.
He's witty when he wants to be ("Money stand eight feet just like two midgets" on "Danny Glover"), and even if you can't parse that he's "living life like a volcano" in his supergroup Rich Gang's Top-20 crossover hit "Lifestyle," his triumphant delivery and the cosmopolitan beat translate the euphoria just perfectly. No other rapper has had his name on such a truckload of distinct, quality music all year, and few artists working in any genre are so simultaneously accessible and bizarre.
Williams differs significantly from 2014's three other most talked-about rappers: Iggy Azalea, Nicki Minaj and Killer Mike, the latter of whom is so congenial in his outspoken political rage that CNN has invited him repeatedly to be an on-air guest. The two women are commercial juggernauts who usually land in the news about the sexist double standards of hip-hop or the realness of their bodies, whether it's Snoop Dogg trying to discredit Azalea for her looks, or Minaj showing her big fat asssssss and igniting worldwide conversations about double standards for rapper, uh, dress codes.
"Winning 20k at shooting dice when I started with fifty dollars... that was a really good day." — Young Thug
More than any of those three though, Thug is definitely Young. Surprised with a question about the Ferguson tragedy at the BET Awards in June, he responded to a Bossip reporter, "Leave that up with the critics and the laws and all that other shit. We having fun, we iced out, we having money. That's how we doing it." That answer was scary in a casual way because he's a major artist with enough pull on his legions of young admirers to steer them wrong. But it's also fearless, free of PR mechanics or any situated camp the media can place him in (just like how nobody knows what label he is signed to).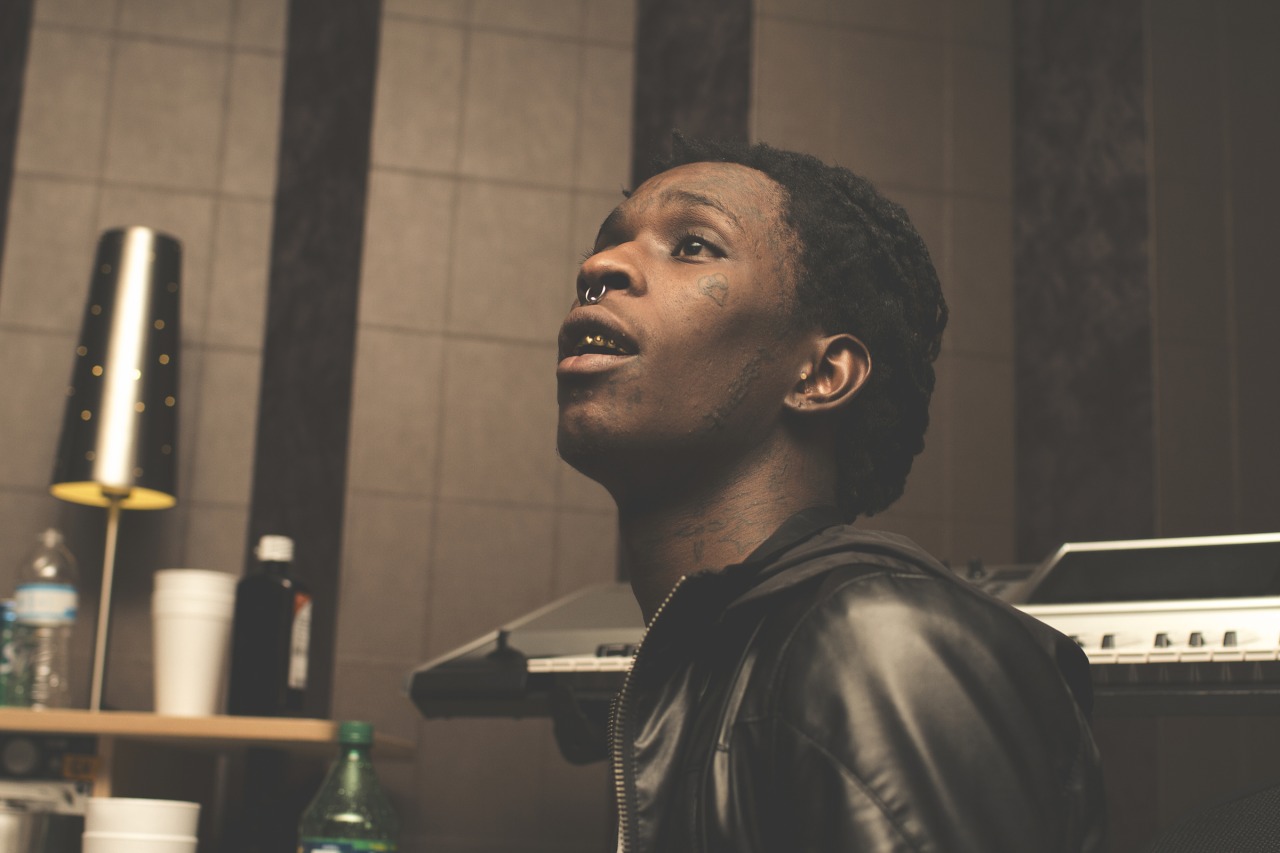 Besides, he has every right to be a 23-year-old black man "iced out" with money, despite what America's worst vigilantes may think. And he's provocative in useful ways as well, referring to his bros as "bae" and Instagramming himself in a dress, the latter causing several gossip outlets to post slideshow galleries of how many rappers have worn dresses by now — A$AP Rocky, Wiz Khalifa, Pusha T, who knew. (Thug wearing UGGs was more probably more transgressive anyway.)
But like Lil Wayne, who also happens to be his first-, second- and third-favorite rapper, he's more into what he likes than what he means, and not just because his raps have fewer topics of interest than voices with which to discuss them. Though, like his hero, he works fantastically within his chosen limits: Wayne's subliminal-if-crude generosity towards women sneaks into Thug lines like, "Even though I ain't gonna hit it / I still gonna make sure she gushy." In fact, his long-awaited Wayne collab "Take Kare" itself is a long-term romantic pledge (!), underscored by surprisingly somber, almost funereal piano plinks.
ONE PERSON who believes Thug is the "future of this genre" is his executive business consultant and assistant, Amina Diop, a 30-year-old Georgia native and mother who currently resides in Queens. She likens Williams to her "little brother" and highlights that his creative overdrive can strike at any time.
"He may see a cool design and want to create a new shirt design on the spot and decide to call and tell me about it at 4 a.m.," Diop tells SPIN via email. "He may rip the sleeve off a $2,000 shirt right before an appearance to achieve a look."
It's never easy to get the year's hottest rapper to sit down for an interview, and Thug's known both for his convoy of bad label communication and three-word answers to yes/no queries: "yes no yes." But after a week of false starts and aborted phone calls, the rapper responded to a handful of questions over email.
Can you tell me a good memory from your childhood?
Winning 20k at shooting dice when I started with fifty dollars. I must say that was a really good day and a good memory… [laughing]
What's the hardest thing about being on tour?
Being away from home and my family is always the hardest thing about me being on the road.
What's the craziest rumor you've heard about yourself?
The stupidest rumor I've heard about myself was that I was hospitalized after being raped by two male fans. I was like, wow, that's ridiculous.
What was the last time you remember struggling to get what you need?
September 11th last year. Crazy how things can change in the course of a year.
What's an opportunity or an offer you turned down?
Over a quarter of a million dollar financial offer.
How did people react to your performance on Jimmy Fallon and what you wore?
Look at a tape of the Jimmy Fallon show and look what I wore... they reacted very well to it, people still hit me about it.
Which is the better Lil Wayne album, Tha Carter II or III?
Tha Carter II. There was more hunger.
Are you comfortable with the amount of privacy you currently have?
Yes, of course. I have a really good bodyguard, too. He's great at his job.
How do you feel about SPIN naming you our Rapper of the Year?
Feels great of course. I'm joyful. I'm happy that you did it.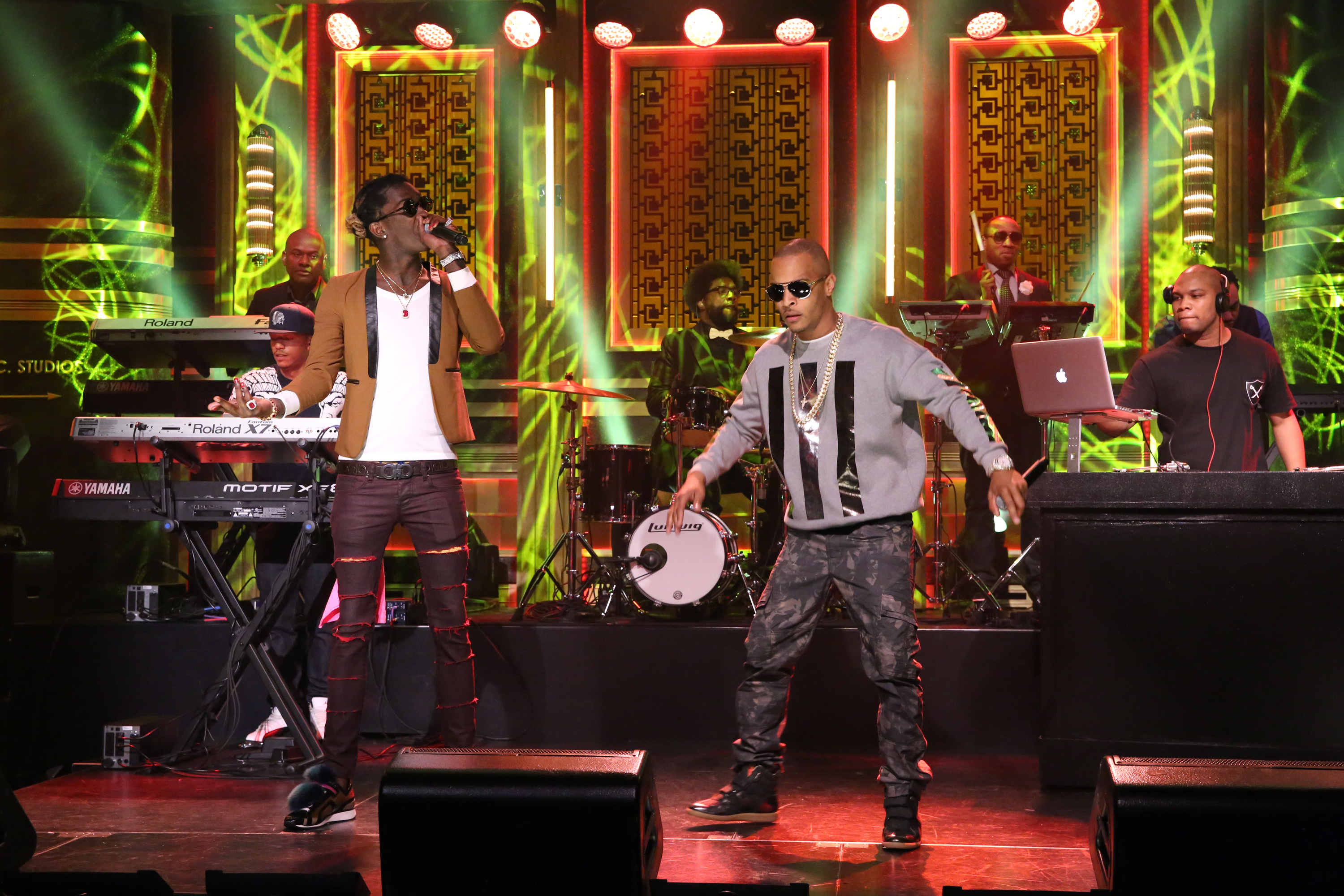 Young Thug and T.I. on 'The Tonight Show' / Photo by Getty Images
PLAYING THEIR CARDS close to the vest has never hurt any rapper, though the danger of being incomprehensible is that people will interpret you however they will, like a real-life Citizen Ruth. Thug aspires to be more like the Mulholland Drive of rap, but much funnier, creating vivid scenes and tearing them down and sighing loudly when asked to rewind and explain them. And you would too if you were a human Möbius strip who understands exactly why he's the shit and how to mass-produce more of himself by working with virtually everyone: T.I., A$AP Ferg, his de facto mentor Gucci Mane. Wielding Auto-Tune the way Jackson Pollock flung paint cans, the inscrutability of Thugga's aesthetic has more in common with say, the aqueous Cocteau Twins than his straight-shooting "Old English" collaborator Freddie Gibbs.
Thug's prolific, assembly-line nature of working and unplanned release schedule have all caused him to have multiple signature songs at once, depending on which demographic you ask. After the infectious mixtape favorite "Danny Glover" and actual Hot 100-charting hit "Stoner" made inroads from two different directions, he's finally lit up the boards on "Lifestyle," a glistening far cry from the scuzzy DIY of Black Portland (which may have been smoked into existence years ago for all we know). His squeaky-slippery voice on it is more sparklingly legible than ever and still completely alien to the world at large. "They want to know how I got M's and didn't finish college," is one of his clearer observations, while clarifying he still "did a lot of shit just to live this here lifestyle" in his electronically mastered wheeze. Whatever the sentiment, his dribs and drabs of sound fall to ribbons over the unhurried, lounging beat with as disciplined an ear for melody as his legibility is sloppy.
Similarly, the high notes in "Danny Glover"'s chorus shoot forth like lasers between the frantic mumble of his verses. Like "Louie Louie" or the title track from Kid A, you can enjoy him with your comprehensive brain functions in airplane mode. It all lives up to the promise of "Picacho," where he pitched up his voice like Dave Chappelle saying "Titties!" (and half-cried the part about walking into a club). Never before in the genre has a shout of "I'm a boss bitch," sounded more like a sobbing incel losing a date and trying to get the last word as she walks away. All of this would make him the weirdo of the week like so many others — Yelawolf, a Fu-Schnicken, MC Ride — but for the fact his whine is adorning more pop hits than ODB's did. And "Danny Glover" wasn't even supposed to be released: he told Complex that he wanted "Stoner" to set him up as a one-hit wonder to blow people's minds with what came after, à la Beck and "Loser." Who thinks like that? How did we let this Zelig crash our most Auto-Tuned, EDM-quantized year ever? And where can we find more of him?
Like "Louie Louie" or the title track from Kid A, you can enjoy Thug with your comprehensive brain functions in airplane mode.
Like with SPIN's 2014 Artist of the Year, Sia, what the social media age hath wrought is great artists who prefer their wizardry behind the curtain of the unknowable. They both disavow the "social" aspect of media and just want to shake as much art out of their fertile period as possible. This doesn't at all mark them as "difficult"; Sia and Young Thug have already worked with the vast majority of pop's A-list — Kanye West praised Thug's quick songwriting skills after a studio session earlier this year — and their audiences love them while maintaining respect for these anomalous, almost anachronistic boundaries.
Speaking of against-the-grain attitudes, Thugga's not completely apolitical. Dig around YouTube and you'll find a song he Tweeted last year called "Let Me Live," ID'd as a response to the Trayvon Martin tragedy, and if you squint you can hear him mumble a dedication to Martin in the intro. Through thick Auto-Tune and overheated, barely-mixed synth lines, Thugga sings the title as an impassioned plea, almost a ballad, and the exhortation — "I don't wanna get fuckin' killed" — is sincere. Just the same, he repeats "it's drank (Drake? Tray?) baby" like a hook, and mutters something that sounds like "green eggs and ham" before returning to "the courtroom." There's meaning but stopping to explain it would only slow him down. Let him live.