It's the day before New York City puts a permanent ban on hoverboards, and Ty Dolla $ign is zooming around on one at his label, Atlantic Records. The R&B singer, whose flight was delayed from California, just hopped off of a red eye, and he's arrived after sifting through traffic, the wear of an all-night trip creeping out from under his jade-green eyes. He whirrs into the imprint's photo studio, procures a joint, and sparks up. Staffers passing by take notice: It's been weeks since Julie Greenwald, Chairman/COO of Atlantic Records Group, put the kibosh on motorized scooters in the midtown office after an employee fell off and injured themselves on one. Ty doesn't seem to care.
In fact, he spins around on the board in a tight circle, smoke billowing from his lips as a carousel of thick braids whip around his face. He plays Cam'Ron's "Get More" on a Bluetooth speaker. "He's the best rapper," says Ty, flicking his still-lit joint alarmingly close to a curtain next to him. He takes out another one, lights it, and asks to see what the photographer snapped. "All my old pictures look fat," he says, his serrated baritone echoing through the studio.
[caption id="attachment_id_173438"]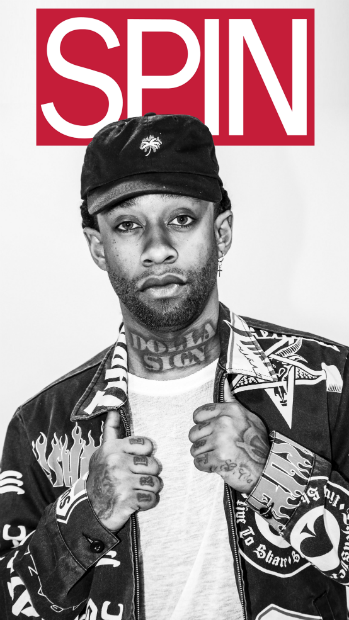 Krista Schlueter[/caption]
It's a moment of comical vulnerability, particularly for a singer whose inescapable smash, "Or Nah," is pocked by over-confident lyrics like "Can you really take this dick or nah?" Moments later, he's rolling down the hallway of Atlantic, heads peering from cubicles as he hums along. Cam'Ron is still blasting from the speaker as he swerves into the corner conference room, taking a seat on the arm of a purple suede couch. An executive comes in and hops on the hoverboard, zooming around the cozy quarters in hopes he doesn't get caught. Ty remains unconcerned; he sets two joints on the table beside him and flicks through his phone.
"Movie!" he exclaims, referring to his freshly released major-label debut, Free TC. He's in town for a few days to promote the project, a star-packed blend of lush, remarkable R&B jams and frosty club anthems, songs like "Saved" featuring E-40 and "Blasé" featuring Future and Rae Sremmurd, the latter of which topped at No. 20 on Billboard's Hot R&B/Hip-Hop Songs chart. It's a vast step forward for the singer, born Tyrone William Griffin Jr., named after his father, a member of funk collective Lakeside who now plays in his band. The profane, inexorable songs that made Ty a star ("Paranoid," "Or Nah") remain, but it's the acoustic guitars, nuanced string arrangements, and exploratory songwriting that boost his potential to be more than just the next Nate Dogg, the late velveteen baritone to whom he's often rightfully compared.
"People say they got more than they expected from me," says Ty, gazing across the room. He's referring to the seven or eight mixtapes he's released since 2011 and last year's Beach House EP, all of which put him in rotation on the club circuit. "This time, I put my all into it rather than a mixtape, just taking a sample and making some drums, whatever. I got Babyface on my s**t. I got f**kin' R. Kelly. I got the greatest of the greats."
https://www.youtube.com/embed/rVJc7dtkHdE
More notable than its supporting cast, though, is the framework of the album, dedicated to his brother Gabriel "TC" Griffin, a member of the Schoolyard Crips who has been behind bars for 11 years. Griffin was accused of first-degree murder in 2004 after allegedly shooting a man twice in the head and once in the shoulder for snitching on a gang member. Another man was shot in the hand. There were several bystanders who knew Griffin and bore witness to the incident, confirming he fired his weapon at arm's length. Weeks later, police raided Griffin's bedroom without a warrant on the condition of probation violation for a previous offense, and discovered a drawing of a man who had the same tattoo on his forearm as Griffin shooting a dog, with the letters "SYC" written above it, referring to his gang's initials.
Police claimed it was a trophy picture for killing a gang member, represented by the dog. Griffin was arrested and sentenced to 25 years to life for the murder, as well as 25 additional years for enhancement, which extends a sentence based on previous charges. He also received numerous sentences for various charges (additional counts of assault and enhancement) that upped his total time behind bars to 67 years to life. He filed for an appeal that was denied in 2008.
Ty is reticent about going into details of the case, a curious stance for an artist whose first major outing is intended to aid his brother's impending release. Partial proceeds from Free TC's sales, which capped at 32,000 copies in its first week, will be donated to Griffin's lawyer; the rest will be placed in a foundation to help liberate others who have been accused of crimes that yielded imprisonment. In past interviews, Ty has been curt about his quietude on the case, asserting that his personal legal issues may poison Griffin's chance at exoneration. He doesn't believe his brother did anything. When pressed on what sort of matters could possibly affect another individual's case, Ty cocks his head away, shifting his eyes to the side: "Personal. That's why it's called personal."
[featuredStoryParallax id="173440" thumb="http://static.spin.com/files/2015/12/ty-dolla-sign-2-300x133.jpg"]
And yet, Ty lights up when talking about what he considers the album's centerpiece, "Miracle/Whatever," a patient eight-minute song that features Griffin singing over the phone from a California prison as his cellmate D-Loc bangs out a beat on the bed frame, the warm instrumentation fleshed out by Ty in the studio. Griffin has been a fixture on his older brother's prior releases, offering spoken-word moments of wisdom, but the even-paced floater showcases Griffin's fine tenor, one that could easily rival that of his brother.
"He might be doing better than me, s**t," says Ty, leaning forward and letting out a deep laugh. "He definitely had the best verse on my album, out of everyone." It's a generous compliment — he's referencing a roster that counts Fetty Wap, Jagged Edge, Trey Songz, Kanye West, Diddy, and a handful of other high-watt performers, many of whom were selected as a sort of childhood-dream team. It's evident that the 30-year-old's varied and rich musical upbringing informed the LP's diversity. The South Central native is quick to name-check Mista Grimm, D.R.S., A Tribe Called Quest, Nirvana, and J. Dilla in the same sentence, counting a spread of musicians that he gleaned from listening to an international mix of radio stations including Los Angeles' 92.3, BBC Radio, and KCRW.
https://www.youtube.com/embed/0qip6TE3jXw
If anything, Free TC is a clear indication of Ty taking a creative step to the next strata. There were glimpses of excellence on his mixtapes, starting with House on the Hill, hosted by DJ Ill Will and DJ Mustard, where he set the foundation of what's been termed as "ratchet R&B": turn-up rap music that lacks the rap but pulls from its conventions, mining icy 808 drums, sparse synth melodies, and a conversational flow. (Otherwise: Consider it R&B set to beats from and similar to that of producer du jour Mustard — something that's prompted sects of media to lazily refer to him as a rapper, a categorization he blames on his "just going light.") Over time, he chiseled his skill set into something more sonically muscular. Last year's Beach House EP, for instance, opens with "Work," a voluptuous, meticulously orchestrated track that belies the frozen bounce of "Or Nah" and "Paranoid."
Wiz Khalifa, who contacted Ty through Twitter after hearing 2012's Beach House mixtape, signed him to his Taylor Gang imprint for management in 2013, captivated by his left-field sound. "You need artists who are free to be themselves and who write and perform from the heart, and who are always striving for what's next," says Khalifa. The rapper co-manages Ty with industry vet Kevin Liles, whose clients include R&B titans Trey Songz and D'Angelo. "Anyone with a gift like his should share it with the world," says Liles. "His lyrics and melodies are a reflection of his life. He is just getting started on his journey."
To record Free TC, Ty went deeper than looping sound beds and stuttering out choruses. (You've heard the latter on Chris Brown's "Loyal" and YG's "Toot It and Boot It," both hits he co-wrote.) He wanted to showcase his musicality — he's a deftly abled artist, particularly gifted and versatile among stringed instruments, inspired to embrace his creativity at a young age from his father and uncle, both musicians — and spent $60,000 out of pocket to hire the Benjamin Wright Orchestra (whose credits include work with Justin Timberlake, Michael Jackson) for enveloping contributions to songs like "LA" featuring singer-songwriter James Fauntleroy (Timberlake again, Frank Ocean), Brandy, and Kendrick Lamar. On "Solid," he wails in a fettered, ruffled tone against crisp acoustic guitar strums from Babyface; "Credit," featuring Sevyn Streeter, peaks with an '80s-indebted saxophone solo.
"My s**t's hella vulgar," Ty says, laughing.
The album's beefier sonic palette could be pegged to its heavy liner notes — songwriters span from three to 13 collaborators across its 16 tracks, an intentional meeting of the minds to enact Ty's vision. "I wasn't afraid to share the glory. I've read some of the comments where people are like, 'Yo, he got all these features. I wanted to hear more s**t from him and D.R.U.G.S.,'" he says, referring to the production team that handled the bulk of his mixtapes. "But it's like, come on, man. This s**t right here is on some other s**t, and the people that matter are loving it and that's all that matters."
For every surgical orchestration and high concept, though, Ty is quick to fall into old habits. Free TC is as sonically rich and developed as it is abrasive and blunt. In the past, he's been pegged as a crude misogynist, quick to croon lines like "She got that wet, Sea World / And I dive in that pussy like Shamu, girl," or "I gives a f**k 'bout these bitches because the money's the mission." They're lighthearted, yes, but they're also crass, with little accountability.
"My s**t's hella vulgar," he says, laughing. Ty is unfazed by accusations of fetishizing women, chalking it up to the fact that detractors are "probably just not from the same place" and citing the hordes of females at his shows as evidence against any unintended misogyny. But as a musician, he'll only defend his songs to the point where it affects his art. He changed the lyrics to "Straight Up" after Patrice Rushen, whose song "Settle For My Love" is sampled, objected to the initial version's language. He did the same on "Solid," to appease Babyface because the track was "on some conscious s**t," substituting "chicks" for "bitches" on the chorus.
https://www.youtube.com/embed/TzXz-xLB1-0
On Free TC, he's certainly less explicit, and it's a more comforting, softer side of Ty that was eclipsed on previous releases. And then there are songs like "Horses in the Stable," an electric guitar ballad that likens thick women to animals that he can ride at will. He defends the extended metaphor by explaining that it was written by Tish Hyman, an accomplished female singer-songwriter whose next single — titled "Dreams" featuring Ty and Fabolous — releases at the top of 2016.
After all, how could a song written by a woman be misogynistic? "It's funny," says Hyman. "I think that alone takes away from what a person might say [about it]. It's just the way it is! It's not like he's lying. The metaphor is pretty clever, from what I'd like to think. You can't please everybody. But at the end of the day, it's a good song."
[featuredStoryParallax id="173443" thumb="http://static.spin.com/files/2015/12/ty-dolla-sign-3-300x133.jpg"]
And that's Ty Dolla $ign: a charming yet rugged R&B singer who says and does what he so pleases, whose music apologizes for him. He's unconcerned with monogamy — "It's not going to be fair," he explains, "[that] I have to do this s**t, and this requires a lot of s**t that will make a girl pretty upset" — and adds clauses to thoughts that sharply belie his otherwise gentle demeanor. ("I could f**k a bitch standing up," he says after explaining his workout regimen; "I don't suck my own dick, I'd rather get it sucked, you feel me?" he explains of why he doesn't listen to his own music.)
"I think that [he] speaks from the heart, and whatever his own personal experiences are that make him say these things about what he has been through, that doesn't go for every woman or his thinking in general about women," says Khalifa. "He has a daughter and is always with his mom. That doesn't make him a misogynist because he speaks his mind."
Khalifa does have a point: Ty is committed to raising his 10-year-old daughter, Jailynn. Ty says he hasn't been with his baby's mother since the birth of their child, but they remain on good terms. He stays in constant contact with Jailynn ("Thank God for FaceTime, I can talk to her a lot") and allows her to listen to his music. In fact, she has an iPhone with his songs downloaded to it, and she listens to them with her friends. "That really isn't going to make or break a kid," he says. "You have to teach them respect. I know how it was when I was 10. S**t. Turnt up. Better be glad I didn't smoke a cigarette and s**t. I didn't start smoking weed until I was 18, because I respect and listen." He suddenly remembers the two joints resting on the table next to him. He grabs one and blazes it.
[featuredStoryParallax id="173446" thumb="http://static.spin.com/files/2015/12/ty-dolla-sign-4-300x133.jpg"]
That's precisely the perspective that's pushed Ty from a local favorite to a nationwide star: being respectfully disrespectful. He's noticed imitators, and there have been many. "When 'Paranoid' came out, how many other 'Paranoids' came out?" he says. "No shots, just real. When Future came out, how many niggas went to Metro Boomin and was like, 'Yo give me that s**t that you got for f**kin' Future'? How many niggas went to 40 and asked for the Drake sound, you feel me? How many fake Drakes are there? How many fake Migos are there? That s**t is wack."
Today, Ty is only concerned with himself. He's plotting a tour that will keep him away from his daughter for a good portion of the year; a lugubrious glint washes over him when he notes this. The tour will also prevent him from recording at a clip that's pushed his output to consecutive releases for the past half-decade. He next plans to record either Beach House 3, the third installment of his acclaimed mixtape series, or a full-length album like Free TC that he'll call Beach House.
He tokes his joint, and reflects. "I want to be one of those ones: a legend," he says. "One of the ones who wasn't just here for the fame and chains and bitches and weak s**t." There's one last thing, he adds. It's a familiar sentiment. "Tell all the ladies to follow me on Snapchat, I don't want to see no guys snapping me." He often ends interviews with this exact statement. "This is my speech because it keeps on happening, bro. I've been waiting for it. My nigga Trey Songz got it live on his s**t. I need my s**t like that."
Correction: An earlier version of this article reported first-week sales of Free TC at 22,000 when they were actually 32,000.