On a chilly weeknight in late January, I meet Turnstile at Studio 4, a recording complex tucked away in the basement of a nondescript bar just outside Philadelphia. "Freaky" Franz Lyons, the band's bassist, supporting vocalist, and biggest social butterfly, goes in for a one-armed hug, clutching a cigarette in his other hand. "Everyone's inside," he informs me between drags, leaning in as if to let me in on a big secret. "It's a party."
He leads me downstairs, where a low-key, mostly non-alcoholic bacchanal is taking place. Frontman Brendan Yates is blasting oldies on his laptop from the sofa, bright blue eyes narrowed as if he's studying algebra; a few feet away, rhythm guitarist Pat McCrory and drummer Dan Fang are getting their NBA on, taking shots at a downsized hoop affixed to the door. Lead guitarist Brady Ebert, who's tuning from the back of the adjacent room, may as well be invisible—that is, were it not for his screeching strums.
This time tomorrow night, they'll be taking the stage at Revolution bar in Long Island, New York, for their first gig of 2018, a sold-out, one-off show. (Joining them will be shoegaze-punks Title Fight, the evening's headliners; King Nine, a tough-as-nails wrecking crew from New York; and the rising Richmond-based hardcore band Nosebleed.) Turnstile's performance will showcase several new songs from the band's third album, Time & Space, their first new record since 2015's crossover effort Nonstop Feeling, and they're here tonight to practice until they can perform them perfectly. Their attention to detail has gotten even more refined over two albums and three EPs that apply a post-genre approach to punk, which filters the genre's brutish fare through a sonic spectrum. Soul, rap, rock, psychedelia, R&B: they're all here under the band's big tent, and with the arrival of Time & Space, the tent's only getting bigger.
The same can be said for their band's burgeoning brood of porg dolls, goofy toy Star Wars critters with huge, saucerlike eyes that chirp when you press the button on their belly—Turnstile's sudden splurge turned inside joke. Their latent silliness is precisely why the band is rolling five plushies deep for the year's first show, rehearsal included. Turnstile's members found an unlikely kinship with their "charges"—the plush toys purchased during a spur-of-the moment trip to Target. While porgs added a pinch of subversive silliness to the otherwise brooding tone of The Last Jedi, Turnstile eschews the tough-guy tropes of the hardcore genre in favor of fun, honesty, and most importantly, diversity.
[caption id="attachment_id_279767"]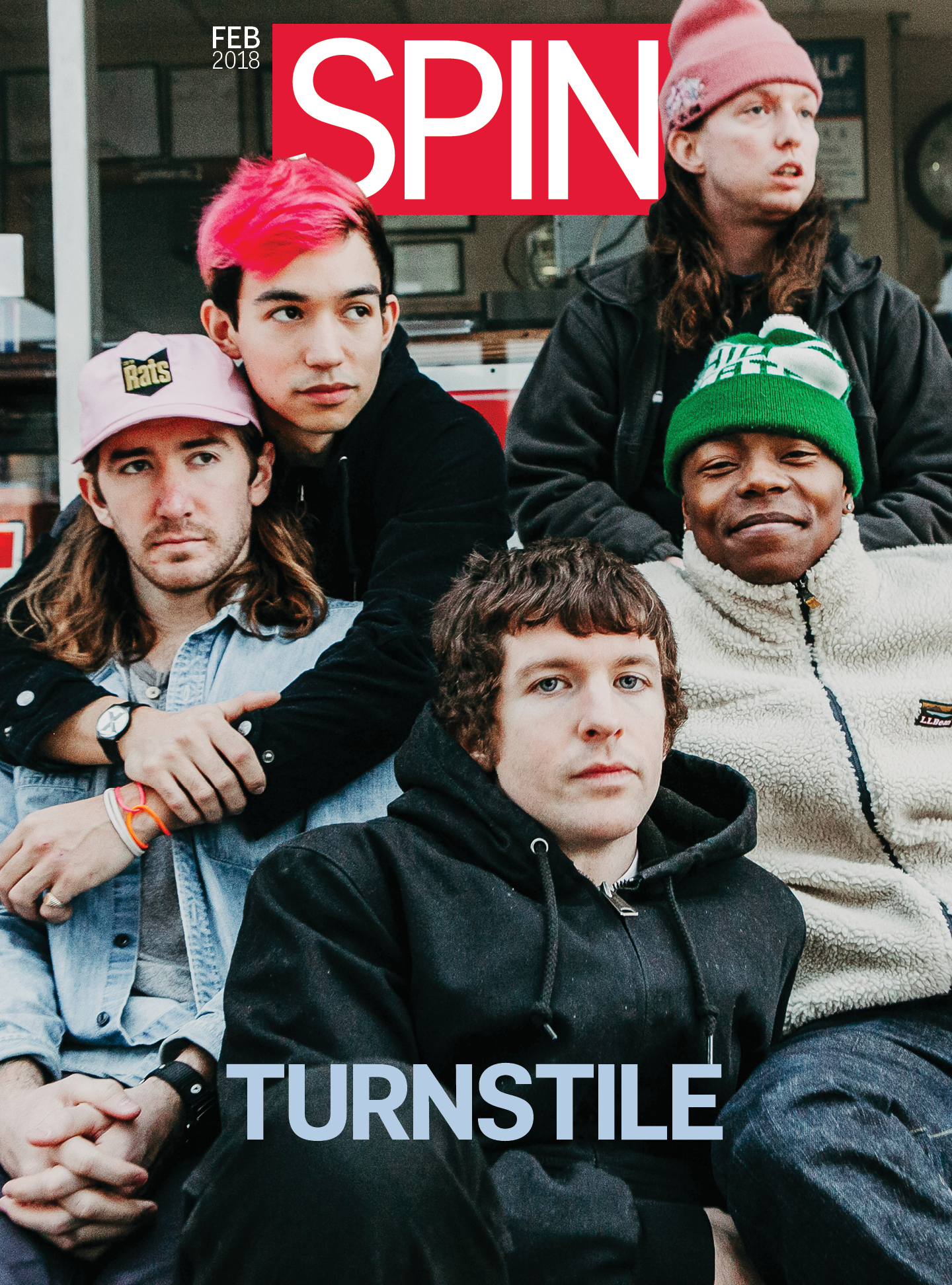 Angela Owens for Spin[/caption]
Turnstile was conceived as a collaborative endeavor between Yates and his childhood neighbor, Ebert. They met as kids growing up on the same tree-lined street in the Maryland suburbs just outside of Washington D.C. Despite the four-year age gap (Ebert's the older one), they quickly bonded over mutual interests, like skateboarding and New York hardcore bands Madball and Agnostic Front.
The pair soon got together to play music in a fellow neighbor's basement. "I remember the first time we were jamming together," recalls the guitarist. "I was definitely wearing a Rancid shirt: the red one, I think, from Hot Topic—"
"That Rancid shirt is the first image of Brady in my head!" Yates affirms with a grin.
By high school, Yates and Ebert were regulars at tiny Baltimore clubs like the Sidebar Tavern and the now-shuttered Charm City Art Space. They joined the hardcore circuit first as fans, then as members of the early-Aughts metallic punk band One Step Too Many (with Yates on drums and vocals and Ebert on guitar).
In 2005, Yates—then 15—met Justice Tripp, a like-minded hardcore enthusiast almost five years his senior who was looking to launch a Madball-esque band with three other friends and Yates on drums. The resultant group, Trapped Under Ice, unleashed their debut album, Secrets of the World, four years later, its catchy choruses and knuckle-clenching breakdowns spreading like wildfire amongst the pit-starting set.
By the time high school graduation rolled around, Yates was stuck at a crossroads: should he attend college or cultivate his budding musical aspirations with Trapped Under Ice and Ebert? "I didn't really have much direction as far as what job to get, or where I wanted to work," he says. "All I knew is that I liked playing music." Yates ended up enrolling at nearby Towson University, but dropped out a few months later, after Tripp sold him on a riskier but more rewarding alternative to midterms and dining halls.
"Justice pretty much put it on the table: Maybe you shouldn't go to school anymore; we can all commit to full-time," Yates remembers. "That was the moment where it was like, 'Alright, I'm just going to make this something that I'm spending all my time doing, which is cool. It's not necessarily like we're touring 365 days a year, but if you're always at school, it just takes up a lot of time. You can't keep yourself open to always be able to create stuff, go on tours, or play in different bands. It takes up a lot of time, for sure, as a full-time thing."
When Trapped Under Ice took a post-tour break in 2010, Yates and Ebert picked up where they left off, determined to channel their old bands' feral spirit and Spartan discipline into something new and fun. Their collaboration also served as a vital creative outlet for Yates, who—despite his prolific output with other groups—had yet to pilot his own band.
All that jamming and recording left Yates and Ebert with plenty of fodder for a 7-inch—and in time, the trappings of a whole new band, named Turnstile. Yates recruited three close friends to join them: Lyons, bassist and erstwhile Trapped Under Ice merch guy; Fang, who had been classmates with Yates at Towson (also of Diamond Youth, one of Ebert's side projects); and guitarist Sean Cullen, with whom the group parted ways in 2015.
[caption id="attachment_id_279808"]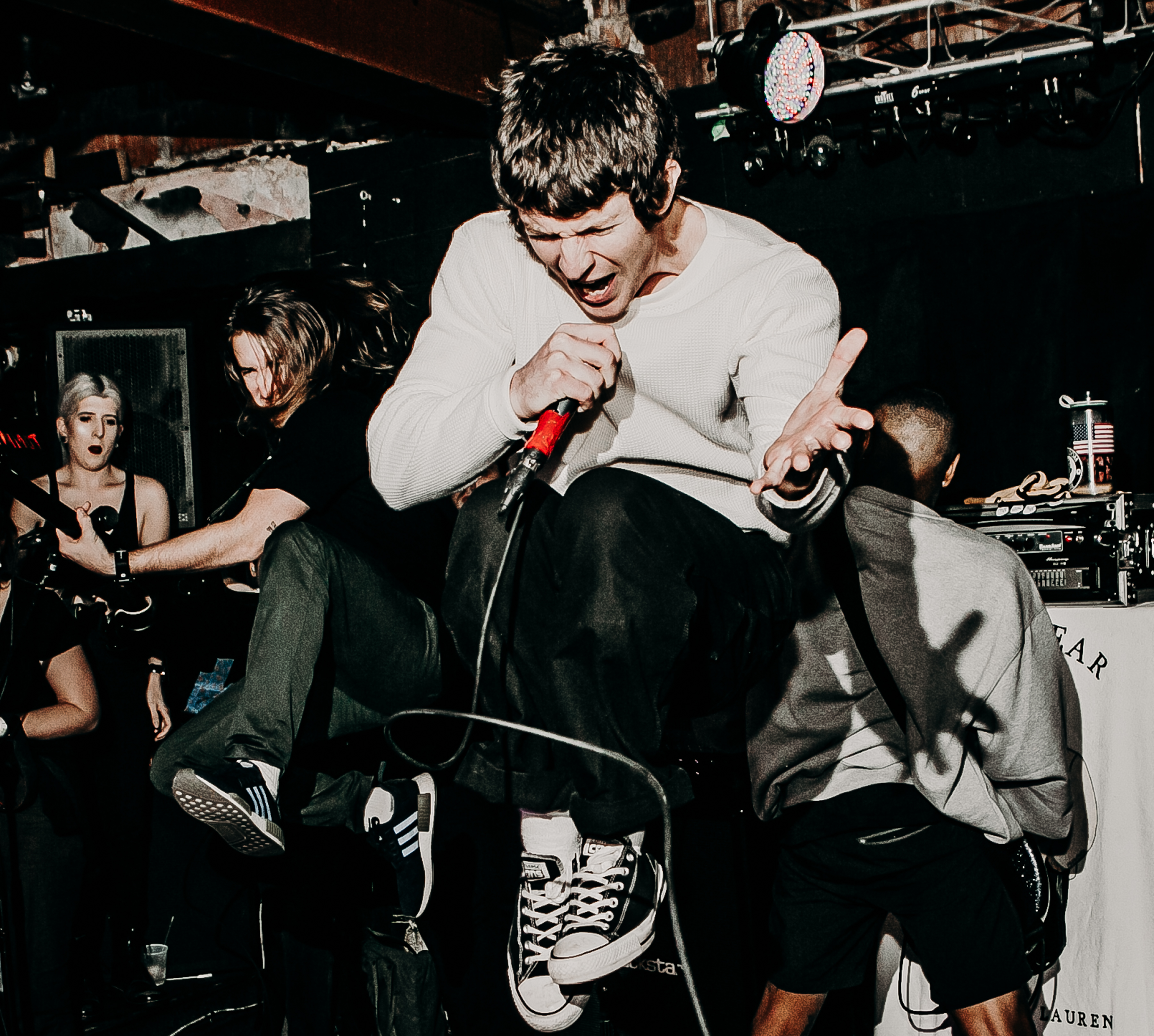 Brendan Yates, Photo by Angela Owens for Spin[/caption]
McCrory is Turnstile's newest enlistee. He came aboard in 2016, following Cullen's departure. Having spent the past few years playing with Yates and Fang in Angel Du$t, their Tripp-fronted side band, McCrory was well-equipped to steer Turnstile's lightning-in-a-bottle antics. "Because we'd always been touring together, it wasn't like we were getting someone who was unfamiliar," Yates observed. "We were actually getting someone who, to us, already felt like a member of the band." (Not that McRory's previous relationship with the band amounted to a free ride—the guitarist experienced some dubious "hazing" at Turnstile's hands. And in Turnstile's world, "hazing" means intra-band group hugs and regularly-scheduled goodnight kisses).
The band may be pulling my leg with these stories of cuddle-pile aggression, but the yarn is telling nonetheless. Like their purported "induction exercises," Turnstile's records play out as displays of unfiltered exuberance and unfettered emotion, where flexing and feelings go hand in hand. The band's self-titled debut, released in 2014, took hulking riffs and made Chicken Soup for the Hardcore Kid's soul, with Yates spitting furious treatises against toxic relationships ("Death Grip"), scene purists ("The Things You Do"), and his own self-doubt ("Pressure to Succeed"). "How could we believe in a calm sea ahead?" he yowls on closing track "The Dream." This led to a perfect summation of the band's outlook: "My friends, my dreams, the end."
The following year's independently-released sophomore breakthrough, Nonstop Feeling, showed just how ambitious—and diverse—Turnstile's hardcore pipe dreams could be, throwing surf-rock, psychedelia, and pop elements into the mix without alienating the rough-and-tumble faithful who'd enabled their rise. (It was little surprise that fist-pumping standouts like "Drop" and "Can't Deny It" prompted comparisons to Rage Against the Machine; Yates' high-pitched yelps recall a prime Zach De La Rocha, while Ebert's quivering leads drip with Tom Morello-esque swag.) In 2016, Turnstile signed with Roadrunner Records, a division of Warner Music Group. 
The following summer, Turnstile decamped to the wood-paneled walls of Studio 4 to cut Time & Space with producer Will Yip, who'd previously worked with peers like Title Fight and Code Orange, among others. This time, Yates and co. were looking to take a wrecking ball to their own boundaries, particularly where arrangements were concerned. "I wanted to expand the sonic field that we're in," explains Yates, "making the faster songs faster, the slower songs slower, and all of the songs more melodic in general."
The end result is an album that gleefully and repeatedly challenges the hardcore status quo while maintaining its pugilistic spirit. Instead of atonal gang vocals and claustrophobic percussion, we get three-part harmonies ("Real Thing"), spongy psych grooves ("Generator"), and rapped elevator-muzak interludes ("Bomb"), rendered all the more glistening by Yip's hi-fi production. Throw in guest appearances from Sheer Mag vocalist Tina Halladay (whose croons flicker in the background of the silvery, soulful "Moon") and EDM bro Diplo (whose synth squiggles surface midway through "Right to Be"), and you've got a damn competitive candidate for 2018's most unpredictable—and exhilarating—album.
https://www.youtube.com/embed/NBMi-KYUl8c
Before playing any of those songs at the Revolution gig, though, they'll need to practice, which is more complicated than it sounds, given the scattered locations and varying schedules of Turnstile's members. (Yates, Fang, and Ebert live in Burtonsville, Md.; McCrory in Baltimore; Lyons in New Jersey). "We haven't rehearsed in a while," Lyons cautions as we head into the anteroom. After grabbing a beer from the bar upstairs, the bassist joins Ebert, Fang, and McCrory for the first of many renditions of Time & Space's lead single and opening track, "Real Thing." It's a stomping, Living Colour-esque meditation on deferred dreams. Yates surfaces from the adjoining office midway through take three and commandeers the mic, singing with his hands clasped, choirboy-style, behind his back. After the first chorus, he calls time-out: there's something off with the harmonies.
Yates turns to Lyons. "You're a little flat," he gently informs his bandmate. As the two musicians break down the refrain note-by-note and beat-by-beat, a syncopated dialogue gets underway.
"Can-not-keep-it-all-together! Waiting-for-the-real-thing!" intones Yates.
"Can-not-keep-it-all-together! Waiting-for-the-real-thing!" echoes Lyons.
Yates shakes his head. "Waiting for the!–"
Lyons tries again. "Waiting for the!–"
"–Real thing!"
"–Real thing!"
The frontman nods, satisfied. It'll do for now—but they'll run through the part a few dozen more times over the next couple hours, just for good measure.
The frequency and frankness with which Turnstile conducts such self-critical exchanges testifies to the band's strong chemistry, onstage and off. Theirs is a group not just of bandmates, but gym buddies (Yates and Lyons), like-minded gamer nerds (Fang and McCrory gush to each other over the mega-popular shooter PlayerUnknown's Battlegrounds), and smoking partners (Lyons and Ebert). They're a group who fight rarely, if ever. "When you put people like that together, sometimes it doesn't work," said Yip. "They clash, or they'll try to stomp over each other. But this group of people, they just support each other—they just vibe off each other in order to accomplish a shared vision."
So what, exactly, is Time & Space's vision?
"It's just the idea of disconnecting oneself from situations and letting go, separating yourself," Yates replies. "It's just a lot of reflection, in that sense: stepping back and looking at the position you're in, the relationships you're in…[it's about] getting outside of your mind—and out of your body—to see the clearing."
For Turnstile, hardcore's true essence comes from positivity and honesty, as opposed to the aggro-male posturing often associated with the genre. Their ebullient tendencies might throw morose head-walkers for a loop, but at the end of the day, the members of Turnstile can only be their goofy selves. "As serious as life can be," Yates says, "the thing I like about being in a band is having an outlet where I can sing about experiences and just be myself one hundred percent."
It all comes back to good energy, and Yates's old friend Tripp agrees. "When I was getting into hardcore, I was young and angry—most people are," he says, reflecting on the stereotypes of the genre. "But in time, you grow to not want to be in that angry zone all the time, making angry music with an angry atmosphere. There's something cool about a band like Turnstile, who are definitely a hardcore band, but who make music that makes you feel good and is relatable to everybody—not just some angry-ass weirdo sitting around in in his basement."
[caption id="attachment_id_279804"]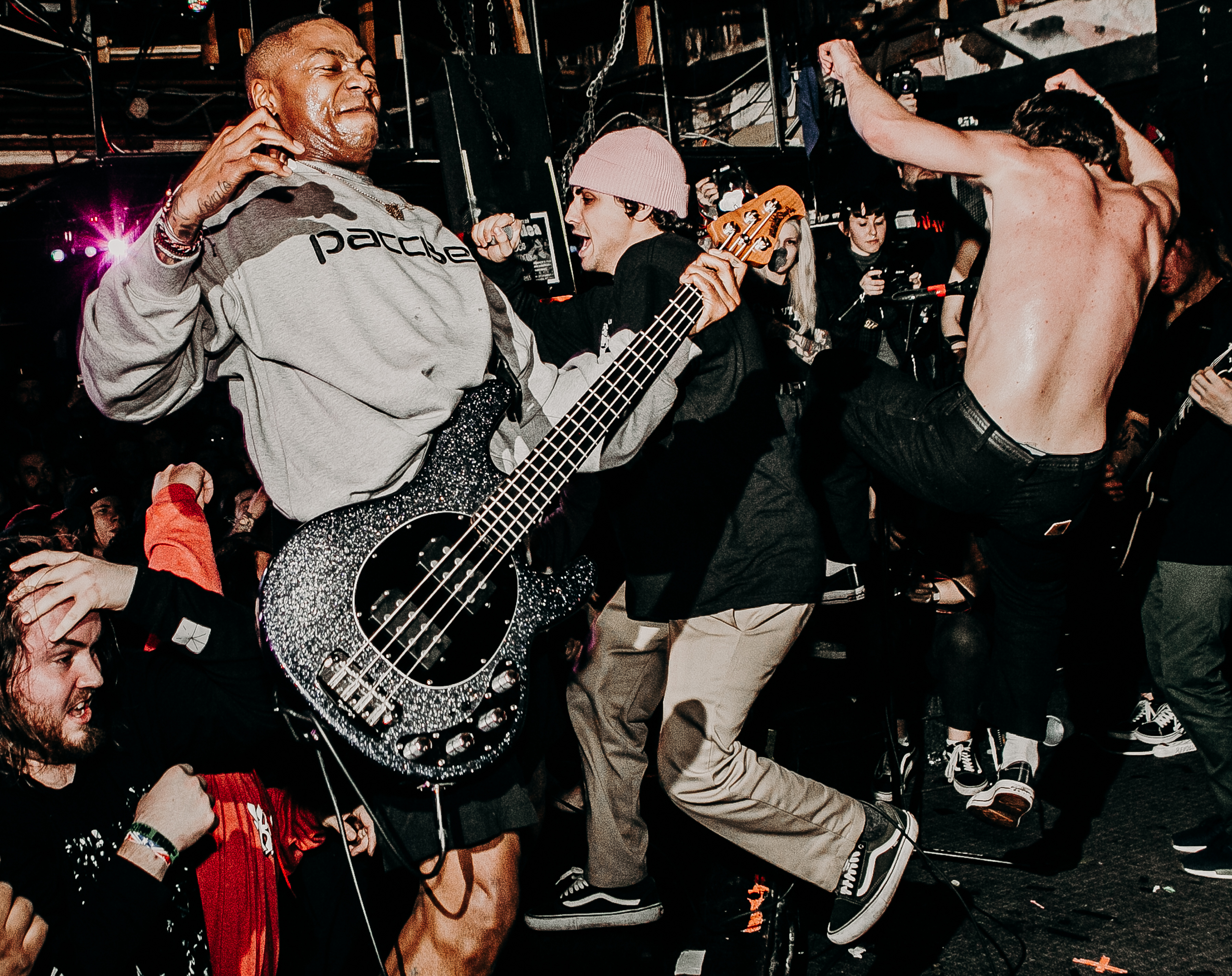 "Freaky" Franz Lyons, Photo by Angela Owens for Spin[/caption]
The following day, as Yates finishes up the day's Angel Du$t duties with Yip, Turnstile meet up outside Studio 4 to load up for their Long Island show.
Tripp is tagging along, eager to provide moral support and onstage protection for the crew's porgs, lest they fall victim to sticky-fingered crowd-surfers or stray spin kicks.
"We got the porgs?" asks Tripp, assuming the tone of a concerned parent.
"They're all buckled in," Fang assures his friend, motioning to the van's backseat. True to the drummer's word, four space critters are lined up in a neat row—seatbelts fastened, beady eyes wide, eager to hit the road. Tripp's charge is easy to spot, thanks to the beanie pulled down over its noggin; upon seeing it, he visibly relaxes.
Cuddly cohorts secure, Turnstile set out for the show. Lyons sits behind the wheel, juggling driver and DJ duties. The bassist's selections over the 4-hour ride reflect a laissez-faire take on genre, as well as a penchant for rhythmic intensity: everything from SZA and Cardi B to California math-rock band Chon and whatever local hardcore band they're feeling at the moment.
The band's influences prove similarly diverse. "I think the biggest influences on our band are our fellow peers making music," Yates notes. "The current things happening, across all different styles, are always going to be the most inspiring, not just the obvious hardcore influences. We're inspired by New York Hardcore, Bad Brains, Madball, Inside Out, Breakdown, whatever, but also things that just spark inspiration in different ways, like Sade—I love Sade."
When Turnstile arrives at Revolution, the line to enter stretches around the block. Lyons parks the van and the guys load in, arms heavy with instruments, gear, and porgs, who will nest atop an amp during the band's set. After catching up with friends backstage, the band members pivot to their pre-show rituals—squats and stretches for Lyons and Yates, beers and cigs for Ebert, quiet socializing for Fang and McCrory, ducking out now and again to catch the opening acts. Ever the loyal friend, Tripp gets the Porgs into formation and slips backstage.
At long last, Turnstile's caustic circus can finally start. They kick off the set with "The Things You Do," a fan favorite off the band's debut EP Pressure to Succeed. The song may as well be the band's mission statement. "Get back, you're never gonna change me!" Yates screams, twisting his torso this way and that to make way for the crowd-surfers. "Get back, you can't save me! / Because the lives we lead are worlds apart / I'm not your average / I'm not your ordinary / I hate those things you do, and I'll never be like you." With each ensuing ripper (including the rehearsed-to-death "Real Thing," which goes off without a hitch), the crowd of mostly teens and twenty-somethings grows more and more fervent, less an audience than a living, breathing bouncy castle.
That the kids are losing their shit hardly comes as a shock—this is a hardcore show, after all. To the untrained eye, their mirthful throes may very well be a melee. Yet, if you squint hard enough at the blur of limbs, a sort of purity emerges, grounded in DIY good faith: beaming kids helping each other to and from the stage, tall dudes relinquishing spots in the pit to the vertically-challenged. Copping feels, pulling punches, and staring down suspected "posers" might fly (or at least, go unaddressed) at other raucous gatherings, but here in Turnstile's house,  strangers are little more than best friends you've never crowd-surfed with. It feels like the real thing.