Two years after his personal and professional low point, Patrick Stickles, mastermind of Titus Andronicus, has crafted his most ambitious album yet. Now that he's faced down The Most Lamentable Tragedy (and the Big 3-0), the seemingly nihilistic frontman is actually looking forward to looking forward.
ACT I: The Arena-Rock Experience on a DIY Budget
It's 5:30 on a Friday afternoon in late July, and I haven't been this exhausted in years. All around me at the Shea Stadium concert space in East Williamsburg, Brooklyn, the members of freedom-rockers Titus Andronicus are proving their DIY mettle, readying the stage they'll be playing on tonight. Bassist Julian Veronesi is helping to set up a pulley system to hang stage curtains for a grand opening; lead guitarist Adam Reich is painting the backdrop black to spray their "+@" logo over it in gold; drummer Eric Harm is constructing an annex to give the band room for their monitors. I've spent the last 15 minutes tearing the ridges off styrofoam squares, which will end up lining the perimeter of that annex as padding, so that the kids who will invariably end up moshing near the front of the stage won't bang their knees too badly. The whole scene feels halfway between grandiose rock theater and community service project.
Heading the effort is Titus Andronicus' fearless leader, Patrick Stickles. Fully bearded with a mouth full of cigarette-poisoned teeth and a mercilessly penetrating stare, Stickles is a commanding presence, even in a ratty "Friday Night Rock" t-shirt and pants that barely stay connected to his wiry frame. Since I'm an extra set of hands, and the band has been setting up since I arrived five hours earlier — "This is the fly on the wall I told you was going to be buzzing around," Stickles said, dryly introducing me to the rest of the band — the frontman has enlisted me as an intern. I've steadied ladders, I've moved furniture, I've torn off countless strips from a roll of gaff tape bearing the name of Arcade Fire member/solo star Will Butler. (Butler left the tape at a show both artists played at. "And f--k if he's getting it back," Stickles trumpets. "That s--t's $22 a roll! SORRY, WILL BUTLER!") I've also had to make two trips to the graffiti-covered bathrooms to wash blood off my hands after cutting myself on various sharp objects. Titus Andronicus are much better at doing it themselves than I am.
Stickles is fond of winkingly calling the 6-year-old Shea "the longest-running DIY venue in the world," a likely contestable distinction in which he nonetheless takes a great deal of pride. He's hardly objective, anyway: His band has used the endearingly grungy venue — which is co-owned by Reich, now their guitarist, along with punk kindred spirits the So So Glos — as a practice space since 2010, and Stickles himself has manned the venue's door as ticket-taker many nights. And tonight, Stickles and Co. will perform the first of five sold-out shows at Shea (in as many nights), a residency to mark the release of their fourth and most ambitious album: the two-disc, 29-track, five-act, 93-minute rock opera, The Most Lamentable Tragedy.
https://www.youtube.com/embed/YKdWBpXlc6E
Titus Andronicus albums have more of a built-in urgency than the great majority of other rock albums in 2015, for the simple reason that every LP the band releases may end up being their last. That's not just a comment on the band's stability — they've rotated through well over a dozen members in their decade-plus of recording, and Stickles has had continuous issues with mental and physical health — but a direct quote from the frontman himself. "Every time I make [an album], I kind of figure that it's going to be the last one," he told Grantland in April. "I'm getting old, what the f--k are we doing?... This is a young person's game; it's not a sustainable lifestyle."

The stakes are particularly high for Stickles now, because the previous album nearly destroyed him. He recalls the recording of 2013's Local Business, in the midst of a major depressive episode, as a "waking nightmare," and says the record's underwhelming reception — especially when compared with the reputation of its predecessor, 2010's breakout LP The Monitor — "f—king devastated me." But by the end of '13, he had already declared his intentions to record a five-act rock opera about a manic-depressive young man, the plot obviously drawing in no small part from Stickles' own personal tumult. That concept album ended up becoming The Most Lamentable Tragedy — or TMLT, as it is conveniently shortened to — the kind of stadium-sized rock album that indie bands get hosannas for even attempting in 2015, and a defining achievement for Titus Andronicus.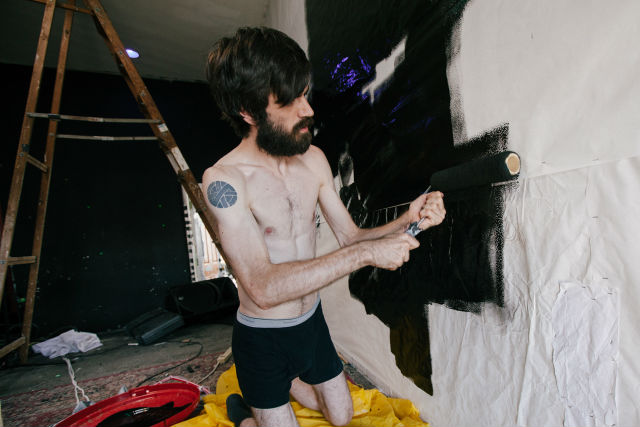 Tonight's show is four days before the album's official release date, July 28, and the most pressing concern facing the band at this moment is having their set ready in time for the show's 9:00 p.m. start — Titus have ambitions for Madison Square Garden-like spectacle, but their means are more high-school drama crew. I'm helping Stickles and keyboardist Elio DeLuca paper over a wall to the side of the stage that's broadcasting an "NY" logo in the style of the New York Mets, the team whose former home stadium is Shea's namesake. (Eventually, they'll use the wall as a makeshift JumboTron, projecting their show against it.) As the PA system blares Raekwon's Only Built 4 Cuban Linx..., Stickles is lecturing me about the Wu-Tang Clan. He knows Linx' iconic "Striving for Perfection" intro by heart, and as he recites the "for real, this my last time… I'm hanging this s--t up man, if this s--t don't work right here" part, it certainly sounds like he's describing his own thought process during this pivotal week.
Then again, maybe not. About a half-hour later, while '70s jazz fusionists the Weather Report play over the PA, Stickles quips to me, "This is what our fifth album's going to sound like." I ask him if that means there's actually going to be a fifth Titus album. Much to my surprise, he answers resoundingly in the affirmative, alluding to a five-year plan for the band's future. "I only thought [TMLT] would be our last one when I thought it was going to be a flop. Now that it's a smash? Sure, I'll do ten." I have dozens of follow-up questions to that, but he walks away, onto the next task on the band's pre-show checklist, before I can ask any of them.
Though Stickles is a master of the walk-and-talk, our initial discourse is largely limited to me picking up the stray proclamations he drops along the way ("The arena-rock experience on a DIY budget!"). But after my period of servitude to help ensure the Show Going On, he's less inclined to swat me away. "You're a 'G,'" he daps me at the end of the day. "Now I'll tell you mad secrets."
[featuredStoryParallax id="158285" thumb="http://static.spin.com/files/2015/08/titus-andronicus-patrick-stickles-2-145x145.jpg"]
ACT II: I'm the Only One Who Can Hurt My Feelings
Watching Stickles take control is thrilling, if nerve-wracking. In the Most Lamentable Tragedy liner notes, he's credited as writer/director of the album, and as he plays on-stage conductor to his five supporting players, calling audibles on the setlist and demanding specific riffs on cue, it's easy to see why. Offstage, it's no different, as he coordinates simultaneous intra-borough hardware-store runs among his bandmates, and essentially yells out for a roll call when it's time for the group to assemble for a photo. He would've made a great college football coach.
It's not just his band that Stickles wants to direct, though — he's determined to control the band's message and reception, too, to a degree that feels almost unprecedented. Traditionally, capital-A artist types are supposed to get angry and flustered when asked to explain themselves or their art; Stickles, on the other hand, explains himself compulsively and excessively. He operates the band's Twitter account. He writes all of their press releases. When he plays a So So Glos album over the Shea PA, he asks me if I notice the lyric at the end of one song that he references himself at the end of TMLT's "Lonely Boy," in case I haven't already seen his explanation in the Genius annotations he made for all of the album's 29 tracks. (I have.) Nina Simone and Eric Burdon begged the lord not to let them be misunderstood, Stickles wants to take it out of the Almighty's hands altogether.
It also becomes abundantly clear early in our time together that if Stickles had his way, he'd be doing this profile himself, too. He yells key points directly into my recorder. While painting the stage backdrop in his underwear, he chastises me for not having my photographer capture the scene. ("I know it's not as interesting as us standing around, but…") He sporadically shouts out phrases that he thinks would make good headers ("Put that in the title of the article: 'No new bands.'"), and when he feels I'm missing an opportunity to ask a question, he just asks it himself ("Do I like being bossy?..."). Eventually, I sarcastically offer to let him write the whole thing himself. "I'm trying to," he responds, unfazed.
"If you're trying to [top the charts] with a guitar, you're an idiot." — Patrick Stickles
Even if Stickles took a laissez-faire approach to leading Titus, he'd still be the group's unquestioned mouthpiece, not only as the singer and songwriter, but as the only member to play on all four of their albums. Harm is Stickles' longest-tenured bandmate — and the only other current member to originally hail from New Jersey — having joined as full-time drummer after the recording of the band's 2008 debut album, The Airing of Grievances. Bassist Veronesi and lead guitarist Reich became full-time cogs for Local Business, while rhythm guitarist Jonah Maurer joined for TMLT. Keyboardist DeLuca is both Stickles' first and most recent comrade, having played piano on all four Titus LPs, but only getting baptized as an official member on stage tonight. The band's lineup is six strong right now, but they're well outnumbered by the graveyard of ex-members, which rolls an incredible 14 deep.
Stickles largely blames the high turnover rate on the rigors of the road in their pound-the-pavement early days, expounding, "You just can't be a real band when you're trying to throw together f—king five desperate losers with no prospects to go in a van and eat dirt for maybe the rest of your life." Still, despite the rotating cast of players the band has had, Stickles is confident that their roster has stumbled onto stability, boasting, "We haven't had a quit in almost two years — that's the longest we've ever gone without somebody quitting." Asked if this is the Titus iteration he feels the best about, he responds, "Absolutely."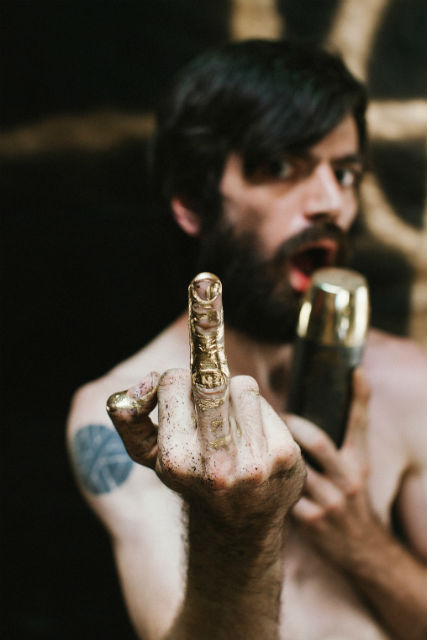 The stage show supports his confidence. The six-piece band is as electric as any touring outfit in rock right now, capable of incredible pyrotechnics, and tight enough to hypnotize with their lock-step congruity. The triple-guitar attacks of "Fatal Flaw," led by the virtuosic Reich, are upstaged only by the four-part, Crosby, Stills, Nash & Young-ish harmonies that close "To Old Friends Are New." Backing up a leader as unpredictable as Stickles is no simple assignment, and Maurer, who previously played keyboards for Titus' significantly more serene Garden State rock brethren Real Estate, calls playing guitar in Titus "the most challenging thing I've ever done" — but "about 200 times more fun than playing keyboard in Real Estate" nonetheless.
The band's first night at Shea is awesome in the truest sense, as Titus roar dazzlingly through the majority of TMLT's second act — crescendoing up from the chiming '70s strut of "Mr. E. Mann" to the delirious blowout "Dimed Out" — as well as established jams like crowd-pleasing closer "The Battle of Hampton Roads." The band proves their studio recordings surprisingly elastic, as Local Business car-crash rave-up "Upon Viewing Oregon's Landscape With the Flood of Detritus" is expertly recast as a mournful ballad, while the distantly lo-fi TMLT closer "Stable Boy" becomes a power-pop lighter-waver.
The fans respond to old favorites and new blasts with similar elan, and the band appears to be having a blast. Most importantly, the show starts (nearly) on time, and goes off without a hitch. Well, almost: About ten minutes after their grand opening, the pulley system supporting the curtains collapses. On stage, Stickles shrugs, having done his best with the time and resources available. "It opened, didn't it?"
[featuredStoryParallax id="158299" thumb="http://static.spin.com/files/2015/08/titus-andronicus-shea-stadium-1-145x145.jpg"]
ACT III: Keep It Always Burning
The encore of Titus Andronicus' first night at Shea Stadium begins with a groove that sounds like it might become Steve Miller Band's "The Joker" or Weezer's "Undone - The Sweater Song." It turns out to be both: they start off playing "The Joker," but seamlessly transition into "Undone" about two-thirds of the way through. Neither Steve Miller's classic-rock staple or Weezer's alt-rock singalong sounds more like a typical Titus song than the other, and the crowd doesn't respond to one more than the other. In 2015, amidst a dwindling number of bands trying to carry the torch from either Steve Miller or Rivers Cuomo, it's all just rock'n'roll.
If you don't feel like reading through Stickles' Cliffs Notes, the rock opera's plot is roughly as follows: A manic-depressive young man meets a lookalike who shows him, through pharmacology and/or religious awakening, a better way of life. He meets and falls for a girl, but has become drug-dependent and experiences a breakdown. He nearly ends it all, but learns at the last second that life is worth trudging through. It's basically impossible to track the story just by listening — Stickles' guttural spitting makes many tracks indecipherable — but Quadrophenia and American Idiot were hardly coherent original screenplays, either, and when you get lost following along to TMLT, there's always the literal interpretation Stickles is all too happy to provide you.
Of course, an entire class of deeper analysis on the lyrics and themes of TMLT wouldn't add up to the importance of the drum fill that introduces the triumphant main riff to "Fired Up." Or the Owen Pallett-arranged Bat Out of Hell strings that sweep through the lushly sentimental intro to "Come on, Siobhán." Or the cathartic "OH, YEAH!" cries punctuating the exquisitely flailing chorus to "Fatal Flaw." Impressive as the album's largesse is, it's the small moments like those where you really feel the DNA of great rock music emanating from and coursing through Titus Andronicus — the same rush provided throughout musical history by the Beatles, Thin Lizzy, the Replacements, Weezer, and the Hold Steady, all of whom Titus will cover over five nights at Shea. Titus Andronicus smash the atoms of the classic and alternative rock canons together until there's little point in discerning what came from what.
https://www.youtube.com/embed/CbZwwKv-spQ
"Let's just right away go ahead and say that we learned this from the Boss, Bruce Springsteen," Stickles says of the band's range of influences. "Because he looks around in 1972, '75, whatever, and says, 'I'm just gonna do everything that I love, from f—king doo-wop to girl group, f—king blues, Van Morrison, jazz fusion, whatever… honestly, we're just doing the exact same thing that Bruce Springsteen did, except we happened after punk."
For all his bombast and rhetoric, Stickles has remained very consistent on one message when it comes to rock'n'roll: Titus Andronicus can't save it, and neither can anyone else. There's no point in trying to be the next Nirvana, because there is no next Nirvana. There isn't even a next Everclear. "The major-label, million-dollar carrot is no longer dangling in front of the rocker the way that it is in front of the rapper, pop singer, or anybody that's directly involved in the dominant youth culture, anybody that's actively gunning for the top of the charts," Stickles explains. "Because if you're trying to do that with a guitar, you're an idiot. You're playing the wrong f—king game."
But Stickles understands that to earn cultural capital to keep both Titus and the DIY community he calls home liquid, he has to get people to pay attention. He did that in 2010 with The Monitor, an album that took the band's early punk urgency and confessional lyrics and placed it within two important historical frameworks: the rambling poetry and bar-band fervor of the New Jersey band's obvious E-Street lineage, and the epic drama of the Civil War, with period quotes serving as a Greek Chorus for the LP's ballads of heartbreak, aimlessness, and isolation. It was smart, it was moving, it was anthemic, it had scope. Just as crucially, it had a simple one-line elevator pitch — "A punk rock concept album about a crappy post-college experience, and also the Civil War!" — that made it an exceedingly easy sell to critics and tastemakers.
https://www.youtube.com/embed/08fqHr_KGPY
Follow-up Local Business arguably featured a richer set of songs than The Monitor, including stunning multi-part works like "My Eating Disorder" and "In a Small Body," which contained some of the most personal lyrics of Stickles' career. But the pacing was choppy, and there were no simple summaries to hook the album to: No unifying conceptual through-lines, nothing to clearly and coherently mark its place within the band's timeline. Truth told, Local Business was hardly a disaster — the album became the band's first to chart on the Billboard 200, and on crit-aggregating site MetaCritic, it holds a score of 78, just four points below The Monitor's 82. "But that wasn't the narrative," remarks Stickles. "Because that's not a very interesting story. 'Band makes a record that's harder to just write about because it doesn't have a gimmick that smacks you in the face.'" Consequently, for the first time in their recording career, Titus Andronicus' momentum stalled, and Stickles sank deeper into depression.
But Stickles learned his lesson from Local Business. The Most Lamentable Tragedy might be the best Titus Andronicus album, but it is definitely the most Titus Andronicus album: When news that the band was officially releasing a 29-track, two-disc rock opera with a Shakespearean title hit the Internet, the reaction was, overwhelmingly, "of course they are." It's the biggest rock album of 2015, the work it feels like TA's entire career has been building up to, and its imperfections — some clunky stretches on the second disc, an interlude or two too many, another lyrical attempt to assassinate Ronald Reagan — are simply the price of admission. For better or worse, Stickles is trying to make his band's fourth album as narrative-accessible as possible, essentially saying: If you can't find something to write about in a 93-minute concept album based on my real-life breakdown that sounds like Hüsker Dü and Meat Loaf, you're on your own.
https://www.youtube.com/embed/Qim8DYhosUw
The frontman views his band's legacy through the prism of a quote Joey Ramone offered about being the supposed inventor of punk. "He says, 'That's great and everything, but for me, the important thing is that I love rock'n'roll.' He's like, 'I'm just proud to be a link in that chain.' It's something that's just kept on going. It doesn't really matter who's the greatest, but at different time people keep it alive, keep the flame burning, keep it going and keep the chain intact, lest we lose it the way we lost ragtime."
The most thrilling moment I witness during Titus Andronicus' Shea residency comes during a third-day soundcheck, when Jack Veronesi — father of bassist Julian — hops on the harmonica, for Local Business closer "Tried to Quit Smoking." With Jack V at the mic, the jam unexpectedly turns into Muddy Waters' blues standard "Hoochie Coochie Man," then, once Stickles takes over again, becomes Joe Walsh's '70s FM smash "Rocky Mountain Way." The impromptu medley — recreated as the band's encore that night — whips the now-seven-piece into their most ecstatic frenzy, and Stickles' smile at bringing generations of rock together is bigger than I thought him capable. The chain remains unbroken.
[featuredStoryParallax id="158303" thumb="http://static.spin.com/files/2015/08/titus-andronicus-patrick-stickles-4-145x145.jpg"]
ACT IV: The Airing of Grievances
Trying to interview Patrick Stickles is kind of like trying to guard Russell Westbrook on the perimeter — once he gets going, you can't stop him or contain him, merely hope to steer him in certain directions. He's a fantastic talker, but he keeps you permanently on edge: You think you're just chuckling along with his sardonic quips about various bulls--t topics, until he gives you that why are you laughing I'm not laughing glare, and suddenly everything is distressingly serious. Then, he shakes it off, and it's back to the BS. "This is all an act," he assures me on multiple occasions.
Stickles' volatility as an interview subject is best demonstrated when he's talking s--t about other artists, which he does a lot. He'll start ranting about a band, toggling between going on the record and off the record like Grandmaster Flash working the fader on the 1's and 2's. He gets heated, he gets indignant, and then on a dime, he gets remorseful, acknowledging that he shouldn't be talking ill of other artists, asking me to leave his meaner-spirited quotes out of this piece. A conversation about Metallica and Lou Reed's reviled collaboration Lulu leads to Stickles calling out younger artists who disregard the legends. "But guess what, I'm talking to myself, because in 2011, I said that the Pogues were old assholes," he concedes. "I guess, truly, you shouldn't even talk s—t about your contemporaries, even though I diss them. But I don't need for it to all make sense. I'm just saying a bunch of contradictory things. That's the way the world is... Walt Whitman didn't think that everything made sense, why should I?"
"I conceptualized it when I was a maniac, obviously. You couldn't have otherwise." — Patrick Stickles
Of course, this interview style isn't just a personality quirk of Stickles' — it's an inextricable part of his larger mental disorder. When a writer from GQ complimented him for being a good talker in a recent interview, the frontman explained: "The sad f--king sick fact about it is that I'm only really like this three, maybe four months out of the year. Pretty soon I'm gonna be deadhead again. It's cyclical, because I'm a manic-depressive and that's the nature of our species." He first discovered this about himself in 2012, and the revelation would eventually become the inspiration for TMLT. (Stickles is currently taking Lamictal and Klonopin, as needed, for his disorder, and has stopped drinking and doing other drugs — aside from smoking pot, which he does pretty much continuously.) "I've always written about the most significant events of my life, and that was the most significant event of my whole life," he explains of his first manic-depressive episode. "Short of maybe finding the drugs in the applesauce."
That last bit is a reference to the closest thing Stickles has to an origin story, with references to it appearing in both "My Eating Disorder" and TMLT's "I Lost My Mind": When he was four years old, he discovered that his parents were trying to sneak Ritalin into his applesauce, starting his lifelong distrust of food. He says he hasn't eaten meat for eight years, and he gets most of his protein from peanuts and bottles of Muscle Milk, which he swigs from throughout our time together. "I've always been super unhealthy because I didn't want to eat," he relates. "I have a fear of something I don't understand going into my body and starting to exert its will on me." It's one of the few subjects Stickles is hesitant to discuss. "Even though I'm slightly ashamed, I'll [talk about] it for all the kids with Avoidant/Restrictive Food Intake Disorder around the globe," he says. "Because there are thousands of them."
As much anguish as they've caused him in his personal and professional life — and he says he considered killing himself every day in 2012, though he never actually attempted suicide — Stickles' myriad physical and mental maladies have become a large part of the connection he has with his audience. At the first night's show, I talk to a 26-year-old technician named Nathanael Mckenzie from Indianapolis who flew to NY ("I was going to drive but then my car broke") just to catch Titus play at Shea. "They're one of my favorite bands just because I'm someone who suffers from depression," Mackenzie divulges. "What they're singing about really talks to me."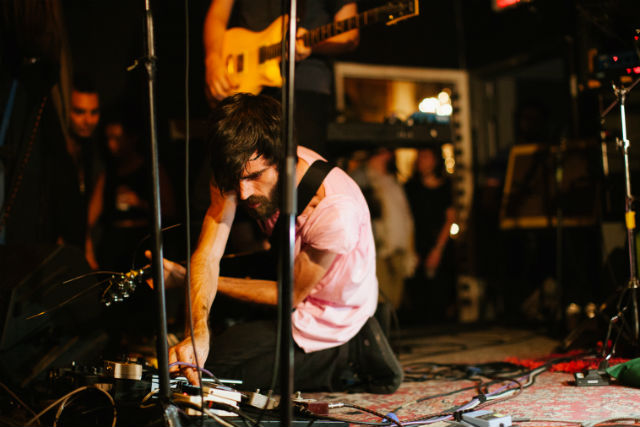 I ask Stickles if fans talk to him a lot about having issues similar to his. "What they say the most is, 'I was deeply suffering at this point in my life and I turned to your record and I endured and it's helped to sustain me, and now I feel a lot better,'" he responds, quickly getting choked up. "Because that's why I love the f—king Rolling Stones, and Bruce, and the Replacements, for all the f—king long walks that I had to take at the end of my rope. They were there, when nobody else was, to say 'You are strong, you are a hero.' Even if I'm a f—king loser, I can believe it for three minutes at a time." He starts pulling up emails from adoring fans begging him for tickets to the sold-out Shea shows, and within seconds, he's in tears. It's the only time in our conversation when I'm not concerned about how much he's screwing with me.
Stickles' level of sincerity is less clear later that night, when a just-published Pitchfork review of TMLT — giving the album a score of 8.1 out of ten — sets off a stream of incredulous tweets. It's hardly a negative rating, but Stickles is hyper-aware of his band's criticism, and of how the conversation surrounding their album is set by such ratings. Titus have a generally conflicted relationship with Pitchfork — the publication's positive reviews of the band's first two albums helped give them their early momentum, something that Stickles openly recognizes. But it was the same site's lukewarm review of Local Business that helped start the pendulum of hype swinging against them in 2013, a fact the artist has no shortage of resentment for. And now, as Stickles' late-night Twitter rant continues into the next afternoon, it begins to verge on the uncomfortable, as he starts tweeting at other Pitchfork writers and threatening to reveal secrets about founder Ryan Schrieber.
But typical to Stickles' MO, the spree ends with him tweeting at the review's writer, Jeremy Gordon, to say "we're having fun but I actually thought [the review] was very accurate… really though <3." When I ask Stickles about the blitz later, he's laughing about the whole thing, having accomplished his dual goals of freaking out Twitter and getting people talking about him. He admits that buried in the spree may have been "a true feeling of some kind… frustration at the Internet hype machine chafing under the control of these tastemakers," but refers to the whole exercise as a "conceptual social media rampage," inseparable from the rest of Titus' musical work. I ask drummer Eric Harm if he gets nervous when Patrick gets going on Twitter. "The thoughts that he shares with the world… I might not make that decision," he grants. "But it's his life. Some people might go 'What a f--king idiot,' and that's a valid response. But some people like it."
[featuredStoryParallax id="158338" thumb="http://static.spin.com/files/2015/08/150819-titus-spray-145x145.jpg"]
ACT V: A Portrait of the Artist As a 30-Year-Old Man
Things are clearly different for Stickles when I show up at Shea the afternoon of the last concert. It's a big day for Titus, the official release day of TMLT, and an even bigger day for their writer/director: He's turning 30, which in the Logan's Run-esque world of punk should mean his time as a scene spokesperson is just about up. But he's more relaxed than I've seen him, smiling, laughing, shimmying to the '80s funk tracks by Nile Rodgers and Sheila E. being blasted over the PA. When we talk, I don't even have to interrupt him just to get a word in.
The Titus concert that night is a combination album-release show, birthday party, and family reunion. Seemingly everyone's parents are there, and Stickles invites three of his cousins (one of whom, Matthew Miller, sings backup on TMLT) on stage for a couple of songs. It's the most crowded of the shows, and also by far the hottest — which Shea's lone air-conditioner does little to provide relief from — and the band starts off a little sluggish. But they pick up halfway through with a medley of Monitor crowd-jolters "A More Perfect Union" and "Titus Andronicus Forever," sewed together with an interstitial rendition of the Star Wars theme. And then come the cavalcade of special guests, and the deluge of covers.
Covers are a an integral part of the Titus live experience, and tonight, they nearly outnumber the band's originals. The group are joined by Craig Finn of the Hold Steady for runs through Billy Joel's "You May Be Right" and the Replacements' "Bastards of Young," as well as Finn's own "Stuck Between Stations." Then Ted Leo, former tour partner and mentor to Stickles, comes up for Springsteen's "Dancing in the Dark" and the Pogues' "A Pair of Brown Eyes." The most emotional moment is saved for the return of former Titus guitarist (and high-school buddy) Andrew Cedermark, who duets with Stickles on Grievances track "Albert Camus," then leads the band in the only song that could cap such an epic run of shows: Lynyrd Skynyrd's "Free Bird."
Throughout the night, Stickles monologues about punk, the lifestyle and genre that as a now-thirtysomething, most would expect him to outgrow. "This isn't a punk band anymore," he says. "We're a rock band. We're punk in that we answer to an interior authority [in response to] an exterior authority. We're punk in that we believe in freedom for everyone." Towards the show's end, Stickles recognizes that his band's mode of expression might be a dying breed, but says the more important message will live on, with a sentiment undeniably cheesy, but well-earned just the same: "There might not [always] be guitars, there might not be drums, there might not be a shirtless white cis male on stage, screaming… but as long as people want to be free, punk will never die."
https://www.youtube.com/embed/pKtFefsnazc
The last time I talk to Stickles is at 1:30 in the morning after the final show. His girlfriend has brought out a tiered platter of cupcakes with the "+@" logo written on them in icing, and the still-crowded floor at Shea sings "Happy Birthday" to him. "This is how close to the top as I care to get," Stickles rhapsodizes backstage, still basking in the night's afterglow. "Not really, obviously, but tonight, what more could you want in the f—king world? If I could do this every night for the rest of my life, let's do it." He's particularly heartened by the new Keith Richards video that dropped the previous day. "He'll probably be doing it when he's 90 years old, like B.B. King or like Muddy Waters or whoever did. So what was I doing pissing my pants so hard about being a f—king 30-year-old rock star whining and moaning about the games that young people play on the Internet?"
For a man who has spent five separate songs, spaced out over a decade, echoing the Sex Pistols' most nihilistic punk sentiment, tonight Stickles is shockingly content to contemplate the future. "I wasn't lying when I said I have the next five years of the band planned out," he tells me, inadvertently answering the question I've had since the first day at Shea. "And I've got ideas for 15 years after that, for a bunch of other s—t. At this time, making a list. I've just gotta keep walking."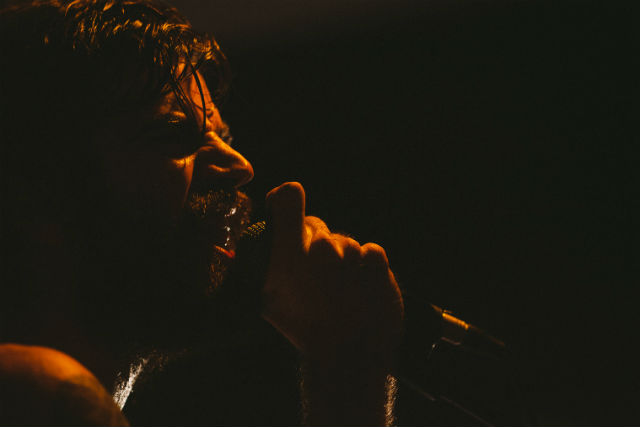 His girlfriend appears at the door to tell him there are fans still waiting for him to sign their t-shirts. Before my time is officially up, I ask one more question: about the GQ interview, and if he's scared of the depressive phase that will invariably follow this manic one. "Sure, it's terrifying," he says. "Let me tell you something else: It'd hurt worse than ever to f—king blow it now. But I spent a lot of the last three years or so putting a lot of stock in my so-called mental illness. And it's definitely a part of me, for sure. But the fact of the matter is, I was super depressed the entire time that we were making the rock opera. I conceptualized it when I was a maniac, obviously. You couldn't have conceptualized it otherwise."
He goes on to compare the making of TMLT to that of Antichrist, the controversial 2009 body-horror movie by Lars Von Trier, filmed while the director was suffering from depression. "He was like, 'I feel so s—tty, I guess I've gotta tell people I'm gonna make a movie, so I guess I'm just gonna have to make Antichrist. Because otherwise, I'm gonna stay in bed for the rest of my life. So I'm gonna f—king hate it, but I'm gonna get out there and I'm gonna do it. Because I'm a director, dammit, I'm the best director in the world… I've got work to do. What am I doing sitting at home, sucking my thumb?' That's basically my vibe. So I created this whole huge f—king thing… I know now that I can do it. I gave myself the hardest job I've ever had in my life and I did it on an empty tank. So whatever. I'm the artist. I can't be stopped."