Just 12 hours after finishing their early May show at West Hollywood's Troubadour, the iconic venue they last played 16 years ago, The Black Keys sit at a makeshift, battle-worn conference table at the rocker haven known as the Sunset Marquis Hotel. Billy Corgan, Sheryl Crow, and "Little" Steven Van Zandt are among those spotted around the premises during the group's stay.
Drummer Patrick Carney, the first to show up, is hard to miss. At 6'4" with broad shoulders, he could have easily been a fullback for his beloved Cleveland Browns. The late-arriving Dan Auerbach, shorter and more compact, settles in at his bandmate's side. Having known each other for more than half their lives, the duo exude chemistry as they joke around and discuss Akron-area burger joints Hamburger Station, Swenson's, and Sky-Way.
The contrast is noteworthy. A pair of laid-back Ohio natives hanging out in a swanky West Hollywood villa, where management has arranged hair and makeup services for their full day of promo engagements, including a stop at Jimmy Kimmel Live! But the duo are surprised by the request, and politely decline. They're perfectly content appearing on camera as themselves: two middle-aged guys solely focused on getting back to the business of music.
The night before at the Troubadour, The Black Keys staged a career-spanning, hour-long set, tearing through a few new songs and their greatest hits, including "Tighten Up" and "Lonely Boy," some of which are just over a decade old. Despite having played only a handful of shows since 2020 (promoting their blues covers album, Delta Kream) and only sneaking in two rehearsals the week before, they settled into a comfortable groove in L.A., unfazed by the several famous VIPs — like new manager Irving Azoff, Beck and Carney's golf buddy Alice Cooper — looking on.
But Carney is hard on himself back at the villa, pointing out four mistakes he made during their first show in seven months. "I sweated out some poison," he says, nonplussed. "I was worried about the people standing right next to the ride cymbal. That's, like, the worst seat in the house."
"We lost a shit-ton of money and didn't make any money, really. But we just didn't stop working and making music."
Dan Auerbach
Still, these are the kind of complaints they're happy to have. After all, between 2015 and 2018, Auerbach and Carney spent lots of time apart. Both knew that stepping away at their hit-making best could hurt them in the short term, but they decided it was the best way to ensure the partnership wouldn't disintegrate. While 2019's Let's Rock didn't soar to the commercial heights of their three previous albums, the album was praised critically and the duo knew things were rolling nicely once again.
Then the pandemic hit, forcing the pair to cancel the summer leg of the amphitheater-filling tour. They were disappointed, but instead of obsessing over what they were losing, they channeled their angst into other projects. Auerbach produced albums for Robert Finley and Yola, while Carney worked with his wife, Michelle Branch, and Bass Drum of Death on their respective projects.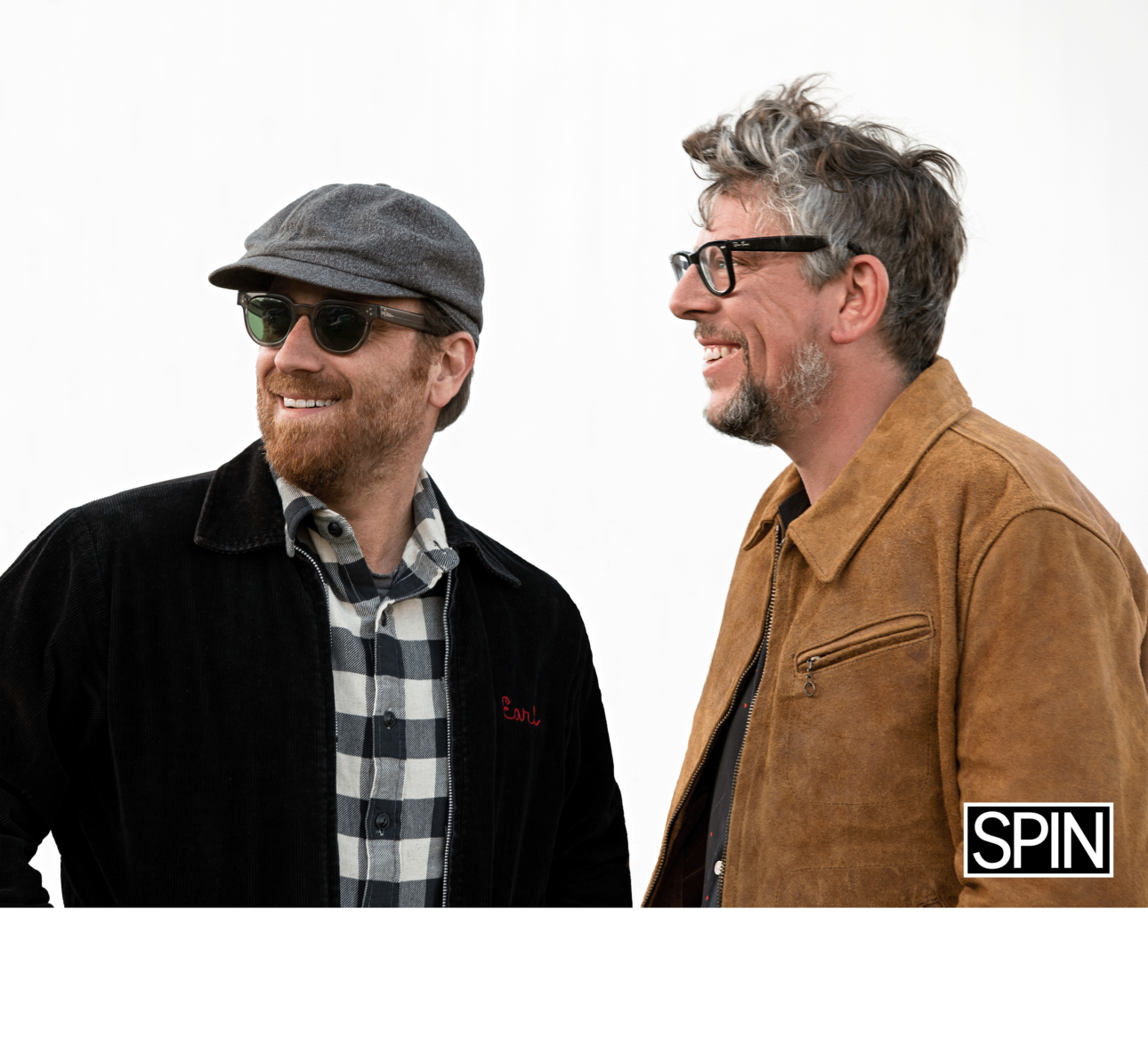 Photo Credit: Jim Herrington
"Mentally, we had it roughest when we were selling out multiple nights at Staples Center."
"We didn't complain," Auerbach says. "We lost a shit-ton of money and didn't make any money, really. But we just didn't stop working and making music."
Now back in the swing, the duo started working at Easy Eye on what became Delta Kream. They jammed on a number of classic songs by R.L. Burnside, John Lee Hooker, and Junior Kimbrough (working with guitarist Kenny Brown and bassist Eric Deato, who played with Burnside and Kimbrough, respectively). It was a tribute to the blues-rock that the duo bonded over as teens back in northeast Ohio.
"It felt like rebooting the computer," Auerbach says. "It was a hard restart. But it was very spur-of-the-moment and ended up being perfect."
That Delta Kream and its short run even happened was fortuitous. At the last minute, the Keys were asked to play Franklin, Tennessee's Pilgrimage Festival — which "is basically in our backyard," Carney says — after a headliner dropped out. While prepping for the one-off, the duo decided to play small warm-up shows in the southeastern U.S., allowing them to shake off the rust after a year-plus on the sidelines. By that time, they'd finished the music that would become Dropout Boogie.
The seeds for the album's May date were planted 21 years ago in northeast Ohio. Auerbach and Carney knew each other loosely from growing up in the same neighborhood and attending Akron's Firestone High School (which also boasts Chrissie Hynde as an alumna). When they realized they had similar musical influences, they started jamming together in Carney's garage as teens before becoming a band. They didn't always set out to be a duo, though.
"We tried to get a third person to be in our band," Auerbach says. "We couldn't. We didn't know anybody. Nobody else played music [in Akron] like what we wanted. There was a very small pool of musicians, and none of them were into what we were doing."
They dropped out of the University of Akron and worked as dishwashers before hopping into a minivan.  The Black Keys started off as a studio project rather than having eyes on touring. They had a single modest goal: to make one record.
"When we started, we used to get really fucking excited about like, realizing we could put a tambourine on our song after we recorded it," Carney jokes. "And that we can pan it all the way to the left or put bass on only the second verse. A completely ridiculous idea, but it was fucking exciting."
"[Working with other musicians] allows us to do our thing and have someone come in, and they'll be into what we're working on or have an idea that could work."
Realizing the potential at hand, they hopped in their minivan.
The Keys' first show took place on March 31, 2002, 45 minutes up the I-77 freeway at Cleveland's Beachland Ballroom, one of two venues (the other being the Grog Shop) where they attended shows. Though it had only been around for a year at that time, the venue was quickly establishing itself as a haven for rising indie rock bands.
"It wasn't our scene," Carney says. "It felt like we were visiting, but [Beachland Ballroom owners] Mark [Leddy] and Cindy [Barber] were very supportive early on."
"Pat and Dan came to us and said they had gotten signed to Bomp companion label Alive and confessed that they had basically lied in their letter saying they had played a bunch of shows around Akron and Cleveland but really had not come out of Pat's basement yet," Barber remembers. "We had them open a couple shows, and word started to spread."
Once onstage in the tiny tavern that held just under 150 people, the Keys were so nervous and excited for their scheduled 30-minute set that they plowed through it in 15 minutes.
"I thought we sucked," Carney says. "I wasn't sure what the fuck just happened."
Still, they performed regularly at the Beachland, steadily building a following. They also met their first booking agent through Leddy and Barber.
Even with this momentum building, hailing from Akron didn't do them any favors. Since their town's music scene was non-existent, they weren't tight with any bands. Whenever they'd play in cities like Cleveland or Detroit, the other bands would be territorial "dickheads," and the Keys were treated as outsiders. The duo only started to feel accepted after opening for Detroit garage punks The Hentchmen.
The next several years brought relentless touring in the aforementioned minivan — zigzagging the nation, converting fans one show at a time. In 2002, the duo inked a deal with Fat Possum, who released two albums (2003's Thickfreakness and 2004's Rubber Factory) and one EP (2006's Chulahoma: The Songs of Junior Kimbrough). Then they moved to Warner Records subsidiary Nonesuch for 2006's Magic Potion and in 2008, the Keys put out Attack & Release, their highest chart position to date.
"The older we get, the more we realize how special it is, this gift that we were given."
Attack & Release was also the first time Auerbach and Carney co-wrote with someone else. They collaborated with Danger Mouse (who also produced the record), whom they formally met in 2008 when he attended a Keys show in Columbus. It was also their first time working with other musicians, including Carney's uncle, Ralph, who used to play in Tom Waits' band. It was their most polished work to date, abandoning their lo-fi production of old. For the first time, their songs were featured on film and TV commercials, setting the Keys on a track for wider success that, ultimately, almost caused their downfall.
After nearly a decade of being on the road for 200 nights per year, the Keys expanded even further with 2010's Brothers, also co-produced by Danger Mouse. The album featured the band's biggest radio hits, "Howlin' for You" and "Tighten Up," and won three Grammys. The momentum continued with 2011 successor El Camino, which pushed the Keys into festival-headliner status on the strength of songs like "Lonely Boy," "Gold on the Ceiling," and "Little Black Submarines." The songs landed everywhere, ranging from radio and commercials to soundtracks and neighborhood supermarkets.
Another major change happened around that time. In 2010, Auerbach and Carney decided to leave Akron in the rearview mirror and head south to Nashville, where they've been based ever since.
"It's hard not to get inspired when you're there," Auerbach says.
"It's cool to live in places [that are] growing," Carney says. "That's a brand new thing for us."
"We lived our whole lives in a place that was shrinking," Auerbach adds.
But would they ever go back?
"I always look at real estate in northeast Ohio," Carney says. "But then I'll call my dad, like last week, and he'll say it's 20 degrees there, and I'll say it's crazy that he's still fucking living there."
That success gave them new opportunities, like allowing them to meet longtime hero Anthony Bourdain. A well-documented music fan and historian, Bourdain, who died in 2018, met the Keys in Kansas City for a 2012 episode of his popular TV show No Reservations. Though the episode was notable for its focus on barbecue (a cuisine the Keys say they weren't well-versed in), filming day was important for a different reason. They learned that El Camino sold 206,000 copies that week, charting at what remains a career-high No. 2 on the Billboard 200. To celebrate, Auerbach bought a bottle of 20-year-old Pappy Van Winkle bourbon which, at that time, the chef/travel personality had never tried.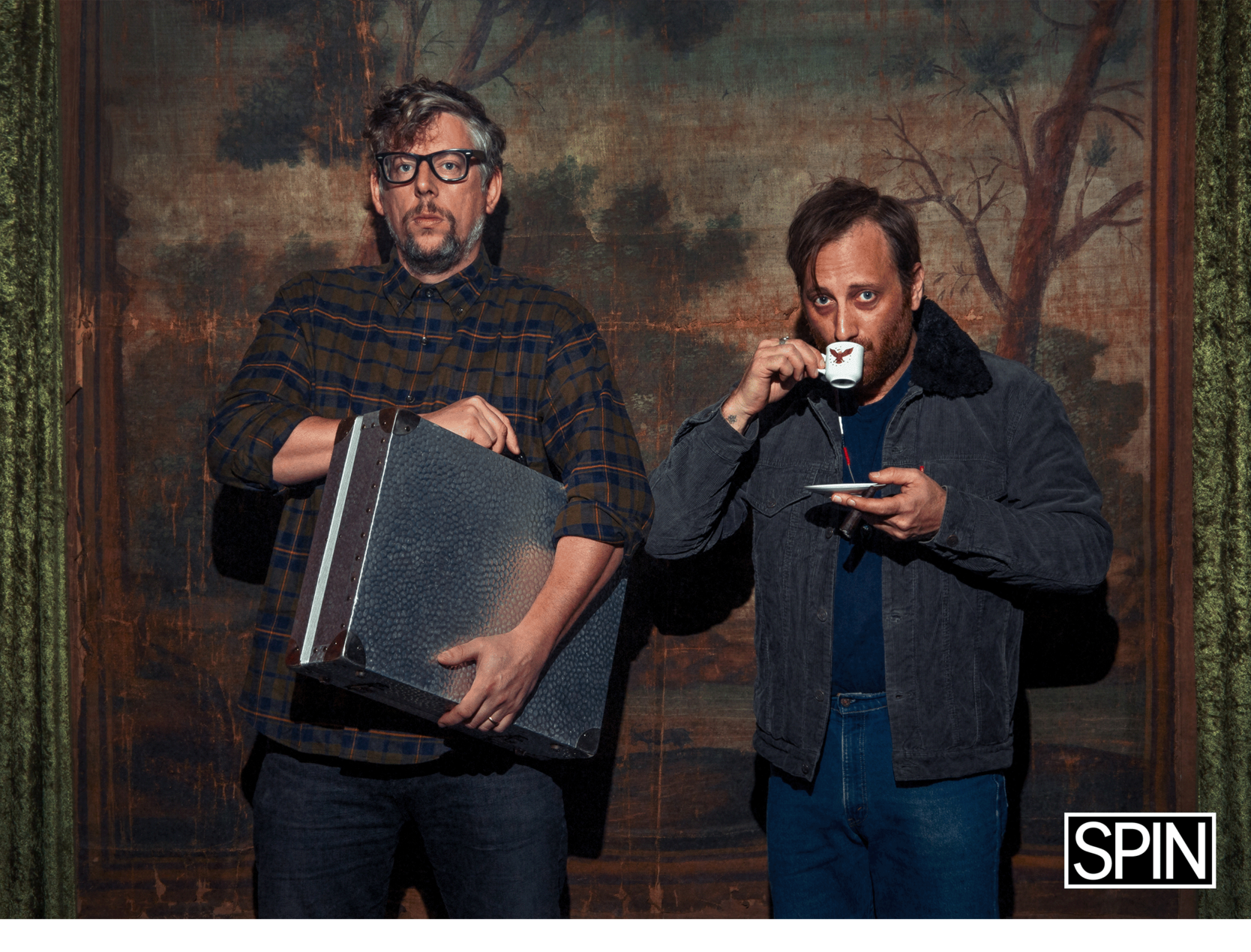 Photo Credit: Jim Herrington
"It's been the same since we were 16-17. We've always been able to make music together, and it's not like that [in bands]."
"So we showed him it," Carney remembers, smiling. "And… he was deep into it after that."
After that episode, Bourdain couldn't get enough Pappy's, and the brand's visibility soon took off.
But by 2014, they'd also reached a breaking point. The years of recording and non-stop touring started to catch up with them. At first, they'd done things their way. They didn't have an A&R rep hovering over them. But once they started selling albums and charting high, label and other pressures caused them to say yes to things they otherwise wouldn't have agreed to do. (They half-joke that they didn't want their "shipments to fuck up" by disobeying label marketing people.) That included playing the Spike TV video game awards at the behest of a label rep — and against their better instincts.
"It seemed like a really stupid thing to do," Auerbach says. "We were totally pimped out."
Plus, being away for so many nights over so many years finally caught up to them. By the time they released Turn Blue in 2014, it all became too much.
"[We] started associating the band with all the things it shouldn't be," Auerbach says.
"Mentally, we had it roughest when we were selling out multiple nights at Staples Center," Carney adds of that time. "It's hard to win. That's when things got weird. We were willing to go to [such] extreme measures of travel and shit that it almost ruined the band."
After the final show of the Turn Blue tour in August 2015, they took an extended period of time off. That break lasted four years. In their time away, both Auerbach and Carney immersed themselves in other projects. Auerbach produced albums for Cage the Elephant, The Pretenders and Jake Bugg, while Carney worked with his now-wife, Michelle Branch, as well as Tennis and Karen Elson.
When Auerbach and Carney started working together again in 2018, they had long talks about what they were and weren't going to do. Eighty-five shows and hundreds of days on the road weren't tenable anymore.
"I remember getting the itinerary for El Camino, looking at that, and being like, 'Fuck, man, that's a lot of fucking touring,'" Carney says. "It was a hard year. I mean, it was fun, but we were gone. We did like 125 shows… I'm glad we did that but we could never do that again."
"It was miserable at that time," says Auerbach, who had a young child when the band broke through commercially. "And it was super unhealthy. But it ended up working out."
Now firmly entrenched in the Nashville music scene, the Keys reassembled quickly. As is their wont, Auerbach and Carney went into the sessions with nothing planned. They enlisted an all-star group of players, including Greg Cartwright and ex-Kings of Leon producer Angelo Petraglia.
"[Working with other musicians] allows us to do our thing and have someone come in, and they'll be into what we're working on or have an idea that could work," Carney says. "It's fun."
"It feels like a treat when we get to work with somebody just for a day or two," Auerbach adds.
Another guest musician and longtime Keys friend, ZZ Top's Billy F. Gibbons — who attended a Keys show in 2004 — just happened to be in the city when they were recording.
"Quite a while back and at the urging of David Lynch, I first met them at a gig in Santa Fe," says Gibbons.
And the duo had a chance to write songs for Gibbons when he was working with super-producer Rick Rubin in 2010. The problem? The group was in the middle of another session with RZA, who preferred to work at night, leaving Auerbach and Carney little sleep before heading to Rubin's recording studio in Malibu.
"We didn't come up with shit," Auerbach says. "It was probably pretty terrible."
This time was different.
"I went over to the Black Keys studio in Nashville to hang out, but hadn't been aware they were in the midst of cutting a new album, so I came empty-handed without a guitar along," Gibbons says. "They kind of pressed me into service, thrust a fine six-string in hand, and got straight down to work on the 'Good Love' track off the new album, making with the trio thing for the moment. Total groove!"
The results often harken back to the tough, no-frills style of their early days — including highlights like swampy blues-rocker "For the Love of Money." Carney notes that Dropout Boogie's closing track, "Didn't I Love You," sounds like it could have appeared on The Big Come Up.
The early returns for that approach have been positive. Soulful lead single "Wild Child" became the group's fifth No. 1 on Billboard's Rock & Alternative Airplay chart.
"The older we get, the more we realize how special it is, this gift that we were given," Auerbach says. "It's been the same since we were 16-17. We've always been able to make music together, and it's not like that [in bands]. The more we work with other people, we can tell it's not easy. But when Pat and I get together, we don't even have to talk about shit."
"It's not very common," Carney adds. "You have to really understand what the fuck is happening. We want to make music that we love and have fun doing it, and not fucking killing ourselves. And not be miserable. That's it."
So now, 20 years later, where does that leave the Black Keys? Searching and still wanting more.
They're already halfway through recording Dropout Boogie's follow-up record, having consistently been at Easy Eye Sound since last June. They're reluctant to reveal details but mention that some special guests will be involved with the album, which they will finish when they get a few free weeks.
Following two long layoffs, the Keys are back to the workaholic approach that defined their early years. This summer, they'll be hitting outdoor amphitheaters and arenas — another momentous achievement. An upcoming show at Blossom Music Center in nearby Cuyahoga Falls will be surreal for Auerbach who, as a 17-year-old, used to flag cars to parking spaces and would hear the band's sound echo outside of the venue.
"The old way of 'a cycle starts, a cycle stops' isn't really that exciting anymore or that effective," Carney says. "So we're just going to keep working. Whether we have a new Keys record or Dan has a solo record or whatever it is, it's just gonna be stuff coming. But that doesn't mean that our band has to stop. It means that things can just happen, and it's way more exciting that way."
"I think it's taken us 20 years to realize the only people who can [improve our situations] are us," Auerbach adds. "We have to just ask for what we want, at all times. That's sort of how we roll now."
But what's left to accomplish after defying the odds, moving from tiny taverns to the biggest amphitheater in northeast Ohio? Well, one goal stands out.
"We want to play Progessive Field [where the Cleveland Guardians play] — 'the Jake,' as it will be forever known," Carney says.
"That would be some shit."
"They kind of pressed me into service, thrust a fine six-string in hand, and got straight down to work on the 'Good Love' track off the new album, making with the trio thing for the moment. Total groove!" - Billy F. Gibbons