Toward the end of Demi Lovato's Holy Fvck Tour last fall, on which Ryan, also known as Royal & the Serpent, or RATS, appeared, she released her fourth EP, Happiness is an Inside Job. That EP was preceded by three others: get a grip (2020), searching for nirvana (2021) and the cheery IF I DIED WOULD ANYONE CARE (2022), each of them a level up for a songwriter who empties her insides out in her lyrics. Snarling and whispering in turns, Santiago spits and licks her words, and holds nothing back in performances, whether in front of 100,000 at Rock in Rio with Demi Lovato, or a 20-person audience at a garden in Venice Beach.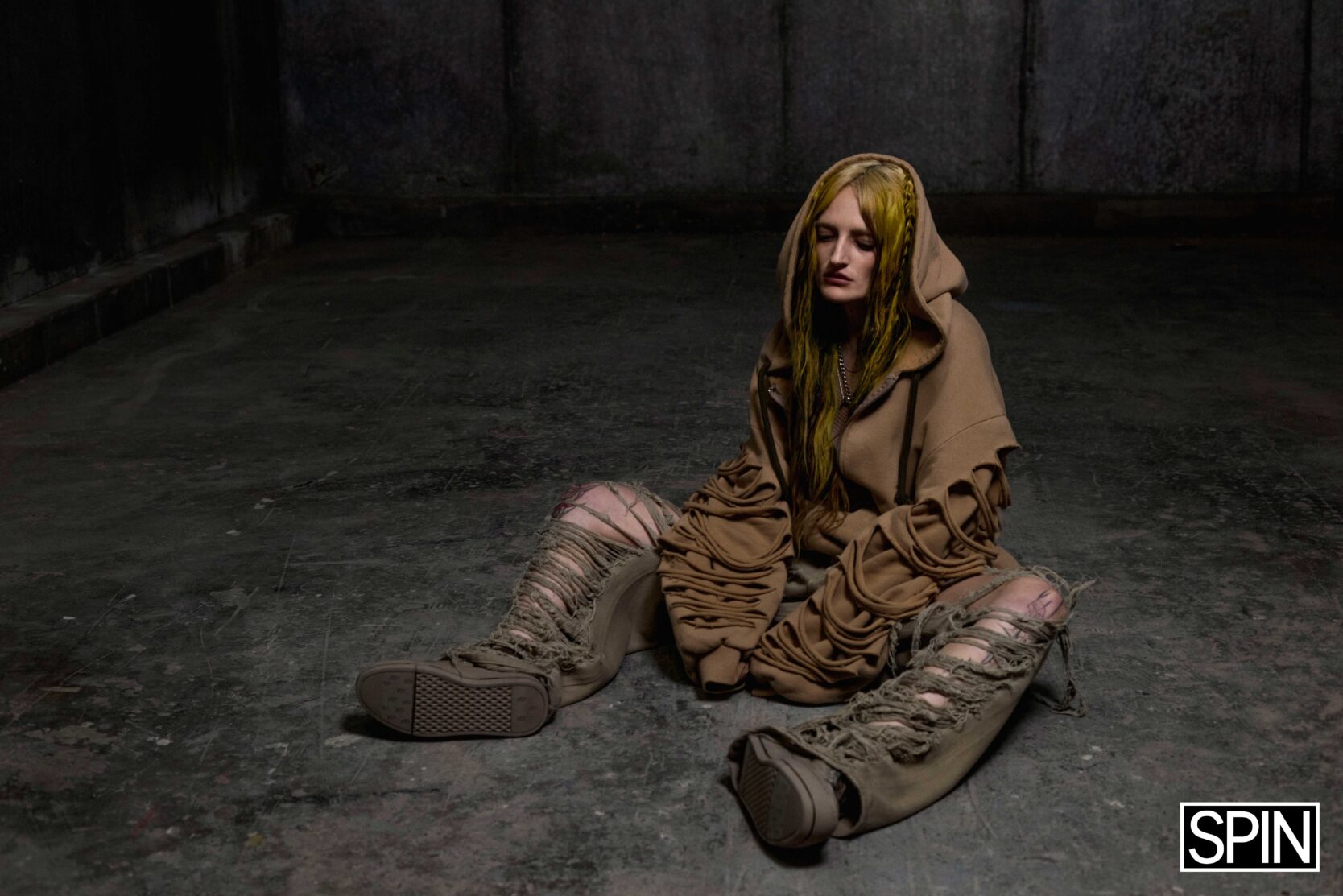 Photo Credit: Christian Witkin
Santiago has also featured on songs with gayle ("abcdefu"), The Knocks ("Sound the Alarm" with Weezer's Rivers Cuomo, which hit the Top 30 on Billboard's Dance/Electronic Songs chart), and most notably with Lovato ("Choke On It" and "Eat Me"). 
"I don't want to look like a girl, I want to look like an alien."
Ryan Santiago
"Fashion has always seemed to me an expression of self," she says a few days later at a busy coffee spot in the middle of Los Angeles. Today she is make-up free except for her signature artfully-smudged eyeliner. Her smooth skin is translucent, her hair pinned up. She's wearing a large, patterned sweater over a white shirt, its sleeves hanging over her fingers, sweats that threaten to slide off her thin frame, and black Crocs with so many charms you can barely see the shoes beneath them
Her confidence is unsettling, yet she is friendly. She shakes hands with both of hers, tattoo-riddled, one in a firm grasp, the other giving a warm squeeze on top. These tattoos—quite a few of which say "RATS"—are scribbled all over her, including on her earlobes and eyelids, which have one star each. She has a couple of jewels on her teeth, matching her boyfriend, Brent Burdett, bassist for the band Beauty School Dropout, who goes by Beepus, with whom she shares a sustainable clothing brand, Dumb Rubber.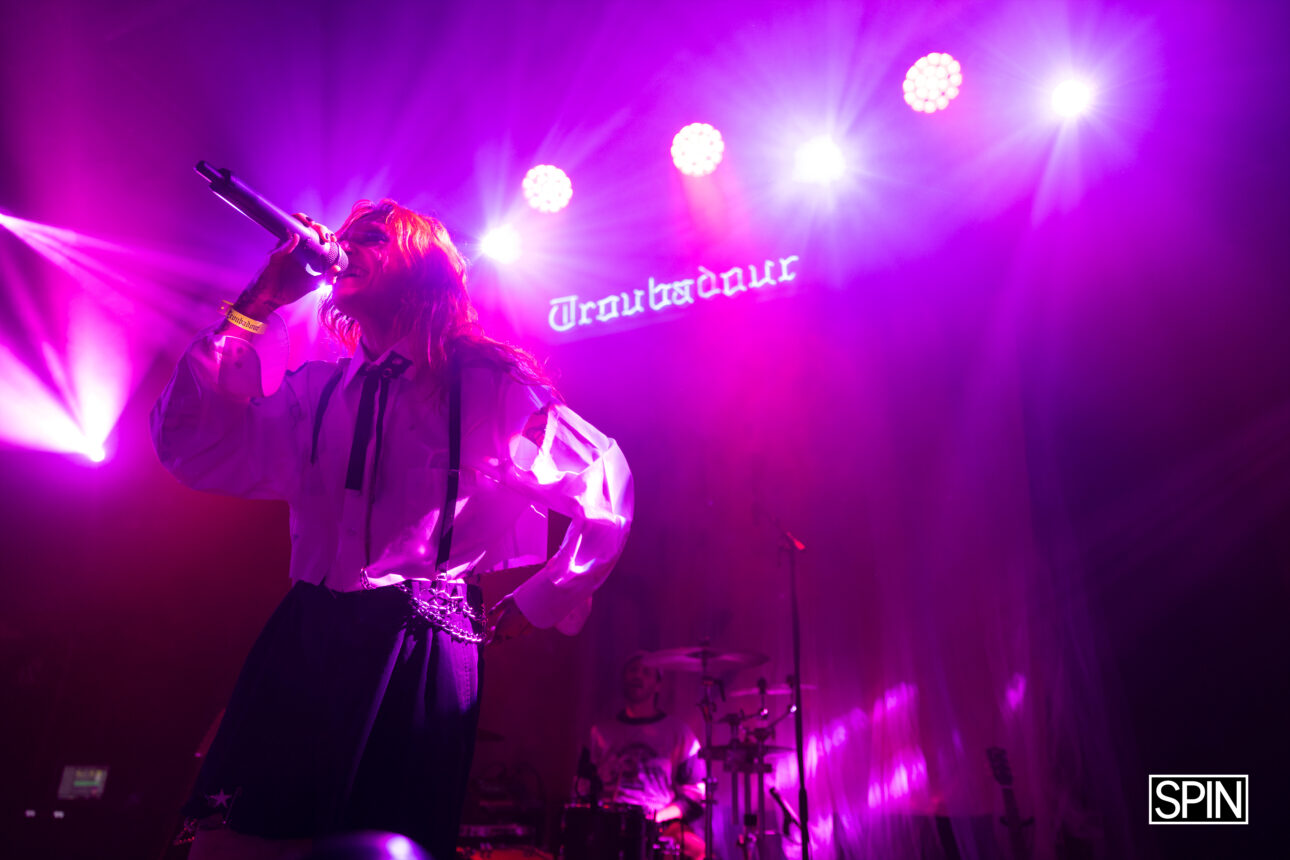 Photo Credit: Alex Vivian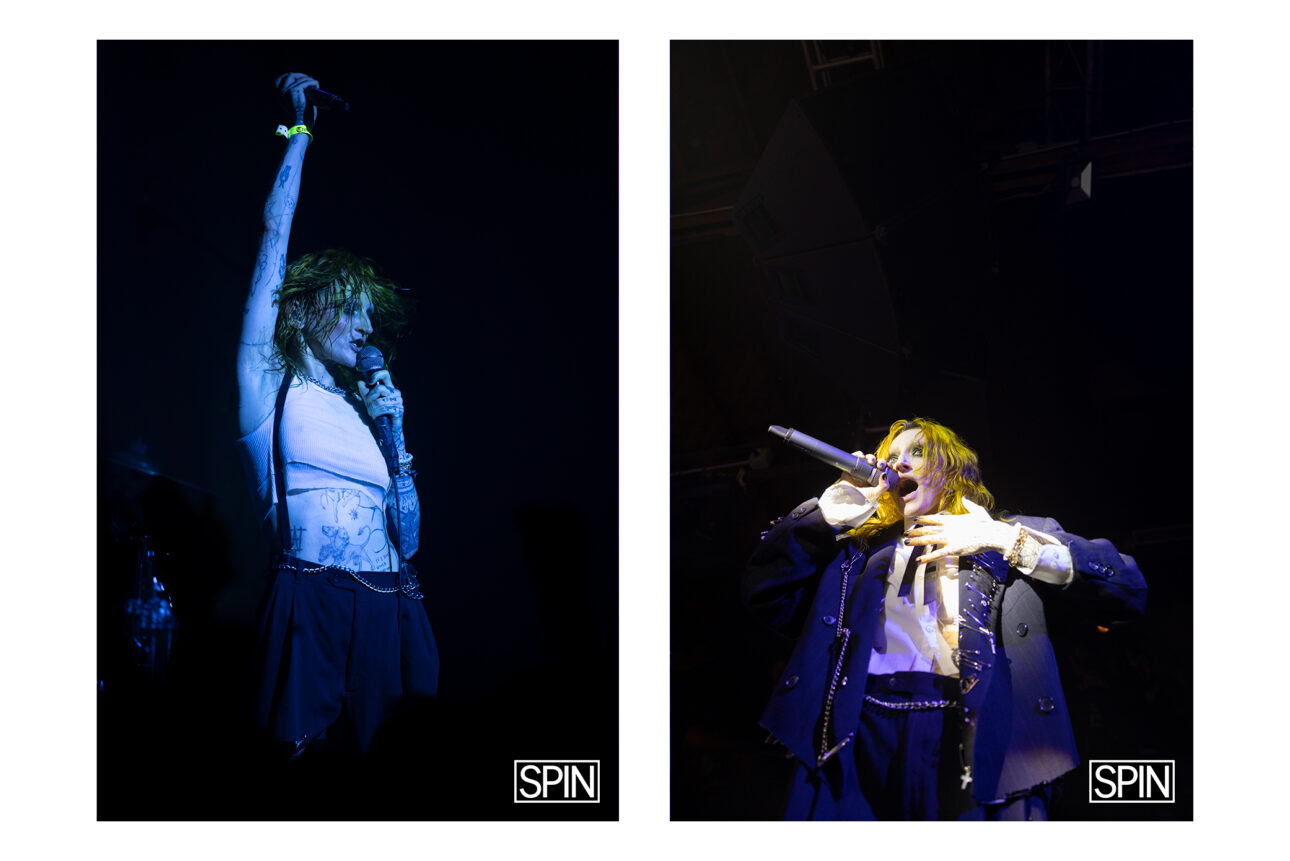 Photo Credit: Alex Vivian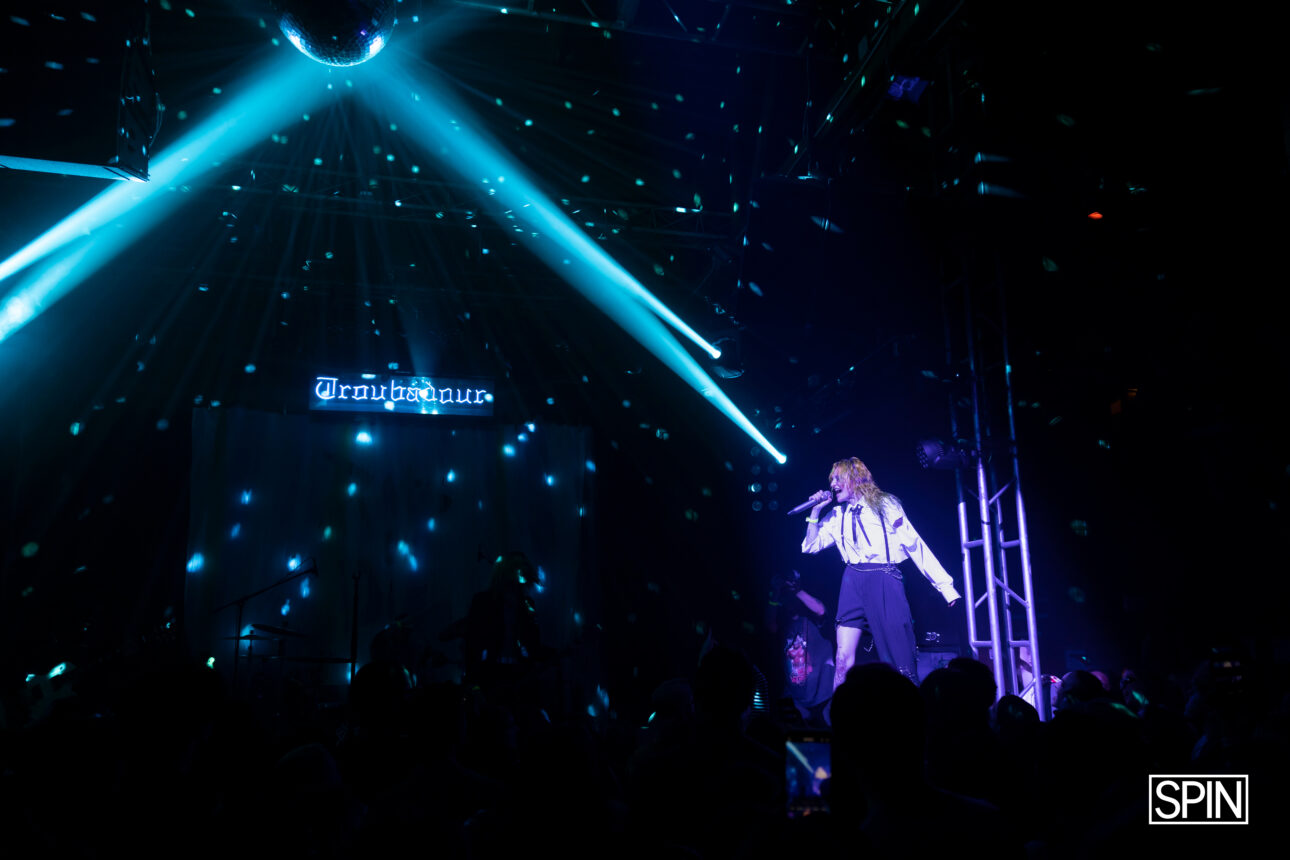 Photo Credit: Alex Vivian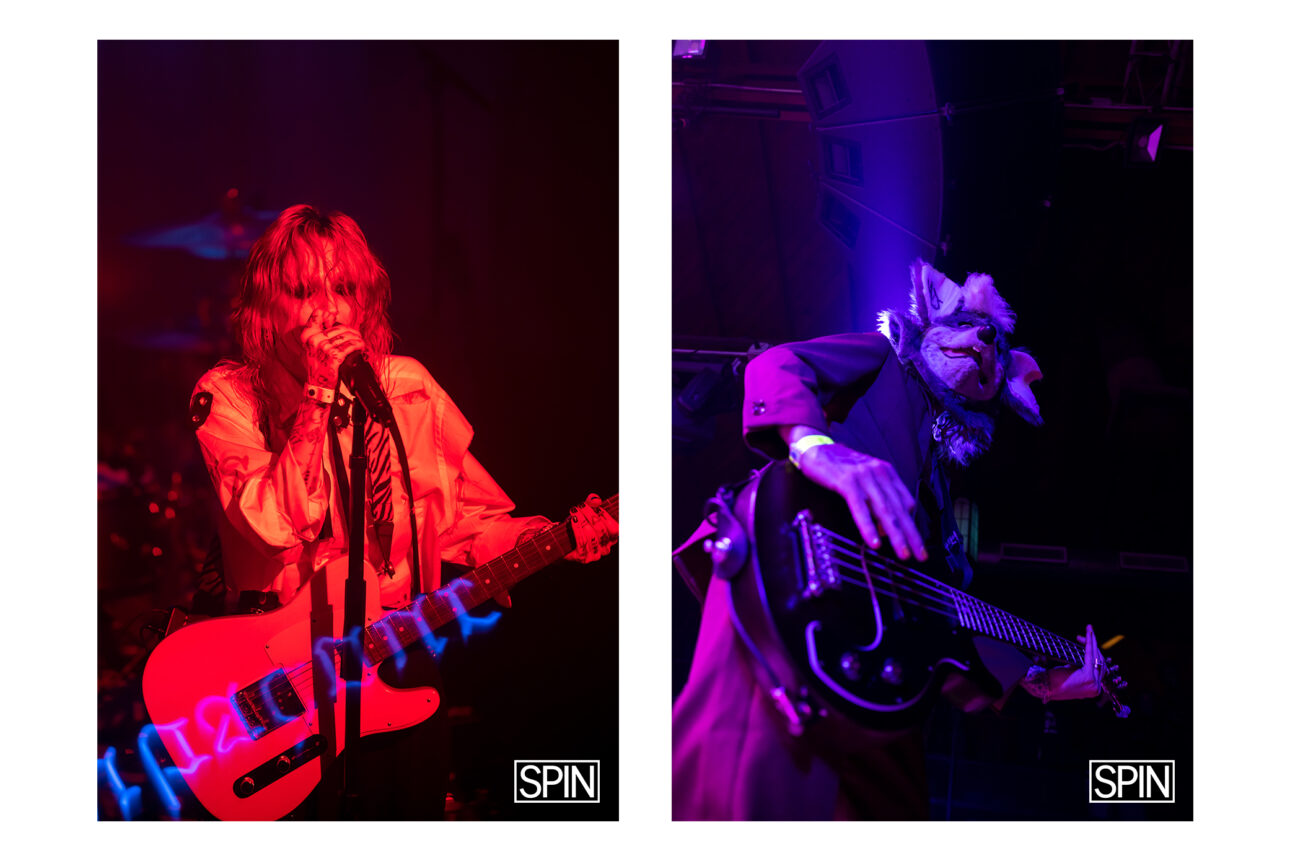 Photo Credit: Alex Vivian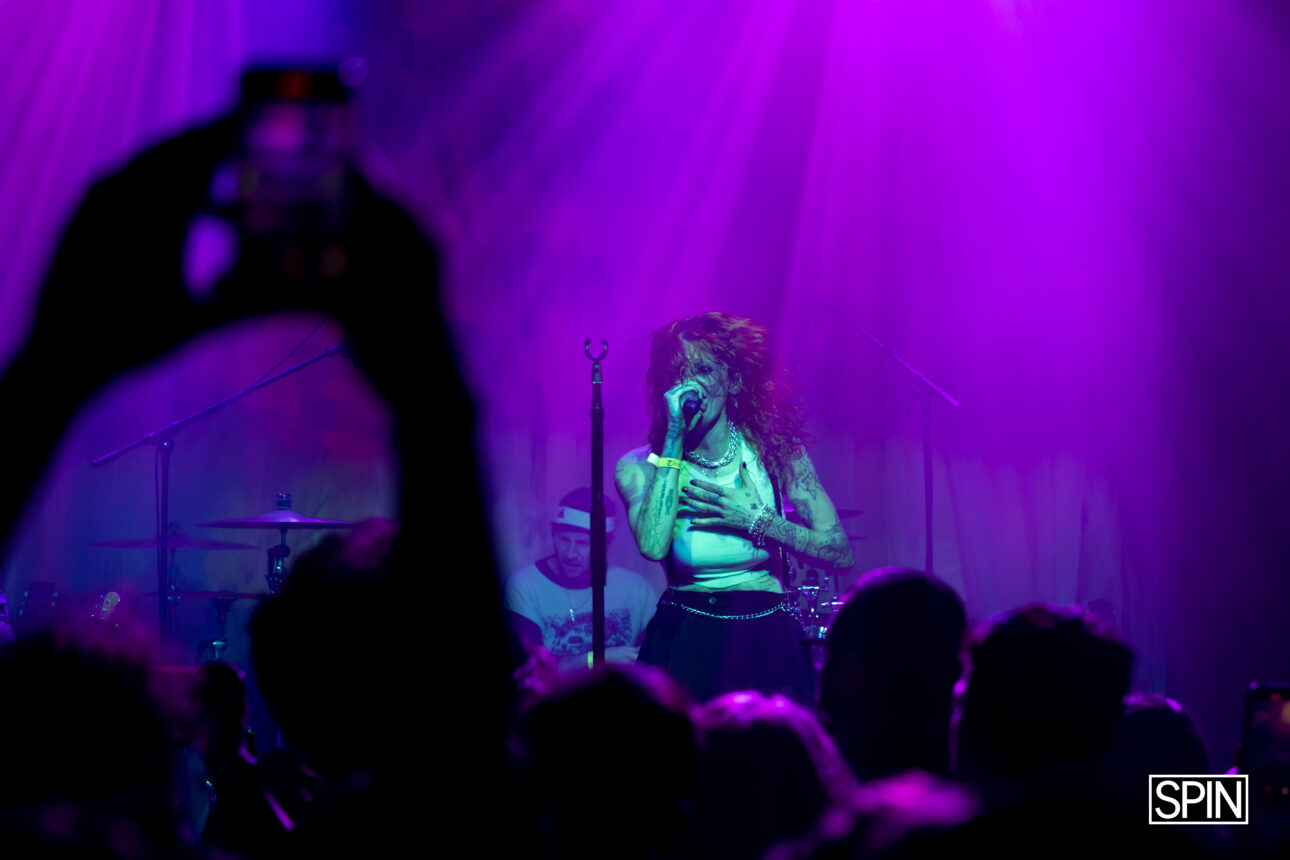 Photo Credit: Alex Vivian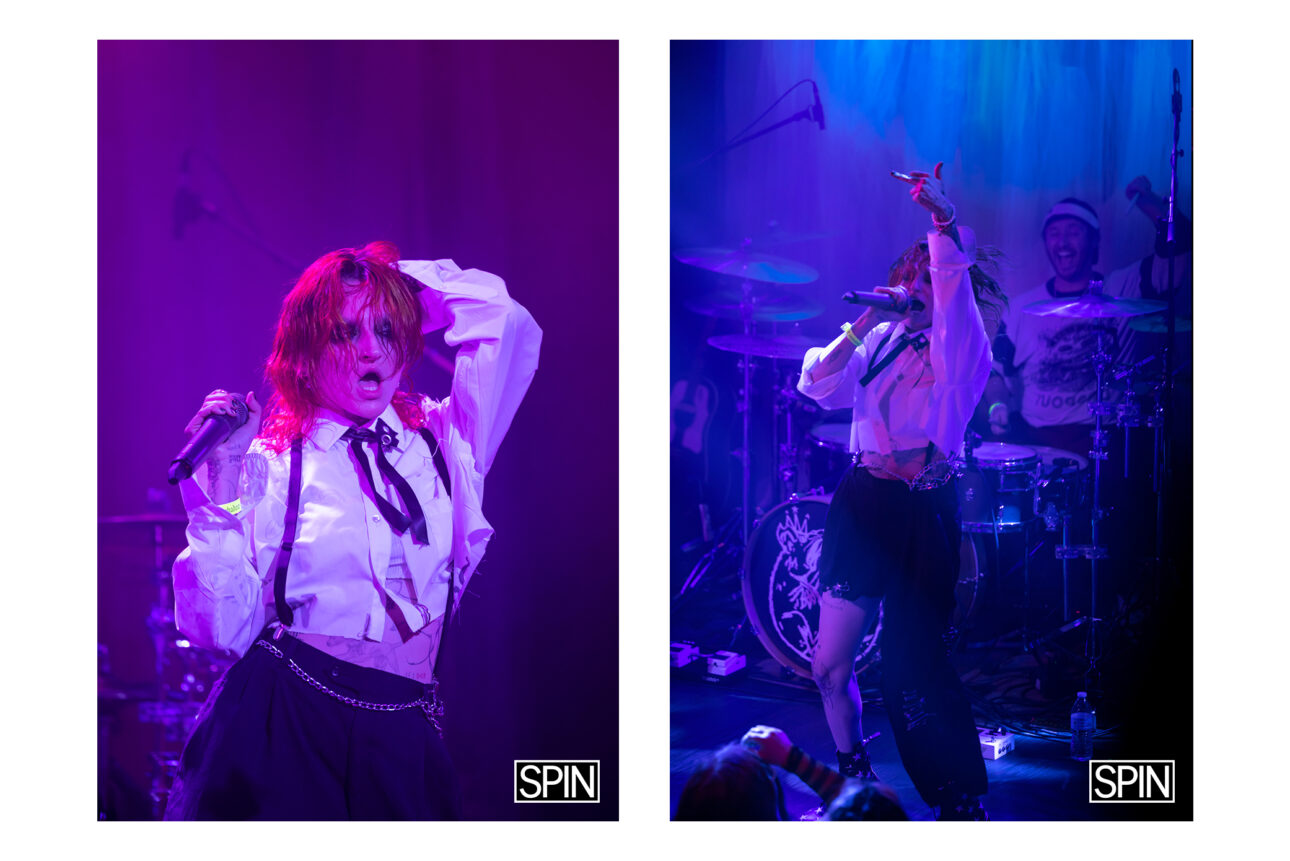 Photo Credit: Alex Vivian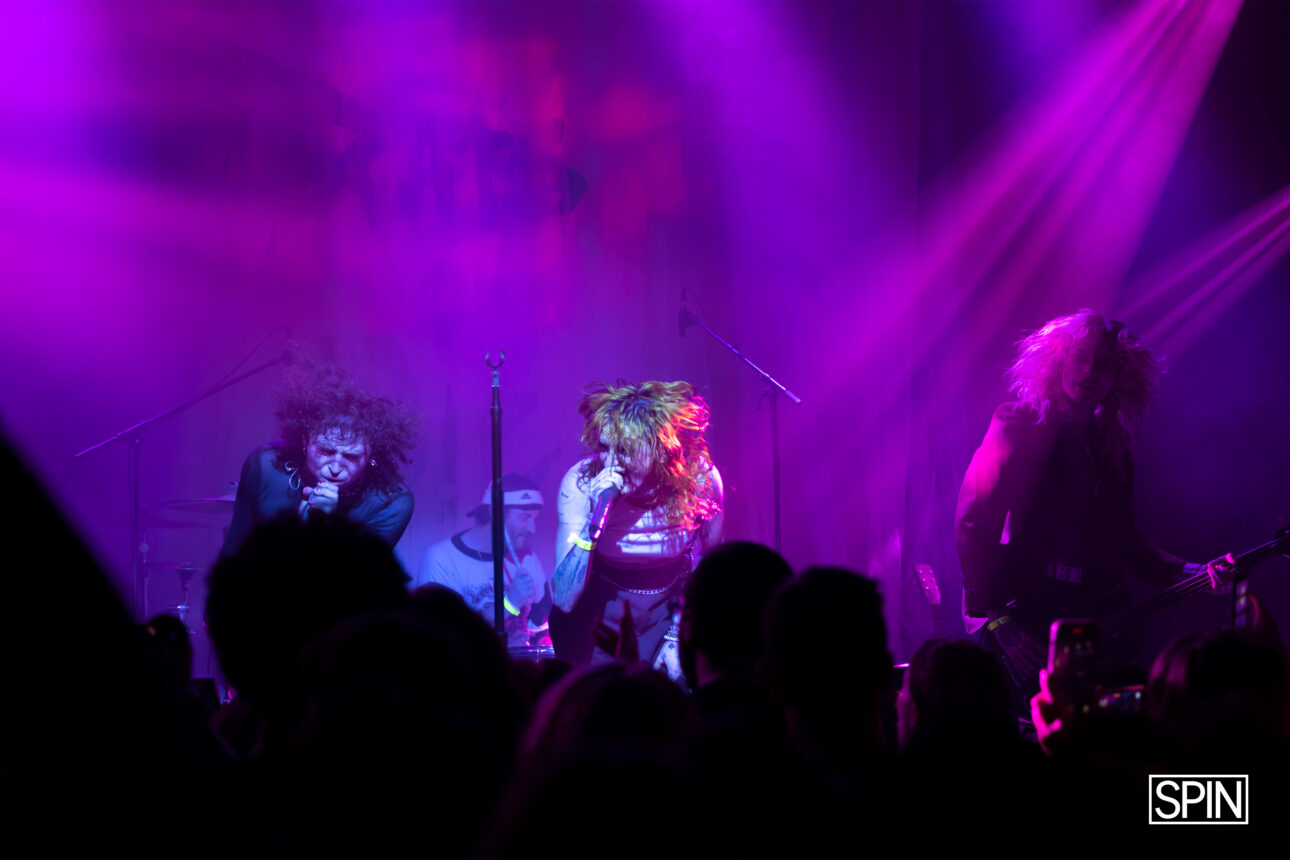 Photo Credit: Alex Vivian
I'm self-helpless, I skip breakfast I get jealous, I'm not independent I'm selfish, obsessive, expensive, possessive My checklist of issues is endless
 "Happiness 4 Dummies"
She googled "what's the ugliest color?" and promptly dyed her hair that particular shade of bright bile yellow. When her makeup looks a little too perfect for the SPIN shoot, she states firmly: "I don't want to look like a girl, I want to look like an alien." 
A close-knit global RATS community has grown since her first single "Temperance" in 2017. Over the last three years with the release of her EPs, multiple singles, and gigs supporting Lovato, Yungblud, PVRIS, grandson, and Oliver Tree, she collected more followers. She sold out her show at the Troubadour in Los Angeles, in November.
On New Year's Day 2023, Santiago could be found on the RATS Discord, playing online games with its members. "They're the ones that started the Discord," she says of her community. "This group of kids came up after one of the shows and were like, 'We made you a Discord. You don't have to join it, but we'd love it if you checked it out.' I was in there every night after the show, recruiting more people to come in. We've been growing it together."
The RATS Discord is very much a reflection of Ryan -– who her community understands very well. There are channels for pets, fashion, mental health, Beepus, and his band, which the community also supports. There is a venting channel where members can vent their feelings and have a sympathetic group of people listen. Members set up events for the community like trivia night, which they coordinate with Santiago's schedule so she can join.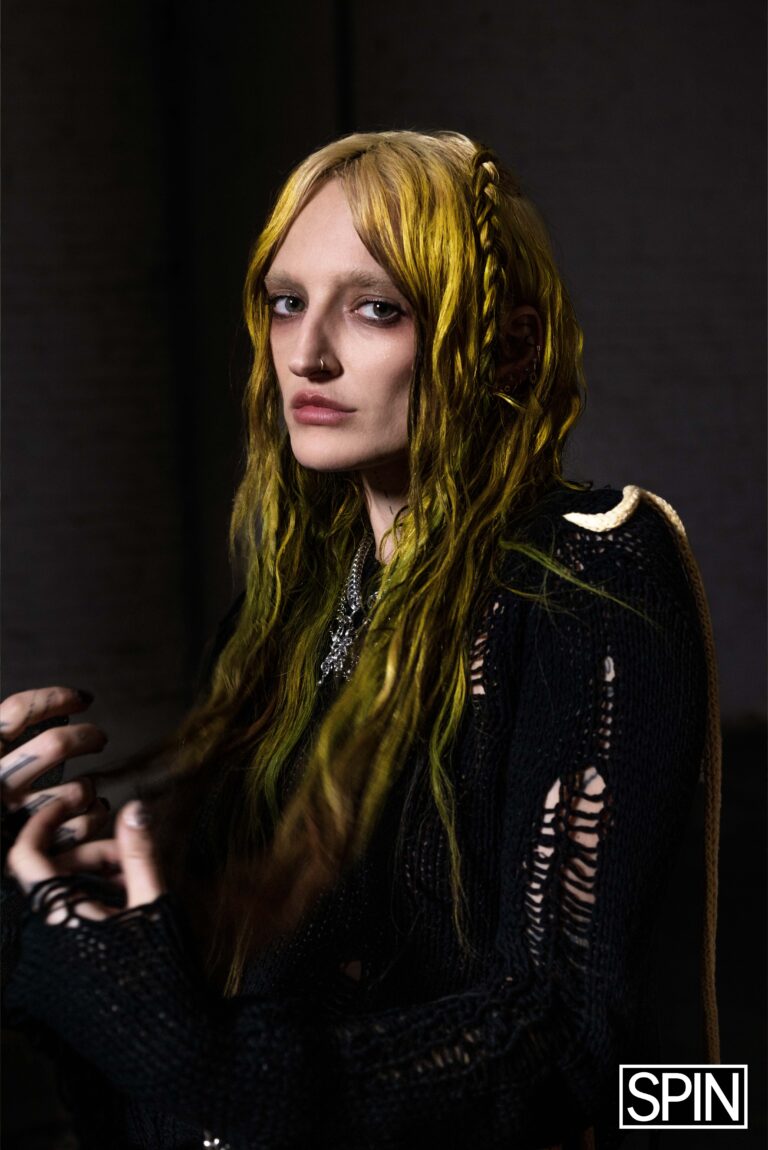 Photo Credit: Christian Witkin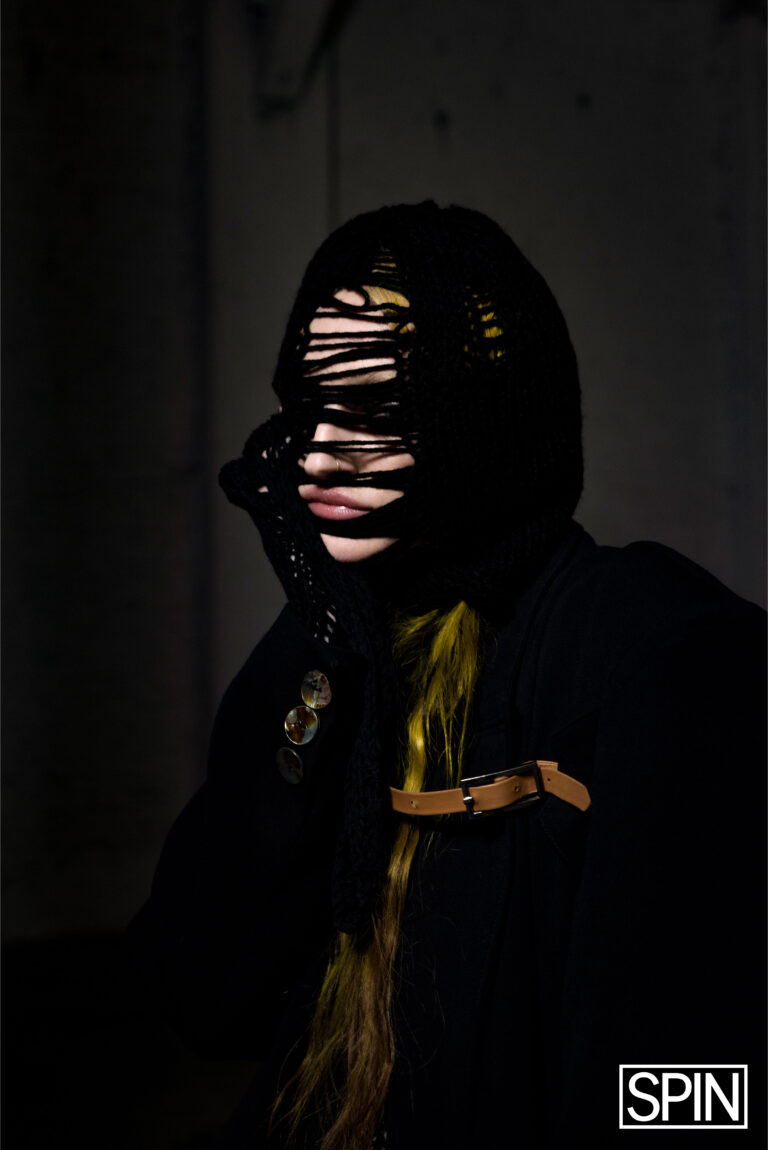 Photo Credit: Christian Witkin
"When the song is going to come out, I create this world where I live out my lyrics. I'm experiencing word for word what's going on."
Ryan Santiago
The key is the connection to her lyrics. The songs started out, in her younger years, as poems. A dancer since she was five years old, who eventually found musical theater, she broke both her heel plates during a performance in her mid-teens, effectively ending her dancing career. She received a guitar as a Christmas gift and learned the instrument by playing Taylor Swift songs. 
The music her parents listened to––Fleetwood Mac, Simon & Garfunkel, Prince, Aerosmith––and what her grandmother listened to––Frank Sinatra, Elvis, Frankie Vall––influenced what Santiago was writing. Poems evolved into songs, but she began devolving into a drug addict, hooked on "the hard stuff." 
In and out of sobriety, Santiago moved to Los Angeles to attend the Art Institute of Santa Monica, switching between graphic design, audio engineering, and fashion design majors. School wasn't for her. A functioning addict, she made it to 21 before she set foot in an AA meeting, and then only because she liked a boy who was in recovery. 
"He drew me to the program, more than needing any type of help," she says. "But, it was an amazing program. It was a really powerful time in my life and changed a lot of things for me. I was young and clueless in a lot of ways, it helped guide me. Even though I wasn't in NA [Narcotics Anonymous], it got me off the harder stuff. I was still struggling with being able to put some of that stuff down. 
"Since then, I will go months at a time without even having a drink. When I do, I don't overdo it."
She was still in the throes of addiction when the seeds for Royal & the Serpent were planted. During a particularly tough time, she invited a co-worker from the restaurant where she was bartending back to her house. They talked. They bonded. She played him a song she had written. Unbeknownst to her, he had managed hip-hop acts in college. He had her grab a composition notebook and write down her goals. He proposed managing her. They broke down her goals into attainable chunks. They met every Monday and wrote down what they would accomplish for the week. Within two years, Santiago was signed to Atlantic Records in a joint venture with that same manager, Mike Kosak. They still meet once a month and set their goals, using the same notebook.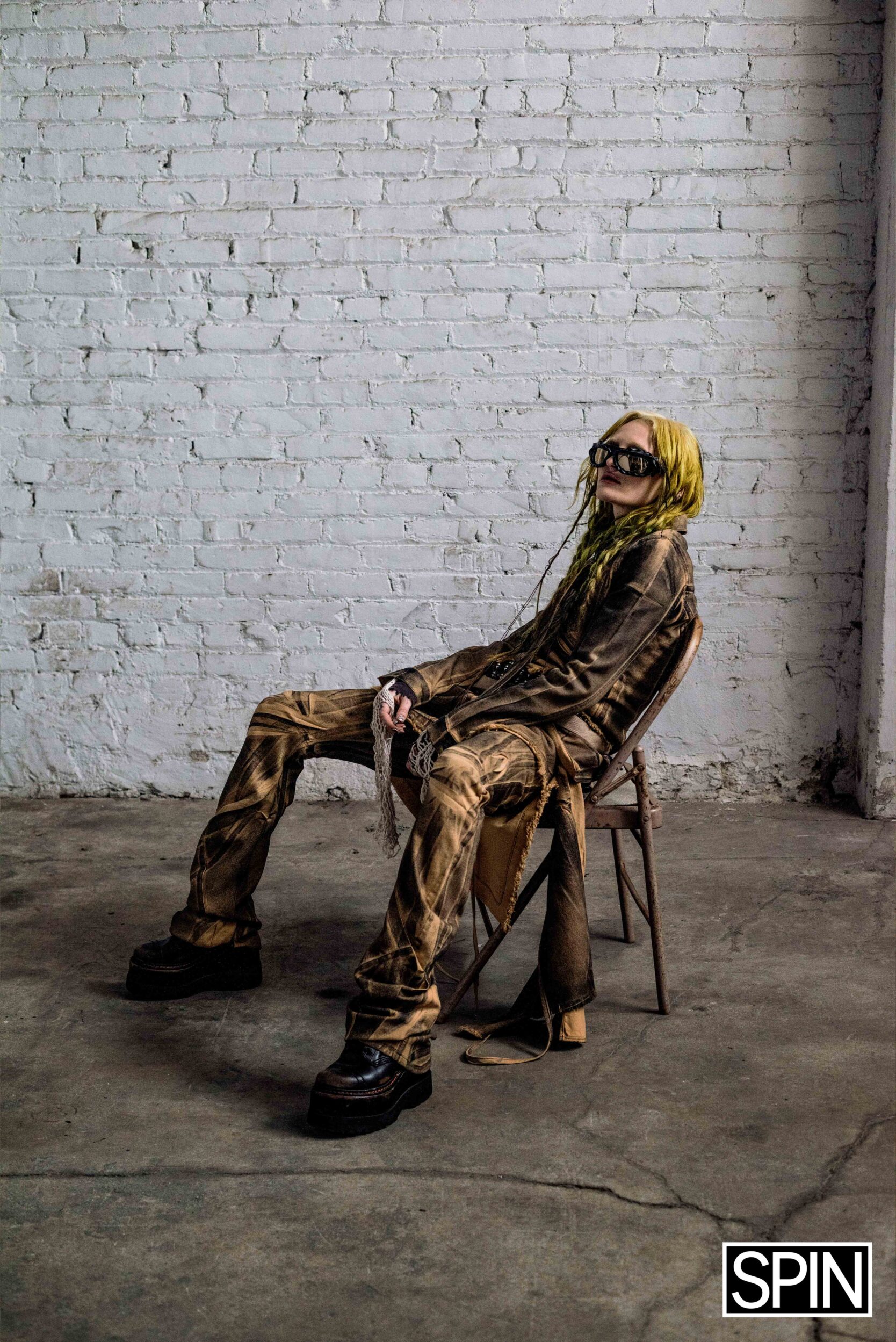 Photo Credit: Christian Witkin
M-m-my bed's a dirty pile of clothes That's just been stacking up for months I have to force myself to eat and sleep And brush my teeth because If I don't then I won't ever remember how to be A human, I'm useless I can't feel anything                                              
"Better"
Ryan Santiago's biggest solo single is the pop-grunge hit 'Overwhelmed,' which hit the Top 20 on Billboard's Hot Rock & Alternative Songs chart. On the track, she articulates her feelings so tangibly, her anxiety is palpable.
She only realized she suffered from anxiety after she got sober and didn't have drugs as her coping mechanism. "I have always been sensitive to light and sound. If it's too loud, or there are too many noises, or shows where there is sensory overload, it is tough for me," she says. "I would go to events to better myself and further my career and I would be shutting down being in a room full of people. Without drinking or using, I no longer had this veil of security. It was just me and my raw feelings. I was having panic attacks every time I would go out."
"Overwhelmed" was written a few years back, as a way to address these feelings. In the two years since the song was released, Santiago has heard from numerous parents who have told her how it helped their neurodivergent children express their feelings.
When she's talking about topics she's trained to speak on, Santiago is comfortable, prepared and almost on autopilot. Speaking about addiction, anxiety, and depression, her speech is hesitant, her voice quieter.
Her depression plays out in the video for "Better," which is visceral in its portrayal of someone who is frantic and obsessive and not in a good place. It is a reflection of where she was in her life. "I unintentionally do this method-acting thing, where I recreate whatever I've written about, and I play it out at the time of song's release. When the song is going to come out, I create this world where I live out my lyrics. I'm experiencing word for word what's going on," she says.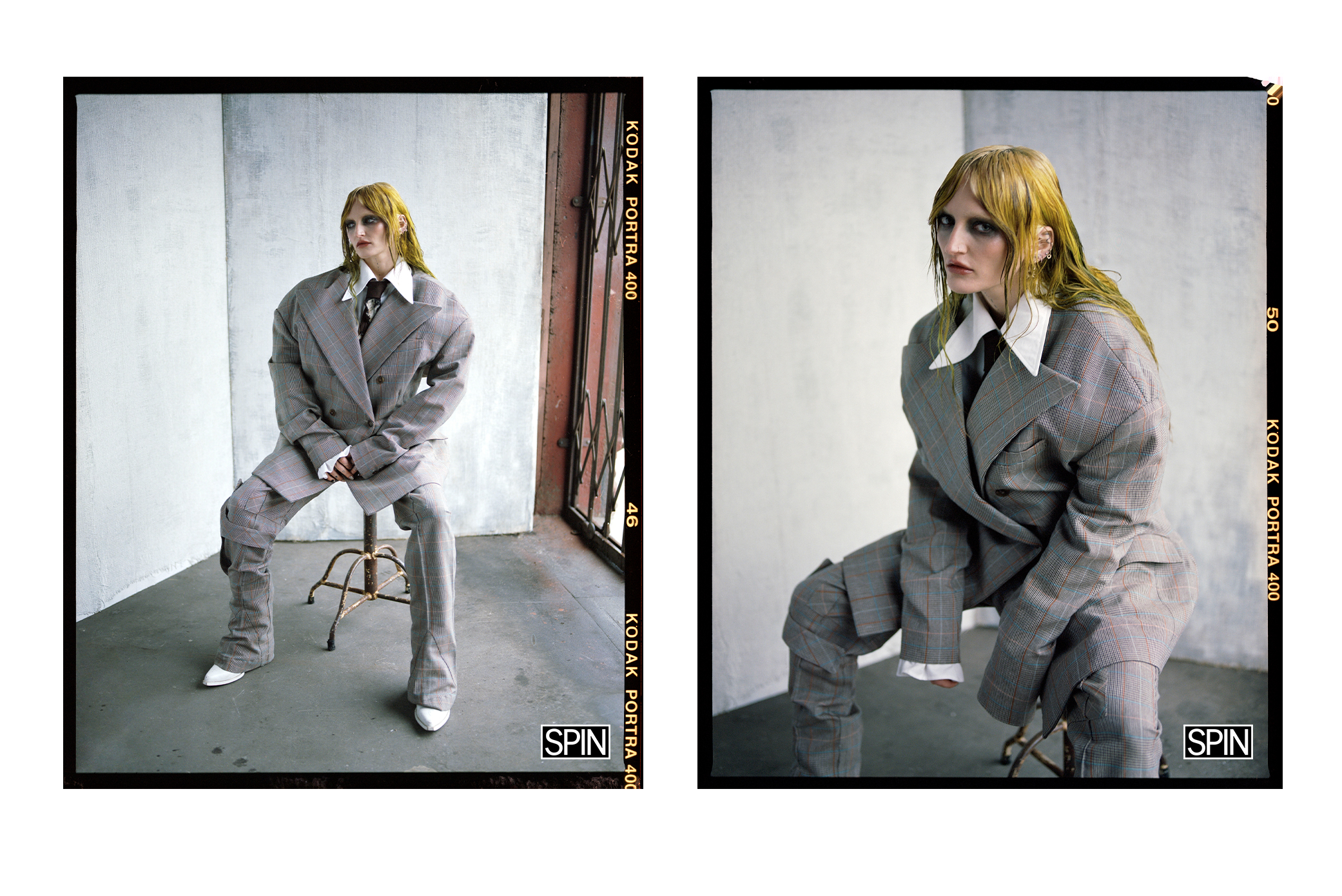 Photo Credit: Christian Witkin
"I slowly built myself up to finding a little joy because I was writing about trying to be happy."
Ryan Santiago
That depressed place is not one that Santiago wants to revisit. She was in the depths of it at a point in her life when she should have been riding high. It was the end of 2021, she was two years into her deal with Atlantic, with significant milestones to her credit already and multiple career opportunities. She was in a great relationship. She had good friends.
"I thought I had been depressed before, but nothing like this," she recalls. "None of it made sense. I had everything I'd always dreamed of. There was all this stuff around me that should have made me feel full. Instead, I was running on empty and the thoughts I had all day were really dark. I was nervous that I was going to do something. I would call my mom every day saying, 'I don't want to be here.' It was scary."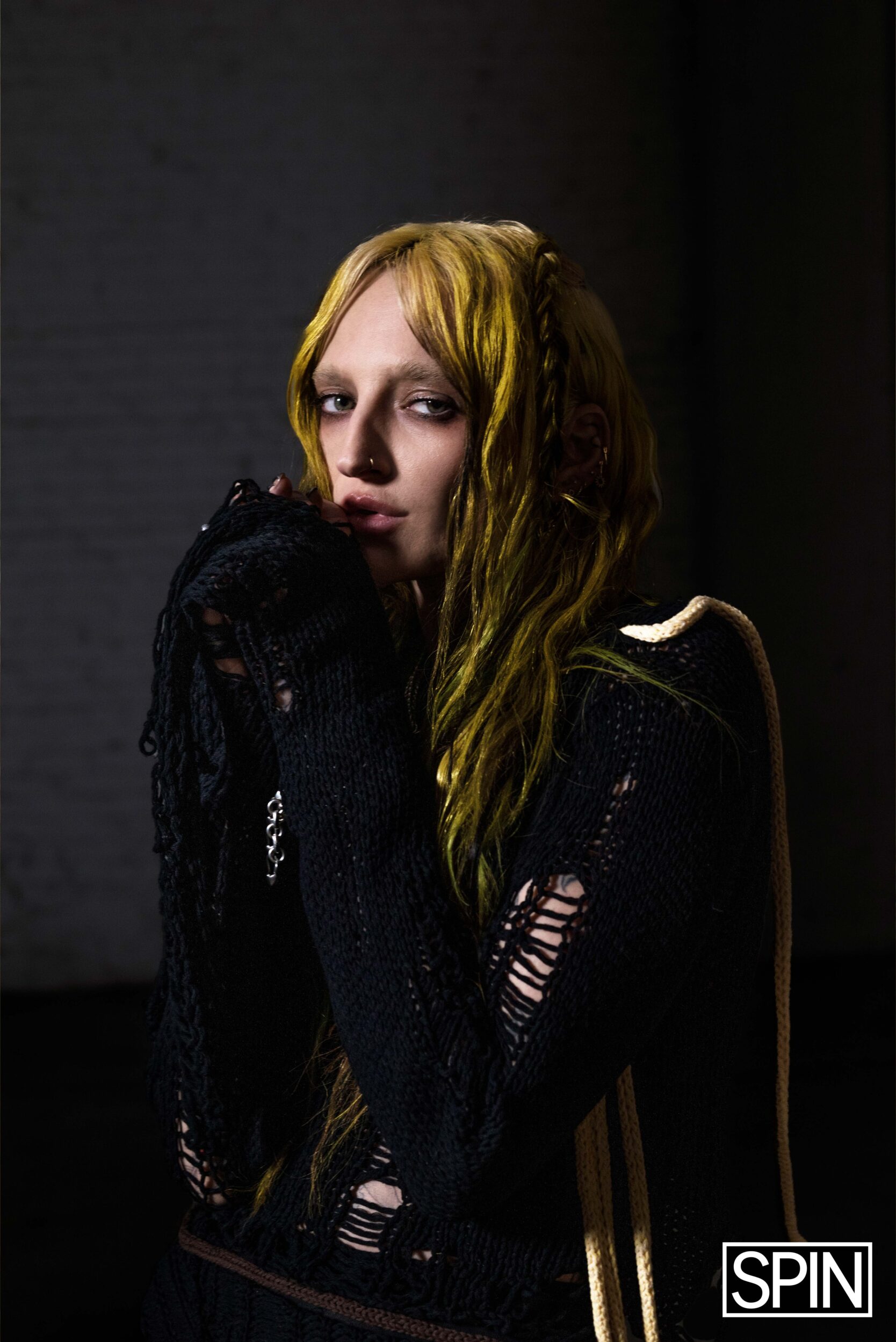 Photo Credit: Christian Witkin
Therapy, at first, didn't feel like it was helping, but over time, it did. That, plus the fact that she was simply fed up with feeling terrible and ready for a change, helped her turn a corner.
Now, she intentionally doesn't write depressing material, so she doesn't slide back into a dark place. "I had to be depressed in order to write that sort of music," she says, "but then I was just living it out over and over again. Getting on stage and saying I hate myself every night was a vicious cycle. I've got to change the story. I slowly built myself up to finding a little joy because I was writing about trying to be happy."
This dichotomy is ever-present, which is what Royal & the Serpent is based on: "Royal" being the best parts of you, and "Serpent" being the opposite. When Ryan speaks about her "Royal" side, she refers to it as "she" and when she speaks about the "Serpent," she calls it "it."
"Royal is really good at connecting," says Santiago. "She's honest and truthful and has this light about her, this openness and joy. The Serpent is the darkness, the depression, the struggling with drug use that still comes through in the music. The project name was birthed in a time when I was still conflicted between wanting to be what I thought was cool, this hard partying, rock-star image that I had in my head, and wanting to be a spiritually centered, grounded human. I was pulled equally in both directions.
"Now, they've come together to be one thing. Royal is definitely the light. The serpent comes out on stage a lot, but it's less dark, and it's important too. It's acceptance of who I am and the parts that I'm not as comfortable sharing with people."
If my teeth dug a hole In your soul and your brain But I loved you to death Could you handle the pain?
"Love Abuser"