On the last day of May, music industry figures gathered at Paul's Casablanca, a Manhattan bar, to toast the impending release of Phoenix's upcoming album, Ti Amo. Waitresses in pressed white shirts offered champagne flutes of prosecco and dishes of gelato. The members of Phoenix—Thomas Mars, Deck D'Arcy, Laurent Brancowitz, and Christian Mazzalai, dressed in nearly identical bomber jackets—mixed with the crowd.
Before the record was played over the speakers, they gathered in the bar's main room for a short question-and-answer session. They talked about growing up in Versailles, which was described as beautiful and very boring; they agreed on which of Ti Amo's songs was best for making out. In the title track of the new record, Mars sings "Champagne or prosecco?"—and because they were serving just one that night, the interviewer had to know: Why prosecco?
Though the nuances of fancy alcohol might be lost on many people, the answer was quite simple. "Champagne is a big commitment," Mars said with a coy smile. "Prosecco, you celebrate every day. That's what the record should be." The room laughed. Shortly thereafter, the session ended, and the record started to play. "Don't feel too obliged to listen too hard," Mars said before he put down the microphone. "Listen and talk. It doesn't have to be so ceremonial."
The ease of his demeanor would've confirmed what anyone didn't already know, which is that Thomas Mars is cool. He's the good-looking lead singer of a world-famous band, and the husband of Academy Award-winning director Sofia Coppola. His perma-tousled hair falls just right; he makes a periwinkle t-shirt look chic, rather than like a piece of leftover clothing on laundry day. There's an indelible moment toward the beginning of the "J-Boy" video where we see his silhouetted stand with his legs crossed, his hands on his hips as if to say, "Let's get on with it."
Plus there's the whole French thing, which imbues him with levels of off-the-cuff charm and confidence some Americans would take out a second mortgage to possess. He and his lifelong friends in the band Phoenix once wrote a song called "Trying to Be Cool," a title as wildly unnecessary as Michael Jordan writing an article called "Trying to Be Good at Basketball." He is so cool that he doesn't even like air conditioning; when Phoenix plays they ask for the AC to be turned down, which has caused problems.
Still, Mars gets nervous. He is human, after all, and most humans will never find themselves in the unenviable position of replacing Frank Ocean at a festival where many people specifically paid to see Frank Ocean. A few weeks before the listening session, Phoenix will be the fill-in headliner at Alabama's Hangout Festival, after Ocean withdrew for unknown reasons. Once upon a time, they were grouped with indie rock luminaries like Animal Collective, Grizzly Bear, and Dirty Projectors. But none of those artists could be announced as an Ocean replacement without inciting riots; that Phoenix is now a plausible stand-in reflects their elevated profile, though it doesn't mean they'll be a hit.
"We don't know how that's going to go," Mars tells me over breakfast. "A lot of people won't be happy. I see it as just sad faces, disappointed people. Hopefully, people are drunk."
"If they don't like, they don't like," D'Arcy says. "We don't care. We'll be there anyway."
This is a rock star thing to say, but Phoenix have come a long way, and worked a lot to feel this casual. In a few weeks, they'll release Ti Amo, their sixth studio album and the third that lots of people will care about. The band was together for nearly a decade before they broke through to major commercial success with 2009's Wolfgang Amadeus Phoenix. Each previous, excellent album had taken them up the celebrity pyramid one step at a time, easing them into a world totally disconnected from reality with their confidence intact.
By the time the recognition caught up to the quality of their music, they were humbled enough to not make such a big deal out of it. They never became dicks, basically. "You think your life will be different, and it isn't," Mars says. "It's so gradual that you don't really see the change."
[caption id="attachment_id_243718"]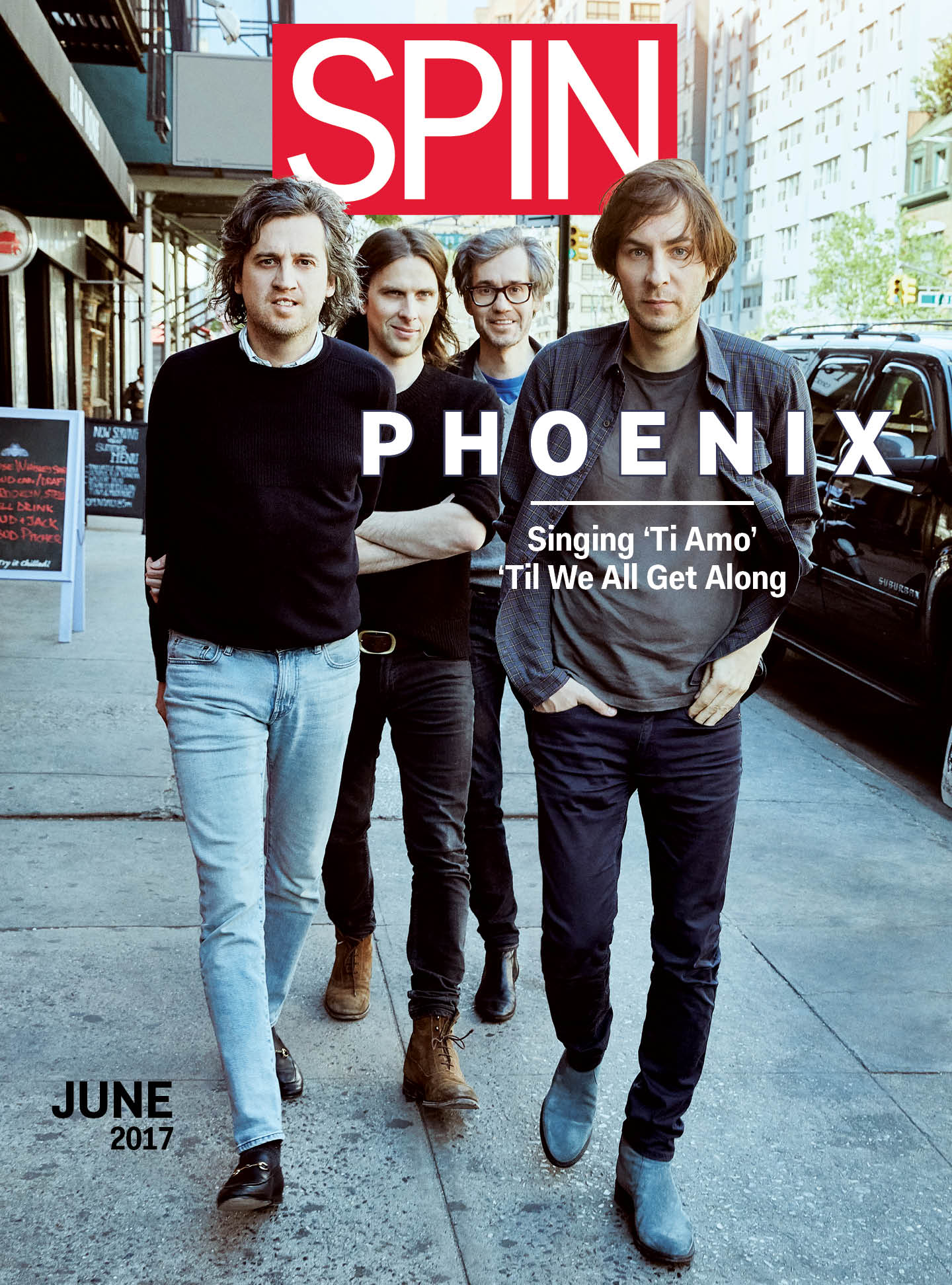 Photo: Eric Ryan Anderson[/caption]
Nevertheless, the members of Phoenix are almost intimidatingly hip, as well as exceedingly pleasant, which has the reverse effect of making them seem even hipper. We meet on the first sweltering day of the year in New York, and yet D'Arcy is committed to wearing a burgundy bomber jacket over a grey sweater. Mars will push together the tables at the Old World cafe where we go for breakfast; Mazzalai will never break eye contact, nor blink when he talks.
Brancowitz, who is Mazzalai's older brother, speaks partially in winding metaphors, but will always follow up to make sure his point hasn't been obscured by his thick French accent or his aloof manner. He describes the Strokes as memorable because they were "contrapuntal," which is not a word that has ever been used to describe their memorability. He adds that the world is suffering a "crisis of mimetic desire," which also explains Ti Amo. He wears the same form-fitting red-and-blue button-down shirt on consecutive days, smiles with his entire face, and sneaks winks at me when a situation seems faintly degrading, such as when traffic gridlock leads to the band waiting outside nearly twenty minutes in the heat, surrounded by all of their equipment, to get picked up by their car. (Mars, impatient with the delay, skips off to take the train back to his West Village apartment.)
On multiple occasions during our interview, Brancowitz insists on titling this piece. "Reality is embarrassing. That's the name of your article. Underline it." How can I not? It is very easy to feel like a pure idiot when talking to him, despite his natural generosity.
As we talk, Mars brings up his affection for Prince, who he says informs almost every decision he makes. I ask if he ever met the late singer, and he points to D'Arcy, who did. Well, sort of. "I don't want to show off about this story because there's nothing really interesting," D'Arcy says, before explaining how he almost ate the Purple One's truffle pasta at a late-night Parisian afterparty. "I was at this seat, and there was pasta in front of me. I was like, 'It's been 10 minutes, maybe I should eat.' Then he showed up, and it was his pasta, and I got kicked out."
The small, silly story is nonetheless instructive. D'Arcy is cool enough to be in the general vicinity of the guy who wrote "Purple Rain," confident enough to think about eating a plate of food that isn't his, and yet minor enough to be completely brushed off by a security guard. The anecdote feels like it should be a big deal, though once you're up close it seems like something that could've happened to anyone. They're just trying to be cool about it.
Mars mentions an Italian TV show the band played in 2001. The show couldn't afford the rights to soccer games, and instead would broadcast fans of each team—a nun for Roma, a businessman for Juventus—watching a screen, the progress of the game marked by their reactions. Phoenix performed at halftime. "That's when we realized, 'Okay, we made it big,'" he recalls. "But at the same time you're so disconnected from music once it reaches a certain level. It's just pure entertainment. It's not the record, it's not gonna last. It felt like vacation, you know. It didn't feel like anything else."
***
The best Phoenix songs have a mysterious warmth to them. It can't be explained by the guitar tone or the lyrical cleverness. They make you feel like you're at a party where everyone is dressed extremely well, and dancing with just the right level of spontaneous commitment, and to your surprise, so are you. So why not enjoy the vibe and see what happens? "It's almost all about the charm, the emotion," Mazzalai says. "It was very hard for us to preserve this, and to put all this raw emotion into pop songs. It required years of discipline."
Their 2013 release Bankrupt! was crafted around "the beauty of the fake," and found the band experimenting with more complicated song structures. "With the success of Wolfgang, we got people's attention," Mars says. "We wanted to see how far we could go." There was a detached, plasticine glamour in the sound, crystallized in songs like "Bourgeois," which is set on a cruise ship and drolly addresses the pampered elite: "Why would you care for more? / They gave you almost everything / You believed almost anything." And "Entertainment," a glittering synth-driven festival anthem, in which Mars surveyed the landscape of mass pleasures and concluded, "I'd rather be alone."
Mac DeMarco, who toured with the band in 2013, was surprised by how normal they were. He showed Brancowitz the chords to one of his songs, hung out with them every night of the tour, and even got to meet Coppola. "You hear stories of bands going on tour with huge bands and they never even see them or meet them or anything like that, which can be strange," he says. "But we had a nice time. I think that we maybe annoyed their tour management company a little bit here and there, but the guys were really sweet."
The sessions for what would become Ti Amo began in 2014, right as Phoenix were concluding the year-long Bankrupt! tour. Almost every show they played that year opened with "Entertainment." "It was an abrupt, brutal transition to life in the studio," says Brancowitz. "After traveling for a long time, you want to find a little cave, and to make your little fire. Then, you do your drawings on the wall."
They recorded in the middle of Paris, near the Centre Pompidou art museum, a stark difference from previous albums. "The cave was pretty open to other tribes around us," Mazzalai says, seamlessly building on his brother's metaphor. "Usually, we are totally disconnected from the outside world. It was very new to us."
For every album, Phoenix invent a specific sound palette: Ti Amo's mood board was conceptualized around the word "gelato." The band intentionally tried to come up with simple songs, eschewing the previous album's complexity. It was heavily influenced by the bouncy rhythms of Italo disco, and come hither songwriters like Franco Battiato, who's name-checked on the title track. The elliptical percussion begs for movement; the guitars melt into synth lines that sound like late nights spent travailing across European cities. "We realized that on the Bankrupt! songs, people were not dancing," Mazzalai says. "They were into it, but it didn't inspire physical moves. We were missing that."
https://www.youtube.com/embed/TwjMiWgCi8E
Mars has always sung in English despite being a native French speaker, a dynamic that's allowed him to write lyrics contoured to the band's melodies regardless of their linguistic rationality. This quality isn't dissimilar from a genius pop songwriter like Swedish svengali Max Martin, who picks English words because of how they sound, not because they make sense. On Ti Amo, Mars sings frequently in Italian, which pushes the boundaries of his singular language. The effect is confusing on paper, but entrancing on record—like the chorus on "Fior Di Latte" that goes "Fior di latte, Fior di latte / don't think about it, trigger me happy" over a swirling cascade of synth textures. (Fior di latte is a type of gelato, served during the listening session.)
The explicitly Italian aspects weren't planned ahead of time. Mars says when he sang the chorus of "Fior Di Latte," everyone's eyes lit up, as if they were asking: Are we doing this? Brancowitz and Mazzalai are half-Italian, and spent many summers in the country as children. "We needed some kind of fantasy land that didn't really exist," Brancowitz says. "Somehow it was this dream version of Italy we came up with without really thinking about it. We listen to a lot of Italian music, and we love Italy in a very romantic way, but it's really about French people trying to imagine what Italy is, and kind of failing."
The band's process is more methodical than their word-association may reveal--they record as much as possible, keeping a record of every experimented idea for reference as they figure out what they want to use. By D'Arcy's count, they recorded three albums during the Ti Amo sessions. "We know now that the statistics are on our side," Brancowitz says. "That if we create enough music—which is pretty easy, it's like opening the tap—the music comes. We have good ears now, so we know when something's good." This sounds basic, but it's a ton of hard work, which is why every Phoenix album has taken a process of years-long experimentation until the details are just right. Most of what we hear on Ti Amo is the first take, but the band says it was very difficult to finish the final 5 percent.
"We do believe that every single one of us doesn't have a great talent," Mars adds. "Somehow our biggest achievement is that combined, there is more depth, and there is something that comes from a sort of unconscious process that is a result of the chemistry of the four of us that is unpredictable, and is uncomfortable too. The fact that it's unpredictable is what drives us the most." (As Brancowitz puts it: "Everything we do sucks except when we're together.")
Mars continues: "Not to compare ourselves with Salvador Dali, but he said that to be a great painter, you have to be really stupid. I do feel the same about being a great musician. I feel like we are too smart to be great musicians, and I say this with most confidence."
***
Since 2015, there have been three terrorist attacks killing dozens of people in France: the assault on the Charlie Hebdo offices; a truck driven into crowds celebrating Bastille Day; and most infamously, the November 2015 attacks on the Bataclan, the deadliest terrorist incident in French history. The country recently avoided electing the far-right leader Marine Le Pen during the 2017 presidential election, but she captured more than a third of the vote.
Mazzalai, who was near the Bataclan on the night of the attacks and holed up in his apartment as the siege played out, gave a muted read of the national temperament. "It's been a crazy time in Paris," he says. "A real tension you can feel." But as the album's recording played out, the band moved away from the darker mood, toward the romantic, transnational feel of Ti Amo.
The band nearly used Ti Amo as the title for Bankrupt!, but it wouldn't have paired naturally with that record's cynicism. Now, it sounds like a gesture of good faith—an insistent yes in a world shouting no. As Mars sings on the title track: "I'll say ti amo 'till we get along."
[caption id="attachment_id_243694"]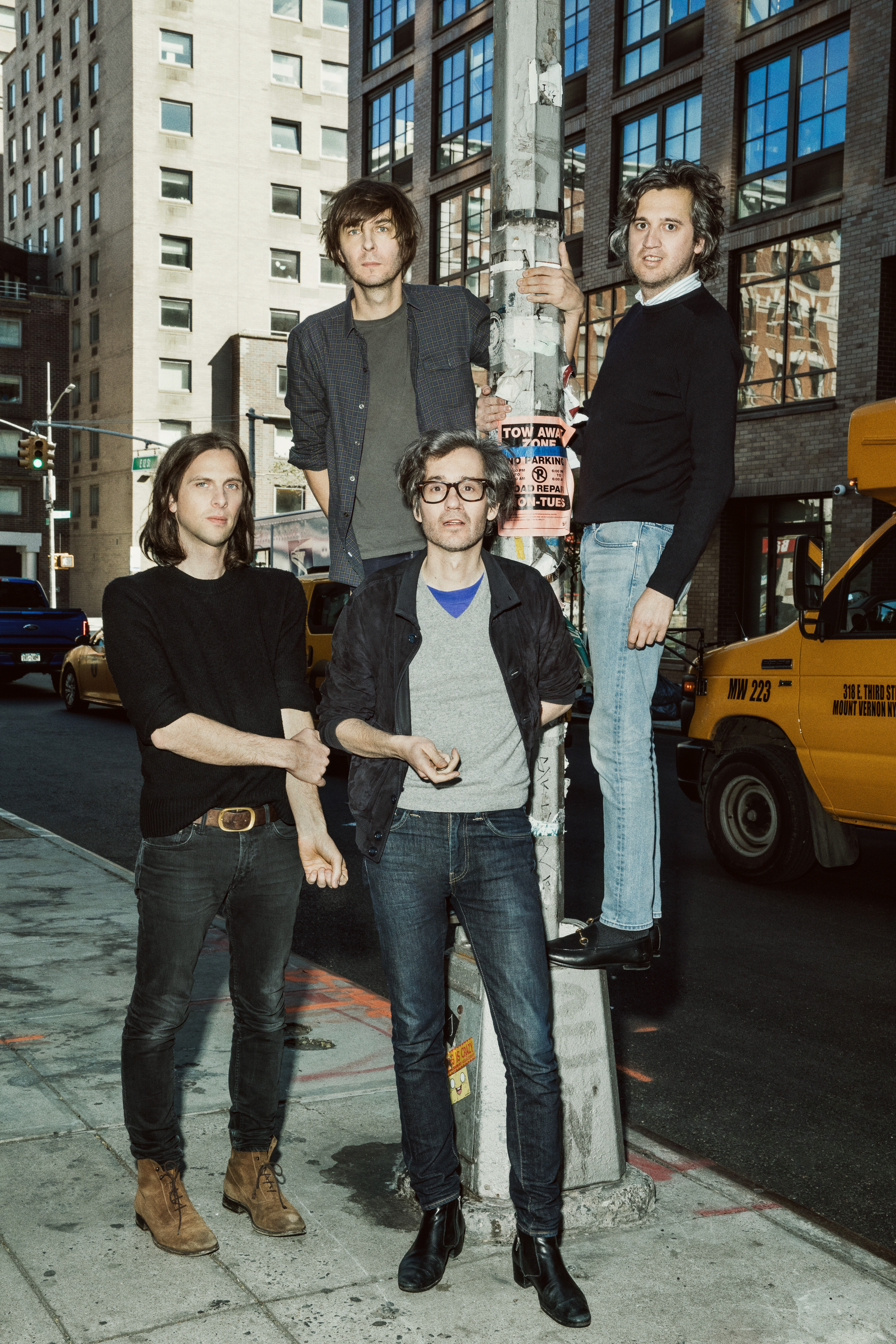 Eric Ryan Anderson[/caption]
"It was always joyful," D'Arcy says of the record. "It was always hedonistic and joyful and simple, which was in total contradiction with what was going on. But to me, it's a very logical thing."
When Donald Trump was elected president, a pervasive sentiment suggested that American artists would respond to the tension in due kind, reviving supposedly moribund genres like punk with a strain of aggression and political fervor. The idea was a little naive, because nobody is really asking for a great punk record when their rights are being trampled on. But a great many things can be political, and the more I listened to Ti Amo, the more it seemed like a balm for this fraught global moment.
"We are facing people that wanted to bring hell on Earth, and we were unconsciously trying to bring heaven on Earth," Mars adds. "Around us, everything was charged. But we love the fantasy aspect of writing an album—that it's a world of possibilities." He was hesitant to say the record was escapist, because the real world can't be avoided so easily. But it's possible to acknowledge the way things are while hoping for what they might be.
***
Before they fly down to the Gulf Coast for Hangout, the band records a session at New York's Sirius XM headquarters, a gleaming Midtown office with hallways covered in autographed portraits of mega-stars like Adele and Taylor Swift. A wall-length screen beams footage of the Beatles on repeat.
Earlier that day, a stoned driver crashes through Times Square, killing one person and injuring more than a dozen. The following scene delays Mazzalai and Brancowitz's car as they try to navigate the traffic jam, and as a result the band has to shorten their session. They spend most of their time setting up their equipment, before a quick rehearsal into three songs: "J-Boy," "Ti Amo," and their biggest hit. After they finish, the recording engineer, a goatee'd middle-aged man in a Springsteen shirt, will ask what that last one was, for their records.
"'1901,'" Mars says.
There is some humility in this. Mostly, it seems like they're going with the flow. The band doesn't have it in them to treat the rest of the world as the canvas for their personalities. Mars brings up artists like SebastiAn and DeMarco, who he says are bigger than their talent. "They have a persona," he explains. "It's something I would never adventure myself into, because then you have to become a character. To stay sane, it seems like a really big challenge. But there are people like that, that pretty much everything they make is an artistic statement, whether it's interviews or just a press release. They extend their musical talent to other fields."
Before Phoenix leave the Sirius office, Mars and Mazzalai do a quick interview in a studio normally used by sports host Chris "Mad Dog" Russo, after which they read a series of radio tags advertising their appearance. Mars and Mazzalai perform the task with collected charm: "Ciao, I'm Thomas…" "Hello, I'm Christian…" "We are half of the band Phoenix, and our new record is Ti Amo…" They  trade off lines quickly, never needing a re-take, performing with a kind of mind-meld; they make it seem like they're almost having fun, despite the perfunctory nature of the task. Here, their breezy Frenchness is an asset against the dreariness of what this job requires, once you've gotten to their level.
https://www.youtube.com/embed/tsHkjn_YNBg
On the first weekend of June, Phoenix headline the second night at New York's Governors Ball, a festival mostly occupied by teenagers in various states of hysteria, many of whom will ask you to buy them beer if they see you wearing a blue wristband marking you as 21. The acts at Governors Ball trend toward the younger demographic; no act creates more fervor than Marshmello, the masked DJ who mashes up current and former radio hits ("Mask Off," "Wonderwall") with nitrous-injected synthesizers. (That, and the moment where YG induces the crowd to chant, "Fuck Donald Trump.")
Phoenix's set coincides with Childish Gambino, who has become somewhat of a teen superhero, thanks to Atlanta and his 2016 album Awaken, My Love. Before Phoenix are set to start, their stage feels curiously underfilled. Despite their pedigree, perhaps they now scan as the worst thing possible: Adult music, of little interest to Gambino's giddy hordes.
This fears turns out to be overblown. The crowd is healthy enough by the time the band comes on, as their genuinely innovative stage is revealed. The band has installed a giant, wall-sized mirror behind them, which reflects the stage. Before they come on, a pair of stagehands sweep away the remaining detritus, so that the only thing we can see is the band, their equipment, and the uniformly black floor. Through the show, multiple projections will fill up the mirror: a gleaming waterfall, a dripping ice cream cone, and then a stretching procession of black-and-white floor tiles we speed toward, producing an effect not unlike the ending of 2001.
Despite the size of stage, the members stand closely to one another in a single line, so that nobody is foregrounded or made to seem more important. (In spite of that, the camera almost always lingers on Mars.) They wear the outfits from the "J-Boy" video, except for Brancowitz, whose jacket sparkles under the light. The crowd is older, but not that much older; there are still plenty of teens bopping about and singing along. The mirror and projections are a dazzling spectacle elevating the performance.
As each song finishes, Mars breaks into a dopey, gracious smile, as if he can't believe this many people are here. His stage banter is minimal, but he sounds legitimately grateful for the crowd's responsiveness, especially since new, as-yet unreleased songs like "Lovelife" and "Role Model" get big cheers. "Thank you!" he beams, after a raucous reaction to "Lisztomania." "Thank you, thank you, thank you!"
They finish their set with a reprise of "Ti Amo," played without vocals. Mars walks out to the crowd, and climbs up on top a sea of swarming hands, eager to elevate him. He poses like Iggy Pop, basking in the spotlights. Then, he lies down on the people supporting him and rolls back to the stage, not quite ready to return to the little cave.