When Austin Brown first expressed interest in playing the guitar, his father, an accountant and ardent ZZ Top fan, gave him some advice: "Learn just three chords, and you can be a country music star," he told his teenaged son. "Just C, G, and D, and you'll be famous."
Brown recalled that conversation with a devilish grin one windy afternoon in early April, at a bar in his Brooklyn neighborhood of Williamsburg. He'd come to watch Champions League soccer before traveling to Manhattan, where Parquet Courts, the rock band he helps front, were due to play the first night of Gigstock, a two-day "mini-festival" hosted by WNYC in its sleek Tribeca performance space, the Greene Room. The bar was filled with young, mostly European men in their 20s and 30s, staring upwards at flat-screen televisions, heads back, sweaty glasses of lager in their hands. And over the drone of English commentators and the ambient song of stadium noise, Brown — in tortoise-shell frames, a gray Oxford shirt, and a brown cardigan buttoned-up to his sternum — was explaining his newfound love for Manchester United, whose every match he watches there. More than anyone else in the room, he looked, in that moment, like an accountant. His father, he explained, had always wanted him to play college baseball, but he'd quit in high school to focus on the guitar. When he dropped out of college a few years later to move to New York, his father pleaded with him to reconsider. "I couldn't really explain what I was doing," Brown, now 29, told me. "I didn't really have a written-out plan for how to succeed, but I had an idea of what was right."
It's worked out well. Noisy, clever, and uncompromising, Parquet Courts have experienced an ascent few young rock bands could ever plan. In 2013, the wide-release of (their previously self-released) sophomore breakthrough, Light Up Gold, saw the foursome transition, in singer-guitarist Andrew Savage's words, from "being a pretty unknown band to being a known one." And in 2014, as U2 and Foo Fighters hustled to ensure that their latest offerings be heard, Parquet Courts delivered not one but two of the year's most electrifying and satisfying albums — this summer's Sunbathing Animal, and its spontaneous follow-up, Content Nausea — within six months of one another, a move that shows little regard for standard, sensible business practices. In just two years, they've become one of the most vital and refreshing rock bands on the planet, an outfit capable of illuminating an art form that many could (and do) consider dead or outdated.
"The entire world is saying electronic music is what's happening," says Kevin Pedersen, of What's Your Rupture?, the band's New York-based label. "And it's actually happening — it's what people buy and talk about and listen to. But Parquet Courts have been able to contextualize history in a way that can be boiled down to a couple of chords and words. You hear something that's rooted in the past, but totally new. They remind people that there are good bands out there and that there's a reason to continue listening and continue playing."
Much of that owes to attitude, a sense of self and purpose that can immediately be felt in all that Parquet Courts do. Whether they remind you of Tyvek or Television, they've sounded from the start like they know who they are and they enjoy what they do, no matter the climate. "These are self-taught, American artists," Naomi Punk frontman Travis Coster told me. "That's what every single indie rock band is being marketed as, and everyone wants, but there are only so many bands that actually are. They choose to be themselves and express something that people can discern. They choose to be a painting rather than a paragraph, anytime they can. It's beautiful."
In Tribeca later that night, as the band — Brown, Savage, bassist Sean Yeaton, and drummer Max Savage, Andrew's younger brother — peeled through a set of five new songs from Sunbathing Animal, they seemed entirely too loud and unruly for the space, for public radio. After they closed with the album's furious title cut and exited the stage, WNYC's John Schaefer, the host of Soundcheck and MC for the evening, turned to the studio audience and smiled. "Can I just say it's one thing to write a song that's a whole bunch of B Chords, but it's another to make something awesome out of that," he said. "They probably heard that out on Varick Street." Earlier that day, before he slipped out of the bar and hopped into the band's van, guitar case in tow, Brown had shaken his head in disbelief. "It doesn't feel real," he said, of where they'd started and where they were as the album's release date neared closer. "I always thought there was a difference, y'know? There are bands that I play in, and there are bands that play festivals. There are bands that I play in, and there are bands that play on television and radio. There are bands that I play in, and there are bands that get written about in magazines." He took a swig of beer. "This feels too normal."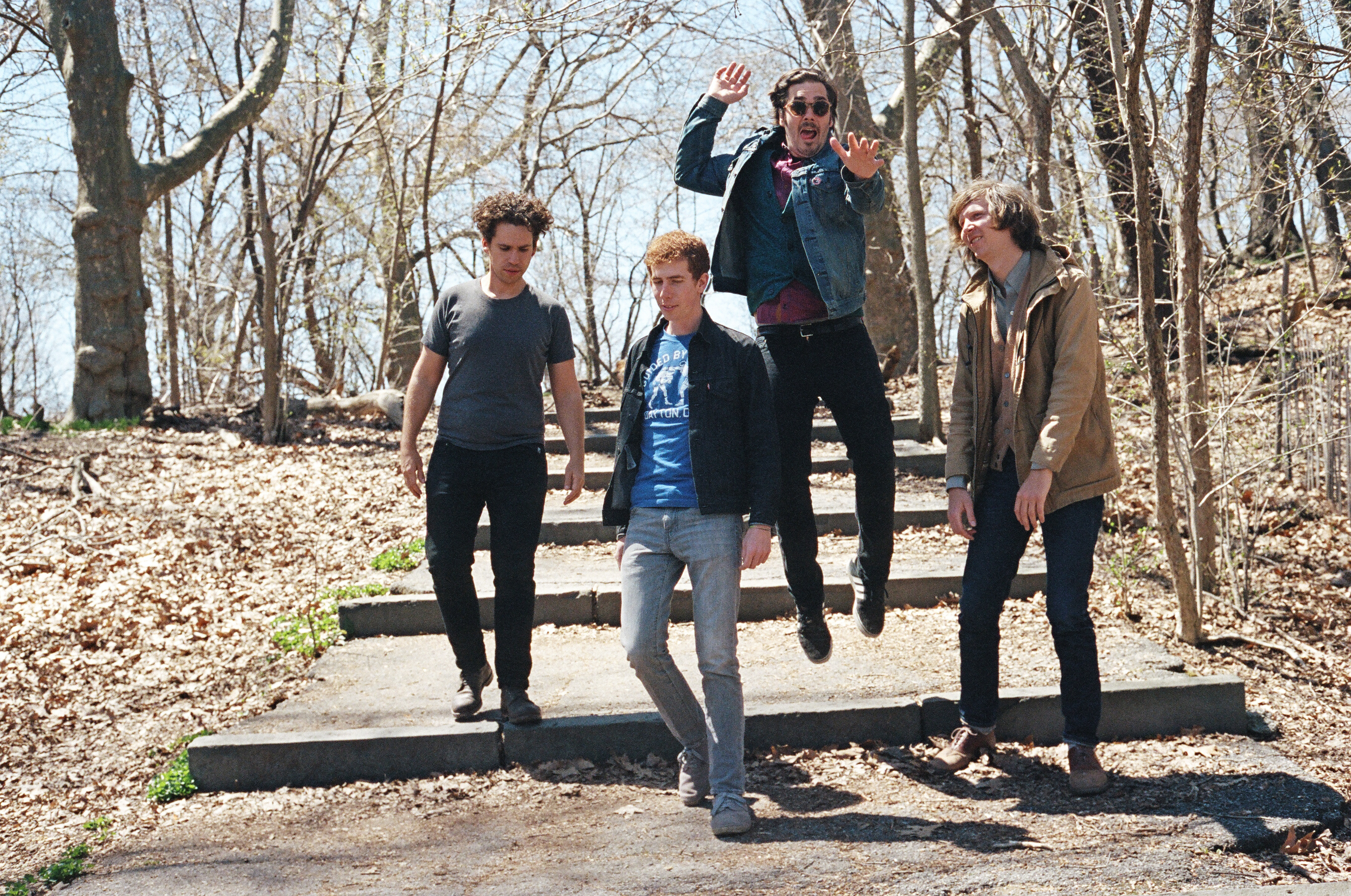 A FEW DAYS LATER, Andrew Savage, 29, walked out the front door of his Bed-Stuy apartment building to receive a shipment of vinyl across the street. It was surprisingly warm outside, as though Brooklyn was thawing. A guy named Ari had stopped by with a trunk full of new LPs and, box after box, Savage and I carried all 1,000 of them inside as his neighbors looked on. A woman was sitting on the stoop next to Savage's, whimpering and muttering to herself when he stopped to ask her if she was alright, if she needed any help. She said no. "I like to make it a point of saying hello to the people around me, to be visible and friendly," he told me, when I asked him if he knew her. "I see her around from time to time. She knows who I am."
Inside, his cat was lying in a sliver of rich sunlight on his couch, uninterested in what we were doing. He'd found her up the street, taken her in, and given her the name Frida, for the splash of mustache-like coloring below her nose. "Oh yeah," he said as he pulled an LP out and ran his fingers across its face. "I'm so excited. This band, Beth Israel, they're obsessed with Disney font, but I was sort of iffy. Time came for the LP and they said, 'We gotta use it.' So this time, I handwrote it myself. It looks a little cooler, like a sketchy prisoner drawing." He held it up so I could see, before placing it on a wall of cubed shelving that separated his living room from his workspace, where he runs Dull Tools, the label he founded with his friend and roommate in 2009. Like those of Parquet Courts and each band he's played in to date, Savage — whose parents ran a graphic design firm in his native Dallas — takes it upon himself to handcraft artwork for most Dull Tools releases. He's been releasing his own records since he was 17, the first being a 7-inch for Five Pointers, a hardcore band he sang in at the time. "I lost a lot of money on that one," he said, with a rare laugh.
Savage — who has the pronounced features and thick, spring-loaded hair of a Matt Groening sketch — came of age in the Dallas hardcore community, learning to book shows and press records on his own. While he struggles to follow it now ("When you get older it just loses its zest," he said. "It's a young man's game."), hardcore's culture of self-endeavor, community, and unchecked creativity remains a pivotal part of his worldview and Parquet Courts' by extension. "It taught me pretty much everything I know," he said. "It's still a part of me, of us. We do stuff that most of my friends and peers don't do, which is play festivals and bigger shows and talk to big magazines. But I'll never sell all of these records," he said motioning to his wall of inventory. "I put these out because I believe in them. It's love."
Brown and Savage met first at the University of North Texas in Denton, in an on-campus club named Knights of the Round Turntable. They'd meet weekly, each of the group's three or four members bringing along an LP and a 7-inch to listen to together, "in relative silence," before discussing and analyzing what they'd heard at length. Savage, a self-described "asshole punk zealot," remembers making fun of Brown ("I think he was wearing a Bright Eyes shirt," he deadpanned) from a distance in the cafeteria. "Then Austin showed up to a meeting for the first time," Savage said, "and I felt bad. He was cool, and whip-smart." Early attempts to play guitar together at the time didn't take. Savage had written concise songs he wanted to play, while Brown was convinced music was most authentic when it was improvised, and of the moment. They wouldn't play together again until they found one another in Brooklyn years later, two Texas transplants a long way from home. In moving away from his duo Fergus & Geronimo, Savage approached Brown about starting a new band, one that was open about its influences — Urinals, Wire, "that Guided by Voices 7-inch that came out on Siltbreeze" — but forward-thinking in the way it digested them. He wanted to throw himself headlong into the writing of lyrics. "In this band," he said, "the music adapts."
"If and when this era of rock music is posthumously analyzed, people can recognize that there is something happening right now." — Andrew Savage
They began writing and recording and performing songs together — each one taking the microphone to sing his own. Though they were the band's core, they opted to take a name as fluid as their lineup, with homophonic trapdoors in place so that they could vary the spelling when the occasion called for it. In 2011, they released American Specialties, a rugged, free-wheeling collection of home-recordings they set to vinyl and cassette. By the time they were ready to record its follow-up, Light Up Gold, Yeaton and Max had come aboard. The songs were succinct and sophisticated, full of wry observation and bayonet-like guitars. And with very little promotional machinery behind them, they caught on anyway. Parquet Courts found themselves embraced, not just by a small but growing number of devotees, but by some of their heroes, like Pavement's Stephen Malkmus, who deemed them a better band than his own. They quickly amassed narrative based on flimsy reference points, becoming slackers and stoners and temperamental throwbacks — the latest in a long line of New York rock bands. To be crushed at times by the weight of everyone that came before you is a doom that most young songwriters seem to meet.
But Savage and Brown see Parquet Courts as part of an evolving cadre of distinct, DIY rock bands who relate to and inspire one another — Naomi Punk, Protomartyr, and Total Control among them. "Rock either has to change or not exist anymore," Savage said. "And it is changing. Maybe it's not necessarily Dave Grohl's textbook definition, but, at a certain point, that will become retro and passé, too. People like to suggest that we're fixated on a retro thing, but I think of Parquet Courts as a band that's very much a product of right now. And I hope that, if and when this era of rock music is posthumously analyzed, people can recognize that there is something happening right now."
Protomartyr's Joe Casey put it a bit differently. "Which band hasn't been influenced by the past?" he asked me. "You give me a band that sounds completely new and it's going to sound like dogshit."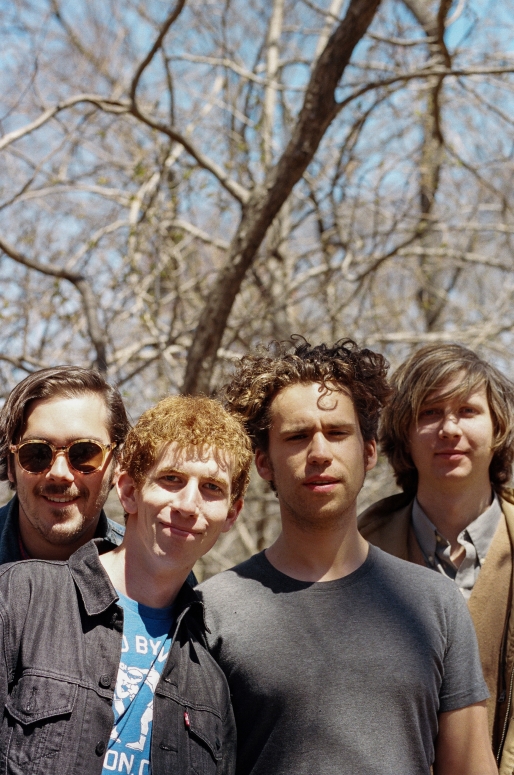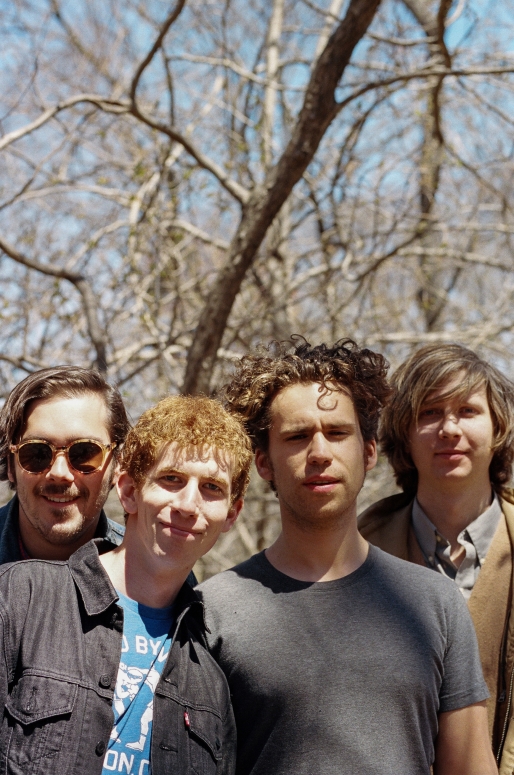 "THIS IS A FUNNY STORY," Savage said, still counting and putting records away in his living room. "We got offered to have our song on the TV show, Girls, which I've never seen, but I know what it's about. Now, I don't really want to be caught up in that. It's a buzz show. It's a pretty self-aware show. About hipsterdom, as far as I understand. But the other guys were like, 'Why not do this? It's free money.' And I said, 'No, I don't want to do this.' And they said, 'What's the harm?' But the only plot we got was, so-and-so and so-and-so are going to be drinking coffee in a trendy Williamsburg coffee shop, and the song — 'N Dakota' — comes on. The next day, I found myself in a trendy Williamsburg coffee shop and our song did come on. I left. We didn't do it." It wasn't long before another major offer came, this time from FOX's Zooey Deschanel vehicle, New Girl. Savage's reaction wasn't much different. "No," he said, after sampling two episodes. "Hell no." But when the rest of the band protested, Savage acquiesced. "I don't want to be the guy who spoils the party for everyone," he said. "I felt like I was bearing my own cross."
It's a predicament that neatly encapsulates both the moment and Savage's way of interpreting it. During a year that he describes as the "fastest of [his] life," Savage watched as his band's level of exposure exceed all expectation. He'd been touring for the better part of a decade — with Fergus & Geronimo and Teenage Cool Kids — but he hadn't seen his work resonate so widely before. On the strength of Light Up Gold, they were able to tour the world and play to thousands at Reading and Leeds. But people were coming in large numbers to hear songs that Savage was ready to leave behind in favor of new material. "I still see Parquet Courts as the same band that it was when we started," he said. "But the world in which Parquet Courts exists now — more or less pop music, but on a smaller scale — is very different from what I know. I still see myself as existing in a much smaller world of music. I put out records by bands that no one's heard of. I still see myself as an outsider. I guess, sometimes, I behave like one."
Having already written so many new songs by the time their audience had begun to swell, Parquet Courts opted to begin recording a follow-up when breaks in touring allowed. Captured in multiple sessions over several months, Sunbathing Animal finds the band becoming more expansive, wrapping pages of lyrics around minimalist, mood-driven arrangements, a couple of chords at a time. There are radiant love songs ("Instant Disassembly") and white-knuckle drones ("She's Rolling") and multiple passages meant to keep you "hanging on every word," Brown said. "Sometimes, there's nothing else to listen to but what we're saying."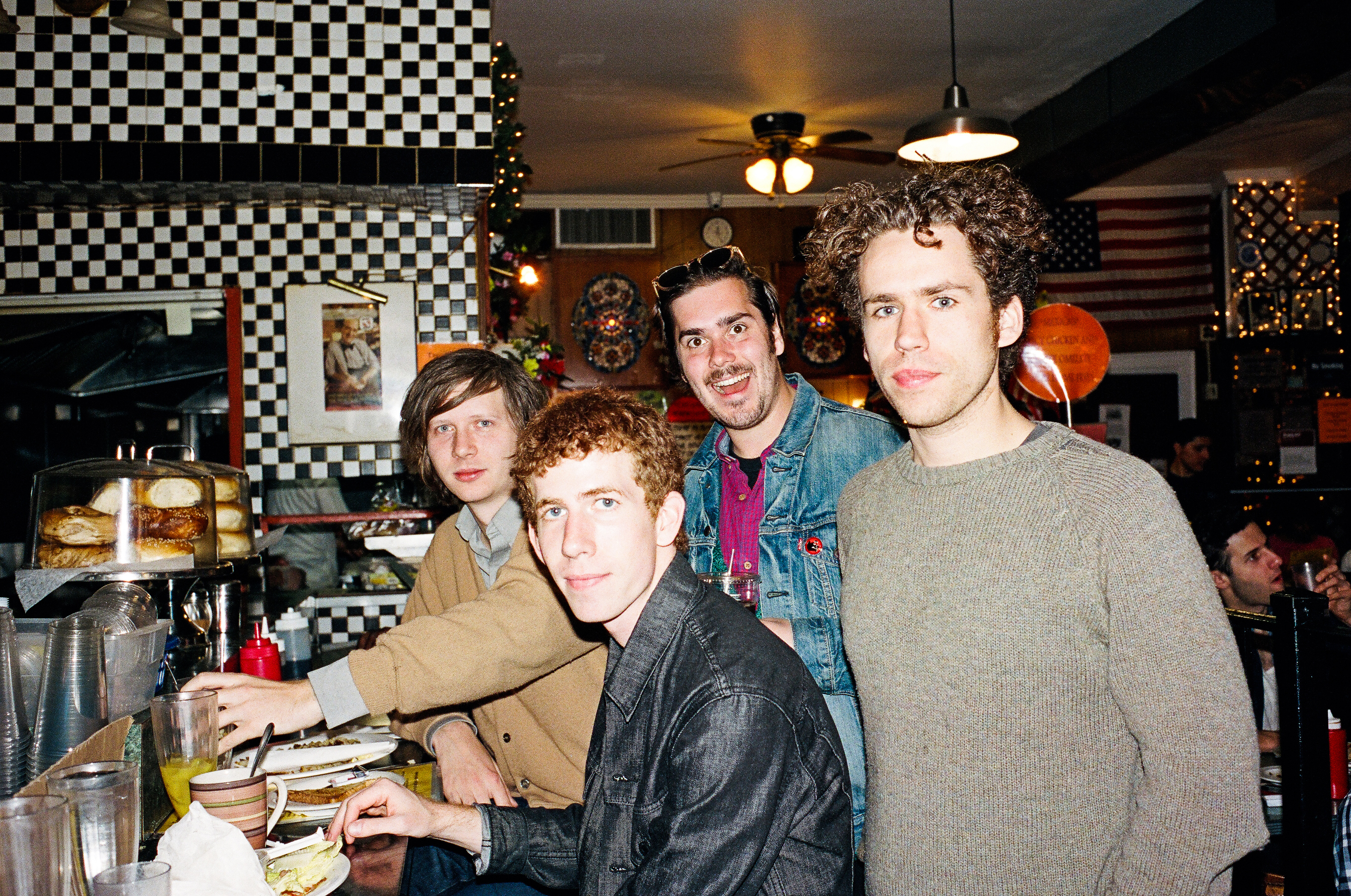 During a final, snowed-in session in the Catskills this past January, Savage called a band meeting. They'd recorded multiples takes of "Black and White," a song Savage considers a lyrical centerpiece. When the band insisted they use a later, pristine take, over an earlier one on which Savage's warming vocal cords sound more desperate and ragged, the band's dynamic and philosophy crystallized momentarily. "The third take that everyone else was advocating that we use was played perfectly," he said. "It was tighter, faster, note-for-note. My performance was great but it lacked a certain dimension that got lost. But that's the reason you love a song, or a book, or a painting: the part you can't really describe." As the songwriter, he claimed veto power, and through a number of appeals, he was able to sway them. "It got emotional, it got heated. I think, more or less, I wore them out."
Lyrically, Savage is in fine form, exploring themes of captivity, oppression, and dread. If its predecessor about "freedom," and a means of articulating "those moments of clarity you get when you feel like you're on the right track," Sunbathing Animal explores far murkier depths. "It's this false sense of joy," Savage said, as he pointed to his cat. "Like Frida is right now: You're warming up in the sun, completely blissful, not realizing you're completely captive to it. She's captive to that little spot on the couch, because she feels so good. Think of all the experiences she's missing."
SEVERAL MONTHS LATER, on a cold night in October, Brown and Savage were both preparing to play a special show at Brooklyn's Death by Audio, a DIY warehouse space in Williamsburg that was being forced to shut down. It was the first time they'd be playing together as a band since coming home from the road in August, and perhaps the last time they'd be playing together for the foreseeable future. "We pretty much learned how to be a live band here," Savage said of Death by Audio. "We are going to send it off, try to play all of Light Up Gold tonight, just to let a lot of those songs rest with DBA."
Since we'd last spoke, Sunbathing Animal had been met with critical acclaim, and much of their tour, at home and abroad, had been overwhelmingly sold out. But knowing that half of their lineup was planning to take an extended break — Max, an NYU student, wanted to focus on completing his degree; Yeaton had just become a father — and wanting to keep moving, Brown and Savage decided over the summer that they'd like to record again. The original goal was to handcraft a tour-only EP, for a forthcoming set of dates in France next year. They got a little carried away.
"I feel like the whole life of the band has been leading up to the end of this year." — Austin Brown
In September, Brown and Savage — using the name Parkay Quarts — holed up in the former's tiny bedroom, to write and self-record what would become Content Nausea. "I don't like calling it an LP because it sounds so official," Brown said. "We didn't plan on ending up with 40 minutes of music, so I like to call it an understated LP." Replete with experimental interludes and a pair of curious mid-tempo covers (Nancy Sinatra, the 13th Floor Elevators), it has all the markings of a rushed, unedited, throwaway release. It's not. What listeners will find instead is some of Brown and Savage's most haunting and accomplished songwriting yet, captured on a four-track in the heat of late summer, with the air conditioning off and the windows closed to eliminate unwanted noise. There are dark reflections on a changing, increasingly unrecognizable New York, and growing up punk. There is a sublime meditation on Paul MacLeod, late owner of Graceland Too, the Elvis shrine in northern Mississippi that became the stuff of legend among touring musicians. And, on its galloping title cut, Savage closes with searing self-realization: "I am a landline."
It felt, Brown said, like a return to their roots. "We recorded our first record on our own, like that," he added. "It was just good to be in a room with Andrew, and to talk about what our band is and what we're going to do and how we're going to write songs. Rather than being new and interesting, now it's all about keeping it new and interesting."
Savage said more than once that "the best bands are those with eras," bands who never stay in one place for long and aren't afraid to fail. "For me, an album is an era," he said, "This band is changing. If Light Up Gold and Sunbathing Animal were an era, than that one is ended and Content Nausea is a bridge between eras." Brown has similar feelings. "I feel like the whole life of the band has been leading up to the end of this year. Now, next year, we'll be on to the new thing."
I told him that it sounded as though they were approaching a cliff.
"Maybe we're approaching a mountain," he said, "or a nice peaceful lake. Or maybe it's a waterfall that we can jump off of. Yeah," he said. "That's interesting. I like that."