It's a hot, midsummer afternoon, and the 24-year-old musician, model and actress – the only daughter of the legendary Michael Jackson – is settled into an armchair in the lobby of a West Hollywood hotel. Jackson, whose layered blond hair is lightly streaked red, is wearing dark, loose clothing – an unbuttoned billowy burgundy blouse over a brown cropped tank top, and grey, three-quarter-length pants with a pair of sandals. Except for a touch of makeup on her striking green eyes, her face is otherwise bare. With Jackson's acute sense of fashion, her Prada bag, John Lennon-style sunglasses, rings on almost every finger, nose piercings, plus a necklace, anklet, and toe ring, she looks every bit boho rock star chic.
Over the last several years, Jackson, who has been playing guitar since age 13, has been establishing a solid music career, which began with The Soundflowers, an indie folk duo with her then-boyfriend, Gabriel Glenn. The pair met at the famed Rainbow Bar & Grill on the Sunset Strip in 2018 and immediately began dating. Within a week they were living in Glenn's van and making music together.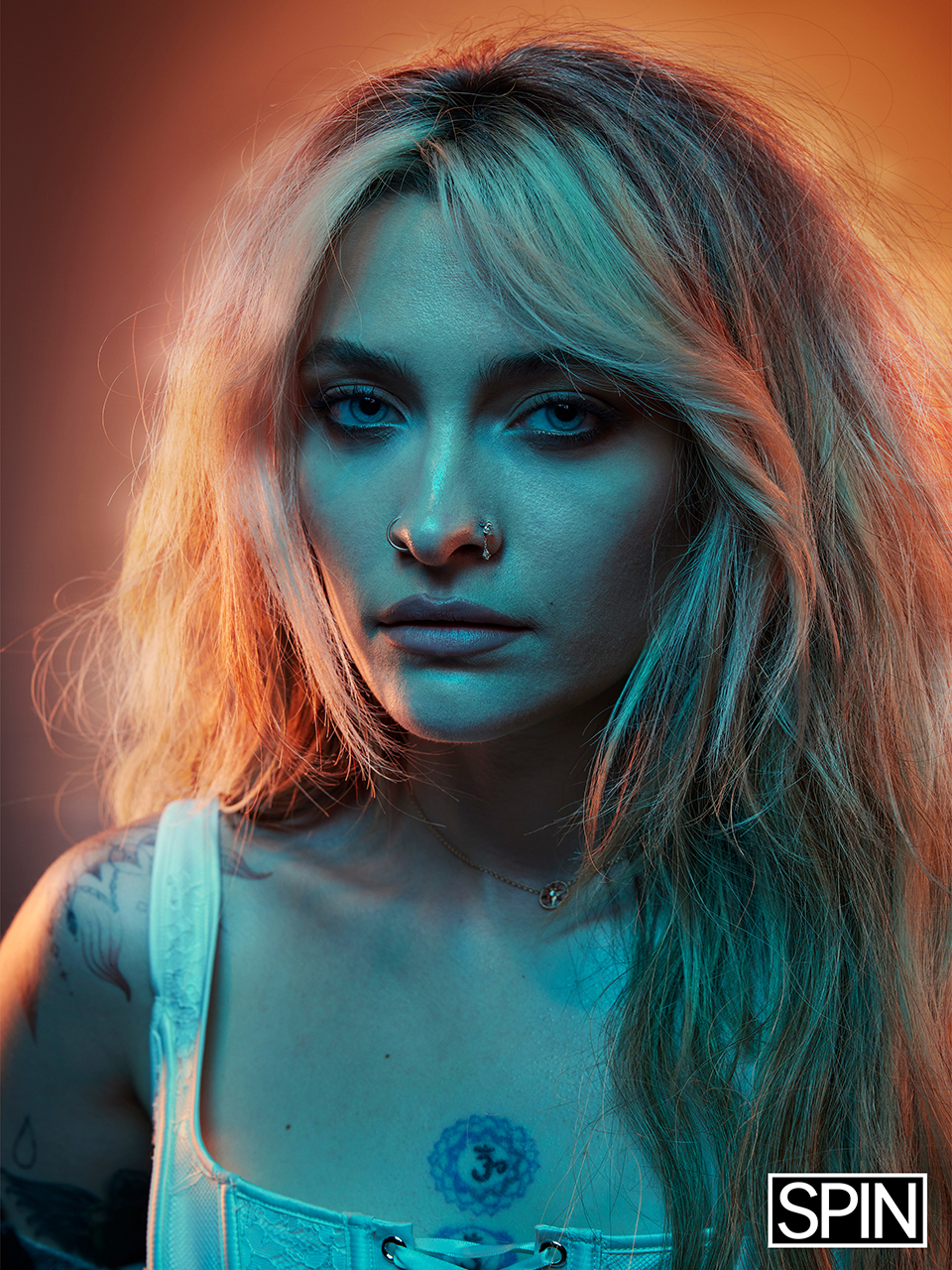 Photo Credit: Robert Ascroft
In June 2020, they officially launched The Soundflowers with a self-titled EP and a six-part Facebook Watch docuseries, Unfiltered: Paris Jackson & Gabriel Glenn, providing an intimate view of the couple and their musical journey. With strife brewing in their relationship in the final episode, however, the pair broke up shortly thereafter, leaving Jackson heartbroken. "It was the deepest I've ever loved someone. It was the most intense that I'd felt so far, and the most intense betrayal that I'd felt so far and experienced...," Jackson told Willow Smith on Red Table Talk last year.
Jackson is reticent about discussing her breakup at this point, preferring to speak, instead, through her art. Politely, she says answers to questions about her former relationship can be found in her music, which is where she turned, writing songs to channel her pain. The end of Jackson's relationship sparked the start of her solo musical path, and it didn't take long before she landed her first record deal, signing with Republic Records in fall 2020. From there, she wasted almost no time releasing her debut solo LP, Wilted, a melancholy, ethereal alt-folk concept record about love, heartbreak, grief, and rebirth.
"Those first couple of tours that you go on are where you put your hours in, you find your way, get comfortable and you learn how to handle mistakes," she says. "Every artist that is going to go on tour and play has that experience but for me…those mistakes that everyone makes…mine will get magnified."
Paris Jackson
Called "well-crafted indie pop" by Rolling Stone, Wilted reached #1 on the U.S. iTunes Alternative Albums chart. Lead single "Let Down" racked up 1.5 million streams within the first two weeks of its release and was accompanied by a gothic music video that was executive-produced by horror director Eli Roth and directed by Meredith Alloway.
The video opens with the sound of a heartbeat as Jackson wipes away blood streaming down from her eye. "Head hanging down / Shredded evening gown / Eyes painted black / A tragic paperback," she sings plaintively, reflecting on a tragic romance. Wearing flowers in her hair and a Victorian gown, Jackson dances with her lover at a masquerade ball. As the night progresses, things take a dark turn, leaving her anguished and alone. "Let me down again / Break me, flush me down the drain / Let me down again," she sings, reuniting with her beloved for a final dance that turns fatal when he dips her, rips out her heart, and sets it down next to Jackson's dead body lying on the floor.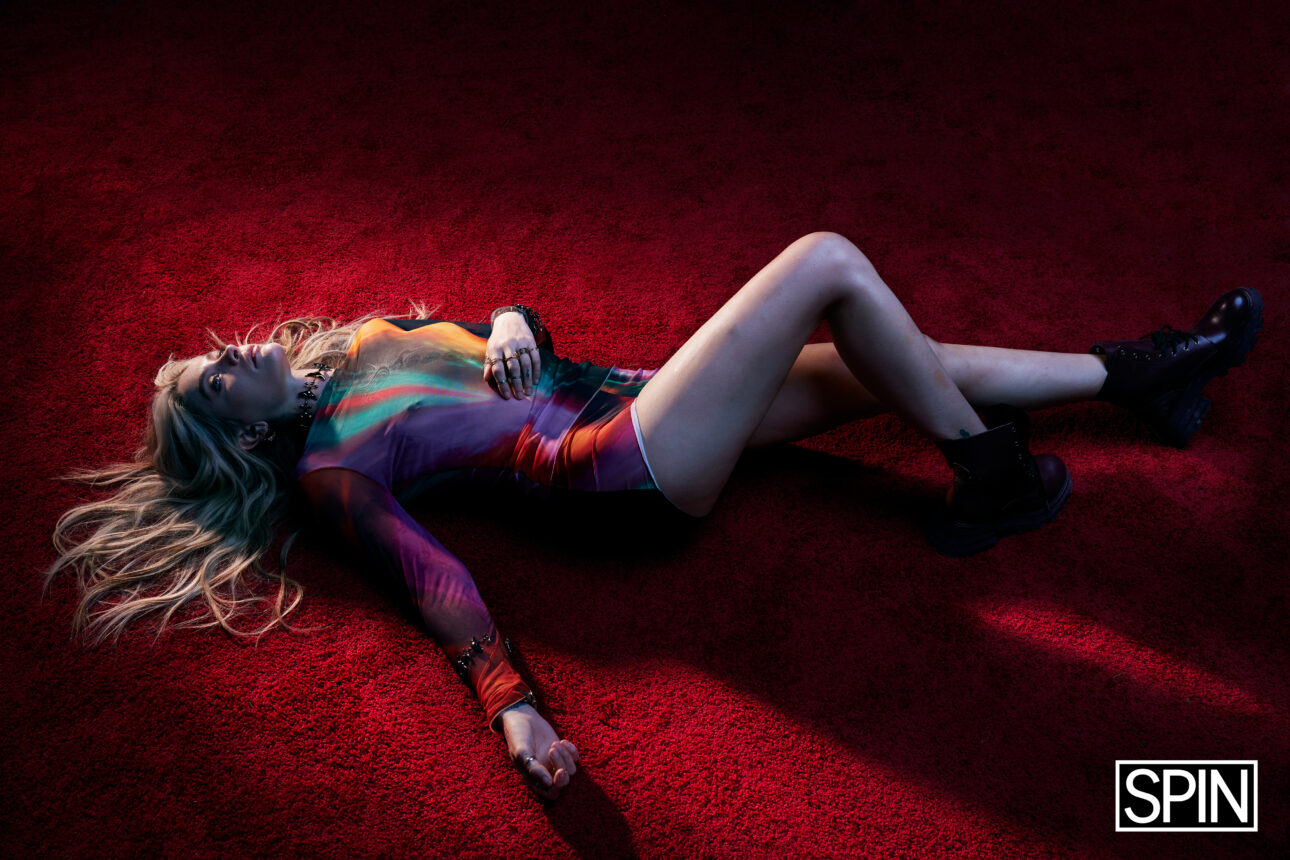 Photo Credit: Robert Ascroft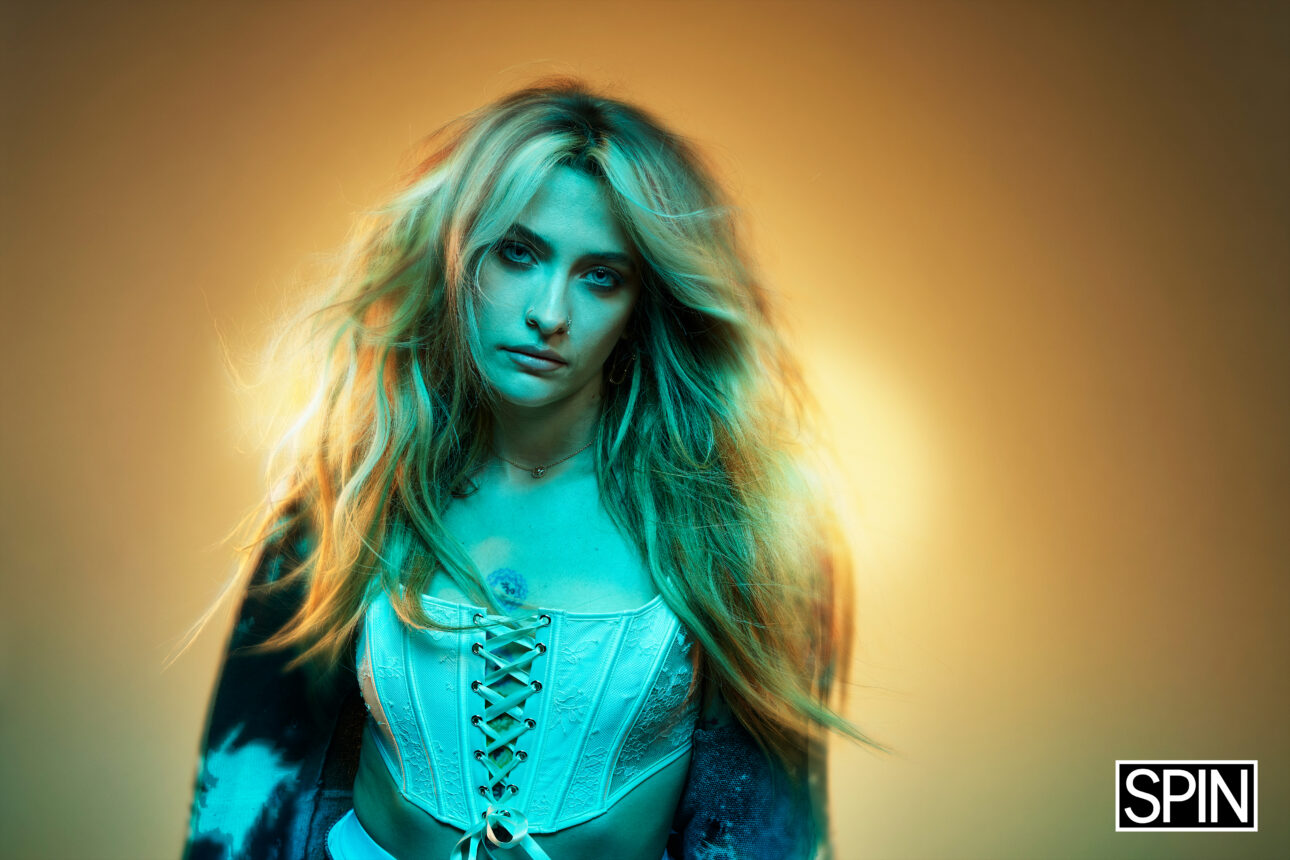 Photo Credit: Robert Ascroft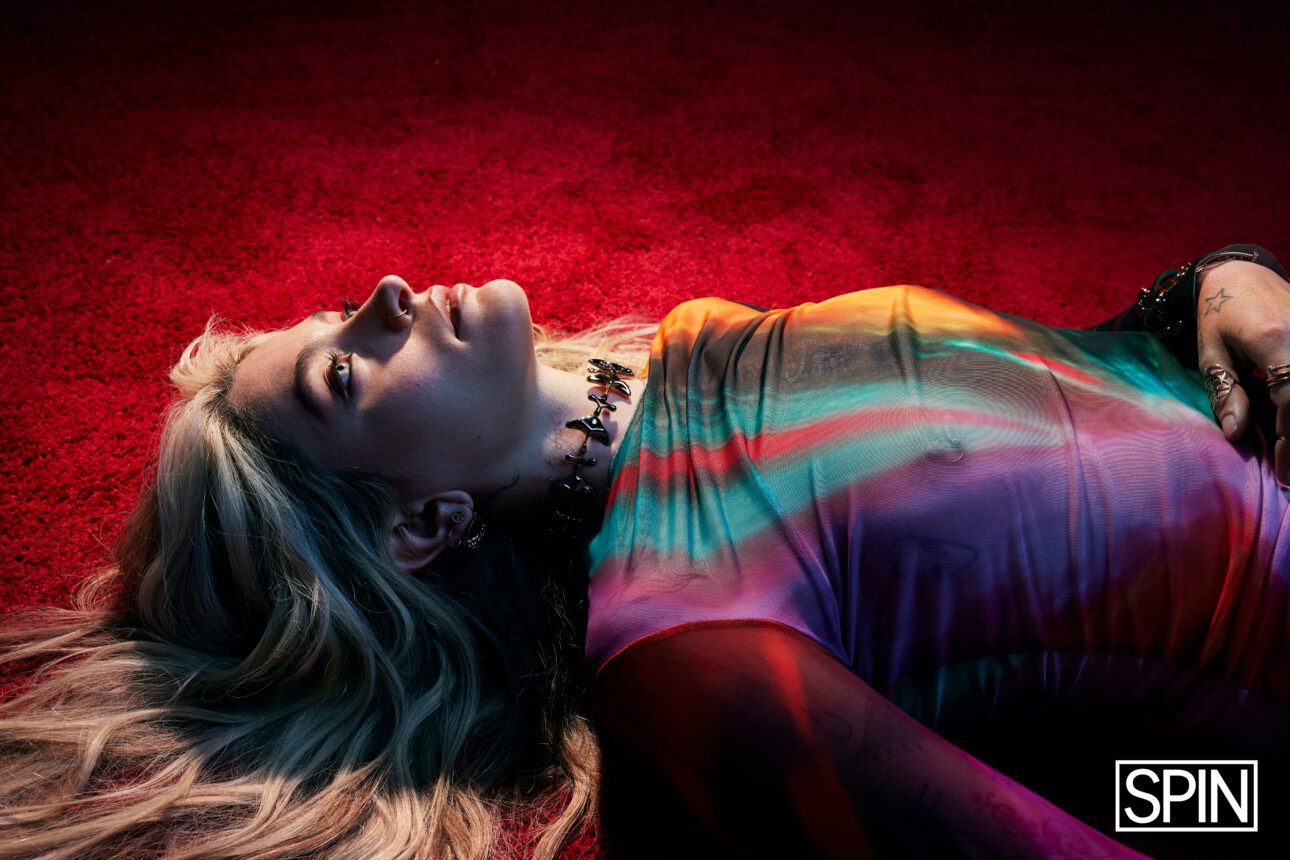 Photo Credit: Robert Ascroft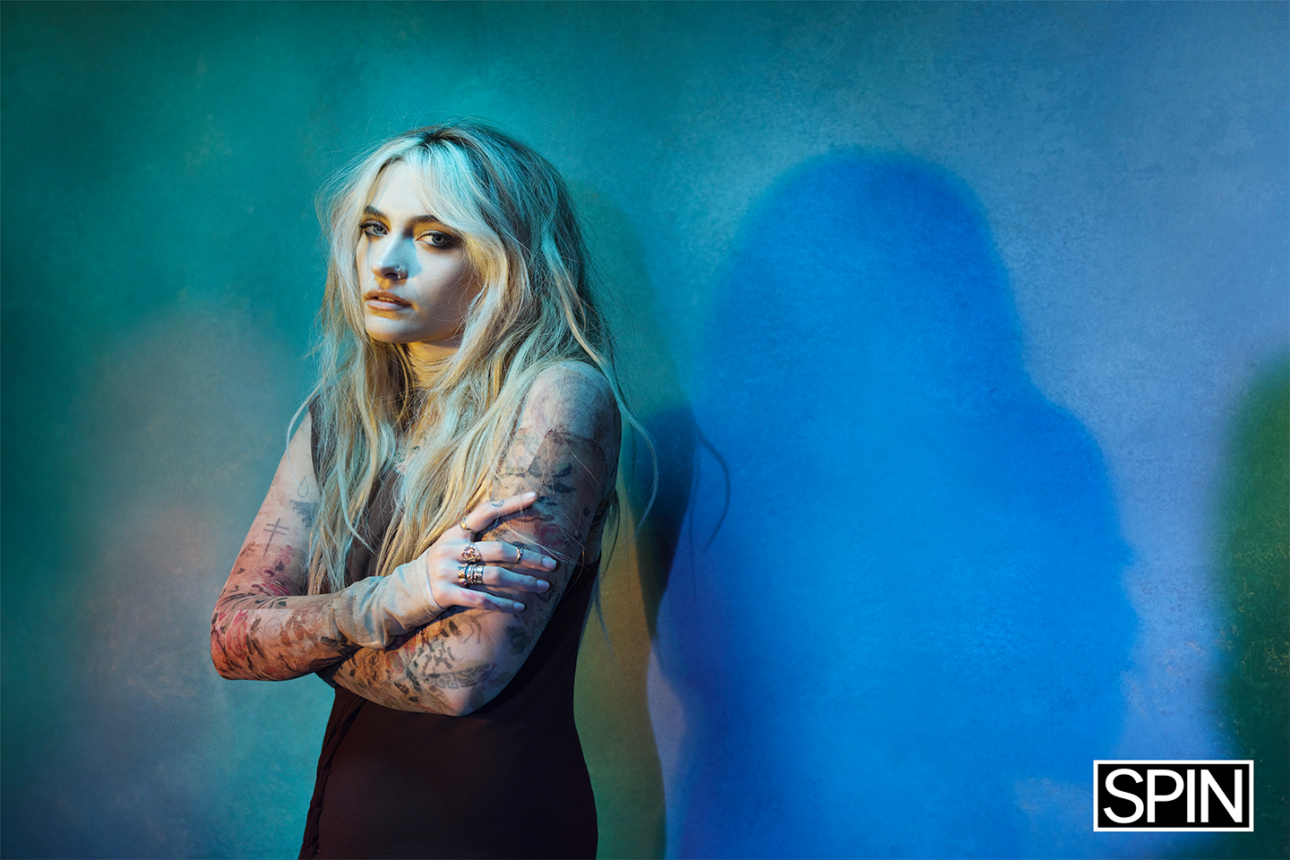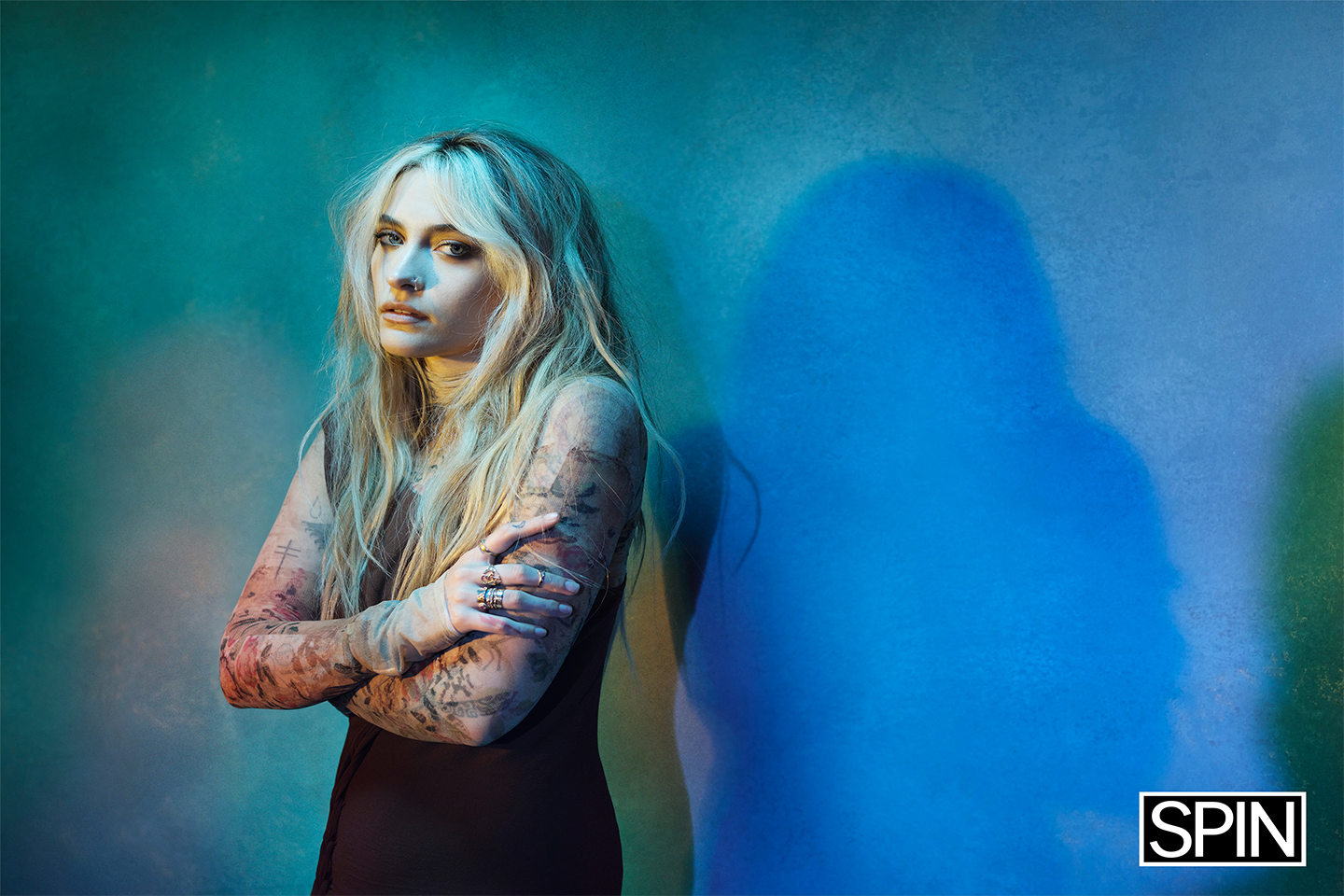 Photo Credit: Robert Ascroft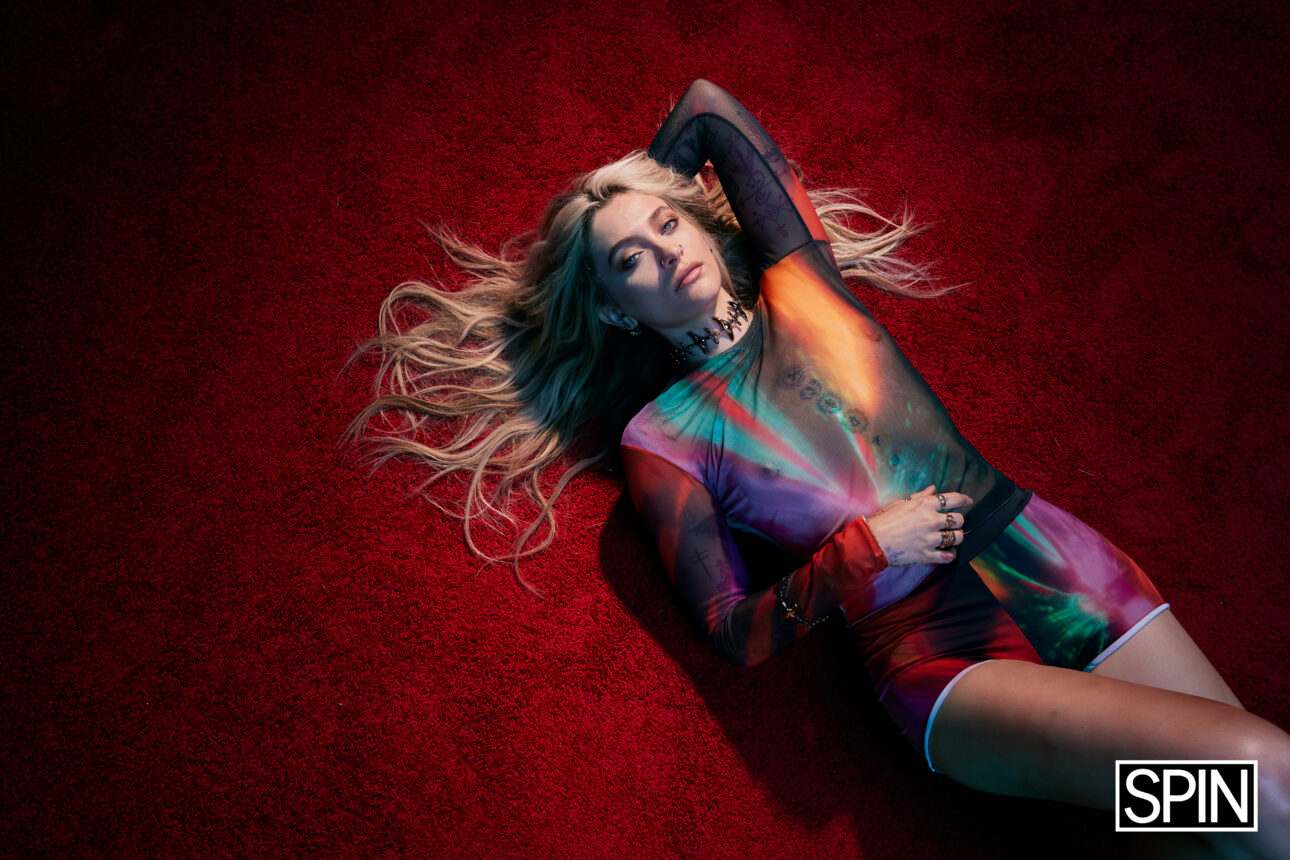 Photo Credit: Robert Ascroft
"The songs I write are very vulnerable, and we can all be scared to be that level of vulnerable — not just with another person, which is already scary, but with a crowd of people, it's pretty terrifying."
"She's like, 'Here's my pain and struggle and what I've gone through and, boom, here are my songs.' It's all so personal and I respect and admire that," says Manchester Orchestra singer/songwriter Andy Hull, one of Jackson's songwriting heroes, who co-produced Wilted with his band's lead guitarist, Robert McDowell. "I love anyone who is willing to let it out in the open, especially somebody like her who deserves as much privacy as she wants."
Indeed, it's a testament to Jackson's strength of character that she writes unguardedly, with a down-to-earth quality that belies growing up in the spotlight. With raw, personal and earnest lyrics, Jackson articulates her pain and longing with rich metaphors and vivid imagery, effectively conveying the emotional trajectory of her broken heart, and expressed by her sweet, warm and soulful vocals.
"I want to be descriptive and poetic," she says. "I like to go into deep detail and see what I can get out of it." For years, Jackson kept her soul-baring songs to herself, afraid to reveal them publicly: "The songs I write are very vulnerable, and we can all be scared to be that level of vulnerable — not just with another person, which is already scary, but with a crowd of people, it's pretty terrifying."
It was even more terrifying for Jackson to conceive of releasing music while shouldering the weight of her father's legacy. As she carves out her own musical path, she faces the understandable yet wholly unfair pressure, both from within and without, to live up to an impossible standard. The intensity ebbs and flows: "It depends on the day," she says. "Some days I feel that pressure, and some days I feel…well, the music I make is completely different. I'm not making R&B and soul and funk."
The media often calls Jackson "pop royalty," but she is extremely talented in her own right. When reminded of the nepotistic title, she says, matter-of-factly, "I don't use labels."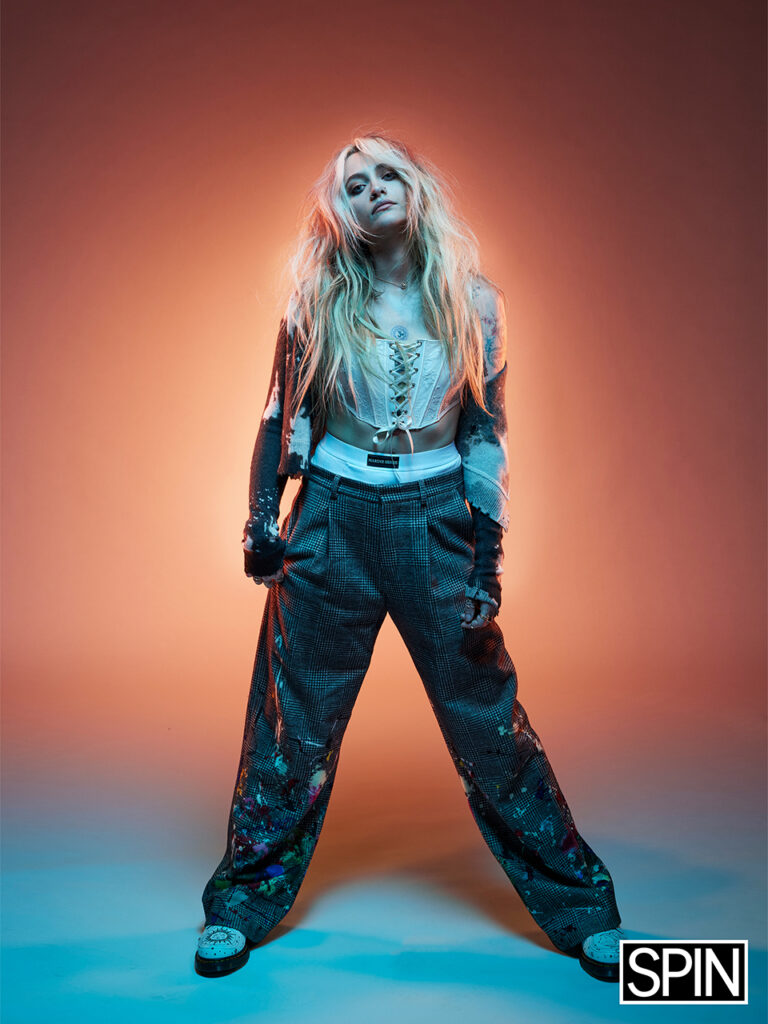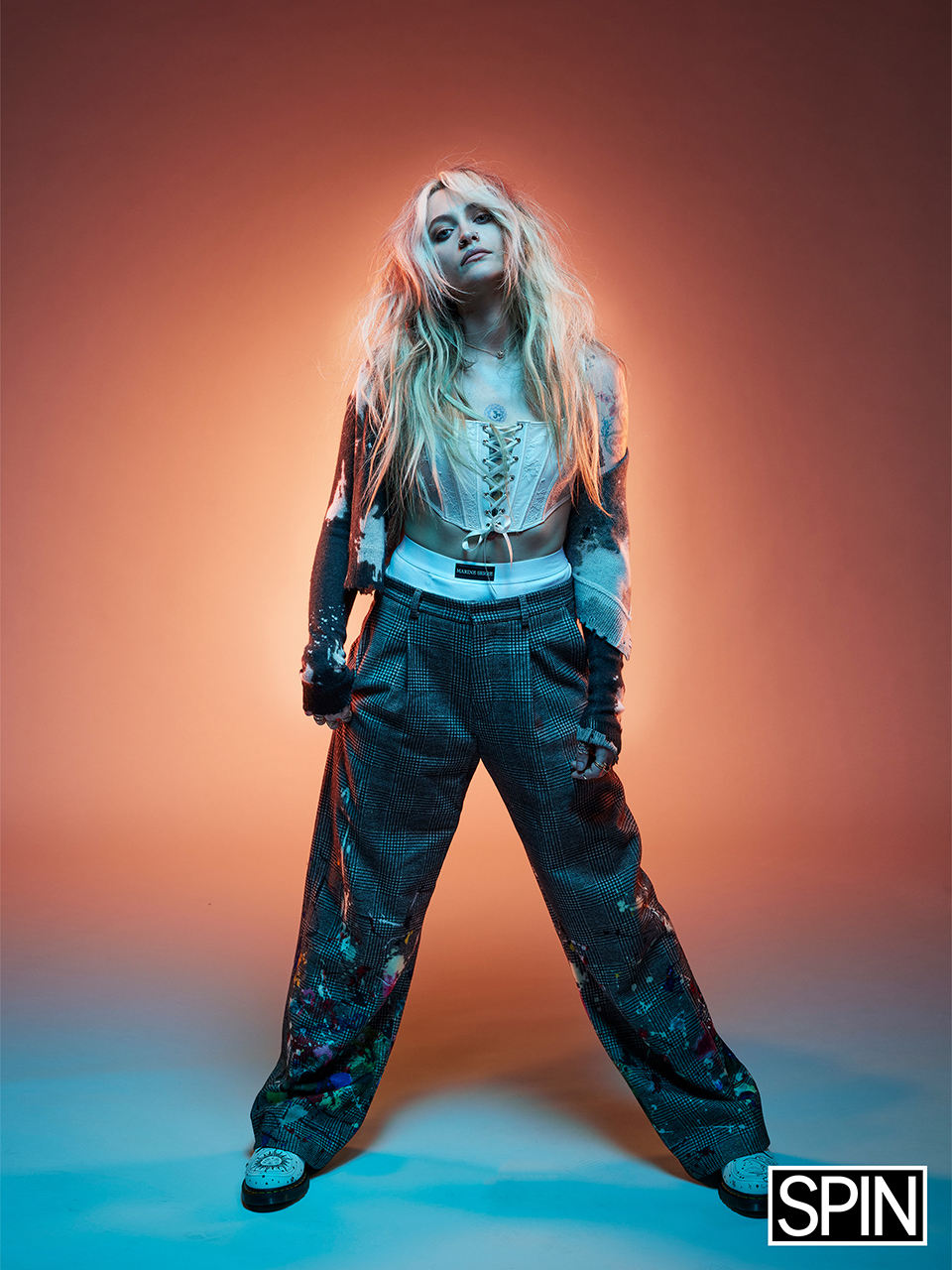 Photo Credit: Robert Ascroft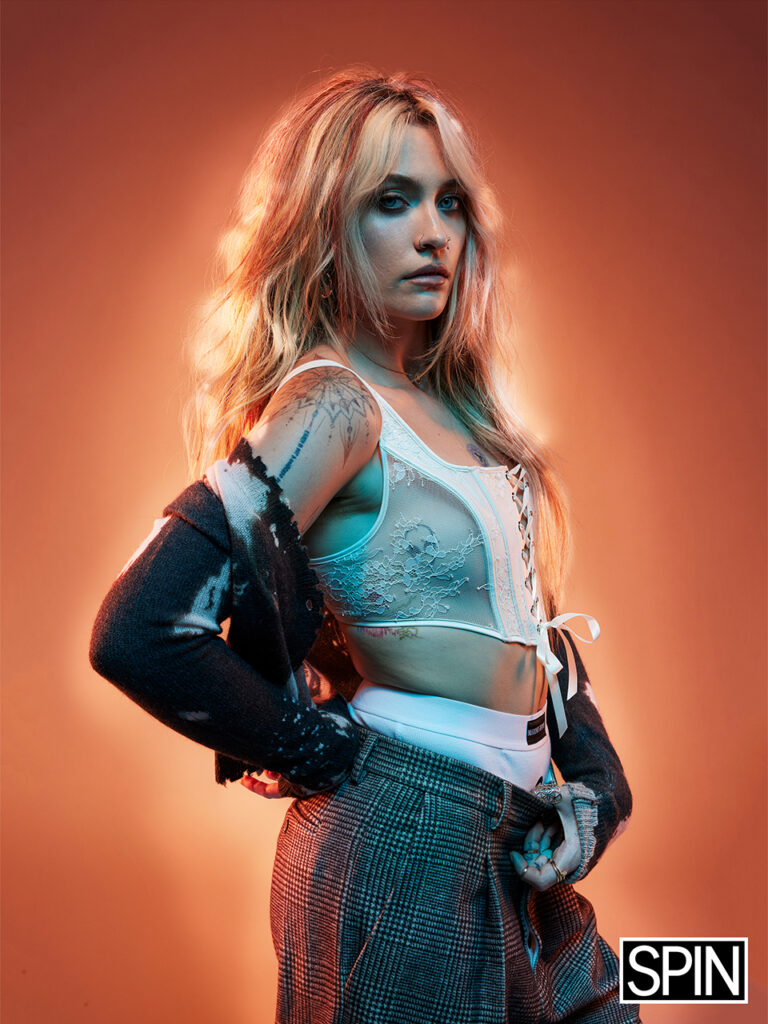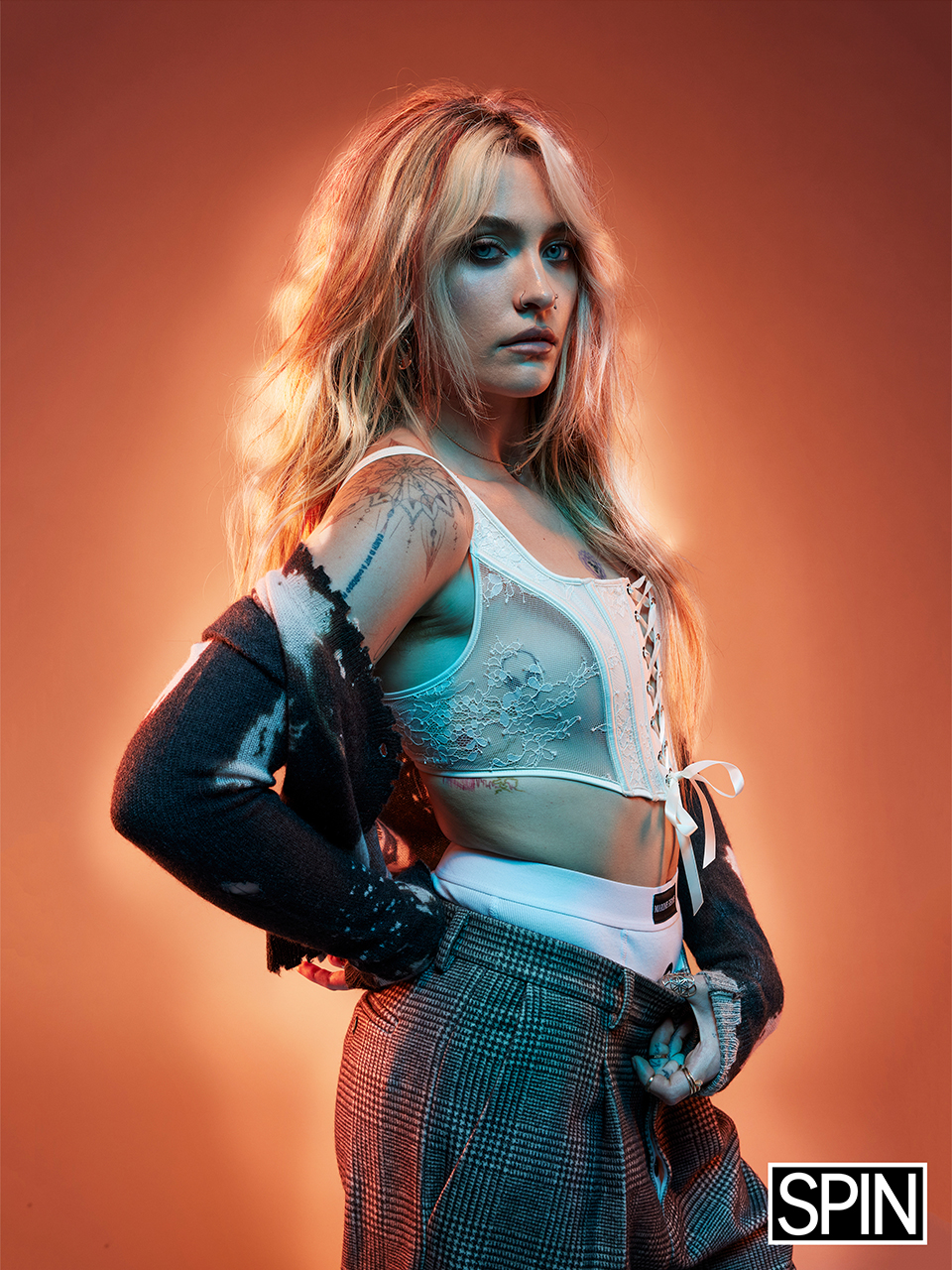 Photo Credit: Robert Ascroft
"I've learned how to have fun with my voice and to stop trying to sound pretty, and just make the loud noises I want to make."
Jackson is quick to set straight her father's title, though, when he is referred to as the "King of Pop." "Pop, rock and soul. That is actually the full name that he was given," she says. "When he was introduced [at the 1989 Soul Train Awards], it was Liz [Taylor]...she labeled him the 'King of Pop, Rock and Soul.' Everyone else decided to shorten it to 'King of Pop,' but it's a lot more than that. He had Eddie Van Halen and Slash play on some of his [music] and Carlos Santana. That's not necessarily pop. There's nothing wrong with pop, but there are a lot more layers to it."
There are also more layers to being the musician offspring of an icon beyond being planted in the obvious shadow. While most performers have the freedom to develop their skills in anonymity, Jackson was under the microscope right from the start.
"Those first couple of tours that you go on are where you put your hours in, you find your way, get comfortable and you learn how to handle mistakes," she says. "Every artist that is going to go on tour and play has that experience but for me…those mistakes that everyone makes…mine will get magnified."
Determined to keep building her chops, however, Jackson persevered. "I don't see the point in doing the opposite," she says resolutely.
In fact, almost every move Jackson makes becomes public fodder, generating headlines, speculation, and analysis — whether it's dining at a restaurant with a friend, which sparks romance rumors, or commentary about the outfit she wore (a copper-colored minidress, fishnet stockings, and combat boots) during her recent performance on The Tonight Show Starring Jimmy Fallon.
For the most part, she takes it in stride, either ignoring the relentless scrutiny or taking to Twitter, where she confronts it directly or deflects it with a joke. Still, she limits the time she spends on social media, overall, to preserve her headspace.
It's a testament to Jackson's resilience that she engages online and somehow still retains a healthy sense of humor. When she was 15, she took a two-year social media hiatus after being cyberbullied and repeatedly told to kill herself, leading to her widely documented suicide attempt in 2013.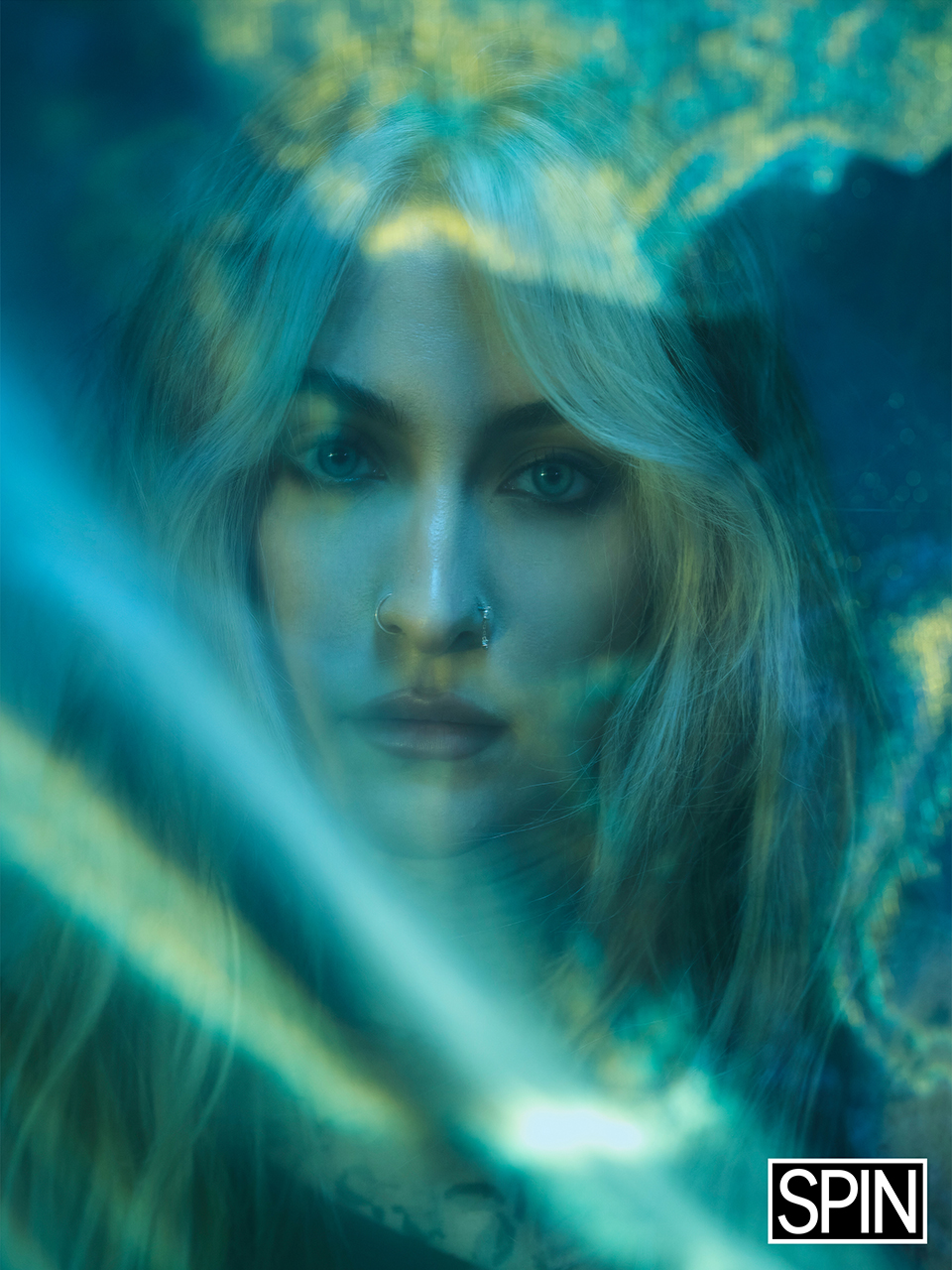 Photo Credit: Robert Ascroft
"When I look in the mirror, I don't hate what I see anymore…I try to treat myself kindly."
It's no secret that Jackson has endured more than her share of tragedy, trauma, loss, and pain. Her response to having been through so much adversity in her young life is, "Who hasn't?"
Jackson was just 11 when her father died, suddenly, on June 25, 2009, less than three weeks before the start of his planned This Is It concert residency at London's O2 Arena. Jackson's face, which her father had always kept veiled or masked in public to preserve his children's anonymity, was first seen by the world at large at the televised memorial service at Staples Center 12 days after Michael's death.
With thousands in attendance and millions watching worldwide, she stood at the microphone, surrounded by the Jackson family. "Ever since I was born, Daddy has been the best father you could ever imagine," Jackson said, before becoming too emotional to speak. "And I just want to say I love him so much," she continued while crying, before burying her face in her aunt Janet Jackson's arms.
Jackson's mother, Debbie Rowe, a dermatology assistant who worked for Michael's dermatologist, had already been divorced from Michael for just under 10 years when he died. Rowe married Michael in 1996 while she was pregnant with Jackson's older brother, Prince. Nearly a year and a half later, on April 3, 1998, Paris was born. (Michael and his friend, Kathy Hilton, made a pact to give their respective daughters that name.) Among her friends, however, Jackson is known as "PK" derived from her full name, Paris-Michael Katherine Jackson.
Rowe and Michael were only married for three years, with Rowe relinquishing her share of custody of their children when they divorced. Jackson's younger brother, Bigi, who was known for years as "Blanket," was born via surrogacy in 2002. Jackson also considers 37-year-old Omer Bhatti, the son of Paris' and Prince's former nanny, Pia Bhatti, to be her brother.
As one would expect, Jackson grew up in a musical environment, immersed in her father's records and the diverse mix of music he enjoyed, including Top 40 radio, Motown, funk, old-school rap, classical music, Frank Sinatra, Nat King Cole, movie soundtracks, and The Beatles. From a very young age, Jackson seemed to know she wanted to devote her life to music. In a touching interaction preserved on home video, recorded on Jackson's fourth birthday, she told Michael that her birthday wish was to sing and dance just like him.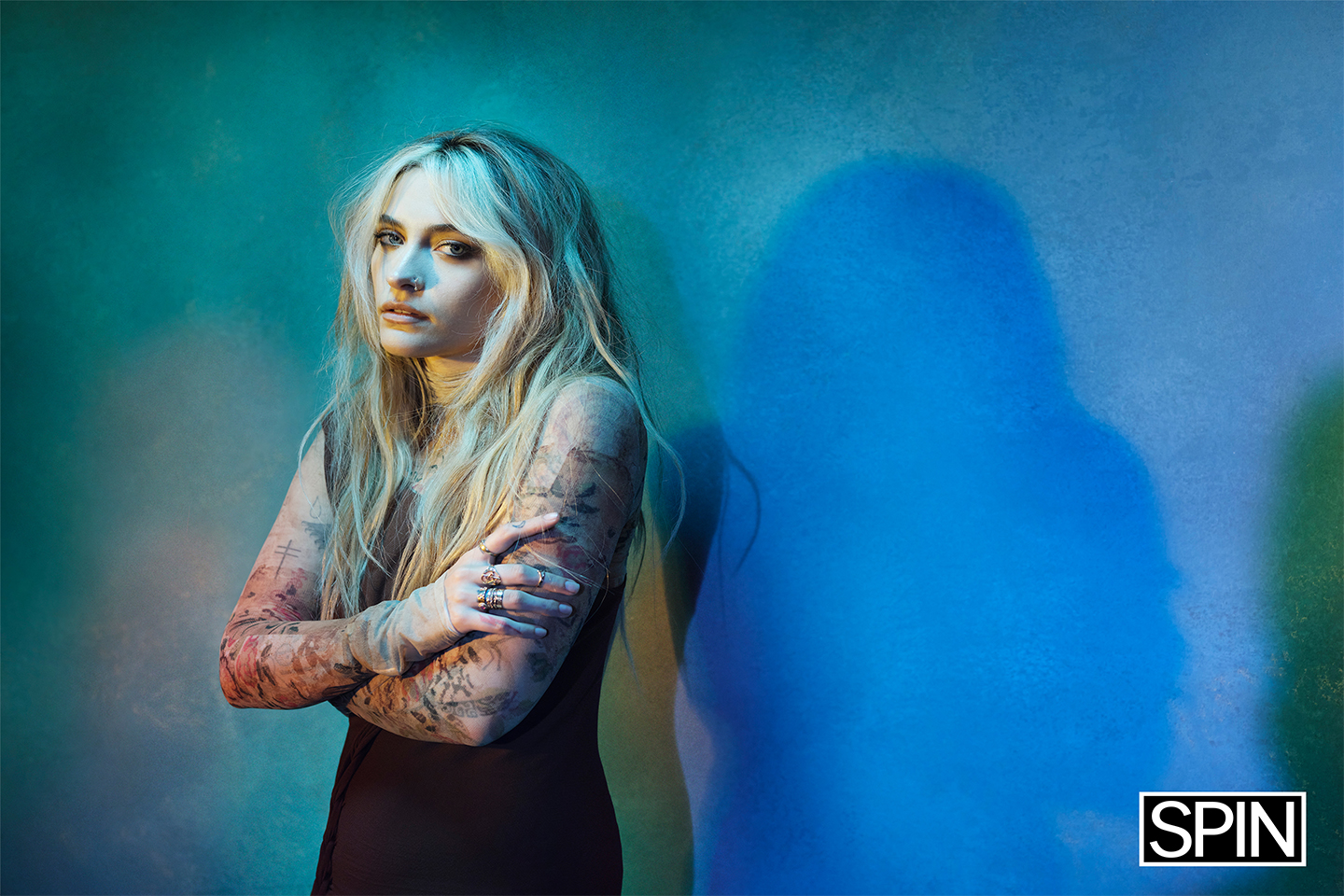 Photo Credit: Robert Ascroft
"There's a oneness that exists, and we can either decide to pay attention to it or not, but we're all connected to everything around us."
Jackson says she saw the video again recently. Asked to describe how she felt as she watched it, she smiles sweetly, lowers her eyes, and tilts her chin downward. "I don't know," she says quietly. After a pause, she adds, "It was cute."
Growing up with her father, Jackson, an avid reader of books and poetry when she was younger, was home-schooled. Lessons began at 9:00 am and finished at 3:00 pm, with a lunch break in-between. She was raised in the lap of luxury but her doting father also didn't want to spoil his children. They often earned toys by reading books and being tested on their content. Being a thoroughly engaged dad, Michael was watchful over his children's diet, too, offering whole wheat and cane and brown sugar, rather than white flour and refined sugar.
Michael also traveled to many countries around the world with his children, introducing them to a variety of cultures and all walks of life. "I grew up on the road," Jackson says. "We never really spent more than a year in one place." She remembers Ireland particularly fondly due to its greenery. Ultimately, they returned to California where Michael spent his final days in rehearsals for This Is It.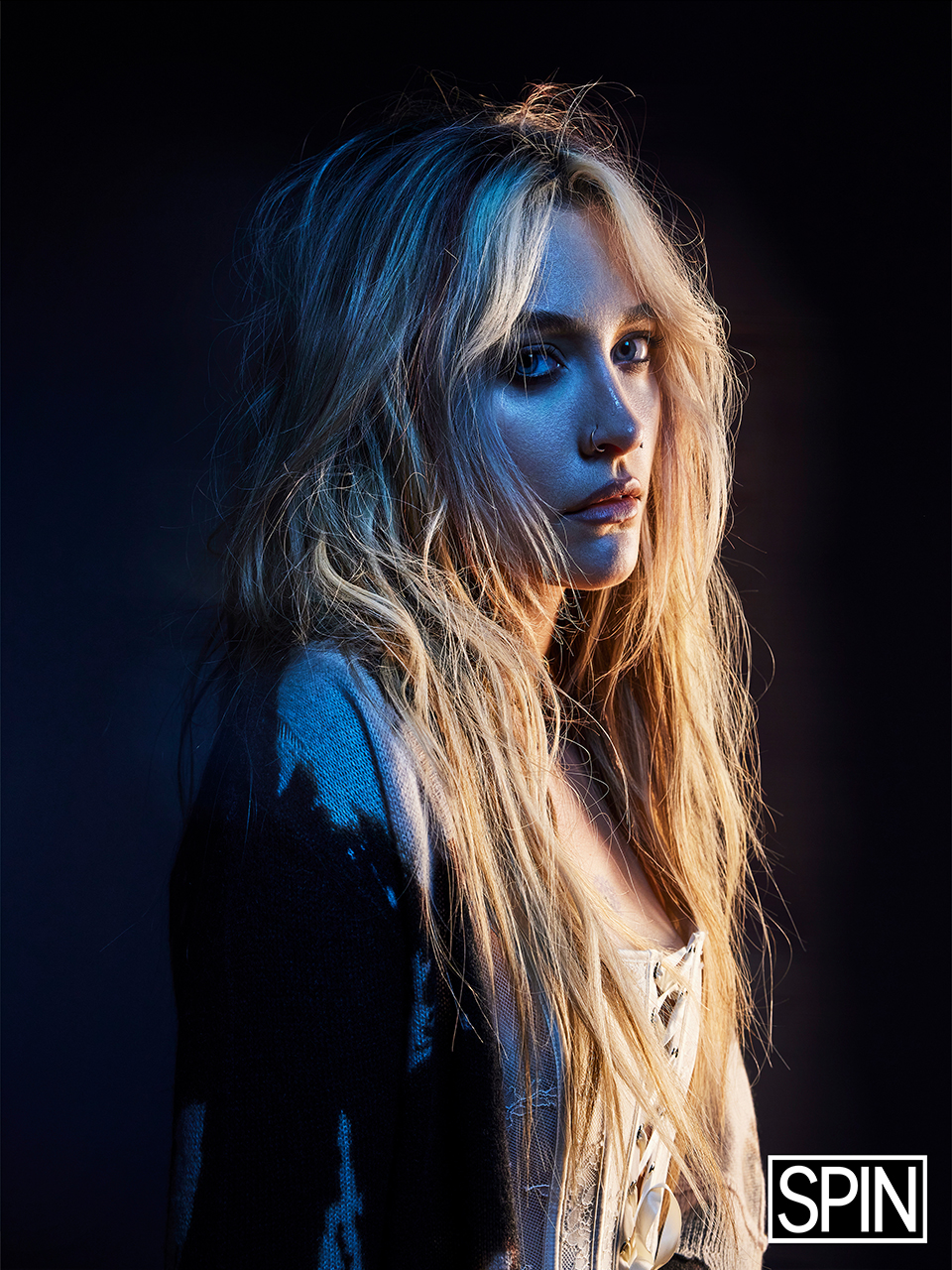 Photo Credit: Robert Ascroft
Beyond the almost insurmountable burden of trying to adjust to the shocking loss of her father, there were other significant transitions in Jackson's life following Michael's death. At the outset, she and her siblings went to live with their grandmother, Katherine Jackson, who became their legal guardian. (Jackson's cousin TJ became co-guardian in 2012 and years later was named sole guardian.)
What's more, for the first time in her life, Jackson attended school (The Buckley School in Sherman Oaks), where she felt more connected to teachers than classmates. "I tried to adapt as best as I could and ended up just becoming friends with the teachers, probably because I had gotten used to being surrounded by adults while I was home-schooled," she says. "I developed in a way where I could communicate more easily with an older crowd. That is what was comfortable because that's what I knew."
Still, having grown up without peers, spending all of her time with her father and brothers, entering this new world was a particularly difficult adjustment for Jackson — and it compounded her grief, anxiety, and depression in the wake of her father's death. In Unfiltered: Paris Jackson & Gabriel Glenn, Jackson says she turned to comfort food at her grandmother's house, where there were no dietary restrictions, and started gaining weight. She also relays that after a cousin told her she was fat, she replaced food addiction with self-harm — cutting and burning herself. Significantly, the first song Jackson would ever perform live was Johnny Cash's version of Nine Inch Nails' "Hurt."
She also speaks candidly about past suicide attempts, which ultimately led to Child Protective Services threatening to take Jackson away in 2013, precipitating her nearly two-year stint at a behavior modification boarding school in Utah. At about the same time, she reconnected with her mother, a relationship that has remained, but a subject Jackson is reluctant to discuss. When she returned to Los Angeles from Utah, she finished high school before completing one semester at a community college.
Jackson posted about her experience at behavior modification school on her Instastory two years ago, revealing that it left her and some of her classmates with PTSD, nightmares, and trust issues. Last year, she also disclosed on Red Table Talk that she has PTSD from being stepped on as a little girl amid swarms of paparazzi chasing her superstar father. She is triggered by the sound of rustling trash bags, has auditory hallucinations of camera clicks, paranoia, and has experienced panic attacks at public events.
In May, Jackson removed herself from an imposing crowd after she attended the opening of the Hard Rock Hotel New York in Times Square. Explaining that she felt unsafe, she posted to Twitter: "if i'm not feeling safe because i'm being chased in heels in the middle of time (sic) square for several blocks, and i have to remove myself, i will. and i'm sorry if that makes you guys feel like i don't care about you. i do. i really do. but i also care about my safety."
And then there's music – the one place Jackson has always felt safe. During her darkest moments, she has sought refuge in her favorite bands — including Manchester Orchestra, Radiohead, and Bright Eyes, all of whom are commemorated among the approximately 90 tattoos Jackson has been accumulating since her teens, with several honoring her father, including Michael's Dangerous album cover art inked on her arm.
Since music has always been a life raft for Jackson, it's especially important to her to help others with her songs. She's often overcome with emotion when fans share the comfort they derive from that connection: "My heart chakra always opens up when I listen to your music. Thank you for that healing," commented one of Jackson's Instagram followers, while another fan posted "Your voice is a cure."
"There are no words to describe how that makes me feel," Jackson says. "If I had to pick some words: full, complete, and purposeful."
It's no surprise her music is so relatable, given the authenticity of her writing process. She sits down with her acoustic guitar only when she's genuinely inspired: "I've tried to sit down and force myself to write, and nothing good comes of it."
That Jackson stays true to her muse is equally apparent in her evolution as an artist. Just months after releasing a sorrowful three-song EP, The Lost (upon which she collaborated with Ohio-based folk trio Caamp), in February, Jackson leaned into the '90s guitar rock she fell in love with in junior high school, pivoting sharply with edgy, grunge-rocker "Lighthouse," featuring Pearl Jam guitarist Mike McCready and a music video that pays homage to Nirvana's clip for "Sliver."
"I'm the flask in your pocket on a rainy day / And she's the one that you share it with on the train," Jackson sings, before infusing her vocals with a punchy snarl amid crunchy, rhythmic electric guitars and a steady, driving drumbeat. "And you burn your throat / Intoxicated on what could have been our love," she continues. When she reaches the chorus, Jackson's pleading vocals soar above swirling guitars: "I can feel the lights go low / But I don't wanna let go now / Maybe if I turn around, you'll see me / And what you used to be."
"Paris had songs that needed to roar," says the Grammy-nominated Butch Walker, who produced, co-wrote, and played guitar on "Lighthouse," along with several other tracks that are still to be released.
Jackson was a long-time fan of Walker's '90s band, Marvelous 3, before the pair became friends six years ago, making him the ideal producer to help execute her vision of blending folk music with '90s guitar rock. "It was my back pocket, for sure, so that combination was easy and effortless," Walker says. "She would reference certain things for certain songs, like everyone does in the studio, and I was completely on board with all of those references and influences – everyone from my band to The Smashing Pumpkins, The Cranberries, Foo Fighters, and Nirvana. I came up on all of those things, so it wasn't really far from my trajectory to know how to record records like that."
Beyond louder guitars, Jackson has been letting loose with her vocals, adding more volume and a brasher attitude. "Learning how to project and yell is why I'm doing this," she says. "I've learned how to have fun with my voice and to stop trying to sound pretty, and just make the loud noises I want to make."
"She's great at producing herself vocally and being like, 'I need to hit that again and I need to hit it harder.' Sometimes she'd re-sing entire songs because as we went along she'd discover a side of her voice that she hadn't used before," Walker says, noting Jackson's strong work ethic. "She's there for every bit of it until I say, 'I'm good. You can split.'"
"It's mainly because I care," Jackson says. "When we care about something, it's very easy to be motivated."
In the meantime, as Jackson continues to write songs about her breakup, she notes that her somber lyrics don't reflect her current state. "I'm the happiest and healthiest I've been," she says, "and my songs have gotten so much darker in the last year."
Jackson isn't sure why her lyrics have become heavier, although it appears her sunnier disposition is somewhat due to changes in her lifestyle. She replaced her "very nocturnal" regimen with a daytime-oriented routine, giving her more time to get things done and to indulge new hobbies, like rock climbing at a local gym.
She also goes to therapy, no longer smokes half a pack of cigarettes a day, and, most notably, has come to love herself after being plagued for years by self-loathing. "When I look in the mirror, I don't hate what I see anymore, and I've grown into self-love…I try to treat myself kindly," she says. "I have some bad days where I'm not as kind to myself as I would like to be…I don't do anything perfectly, but I try to progress daily."
Jackson is also surrounding herself with people who make her happy, learning to handle interpersonal situations more constructively, and prioritizing her needs instead of people-pleasing. "Because I see myself as a friend, when I don't maintain a boundary or when I don't set one, it's like bailing on a friend," she says. "I feel horrible if I bail on a friend, so if I do that to myself, I'm also bailing on a friend, and that doesn't feel good anymore."
One thing that's always felt good to Jackson: experiencing live music. Over the summer, she has attended numerous gigs, including Bob Dylan, Bon Iver, Tash Sultana, and Bright Eyes, whose performance left her in tears. "I cried for maybe 50 or 60 percent of the show. It was one of the best shows I've ever seen in my life," she says.
Jackson also enjoys painting and watching films, with a bent toward horror and fantasy genres. She counts The Lord of the Rings films among her favorite movies, to which she paid homage by naming her cat Frodo. (She also has a dog named Koa.) But she has experience on the other side of the camera too: Jackson started acting when she was 17 and has appeared in several TV shows and films, including Star, American Horror Stories, and Gringo. "Acting has always come pretty easily to me," she says. "It's just something fun to do, another form of expression."
It's modeling, however, that Jackson considers to be her occupation. She has graced the cover of Vogue; she walked the runway at famed French fashion designer Jean Paul Gaultier's final show; and, recently, she appeared in SKIMS and KVD Beauty campaigns.
While she appreciates fashion both as an art form and as self-expression, that wasn't always the case. Jackson — an ambassador for the Elizabeth Taylor (Jackson's godmother) AIDS Foundation and the Heal Los Angeles Foundation (founded by her brother Prince) — initially began modeling to grow her platform and draw more attention to her activism.
Onstage at the 2017 Grammy Awards, she voiced her support for protesters of the Dakota Access pipeline and, later that year, vehemently denounced the violence and racial injustice in Charlottesville before presenting an award at the MTV VMAs. On July 4, she posted a video of herself to social media: "Happy national genocide day, everybody – a.k.a. Independence Day," Jackson says. "Certainly not the independence of any Indigenous peoples or anyone with a uterus for that matter…shout out to the Supreme Court," she adds, before encouraging everyone to be safe.
As is par for her course, sometimes Jackson's activism receives opposition, even when she advocates for peace. "I was on the front lines when I was protesting during the BLM protests," she says. "I was face to face with some of the cops, and I felt the heat from some of the cars on fire, and I got pushback for being like, 'Hey, maybe peaceful protest is the way.'"
"No matter what I do – I can go left, I can go right – someone's going to be upset," she continues. "So I might as well be myself and not cause harm and I'll be alright. That's how I look at it."
In general, Jackson's ethos revolves around a spirituality rooted in kindness, gratitude, and oneness. "I think we're all connected to everything always," she says. "There's a oneness that exists, and we can either decide to pay attention to it or not, but we're all connected to everything around us." A photo posted to Jackson's Instagram account shows a set of mirrors behind her bed that are shaped like the various phases of the moon, and she delights in communing with nature, camping as much as possible before summer winds down.
In the fall, Jackson will release her next single, "Just You" (produced by Walker), before she hits the road in November, filling the opening slot on a tour with New Orleans-based alternative roots-rockers The Revivalists. Jackson loves being on the road and says she is well-suited to living out of a suitcase because of her peripatetic upbringing.
The idea of performing in front of bigger audiences at 2,000-plus capacity venues is as thrilling as it is nerve-racking, but Jackson reasons that it is an inevitable part of her learning curve. "You get more skilled, but the challenges get harder as you level up," she says, drawing an analogy to the Super Mario Bros. video game.
To date, she has done one solo tour, opening for Patrick Droney, which followed several performances at SXSW Music Festival in March. Jackson also played an afternoon set on Memorial Day weekend at Boston Calling Music Festival, where she played in front of 1,000 people — her biggest audience yet. Later that day, she joined Cheap Trick onstage for "Surrender." "I had so much fun doing it, but I was so nervous," she says.
To bolster her confidence, Jackson leans on her backing band (guitarist Michael O'Grady, bassist Nick Diiorio, and drummer Anthony Nino Salazar), whom she says she trusts with her life. "They are some of my best friends," she says. "Really incredible human beings and also really incredible and extremely talented musicians."
For good measure, Jackson also keeps a small silver wreath attached to her guitar strap – a nod to Bright Eyes lyrics, which she recites: "She took a small silver wreath and pinned it onto me / She said, 'This one will bring you love' / And I don't know if it's true but I keep it for good luck."
As for the future, Jackson says she's not thinking too far ahead. Instead, she's taking everything day by day and allowing her artistic journey to unfold organically. "Right now, I'm really enjoying making what I'm making," she says.
Jackson paved the way for her solo career with a broken romance, but her unbreakable relationship with music gives her a singular, steadfast purpose. "Music is who I am," she says. "I don't know if I can pinpoint a main drive. It's like, what's a dolphin's main drive for swimming? It's what they do. It's who they are."