Mike Bridavsky could not stop crying. Over the course of two spring weeks in 2012, the foundation of his life had crumbled completely. The Bloomington, Indiana recording studio he'd secured a $60,000 bank loan to build, quit his full-time university job to run, and then dumped his entire savings into finishing was on the verge of bankruptcy. He also owed six, maybe seven, months in back rent for the space — a debt totaling more than $10,000 — and then a promising string of booked studio sessions were abruptly canceled. Personally, too, he was a mess: a woman recently broke his heart; his band hadn't played a show in seven months and seemed on the edge of dissolution. Then his car's radiator blew up, the vehicle's exhaust fell off, and someone with impeccably cruel timing slashed his tires."I had no job, I was $110,000 in the hole, and I had no way to get money. I started crying hysterically," recalls Bridavsky, now 34. "I was looking into bankruptcy, I was looking into moving. I had a nervous breakdown, my friends had to take care of me. I was in horrible shape."
A week later, when Bridavsky could finally walk around without bursting into tears, one of his friends posted a curious development to his Facebook wall. Mike's cat was on the front page of Reddit. "I didn't even know what that was.'"
What that was: The beginning to a series of serendipitous occurrences that would soon have Bridavsky and the tiny, toothless kitten he'd rescued from a tool shed in rural Indiana featured on Good Morning America and then, gradually, turn the animal into one of the most famous cats on the planet.
Bridavsky, a bearded musician with wise eyes and tattoo sleeves, wasn't always a cat guy. In high school, the Cleveland teenager thought cats were total assholes, thanks to his girlfriend's jerky kitty. But then in 2002, while studying to be a recording engineer at the Indiana University Bloomington, Bridavsky interned at Steve Albini's Chicago studio complex Electrical Audio, a feline-friendly business whose online staff page lists distinguished cat alumni (Kitty Pants, Mandela, Pip). Fluss, the fluffy grey cat famously credited with producing Jawbreaker's 24 Hour Revenge Therapy, sat on Mike's shoulders in the control room. "I didn't get into cats because Steve had cats," Bridavsky clarifies, "but I like the whole idea of cats in the studio."
Nearly a decade later, in the summer of 2011, Bridavsky already had four rescue cats living at Russian Recording, the studio he'd invested everything in constructing, when his friend texted him a picture of an unusually walleyed six-ounce kitten, the bottle-fed runt of a feral healthy litter who was found in another friend's backyard shed. (His other four cats — Oskar, Josie, Vivian, and Special Agent Dale Cooper — were already tattooed on his right arm.) When Bridavsky drove out to see the newborn, he was drawn to her immediately. "She looked very weird, like a little alien," Bridavsky remembers. The story he tells is that he picked her up and randomly said, "Hey, Bub!" and that's how she got her name. (Bridavsky and a close female friend called each other BUB, so the nickname was a term of endearment reapplied.) "She was a really phenomenal creature."
As it would turn out, Lil BUB is extraordinary — "one of nature's happiest accidents," as Bridavsky likes to say. Her green eyes bulge. Her pink tongue almost always sticks out. She doesn't meow, but dictates her own onomatopoeia of squonks and squirggels. She has a pronounced case of dwarfism, which makes her legs disproportionately stubby, and osteopetrosis, a rare disease that causes a typically debilitating bone density. She has four extra toes, one on each foot, and an underdeveloped lower jaw, which causes her tongue to droop perpetually. She's also a "perma-kitten," meaning she'll remain her current size of four pounds for the rest of her life. She looks, awesomely, like a Japanese anime character come to life.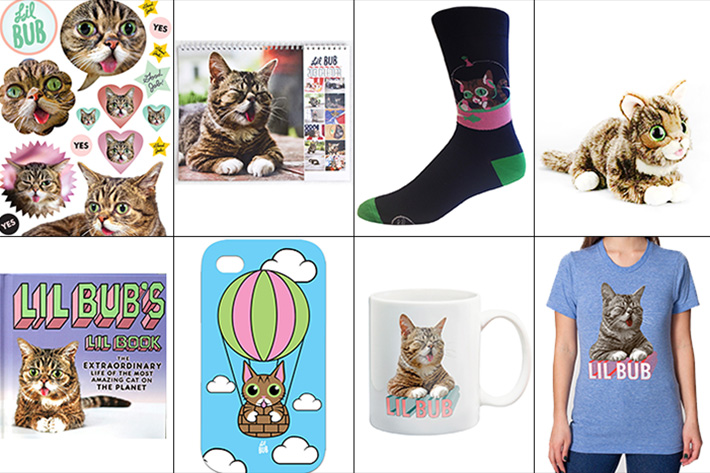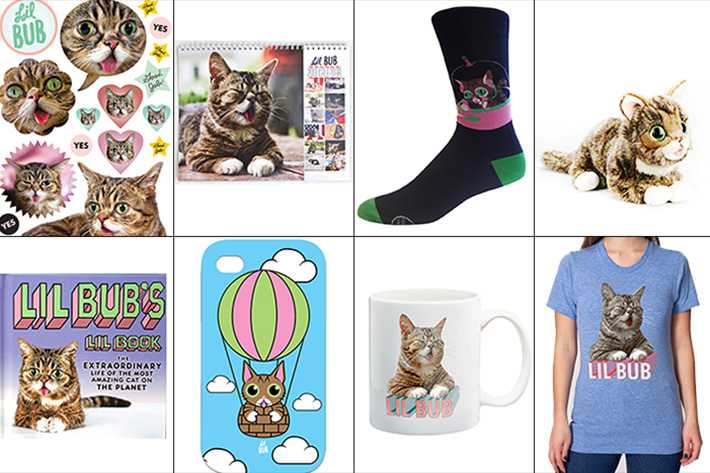 "That's the reason I started sharing her: I was super-proud of her and I really thought she was the most amazing creature," says Bridavsky, who started a Lil BUB-photo Tumblr (a "BUBlog") in November 2011. He was partly inspired by his friend David Woodruff, a Bloomington artist and graphic designer who'd maintained a photo blog for his exotic shorthair Smoosh since June 2010 and, as a joke, also mocked up Smoosh T-shirts. Early in the spring of 2012, a Suicide Girl with a sizable fanbase randomly started liking all of Lil BUB's Instagram photos and Bridavsky asked Woodruff to make Lil BUB shirts. Soon after, things began to snowball: Reddit's front page, a BuzzFeed post, a Vice mention, strangers selling out the Lil BUB shirts, and a Good Morning America invitation.
Now, nearly two years later, Lil BUB has her own independent merchandise line, including hoodies ($35), designer socks ($12), and a plush toy fabricated in her likeness ($24). The three-year-old has starred in her own feature-length documentary, Lil BUB & Friendz, which premiered at the 2013 Tribeca Film Festival, and hosted a 12-episode online talk show, Lil BUB's Big Show, in which she interviews, via subtitled exchanges, guests like Whoopi Goldberg, Steve Albini, and a two-pound guinea pig named Little Prince. She's met Robert De Niro and been a guest on The View. She also has her own hardcover book, Lil BUB's Lil Book, her own primetime Animal Planet special, Lil BUB's Special Special, and her own ASPCA fund, Lil BUB's Big Fund. She has more than 900,000 Facebook likes, 470,000 Instagram followers, and nearly 20-million views on her YouTube channel. As "the only true rock'n'roll kitty," a distinction to which her Twitter bio lays claim, she's produced a solo single for the Breeders' Kelley Deal, worn a cape in a music video for a Kimya Dawson and Aesop Rock collaboration, and will soon accompany Jesus Lizard's David Yow on book-tour dates. Through all these projects, Lil BUB has brought in enough money not only to salvage Bridavsky from financial ruin, but also to help raise more than $200,000 for animal charities.
"It does sound sort of quasi-fictional, but it's not," Bridavsky told me earlier this year, over hotel-bar cocktails that would be charged to Animal Planet's tab. "I was about to go bankrupt. It was BUB who saved my ass."
"They really just saved each other, didn't they?" posits Kelley Deal, who guest-starred on Lil BUB's Big Show. "They were just meant to find each other. It really is a partnership."
ONE HUNDRED AND twenty years ago this month, the precursor to all online cat videos was filmed in West Orange, New Jersey. Shot by Thomas Edison's Black Maria Studios, the black-and-white clip is 20 seconds of a feline-boxing match: Two harnessed cats, mittened with miniature boxing gloves, spar while a professor-trainer maneuvers them like puppets. Today, the segment scans more like uncomfortable sideshow footage than a tribute to adorable magnificence, but there's an uncanny lineage from there to 2008's much gentler viral video "Cute Cats Playing Patty-Cake!" (two cats touch paws with a clapping-game synchronicity, 2.3 million views) to its 2010 voiced-over remake "Cats Playing Patty-cake, what they were saying..." (two dudes improvise dialogue for the two touching-paw cats, 19.5 million views).
'She spreads joy in an automatic, very earnest way,' said Andrew W.K., who's allergic to cats, but magically not Lil BUB. 'People just feel it, they don't have to think about it.'
Where there are motion pictures, there will be motion-picture stars, and where there are motion-picture stars, there will be motion-picture cat stars. Pepper the Cat is credited as the first, a silent-film feline whose IMDB profile cites her acting in more than 20 shorts from 1918 to 1928. But the modern annals of celebrity cats are not limited to cinema. There are cats whose acclaim came from a kind of anthro-zoological nepotism: Ernest Hemingway's white polydactyl cat, Snowball; Socks, the Clintons' black-and-white stray. There are felines who were immortalized as muses, like T.S. Eliot's Jellylorum or Freddie Mercury's beloved Delilah, and cats whose residences fostered their renown, like the Algonquin's Matilda or Dewey Readmore Books, the small-town library rescue who became the subject of a 2008 New York Times best seller. There are cats who've been feted for their fortunes in health (Creme Puff, the oldest cat ever reported to the Guinness Book of World Records, who lived to be 38), wealth (Blackie, a British animal heir whose owner legendarily left him 15 million pounds), and government (Stubbs, the still-living elected mayor of Talkeetna, Alaska). More impressive still, there are cats who've earned their glory through civilized accomplishments: Ketzel, an Upper West Side tuxedo cat who won a 1997 prize in piano composition for something she pounded out while chasing an invisible mouse; Casper, an intrepid British kitty who commuted on the local bus daily and inspired a children's book.
The most indelible 20th-century feline figure was Morris the Cat, an orange tabby facetiously heralded as "the Clark Gable of cats" who, for more than a decade, starred in 9Lives commercials as a finicky cat-food connoisseur and inspired T-shirts, mugs, and an "intimate" hardcover biography in 1974. When the original Morris died of a heart attack in 1978, 9Lives kept the character alive with understudies, one of whom was profiled on Lifestyles of the Rich and Famous. In 1988, the ad agency that first conceived of the spokescat, Leo Burnett Company, staged a mock presidential campaign for Morris. (The Federal Election Commission's report of official 1988 results does not credit him with any votes.)
Morris's iconic status was a clear antecedent to the online cult of cat personality that's since spawned super-stars like Maru, an inquisitive Scottish Fold whose cardboard-box contortions have garnered 261-million YouTube views and a 2011 William Morrow book, and Keyboard Cat, the piano-pawing subject of a 2009 viral video that's accrued 36-million views, an aggressive series of copyright lawsuits, and a costumed Kevin Spacey portrayal on Jimmy Kimmel Live. Thanks to the Internet's advent, we now live in a world where a cat caught on video saving a little boy from a dog attack not only does the national morning-show circuit, but also walks away with a viral-marketing agent; where TMZ's gossip empire announces the death of Himalayan-Persian crossbreed named Colonel Meow alongside Justin Bieber babble; and where a special-needs perma-kitten can extricate a man from certain bankruptcy without even trying.
The real-world manifestation of this online cat-industrial complex came together for the first time two summers ago, at the Walker Center for the Arts' inaugural Internet Cat Video Festival. A 75-minute curated reel of web cat clips, the event unexpectedly drew 10,000 attendees to the Minneapolis museum's lawn for free. The following year, the festival relocated to the Minnesota State Fair, charged $10 a head, and moved 11,000 tickets, outselling than the previous night's venue headliners, Depeche Mode. The program has since toured the country, with more than 30 national screenings booked this year.
So why did thousands leave home to see animal videos they could have easily streamed on the john? One prevailing theory for the festival's success is that feline guardianship is inherently a private experience. "Cats aren't perceived as social animals," Jackson Galaxy, the cat-behaviorist host of Animal Planet's My Cat From Hell, told me. "We don't walk with our cat on a leash, and run into other people with cats, and say, 'Ooh let's have a cat playdate together.'" Since the American Veterinary Medical Association estimates that 36-million U.S. households have cats, that makes a lot of missed playdates.
The Internet functions like a cat park, the theory goes. Felines tend to hide from strangers; before YouTube, you were the only one who knew how awesome your cat really was. "Suddenly, we got to peek at when cats were at their best," says Los Angeles-based writer Anne Marie Avey, who was Colonel Meow's caretaker. "You could see them at their funniest, their most relaxed, and see the weirdest shit that they do. Their personalities came through."
This seems like a valid, but partial explanation. Cat-park wackadoos seeking other cat-park wackadoos are not the only ones sharing .jpgs of Fluffy dressed like a taco. In fact, the seven-million page views amassed by BuzzFeed's May 2014 mega list of "The 100 Most Important Cat Pictures Of All Time" beg to differ. "Cats are not about cats, they're about telling human stories," BuzzFeed founder Jonah Peretti, who built an influential news-gathering organization upon a shrewdly cute foundation of animal photos, told Wired UK earlier this year. "Animals matter because they get to the human element."
As someone who's fecklessly spent the last two paragraphs trying to shoo my 15-year-old diabetic house panther off the keyboard, I'm inclined to believe the opposite: Cats distract from the human element. And they are marvelous at it. People have gotten so terribly ugly to each other online, and in such gruesomely petty detail, that cats are one of the few neutralizing forces we still have left. Dogs aren't an escape from mankind; they're bred to be pawns of human servitude. And babies — they're secret agents of narcissism. But cats are not human reflections. They are entirely something else.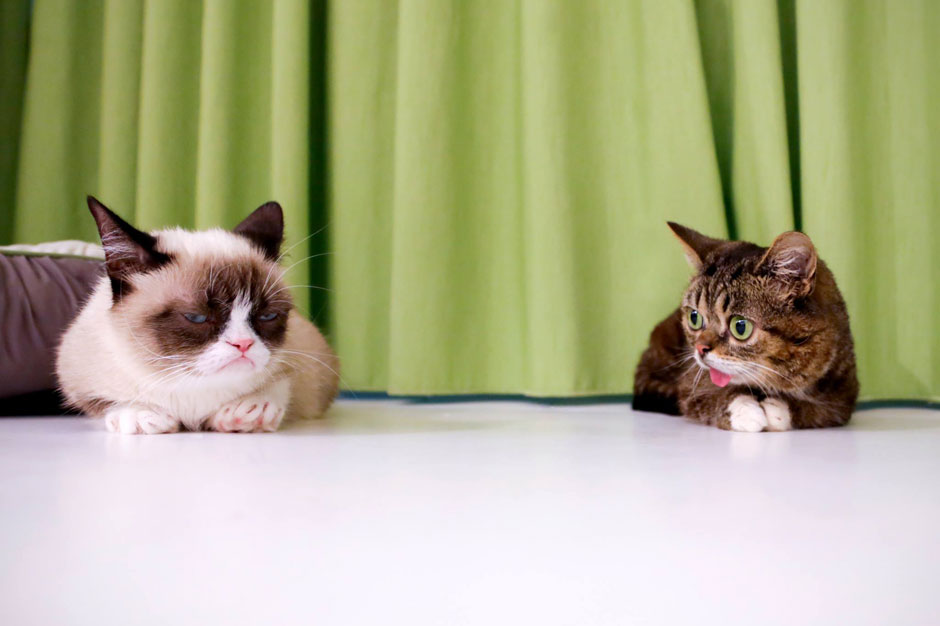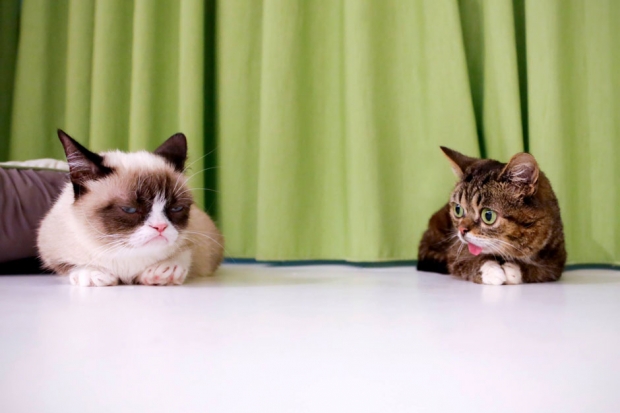 At the moment, they're pop-art stars, anthropomorphized caricatures that simultaneously celebrate and satirize the silly American attention economy that begot their peculiar strain of pet fame. There is Henri, the depressed existentialist feline narrator of the ingenious black-and-white Web series Henri, Le Chat Noir, and Hamilton the Hipster Cat, a grey and white rescue whose facial markings resemble a handlebar moustache (97,000 Facebook likes, 500,000-plus Instagram followers). There's Colonel Meow, the Himalayan-Persian crossbreed whose nine-inch hair strands earned him the 2014 Guinness World Record for longest fur on a cat; even though he's dead, he still has lives through his active Facebook feed (almost 500,000 likes). And there is Princess Monster Truck (75,000-plus Instagram followers), an all-black Persian rescue cat with yellow werecat eyes, a vampiric underbite, and a head that looks like a fur pom-pom exploded from her neck.
But the apotheosis of the celebricat phenomenon is Grumpy Cat, a sour-puss meme who's currently enjoying an American mainstream-television takeover, with a Honey Nut Cheerios commercial gig, a QVC plush exclusive, an appearance on the Bachelorette finale, and a Lifetime Christmas movie set to air this winter. (Last September, New York Magazine valued Grumpy Cat Ltd.'s worth at one-million dollars and that was long before these deals; her team now declines to disclose figures, but this week told the Hollywood Reporter she was a "seven-figure cat.") Earlier this year, Friskies named Grumpy the brand's official spokescat, a distinction her manager, Ben Lashes, described to me as "a huge flag-on-the moon moment." Lashes — whose professional name harks back to the Lashes, the Seattle power-pop sextet the Spokane native used to front — sees Grumpy as the 21st-century Mickey Mouse. "These cats will be respected like real pop-cultural icons and that's cool. I love when silly stuff can be taken really importantly. Three chords, played really fast, is pretty silly too."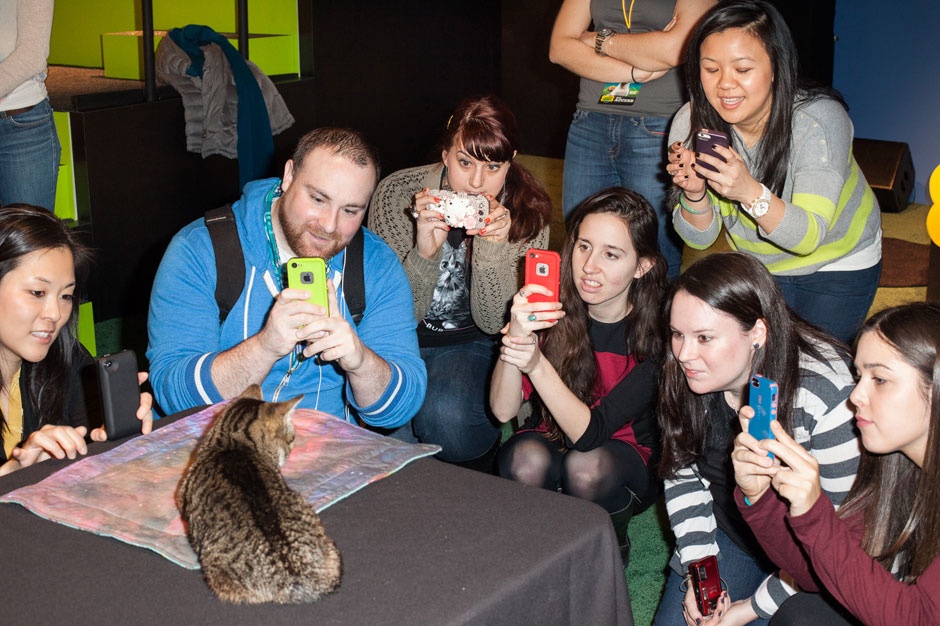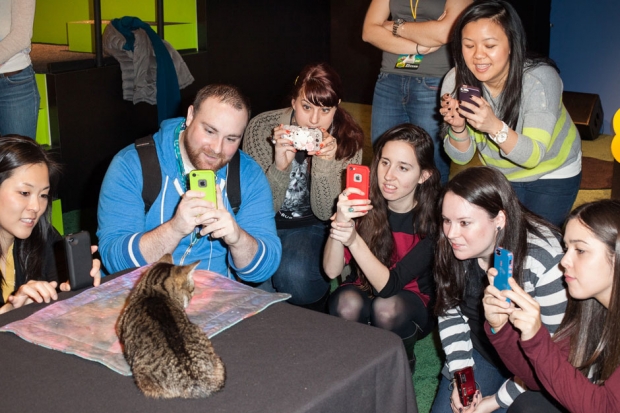 THIS PAST WINTER, Lil BUB was a guest of honor at the Puppy Bowl X VIP Party, an invitation-only Tuesday-evening bash staged deep inside the bowels of the Discovery Times Square Museum. For this year's Super Bowl counter-programming coup, which pulled in a record audience of 13.5 million viewers, Lil BUB would make a cameo, along with a squad of penguin cheerleaders and Kitty Halftime Show musical entertainer Keyboard Cat. Lil BUB's Puppy Bowl involvement was partly cross-marketing: In 10 days, the Discovery-owned cable channel would also premiere Lil BUB's Special Special, an absurdly psychedelic half-hour co-starring antic actress Amy Sedaris and professional party barker Andrew W.K. In advance of the special, Animal Planet had flown Lil BUB, Bridavsky, and his girlfriend Stacy to New York for a chauffeured string of promotional engagements.To celebrate the Puppy Bowl's tenth anniversary, Animal Planet had turned the M