Mike Bridavsky could not stop crying. Over the course of two spring weeks in 2012, the foundation of his life had crumbled completely. The Bloomington, Indiana recording studio he'd secured a $60,000 bank loan to build, quit his full-time university job to run, and then dumped his entire savings into finishing was on the verge of bankruptcy. He also owed six, maybe seven, months in back rent for the space — a debt totaling more than $10,000 — and then a promising string of booked studio sessions were abruptly canceled. Personally, too, he was a mess: a woman recently broke his heart; his band hadn't played a show in seven months and seemed on the edge of dissolution. Then his car's radiator blew up, the vehicle's exhaust fell off, and someone with impeccably cruel timing slashed his tires."I had no job, I was $110,000 in the hole, and I had no way to get money. I started crying hysterically," recalls Bridavsky, now 34. "I was looking into bankruptcy, I was looking into moving. I had a nervous breakdown, my friends had to take care of me. I was in horrible shape."
A week later, when Bridavsky could finally walk around without bursting into tears, one of his friends posted a curious development to his Facebook wall. Mike's cat was on the front page of Reddit. "I didn't even know what that was.'"
What that was: The beginning to a series of serendipitous occurrences that would soon have Bridavsky and the tiny, toothless kitten he'd rescued from a tool shed in rural Indiana featured on Good Morning America and then, gradually, turn the animal into one of the most famous cats on the planet.
Bridavsky, a bearded musician with wise eyes and tattoo sleeves, wasn't always a cat guy. In high school, the Cleveland teenager thought cats were total assholes, thanks to his girlfriend's jerky kitty. But then in 2002, while studying to be a recording engineer at the Indiana University Bloomington, Bridavsky interned at Steve Albini's Chicago studio complex Electrical Audio, a feline-friendly business whose online staff page lists distinguished cat alumni (Kitty Pants, Mandela, Pip). Fluss, the fluffy grey cat famously credited with producing Jawbreaker's 24 Hour Revenge Therapy, sat on Mike's shoulders in the control room. "I didn't get into cats because Steve had cats," Bridavsky clarifies, "but I like the whole idea of cats in the studio."
Nearly a decade later, in the summer of 2011, Bridavsky already had four rescue cats living at Russian Recording, the studio he'd invested everything in constructing, when his friend texted him a picture of an unusually walleyed six-ounce kitten, the bottle-fed runt of a feral healthy litter who was found in another friend's backyard shed. (His other four cats — Oskar, Josie, Vivian, and Special Agent Dale Cooper — were already tattooed on his right arm.) When Bridavsky drove out to see the newborn, he was drawn to her immediately. "She looked very weird, like a little alien," Bridavsky remembers. The story he tells is that he picked her up and randomly said, "Hey, Bub!" and that's how she got her name. (Bridavsky and a close female friend called each other BUB, so the nickname was a term of endearment reapplied.) "She was a really phenomenal creature."
As it would turn out, Lil BUB is extraordinary — "one of nature's happiest accidents," as Bridavsky likes to say. Her green eyes bulge. Her pink tongue almost always sticks out. She doesn't meow, but dictates her own onomatopoeia of squonks and squirggels. She has a pronounced case of dwarfism, which makes her legs disproportionately stubby, and osteopetrosis, a rare disease that causes a typically debilitating bone density. She has four extra toes, one on each foot, and an underdeveloped lower jaw, which causes her tongue to droop perpetually. She's also a "perma-kitten," meaning she'll remain her current size of four pounds for the rest of her life. She looks, awesomely, like a Japanese anime character come to life.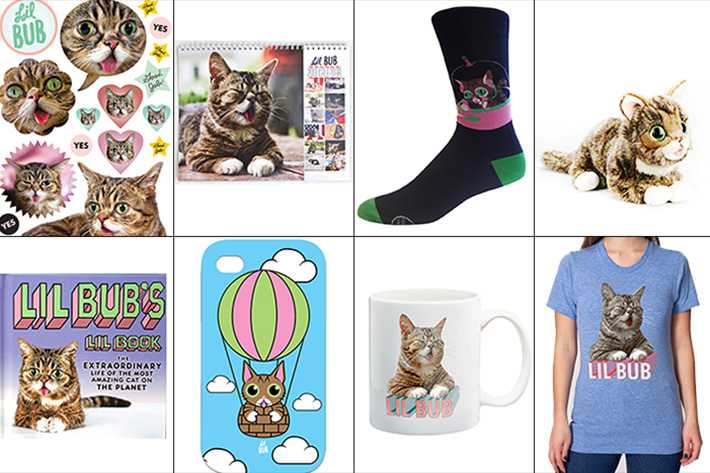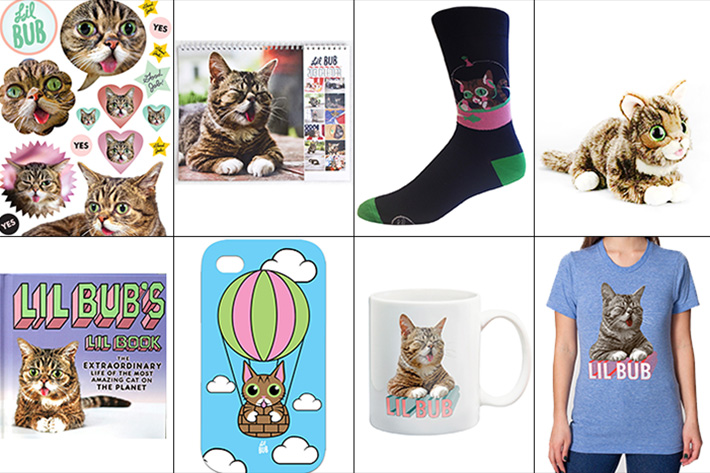 "That's the reason I started sharing her: I was super-proud of her and I really thought she was the most amazing creature," says Bridavsky, who started a Lil BUB-photo Tumblr (a "BUBlog") in November 2011. He was partly inspired by his friend David Woodruff, a Bloomington artist and graphic designer who'd maintained a photo blog for his exotic shorthair Smoosh since June 2010 and, as a joke, also mocked up Smoosh T-shirts. Early in the spring of 2012, a Suicide Girl with a sizable fanbase randomly started liking all of Lil BUB's Instagram photos and Bridavsky asked Woodruff to make Lil BUB shirts. Soon after, things began to snowball: Reddit's front page, a BuzzFeed post, a Vice mention, strangers selling out the Lil BUB shirts, and a Good Morning America invitation.
Now, nearly two years later, Lil BUB has her own independent merchandise line, including hoodies ($35), designer socks ($12), and a plush toy fabricated in her likeness ($24). The three-year-old has starred in her own feature-length documentary, Lil BUB & Friendz, which premiered at the 2013 Tribeca Film Festival, and hosted a 12-episode online talk show, Lil BUB's Big Show, in which she interviews, via subtitled exchanges, guests like Whoopi Goldberg, Steve Albini, and a two-pound guinea pig named Little Prince. She's met Robert De Niro and been a guest on The View. She also has her own hardcover book, Lil BUB's Lil Book, her own primetime Animal Planet special, Lil BUB's Special Special, and her own ASPCA fund, Lil BUB's Big Fund. She has more than 900,000 Facebook likes, 470,000 Instagram followers, and nearly 20-million views on her YouTube channel. As "the only true rock'n'roll kitty," a distinction to which her Twitter bio lays claim, she's produced a solo single for the Breeders' Kelley Deal, worn a cape in a music video for a Kimya Dawson and Aesop Rock collaboration, and will soon accompany Jesus Lizard's David Yow on book-tour dates. Through all these projects, Lil BUB has brought in enough money not only to salvage Bridavsky from financial ruin, but also to help raise more than $200,000 for animal charities.
"It does sound sort of quasi-fictional, but it's not," Bridavsky told me earlier this year, over hotel-bar cocktails that would be charged to Animal Planet's tab. "I was about to go bankrupt. It was BUB who saved my ass."
"They really just saved each other, didn't they?" posits Kelley Deal, who guest-starred on Lil BUB's Big Show. "They were just meant to find each other. It really is a partnership."
ONE HUNDRED AND twenty years ago this month, the precursor to all online cat videos was filmed in West Orange, New Jersey. Shot by Thomas Edison's Black Maria Studios, the black-and-white clip is 20 seconds of a feline-boxing match: Two harnessed cats, mittened with miniature boxing gloves, spar while a professor-trainer maneuvers them like puppets. Today, the segment scans more like uncomfortable sideshow footage than a tribute to adorable magnificence, but there's an uncanny lineage from there to 2008's much gentler viral video "Cute Cats Playing Patty-Cake!" (two cats touch paws with a clapping-game synchronicity, 2.3 million views) to its 2010 voiced-over remake "Cats Playing Patty-cake, what they were saying..." (two dudes improvise dialogue for the two touching-paw cats, 19.5 million views).
'She spreads joy in an automatic, very earnest way,' said Andrew W.K., who's allergic to cats, but magically not Lil BUB. 'People just feel it, they don't have to think about it.'
Where there are motion pictures, there will be motion-picture stars, and where there are motion-picture stars, there will be motion-picture cat stars. Pepper the Cat is credited as the first, a silent-film feline whose IMDB profile cites her acting in more than 20 shorts from 1918 to 1928. But the modern annals of celebrity cats are not limited to cinema. There are cats whose acclaim came from a kind of anthro-zoological nepotism: Ernest Hemingway's white polydactyl cat, Snowball; Socks, the Clintons' black-and-white stray. There are felines who were immortalized as muses, like T.S. Eliot's Jellylorum or Freddie Mercury's beloved Delilah, and cats whose residences fostered their renown, like the Algonquin's Matilda or Dewey Readmore Books, the small-town library rescue who became the subject of a 2008 New York Times best seller. There are cats who've been feted for their fortunes in health (Creme Puff, the oldest cat ever reported to the Guinness Book of World Records, who lived to be 38), wealth (Blackie, a British animal heir whose owner legendarily left him 15 million pounds), and government (Stubbs, the still-living elected mayor of Talkeetna, Alaska). More impressive still, there are cats who've earned their glory through civilized accomplishments: Ketzel, an Upper West Side tuxedo cat who won a 1997 prize in piano composition for something she pounded out while chasing an invisible mouse; Casper, an intrepid British kitty who commuted on the local bus daily and inspired a children's book.
The most indelible 20th-century feline figure was Morris the Cat, an orange tabby facetiously heralded as "the Clark Gable of cats" who, for more than a decade, starred in 9Lives commercials as a finicky cat-food connoisseur and inspired T-shirts, mugs, and an "intimate" hardcover biography in 1974. When the original Morris died of a heart attack in 1978, 9Lives kept the character alive with understudies, one of whom was profiled on Lifestyles of the Rich and Famous. In 1988, the ad agency that first conceived of the spokescat, Leo Burnett Company, staged a mock presidential campaign for Morris. (The Federal Election Commission's report of official 1988 results does not credit him with any votes.)
Morris's iconic status was a clear antecedent to the online cult of cat personality that's since spawned super-stars like Maru, an inquisitive Scottish Fold whose cardboard-box contortions have garnered 261-million YouTube views and a 2011 William Morrow book, and Keyboard Cat, the piano-pawing subject of a 2009 viral video that's accrued 36-million views, an aggressive series of copyright lawsuits, and a costumed Kevin Spacey portrayal on Jimmy Kimmel Live. Thanks to the Internet's advent, we now live in a world where a cat caught on video saving a little boy from a dog attack not only does the national morning-show circuit, but also walks away with a viral-marketing agent; where TMZ's gossip empire announces the death of Himalayan-Persian crossbreed named Colonel Meow alongside Justin Bieber babble; and where a special-needs perma-kitten can extricate a man from certain bankruptcy without even trying.
The real-world manifestation of this online cat-industrial complex came together for the first time two summers ago, at the Walker Center for the Arts' inaugural Internet Cat Video Festival. A 75-minute curated reel of web cat clips, the event unexpectedly drew 10,000 attendees to the Minneapolis museum's lawn for free. The following year, the festival relocated to the Minnesota State Fair, charged $10 a head, and moved 11,000 tickets, outselling than the previous night's venue headliners, Depeche Mode. The program has since toured the country, with more than 30 national screenings booked this year.
So why did thousands leave home to see animal videos they could have easily streamed on the john? One prevailing theory for the festival's success is that feline guardianship is inherently a private experience. "Cats aren't perceived as social animals," Jackson Galaxy, the cat-behaviorist host of Animal Planet's My Cat From Hell, told me. "We don't walk with our cat on a leash, and run into other people with cats, and say, 'Ooh let's have a cat playdate together.'" Since the American Veterinary Medical Association estimates that 36-million U.S. households have cats, that makes a lot of missed playdates.
The Internet functions like a cat park, the theory goes. Felines tend to hide from strangers; before YouTube, you were the only one who knew how awesome your cat really was. "Suddenly, we got to peek at when cats were at their best," says Los Angeles-based writer Anne Marie Avey, who was Colonel Meow's caretaker. "You could see them at their funniest, their most relaxed, and see the weirdest shit that they do. Their personalities came through."
This seems like a valid, but partial explanation. Cat-park wackadoos seeking other cat-park wackadoos are not the only ones sharing .jpgs of Fluffy dressed like a taco. In fact, the seven-million page views amassed by BuzzFeed's May 2014 mega list of "The 100 Most Important Cat Pictures Of All Time" beg to differ. "Cats are not about cats, they're about telling human stories," BuzzFeed founder Jonah Peretti, who built an influential news-gathering organization upon a shrewdly cute foundation of animal photos, told Wired UK earlier this year. "Animals matter because they get to the human element."
As someone who's fecklessly spent the last two paragraphs trying to shoo my 15-year-old diabetic house panther off the keyboard, I'm inclined to believe the opposite: Cats distract from the human element. And they are marvelous at it. People have gotten so terribly ugly to each other online, and in such gruesomely petty detail, that cats are one of the few neutralizing forces we still have left. Dogs aren't an escape from mankind; they're bred to be pawns of human servitude. And babies — they're secret agents of narcissism. But cats are not human reflections. They are entirely something else.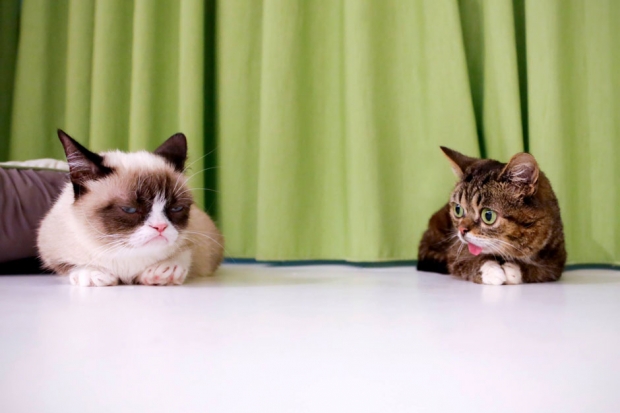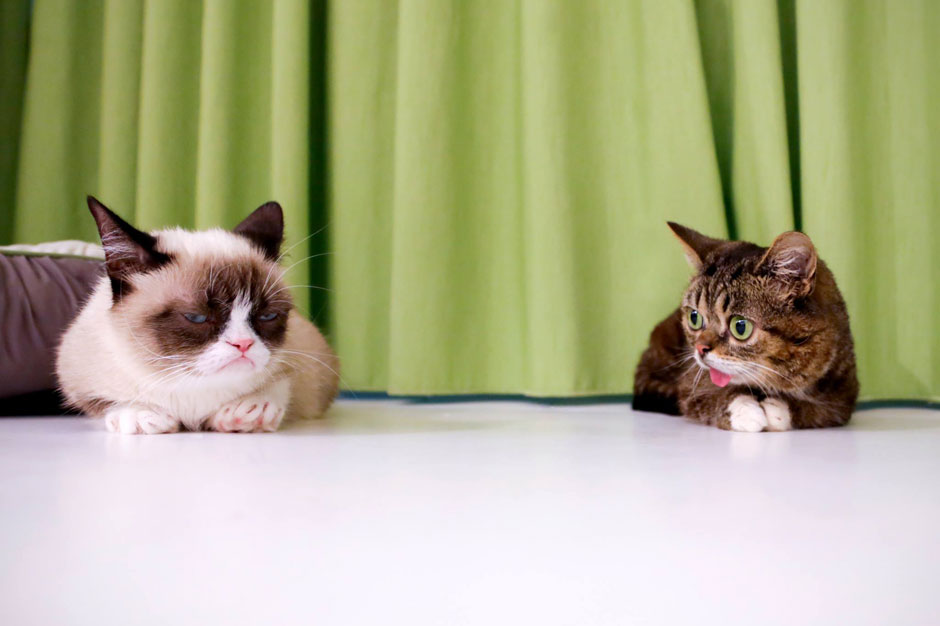 At the moment, they're pop-art stars, anthropomorphized caricatures that simultaneously celebrate and satirize the silly American attention economy that begot their peculiar strain of pet fame. There is Henri, the depressed existentialist feline narrator of the ingenious black-and-white Web series Henri, Le Chat Noir, and Hamilton the Hipster Cat, a grey and white rescue whose facial markings resemble a handlebar moustache (97,000 Facebook likes, 500,000-plus Instagram followers). There's Colonel Meow, the Himalayan-Persian crossbreed whose nine-inch hair strands earned him the 2014 Guinness World Record for longest fur on a cat; even though he's dead, he still has lives through his active Facebook feed (almost 500,000 likes). And there is Princess Monster Truck (75,000-plus Instagram followers), an all-black Persian rescue cat with yellow werecat eyes, a vampiric underbite, and a head that looks like a fur pom-pom exploded from her neck.
But the apotheosis of the celebricat phenomenon is Grumpy Cat, a sour-puss meme who's currently enjoying an American mainstream-television takeover, with a Honey Nut Cheerios commercial gig, a QVC plush exclusive, an appearance on the Bachelorette finale, and a Lifetime Christmas movie set to air this winter. (Last September, New York Magazine valued Grumpy Cat Ltd.'s worth at one-million dollars and that was long before these deals; her team now declines to disclose figures, but this week told the Hollywood Reporter she was a "seven-figure cat.") Earlier this year, Friskies named Grumpy the brand's official spokescat, a distinction her manager, Ben Lashes, described to me as "a huge flag-on-the moon moment." Lashes — whose professional name harks back to the Lashes, the Seattle power-pop sextet the Spokane native used to front — sees Grumpy as the 21st-century Mickey Mouse. "These cats will be respected like real pop-cultural icons and that's cool. I love when silly stuff can be taken really importantly. Three chords, played really fast, is pretty silly too."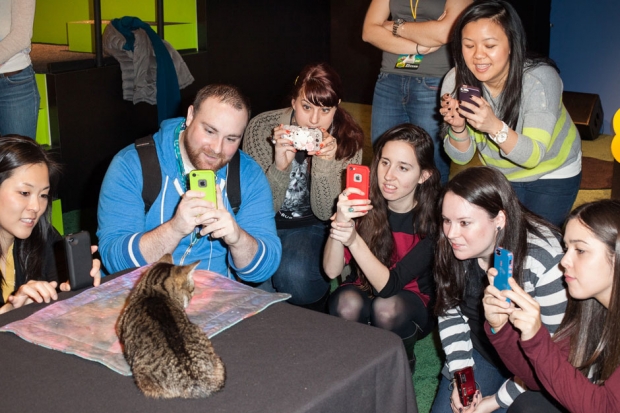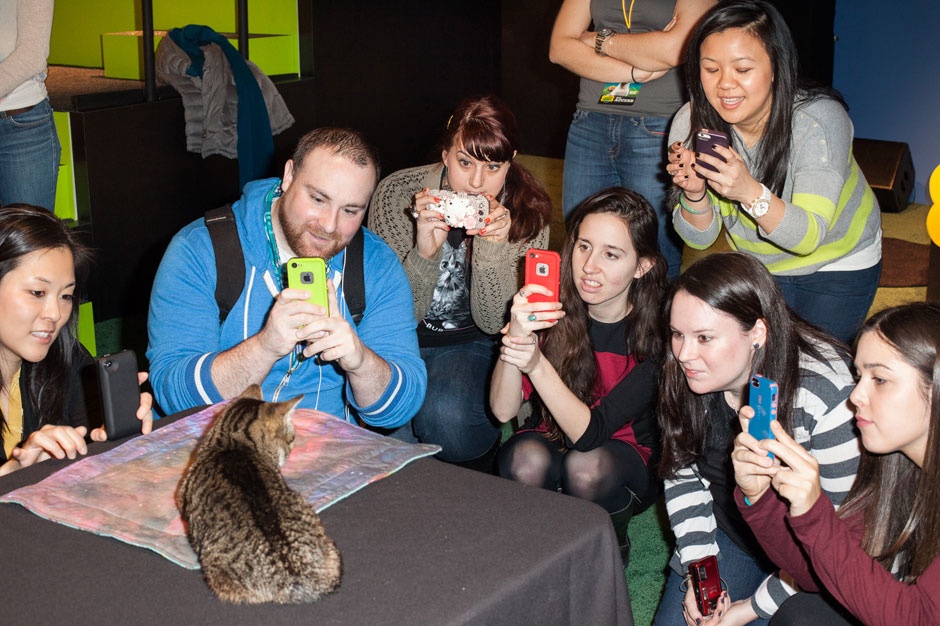 THIS PAST WINTER, Lil BUB was a guest of honor at the Puppy Bowl X VIP Party, an invitation-only Tuesday-evening bash staged deep inside the bowels of the Discovery Times Square Museum. For this year's Super Bowl counter-programming coup, which pulled in a record audience of 13.5 million viewers, Lil BUB would make a cameo, along with a squad of penguin cheerleaders and Kitty Halftime Show musical entertainer Keyboard Cat. Lil BUB's Puppy Bowl involvement was partly cross-marketing: In 10 days, the Discovery-owned cable channel would also premiere Lil BUB's Special Special, an absurdly psychedelic half-hour co-starring antic actress Amy Sedaris and professional party barker Andrew W.K. In advance of the special, Animal Planet had flown Lil BUB, Bridavsky, and his girlfriend Stacy to New York for a chauffeured string of promotional engagements.To celebrate the Puppy Bowl's tenth anniversary, Animal Planet had turned the Midtown exhibition hall into a canine-themed activity center, with a Hall of Fame portrait wall of Puppy Bowl MVPs (including Bessie, a Catahoula Leopard Dog mix who was crowned Best Face Licker in Puppy Bowl VI), a doggie-kissing booth, and a mini-midway of games like frisbee tossing and cornhole. Downstairs, encased in glass and bookended by decorative goalposts, was a football field the size of a wrestling ring, where a rotating roster of pooches scampered jauntily, yipped happily, and lifted their legs unselfconsciously, while dressy bystanders pointed. At the open bar, the night's drink special was a spicy tequila cocktail called the Tailwagger.To enter the main event, you had to pass the red-carpet area, which was green and made of turf. A little after 7:30 P.M., Richard Kind, a Tony-nominated character actor familiar from years on Mad About You and Spin City, inhabited the walkway, cradling a white dog and answering a reporter's questions. Earlier, Jon Stewart had posed for photos with his two kids. Other recognizable figures included comedian and actress Janeane Garofalo, who sat uninterrupted with two friends on carpeted bleachers, and Lil BUB co-star Andrew W.K., who was the recipient of some enthusiastic high fives upon arrival, but then was left alone with his wife to watch puppies cavort.

Meanwhile, Bridavsky could not walk more than two feet without being stopped. Wearing a black T-shirt screenprinted with the silhouette of Princess Monster Truck, he carried Lil BUB like a hairy baby. Even people who didn't recognize her had never seen anything like the creature: an astonishingly docile cat with fox ears, bulbous eyes that gleam like glass marbles, and a tongue that hangs like Bubble Tape. Again and again, wine-swilling strangers politely inched up around her, peered over Bridavsky's shoulders to ogle her, and aimed their smartphones at her cartoony face. Over the course of the night, Lil BUB was more popular than the free cupcakes.

"We've been places and people will cry," Bridavsky's girlfriend Stacy told me that night. "It's men and women. It's not one specific [type of] person, it's all of these people who, when they see BUB, they just feel this really strong connection."

Just today, Mike, Lil BUB, and Andrew W.K. had visited the offices of the New York Post, People Magazine, and Cosmopolitan, where Bridavsky politely declined to have his famous feline participate in "Cats + Abs," the publication's webisode of shirtless male models rapping about kittens. ("I won't even hold my cat shirtless," is how Mike later explained his queasiness.) No matter where they went, the reception would be the same: People, even ostensibly serious people, freak out at meeting Lil BUB. "She spreads joy in an automatic, very earnest way," said Andrew W.K., who's allergic to cats, but magically not Lil BUB. "People just feel it, they don't have to think about it."
"Anywhere we show up for interviews — places like Cosmopolitan or Maxim, where they get big celebrities all the time — people are like, we've never had a response like this," Bridavsky noted later. "The reason, I think, is because there's no competition with a cat. With celebrities, people are usually like, 'I love that person, but I'm just nervous around them.' Or, 'What would I say to them? What will they think of me?' Or also, 'I'm important too — just because they're famous, I'm not going to give them the time of day and fall to their feet.' But when BUB shows up, everybody's excited. BUB doesn't judge."
Maybe in 2014's social-media panopticon, a very special cat is the one creature who can successfully withstand the relentlessly parasitic scrutiny of 21st-century celebrity. Cats don't have ulterior motives, they aren't interested in human sex or money. Grumpy Cat will not be caught urinating in a mop bucket and hollering "Fuck Bill Clinton." Princess Monster Truck will not alienate her early fans by riding an inflatable penis in a gay club. Henri, le chat noir, will not interrupt Taylor Swift. And Lil BUB? Lil BUB will not sell out.
[fgallery gallery_id="120648"]
EARLIER THIS MONTH, Grumpy Cat lent her household name to the release of a Friskies-sponsored single, "Cat Summer," a painfully earnest cheese-pop tune, sung by an uncredited female vocalist, about how it's time for a "caaaaaaaat summmmer — summer, meow meow!" so your neighborhood mousers are dying for a specific dry-food brand's seasonal flavor: "It's time to stop your tease / And give us some Grillers / Please please please." Early-morning gabfest Fox & Friends premiered the extended ad's music video, which co-stars celebricats Hamilton the Hipster Cat, Nala Cat, Oskar the Blind Cat and his one-eared sidekick Klaus. That same day, Grumpy and Oskar convened for a promotional "paw-tograph" session at Bleecker Street Records, where the West Village entrance line formed three hours before the animals' arrival and snaked around the Barrow Street block.Lil BUB is much more discriminating with her musical projects. Earlier this year, the cat co-released an ebullient piano-rock single with Andrew W.K., "Star Party Animal," spun off their Animal Planet special, and also provided a guest squee on a group cover of "The Super Bowl Shuffle" with the likes of My Morning Jacket's Jim James and Les Savy Fav's Tim Harrington. Lil BUB's favorite bands are the Breeders (get it?) and Rush; for an episode of Lil BUB's Big Show, the multifariously talented space-cat host produced Kelley Deal's single, "Shirtcrush," a credit listed on the actual release. Bridavsky's old boss Steve Albini has their backs, writing in an email: "Mike and BUB are the best and I'll do anything for them." Kim Deal hasn't met Lil BUB, but first heard about her at Albini's 50th birthday party and characterizes the cat's influence on Mike's life as "a firetruck dalmatian dog hero saving lives."
Grumpy's original name was Tardar Sauce and she's not actually Grumpy. But as a fictionalized persona portrayed through social media and commerce, she responds to the world tetchily, with the tonal variation of a bumper-sticker rack: "I HAD FUN ONCE / IT WAS AWFUL"; "IF YOU'RE HAPPY AND YOU KNOW IT / GET AWAY FROM ME." Grumpy's set-up is the punchline; there's no other joke. As a cultural icon, Grumpy isn't a character, but a mascot for virality.
Meanwhile, Lil BUB is a champion of misfits. In the whimsical backstory Bridavsky has spun, relayed through her book and online talk show, Lil BUB is a magical space cat who hails from the planet Bub Ub Bub, a faraway orb where all the furry inhabitants are identical. As a supernatural critter, she possesses a bounty of special powers, including time travel, teleportation, telepathy, and the ability to ride a giant tuna through space. She can shoot lasers from her eyes. She loves hot-air balloons and fish. And she's come here to spread a message of joy, self-acceptance, and compassion.
Also, Lil BUB can talk. Well, not in any worldly language: She communicates in her uniquely trilled symphony of Tribble coos and Mogwai gibberish that is translated on screen with English subtitles. Lil BUB's dialogue, which Bridavsky writes, is agile and unassuming, witty and colloquial. In Lil BUB's Lil Book — which is excellent, by the way, a clever and beautiful all-ages picture book unfairly relegated to the novelty "Pets/Humor" dustbin — she accidentally crashes her flying space pod on Earth (caption: "UH-OH") and immediately surmises, "This place is weird." Later, she breaks the fourth wall to ask the reader a favor. "I need to pee," she announces, strategically positioned behind a rock. "Please, don't watch."
As brands, Grumpy Cat is corporate, Lil BUB is independent. As image macros, Grumpy's caption refuses NO, Lil BUB's affirms YES.
In the online series Lil BUB's Big Show, a surreal talk-show co-created with Chicago production company Optimus, BUB imitates the role of a late-night host, positioned behind a small desk that's furnished with a Lil BUB coffee mug, a stack of papers, and a miniature microphone. In the premiere, Lil BUB asks Whoopi Goldberg, who is beamed in from her dressing room, "Do you think Barbara Walters likes me?" Whoopi confides, "I think she's intimidated by you." In another episode, Lil BUB interviews Steve Albini. "Do you fly a hot air balloon?" she inquires. He does not. "Do you believe in miracles?" she wonders. As he tries to answer, she slips into an extended dream sequence about food. Later, she asks, "Do you have a job or something?" ("I thought that [line] was so fucking good," Jesus Lizard singer David Yow, who's releasing a hardcover book of cat illustrations called Copycat next month, told me.)
"Mike is not a natural internet maven — this just happened [to him] and that's what's fun," says Adam Turla, the Bloomington-based frontman of folk-noir fivesome Murder By Death, who appeared on the Thanksgiving episode of Lil BUB's Big Show. "It's kind of like something that a kid would do: 'Here's a video of my cat and I'm dressing it up ha ha ha.' But it's done with a lot of humor and positivity."
The crux of Lil BUB's story, in fact and fiction, is her filial relationship with Bridavsky. Mike always identifies himself as Lil BUB's Dude — he's her subordinate; she owns him — and in an interview from last year, he called her "the first living creature that I can say I 100% care about more than myself." The Elliott to her E.T., he has Lil BUB tattooed on his body twice. In her book, Lil BUB has a framed photo of her Dude on her bedroom dresser. They celebrate their birthdays on the same day. This past Father's Day, Bridavsky posted deliriously affectionate pictures of them together on Tumblr, along with the note: "Thanks BUB, for picking me to be your pops."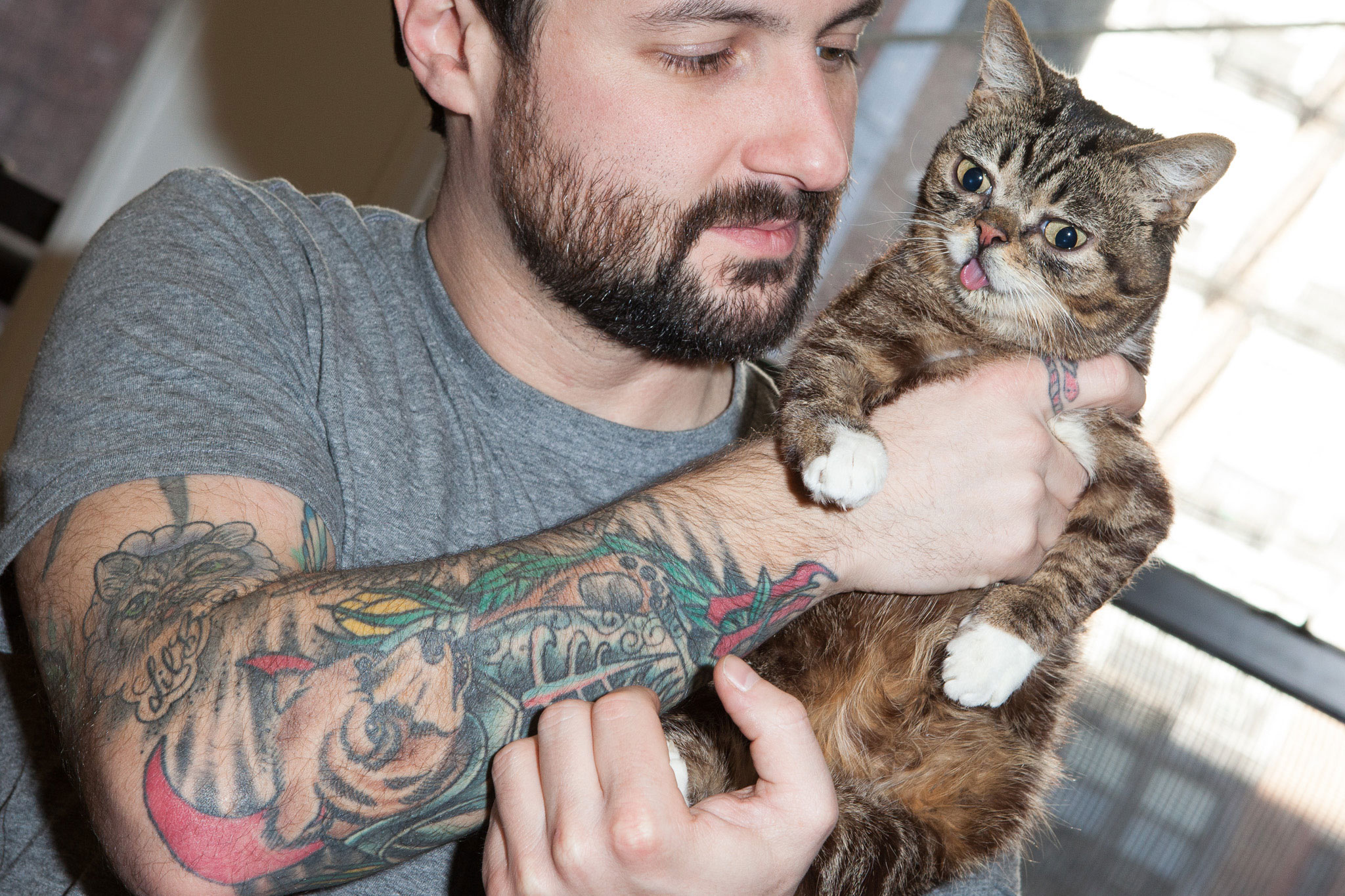 RUSSIAN RECORDING IS a five-room facility of more than 1,200 feet of recording space that also doubles as a DIY venue, located less than four miles away from downtown Bloomington. In the Lil BUB & Friendz documentary, Bridavsky's studio looks like a chaotic punk house of wet surfaces. But in reality, the place is vibrant and inviting, with richly colored walls, high ceilings, and wooden floors. The control room is a college education's worth of intimidating knobs and tiny lights. The lounge area is an open archive of the studio's decade-long existence, including a Magnolia Electric Co. seven-inch and Tig Notaro's 2011 debut album, Good One, recorded here on the comedian's 40th birthday.Bridavsky runs his studio the same way he manages his extremely famous cat: He abides by the ethos of punk and DIY culture. Since the very beginning, he's operated under a set of self-imposed guidelines in handling creative and commercial interest in Lil BUB. For one, Bridavsky has never pitched his cat to anybody. "I have a rule that I won't seek opportunity, so I've never ever called anyone to do anything," he explains. Lil BUB's Lil Book, for example, came after three publishers and an agent approached him. The Animal Planet special sprang from a connection at Animalist, the Discovery Digital Network that developed Lil BUB's Big Show. Even though Andrew W.K. wanted to pitch a series spun off their Animal Planet special, Bridavsky encouraged Wilkes-Krier to shop around a hosting vehicle, but declined to have BUB as part of the package.He's also committed to keeping everything independent and using his friends as Lil BUB's creative team. "All this stuff I do with BUB is done with all my buddies from my life with music," he notes. For more than two years, Lil BUB's de facto manager was Jonathan Cargill, a friend from the Bloomington music scene who helped run the independent record label Secretly Canadian for 16 years. (Now Stacy handles that role.) David Woodruff, Smoosh's caretaker who made that first BUB shirt, still designs Lil BUB's merchandise. Memory Map guitarist Matt Tobey composes scores for Lil BUB's videos. Mark Pallman, former frontman of Bloomington punk-funk spazzes Prizzy Prizzy Please, co-created the Animal Planet special with Bridavsky. The distribution arm of local label Secretly Canadian handles Lil BUB's merchandise. "It's kind of crazy the volume BUB does," Secretly Canadian co-founder Ben Swanson told me. "From a mail-order perspective, Bub definitely does more than any other bands."But above all, two things are paramount to Bridavsky. The first is Lil BUB's health — he won't agree to any appearances that can't accommodate her special needs (veterinary assistance nearby, a clear plan for crowd control, somewhere quiet to hang out). The second is that a percentage of every transaction made in Lil BUB's name goes to charity. For the cat's third birthday, Bridavsky pledged to help raise $50,000 during her birthday month — and by an onslaught of combined efforts, they raised $62,000.
"We could use BUB's image to sell cat food, and that would probably make a lot of money, but that's not what BUB's about," says Lil BUB's former manager Jonathan Cargill. "Ask your own dog or cat: 'Do you want me to sell you out and make a bunch of money — or do you want me to help your friends?' They would probably be like, 'Help my little friends out.'"
I had some one-on-one time with Lil BUB. It was in Bloomington at Bridavky's house, where Stacy and her grey kitten Spooky also live. Mike was delayed a few minutes, so his landlord and Sands bandmate Jason Evans Groth let me in to wait. Upstairs in the living room, one of the most famous cats on the planet was balled up alone on a white shag rug, her tail tucked by her neck. She was awake, but groggy, a state that registers on her brow as swollen congestion. Her left eye squinted like a pirate's. Her azalea tongue drooped like a deli-counter ticket. I kneeled down to her level, just to look. I could not stop.
Bridavsky talks a lot about his cat's sublime "energy." Songwriter Kimya Dawson describes Lil BUB as "the most pure being that exists." Such proclamations read like cuckoo juju, but the four-pound kitty does exude an awestruck intensity that's difficult to articulate without sounding like you just flew through a double rainbow on a winged unicorn. BUB's physicality alone is a genetic marvel. Her midsection contorts like a sea serpent and her front limbs curve inward, like miniature boomerangs. And sitting there, she's so intensely present, you find yourself getting happy butterflies by just looking at her, because there's something significant here to learn, something important about the nuance of shared existence and neural pathways, and — look at her — maybe BUB really does know something you don't.
Then again, maybe she's just a really adorable cat.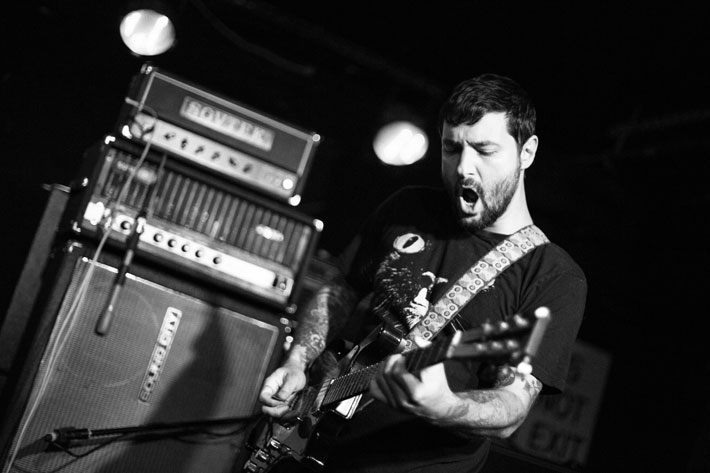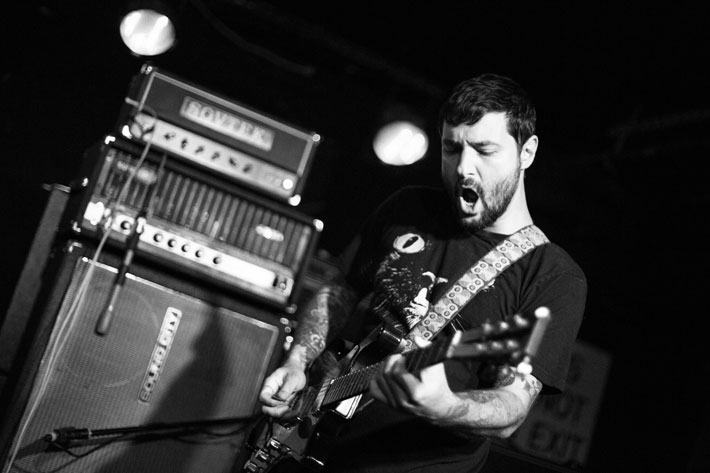 LAST MONTH, BRIDAVSKY returned to New York City, and for the first time in a long time, his Manhattan visit had nothing to do with his cat. His band Memory Map, the math-pop quartet whose future seemed so precarious three summers ago, were touring the Northeast. In April, they'd traveled to Japan, where they have a sizable enough following that they sold out six shows. Both trips supported the release of their Joyful Noise full-length, The Sky As Well As Space — a record delayed for a number of reasons, one of which was the logistical demands of Lil BUB's fame.Back in Indiana, a number of Lil BUB projects were in development. Her 2015 calendar, printed by art-book publishers Abrams, goes on sale in August. A talking BUB plush toy, which will make BUB-like noises, is slated for next spring. A proposal for the sequel to Lil BUB's Big Book, tentatively titled Lil BUB's Bigger Book: Dude Goes To Space, is in the works. ("You'll only see my legs and then we'll go on some adventure," Mike explained.) Also, Bridavsky and Groth have been talking about writing and recording an album as BUB's BUBblegum Band: authentic '60s bubblegum-pop tunes backed by human "oohs" and "aahs," but fronted by a medley of BUB's squonks and squirggels and chirps.That Friday at the Mercury Lounge, there were about 150 people gathered for Memory Map's set. Onstage, Bridavsky wore his black Princess Monster Truck T-shirt. (Princess Monster Truck's caretakers, Tracy and Bryce, were in the crowd; Memory Map would crash at the couple's Bushwick apartment after the show.) After Bridavksy's band opened with two indie-prog songs from The Sky As Well As Space, Memory Map frontman Mike Dixon reassured the audience the next one, "Magnetic Center," would be more accessible. "This is our pop hit," he joked. "We're sending our kids to college on this."
"Lil BUB has to go to college!" yelled a long-haired heckler in the front row.
Bridavsky grinned sheepishly, then went back to playing the guitar.