In 2013, Venezuelan rock band La Vida Bohème stood onstage at the Latin Grammys in black liqui liqui suits, their faces smeared in black paint. The foursome received the best album award for their second full-length, Será, and lead singer and guitarist Henry D'Arthenay gave a short speech thanking their fans and everyone else in their lives who made it possible for them to be there. Their attire made a silent but unmistakable comment on the worsening political and economic conditions in their country. The liqui liqui suit is the national dress for men in Venezuela, but it is usually a crisp white. The band members were known for throwing brightly colored paint on each other and the audience. In this case, the black paint was an unhappy reference to their country's economic dependence on oil.
At the time, food shortages, out of control inflation, violence and kidnappings plagued the country. Socialist president Hugo Chávez had died that March. Protests had begun against the presidency of his protégé Nicolás Maduro, who succeeded Chávez in a contested election. Among the many mounting problems in the South American nation, many foreign airlines had suspended service because of stringent foreign currency controls that prevented them from repatriating their profits. Collectively, the airlines had billions of dollars tied up in Venezuelan bolívars that they were unable to exchange. Very few flights were entering or leaving the country as a consequence. To get to Las Vegas for the awards ceremony, the band had to travel first to San Antonio in Venezuela from their native Caracas; from there they crossed the border to Cúcuta in Colombia, where they flew to Panama before finally boarding a plane to Nevada. They were in Las Vegas for two hours, before repeating the process to get home.
"Our career was thriving but, just to leave the country, that was what we had to do," recalls D'Arthenay, speaking from the offices of Nacional Records in California. The band is in the States following an appearance to promote their third album, La Lucha. The Latin Grammys stands out in his mind as the band's most dramatic period in the days before and after anti-government protests spread through Venezuela and engulfed Caracas, but it's really only one surreal scene among many in the group's ten years together.
[caption id="attachment_id_235845"]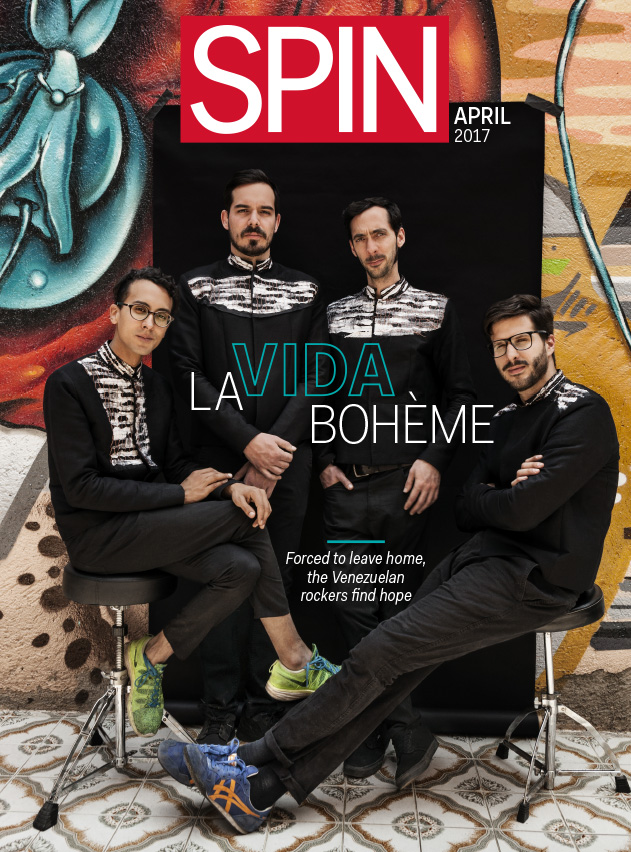 La Vida Bohème / Carlos Alvarez Montero, April 15, 2017 in Mexico City for SPIN[/caption]
The critically acclaimed Será was more mature and somber in tone than their energetic dance-punk debut, Nuestra. Through moody disco rock undergirded by huge beats, it expressed a pessimism that resonated with their fellow Venezuelans. La Vida Bohème is one of the country's most popular rock bands, and the songs "Aún" and "Hornos de Cal" from Será received widespread radio play. For some, the mordant poetry of Será's lyrics, revolving around violence and inequality, became the soundtrack to the demonstrations as they grew into nationwide unrest in early 2014. "Aún" in particular captured the exhaustion of Venezuelans who found it increasingly difficult to survive, with no end to their struggle in sight. It seems D'Arthenay spoke for many when he sang:
Las rodillas me tiemblan pero no puedo parar, quiero que mis hijos tengan lo que a mí me quisieron quitar. (My knees shake but I cannot stop. I want my children to have what they tried to take from me.)
Outside of music, D'Arthenay was focused on caring for his cancer-stricken mother, attempting to get medicine for her and accompanying her to chemotherapy appointments through streets full of burning barricades. On one occasion, he found himself arguing with a demonstrator who was guarding a barricade, or guarimba, that had been set up on his street. The young man didn't want to let D'Arthenay pass until he recognized him as a member of La Vida Bohème. "These kids that were doing this, I agree with them," he says, half-laughing at the memory. "I am also sick of my fucking government, but for me, life in that moment was about being a son. Imagine trying to reason with someone who is burning tires in the street because he's also fucked, because the government has taken everything from him and because he also doesn't have water."
Despite, or, more likely, because of, having lived through such strange and awful times, the band's new album sounds more hopeful than the moody, portentous disco rock of Será, even if the lyrics can be every bit as wrenching. D'Arthenay opens the single "Lejos" singing:
¿Qué estoy haciendo aquí?/Pagando para vivir/Escogiendo sin opción/Perdido donde nací.(What am I doing here?/Paying to live/Choosing without option/Lost where I was born.)
It's easy to connect his words with his own untenable situation as a young Venezuelan. Like much of La Lucha, "Lejos" is bright, anthemic, and pushed forward by a driving beat with a big chorus, but that lightness only makes the existential lyrics feel more poignant.
The band has styled the album as the final installment of a trilogy. In order of their release, the titles of La Vida Bohème's three albums can be read as "Nuestra será la lucha." (Ours will be the struggle.) The statement conveys the spirit of their third LP, which derives its hopefulness not so much from simple optimism, but from a willingness to smile at their most difficult trials. "You have to honor your pain," D'Arthenay says. "You have to let it shine. It's hard, though. It's so hard to let pain shine, to let it be something else, to let it be golden."
The 28-year-old frontman continues: "With La Lucha, I am trying to mend the hopelessness I harvested with Será. In the end, [Será] is a gloomy painting of a desert where flowers will no longer grow. A lot of people connected with that feeling. I felt it, and I believe they felt it too. With La Lucha, I understood that, as artists, the things we bring to the world become this virus. So, with this album, I am trying to plant the flower in the desert." Far from hopeless, "Lejos" sounds downright triumphant, though the lyrics convey a restless heart. Perhaps being able to confront the issues the album deals with and not surrender to nihilism is a kind of victory. At the very least, it's an artistic achievement.
[featuredStoryParallax id="235844" thumb="http://static.spin.com/files/2017/04/LVB-Parallax-Image-1492540028-300x133.jpg"]
Since 2014, the members of La Vida Bohème, D'Arthenay, guitarist Daniel de Sousa, drummer Sebastián Ayala, and bassist Daniel Briceño, who joined that year, have been based in Mexico City. They went to play at the Vive Latino festival in the Mexican capital and just didn't return to Caracas.  Since then, they've only gone back to visit. D'Arthenay took every opportunity to return to care for his mother until cancer took her life, and the band has made trips to perform. Like many Venezuelan artists, musicians, and people from other walks of life, it simply became too hard to stay, so they left when they could. Shortly before the band's Vive Latino date, their friend and booking agent, who hadn't left Venezuela, was kidnapped and killed. Their manager and tour manager were also kidnapped. "It was so much pressure," D'Arthenay explains. "It's very common for my generation. You will speak with anyone from my country around my age, we all have had people kidnapped or killed or taken away from us."
When La Vida Bohème left Venezuela they joined a growing music scene in exile and, with La Lucha, they've now joined a storied lineage of well-loved South American musicians forced to leave home because of unfavorable political climates. It may seem like a stretch to compare La Lucha to, say, Caetano Veloso's A Little More Blue, which the Brazilian singer-songwriter wrote and recorded while in government-imposed exile in London, but there are similarities, both thematic and circumstantial. Like Veloso's 1971 classic, La Lucha deals with friendship and love, wandering and heartbreak. Furthermore, even if La Vida Bohème wasn't forced to leave due to the risk of government reprisal, that's only because Venezuela's current regime is in too much disarray to carry out its threats: At one point, the vice president read D'Arthenay's name aloud on state-run television from a list of supposed "conspirators." The musician had participated in the World Economic Forum's Global Shapers program and the authorities found his name on a list of collaborators when they raided the offices of a Venezuelan anti-censorship non-profit.
D'Arthenay had just moved to Mexico, and, because of this incident, he stayed away from Venezuela for six months to be certain the coast was clear. The thing is, they got his name wrong on TV and in the state-controlled newspapers, skipping over D'Arthenay and reading only his other family name, Magdaleno, which is easier to pronounce. No one seems to have connected the Henry who was involved in this program with the Henry who fronts one of the nation's best known rock bands. Now that any potential danger seems to have passed, the furor appears to have been little more than an embattled government's scare tactic. It's yet another incident that the singer is able to see humor in now. To D'Arthenay, the irony is that he has been an outspoken critic of the Chavista regime for years. If they wanted to find a reason to mess with him, all they would have to do is Google his name. For example, during the protests, he worked with a programmer to create a site that circumvented the government's Twitter firewall and allowed people injured in the protests to tweet their locations.
In Mexico City, the band has followed in the footsteps of generations of other artists and musicians who found refuge and the possibility of renewal there. "Mexico was really healing for us, as people, as band members, as friends," D'Arthenay says. "It greets you with a hug. Just think of Trotsky, [Roberto] Bolaño, Joe Strummer – all these people that were left with nowhere to go and Mexico held them tight and let them hug it out. That's what Mexico did with us." He believes the move saved the band.
La Lucha was recorded in Mexico City and Puerto Rico, with production from Eduardo Cabra, best known as one half of politically outspoken Puerto Rican hip-hop group Calle 13. Cabra and the band had hit it off in the past, and they found a shared sensibility as artists whose music deals with Latin American social issues. Cabra says the situation in Venezuela was a frequent point of discussion during the making of La Lucha. "I think it's great that they are communicating their feelings for their country," he adds. "It's important what is happening in Venezuela, but it's not just in Venezuela. In the whole world, people are going into the streets and letting the establishment know they are there and what they are thinking. It is happening in the States; it is happening here in Puerto Rico, and this is a very important moment for art."  
The band's physical distance from Venezuela shows in the album's sound, which incorporates many distinctly Venezuelan elements that reflect the band's homesickness and a yearning to remain connected to their country in times of trouble. Cabra says that feeling was palpable while he was working with the band: "This is the first album they made outside Venezuela. That made it more raw – the feeling of their country and their love for their country."
Of course, that feeling is created by very specific things. D'Arthenay gently strums a cuatro, on the track "Domingo," and the small, four-stringed instrument imparts an intrinsically Venezuelan flavor. D'Arthenay explains the effect its plaintive notes can't help but have on Venezuelan listeners, saying, "When I hear a cuatro abroad, I get nostalgic because I think about my life back in Venezuela and the music." Another example is the use of a 6/8 time signature on the song "Eliseo." Like the cuatro, that meter is strongly associated with llanera music, a regional folkloric style of Venezuela and Colombia.  
https://www.youtube.com/embed/txM_awhZNW8
There are also more literal reflections of the band's uprooted existence. La Lucha includes samples from field recordings D'Arthenay made in places he's visited all over the world using a hand-held digital audio recorder: birds in Caracas and ocean sounds in San Juan, but also the odd cell phone noise, an interview with former Uruguayan president José Mujica and the voices of friends' children. (Using the audio recorder was recommended to him by fellow Venezuelan musician Arca, who also now lives far from home.) The album's lyrics are drawn from D'Arthenay's notebook, which is another place where he has been collecting: interesting phrases, bits of overheard conversation, newspaper clippings, investigative reports about Venezuela. He describes La Lucha as a kind of travelogue, though not necessarily his own.
All of D'Arthenay's collecting seems to have been an open-ended search for answers. The track that features the children's voices is titled "La Respuesta" (the answer). Searching for answers abroad makes sense when they are in such shortage in Venezuela, where the vice president is being investigated for drug trafficking, the government has responded to a bread shortage by seizing bakeries, and violent anti-Maduro protests have resurged following the Supreme Court's unsuccessful attempt to take control of congress. Caracas is literally descending into darkness. There are fewer lights on the highway at night each time D'Arthenay returns home, and people drive quickly after dark, afraid of kidnappers.
Still, La Lucha's hopeful notes are sincere. "I know we will rise above the circumstances we are in now," he insists. "I know it for sure, and we will do it the same way we have with our personal lives. We will do it the same way we have dealt with the grieving of our parents, the same way we have dealt with the things we have lost that will never be again. We will do it little by little, grain by grain, until the sand becomes a big mountain."