It's getting harder to find Discmans these days, which is bad news for Kurt Vile. "I'd buy so many from Best Buy, and they'd be like, 'You want the warranty?' and I'd be like, 'No.'" Vile appreciates the clear audio of CDs, but what he really likes is their clear operation: He wants to press a button marked "PLAY" and be done with it. Whenever his current Discman broke, he'd head back to Best Buy and purchase another one. "And one day," he says, "I showed up to buy one and they weren't there anymore." He uses Spotify, but he'd just rather not. "They have to invent something that doesn't have a screen that'll port the song in high quality and doesn't fuck with my head," he adds. "I'm really bad in the tech world. Makes my brain spin."
Vile is a fan of face-to-face interaction—or at least in-person interaction. It's kind of tough to find his face when we meet. He's seated on a park bench with his shoulders hunched, his visage obscured by a curtain of dark hair just announcing its intent to turn gray. We're at the East River edge of Greenpoint, Brooklyn, a few blocks from where Vile sometimes stays with his wife's family when he's in town. He's a couple months shy of 39, and he looks like the sort of guy who'd rather spend all day playing guitar.
"A lot of the time I don't know quite what I'm searching for until I get there, except obviously I know the chords and how they make me feel," he says, describing his approach to songwriting. "I've done it enough to know that I get inspired from the motion, the inertia of moving, and things just pop into place."
[caption id="attachment_id_306819"]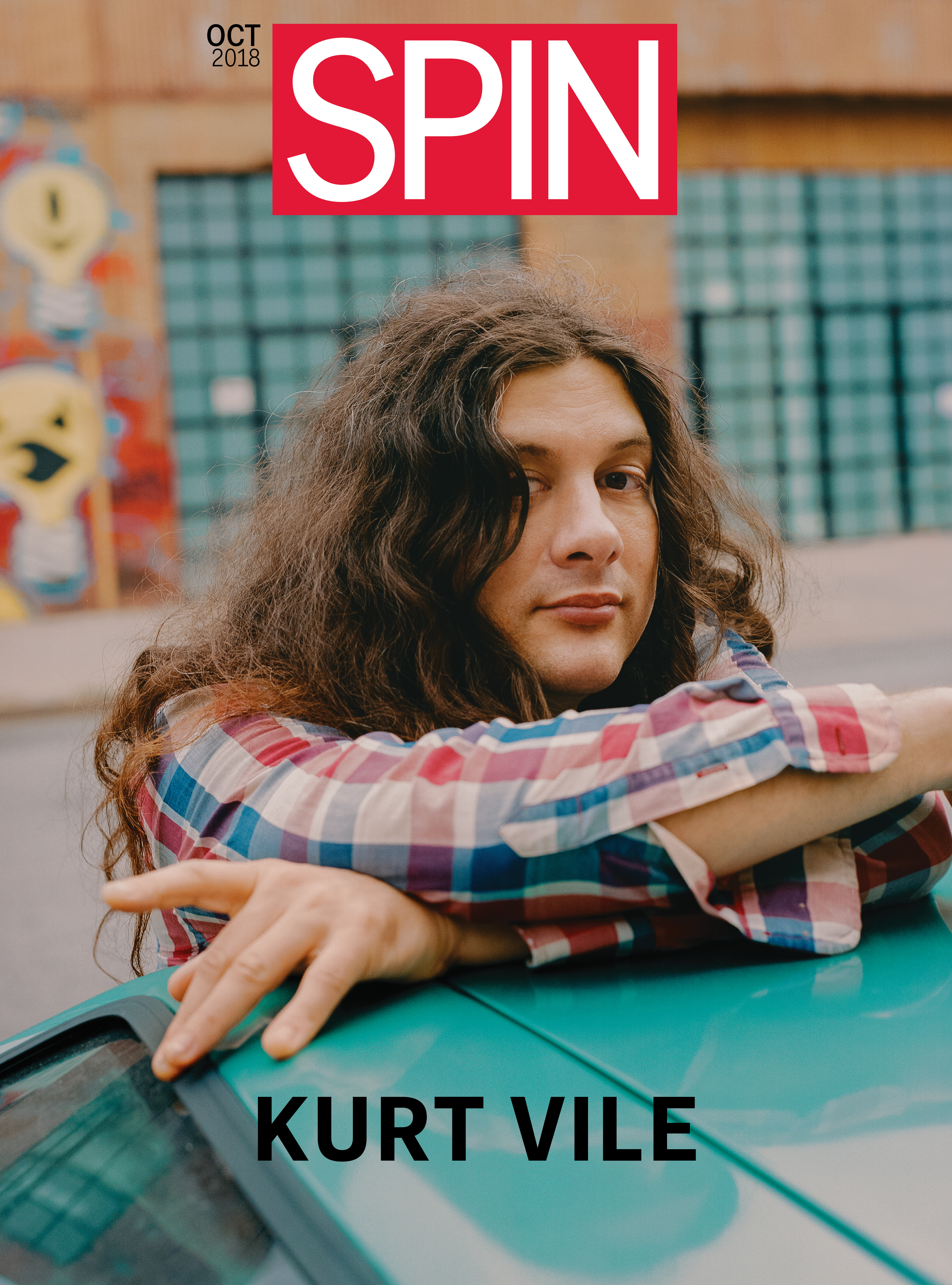 Jessica Xie for Spin[/caption]
"The inertia of moving" is a good way to describe Vile's songs: ambling, understated streams of consciousness that are affecting in the midst of their sprawl. They're currents of time, as though their author were casting a fishing line down into his soul and waiting to see what twinges it. The real Kurt Vile is genial and laid-back; the "Kurt Vile" who narrates his songs has slightly overactive anxieties about mundane activities and happens to look just like him. "Loading Zones," the first single from his new album Bottle It In, begins almost like a to-do list—"Get my shopping done, laundry too"—but before long it unspools into a meditation on whether to "rip the world a new one" or to embrace reality as is. Following Vile around town is a good way to wind up inside your own head.
In the past 10 years, he's released seven consistent, subtly mind-expanding albums to a steadily growing fanbase, never straying from the idiosyncratic formula for longer than a particularly starry guitar solo. There are so many good Kurt Vile songs—"Baby's Arms" and "Wheelhouse" and "Freeway" and "Air Bud," to start—but perhaps more importantly, there are no bad ones. If anything, his catalog to date gives the impression of a near-unlimited musical reserve. Bottle It In arrives today, October 12. At nearly 80 minutes, it's a bit longer than 2013's sun-dappled epic Wakin on a Pretty Daze, the album that earned Vile breakthrough success and endless comparisons to an old friend, former bandmate and fellow Philly rocker Adam Granduciel of the War on Drugs. Lately, though, they've never sounded more different. Somewhere between Daze and 2015's B'lieve I'm Goin Down…, Vile's music burned off some of its overdubbed haze, deglazing into something earthier.
"It's not like he's a guy who plays songs. When he plays it's the purest and most direct form of expression," says Vile's friend Tom Scharpling, host of comedy podcast "The Best Show." "He's just this regular Philly guy who also is touched by something that's really special."
***
In a manner much of the square population would probably find relentlessly unfunny, Kurt Vile is actually hilarious. "To be frank, I'm fried"—a line from "Wakin on a Pretty Daze"— is a Vile joke (think about it). The new album's "Check Baby," a nearly eight-minute extended riff on the concept of the microphone check, is also a Vile joke. Another new song, "One Trick Ponies," is a Vile joke, too: "I've always had a soft spot for repetition," he sings, gentle self-satire set to a wonky guitar hook that repeats itself into a harmonica wooze.
"It's psychedelic and funny," Vile says of "One Trick Ponies," "but it's also me saying how much I love a lot of people in my life, some of whom are maybe not in my life as much anymore, or some people that died."
When I ask him to explain what could possibly be funny about that, he quotes one of the song's goofier lyrics.
"I say things like, 'I'd give my left—never mind,'" he notes, and I tell him I don't get that either. "My left nut, you know. It's just a crass thing dudes say." To other dudes, he means, not that I would know. He's embarrassed to be explaining it, which paradoxically seems to help him to loosen up and talk. I ask him what kind of person he thinks is a one-trick pony.
"Most people are one-trick ponies, to be honest," he says. "Everyone usually has one thing, but a one-trick pony is also a sense of humor, repetition. I have these certain things: I'm pretty good at impersonations, imitating movies or coming up with a joke—with the band, especially. I have certain repetitive jokes I'll always say, and it'll either be funnier every time you say it, or it'll annoy the hell out of somebody. Either one is rewarding to me, you know. If it's annoying somebody, then all the more reason to keep saying it."
That is to say: A Kurt Vile joke isn't so much about the punchline as it is the sheer absurdity of the endeavor. Still, he can be pretty good when he wants to be.
"Whenever he leaves me a message, he does some version of Hulk Hogan," says Scharpling. "When you do an impression of somebody the key is to just capture them in the briefest possible way, to come up with a phrase or sentence that really brings them to life, and that's what he does."
https://www.youtube.com/embed/7mbh43HgT4U
"It's sort of like songwriting, you know," Vile says of impressions, speaking on the phone from Philadelphia a week later. "Maybe it's not that far-fetched from delivering a tune, really. I grew up in a big family"—he has nine siblings—"and we would watch something on video, anything that was extra corny, that wasn't supposed to be funny, we would rewind it over and over again and just scream-laugh at it. Making fun of the TV, that's a very Vile thing, literal capital V. I remember all kinds of random bullshit from '80s and '90s TV, you know, commercials, movie quotes."
Vile loves "The Best Show" so much he can't talk about it without lapsing into an impression of a talking fish, one of many classic call-in pranks by regular guest Jon Wurster (also of Superchunk and the Mountain Goats). He's written two lyrical shout-outs to Scharpling now: on "Blue Cheese," from last year's collaborative album with Courtney Barnett, Lotta Sea Lice, and on the new album's "Bassackwards." The latter one runs, "I was on the radio talking with a friend of mine / There was no format because, well, we like it like that," which is as accurate a description of show's ethos as you're likely to get from one of its participants. The ramshackle referential humor tends to get Vile labeled a stoner, no matter how many times he insists he doesn't smoke all that much.
***
Like all of Vile's recent albums, Bottle It In is built from a patchwork of short-ish recording sessions in different cities: Los Angeles; New York; Portland, Oregon; and Bridgeport, Connecticut. He says it's the only workflow he knows how to tolerate—even two weeks recording in the same place feels too long. "You can do just as much in one day as you can do with one week in the studio, because a lot of the time you're just nitpicking," he says. "You sit around more because you know you have more time. Unless it's your own house, it's not that natural to be there for that long. After awhile you get stuck in this box."
A title like Bottle It In would seem to imply some corked-up inner turmoil, but Vile says he's not feeling that, either. Sure, the title track is "melancholy" and "about rejection," but it's the title track because he wanted to boldface the song he's proudest of writing. "It's really a standout track and orchestral and a new sound for me," he says, falling into the speech pattern of a old-school back-cover blurb. "I feel like it needs more recognition than just to be a song on the record—it has to have more significance."
The precise nature of that significance is harder to talk about. "Bottle It In" opens a stretch of songs as stark and sad and weighty as Vile's ever written. The slow, pretty "Mutinies" nods to dread and disillusionment in a broad sense, but the real betrayals are taking place inside the narrator's own head. "Come Again" puts its faith in reincarnation: "I wanna die, then be reborn / Like seasons comin', goin', gone again," he sings. Most devastating is the spiritual hangover of "Cold Was the Wind," where fear of the devil is outstripped only by torment at the thought of being parted from family. "'Cause like everybody else I'm afraid to die / Did I mention I'm afraid of dyin'?" he asks, the humor of the repetition doubling back as dread.
[caption id="attachment_id_306823"]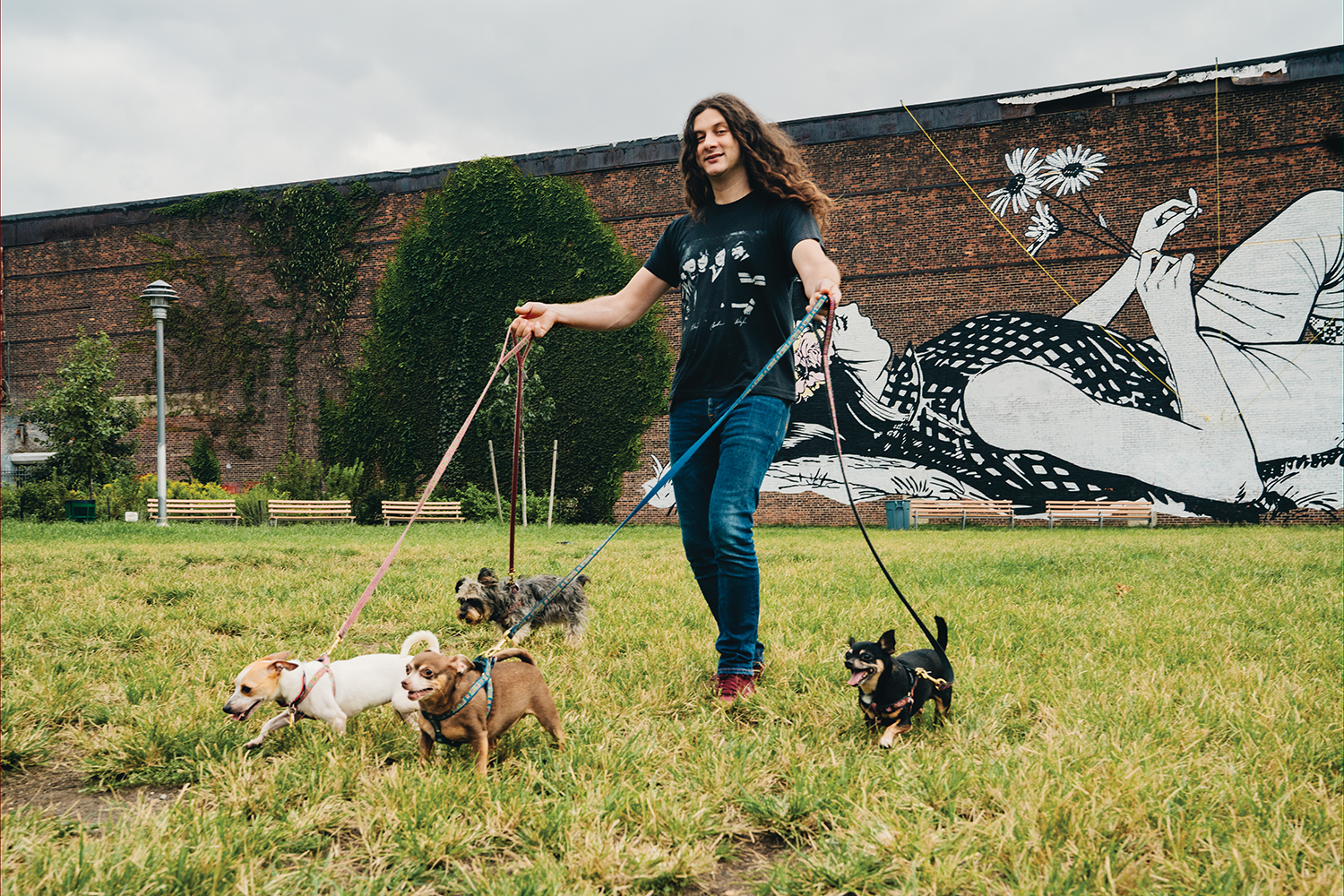 Jessica Xie for Spin[/caption]
There's just one song on the new record Vile didn't write, a cover of "Rollin' With the Flow," first written by T.G. Sheppard and recorded by country star Charlie Rich in 1977. "I was on, and have been on, a country kick," Vile explains. "I asked J Mascis, like, 'Do you like country music, who are you into?,' and he told me about Charlie Rich."
J Mascis tells me he doesn't know "Rollin' With the Flow" (and he doesn't remember having this conversation with Vile, either). Mascis is keen on an earlier, pre-fame period in Rich's career, when he briefly recorded with Memphis soul label Hi Records and its in-house band, the Hi Rhythm Section. "I was obsessed with that label for a while," he tells me. "You know Hi Records, that Al Green was on? All the songs had the same band and different singers, like Ann Peebles and Syl Johnson. I really liked the sound of the band, and it always sounded the same, which is cool."
By 1977, Rich had long since assimilated into the Nashville machine, scoring a string of hits with a smoothly romantic style that took cues from pop as well as soul. The original "Rollin' With the Flow" is a big, chintzy ballad with weeping strings and a sleepy backbeat.
"Anyway, along the way I also just happened to pick up this used CD of Best of Charlie Rich for a couple dollars," Vile says. "There were two songs on there that really grabbed me, one was 'Good Time Charlie Got the Blues,' and the other was 'Rollin' with the Flow.' It just seemed like a good one to do with my band the Violators—like, try to capture the whole groove, take away the big strings and the lady voices, but deliver the rest, best I can." That's not strictly true: Vile first intended to add Barnett on backing vocals, but she wasn't available to record them, so he sang it alone. He's subsumed the song so thoroughly into his own style that at first you might not realize it's not original, at least until you notice how short and structured it is. "Slick," he calls it.
"Rollin' With the Flow" is about, yes, rollin' with the flow, but I find it deeply sad: It's the sound of a man watching his peers settle down and start families, working overtime to convince himself that he "ain't never growing old"—that as long as he lives in the moment, life won't pass him by. The original was a comeback song of sorts: Rich's first big hit after a professional low period and some heavy drinking, including a legendary incident at the 1975 Country Music Awards where an intoxicated Rich staggered to the podium, read the nominees for Entertainer of the Year, asked Loretta Lynn for a date, announced the award for "my friend, John Denver," pulled a lighter from his pocket, and lit the winner's envelope on fire. Vile learned about that episode from Mascis, although in Mascis's hazy retelling, Rich announces the award for himself, and Denver is more of an afterthought.
Watching that CMAs tape now, though, it's clear that Rich's joke—whatever it was supposed to be—doesn't land. The audience laughs, but even through the signal decay of '70s television to lo-fi YouTube upload, the atmosphere feels strained. They're laughing with him because laughing at him would have felt cruel.
[caption id="attachment_id_306821"]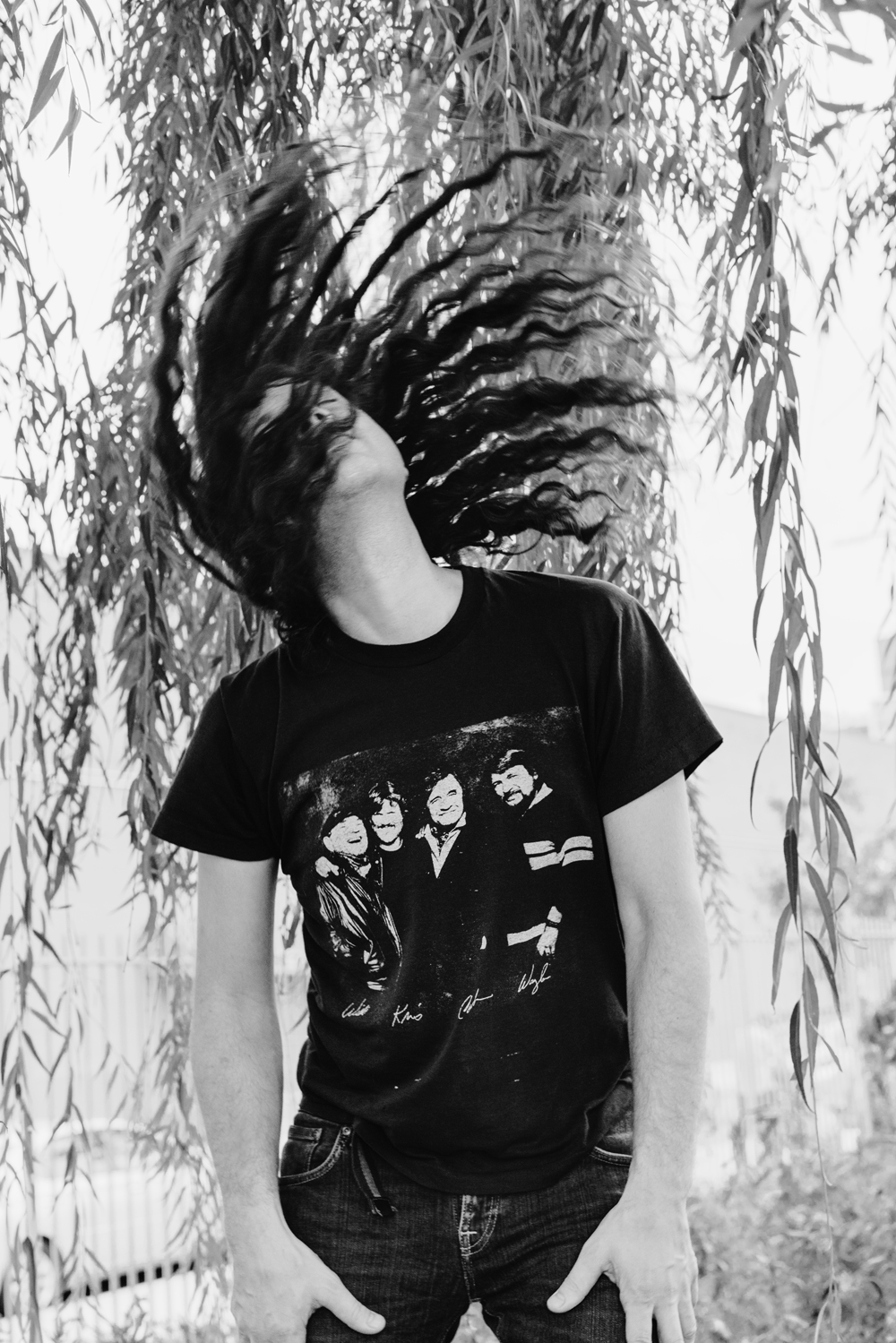 Jessica Xie for Spin[/caption]
"I guess it is technically about a sad, lonely man—deep down he probably is," says Vile, when I float the idea that "Rollin' With the Flow" really isn't all that copacetic. "Getting older, still raising hell—but I actually do have kids and I'm still raising hell in my own way. You know, healthier version." Vile has two daughters, ages six and eight. After we finish talking he's taking them to a harp lesson. His version of "Rollin' With the Flow" feels lighter and less painfully self-aware. The Violators recorded a few takes; the one that made it onto Bottle It In opens with a faux-seedy "How's it goin'?", Vile's impression of a cowboy-hatted lounge singer introducing himself to the dive bar.
I suspect Vile is fascinated by broken-down country heroes, men who keep hanging around as if times aren't changing. He has a bit he does about a night a couple of years back, when he brought his family to John Prine's 70th birthday celebration in Nashville. In reality, Vile was most excited to meet Prine, a personal hero, but the person he wants to tell you about is Billy Ray Cyrus. His Billy Ray impression has a loud, oblivious quality, but it's rendered almost lovingly. It wraps like this:
"Finally, we had enough interactions that I came up to him again later, like, 'Billy, I gotta go, it was nice meeting you.' He looked me right in the face and said,"— here Vile drops into a gravelly voice—"'Hey man, listen, I got bad news for ya! Your daughter, the one that was in your lap, she looks just like Miley when she was her age! I could see it in her eyes—she's got charisma! You better watch it! She's gonna be somebody!' That's all." He giggles a little."'I got bad news for ya!'"
It's pretty ridiculous, of course, to imagine Kurt Vile's daughter becoming the next Miley Cyrus, but maybe that's not what Billy Ray meant. Maybe it wasn't Vile's daughter he saw something in, but instead Vile himself. Billy Ray Cyrus rolled with the flow for awhile, and at some point the flow caught up. Kurt Vile, for the time being, is still rollin'.