Individually, they're undeniable hit-makers. Together, they're a supernova. There's nothing funny at all about their astounding success, with bbno$'s tracks alone amassing more than 5 billion streams, no doubt aided by 3 million TikTok followers who recently witnessed him admitting that his lyrics are sometimes just "straight gibberish," a lyrical, modern Jabberwocky set to upbeat music, poeticizing such bardic monosyllabics as "lick" and "dick." Through the bbno$ looking glass – it's risqué balladry.
"It's time to do some deep-diving of my emotional well-being," bbno$ tells me, shortly before he heads out for the China leg of his 2023 tour. His full name is Alexander Leon Gumuchian, and this is the third time we've talked in over about a year, so now — and always — I can describe him with certainty as polite, contemplative, and constantly committed to self-betterment. Devotion to his family and hope for a lasting relationship are recurring themes, along with — potentially — overthinking the future of things.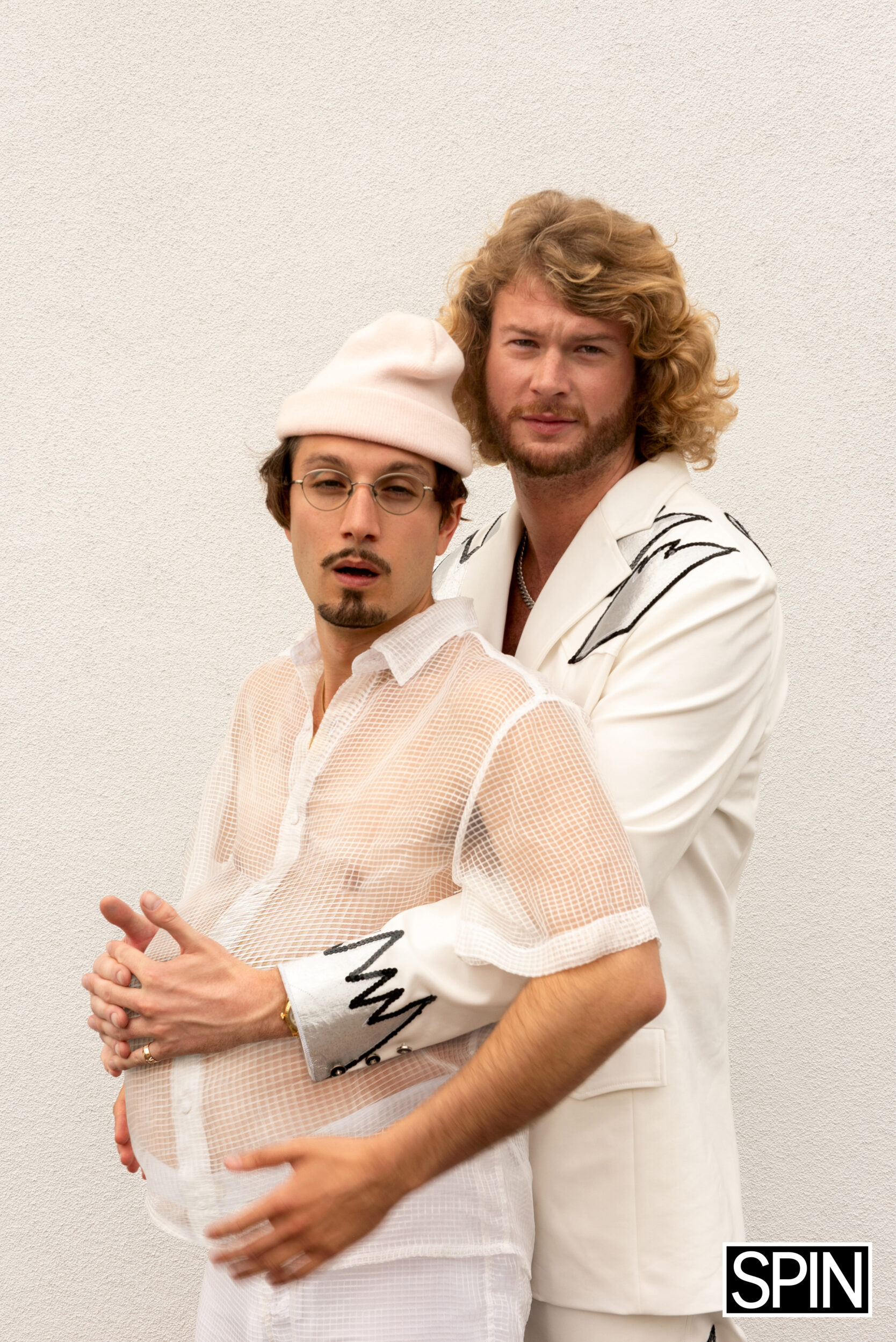 If you've seen his videos, you might think he'd be in a constant loop of pelvic thrusts, or uncontrollably interjecting the conversation with "ballin'" or "bitch," and he's definitely never told me he would "gladiate the coochie like [he's] Russel Crowe." Like Chaplin's top hat and waddle, those are all part of performance. Pairing these rhymes with silly-smart videos — from 2019's punky "Lalala" puppets to Baby Gravy's recent "No Way Jose" Brokeback Mountain homage — he's brilliantly allowed his listener to be in on the joke, too.
Yes, when I speak about Alex, I refer to him as a "nice guy."
No surprise at all that he describes Baby Gravy 3 (released on August 25) as "meticulous, well-thought-out songs" — Alex is meticulous. Last night he slept over at Yung Gravy's house – an "actual, literal mansion" — and now he's proudly contemplating the early days of their meeting, both of them just starting out, and how he "believed deep down" in his friend's future stardom, including a "weird paranormal feeling." Their friendship is a cosmic lesson in how to do it, with Alex admitting he looks up to Yung Gravy, careful to keep his jealousy in check, speaking warmly about their closeness and "brotherly love." On the cusp of turning 28, Alex attributes this perspective to the guys "growing up."
"We'll have some crazy ideas that we're just laughing over, but then parts of those ideas end up in the song."
Yung Gravy
"I'm doing tons of personal growth and working on myself, like my mental health, my baggage, all my trauma issues and shit." He's proud of Yung Gravy for working on himself, too. Even though his friend can be stubborn at times, Alex says he appreciates him "profoundly…I love him for everything." (And that, according to Alex, affectionately includes Gravy's mom.)
Alex is no stranger to collabs: Rich Brian ("Edamame"), Rebecca Black ("Yoga"), Connor Price ("Not a Beanie"), the aforementioned "Lalala" with Y2K. But for the staggering 40 songs bbno$ and Yung Gravy have produced together, Alex feels it comes down to that inherent special sauce that you just can't put your finger on.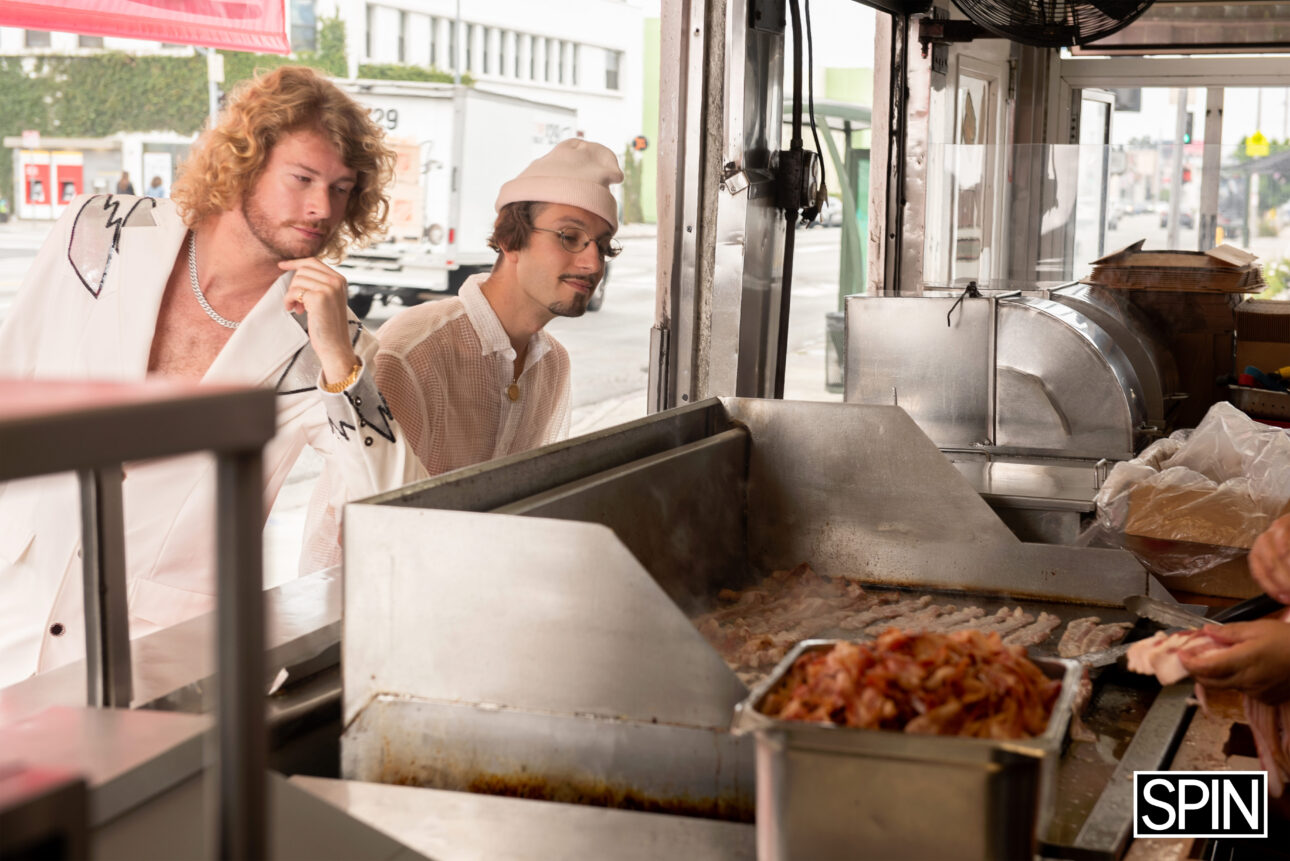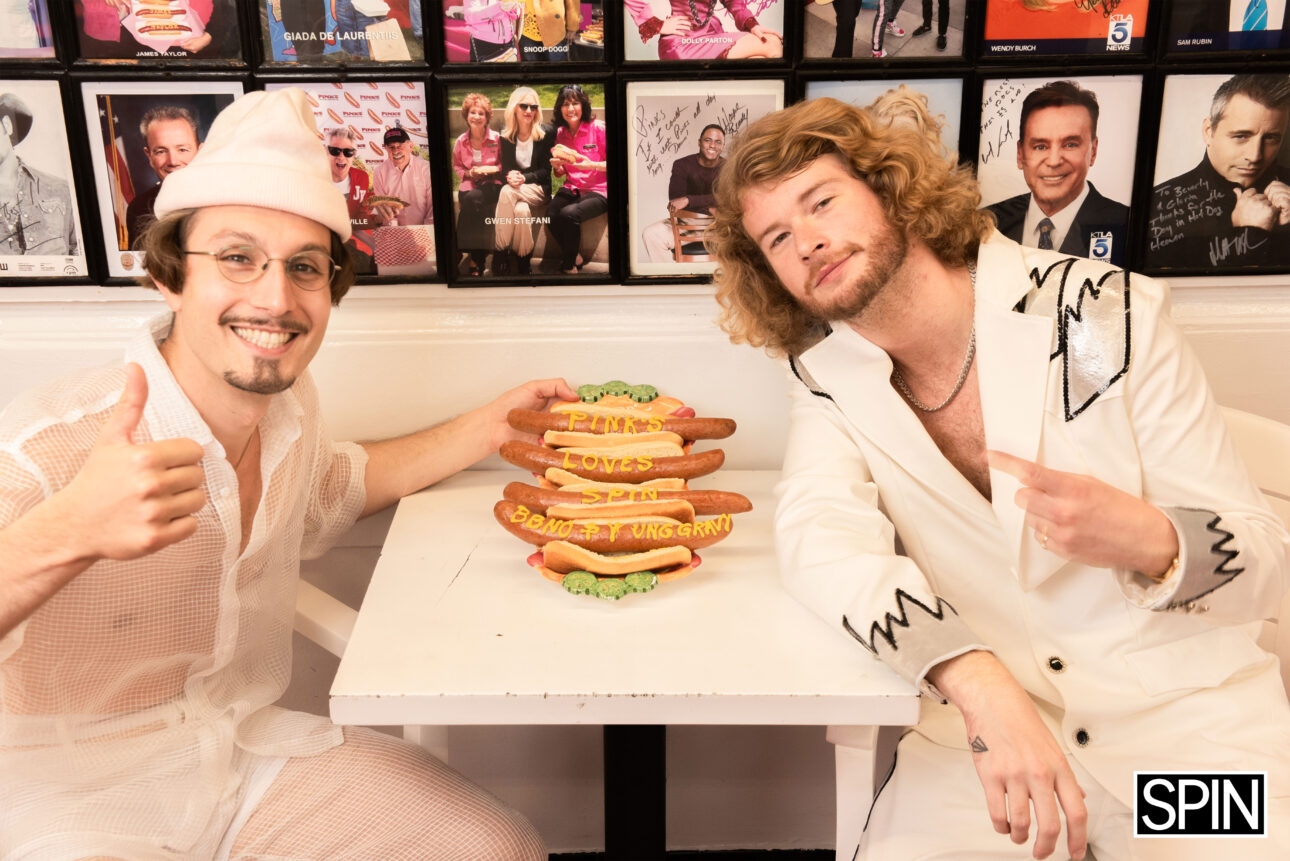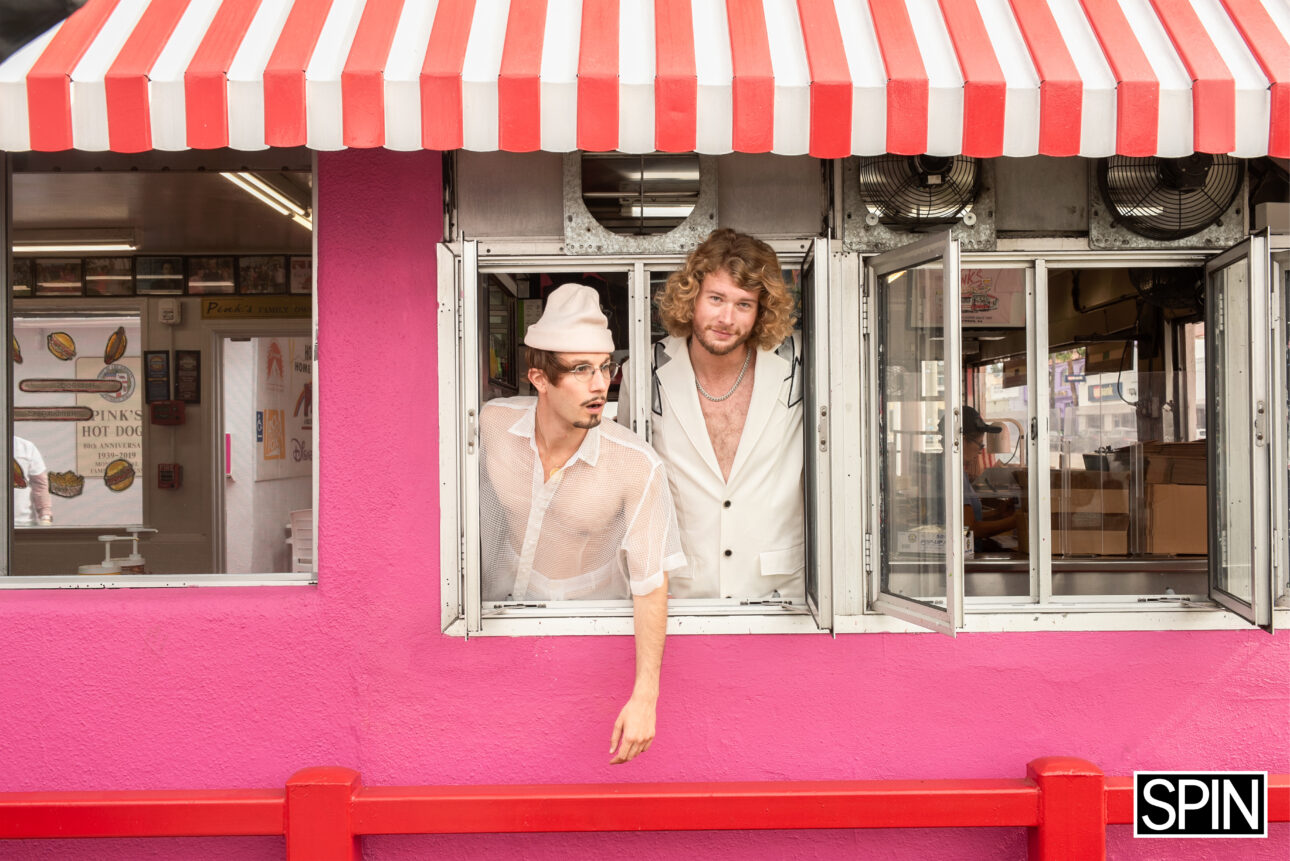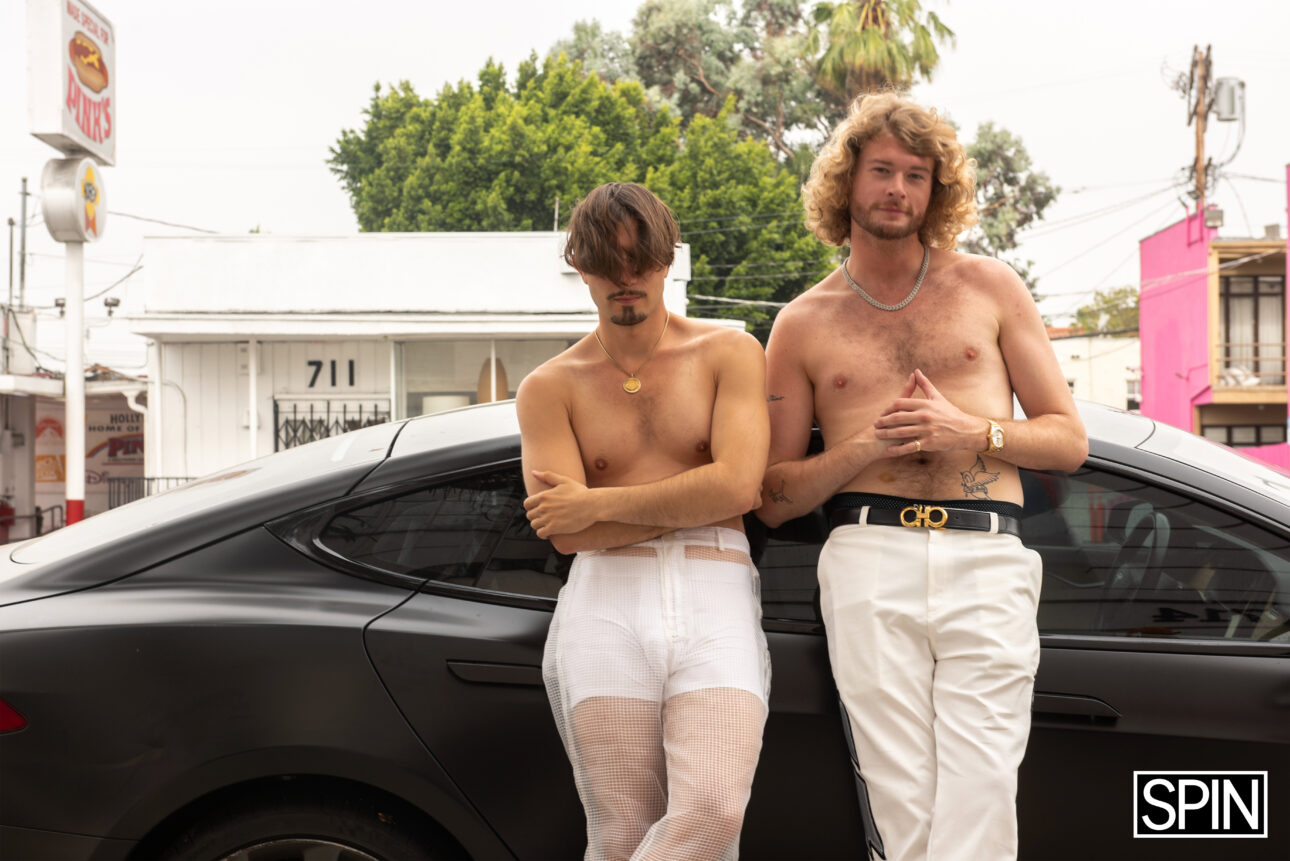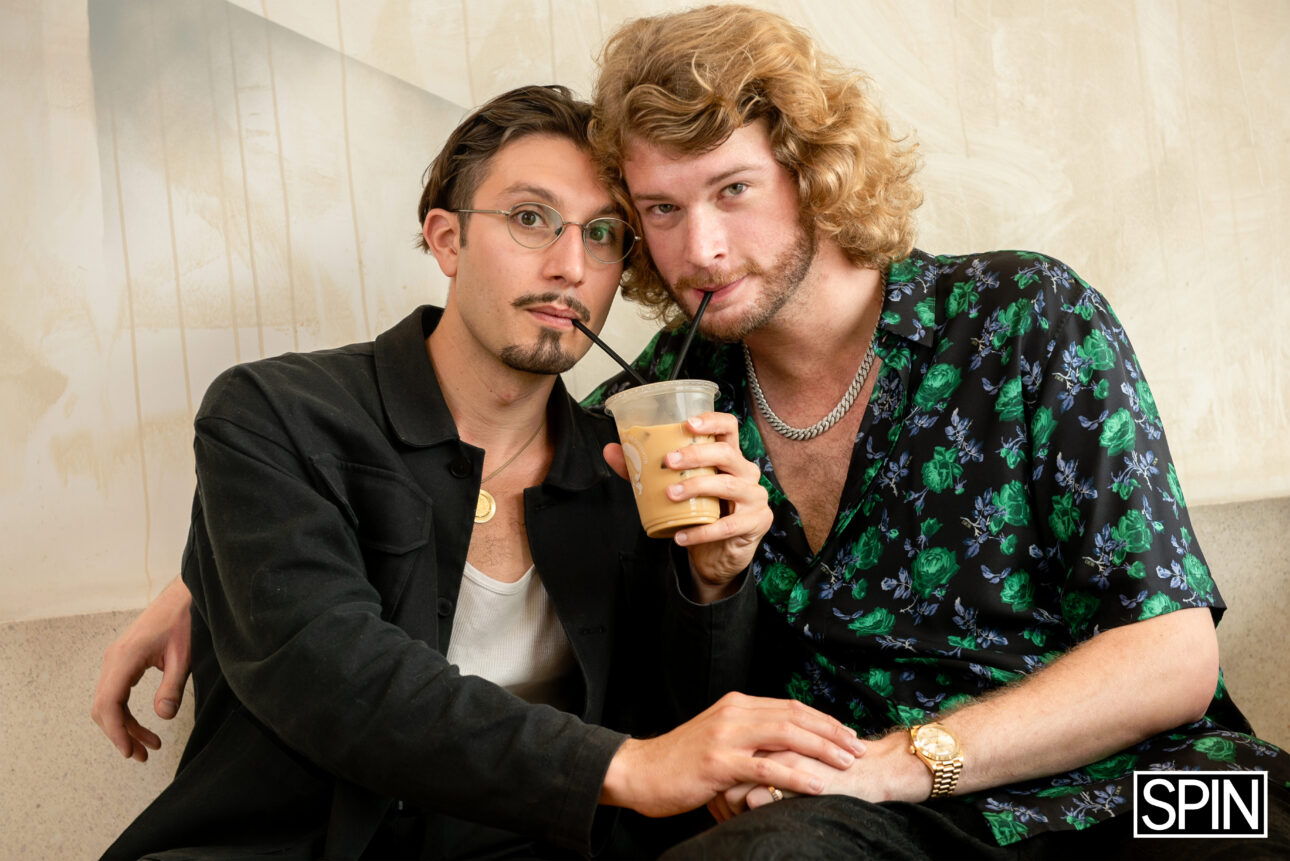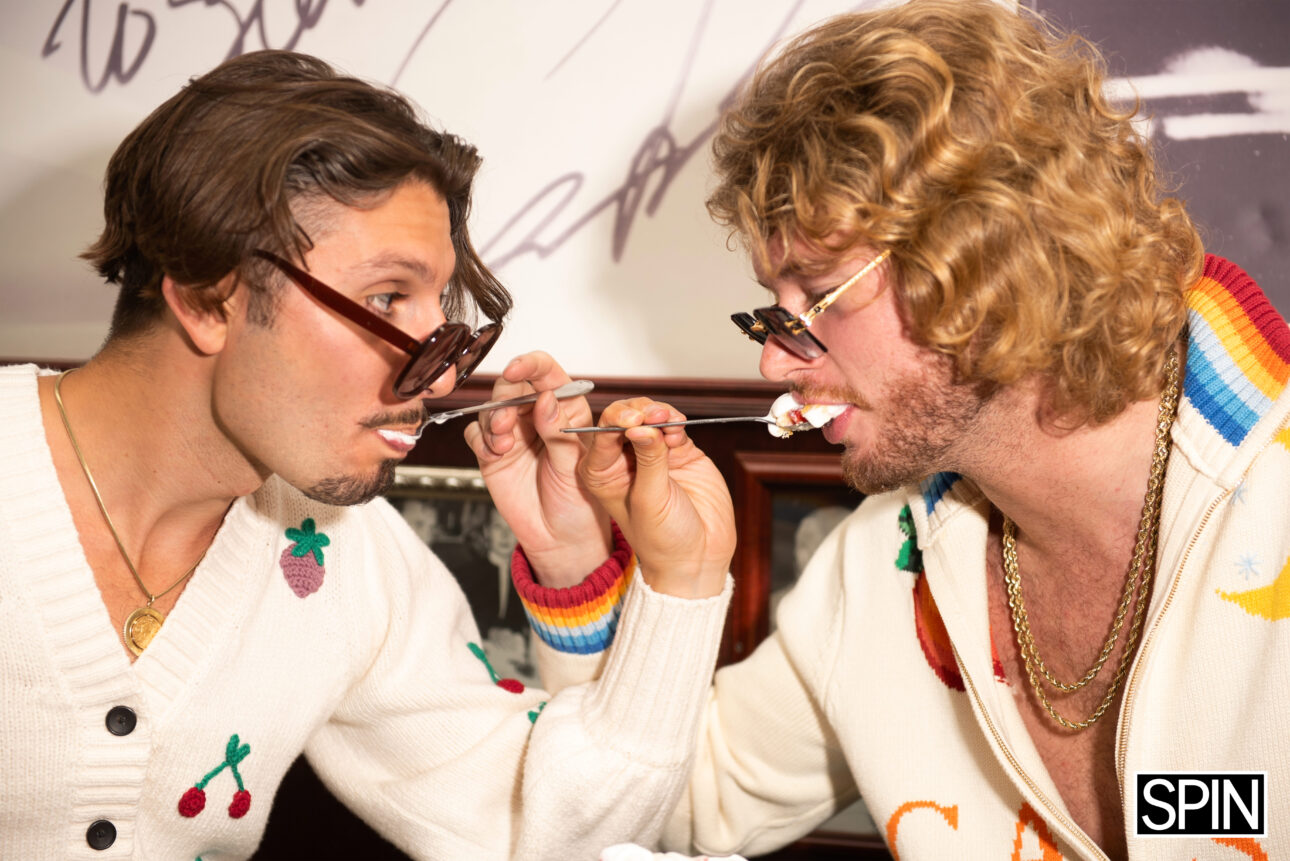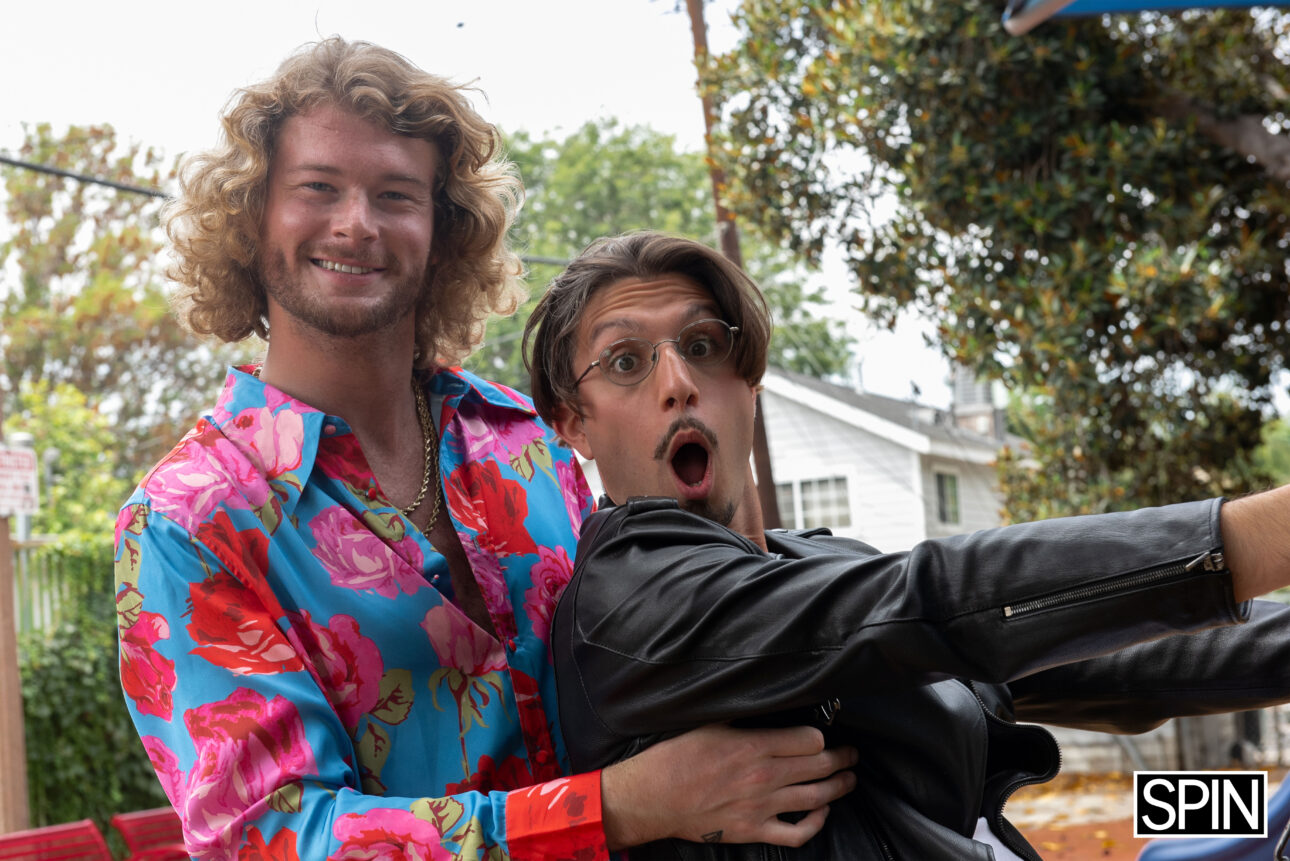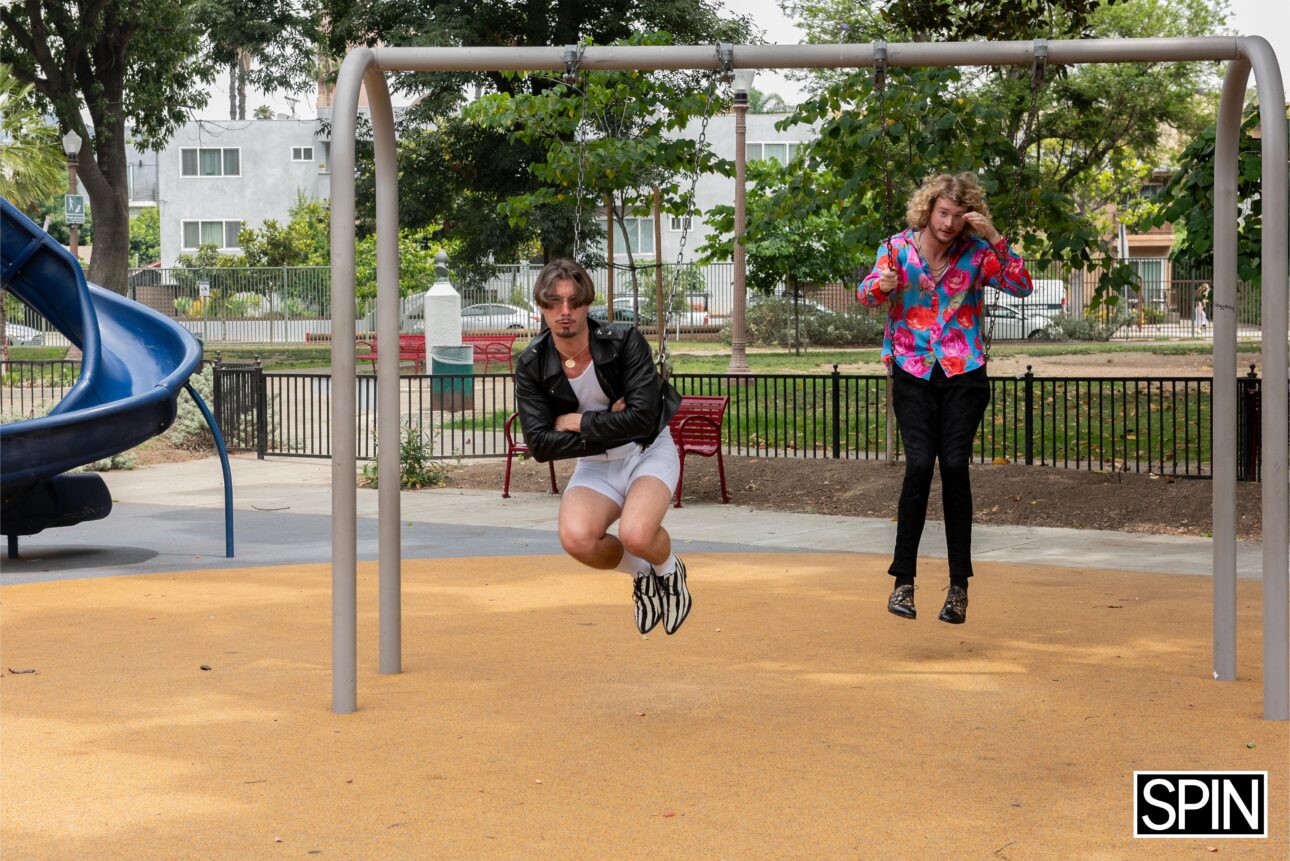 If Matt's three platinum and four gold singles (and 10 sold-out tours of North America, Europe, and Australia) — combined with Alex's billions of streams — are signs of any kind, looks like the Baby Gravy rapture is officially upon us.
Or maybe, boys just want to have fun. "He knows how to have a good time," Alex says. "Every time I hang out with him…it reminds me that life is good."
Making sense of nonsense might just be the secret to Alex's success. Or is it creating grown-up nursery rhymes for shamelessly naughty adults? Perhaps those are one in the same.
"Did I think making music this way and being myself on the Internet would make sense to people? No, but it does to some people, and it's fine and it's great, and I have a fan base and it's cool, and some people think I'm the biggest loser in the world and some people think I'm God. I'm never going to please everyone."
For him, success isn't defined by chart-topping singles — or even money. And it's not all about his music, either. "I don't give a shit about the money, doesn't matter," he says. "Charts? No, that shit doesn't make a fucking difference at all. At least [not from] my perspective. Just songs that do well…it's validating…just a career of growth. It increases my platform. It increases my ticket sales. It increases the people that listen to me and take me seriously. That's what a hit is, in my opinion. I view a lot of things in my life as 'charts' because they're really, like, in layman's terms, it's mental health, physical health. A straight line up is better than a straight line down. You can pretty much define everything mathematically."
By these markers, he feels his spiritual side is on the upswing. "There's two sides of therapy. One's the clinical side, and one's more of a spiritual side. I've been noticing that I'm way more of a spiritual person. Hypothetically, it's because I've done hallucinogens in the past… I just feel like if you do two different types of therapy, put one on a scale and put the other one on a scale, clinical is…you get the therapy, you get the relief, you get to speak to someone. The more spiritual side of things, you get the therapy and you get to dig deeper with yourself, which I don't think you get as much from the clinical side of things. I feel like the spirituality thing really speaks way larger to me than I've ever noticed in the past, and I don't know why. My sister's literally like a PhD. She has a PhD in clinical psychology, and she's like, 'Alex, you're an idiot. Spirituality healing is nonsense.' I'm like, 'Is it?' When people are so tied down to typical research models and educational models, they miss the point.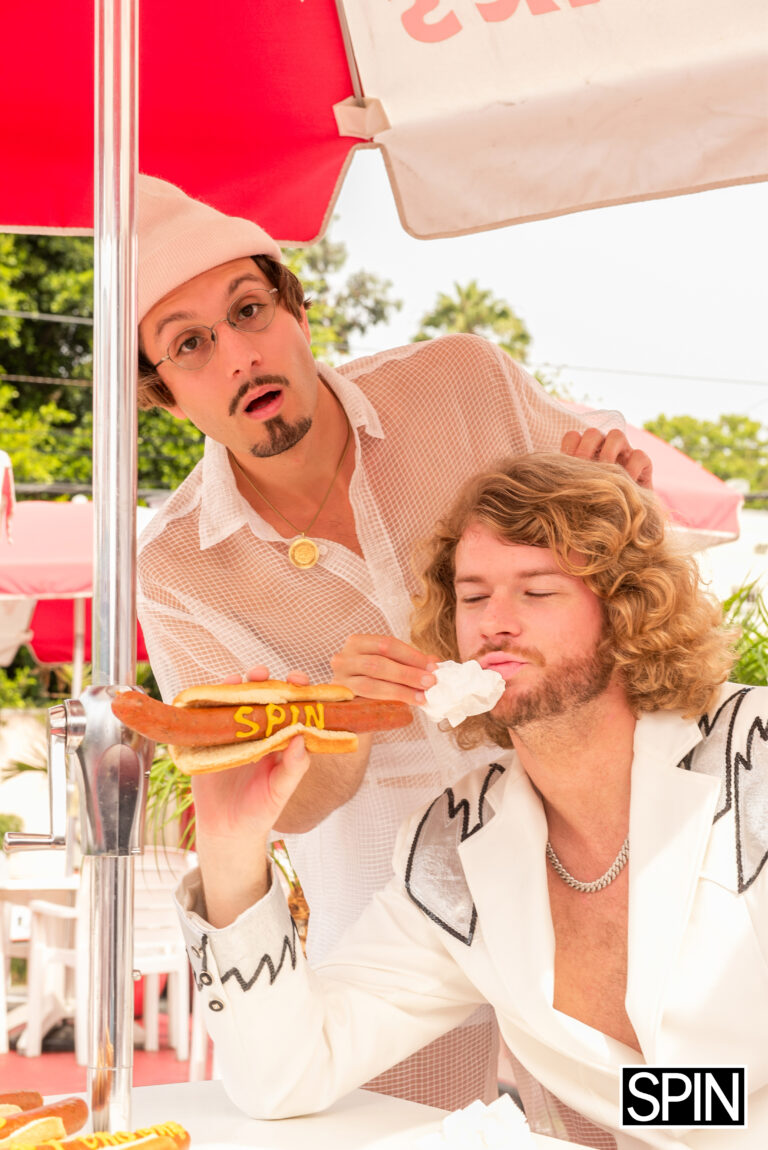 "Every time I hang out with him…it reminds me that life is good."
bbno$ on Yung Gravy
"Like these people that go to school for music, they miss the point. They miss the creativity. They miss the heart in music because they follow it, textbook, with how it's done. Time and time again, everyone who is successful, their success is almost solely based off of their ability to interpret difficult situations and spit it out as success. Not following a linear pursuit. When I found Gravy, I was like, 'No one sounds like this. This shit is stupid. I know it will be successful.'
"I was like, 'This guy makes sense. I get it. I get him, he gets me.'"
Matt Hauri — Yung Gravy — smiles and tells me he's "fine," though I don't believe him. Just a few days before, at the end of his show, he tripped, his 6' 8" frame smashing to the ground, breaking his left elbow and right wrist. You can view the video on his Instagram (@yunggravy) where, wryly, he begs his 2 million followers for "tips for beating your meat with no hands." There's no evidence of any of that precociousness today. At 27, his blonde ringlets fall almost cherubic around his face. He's cordial, smiling sleepily despite the circumstances, visibly struggling a bit with comfortability, never complaining, though he's unhappy to have to miss some upcoming shows. "It's just a good gut feeling," he tells me, "this one isn't going to take that long to heal."
He's not sure of the exact square footage of the house he's recently purchased, but from where he sits and how his voice bounces from its cavernous ceilings, either there's not enough furniture or he's not fully moved in. ("There's this big main house that I think is 2,500, 2,800 feet. It's not actually huge. No. It's more, I don't know, I think it's like 3,000 in here.") Workers walk through the background, he's excited for the place to be coming together, giving me a virtual tour, describing his plans with boyish enthusiasm.
"It was the pool house…it's now becoming a recording studio. Have a few guest rooms and a guest house, and I'm really putting everything together… Then, there's the studio house, a garage. Then, even further down the driveway, there's a guest house that is basically untouched. It's old. That needs a lot of work….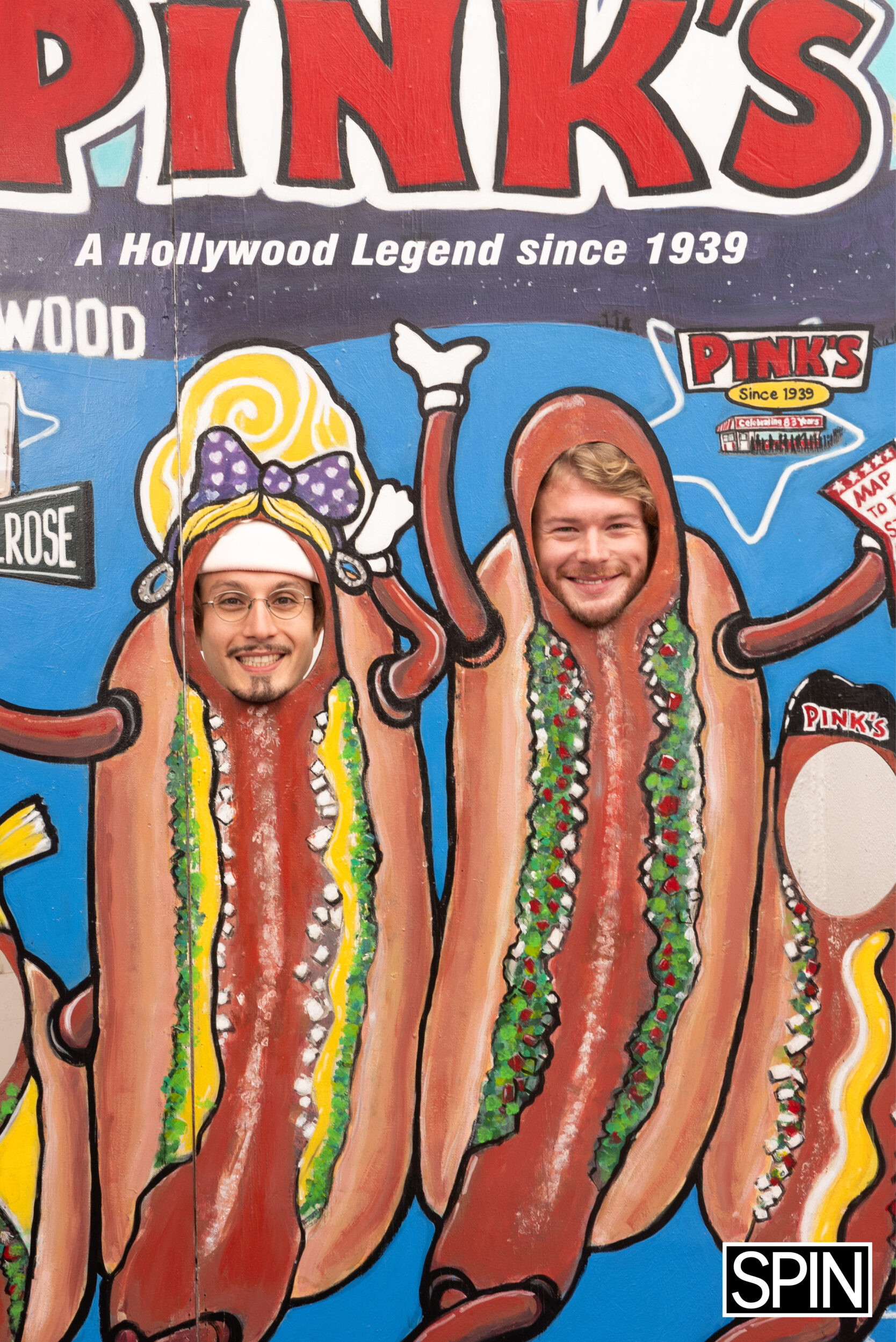 "I'd say that my persona in my music is probably closer to my real personality than a lot of people might think."
Yung Gravy
"I have a lot of privacy. I could do with a little more."
It's no surprise that he's down to earth, as that old proverb about "birds of a feather" consistently proves true. If Alex is always working on something — his inner-self, conquering the algorithm — Matt is yang-ing Alex's yin by standing strong and seemingly unbothered. As Alex left for China yesterday, today they haven't spoken, and Matt says that he misses him, genuinely.
Creating Baby Gravy 3 remotely seems to be going smoothly, partly, according to Matt, due to the long-standing relationships with L.A. producers dwilly, Diamond Pistols, and Y2K, who produced the now-gold singles "Welcome to Chilis" and "Shining on My Ex," off of 2020's Baby Gravy 2.
"We did some sessions together when we were both here in L.A.," he explains, "and then we both had to go back on tour." They tried hard to record together, and sometimes succeeded, a Hawaiian sojourn spawning the "Goodness Gracious" video. When back in LA, they shot the "You Need Jesus" music video, where Alex and Matt wave crosses on soapboxes, invoking apocalyptic lightning from above, rapping about rapture.
If Matt's three platinum and four gold singles (and 10 sold-out tours of North America, Europe, and Australia) — combined with Alex's billions of streams — are signs of any kind, looks like the Baby Gravy rapture is officially upon us.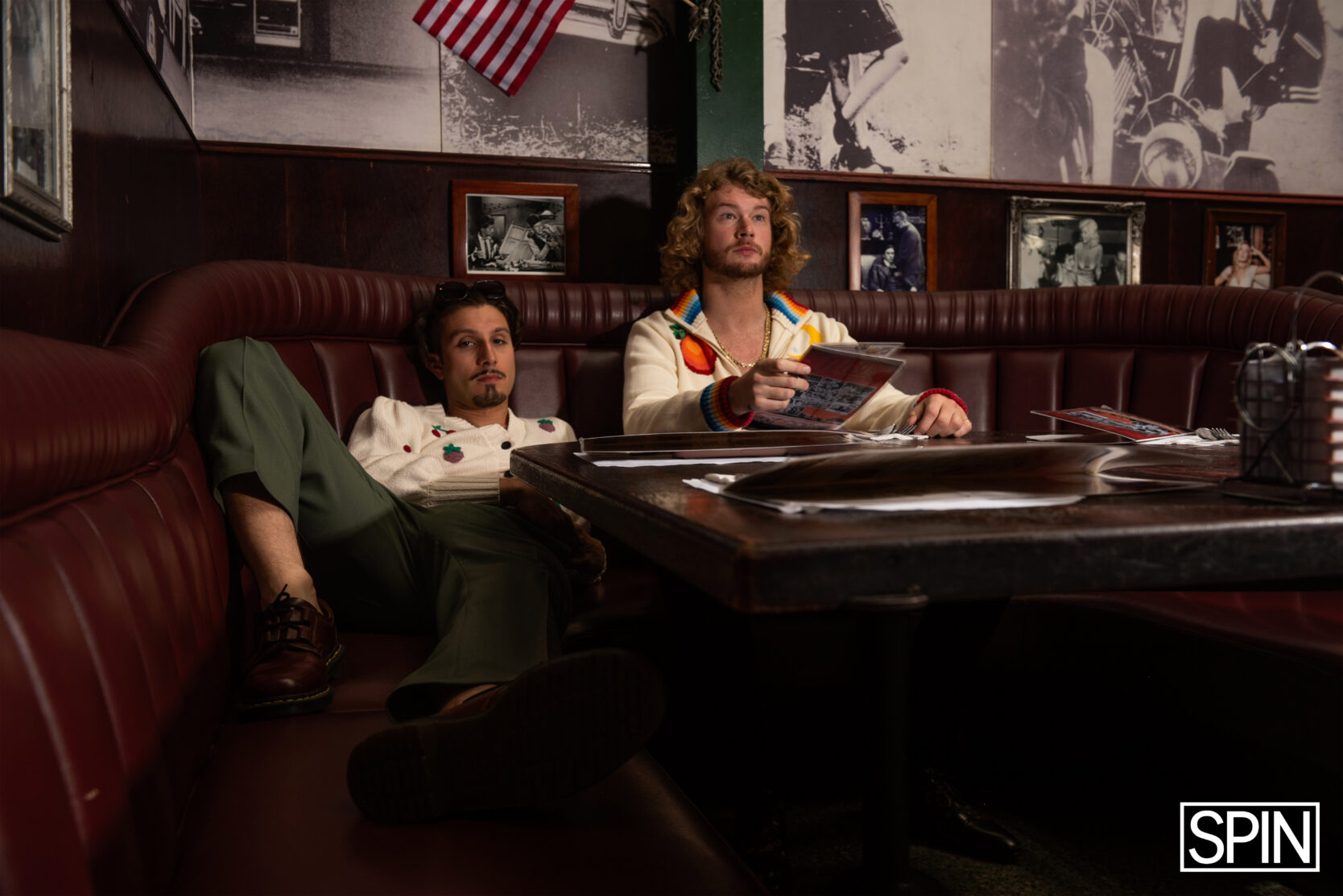 "When I found Gravy, I was like, 'No one sounds like this. This shit is stupid. I know it will be successful.'"
bbno$
Alex was one of his first friends on SoundCloud, both of them part of a group where artists support each other's music. "Alex and I got along really well. He was the main artist in there that I could see myself actually working with… When we met, I think I had 200 followers on there, he had 300, so we were really, really starting from scratch. I didn't know anybody in real life that had any music background, so I was just learning as I went." According to Matt, they were both in college at the time, Alex earning his degree in kinesiology at the University of British Columbia Okanagan, and Matt studying marketing and finance at University of Wisconsin-Madison. Around the summer of 2017, with deal offers from labels, he thought about dropping out but pushed through: "I wanted to be able to tell my mom that I graduated."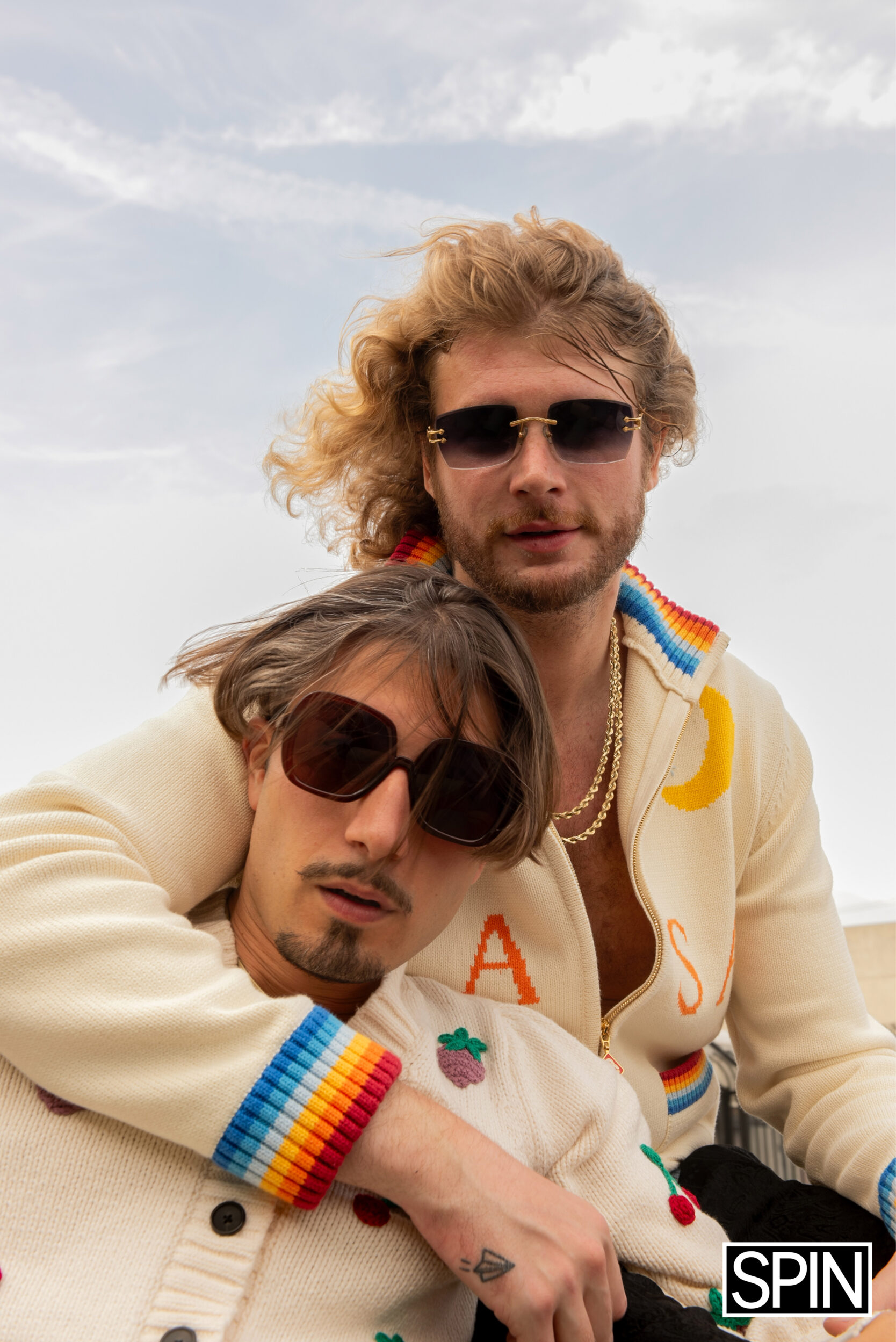 He and Alex became friends and in 2017 released their EP Baby Gravy. "I actually met him in person after that," Matt says. "It was at least a year if not two before we met up in person. I just took a flight out to Vancouver, and we shot some music videos and just hung out in person and messed around, and then we ended up taking a road trip to L.A., shot more videos, and that was how everything started."
"He talks about you like you're a brother," I tell him.
He pauses for a moment. "Yes. I'd say the same thing. Like a brother. Feels good."
When Matt graduated from college, he was focused on finding a job—not music. "A lot of people don't even know this, but the first two years or so that I was releasing music, I never revealed my face. I was some mysterious figure. I would just post pictures of pin-up girls and old ads and stuff and never show my face. It was like a mystery thing. One of the reasons why I did that, I thought it was cool, but also I had a job at a startup accelerator that was offering me a position for after graduation and I didn't want them to find out that I was putting out this kind of raunchy music online. My identity was a secret for a while."
The big Yung Gravy reveal was the video for his now-certified Platinum 2016 single "Mr. Clean," shot with some friends around Madison, his 20-year-old face in clear view. "That's what started my trajectory," he says. Graduating in the summer of 2017, he traded the actual graduation day "walk" for a sold-out tour.
"I was kind of embarrassed," he says.
Soon friends were recommending his own music back to him — not knowing it was him. Without a lot of close family (his father passed away when he was 16), his mother was his main concern. He'd managed to keep her in the dark about his exploding career for about a year. "My mom found out accidentally through a friend who heard it and just assumed that I had told her, which is fair. I had to explain…'Mom, this is a career thing. I'm not just fucking around.' I showed her the money that was coming in from merch and everything and streams, and she's very supportive and happy. Since then, she's been to probably 20 of my shows and [I've] brought her on stage, and she listens to all the music and she's a very big supporter."
For a while he kept a condo in his home state of Minnesota and is "very proud of [his] Minnesota heritage," it's his biggest fan base. "Whenever I go back, it's hard for me to do anything without just instantly being recognized and having people mob on me. I can't really go to a lot of public places in Minnesota."
He's not the kind of guy that blends in with the crowd.
For their obvious closeness, they are very different guys. "I'm trying to balance my anxiety towards success and everything as much as possible. I'm almost the opposite [of Alex] where if we drop a song, he'll be very focused on the numbers and watching how it grows… I mean, whatever the outcome is, I can't control it because I don't want to spend my time really stressed out, and I've worked with Alex a lot on trying to get him in the right mindset, and he's got a lot better at it.
"Basically, my goals are more in the space of just being happy and healthy and I guess continuing my career in a way that's sustainable, but doesn't put too much stress on me because I've definitely done too many periods of time where I was overbooking myself for shows, staying up all night, and it's not a good, sustainable way of living. I guess my goals aren't really numbers but more finding a way to balance my life with my career because in my mind, I've already accomplished what I wanted to, and if it ended right now, I think I'd be fine and I could move on to something else."
When asked if, like Alex, his performance reflects a "persona," he says, actually, no. Matt and Yung Gravy are pretty much the same. "I'd say that my persona in my music is probably closer to my real personality than a lot of people might think," he tells me. "I built the whole brand and persona around my actual personality and what I'm into and just accentuated it a little bit. I don't really have to watch my actions as much and my own brand as a person. If I was in a corporate job, I'd be fired. My personality and how I actually am [is] a lot closer to Young Gravy than [not]." His lyrics, he says, are "a little bit exaggerated…obviously not all factual, but a lot of the things that I actually say on stage or on social media and everything, nothing's really fabricated. It's mostly me. I'm lucky to be able to just be myself and have people listening to it."
Working with Alex helps to achieve a balance. "It's also good to have him around because another thing we're a bit different on is the partying side of things where I've tamed it down a bit, but through college and high school and everything, I've always been a big partier. I'm a little bit more on the crazy end of things, get myself into trouble, get myself hurt, do dumb things. He's on the more tame side, healthy and not wanting to party, and then it's cool to meet in the middle. He helps me from making bad decisions, and I get him to try fun things, and that's a good combo as well.
"I discovered, I think in the process of making this album…the process of us together in the studio is more than just a sum of the two parts…I realized that like every little bit of the song, we both have an impact on that because we both work on the production and the arrangement and all the melodic aspects of it, and like you said, with making sense of nonsense, when we're in the studio, a lot of times we're just having a really good time. We'll have some crazy ideas that we're just laughing over, but then parts of those ideas end up in the song. Down the line, they make us happy and they work out where it's things that we were just fucking around and trying, and then they end up sounding good and people like it."
When asked to address the multiple definitions of baby gravy, Matt offers the most Yung Gravy of responses: "Baby + Gravy = Baby Gravy. Why is this a question? ; )"
"He helps me from making bad decisions, and I get him to try fun things, and that's a good combo as well."
Yung Gravy