Well, he's right--it does feel pretty empty without him. It's a few hours before the MTV Video Music Awards, and things are frantic inside Radio City Music Hall. Onstage, the show is getting its final run-through. Host Jimmy Fallon stumbles over the typos on his cue cards. Someone shouts into a walkie-talkie, "Is Puffy in the house?"--for once, it seems intended as a real question.
Now it's Eminem's turn. The beat for his guitar-heavy anthem "White America" starts blaring, the curtain is pulled back, and a spotlight reveals...an anonymous, intern-age white kid in a polo shirt, holding a rolled-up piece of paper to his lips. Eminem's recorded voice fills the room, but the rapper is AWOL. Then as the track switches to "Cleaning Out My Closet," Eminem calmly ambles out from the wings and steps into his assigned spot. About 90 seconds later, the song ends, and, hands thrust in pockets, Hip-Hop's Most Wanted slips out the side door.
Apparently, Eminem was tardy because he was in the studio until 6 A.M., scrambling to finish the score for the November release of 8 Mile, which is about to make the biggest star in pop music even bigger. His year has been a nonstop multimedia huggling act--from acting to touring to recording (The Eminem Show, at almost six million copies sold as this is written, may be the year's biggest-selling album). And while he has mostly hit his marks, occasionally things don't turn out as planned.
Which was the case at the VMAs later that evening. Oh, his performance was fine, if unexceptional. And he won four awards (including Best Video of the Year). But on a night that should have been a painless celebration, all anyone was talking about (along with wondering what the hell happened to Axl Rose's face) was Eminem's bad behavior.
First, acerbic hand puppet Triumph the Insult Comic Dog (a.k.a. Robert Smigel of Late Night With Conan O'Brien) confronted Slim Shady after completing a skit with Moby (with whom Eminem has been feuding since last year, when Moby criticized what he considered to be Eminem's sexist, homophobic lyrics). Startled, Shady and his bodyguards shoved the puppet away; and when Eminem accepted his next award, he taunted "that Moby girl," saying, "I will hit a man with glasses." Suddenly, the crowd was loudly booing the evening's big winner.
Later, a member of Eminem's Detroit crew, D12, passed Moby a drawing of the rapper strangling the slightly built electronic musician. According to Moby's online journal, "Eminem called me a pussy (off camera) and then threatened to beat me up." In a previous interview, Em had dismissed the rivalry as a joke: "How ridiculous would it look is I was really serious about kickin' Moby's ass? It's like stepping on a flea." But he remains strangely obsessed. His stage show has featured an unnerving skit during which a flying Moby is "shot" down.
Though Eminem won't discuss the VMA's incident, his manager, Paul Rosenberg, says the conflict was a misunderstanding. "Em had no idea who Triumph was and thought it was a whole skit built to make him look silly, with Moby sitting behind him making faces. He just wasn't in a joking mood." MTV cut the episode from the rebroadcasts of the show, but Eminem was left looking like humorless bully.
So why this fixation? Is it that Moby is acknowledged as an "intelligent" artist while Eminem, even to his defenders, is usually considered a wild loose cannon? Or is it just the Eminem, as he has constructed his character, needs enemies--and because there seems to be less opposition to his juggernaut, even from PTAs and right-wing radio hosts, Moby is a convenient straw man? Whatever the cause, the evening was a reminder that no matter how popular Eminem becomes, the hair trigger on his emotions doesn't get any less sensitive.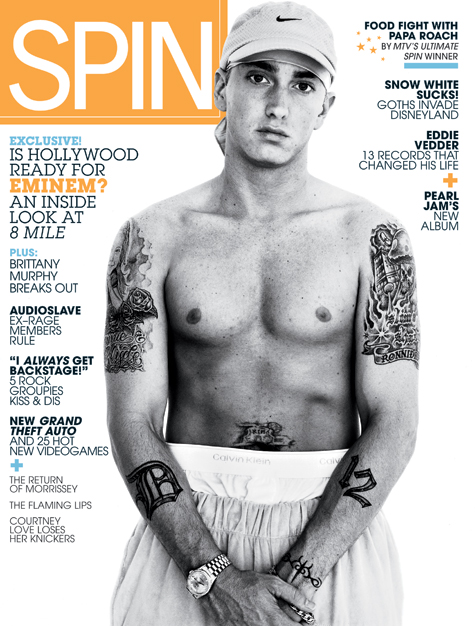 It's not news that hip-hop has taken over in some unlikely places. Still, when you find yourself at the New Mexico State Fairgrounds--behind the stable,s near the Future Farmers of America booth, past signs for the gun-and-knife show--faced with an arena of kids screaming every word to an hour-long set by Eminem, you take note. But sitting in his bus/mobile studio in the Fairgrounds' dusty parking area as openers Papa Roach and Ludacris warm up the crowd, Eminem seems far away from Albuquerque and focused squarely on getting 8 Mile ready. "Everything is rush, rush, rush," he says. sitting forward on a bus bench. "It's crunch time." Em is still working on the film's music, even on drives between tour stops. e kept a similar schedule while filming in Detroit last winter--writing and recording songs for the soundtrack between scenes. "I busted ass on that movie," he says, while oversize Ludacris bobble-head props roll past the bus windows. (Of course, the star still relaxes in his own sweet way. When we finish talking, he says he has to get ready for his performance--you know, shower, change, etc. "I beat off before every show," Eminem adds, deadpan.)
By now you've heard plenty about 8 Mile--that Eminem head an affair with costar Brittany Murphy (unclear), that the movie is the story of his life (not exactly true), that he's going to win an Oscar for his portrayal of aspiring Detroit rapper Jimmy "Rabbit" Smith Jr. (far-fetched, but early reviews were positive, including a standing ovation at the Toronto Film Festival). Directed by Curtis Hanson (L.A. Confidential, Wonder Boys), the movie is a convincing depiction of hip-hop circa 1995, highlighted by knockout MC battles and climaxing in the triumph of the driven, under-appreciated white boy--equal part Rocky and Purple Rain.
"I wanted to make a movie that concentrated on the struggle, not just of me being a white rapper," says Eminem. "But the struggle that rappers go through--period. I kinda felt like I don't want to be Elvis; I don't want to be like, 'Oh, my life, woe is me.' So we made a movie that took bits and pieces of my life, but it could be anybody, and anybody can relate to it.
"8 Mile is the story of a young MC who's trying to get the nerve to rock the mic and the local hip-hop club and is forced to move back into a trailer park with his wreck of a mother. The film's script is merely credible, but Eminem's screen presence is a revelation. He goes from cutting down an auto-factory coworker (played by Xzibit) in a lunch-line freestyle to serving as confidant for a mentally challenged member of his crew- When his mom's loser boyfriend cranks some Lynyrd Skynyrd in the trailer, he and running partner Future (Mekhi Phifer) bust some rhymes to "Sweet Home Alabama." He also has an explicit sex scene with Brittany Murphy and even stands up for a gay factory colleague. And he does it all like a seasoned pro.
"I always felt like I had some natural ability to act," he says, "but this wasn't like a little cameo or something--I had to carry this whole movie. Curtis came to Detroit, and I was showing him around where I used to live, and I said, 'As soon as I can give this movie my 100 percent focus, it'll be nothing for me; it'll be easy.' And Curtis was like, 'I don't know if it'll be easy...' So I had to humble myself and listen to him.
"When we sat down for the first rehearsals," he continues, "I thought I knew what I was doing. But I really had to train myself. There are things that a person might do by habit with their hands or their mouth, and if you do that all the time onscreen, it's going to look retarded! So there were little tricks of the trade I learned."
Hanson was intrigued by Eminem's persona but needed to be convinced that the rapper could pull off a starring role. "What it took to get me there was talking to him very bluntly and spending time with him," says the director. "What impressed me was that he took the job or performing in this movie as seriously as he took his own musical work. He said to me very clearly that what he was interested in was being an actor in a movie made by a good filmmaker. Ultimately, he's an actor to me, and as an actor, he brought to the project everything that I would want in terms of discipline, focus, respect and commitment.
"It was Hanson who decided to set the story seven years in the past, in that distant era before Tupac and Biggie were murdered, in part to avoid comparisons to Eminem today. "We were trying to tell a story about the fans of hip-hop," says Hanson. "The power, the meaning that it has in their lives, but also the dream that success in hip-hop represents. In another era, it could have been basketball or boxing."
8 Mile coproducer Brian Grazer says he went through similar reality-versus-Hollywood issues with last year's Best Picture Oscar winner, A Beautiful Mind. "In that case, I wanted to do a movie about the mentally disabled, and John Nash's story lent itself to that," he says. "This time I wanted to do a movie about hip-hop and how it works and the pain and struggle involved, and Eminem was the perfect way to do that.
"Grazer recalls the exact moment he became interested in working with the rapper. "I saw Em at an awards show," he says. "They cut to him, and in the span of five seconds, I was able to see and feel his range--from that detached power to a kind of comic, fluid vibe; from the icy 'I'll kill you, motherfucker' glare to something light and whimsical. I thought, 'I have to meet this guy.'" Brittany Murphy recalls a similar epiphany. "I saw his video for 'The Way I Am,'" she says. "I called my mom into the room, and I said, 'This guy is going to be a huge movie star.'"
A very curious thing happened with the release of The Eminem Show: Eminem started to become socially acceptable. There were no big protest over his lyrics, no boycotts, no talk shows devoted to his impact on America's youth. "One of the frustrating things was people saying, 'He's got to cuss to sell records,'" says Eminem. "That's why with this album I toned it down a bit as far as shock value. I wanted to show that I'm a solid artist and I'm here to stay." In the upscale weekly The New York Observer, one columnist even wrote that Eminem had become a "guilty pleasure" for baby boomers, describing the rapper as "the most compelling figure to have emerged from popular music since the holy trinity of Dylan, Lennon, and Jagger."
In fact, Eminem is even starting to bear a resemblance to one of those rock icons. Granted, it's a long way from "All You Need Is Love" to "Just Don't Give a Fuck," but in many ways, Marshall Mathers is becoming something like this generation's John Lennon. While you sputter into your Pepsi Blue, consider the following: Lennon and Eminem were both subjects of pickets and protests; they both wrote songs about troubled relationships with their mothers; they both wrote about their strange public lives with their wives; they both wrote about how much they loved their kids. Lennon, of course, was able to find ways to use his voice to advocate for peace rather than just blasting away at litigious family members and various pop stars, but still, few other pop musicians since Lennon have found a way to render their private psychodramas into compelling art as effectively as Eminem.
Em seems pleased, if a little perplexed, by these parallels. "That's a good comparison--I would rather have that than Elvis. I hope I don't ever get killed by a fan like that, though," says the man whose greatest achievement might be the piercing stalker chronicle "Stan."
The Eminem Show documented a year during which this uncommon American Idol divorced his wife, was sued by his mother, was arrested several times (for attacked a member of the Insane Clown Posse and for attacking John Guerra, whom Em claims he caught in a clinch with his wife), and faced the very real possibility of going to prison (on assault and weapons charges). The album casts the three women in his life--mother Debbie, ex-wife Kim, and daughter Hailie, as the motley gang from your favorite reality-TV program. The album proves that Eminem may be the most dexterous, vivid writer in pop music. It's also the only album this year that sold more than a million copies in its first week, despite leaks that twice moved up its release date."
That shit is gut-wrenching," says Eminem of the songs that appeared prematurely on the Internet. "I don't ever want people to know what I'm coming with next. But I don't blame the kids. If we woulda had the Internet when I was 15, I'da been all over that bitch."
In fact, as we sit in the Albuquerque parking lot in mid-August, "Lose Yourself," the propulsive first single from 8 Mile, has been leaked to radio stations weeks ahead of its scheduled release. Plus, CNN is sniffing around because the Internet-only animated video for "White America" seemingly references the Columbine school shootings. ("We put Charles Manson away for life," said Darrell Scott, who lost his daughter at Columbine. "He didn't kill anyone, but he influenced his followers to do so. Eminem has more followers than Charles Manson.") But this is Eminem business as usual--things have been remarkably free of chaos in the months since The Eminem Show dropped. Which, in typical Mathers fashion, he views as a mixed blessing.
"Eventually, I might need some drama in my life to inspire me," he says with a hint of a grin. "With [2000's] The Marshall Mathers LP, everything that everybody was saying--I took that, and it was my ammo. And then when shit died down a little bit, I had other turmoil in my personal life, so that was what I was able to dump out on The Eminem Show. Now, I just gotta wait for the next phase of my life. But something always seems to happen, man; something's always gotta be fuckign turbulent.
What most pleases Eminem about 8 Mile is that the movie returned him to a less chaotic time, when he was hungry, when hip-hop meant everything to him. "It reminds me of me before 'Eminem,' before I started making a name," he says proudly. "I had to strip myself of all ego and really be me before I made it. Yo, it was a trip! I was recording The Eminem Show, and I put it on hold for three or four months and did the songs for the movie. When I was done, it took me a few weeks to get my ego back, to get my confidence back, and to be Eminem again."
Now 29, Eminem is thinking about his future off the mic--he's building the roster of his Shady Records imprint, which will release the hotly anticipated album from mix-tape vet 50 Cent, and he will soon begin working on the follow-up to D12's platinum debut. "My dream one day is to sit back like [producer/mentor Dr.] Dre, stay in the studio, and make music. That's my ultimate goal, 'cause the truth is I can't rap forever. I can't see myself in ten years jumping around the stage like a fucking kid."
So how long does he intend to continue rhyming? "Until the day I pick up a pen and just can't think of shit, ain't got nothing to say. Then I'll just quit," he says intently. "Because then you get on a kick where you start living past through your raps, and that's all you have to talk about--'Back when this happened and this and this,' and you get stuck on back-in-the-day because nothing is happening in your life. That's what I don't ever want to happen."