Austin-based post-punk trio Urban Heat has unveiled "Like This," the first single from its forthcoming sophomore album, The Tower. The project will be released by Artoffact Records on a 2024 date to be announced. The "Like This" video is pulsing psychological thriller, depicting a night out at a club where bandleader Jonathan Horstmann shifts bodies between his own and a mysterious woman.
The clip was directed by Teresa Jolie, and produced by Horstmann and Ben Greenspan. "'Like This' came about the way a lot of our songs do: start with a beat that slaps, and mess around till there's an undeniable bass groove," Horstmann tells SPIN. "The synth melody is one of my favorites that I've written for Urban Heat. As for the lyrics, they say 'Write what you know.' I deal with depression and have a history of substance abuse, so that's what happened. Maybe someday I'll stop writing about it, but there's still plenty left to explore on a personal level."
Urban Heat begins a month-long North American headlining tour on Nov. 15 in Denton, Tx. Ahead of the 23-date run, the trio is slated to perform with Ghostland Observatory on Oct. 28 in Buda, Tx., and at the Darker Waves festival in Huntington Beach, Ca.
Earlier this year, the band released two singles, "Goodbye Horses" and "Blissful Neighbor." Its debut album, Wellness, came out in 2022.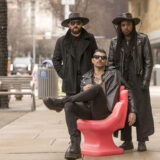 In our May profile of the band, we wrote that Urban Heat captures "the frustrations of trying to make it in a big city when rents only go up and the squeeze is put on creatives. That they inspire you to move around and embrace the night is to say the struggle is worth fighting."
Urban Heat 2023 Tour Dates:
Nov 15 – Denton, TX – Rubber Gloves
Nov 16 – Albuquerque, NM – Launchpad
Nov 18 – Huntington Beach, CA – Darker Waves Fest
Nov 19 – Las Vegas, NV – Backstage Bar & Billiards
Nov 24 – Kansas City, MO – Mini Bar Kc
Nov 25 – Minneapolis, MN – The Hook and Ladder Theater & Lounge
Nov 26 – Cudahy, WI – X-Ray Arcade
Nov 28 – Chicago, IL – The Empty Bottle
Nov 29 – Columbus, OH – Rumba Cafe
Nov 30 – Cleveland, OH – Beachland Tavern
Dec 1 – Toronto, ON – Hard Luck Bar
Dec 3 – Montreal, QC – L'Escogriffe Bar Spectacle (L'Esco)
Dec 5 – Cambridge, MA – Middle East – Upstairs
Dec 6 – Philadelphia, PA – MilkBoy Philly
Dec 7 – Millersville, PA – Phantom Power
Dec 8 – Newark, NJ – QXT's
Dec 9 – New York, NY – Mercury Lounge
Dec 10 – Baltimore, MD – The Crown
Dec 12 – Orlando, FL – Will's Pub
Dec 13 – Atlanta, GA – The Masquerade
Dec 14 – New Orleans, LA – Santos
Dec 15 – Houston, TX – White Oak Music Hall – Upstairs
Dec 17 – San Antonio, TX – Paper Tiger