Run the Jewels' Killer Mike and his trusty DJ Trackstar kept the party going Saturday night (Sept. 23) backstage at the Louder Than Life festival in Louisville, Ky., entertaining hundreds of revelers at an event sponsored by 1 Million Strong, FIRE, Stand Together Music, and SPIN.
Killer Mike has long been known as one of the most socially conscious voices in hip-hop, and has never been shy about engaging voices with whom he disagrees. "The inspiration for the night's set is freedom of speech, so say what the fuck you want!," he told the crowd before launching into Lil Jon & the East Side Boyz' "I Don't Give A…" As guests grooved to favorites such as Trillville's "Neva Eva" and the Three 6 Mafia two-fer "Poppin' My Collar," and "Sippin on Some Syrup," Mike felt the spirit and declared, "I said I wasn't gonna rap tonight, but I'm gonna have to rap tonight!"
"I feel like I'm at an HBCU right now," he said. "We gonna do this shit like we're on the Tuskegee University campus." From there, he took the crowd on a hip-hop journey spanning all of its regional variations, from Southern rap staples such as Bone Crusher's "Never Scared" and Juvenile's "Back That Azz Up," to the Miami bass of Trina's "Look At Me," and Snoop Dogg's West Coast anthem "Ain't No Fun."
After Trackstar spun Sexxy Red's "Pound Town," Mike admitted he was introduced to the song by his 25-year-old daughter. In turn, he recommended she listen to 2 Live Crew, whose crusade for free speech in the wake of censorship was a profound influence on him as a budding artist. The set wound down with Too Short's "Blow the Whistle," Dillon Francis and DJ Snake's "Get Low," Meek Mill's "Dreams and Nightmares," Jay-Z's "Public Service Announcement," and, appropriate for the hard rock festival setting, a finale of Nirvana's "Smells Like Teen Spirit."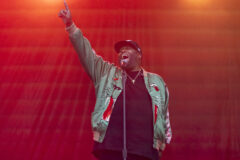 Produced by Danny Wimmer Presents, Louder Than Life featured performances by Foo Fighters, Tool, Avenged Sevenfold, Pantera, and Green Day across four days on the Highland Festival Grounds at the Kentucky Exposition Center.