For over two decades, Iajhi Hampden has been keeping the rhythm for such artists as John Legend, Raphael Saadiq, Niia, New Kids on the Block, Philip Lassiter, Engelbert Humperdink, Macy Gray, and Aly & AJ (to name a humble few). With a strong background in jazz, the multi-instrumentalist can clearly adapt to any genre and carry out any artistic vision thrown his way, earning him his reputation for undeniable versatility.
Growing up in Durham, NC, Iajhi's musical journey started long before his career. "Both of my parents are professional musicians," he says. "My mother plays piano, and my father plays drums. My parents were bigger than life growing up. My father toured with Ashford and Simpson and Luther Vandross at the height of their careers."  Iajhi's mother was also a music attorney and a notable Civil Rights activist in the late-'60s. "I met Marian Anderson, Luther Vandross, En Vogue, and many other notable performers growing up like it was a normal thing," he tells me.
Read on to hear more about Iajhi's story—and his advice for making it in the music industry.
Tell us about your training: I started playing drums in church at the age of nine. After I got my license, I branched out a bit and visited other churches and met other musicians around my age. I also started taking gigs here and there and got into jam sessions…as long as I promised not to go near the bar. College [North Carolina Central University] and grad school [Northern Illinois University] really introduced me to the world of straight-ahead jazz.
Your first "big break" in the business: An event for the Recording Academy, where my dad was in the house band. Ray Chew was the Musical Director for the show.I was able to sit down and speak with him and leave him my resume. I got a call from him six months later and needed to relocate to Los Angeles to become the Musical Director for Ashley Parker Angel, who at the time had a reality show on MTV called There and Back [2006].
We'd love to hear a story that exemplifies what life is like on the road for a touring musician or what it's like being a session musician? I think the general public assumes that because musicians travel, that we get to "see the world." Depending on how you are traveling, the most you get to see is the car ride from the airport to the hotel, and from the hotel to the venue. The reality is you don't get to see each city the way you would if you were on a vacation. You spend 12 to 18 hours a day with the same group of people traveling, eating, and checking into hotels, and about three hours max on a stage each day. Getting along can be almost more important than your level of musicianship.
What are the top three things that you can't perform without? First and foremost, my drumsticks. I have been a Vic Firth drumstick user since I was a kid, and signed with the company back in 2006. Second, my cymbals. I always say to drummers, "you can tune drums, but you can't tune cymbals." I have been an artist with Zildjian cymbals for about 13 years now. Lastly, good energy on stage. When the energy on stage is not positive it takes a mental and physical toll on how you perform. I want to enjoy the music as much as I can with musicians I am on stage with.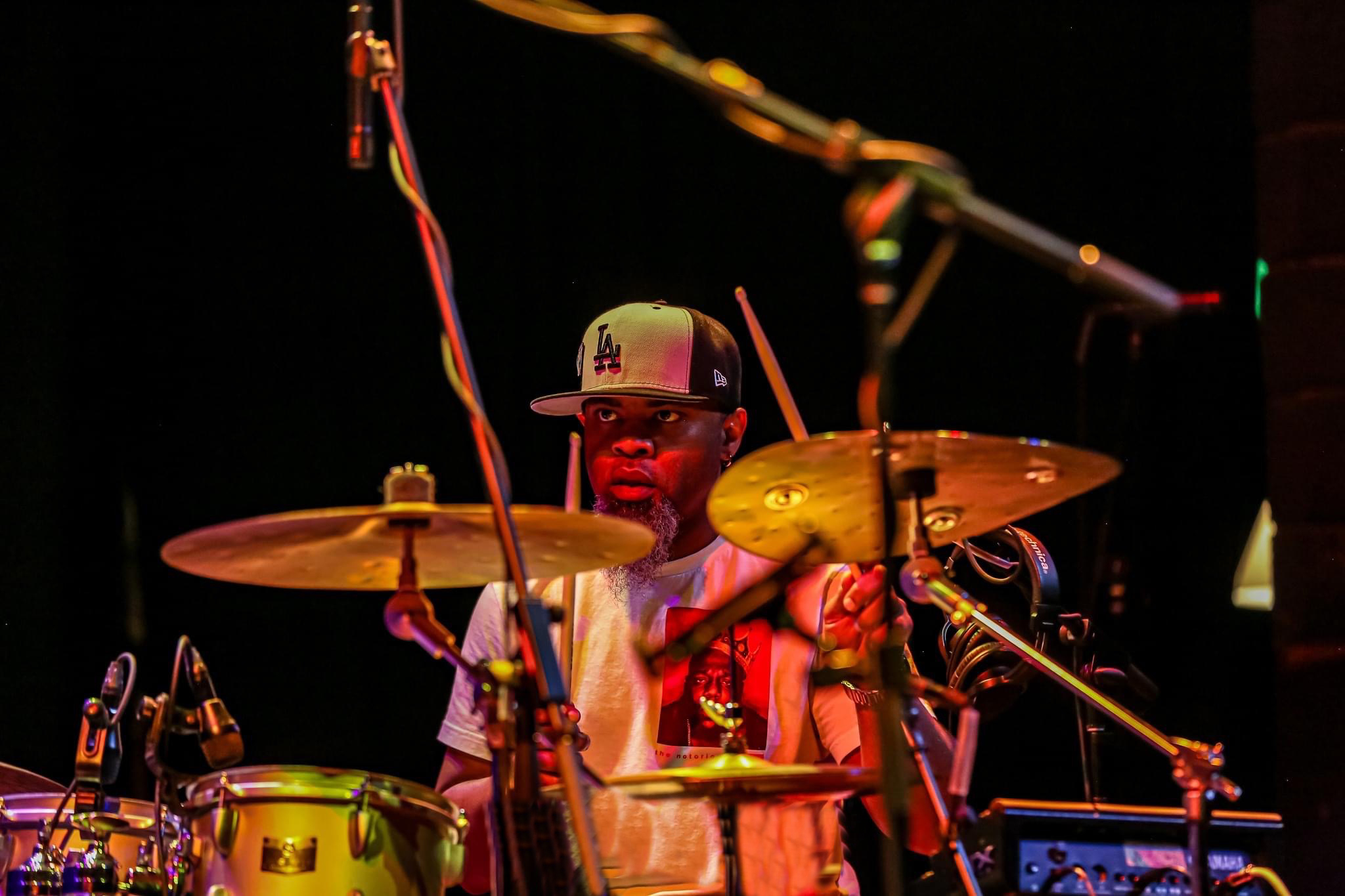 Where does your energy come from? The music itself, musicians, my children, my family. Definitely the energy that the audiences brings.
Favorite project? The John Legend's A Legendary Christmas has been my favorite so far.
Who's a genius in the studio? Hands down…. Raphael Saadiq.
Any advice for young musicians? Practicing is a process. We always sit down on the instrument and play the first thing we know. Progress is sitting down and starting to work on something you are not comfortable with. Practicing slow is the best way to learn how to play fast. Be authentic to the vocabulary of every genre of music you are attempting to play. Whatever it is. Study the greats in that genre and on your instrument, even if they seem "old" or "out of touch". Nothing can replace the hours of time you spend with your instrument. There are no shortcuts.
It is okay to say "no"! If you don't think you are ready, or you don't think the circumstances are fair, but it's a "good opportunity," don't worry it won't be the last one.
How can we hear/see your work? My current project, The Isaac Hadden Organ Trio released a couple singles on Spotify this year. I also just released a solo project under my own name titled Beats, Vol. 1 You can find it on all streaming platforms. I have been touring with a Michael Jackson Tribute band, Who's Bad: The Ultimate Michael Jackson Experience that has a calendar listed on their website. Follow Iajhi on Instagram.