Electronic music legend Brian Eno will stage what's being billed as the first solo tour of his 50-plus-year career this fall when he plays seven dates in Europe. The outing is dubbed Ships Across Europe and will center around his 2016 album, The Ship, although other material will also be featured.
Eno will be joined by frequent collaborators Leo Abrahams and Peter Chilvers, actor Peter Serafinowicz, and the Baltic Sea Philharmonic as conducted by Kristjan Järvi. So far, dates are set in Venice (Oct. 21, day and night shows), Berlin (Oct. 24), Paris (Oct. 26), Utrecht, Holland (Oct. 28), and London (Oct. 30, with an early and late show).
"The album The Ship is an unusual piece in that it uses voice but doesn't particularly rely on the song form," Eno says. "It's an atmosphere with occasional characters drifting through it, characters lost in the vague space made by the music. There's a sense of wartime in the background, and a sense of inevitability. There is also a sense of scale which suits an orchestra, and a sense of many people working together. I wanted an orchestra which played music the way I would like to play music: from the heart rather than just from the score. I wanted the players to be young and fresh and enthusiastic. When I first saw the Baltic Sea Philharmonic I found all that … and then noticed they were named after a sea. That sealed it!"
Eno's most recent album under his own name was last year's FOREVERANDEVERNOMORE. Last month, he teamed with Fred again.. for the surprise release Secret Life, which came out on Four Tet's Kieran Hebden's label, Text Records.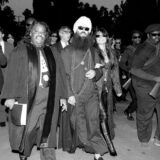 Meanwhile, Eno also appears on several tracks on Peter Gabriel's long-in-the-works new album, i/o, including the just-released "Road to Joy."