East Coast native Cecil Campanaro moved to Los Angeles in 2000 to pursue education in the world of analog recording. His debut album, Tonewerk…Free Audibles (released that year), received the 2001 Media Arts Award. (When I asked him where I can listen to this record online, his answer–reflective of his ever-present humility–was: "It's on a data disc…I'll try to look.")
His best work yet is a duo project with friend Theo Spitler under the moniker ADAK. "It's been a minimalist approach…pretty fun to mix and write with that sort of 'sparse' palette," Cecil says. He and Theo have made the most vibey, eerie, and seductive 11 minutes of music, with Theo's raspy, almost spoken-word type tone at the helm. The vocals–plus the minimal-yet-heavy bass–makes you crave more.
He's worked with Johnny Cash, Tricky, Perry Farrell, Stephen Perkins, Lou Rawls, Jonathan Davis of Korn, Robert Downey Jr., and LP–to name a few. Here he describes his incredible career are a composer for film and TV, and live musician "when they'll have me."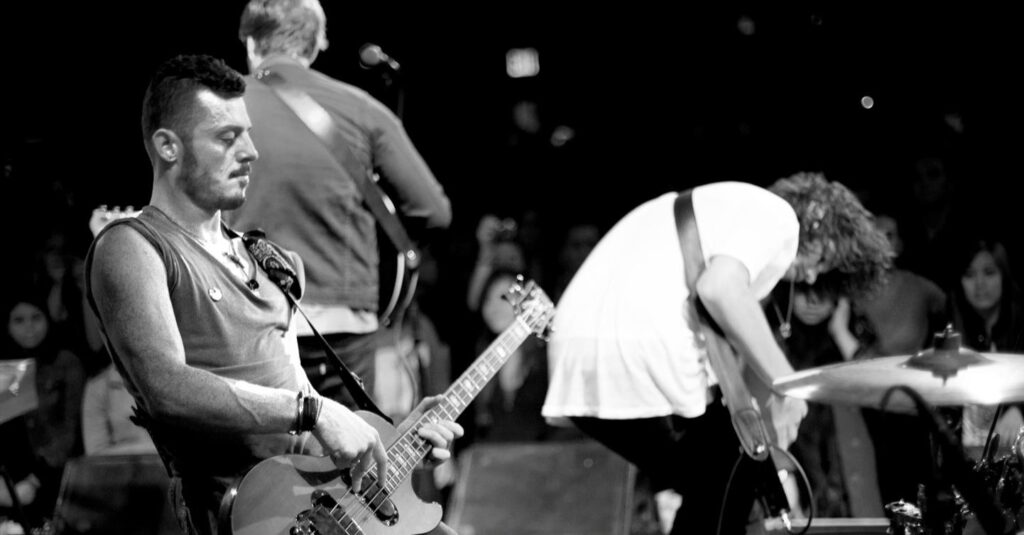 From left to right: Cecil Campanaro, Ben Rothbard, and Johnny Zambetti of Terraplane Sun (Photo by Jodi Campanaro)
Your name: Chris Cecil Campanaro
Most recent live show/tour: Most recent were with LP, The Years & The Palms [my bands]…but [that] was ages ago, I'd love to saddle back up.
What or who inspired you to pursue a life in music? I lived with my aunt and uncle outside of San Francisco when I was a kid finding my freedom and just watching Woodstock [movie] over and over and over…rewinding Alvin Lee's beautifully destructive energy during the Ten Years After performance… I was also delivered to my aunt's with my own personal diet of Pink Floyd, all the psychedelic stuff of the '70s, Van Halen, Prince, RnB, Iggy, Run DMC, Public Enemy, NWA, Motley Crue, The Cult and full on with GNR… Then came that day when my uncle took me to get my first guitar.
Tell us about your training: I didn't have any traditional musical classes growing up which is probably why I'm a bit more "experimental" with my playing/recording. My high school was not structured for the arts…most of the faculty went out of their way to discourage me from focusing on art and music. That discouragement combined with the unpredictability with any profession in the arts left me with a huge uncertainty of what to pursue.
After essentially ignoring the idea of college, I decided to go live with my sister and her boyfriend in Santa Barbara. This was the time where any sort of "training" really began. I became immersed in recording songs and ideas. My sister's boyfriend had a computer that had 8-track software on it…and this opened me up to a whole other world.
I eventually discovered an opportunity to enroll in a recording arts and composition program.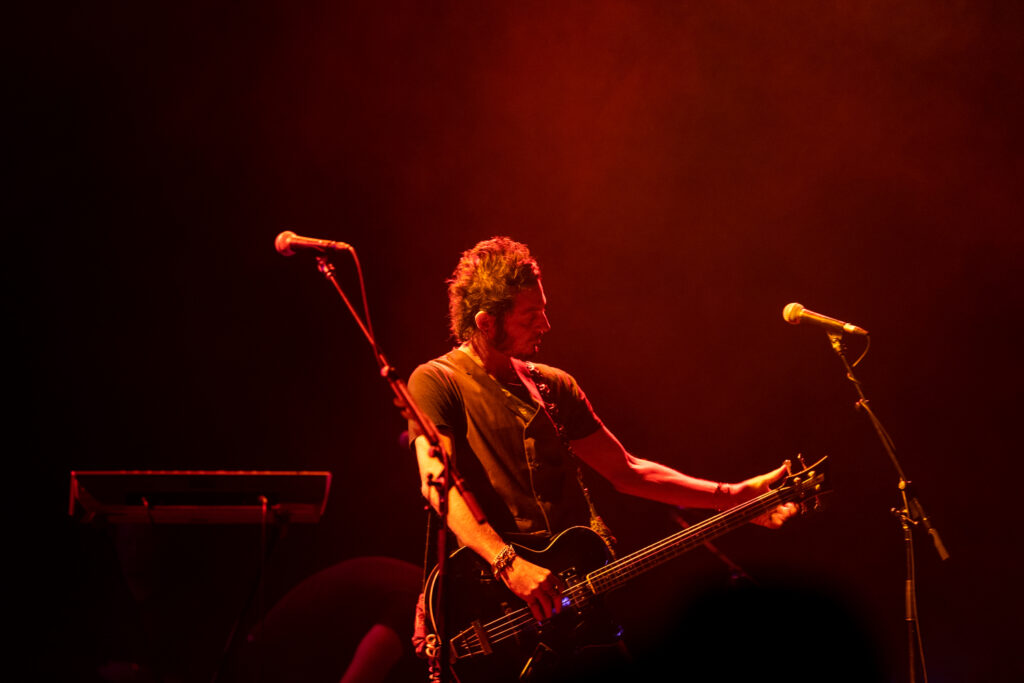 (Photo by Gareth Budge)
What were your goals and dreams as a kid?  I wanted to be in Guns N' Roses. I still do.
Your first "big break" in the business: Being hired by Elias Arts Studios in Santa Monica. I still compose for a few of the special people I met working there 20-plus years ago. While there, I got to learn and record alongside so many admirable artists and musicians.
Best advice for anyone looking to become a composer? I think a constant production of output, good or bad, is a great constitution to have. It's not just as much about the masterpiece as much as it is about all the other fucked-up experiments and messy attempts. Interpreting your own voice as much as possible.
What are the top three things that you can't perform without?
The 4-string
A delay pedal
And a blown-out fuzz pedal
Any writing/producing credits that make you feel especially proud? American River Grammy nomination [2004, Best New Age Album] with Jonathan Elias including Johnny Cash and many other admirable and talented musicians.
Musicians you'd like to collab with? 
Mark Sandman (Morphine)
Mark Lanegan (Screaming Trees/QOTSA)
Annie Clark (St Vincent)
Sleaford Mods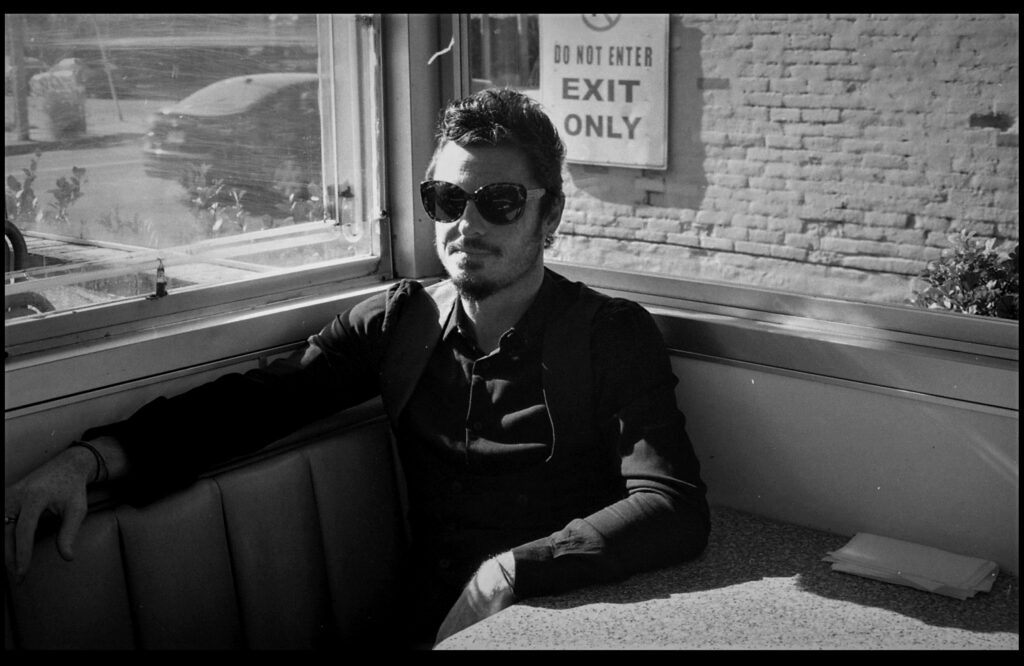 (Photo by Emma Marie Jenkinson)
How can we hear/see your work? The majority of my time is still composing for TV shows and commercial stuff. I recently did the theme and all the music in the new revamped game show called Pictionary. Most recently, I've been busy composing scores and cues for a few reality and documentary-type shows.
I'm also always cutting ideas for a band called The Years which includes my pal Brian Stanley (LP, The Mad Ones).
Any advice for young musicians?
Get old slowly.
Try it all.
AND TURN UP JANE'S ADDICTION.
What are some of the records you worked on?
Vulnerable by Tricky
Christmas by Lou Rawls
The Futurist by Robert Downey Jr.
American Riverby Jonathan Elias
Who's a genius in the studio?
I really enjoyed being in the studio working with Tricky. It's raw and experimental at its best. He has an incredible ability to discover and unveil something so pure and emotional with no direct conscious approach to it.
What's the craziest experience you ever had in a recording session?
I wouldn't call them "crazy," but…recording Jonathan Davis (Korn) on bagpipes! And then recording Stephen Perkins (percussionist, Jane's Addiction/Porno for Pyros) playing newspaper spread all over the wooden floor with drum brushes and anything else around the room like metal chairs, glass windows, and even water…basically anything but his massive drum and percussion set up.