Life used to be so much easier. At one time in the not so far off haze, you could buy an airline ticket to anywhere, and just give it away at will. Just give it to someone else. Here, take this trip, I can't go, or whatever. Imagine.
But these days ticketing for anything has become a whole issue, and as far as the entertainment industry goes, artists, fans, and venues are suffering at the hands of scammers. They have been for a while, but now it's glaringly a bigger problem, not just with exorbitant ticket prices from secondary brokers — and Ticketmaster and the artists themselves! — but also despots selling fake tickets, which with the digital age has become more blatant.
Some artists are standing up for their fans who are being monumentally ripped off by prices. The runaway problem smacked into our faces recently with the uproarious global Taylor Swift ticketing scandal. Thank goodness for Taylor! (Never thought I'd say that.)
The move to digital has created a wild west scenario for ticketing, distribution, and resale, and in the past year alone ticket fraud has been up over 500%. The scammers hit large concerts and festivals, and, to a lesser extent, comedy acts and theater performances, often by setting up fake websites selling tickets lower, or much higher than the advertised price, or tickets that don't exist to sold-out shows. Buyer beware! You may not know until you get there.
But it doesn't need to keep happening.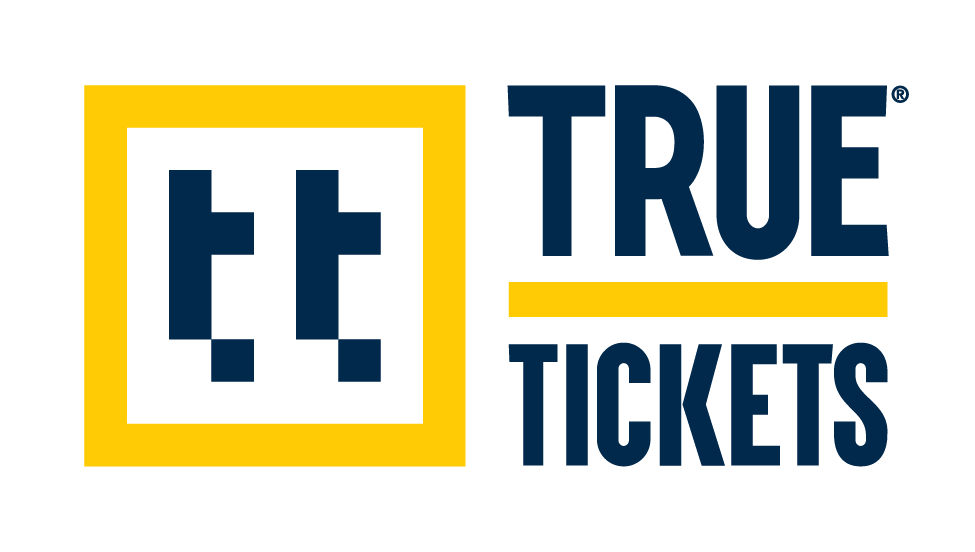 This is where Matt Zarracina, CEO and co-founder of the aptly named True Tickets, has jumped in. He's helped create a digital ticket delivery service that venues can plug into across the arts and entertainment field, to better govern how mobile tickets are transacted. By reclaiming control of their tickets from the secondary market, the scammers, and providing a secure digital contactless ticketing service for the fan. It's like a forcefield of protection in your digital ticket wallet.
Matt is very eager when I catch him in Boston to explain his whole scheme of things. He was a helicopter pilot in the Navy for nine years, including serving three deployments prior to co-founding True Tickets with a fellow veteran.
Maybe it was a shower moment when he came up with the idea of trying to fix the digital ticketing industry. But it seems to have been a good one. Now entering its third year, True Tickets have partnered their software system with venues across the U.S., so far delivering almost four million safe digital tickets, and have crept into Europe with The Roundhouse London partnership.
"[From when] the ticket is sold until it's scanned at the gate… that's what's broken," says Matt.
They provide the tech plug-in at the venue that stops scammers buying blocks of 100 seats, for instance, or having free rein to do whatever they want before the fan buys the ticket. It's a big deal for fans because it discourages scalping, keeping more tickets off the secondary market, resulting in lower prices and less fraud.
Their clients cover a wide range of arts events such as The Boston Symphony Orchestra, The Walton Arts Center and AMP, Arkansas, The Smith Center in Vegas, and The Roundabout Theater Company based in New York, who have the old iconic Studio 54 as one of their venues.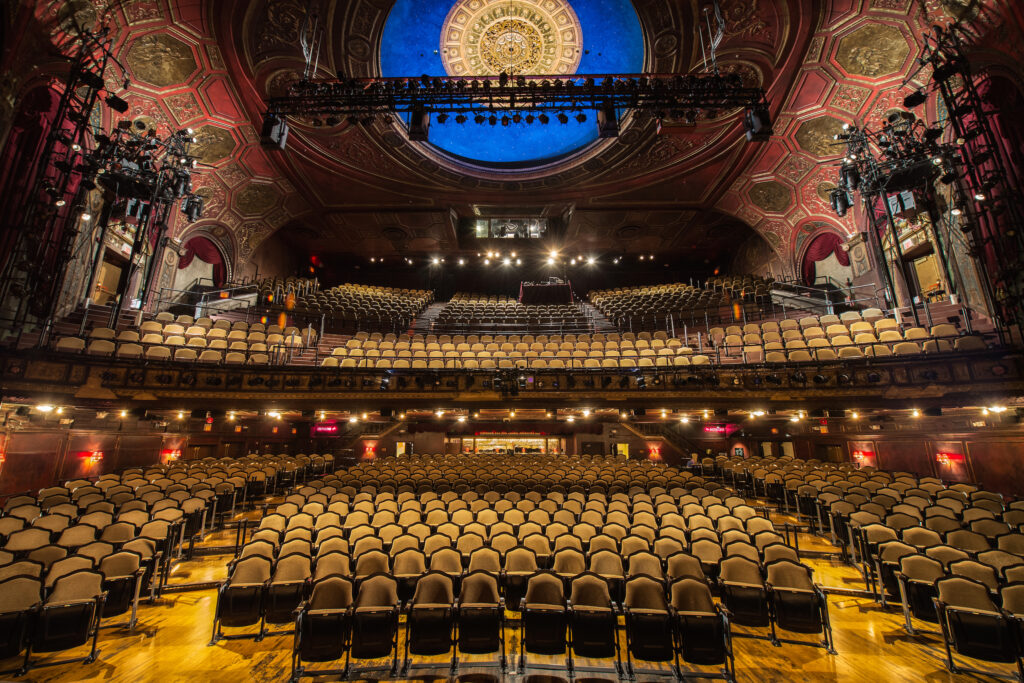 In London, The Roundhouse has been an iconic music venue for more than 50 years. From its debut show featuring Pink Floyd, they have hosted a who's who of classic rock superstars, from Jimi Hendrix to The Rolling Stones. Gary Halliday, Head of Systems and Technology at The Roundhouse, told me that they went live with the system in September 2022. I asked him if he'd had issues with scalpers and duplicate tickets at the venue.
"In short, yes. Before we went fully digital, there would be groups of touts [scalpers] between the tube station and our venue. We also had a problem with people buying up tickets to sell them on secondary markets with a huge markup. Of course, we still have the problem — but nowhere near the extent we had in the past with paper tickets. Having the ability to hold the delivery of the QR until close to opening times means that buying the promise of a ticket from someone on the street, or online, is a much less attractive prospect."
For the non-tech folk, QR codes are those square blotchy things on tickets these days that hold information, and scammers are even faking those.
"The venue issues the ticket. True Tickets delivers them," he simplifies for us.
This spring, launching V2 of his project, Matt released an update to their ticket sharing feature, and it's a game-changer for event organizers. Now they can create and assign rules for sharing digital tickets at different levels – for specific performances, price types, and even groups of people attending the event, by limiting the sharing of the QR code. This stops scalpers in their tracks (as they can't keep digitally transferring it) and means organizers can customize their ticketing operations even more, so you can get your hands on hot concert tickets without hassles or drama.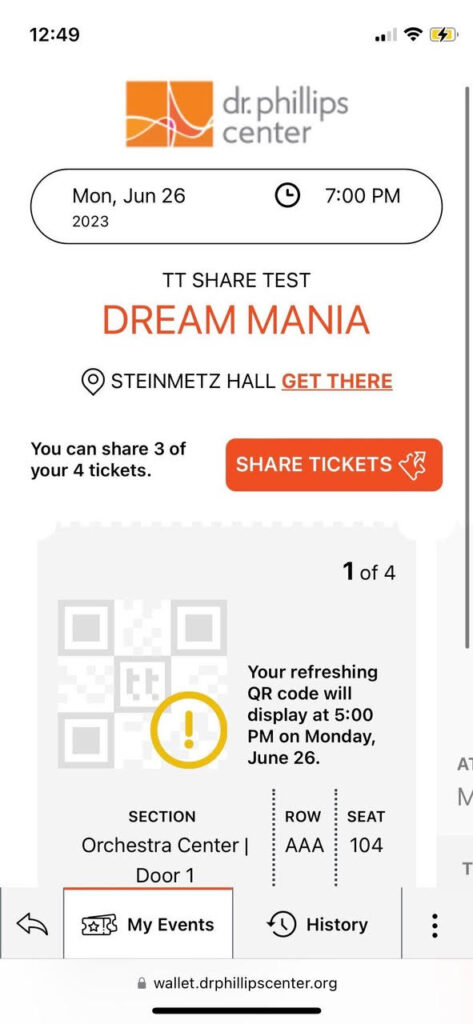 "The magic is a combination of several things: time fencing the QR code, having a dynamic QR code, and ensuring the venue has all that information in real time.
"Dynamic QR code means that once the scannable code appears on your digital ticket, it keeps changing; time fencing means the QR code is not displayed at all up until a certain time." See the image of one of their delivered tickets below — the code to be scanned won't appear until 5 pm on June 26 and then it will keep refreshing/changing. In other words, you can't take a screenshot of this ticket and just sell it to anyone. It won't be valid.
"But let's go a step further!" says Matt, going a step further. "Imagine a scalper bought and shared the ticket. If the venue found out that someone bought and shared 40 tickets and the venue saw those tickets listed on the secondary market, the venue would have all the information of who the tickets were shared with. It can then take all those tickets back and contact the people they were shared with and say, 'We believe your tickets were sold in an unauthorized manner and we're now holding them for you at face value — and here's a letter to get your money back from your credit card company!'"
The end result is scalpers no longer get free rein to do whatever they want with tickets, inflate the prices, and make our lives hell as music fans. Venues get that control and that power back.
True Tickets are sold on multiple venue sites, and if you see their logo you know you'll get into the show. How's that for sanity?