Legendary vocalist Tina Turner , whose intense, passionate performances turned her from a Tennessee farm girl into an international music icon, has died after a long illness at her home near Zurich, according to a spokesperson. She was 83.
"It is with great sadness that we announce the passing of Tina Turner," reads a post on the artist's Facebook page. "With her music and her boundless passion for life, she enchanted millions of fans around the world and inspired the stars of tomorrow. Today we say goodbye to a dear friend who leaves us all her greatest work: her music. All our heartfelt compassion goes out to her family. Tina, we will miss you dearly." Funeral services will be private.
Turner was born Anna Mae Bullock on Nov. 26, 1939, in Nutbush, Tn. Thanks to songs such as a cover of Creedence Clearwater Revival's "Proud Mary" and the Phil Spector-produced "River Deep, Mountain High," she rose to fame in the 1960s as the frontwoman of the Ike & Tina Turner Revue in tandem with her husband Ike, whom she divorced in 1976 after years of physical and mental abuse.
"When Ike gave me that name, I didn't like it," she told SPIN in a January 1990 interview. "But when I got divorced, I took nothing but my name, because I felt I had earned it. That name Tina opened doors. That name went on my driver's license and passport. That was my heritage from all the money that was taken away from me."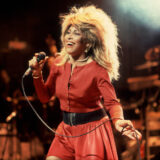 After high-profile duets with Rod Stewart and Mick Jagger in the early 1980s, Turner staged a remarkable comeback, scoring massive solo hits with songs such as "Better Be Good to Me," "Private Dancer," and "What's Love Got To Do With It." Her 1984 album Private Dancer sold five million copies in the U.S. and five million more around the world, while the 1986 follow-up Break Every Rule also went platinum.
"I'm so saddened by the passing of my wonderful friend Tina Turner," Jagger wrote on Twitter. "She was truly an enormously talented performer and singer. She was inspiring, warm, funny and generous. She helped me so much when I was young and I will never forget her."
"So deeply sad to hear about Tina Turner's passing," Creedence Clearwater Revival frontman John Fogerty wrote on Twitter. "I loved her version of 'Proud Mary!' It was different and fantastic. I was also so happy because she chose my song and it was her breakthrough record."
A 12-time Grammy-winner, Turner was voted into the Rock and Roll Hall of Fame twice: with Ike in 1991 and as a solo artist 30 years later. She retired from performing in 2009 and was the subject of the 2018 Broadway musical, Tina. A 2021 documentary of the same name aired on HBO.
Turner also enjoyed a successful acting career, beginning with her appearance as the Acid Queen in the 1974 film version of the Who's rock opera Tommy, and also appeared as Aunty Entity alongside Mel Gibson in 1985's Mad Max Beyond Thunderdome. The soundtrack for the latter spawned the No. 2 Billboard Hot 100 single "We Don't Need Another Hero (Thunderdome)." Angela Bassett portrayed Turner in the hit 1993 film What's Love Got To Do With It.
This is a developing story. Stay tuned to SPIN for updates.