Canadian pop/punk outfit Sum 41 will disband after a final album and farewell tour, the group announced today (May 8). The Deryck Whibley-led outfit will also complete its previously announced international touring in 2023, which includes summer dates in Europe and a North American stint opening for the Offspring beginning Aug. 1.
"Being in Sum 41 since 1996 brought us some of the best moments of our lives," the band says. "We are forever grateful to our fans both old and new, who have supported us in every way. It is hard to articulate the love and respect we have for all of you and we wanted you to hear this from us first. We look forward to seeing all of you skumfuks on the road and are excited for what the future will bring for each of us. Thank you for the last 27 years of Sum 41."
The upcoming album, for which there's no release date just yet, is a double-LP titled Heaven :xx: Hell which deftly threads a line from Sum 41's early pop/punk days to its current, more metal-leaning era. The first disc, full of songs harking back to the golden age of '00s pop punk, was written in the wake of a proposed deluxe reissue of Sum 41's 2001 debut album, All Killer, No Filler. The second comprises different new material that is much more of-the-moment for the group.
Sum 41 has released six albums since All Killer, No Filler, the most recent of which was 2019's Order in Decline.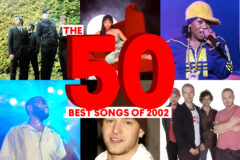 View this post on Instagram