For three sun-filled days during the first weekend of May, the BeachLife Festival – a music and coastal community celebration – once again rocked the Redondo Beach crystalline water's edge. 
The 2023 jamboree was BeachLife's fourth installment since 2019 and included four stages – Hightide by Subaru Pacific, Lowtide, Speakeasy by SMKFLWR, and Riptide – along with a stacked lineup fit for a world tour. 
Massive headliners that included The Black Keys, Gwen Stefani, and The Black Crowes sent pulses throughout the scenic city of Los Angeles, while celebrated acts like John Fogerty of Creedence Clearwater Revival and Sublime with Rome helped solidify the festival's focus: praising the beauty, style, and serenity of beach life through music and good vibes. 

Adding to the excitement, SPIN partnered with EMSCULPT NEO® + EMFACE®, to create the ultimate wellness lounge where Beachlifers could envision their soon-to-be six packs and chiseled cheekbones. 
Located next to the Riptide stage where acts like BabyJake and Poppy Harlo electrified crowds, festivalgoers flocked to experience EMSCULPT NEO® + EMFACE®, two new revolutionary sculpting treatments that are taking the wellness industry by storm.
EMFACE® is the first and only needle-free and natural procedure that simultaneously lifts facial muscles while improving volume. Offering visibly noticeable results after four 20-minute sessions, this all-natural procedure does not require any prep or recovery time, so participants can proceed with their normal activities before and after each treatment.
EMSCULPT NEO® is a body sculpting treatment that builds muscle while simultaneously reducing fat. Imagine doing 20,000 crunches or squats in just 30 minutes, all while laying down and without breaking a sweat – ultimately replicating a workout without having to do any work at all.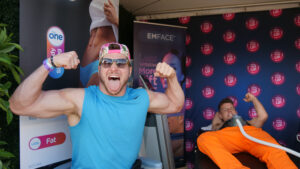 Targeting abs, lateral abdomen, glutes, arms, and legs, EMSCULPT NEO® is roughly equivalent to 12-16 weeks of HIIT workouts if the protocol is followed. That means at least four 30-minute sessions spaced a week apart. What's more – and perhaps most importantly – EMSCULPT NEO®'s zero recovery time allow participants to return to what they love, looking and feeling good, without missing a beat… or a beach.
Emsculpt Neo + Emface are simple, easy, and highly effective procedures that are only available at medical providers nationwide. To learn more, visit bodybybtl.com.